Zion and Bryce Canyon 2005
On Monday morning bright and early we left for Las Vegas, Nevada with our good friends Bill and Linda: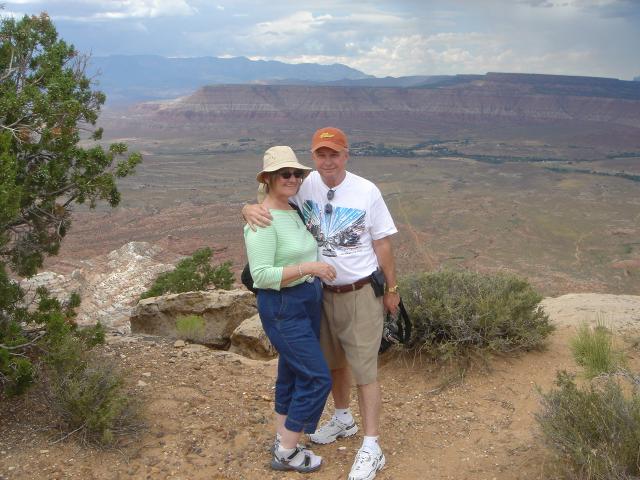 We did take separate air carriers, both had stop-overs, but we managed to arrive within fifteen minutes of each other.

Buzz went to arrange the car rental, while I took care of luggage. No problems so far. All of our luggage arrived safe and sound; a very good sign. Now it was off to the car rental agency. We had decided to share a car, only time will tell if this was a good idea. We rented a Chrysler 300 touring car: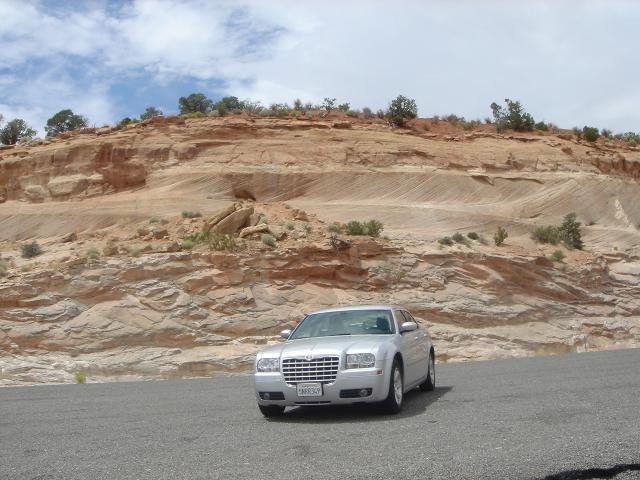 We all ended up liking it a lot. Very comfortable, lots of trunk room, which by the way we filled to the max. Now it was off to the Monte Carlo Casino: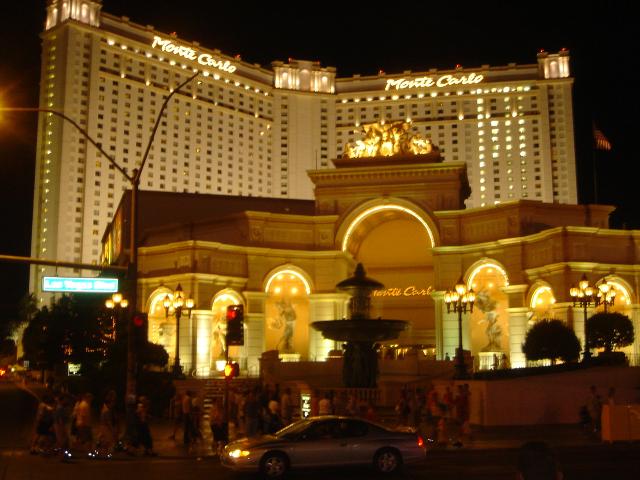 This place has a very special meaning to Bill so that's where we stayed. We each had a wonderful suite. Since we were only spending one night in Vegas we decided to get in as much casino hopping as we could. We were off on the tram to the Bellagio. We walked around there awhile and then went over to the Aladdin, where we checked out almost every store in the mall, just kidding, but we did watch their rain show. It was okay. Buzz wanted to go to the Imperial to see the auto show, so everyone told us to take the monorail. Well we walked and walked through an endless casino and finally found our way to the monorail.

Upon walking into the Imperial we were approached by a lady who handed us coupons to the auto collection, well now we got to go in for free. Free is great! What a collection they had, actually most of the cars were for sale. Prices ranged from about $9,000.00 to over $1,000,000.00. As you can see they did have some nice specimens: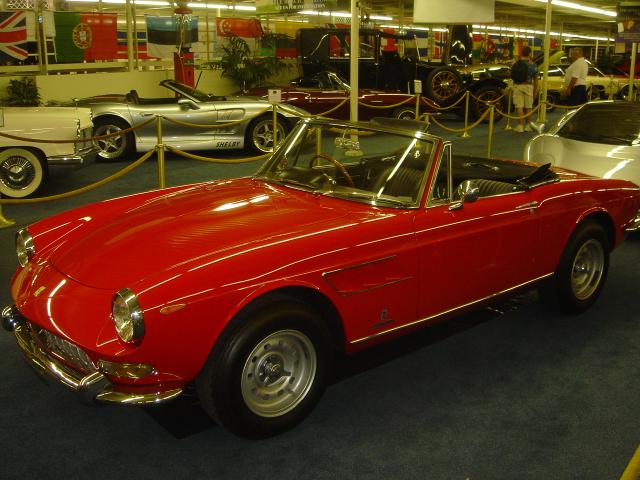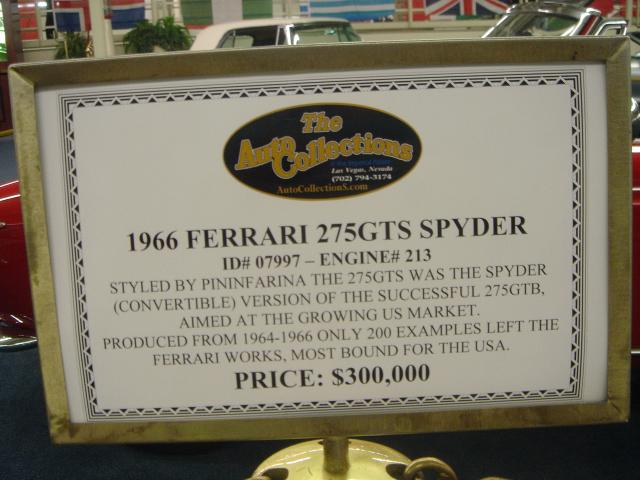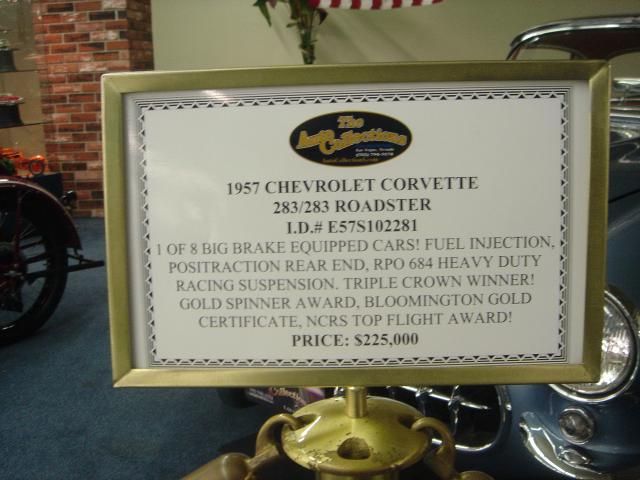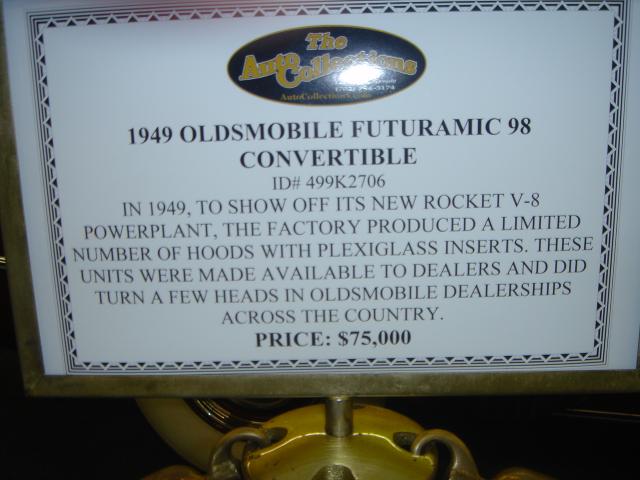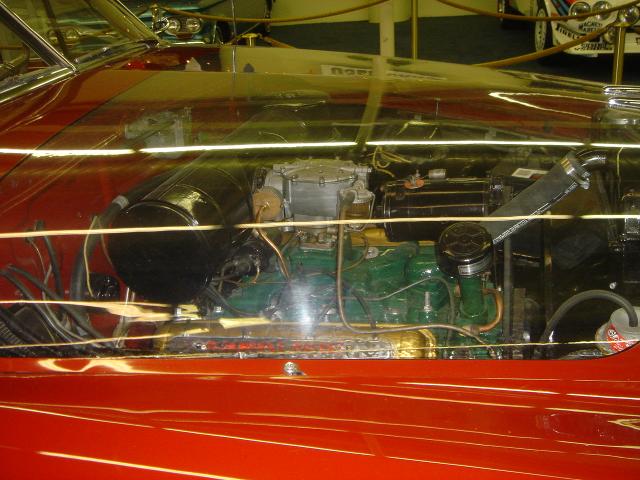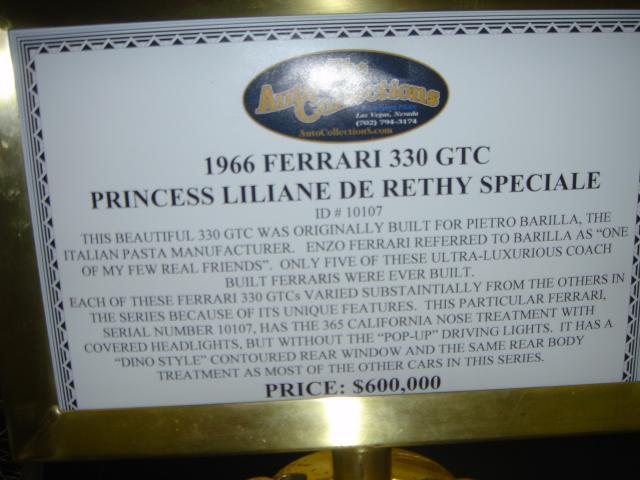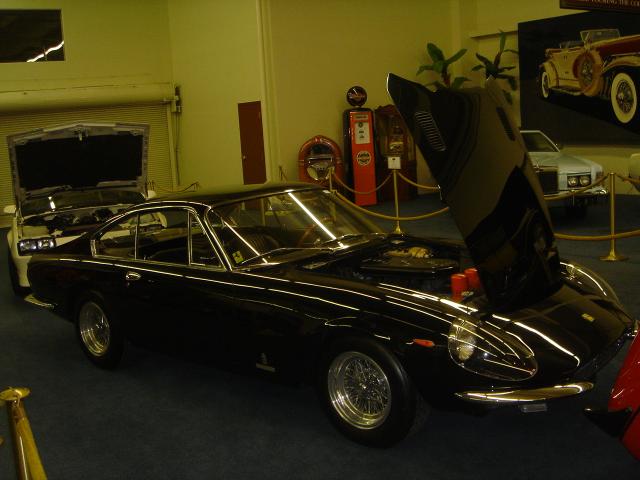 We wimped out and took a taxi back to the Monte Carlo. We were in dire need of sleep, what with the time change and all the walking we had done.

Tuesday found us checking out and heading for ST. George. We had planned to maybe stop for breakfast along the way. Well once you get outside of Vegas there are not too many towns. We finally stopped in Mesquite at Playoffs Sports Grill, where they served both breakfast and lunch: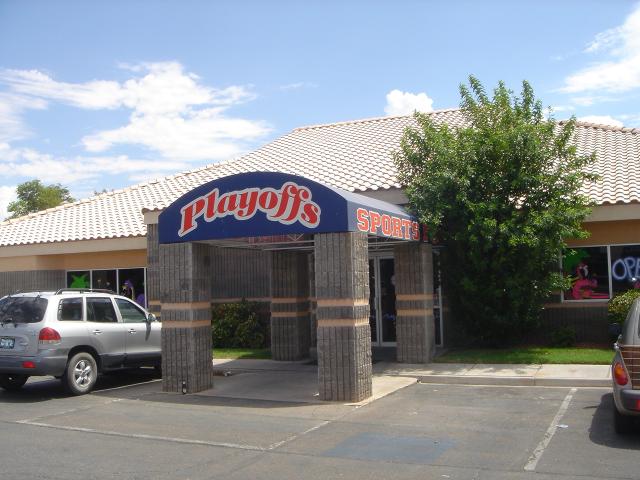 We had a colorful waitress, although we can't remember her name. We sat down and she proceeded to tell us what they didn't have, "No pizza, the ovens are down. No soup, it's not done yet. I do it all, take the order, clean the table and do the dishes" We did have a good lunch. The price very reasonable and the food was good.

We took some back roads going to ST. George. The scenery was beautiful. We went through the town of Santa Clara and decided to stop at the Jacob Hamblin home: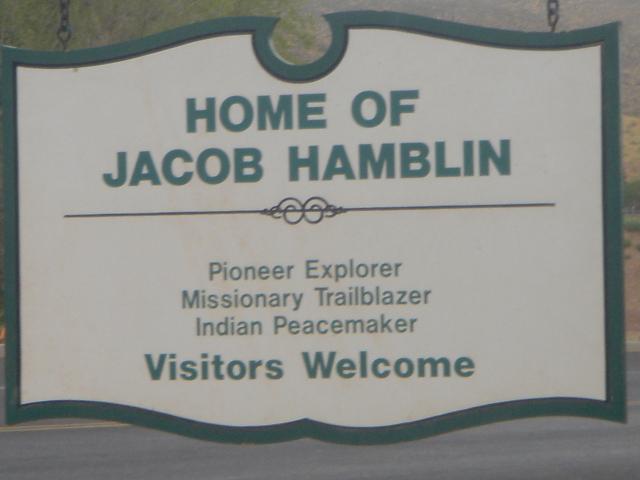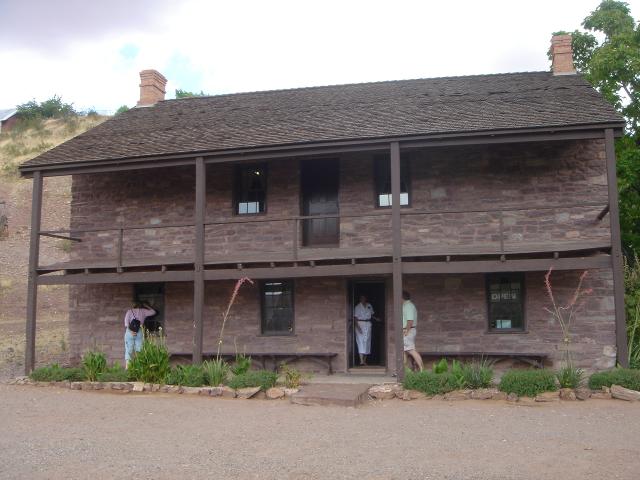 We had our first lesson on the Mormons there, as this was the old home of Jacob and his two wives and 24 or so children and is now run by the church. They do try to educate you to their ways. Some one was watching over us, since when the Sister was starting to speak of their ways, a thunder storm broke out and we made a quick departure to the car. The house is well kept, the history interesting and we did miss the pitch. We then went down the road a piece and realized that we missed a turn in the road, so we tried going back to make a circle. We saw a small restaurant that said pie, and just had to stop: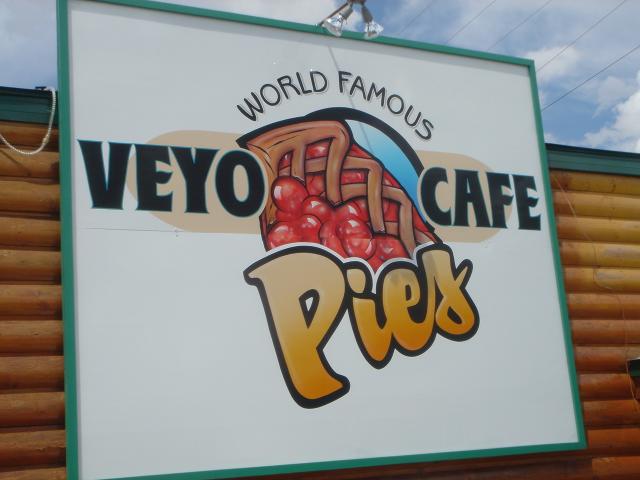 After partaking of some homemade pie we made our way to Gunlock. Just the week before there were terrible wildfires and the damage was very evident. The scenery was beautiful. Just the reason we are here, the roads were great, would be wonderful if we had the 'Vette. There were some areas that were being repaired due to heavy flooding last year. Have to say that as Buzz turned sharply to the right and onto the dirt, there was a brief utterance from the back seat, but all turned out OK. We even found the factory where our wind chimes were made: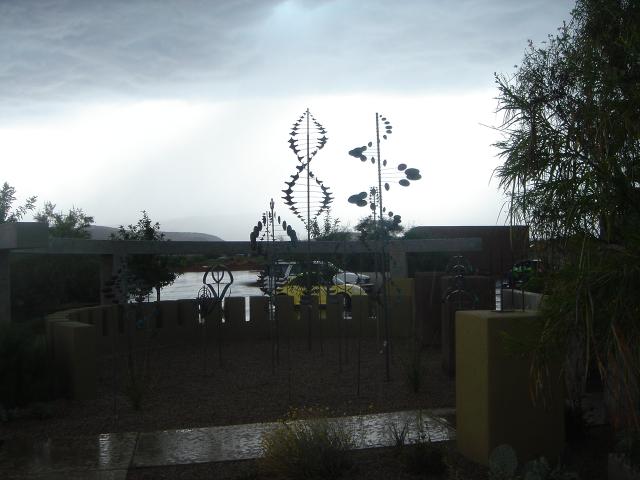 We spent the night at the Holiday Inn in St. George, a nice place: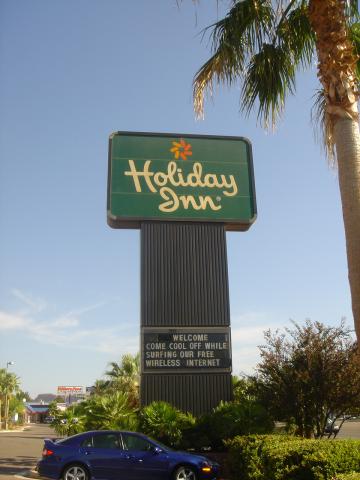 We ate at the hotel restaurant called the Palms, which had good food and reasonable prices: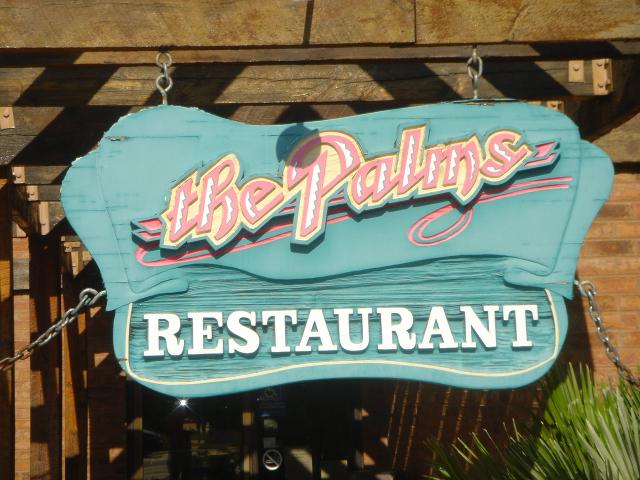 The room was neat and clean, and they had very nice buffet in the morning. What more could we want. We did have one little problem with the trunk which would not close, but Bill & Buzz left early to the local Chrysler dealer and it was repaired in a flash. No alternations were made to our days plan. Way to go guys! On our way out of town we found the ST. George Temple, an impressive site. We didn't go in, just took pictures: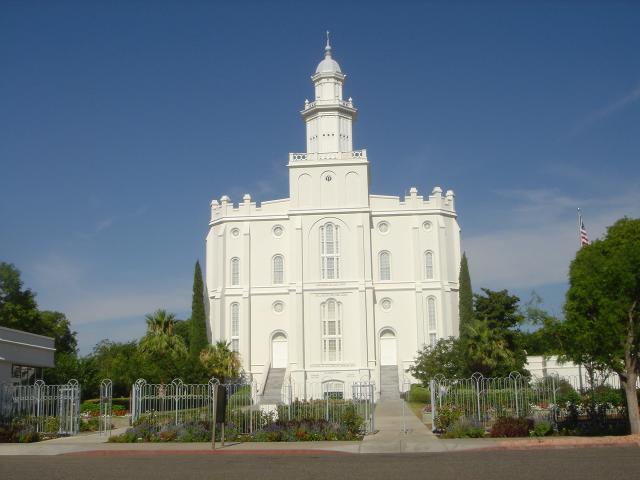 Off we went to the first part of the main events - Zion National Park: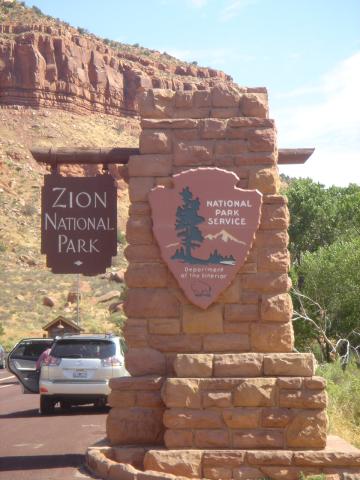 On our way into town, we passed a Natural Foods Market and after a beautifully executed U-turn, we stopped in for a few "goodies." Their cookies and such were very good; I even bought a scone for Jackie: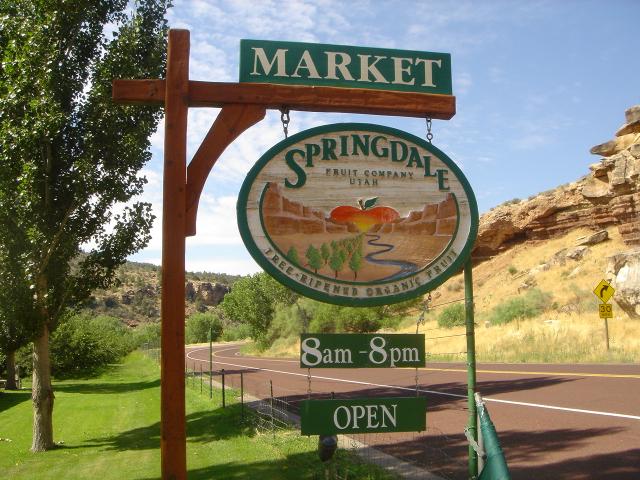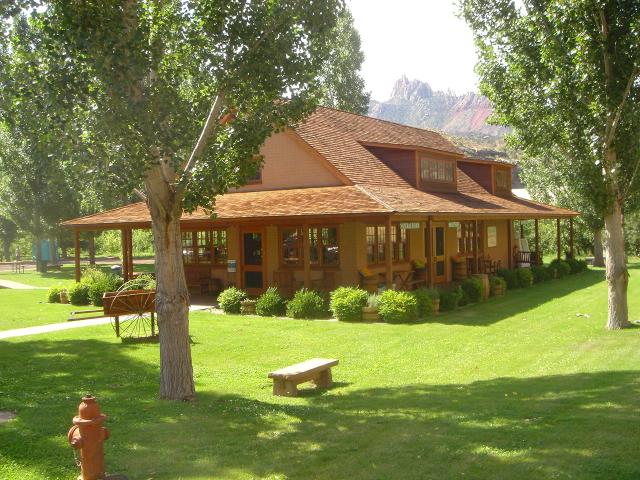 We had hoped to do the Cinemax "Zion Canyon Treasure of the Gods" but our timing was off, so we decided to hop the shuttle to the park. Well, we just jumped on, and then went to Sineawa, as we were told that was a pretty easy mile walk, not even thinking that we did not have the proper shoes or for that matter we don't even hike: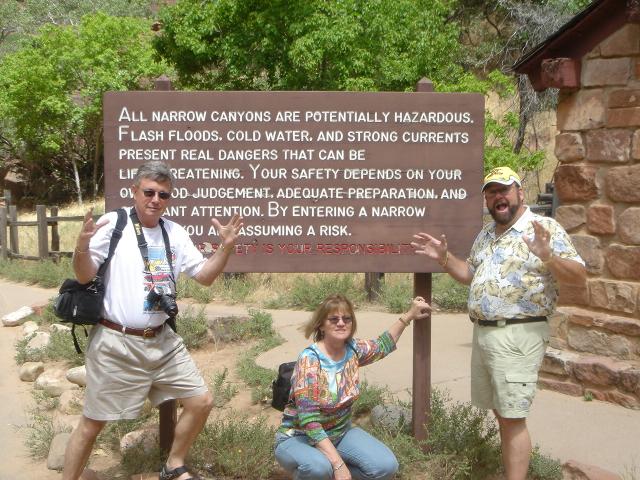 Well off we go, and in about twenty minutes we realize that all the water is back in the car and, of course, there are no concession stands here in paradise, nor do we want them to spoil the scenery by putting them in. So we slowly strolled the path. As you can see from the photos, which don't do the scenery justice it was absolutely breathtaking: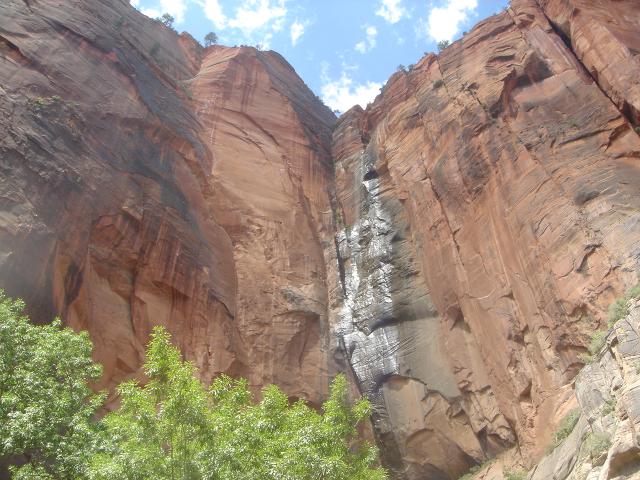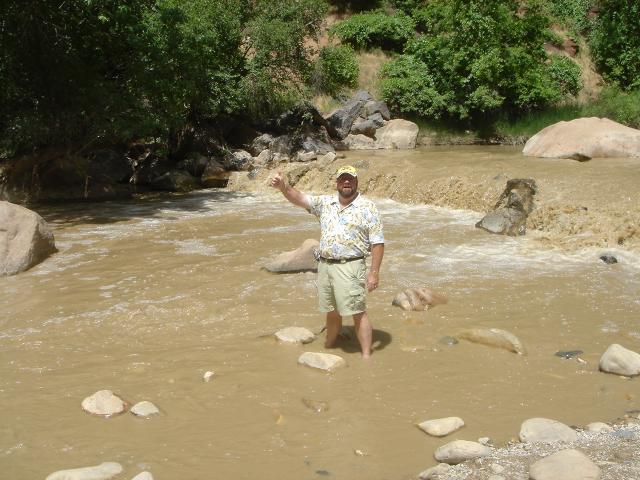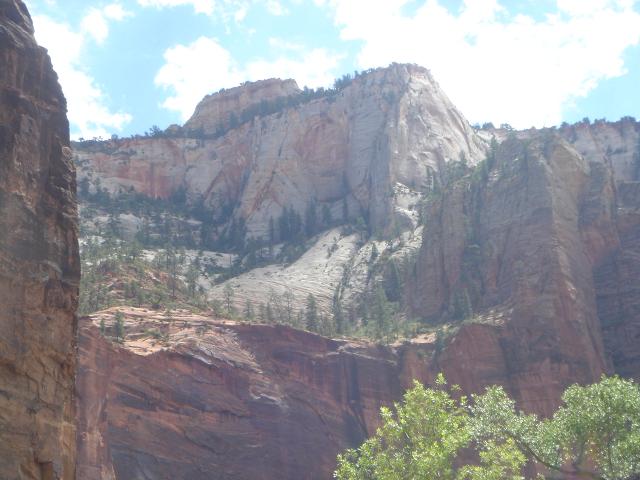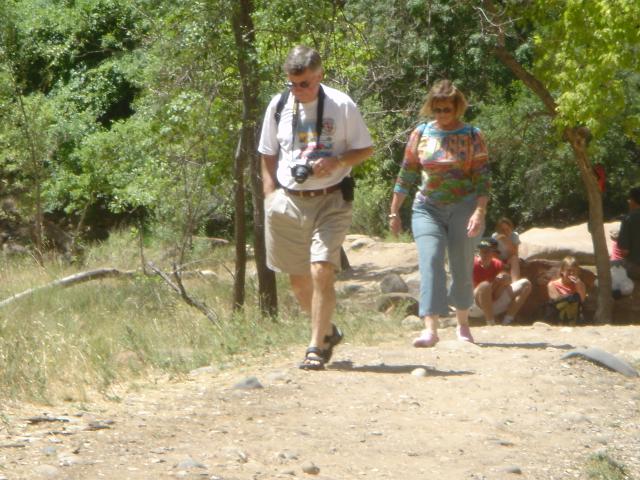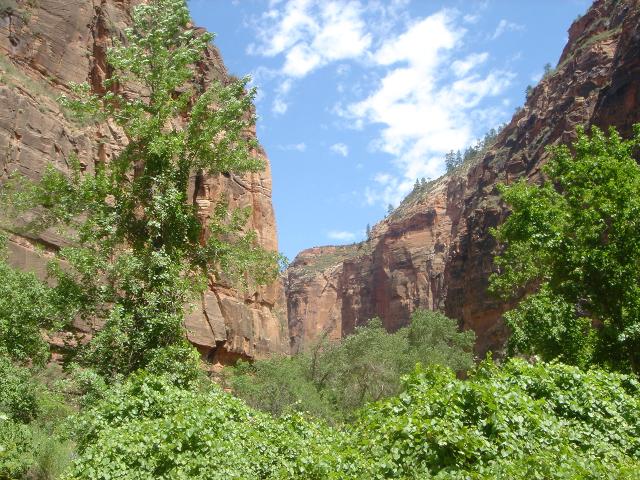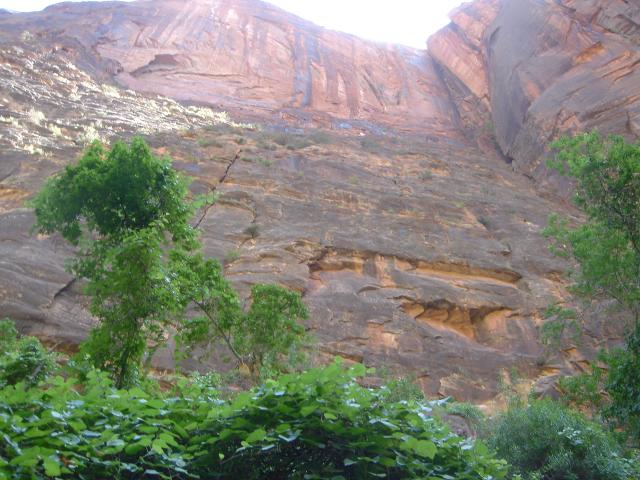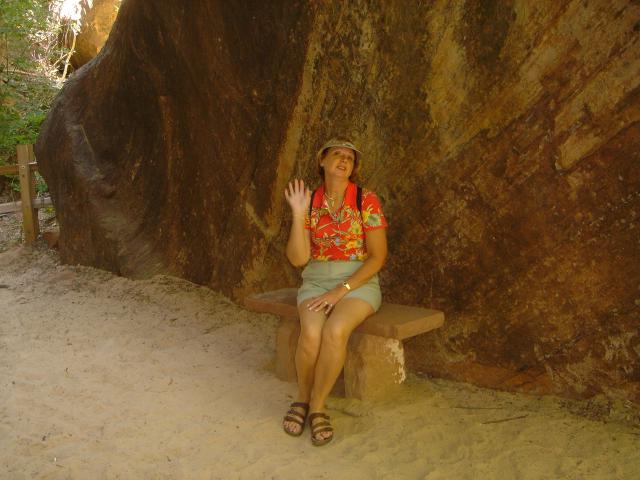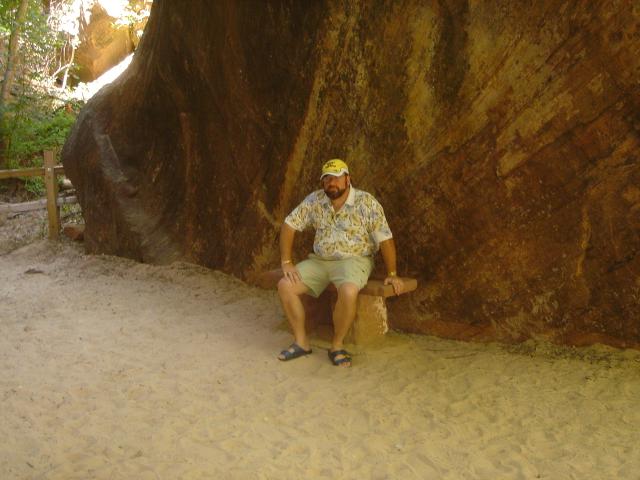 The weather had cooled off so we were lucky; there was also a wonderful breeze. Linda on the way back was contemplating, trying to steal a bottle of water off a passing hiker, of course she was just kidding, maybe not. We all made it back in one piece, but very thirsty. A lesson well learned.

We then went to the Cinemax and got to see areas that the four of us would never, ever dream of going. This was absolutely worth seeing.

Our stopping point for the next two nights was the Desert Pearl Inn..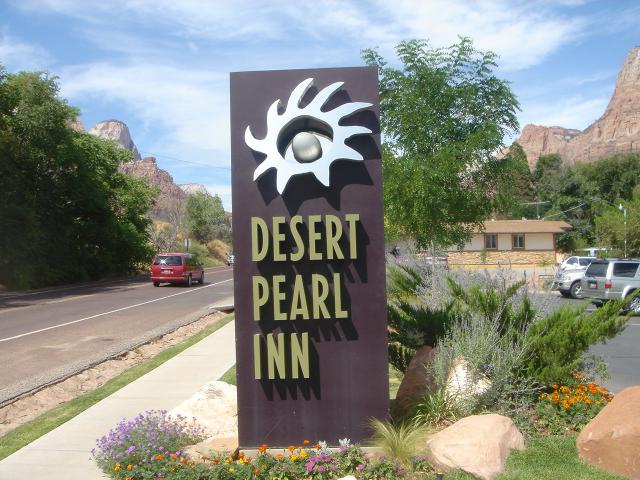 .. so it was now time to check in and take a quick rest before dinner: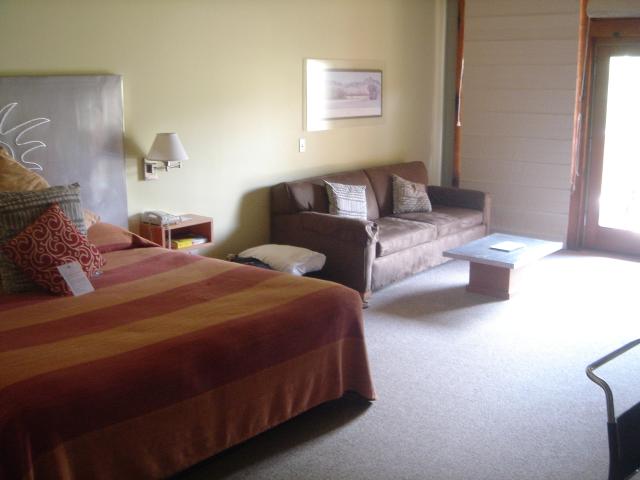 During the day Bill was taking pictures with his new camera. He was having a few issues with it, as he wasn't confident with it yet: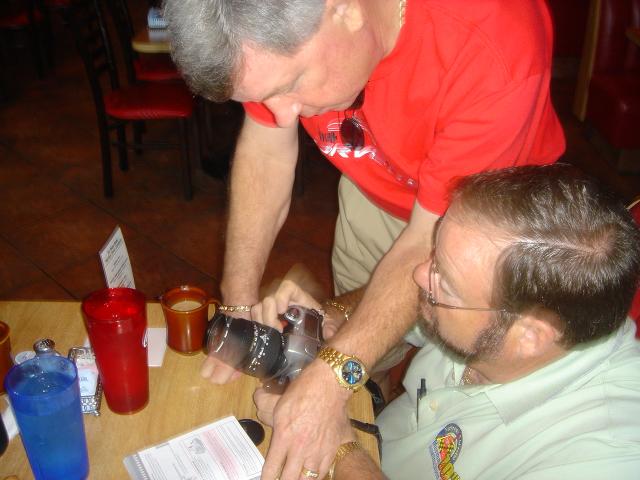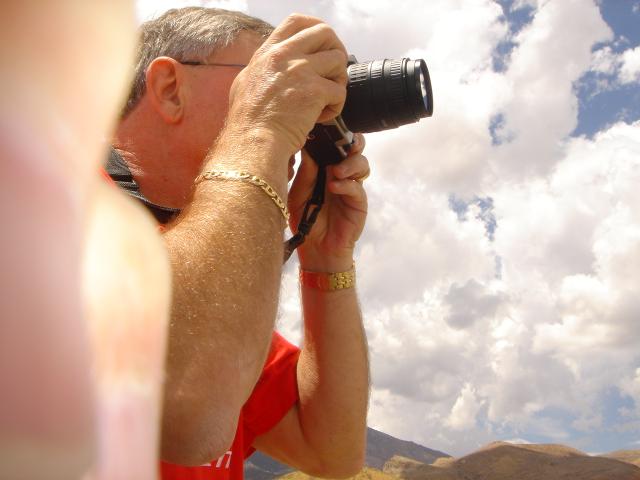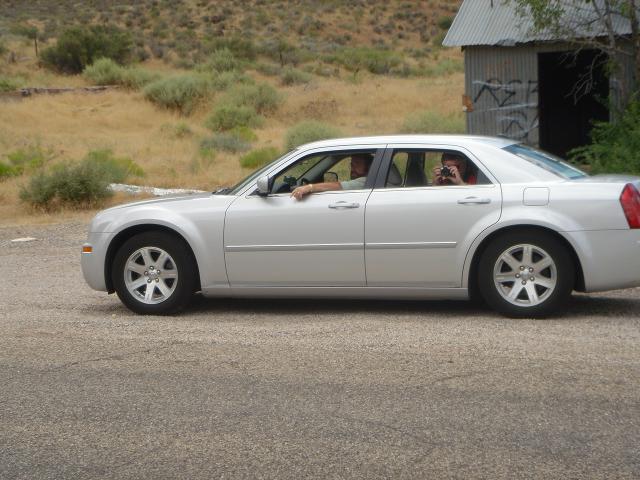 Well, the funny part of the story is that during dinner after our rest, he told us how he went through his first roll of film. He was so excited, but as he took out the roll of film; he noticed this small piece of white paper with what looked like Japanese writing on it: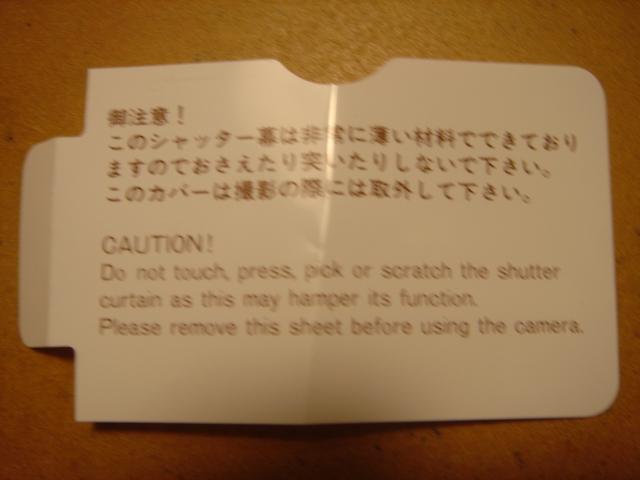 Hmmm. How many pictures do you think he got? ZIP! Oh well, at least we had a great laugh and he will have access to our pictures.

Dinner was at a restaurant recommended by the hotel called the Spotted Dog: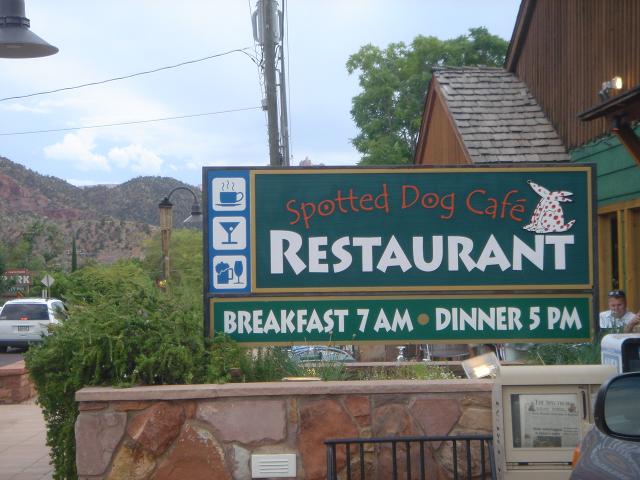 We wouldn't recommend it. We ordered four different meals and they were all pretty cold. We just about had to beg to get a basket of bread, and refills on beverages, need I say "The service was terrible". In our opinion the food was overpriced since it was hardly warm. We did suggest to our hotel's management that maybe they should find a different place to recommend. We did go to the Bumbleberry Inn for Bumbleberry Pie and ice cream for dessert. It was definitely worth it.

After dessert we decided to do some exercise which was to walk around town checking out the shops. We had fun going in and out of them, not looking for anything in particular. We did wander into David Pettit's Gallery: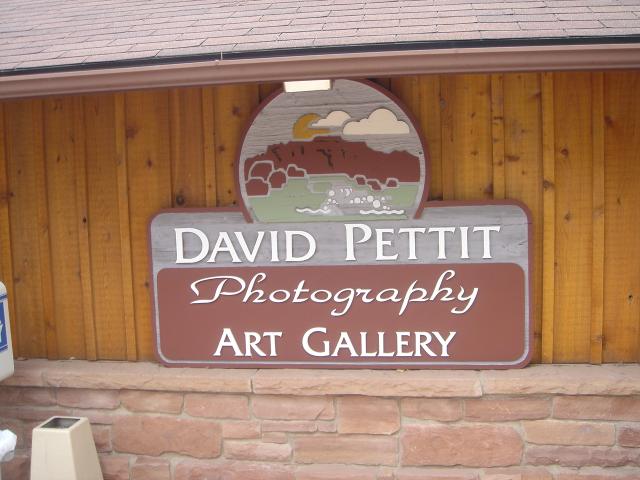 Boy do I wish we had some extra wall space. He has some great color photographs of the canyons. Also a few great works in black and white.

We lost Billy for a while; he was in the Zion Outdoor Outfitters, for those of you that know Billy, can you imagine him on the side of a cliff, or forging his way down or upstream? He was enthralled with all the gear. Maybe this will be his new exercise of choice. Just remember Billy, "Don't look down!"

Thursday morning found us having breakfast at the Pioneer Café..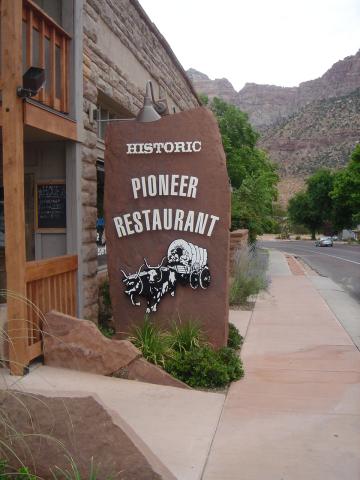 .. which was fine, but not extraordinary. We all enjoyed it. Then we were on to check out the shops we missed. Oh yes we had to go back into the Outfitters as Billy just didn't get enough of it last night. We did a lot of walking and not much purchasing. We haven't come across a pack and ship place, and can you believe it some shops do not ship. We did manage to find a few small trinkets.

At noon we had a reservation to go on a Zion 4X4 adventure tour: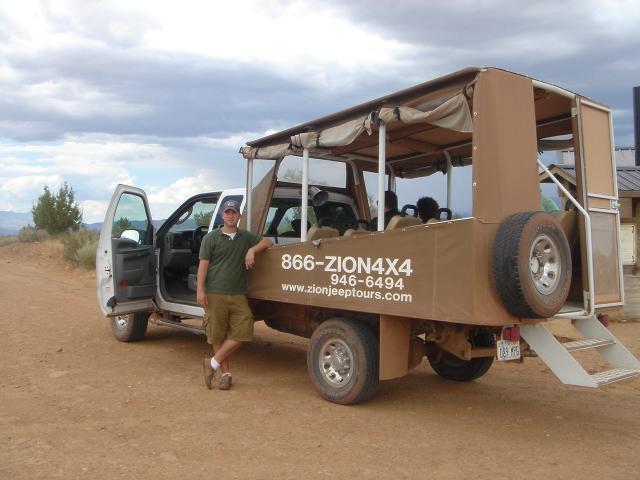 As we were waiting out front of our hotel, the receptionist came out to tell us our driver was going to be late due to a flat. Hmm, what a way to start an off-road tour. At least he called. He showed up about a half-hour later, apologizing and telling us that of course our tour would still be the same length. We were off to pick up two more passengers and then up the mountains. We had a wonderful time. Dustin, our driver and owner of the company, was very knowledgeable about the area. He was more than willing to stop when anyone wanted to take a picture. Several times we were able to get out and go to the edge of the mesa.

We got to go to a small "ghost town" that was featured in Butch Cassidy and the Sundance Kid: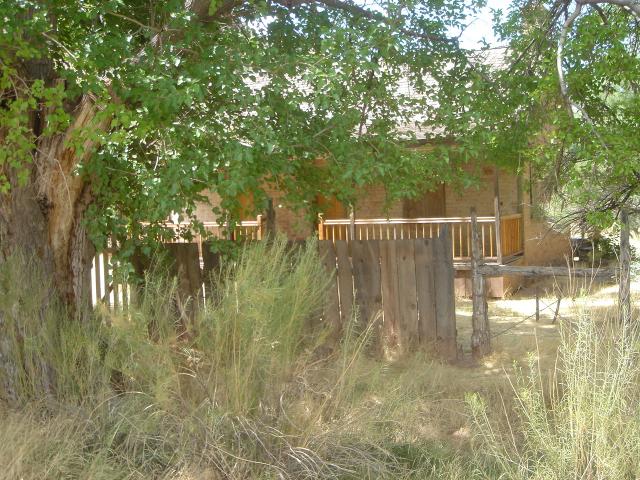 The buildings are being restored: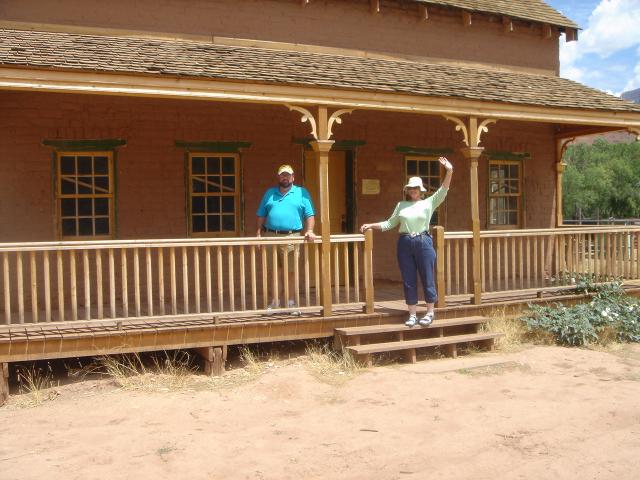 The roads that were taken were dirt, had some erosion and definitely gave us a bounce for our money. As we were looking north we watched a storm come across the canyon, it was an awesome site watching the rain line: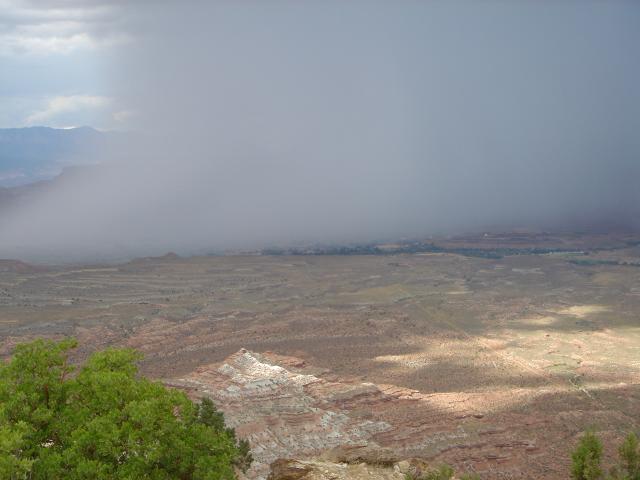 We certainly were glad we were heading in the opposite direction. The lightning show was intense. But not a drop hit any of us. Dustin spent almost four hours with us. He tour is a definite must and was worth every penny: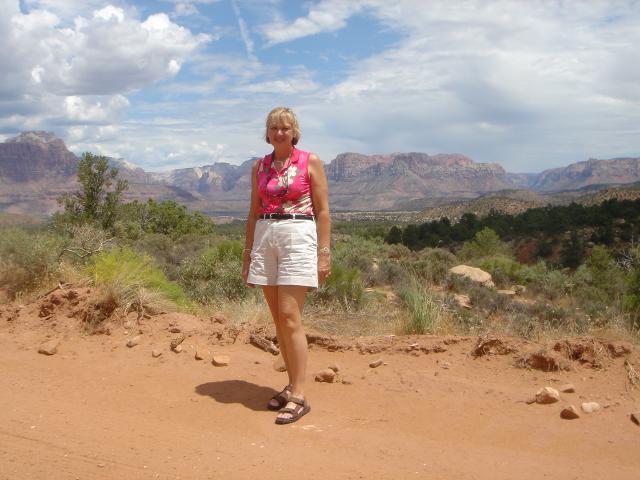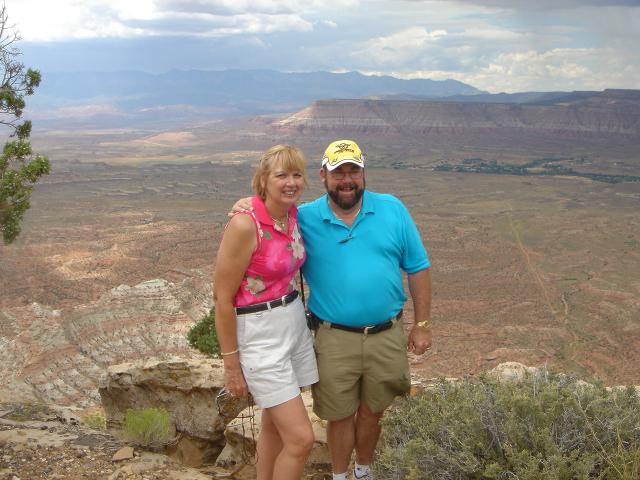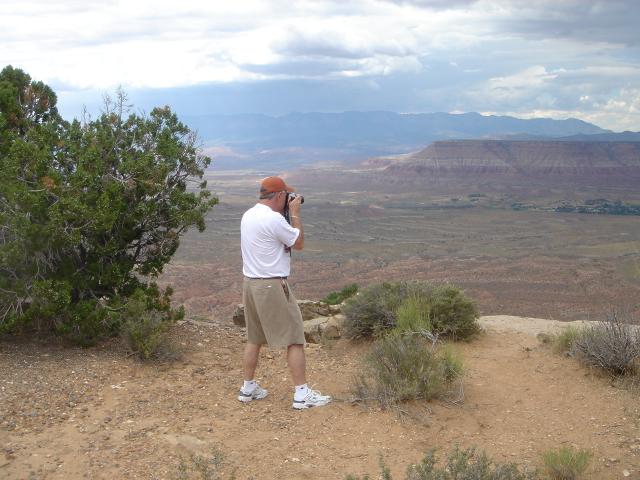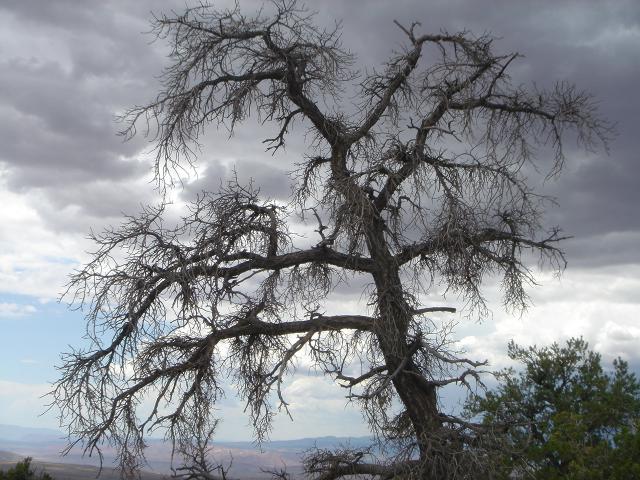 There even was a brief stop to check bodily functions: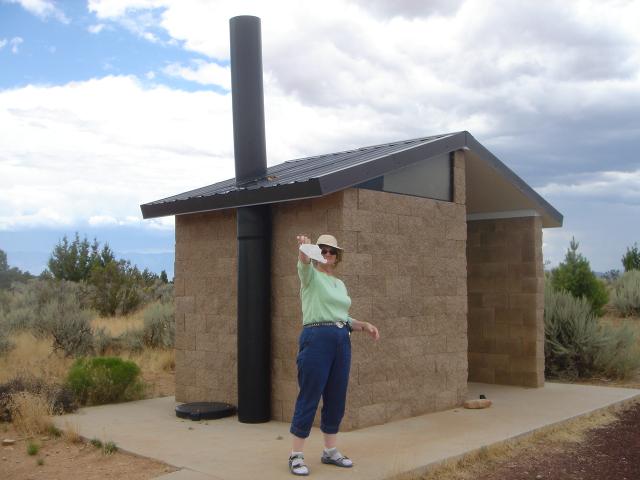 This was the only disappointment on the trip, boy people can be pigs! Someone, probably all of us, through our taxes, paid dearly for this outhouse, and then the public uses it as a large trash barrel. Wouldn't even want to think about taking a picture of the inside, as it was so disgusting.

We had other plans for the evening or probably would have signed on for the Sunset tour too.

After showering it was off to Café Oscar's for dinner: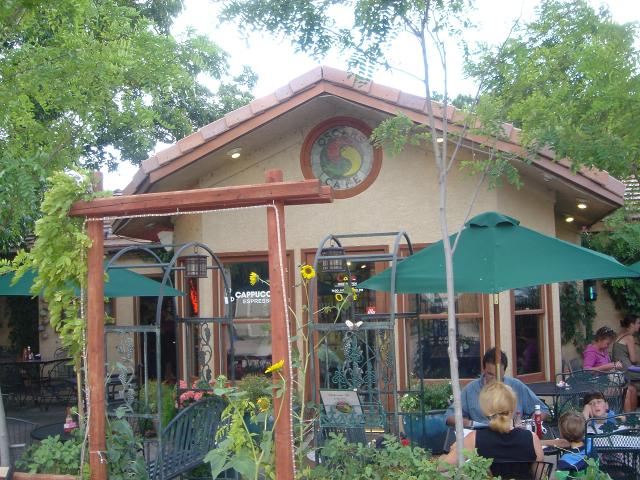 It was a small Mexican - American food establishment recommended by Dustin earlier in the day. Well, we had a great dinner. We also decided to opt for dessert. We ordered two, figuring we all could share, and were trying to keep our shapely figures. Well, they were enormous and delicious. There was warm carrot cake and a brownie ice cream sundae to die for: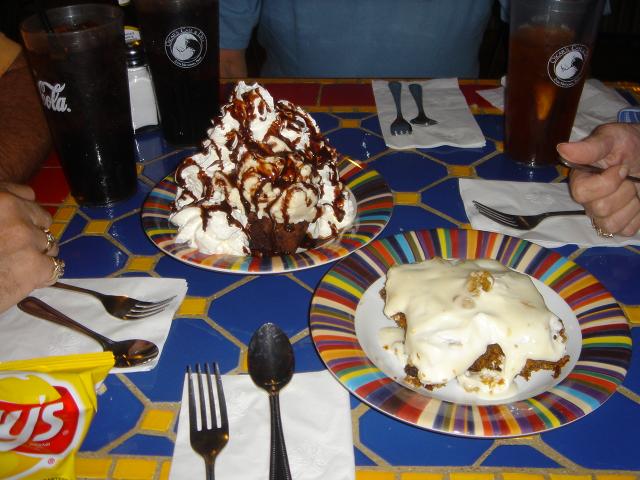 Every morsel was eaten, and we waddled off to do some more walking.

Now it was time for some entertainment, not Vegas style. We arrived at the Bumbleberry Theater and were promptly seated in the first row. This was definitely a low-budget operation, but the performers were very friendly before the show. At first we thought it was us and about six other people, then we were informed that three bus loads were coming in. so in effect the house was full. The name of the show was Trip Down Rte. 66, a place near and dear to our hearts. We had a fantastic time. Lots of audience participation. Dancing in the aisle even occurred. Jackie was singled out, but Billy was the star: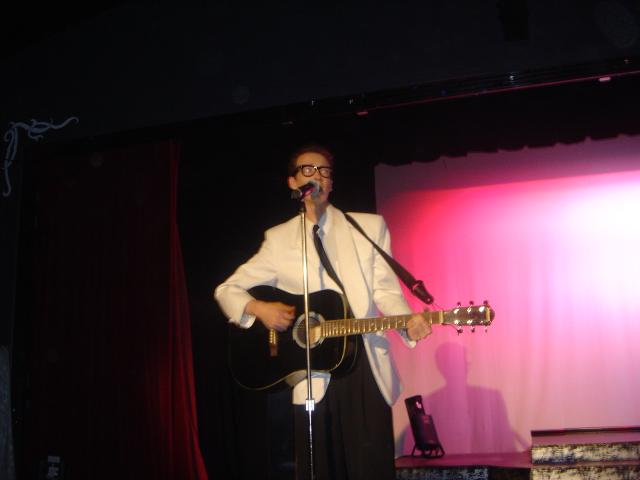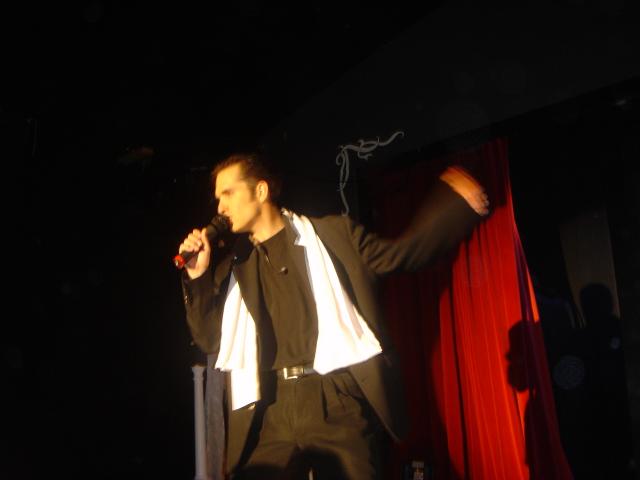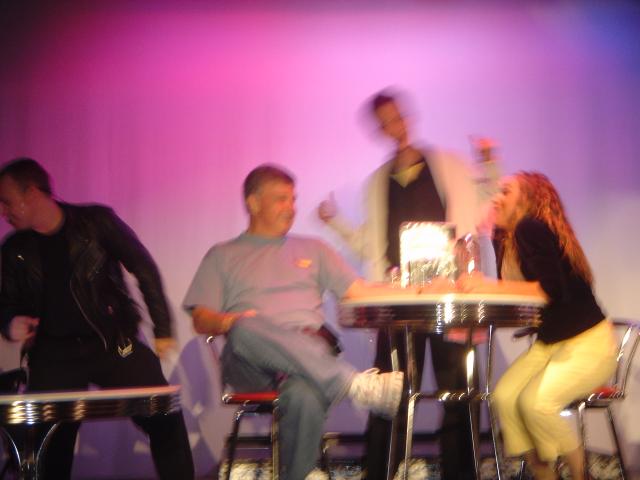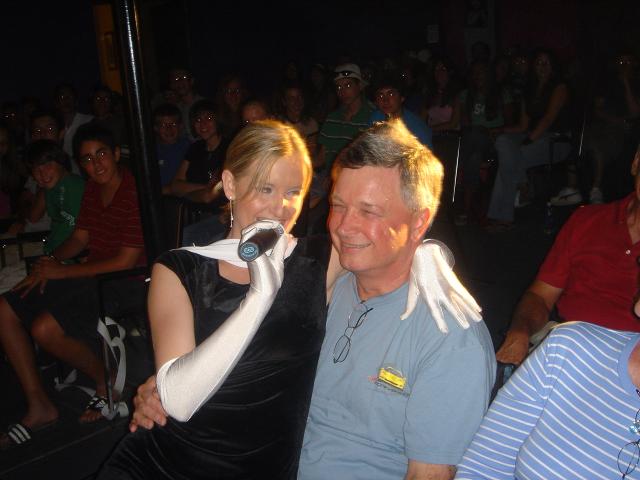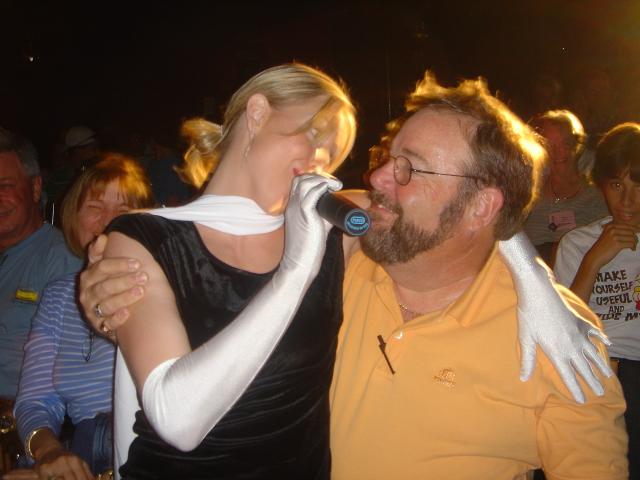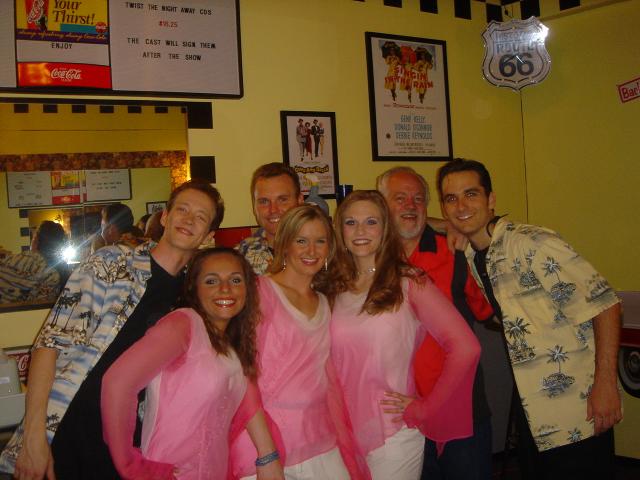 We all laughed so hard our sides were aching. If ever you make it to Springdale, give yourself a treat. Granted I am sure the shows change, but it was a good time.

Well on Friday we said good bye to Zion and headed off on Scenic Rte. 12, heading east toward Bryce Canyon. We stopped at The Pentimento Restaurant: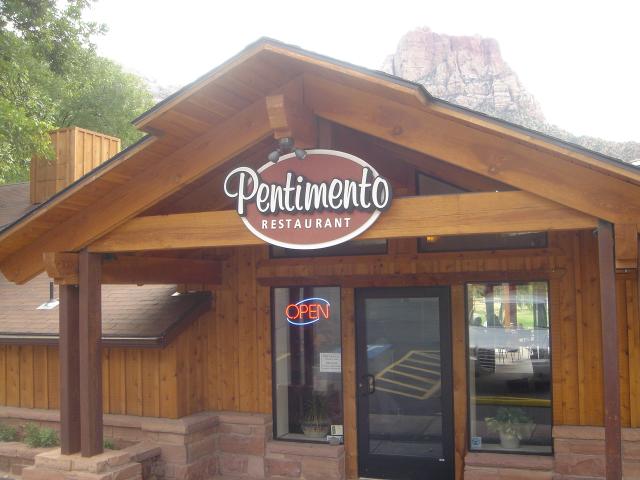 .. for breakfast and it was great, not only the food, but look at the views: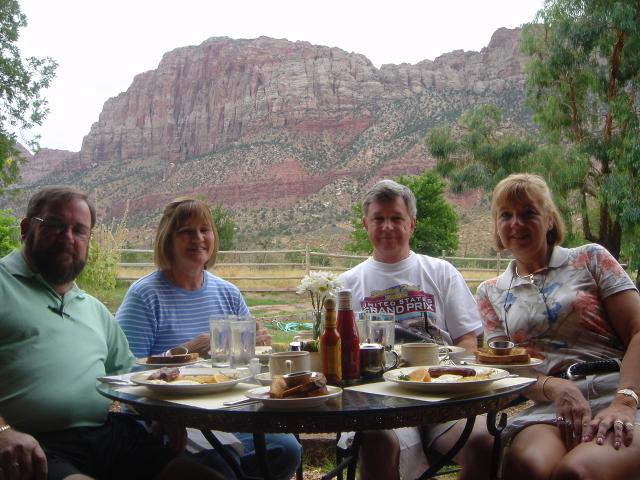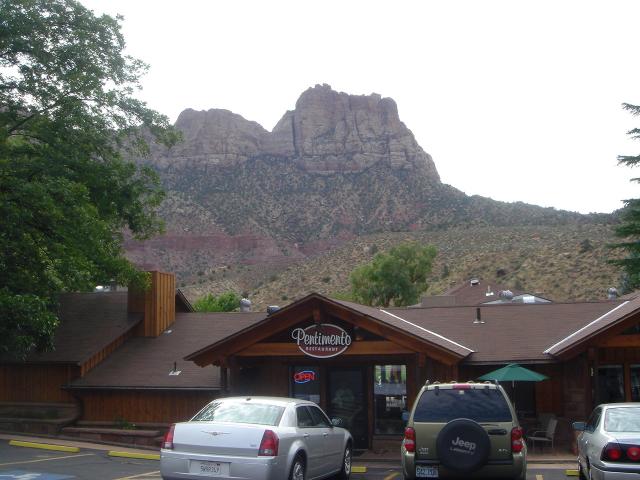 As Jackie was going through some of the literature that we always manage to pick up, she read about a state park that had some Anasazi ruins. A democratic vote was taken and we were off to wherever. Scenic Rte. 12 is wonderful. It consisted of breathtaking views, and if you ask Billy, maybe just a bit scary. It winds up and down and then across this wonderful ridge, not much around you, just lots of area down: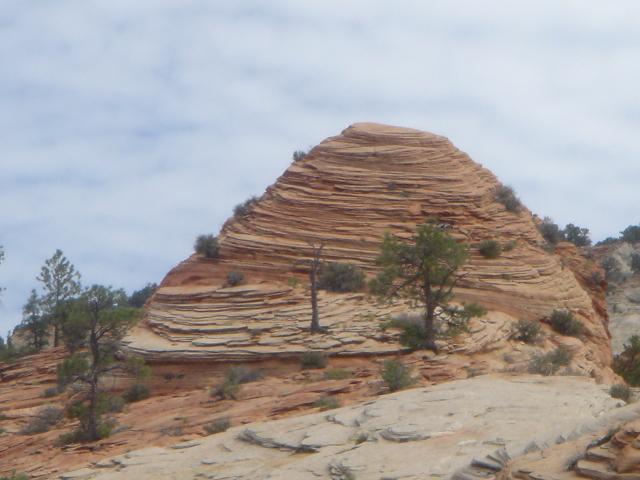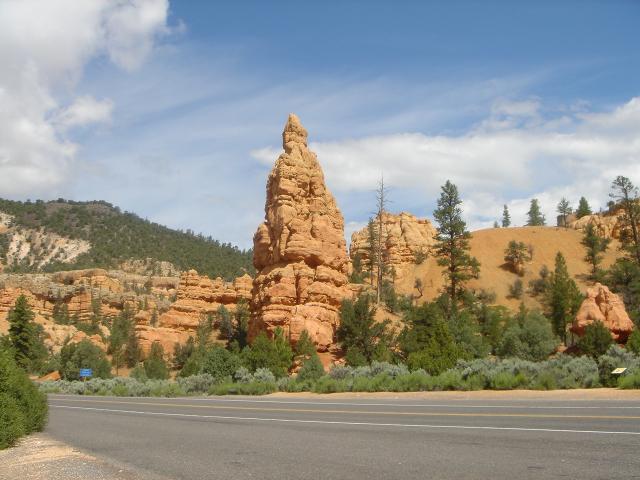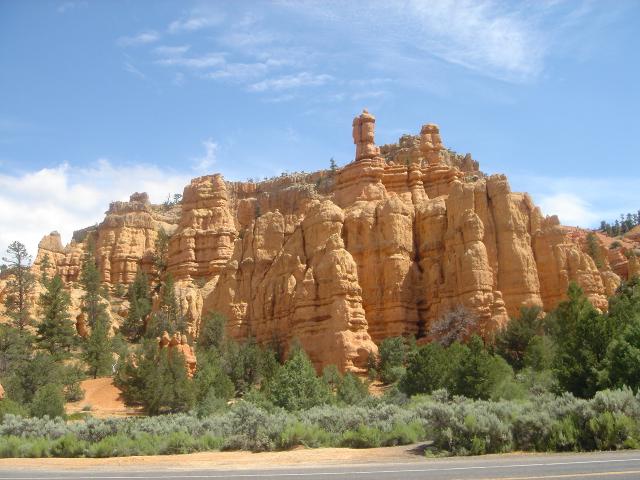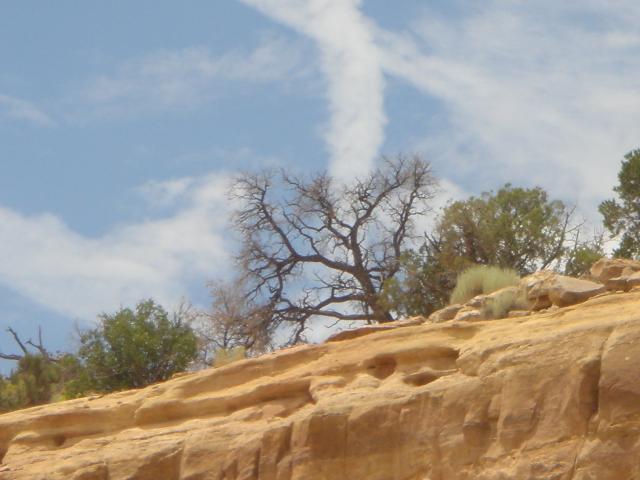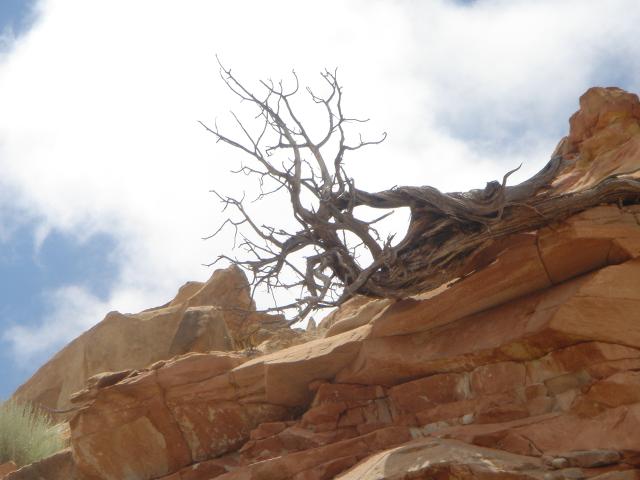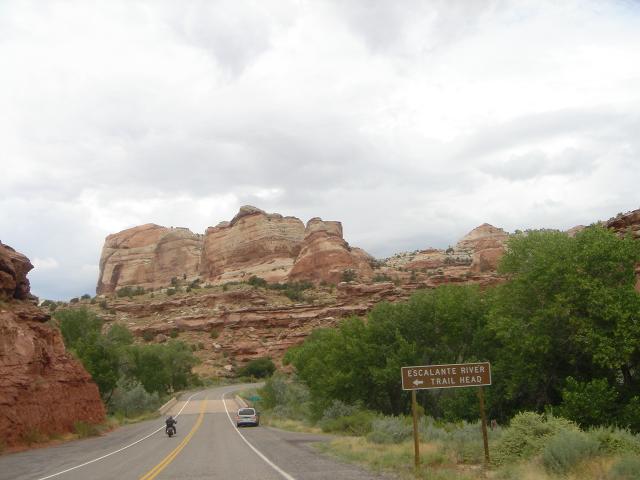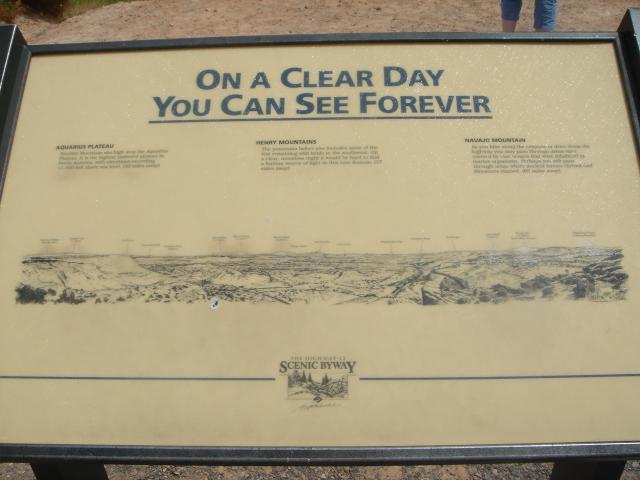 We had our trusty GPS with us, so we just took directions from "Bertha". Well we ended up at a corner, but no state park, so what's the next best thing to do, oh yes, some more food. We had just caught a small restaurant sign, so decided to go down the road a piece and see what was there. The place on the corner just wasn't our style. We ended up at the Boulder Mesa Restaurant:
The food was great, the service super and very friendly. We found the people out here were either really friendly or just didn't want to deal with you, there seemed to be no in between. The waiter told us that the area around us was all state land and that the entrance to the park was just about ˝ mile up the road. We ate a great lunch, hamburgers to die for, and then were off.

The entrance to the park was $6.00 a car, can't beat that. They have a small museum with some artifacts and a movie that plays for about 23 minutes, giving the history of the Anasazi in the area. It was very informative. Out back they have the digs. We found them quite interesting and also there is a reproduction model of the housing: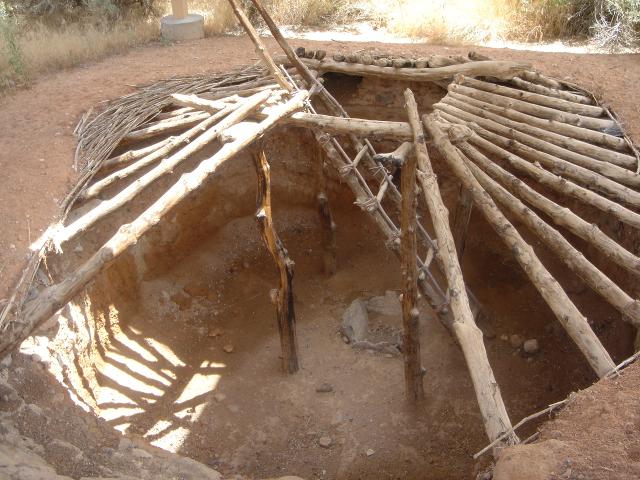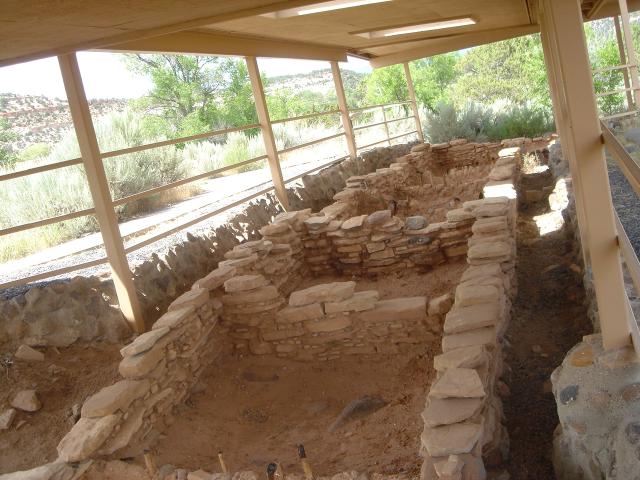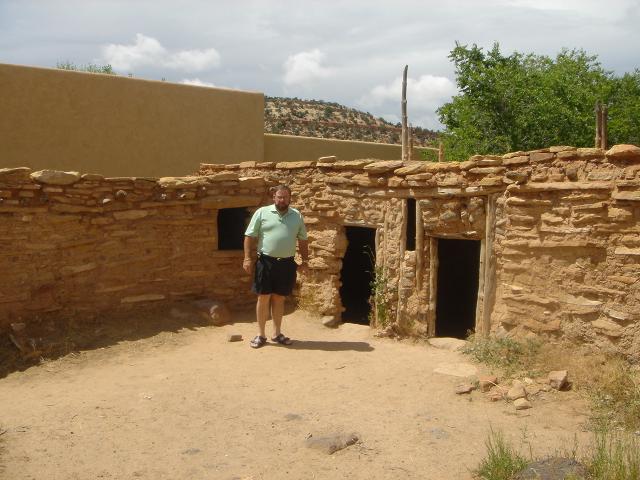 After all we do feel that vacations should be educational, as well as fun.

We originally started our day heading to Bryce Canyon..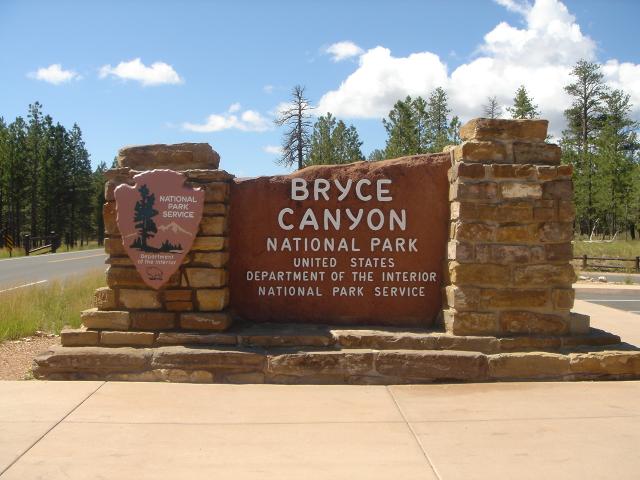 ..and our place for the night is the Bryce Canyon Lodge, so now we had to head back, yes again across the scenic roads. Really couldn't get too much of it, and Billy was getting used to the idea of looking down. On the way we had seen a sign to a petrified forest. Another detour that sounded good. Well not as good since once arriving there, we were told it was a hike, and a strenuous one at that. We weren't dressed for the occasion and opted out. Linda had seen a sign for a place called Hole-In-The-Rock back just a few miles, and found a paragraph on it in one of the travel books, so we decided to go there. Well after we turned onto a dirt road..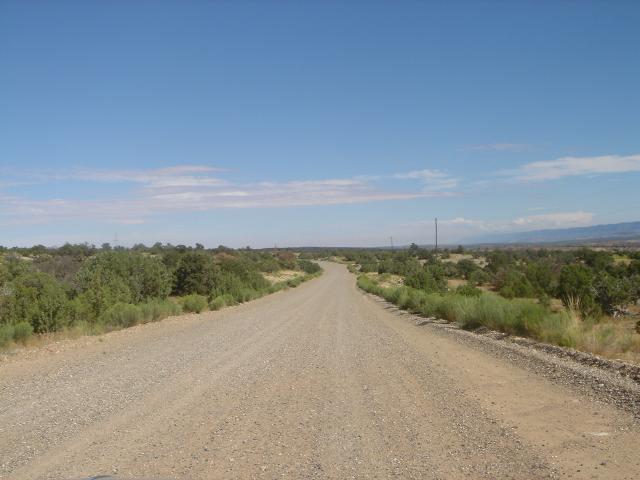 .. and went a piece, a sign told us it was 54 miles to this house,: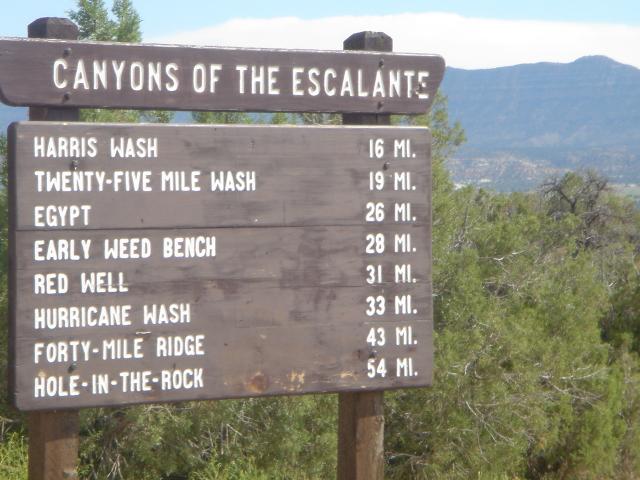 .. about face and onto Bryce Canyon Lodge.

We checked in without any difficulty and were told the sunset and sunrise times, as these were the most awesome views. We quickly went to our cabins,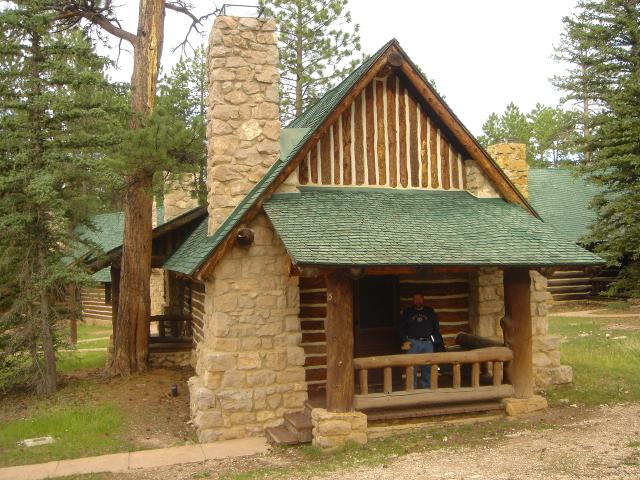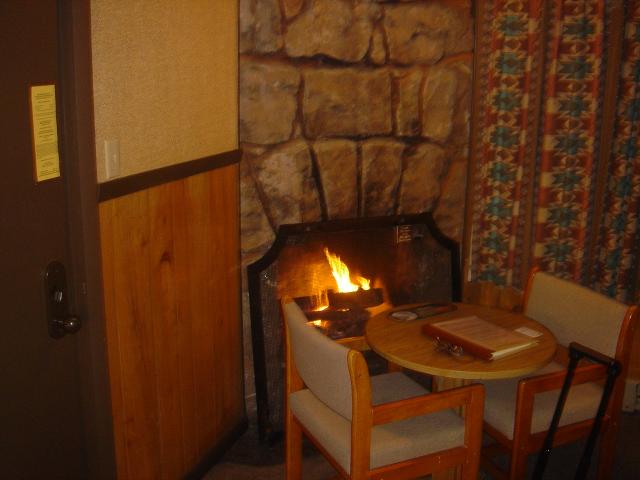 Freshened up and changed. It was much cooler here then the 100 degree temps we had gotten use to. We had dinner reservations at 7PM so did just a little investigating before then: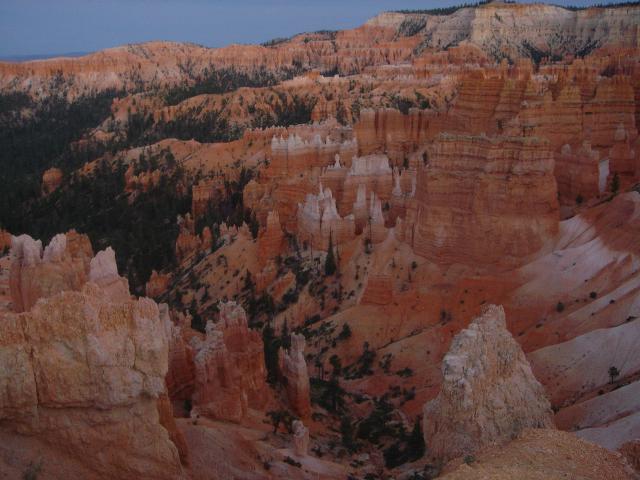 Sunset was like 8:15p so we figured we could eat and hit sunset point. Well we had a waitress from the black side of the earth, very slow. It took Wendy twenty minutes just to get us four sodas, and then it went downhill from there. Got the point - sunset was missed. Food probably would have been great if it was served hot, but it wasn't bad warm. There was no quickness in this gal's step, and she really couldn't handle more then one table. Even trying to pay the bill was an effort. But life goes on, we missed the sunset, did some more investigating; See what happens when the whole group including the camera person is laughing: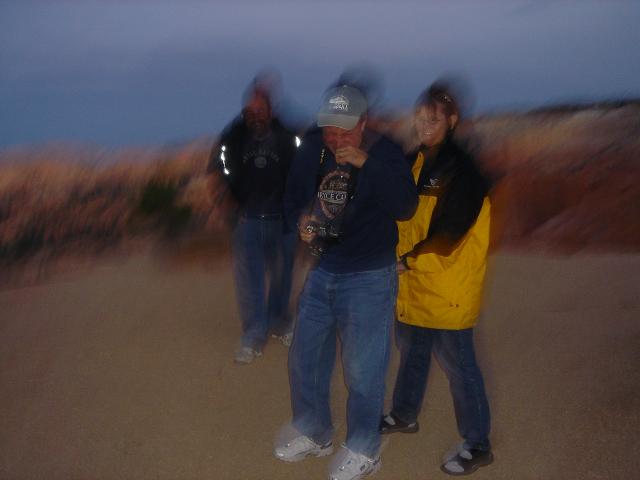 .. but now it was getting dark, and of course we had no flashlights, so it was back to the TV-less cabins to read and sleep.

Rise and shine at 5:45a, we are not going to miss the sunrise over the hoodoos. Sunrise was scheduled for 6:31a and we were determined to make it. It was rather chilly, so we layered ourselves well, some better prepared than others. It was then off to the summit to watch. Well as luck would have it, there was a big ole cloud in the way and sunrise took about a half an hour to happen: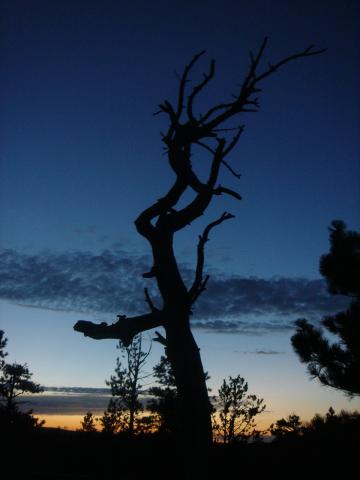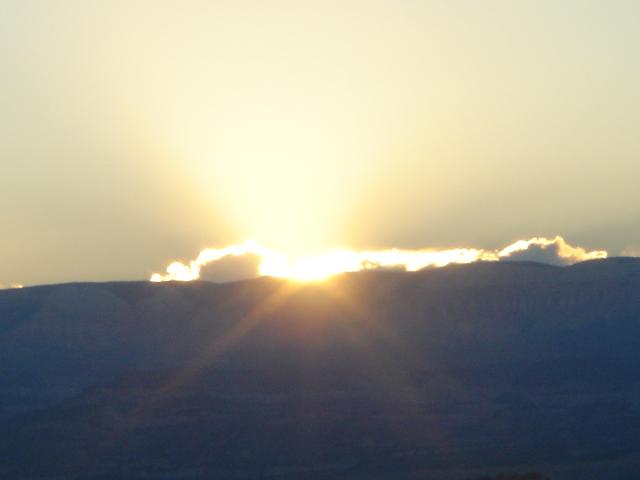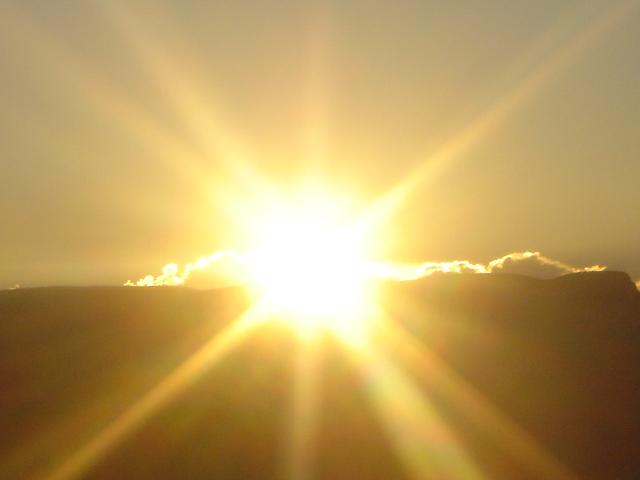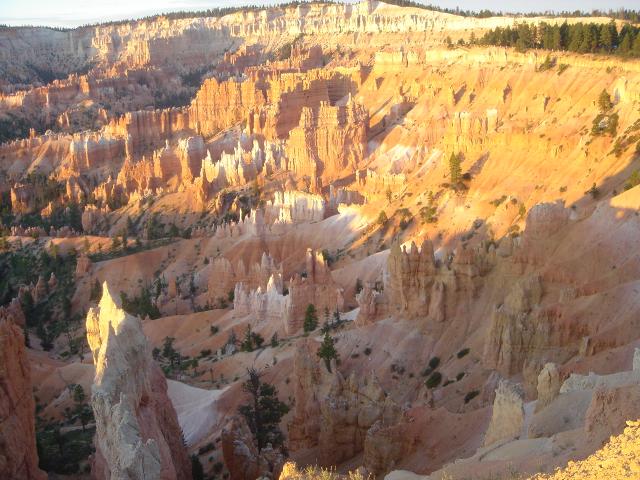 Kind of anticlimactic, but the sun on the hoodoos was pretty neat. Been there done that, don't think I'll do it again. But glad I did it. Back to the cabin for a quick shower, off to the lodge for breakfast, which went much better than dinner and then we were off to explore all the overlooks in the park. We are not big on hiking down the long paths. The overlooks did just fine by us, and once again there were some breathtaking views: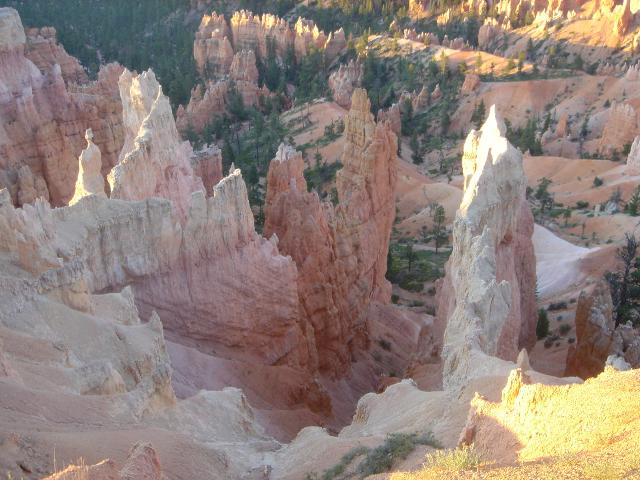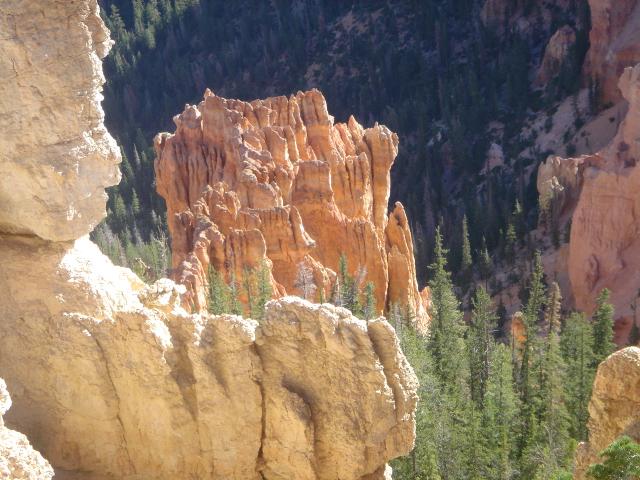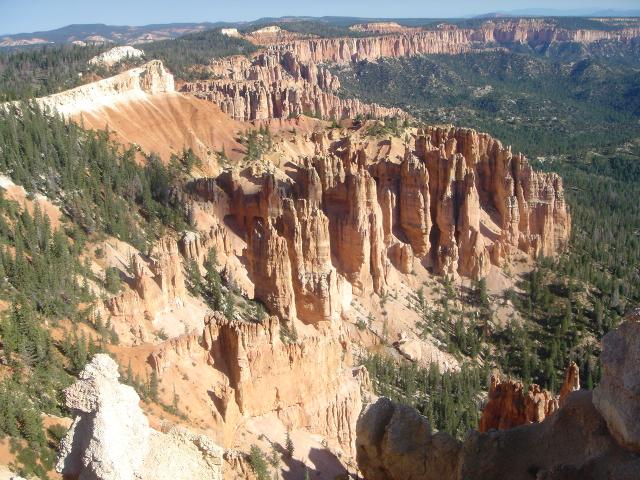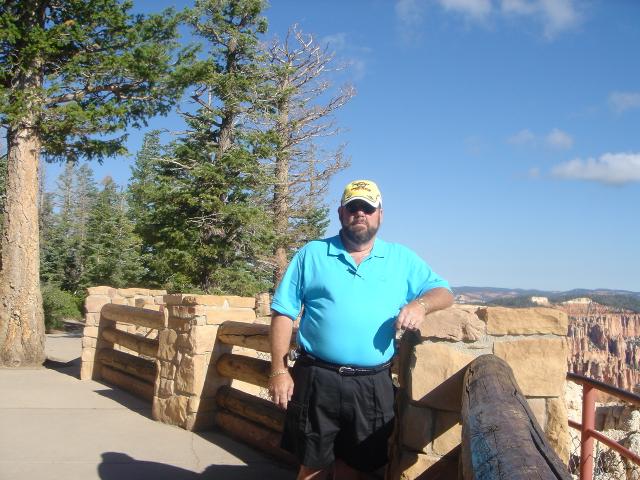 There was even time for the required group picture: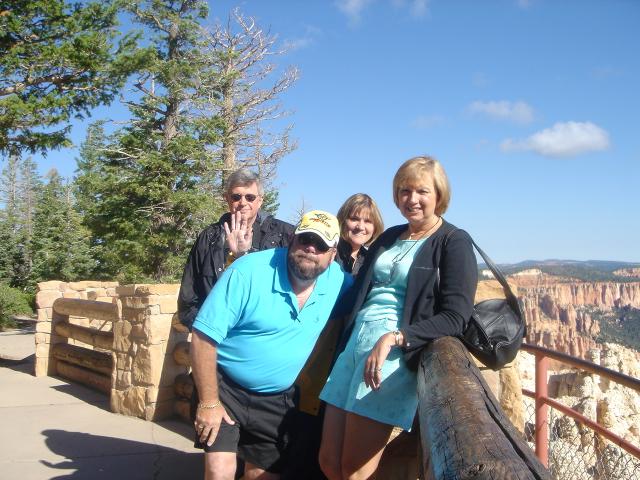 Then it was off to more stops along the way: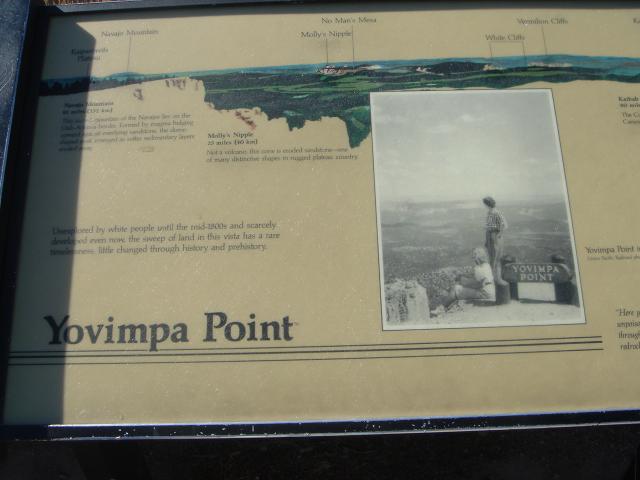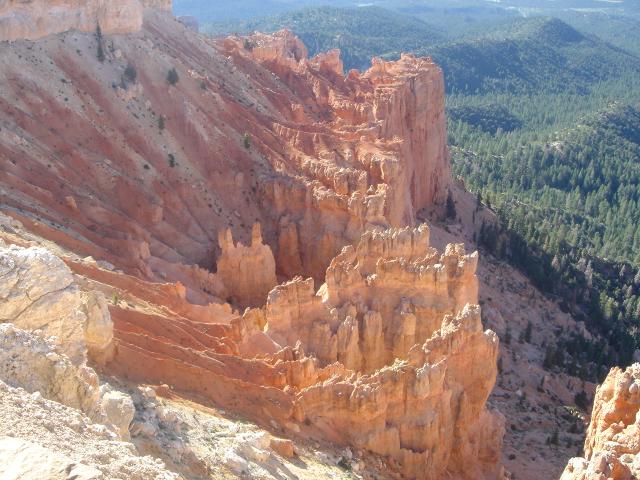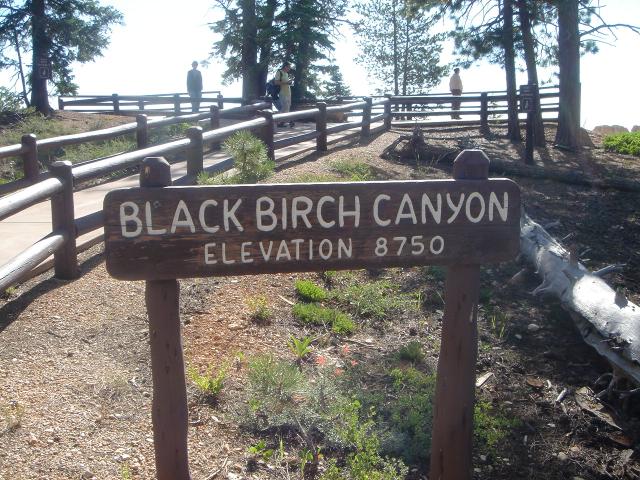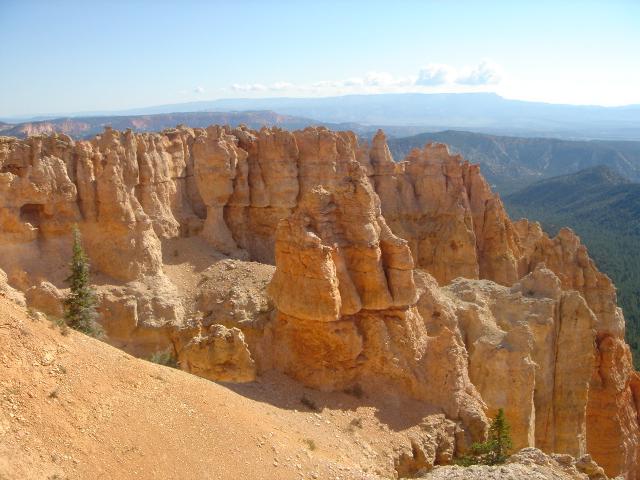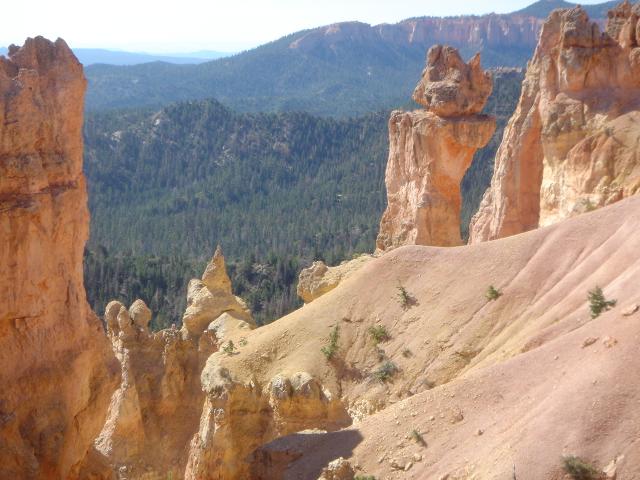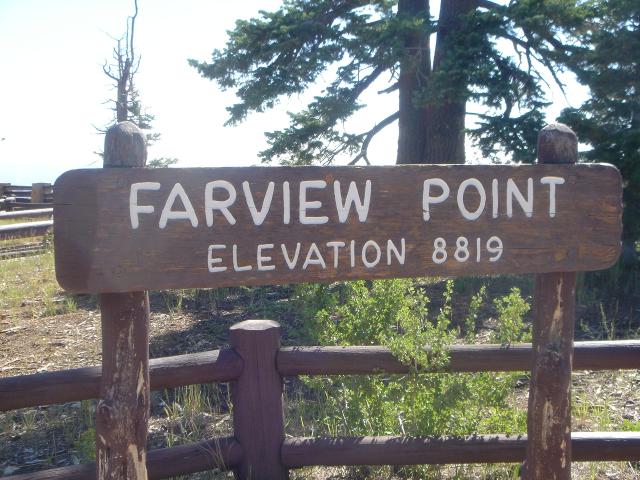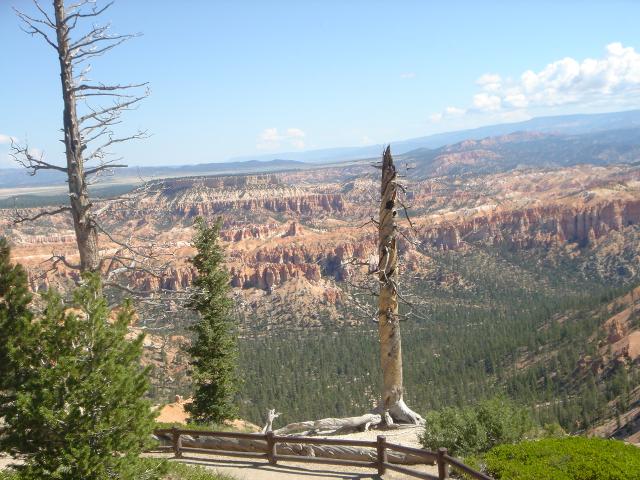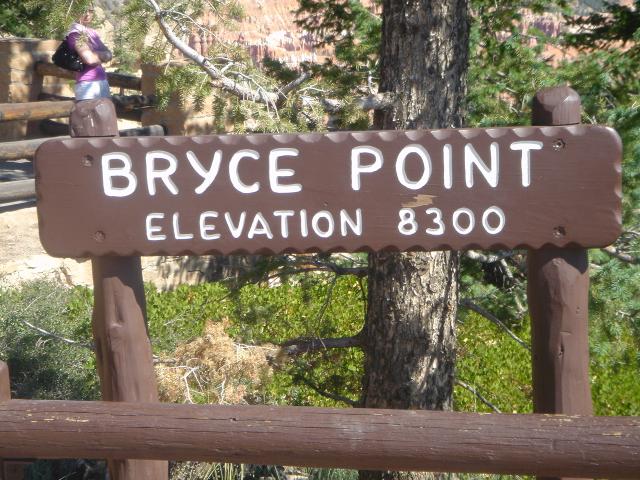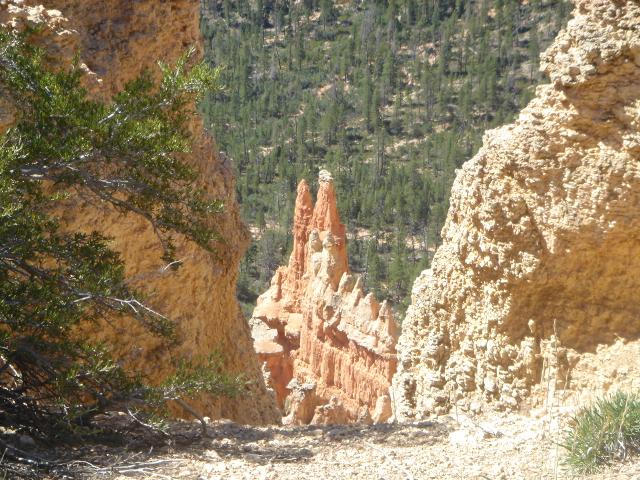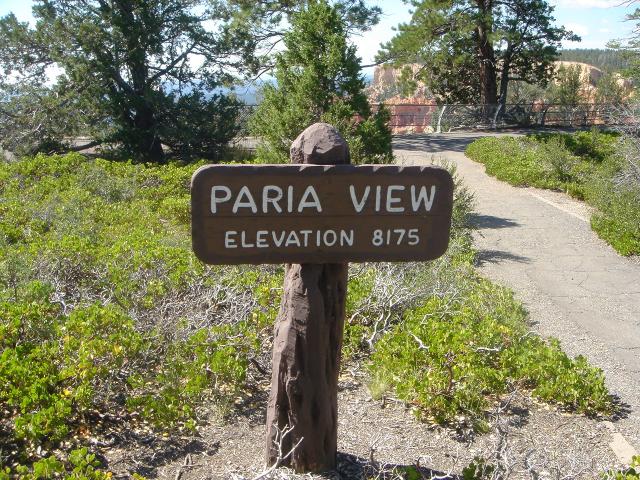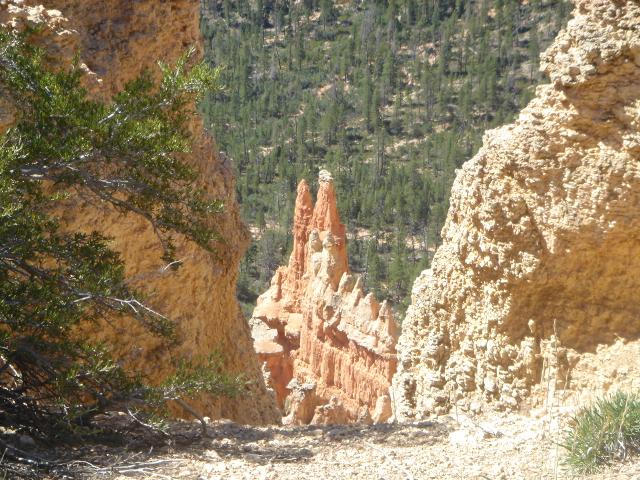 On one of the summits a gentlemen had mentioned Casto Canyon to us, and that it was a really neat place to go see. As we were heading out on Rte. 12, Buzz found the sign and decided to take the dirt road. It said three miles, so what's three miles? Well we had to go through several washes to get there, and then do a small bit of level hiking. These hoodoos were very red, and again quite beautiful: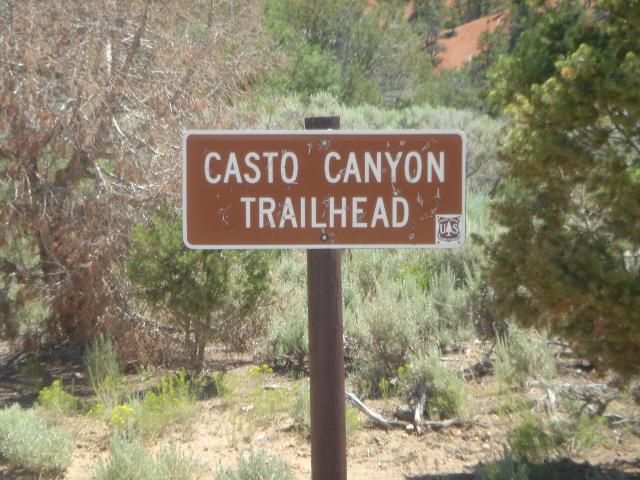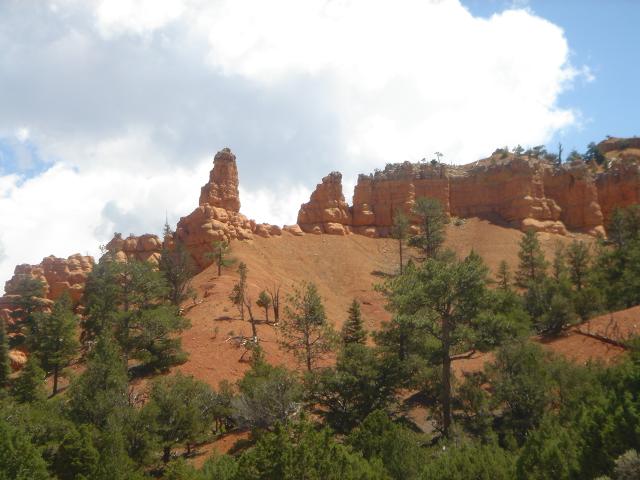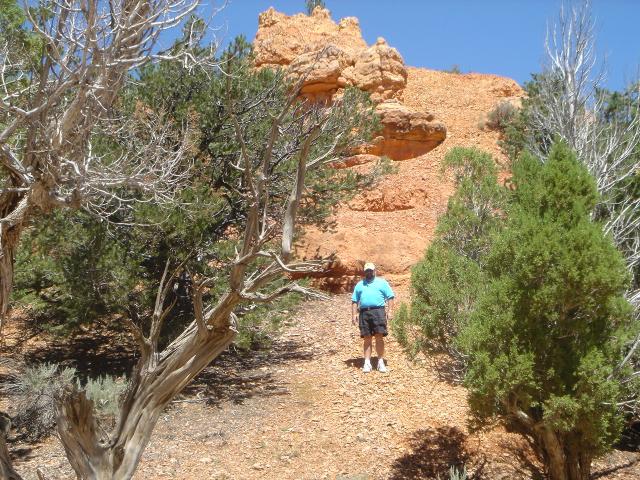 Although Linda says she will never forget going through the almost dried riverbed: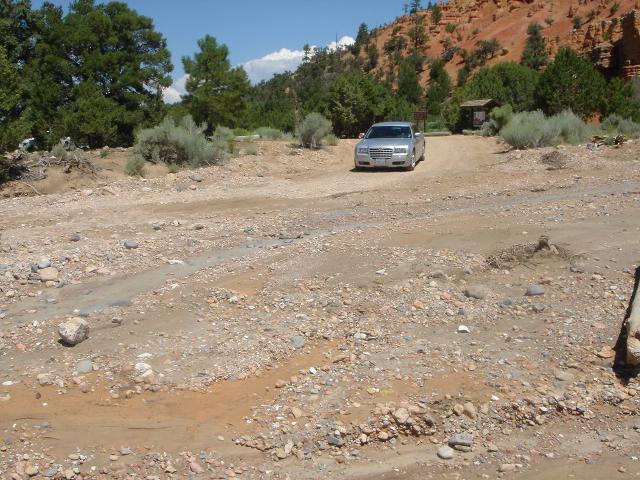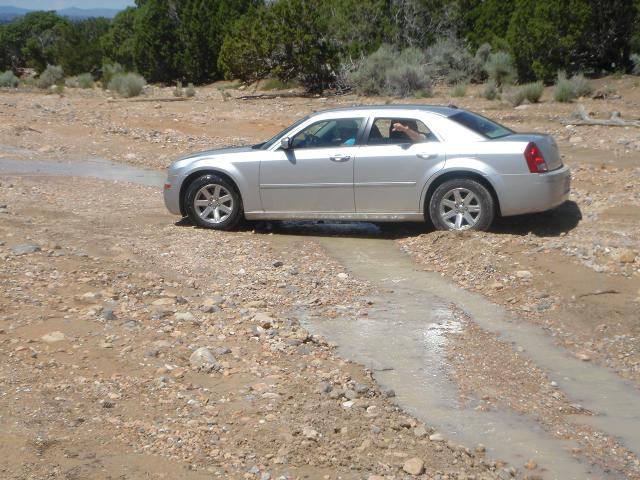 We think that if they were alone, they never would have crossed the riverbed. From there we went back on Rte. 12 to Rte. 14, another scenic road. We even found one last scenic overlook and saw the bad weather approaching: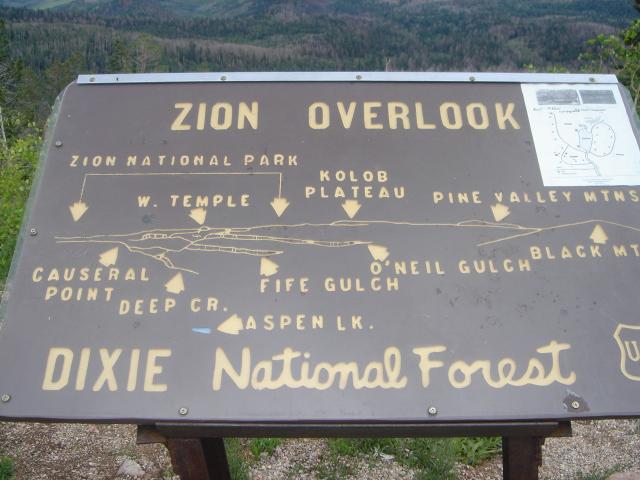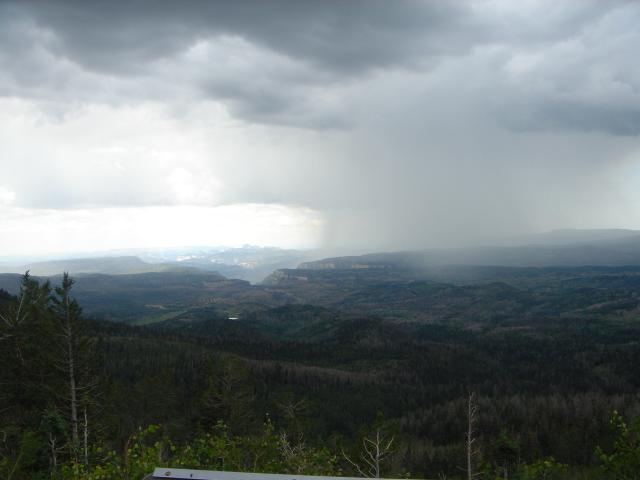 Again this was a beautiful ride with forests, lakes and mountains, what a perfect place for tourists. We ended up in Cedar City for lunch at Sullivan's,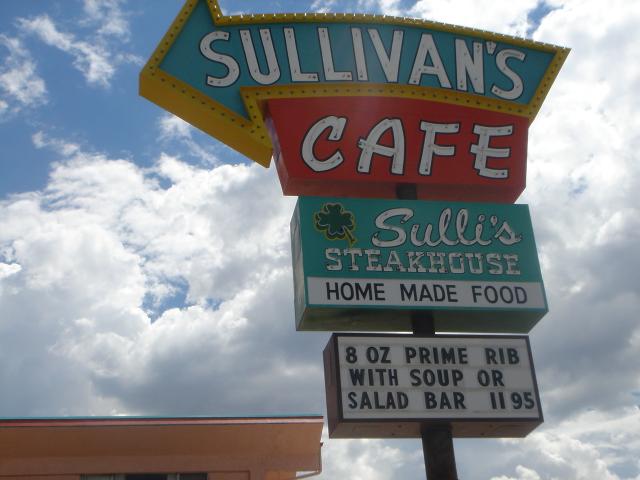 Next time I would find someplace different. Enough said. Service good, but the food was just fair. But we like to find something different, not a chain. Then it was hit Rte. 15 and back to Vegas. We stayed the night at the Doubletree Club by the airport. This turned out to be a great choice, as they had free shuttle service to the MGM and the airport. So of course we had one more night on the town. It was off for dinner at the Rainforest Café in MGM and then a bit of slots. Our "goodbyes" were said upon our return to the hotel, since Bill and Linda were flying out earlier than us, and we would return the car in the morning.

A great adventure was had by everyone and we are, at least, still speaking to each other!
---
Back to our Main Page..