The 12 Hours of Sebring 2005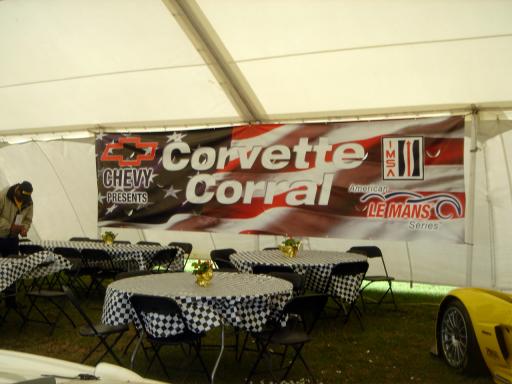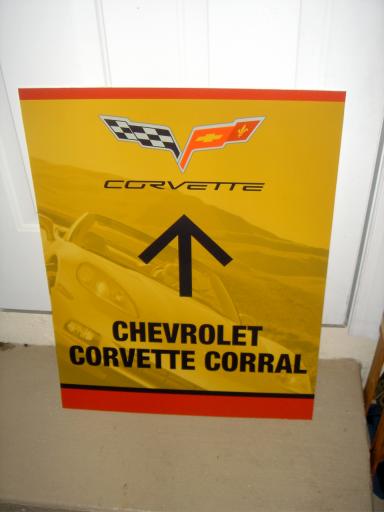 This is the first race of the season, and we wanted it to be a success so we picked a fine crew to help us and we arrived at the track on Wednesday morning and pretty much were there for the duration of the weekend.

Upon arrival we found out that the corral was right at Turn 17 and looking down the front straightaway. What a view!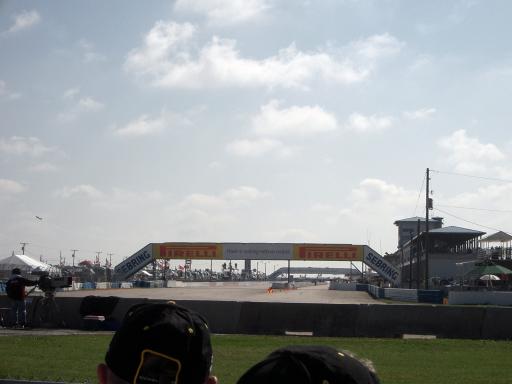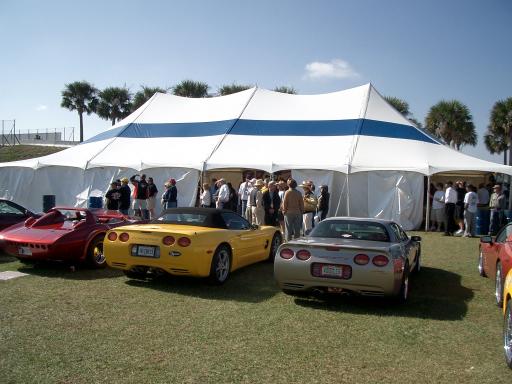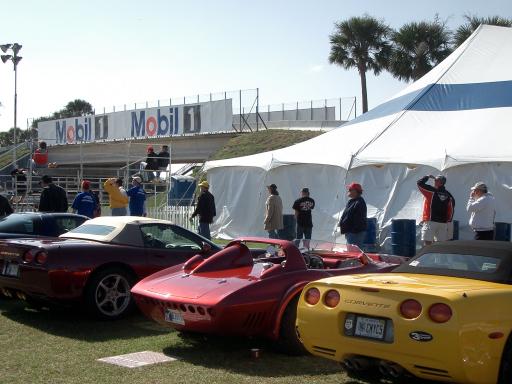 There was a 40' x 80' tent set up along with two sets of bleachers and four port-a-potties for our use. We looked over the parking lot and made decisions on how we would best use the space when the real crowds arrived starting Thursday morning.

Thursday morning found us in a little or rather a lot of rain and we wondered how many cars would brave the weather. It didn't surprise us that there were many hardy souls who showed up in the rain since the first 100 cars would be allowed to take laps around the track just before night practice. We ended up with about 87 cars on the track so all had a ball especially since it was in the rain. As you know neither rain, nor snow, etc. stops an ALMS race or (for that matter) parade laps: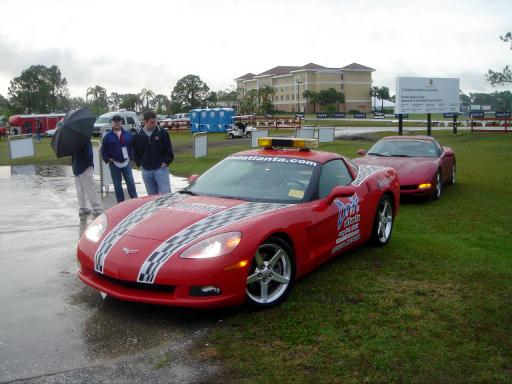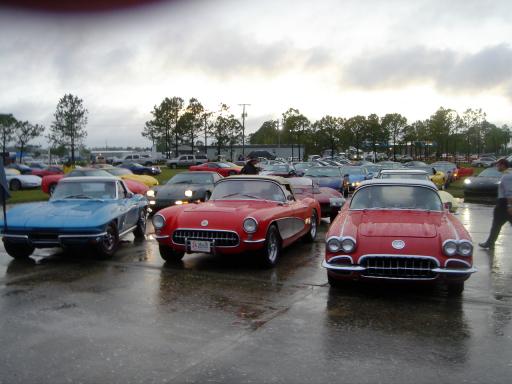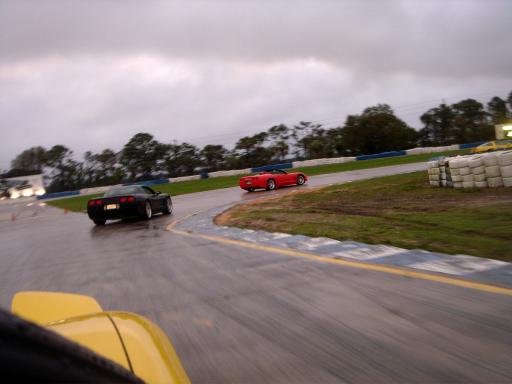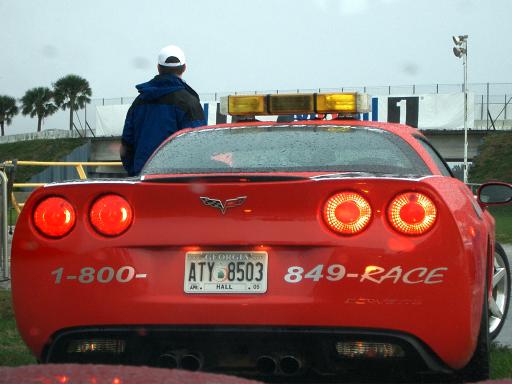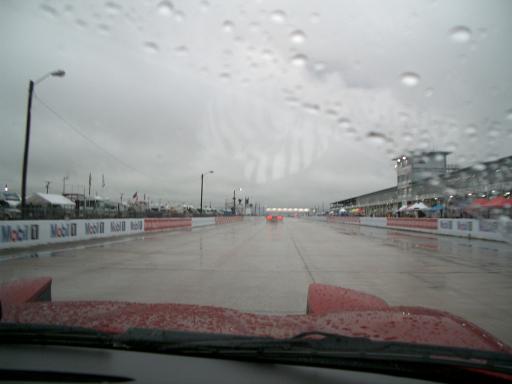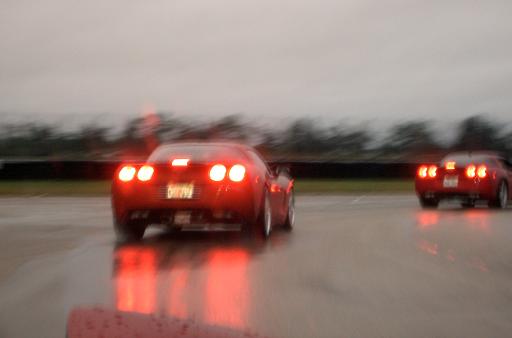 Thursday was also the day that the GM cars arrived. They provided the corral with a rolling C6 Z06 chassis: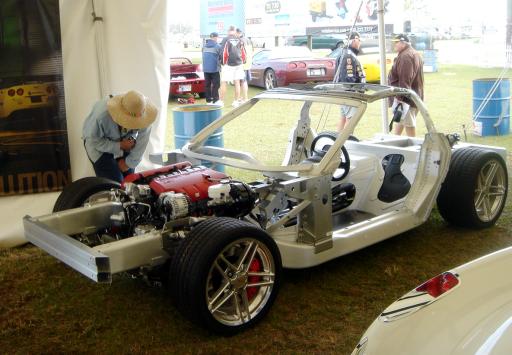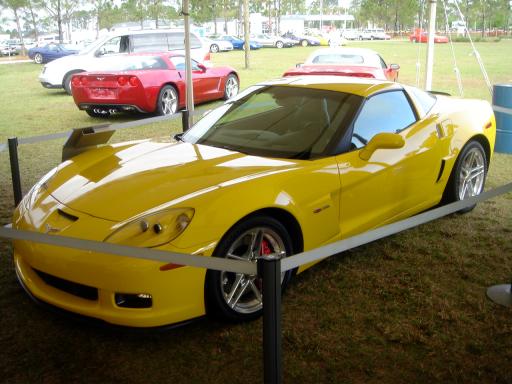 .. which came from Geneva and is now in the New York Auto Show, a really cool SEMA C6: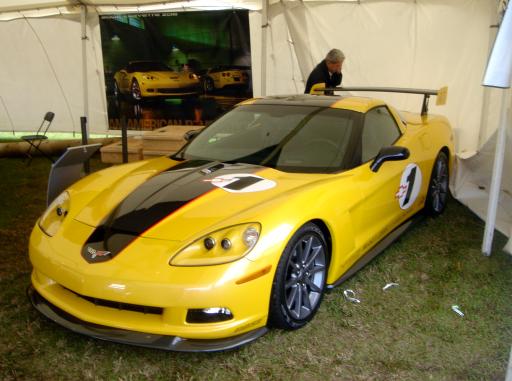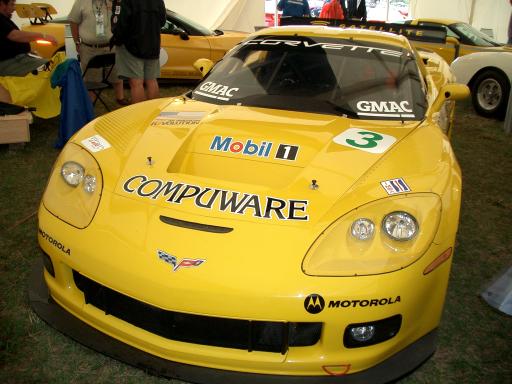 By the way, there are some advantages to being NCM Chair-Elect and running the corral as witnessed by these pictures: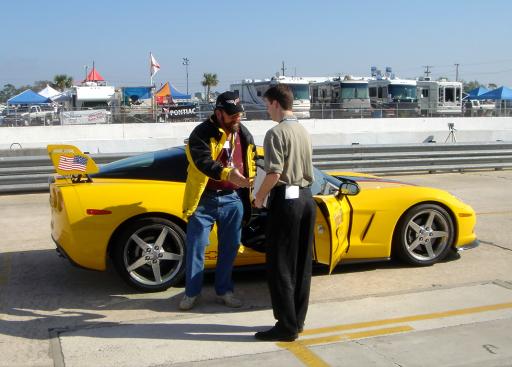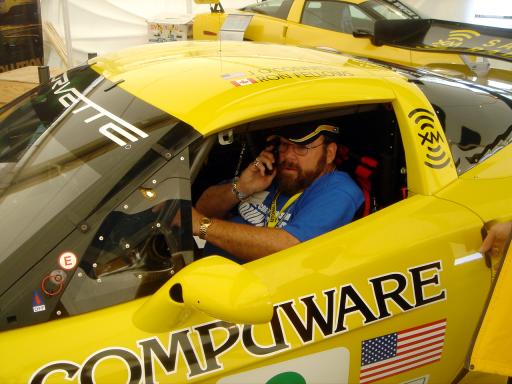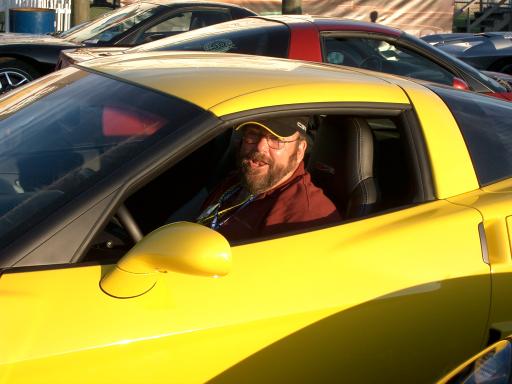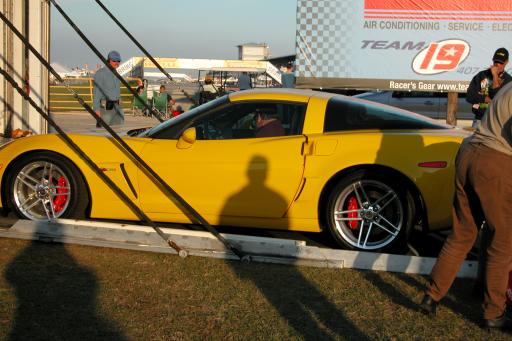 John Neas also was kind enough to loan us his 1956 Corvette race car, the first Corvette to race at Sebring: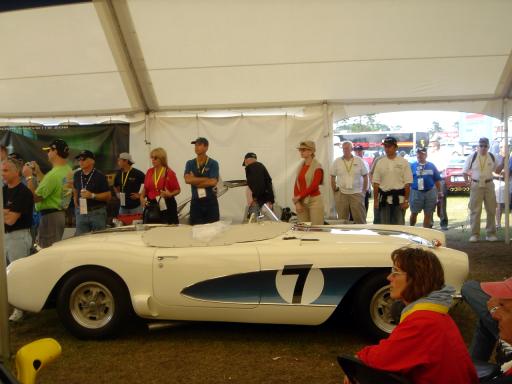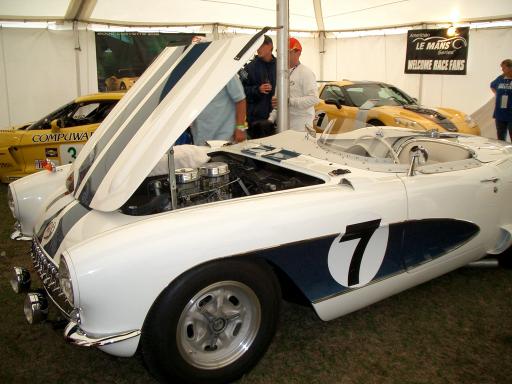 Oh yeah, Ron & Jim from the plant in Bowling Green drove down two pre-production validation Z06s for the crowd to sit in and drool over. There were there along with these three C6s that were opened for all to see and touch: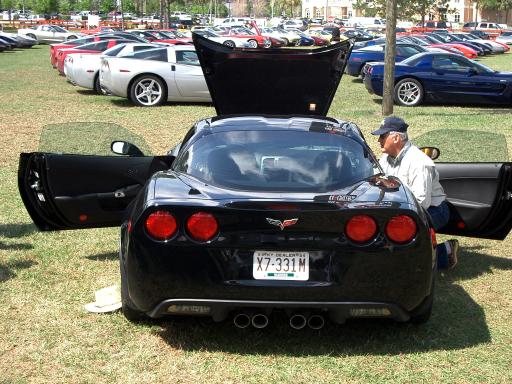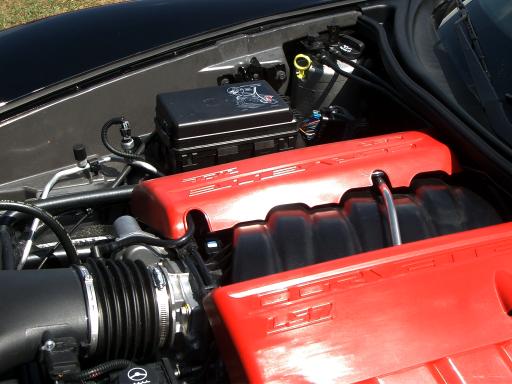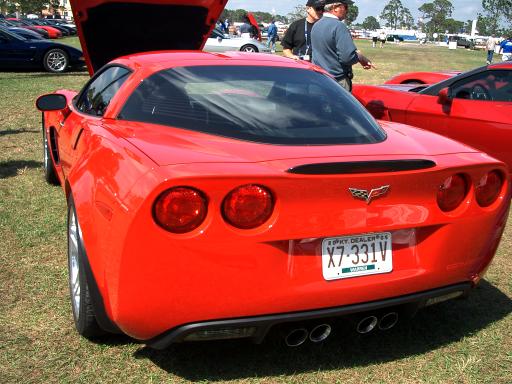 What a sight to see!

It rained most all day and all of the participants were glad we had the tent to keep us dry. It also was a great place for Jackie to set up a satellite NCM store for those that wanted official NCM merchandise: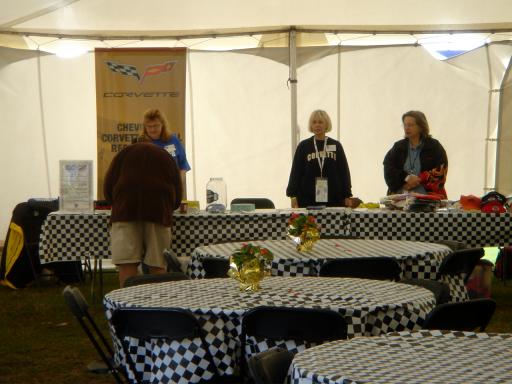 Look for the same things to be available at the other races. At 5:00PM H. Doug Robinson, Executive Director, IMSA gave welcoming remarks to all present. He also presented Jackie & me with the checkered flag that was dropped at the end of first ALMS race in 1999. That is something I know I will treasure for the rest of my life. Thanks, Doug!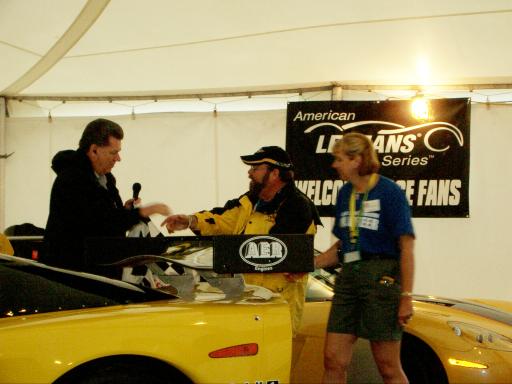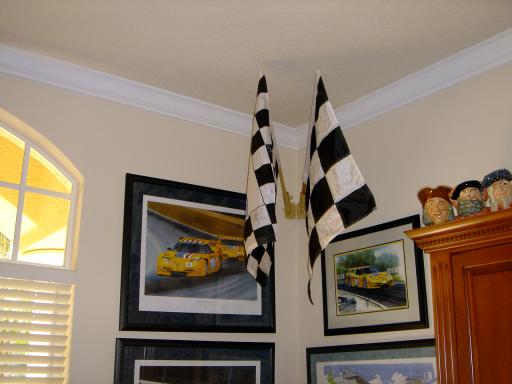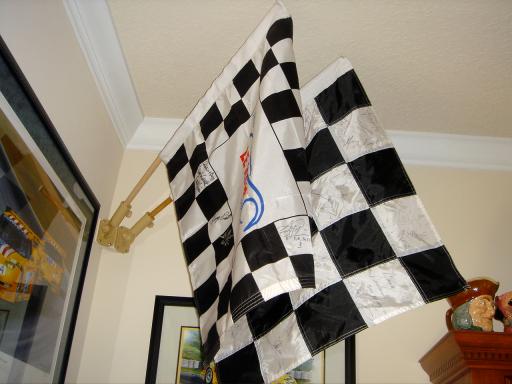 Friday brought sunshine and a whole lot more cars but I have to say Jake Delaney, parking manager, his son Brian and the rest of the parking crew kept it all under control. The first 300 who signed in on Friday were treated to a delicious lunch by Chevrolet and no one went away hungry. The afternoon was taken up by a Celebrity Choice Car Show and did we have Celebrities in attendance. Corvette Chief Engineer David Hill even spent almost the whole afternoon signing things and mingling with the people: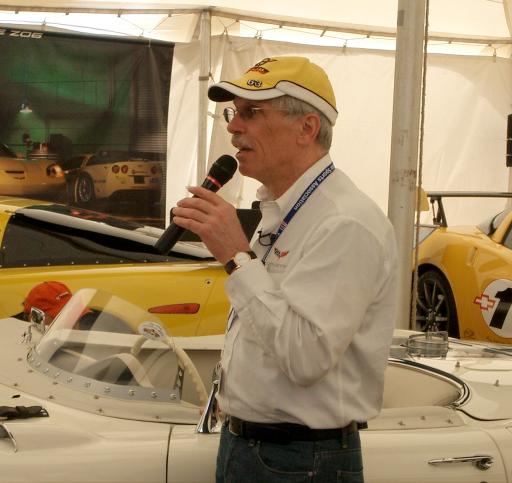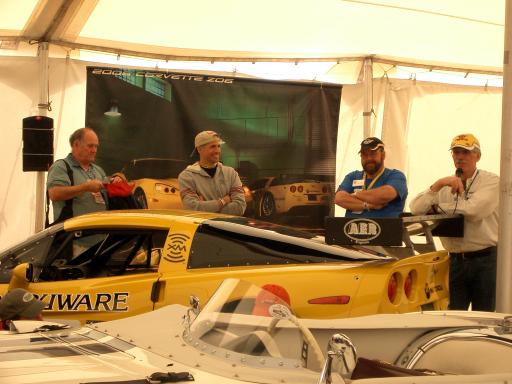 It's too bad that someone was thoughtless enough to take his LeMans hat from a chair while he was busy with others. I can only hope it was not one of our participants. Along with him there were C6R drivers Ron Fellows, Oliver Gavin, Jan Magnussen, Olivier Berretta, Johnny O'Connell and many GM people, including Doug Fehan, Gary Claudio,: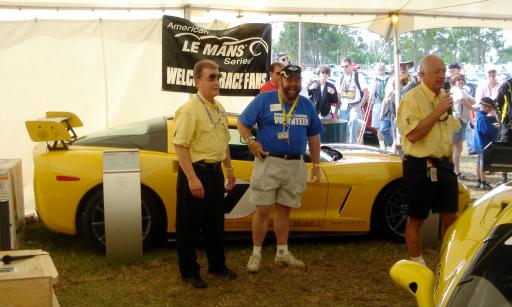 ..Harlan Charles, Nate Love: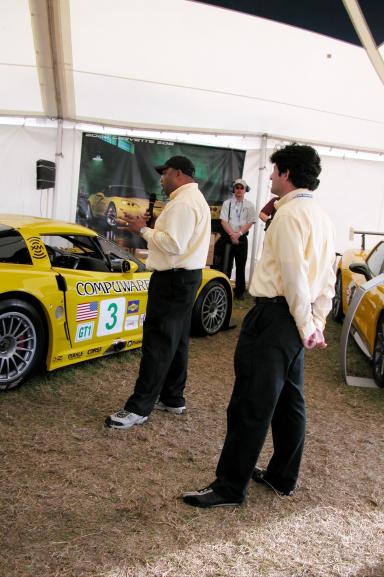 ..Tom Peters and I'm sure some I have forgotten, along with IMSA people and Sebring personnel. As you can see from these pictures I sometimes try to persuade people to give some things to the NCM:
.. sometimes they don't want to hear it: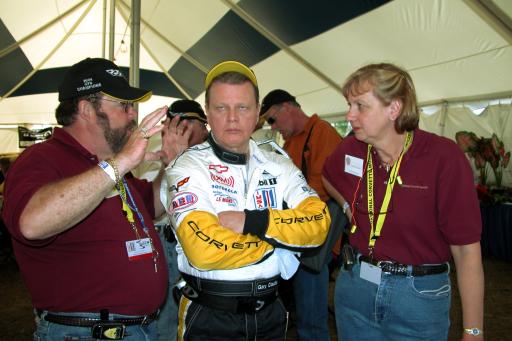 .. but always they remain friends through it all: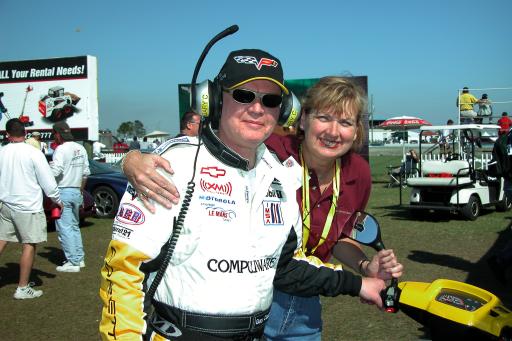 Gary Claudio has been a friend to the NCM and me personally. At around 3:30pm we had drawings for two people to hold the American flag on the tarmac with the C6R cars before the start of the race: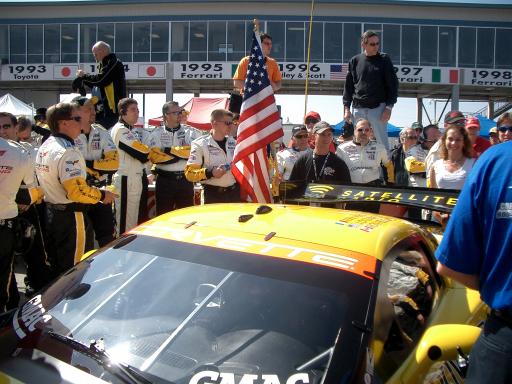 ..and one lucky person was chosen to get into the "Hot Pits" during the race. All of them were happy both that day and of course on race day: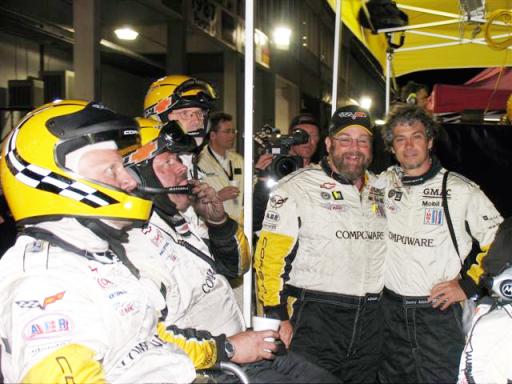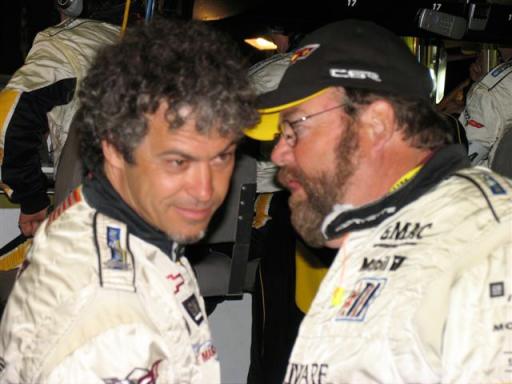 Saturday brought the race itself and we had over 400 cars show up to partake of the festivities: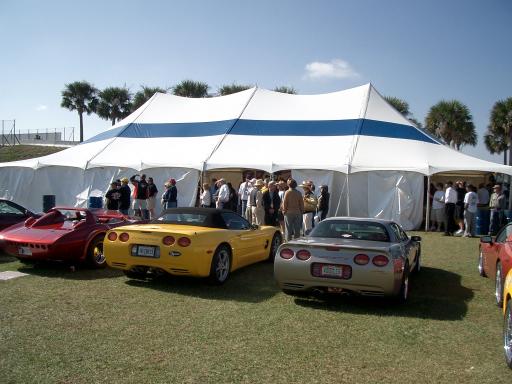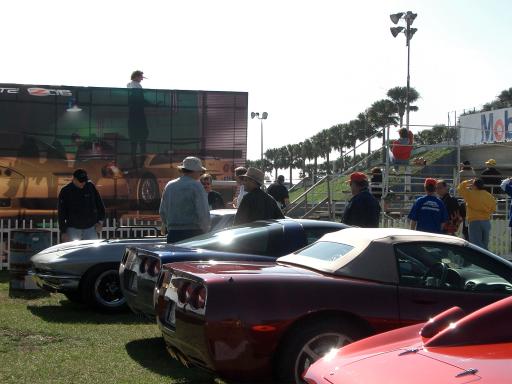 It was a real treat to see Lou Gigliotti's LG Motorsports race car in the corral for all to look at. He had a little bad luck the day before, but he graciously brought it over since he had promised me that he would display it for Saturday: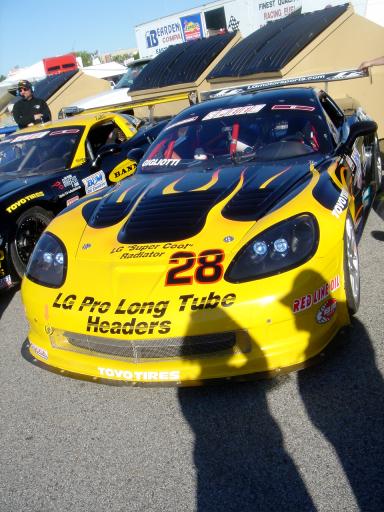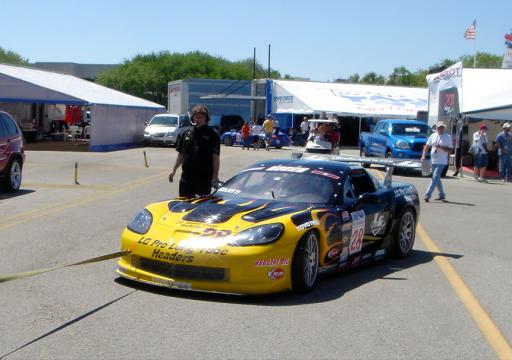 It is the custom of the ALMS to allow the general public to go on the tarmac before the race and we were allowed to open the gate in front of the corral and just walk out, rather than going over the foot bridge. Just being on the tarmac was a treat for all. Some of us even got to see Emerson Fittapaldi in the crowd around the C6R: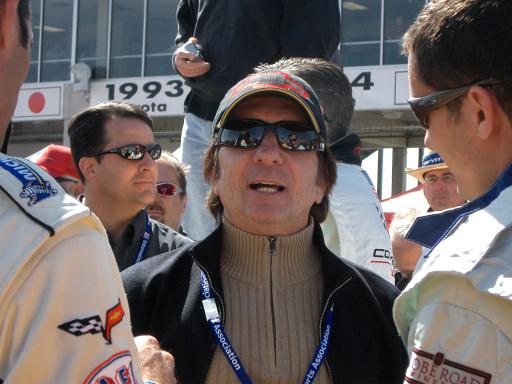 The first 500 people to sign in were once again treated to an even more delicious lunch by the gracious folks at Chevrolet. I would like to thank all of the corral participants for allowing "my volunteer crew" to be the first to eat so they could get back to work. What a view we had from the tent and the bleachers for the whole race! If that wasn't good enough, those who wanted to were able to watch the race on the 50" or so TV supplied for their enjoyment. I mean could it get any better!?! Well, it did. Dr. Dick Thompson, "The Flying Dentist" and his wife Eve were on hand for all to talk with and hear some great stories of early races: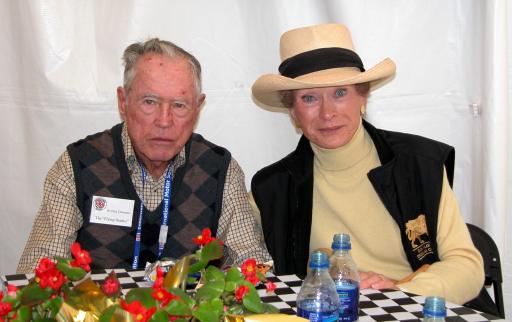 Dr. Dick was in the very first Sebring race and drove Corvettes for many years. From what I heard, he could really drive the wheels off the race cars. At around 5:00pm, Tim Mayer, IMSA Chief Operating Officer gave his closing remarks: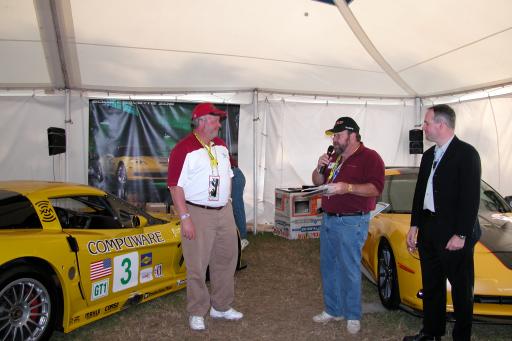 ..and we awarded the plaques for the car show, club participation, and longest distance traveled in your Corvette to attend the race which, by the way, was 1400+ miles. There was another drawing for two people to get into victory circle. We also held a small auction to benefit the National Corvette Museum. There was a clock signed by all the C6R drivers: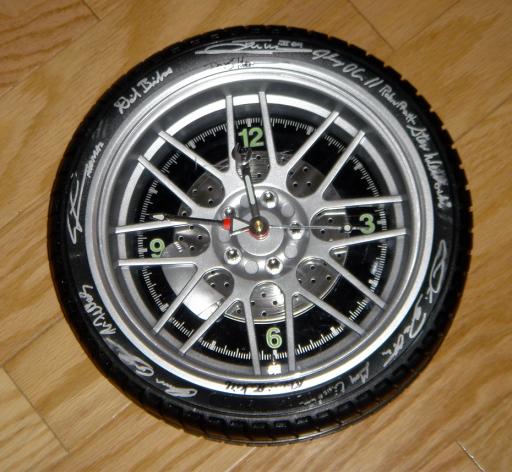 ..a poster from the 2005 Sebring Race signed by all the C6R drivers and many GM and Pratt Miller people: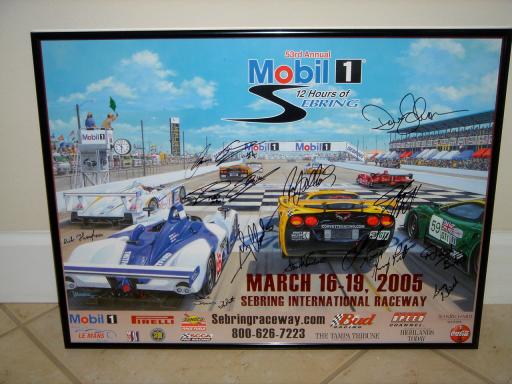 ..a poster from Pratt Miller also signed by the drivers and others: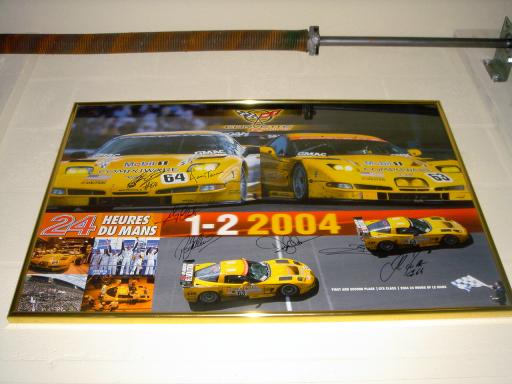 ..donated by Jackie & me and two certificates for a driving school donated by Chevrolet through Nate Love: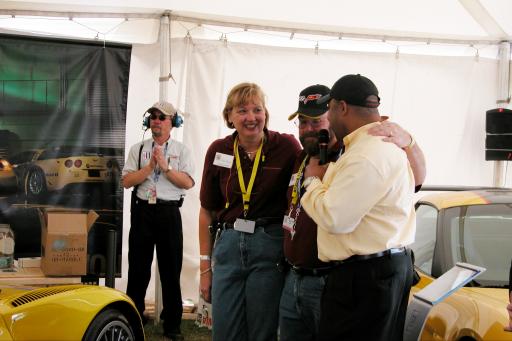 The bidding was spirited and we raised money for a good cause. After the formal items were over, the tent and corral remained open for the remainder of the race and after the victory celebrations.

I know right off the bat that I will forget someone to thank, so please forgive me. I would however, first and foremost, like to personally thank Larry Hayes, Event Director, IMSA for all the work he has done not only for this event, but for all the races to come: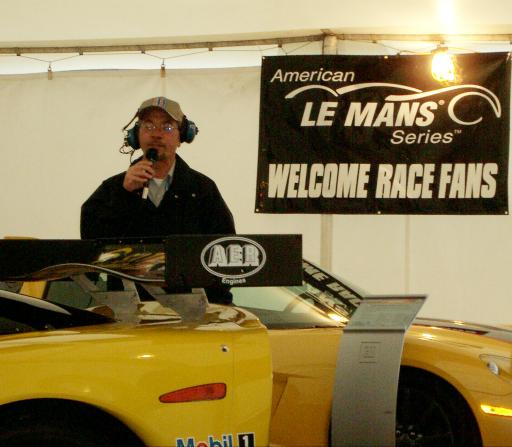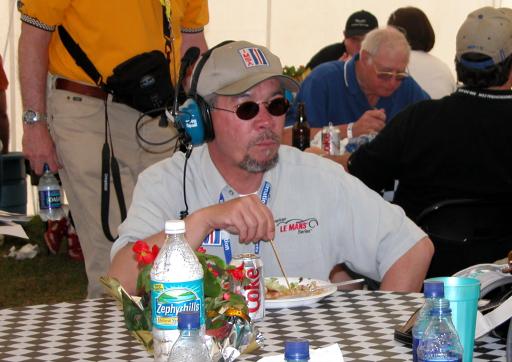 Without him there would not be a corral and certainly not anything as elaborate. If you go to any more races and see him, just say "Thanks." I would also like to thank Chevrolet for not only supplying the location, the tent (along with food and cold drinks throughout the event), and for allowing us to have a chance to see the new Z06 up close and personal, along with the other amenities over the four days. Of course I would like to thank IMSA and Sebring for all their help. I would also like to thank all of the volunteers for all the long hours they put in to make this a success. Jake & Brian Delaney, Anne & Pete Chevillot, Bill McKenzie, Jim Chevillot: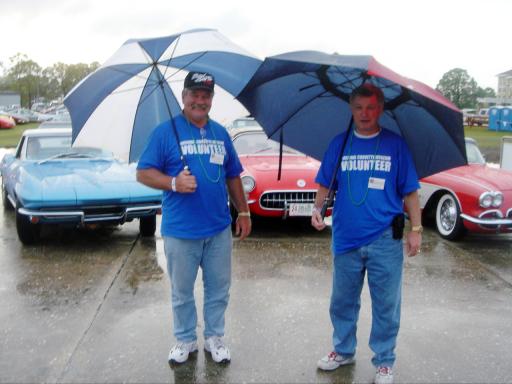 ..Tom Lineberry, Fred DiTando, Jack & Mary States, Ben & Mary Pardo, Paul & Ruth Byther, Karen Battista, Ken Kwasnick, Tom Coughlin, Ray Burnett, Gus Puryear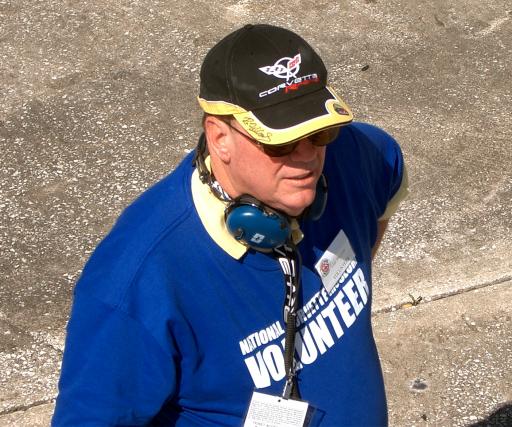 ..Pattie & Hutch, and of course "Zippy":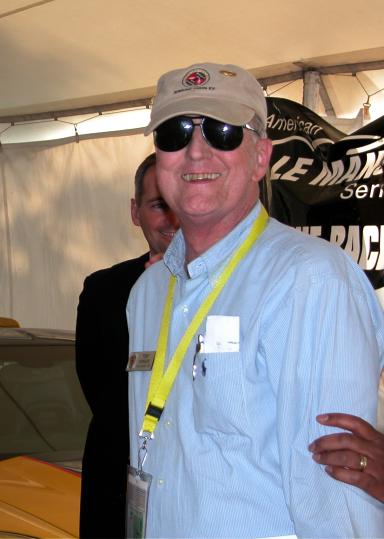 They all deserve a hearty "Well Done." Without these and the other people who just stepped up and helped this would have not been possible.

If you have a chance to see any of the rest of the races this season, please sign up for the Corvette Corral as you will have a ball.

I would like to end this story with a few pictures from the weekend, so enjoy: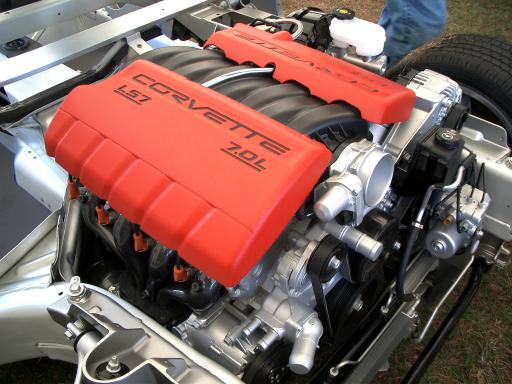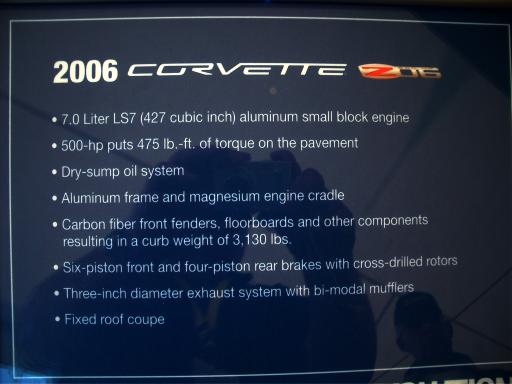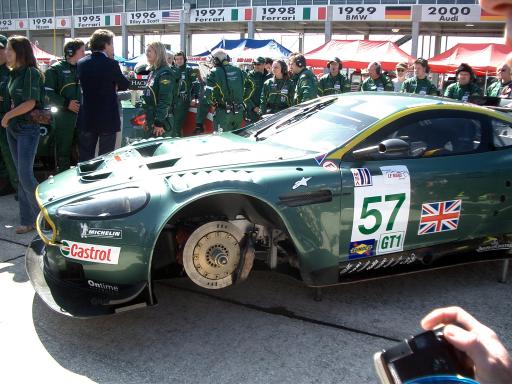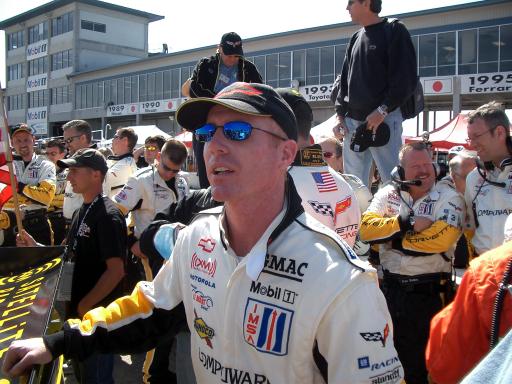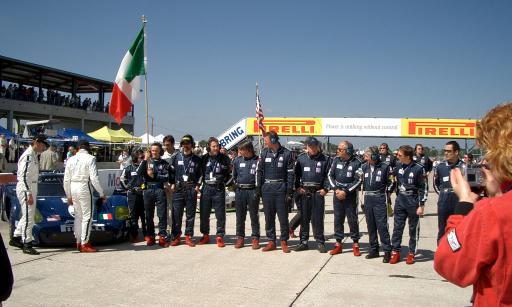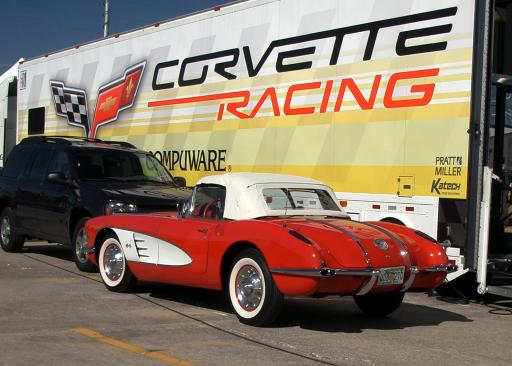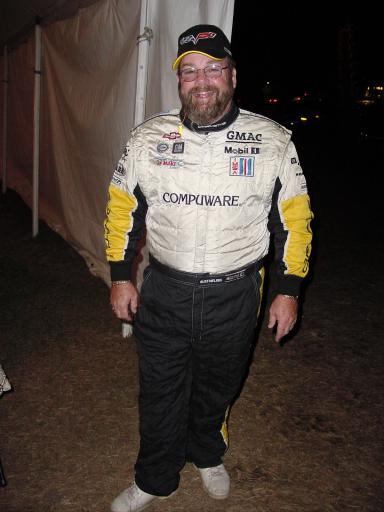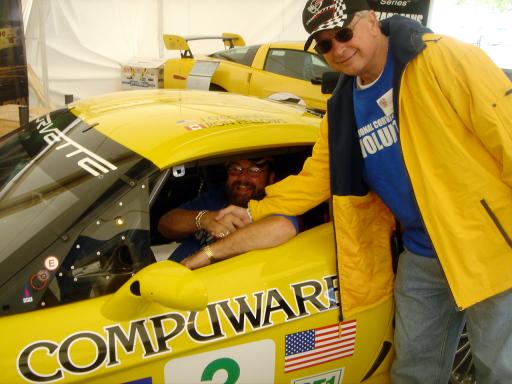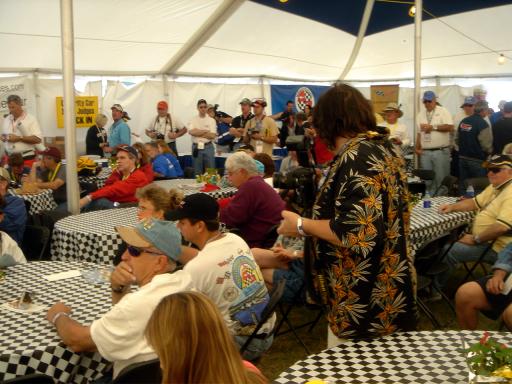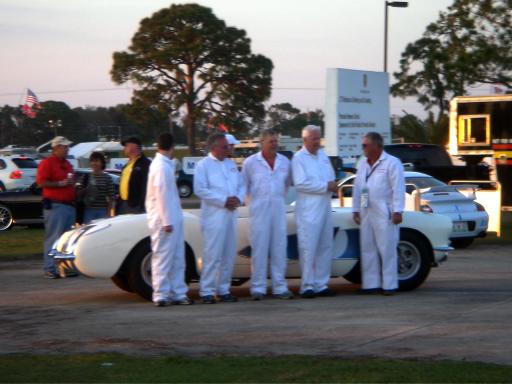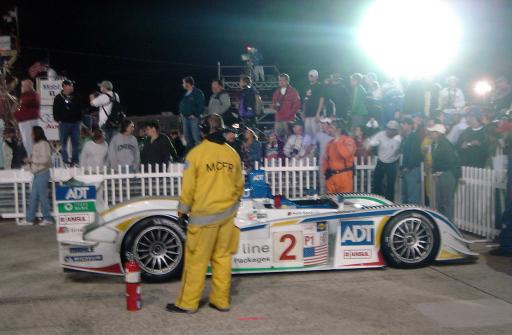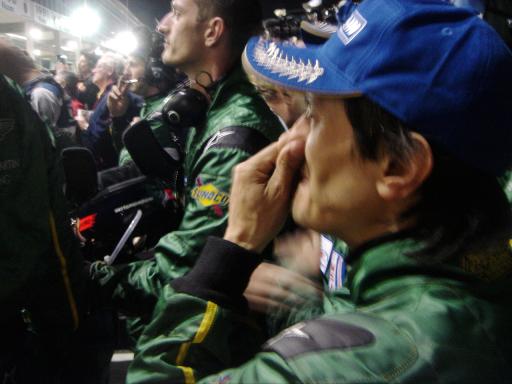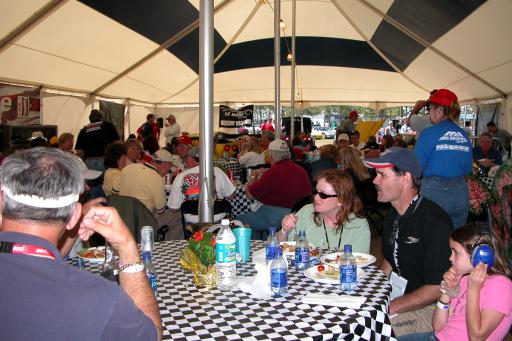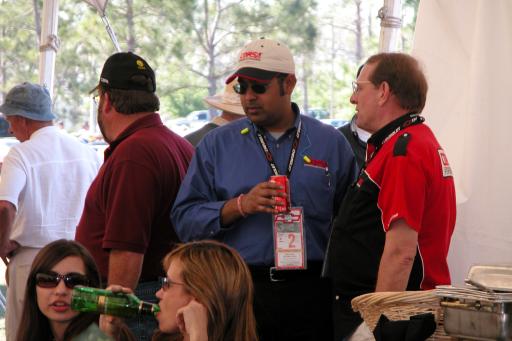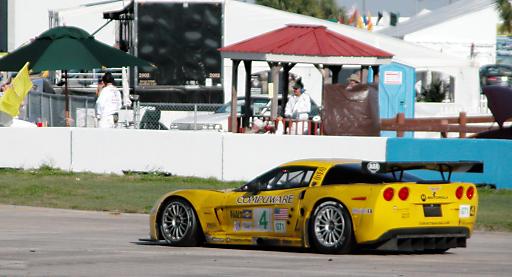 ---
Want to see the rest of our site? Click HERE..