Sarah Does It!
Jackie and I, the proud parents, left early on Friday, January 7, 2006 to head toward Orlando to watch our daughter Sarah compete in the Walt Disney World Half Marathon on Saturday. We arrived to see her waiting anxiously for the big event to take place. Sarah had made a few signs for us to hold along the way, she wanted all the cheers she could get: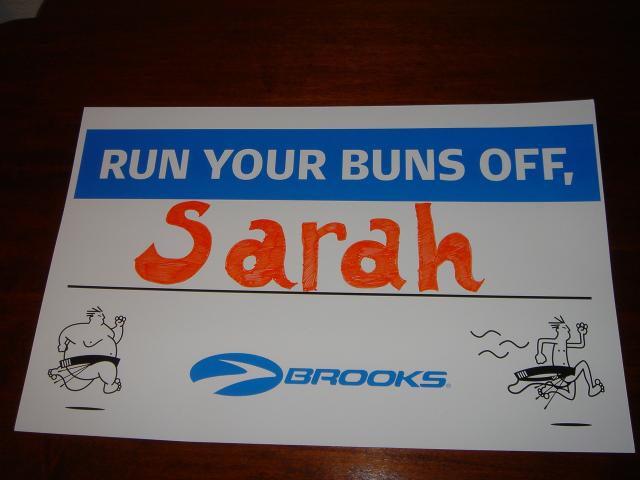 Then she pointed us toward a shuttle bus and we all headed over to the Expo center. There you could find anything and everything for running. If you know us, you know we are not runners. So here was the place we got to try gel stuff and energy type bars. Proper product names elude me, at this time. I certainly didn't find anything pleasing to my palate. Sarah and her team, "Train To End Stroke" had a "pasta party" to partake of, so we went back to our room for a few winks of sleep.

I say this, because we had to rise and shine at 5:00AM, (runners had to be up at 3AM) to head out for the Disney Park to go who knows where and see if we could spy her among the participants. We found it very hard for us as spectators to find out how, where and when we could watch the race, but we were determined to get the job done. We weren't shy; we did ask many other spectators along the way, hmm, every one of them was a first timer like us. So, off we went in the dark, with no idea where we were going to end up. As good Floridians we had made a practice run to Epcot the day before, but the local police had closed almost all of the roads. We just followed the blinking signs and finally arrived at the parking lot at Epcot. This is the place of the start and finish, but we had been forewarned that there was no viewing of the start. So now what? Looking over the fence, we saw runners. I mean RUNNERS! Later on we found out that there were 16,000 people taking part in the race. There were runners everywhere, but not up close.

Next stop was the Mono-Rail and took it to where we thought we could watch. Just a side note, the weather was in the thirties (very unusual for Florida) and all the runners were very bundled up and we had no idea where in the group Sarah would be or what she had on. So, it was a long wait in the cold and dark, along with many discussions as to whether or nor we had missed her: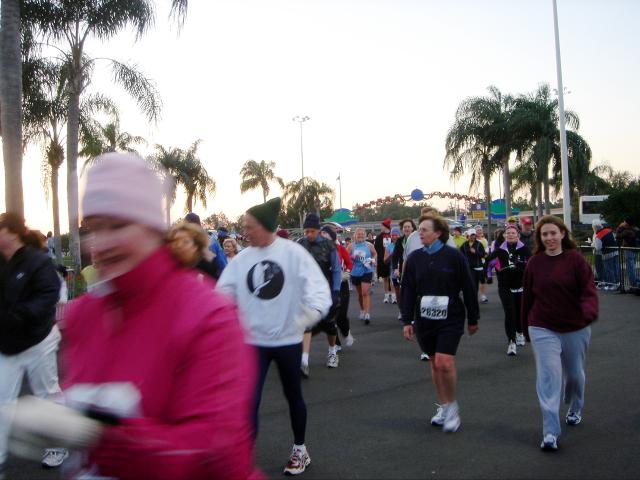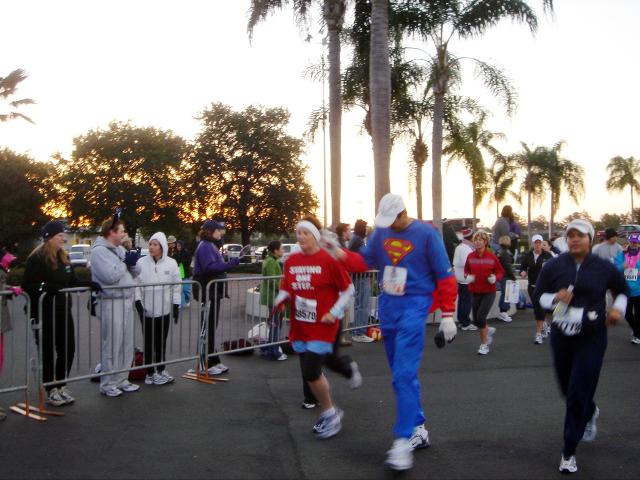 After trying to see all of the participants as they ran by, we saw a familiar figure approaching: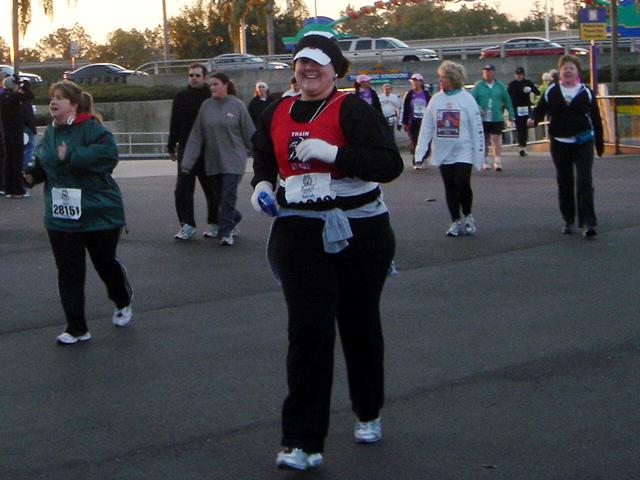 Some of the others had stopped to talk to the onlookers, so we thought we would give our daughter a hug and some words of encouragement. No way. She was on a mission and just glanced our way and continued on hers: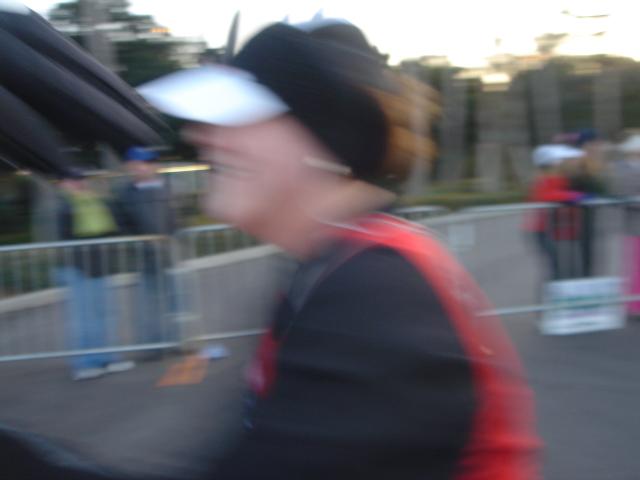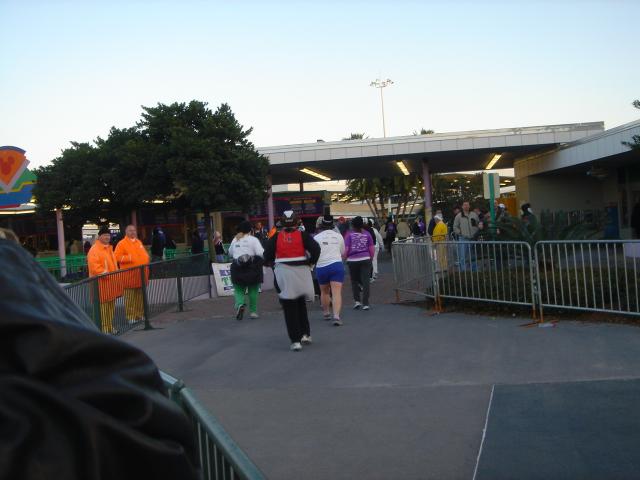 We did notice a different look about her and we have to admit that the thought of her not finishing did enter our mind. After all we are her parents and knew that she had physical induced asthma, which usually roared its ugly head in the cold. So it was back to the Mono-Rail and our next stop. This time we went to Magic Kingdom and then tried to remember the people who had been around her, so we could get some idea of when we should look. Well, Dad got interested in Chip & Dale, who were there cheering on the runners, (some even stopped for a Kodak moment),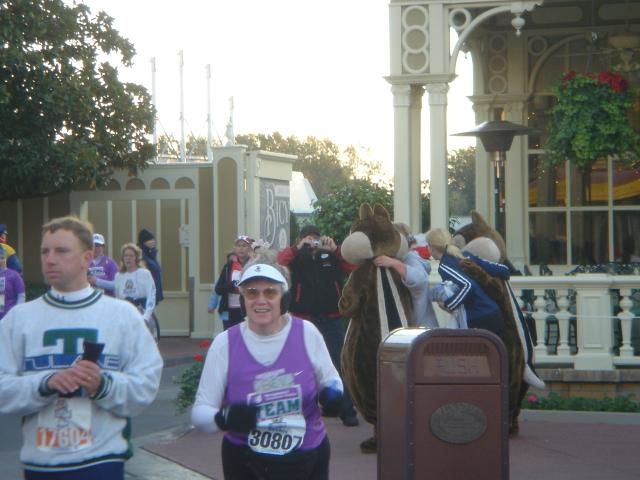 .. and some of the other runners and even a few in wheelchairs,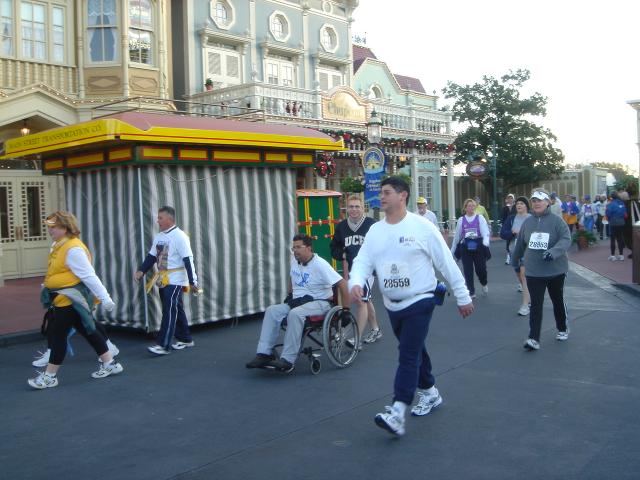 ..so poor Sarah was going by before he could hoist the camera and snap a picture. This was around the five mile marker, and yes, that is her leaving the spot we had waited for her: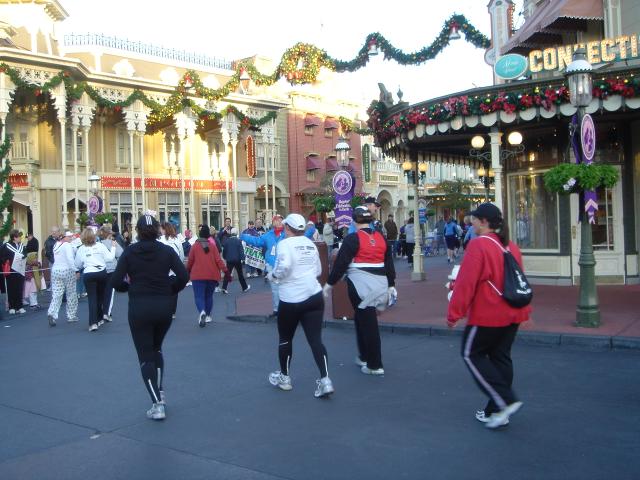 We did see a big change in her, and the grin was very encouraging for us, but once again, she did not stop, she was now on a mission, or so it appeared to us. We attempted to see her again, but somehow lost our way, again we didn't know where she was. The race does give the runners chips to put on their shoes, Sarah had set it up for her phone, but yes, we forgot to change phones. We don't do text messaging yet! So once more it was off on the Mono-Rail, this time to the finish line. We arrived at the finish line in time to see many many people cross: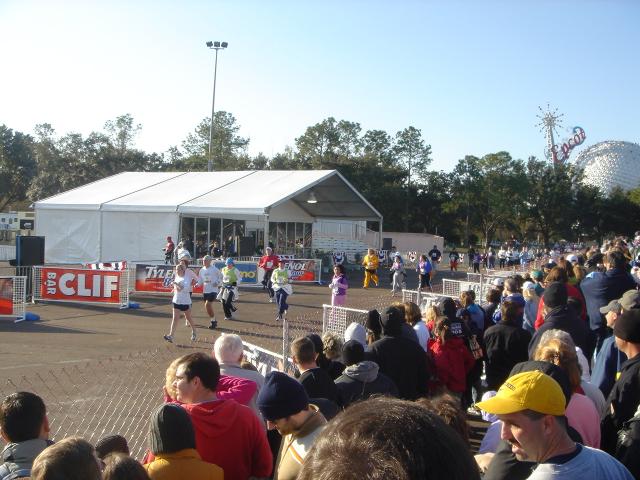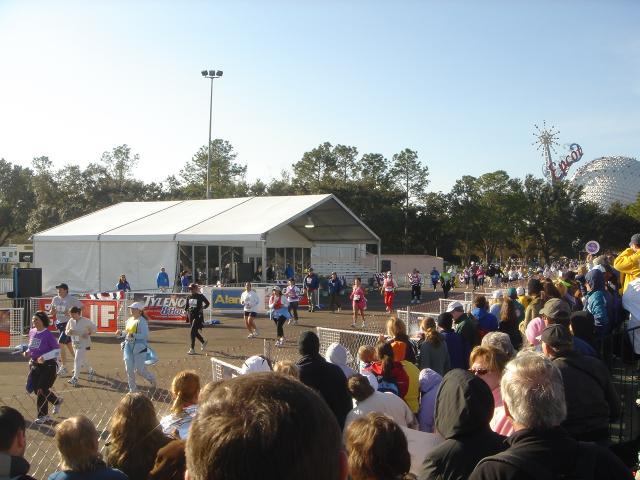 After finding a perch on the bleachers, we waited anxiously for our own Marathon Woman to arrive. I have to admit that I did say a few prayers and asked my Dad to watch over her from above, as she chose "Train to End Stroke" in memory of him. I figured that since her race was dedicated to him, perhaps he would give her a helping hand if he could: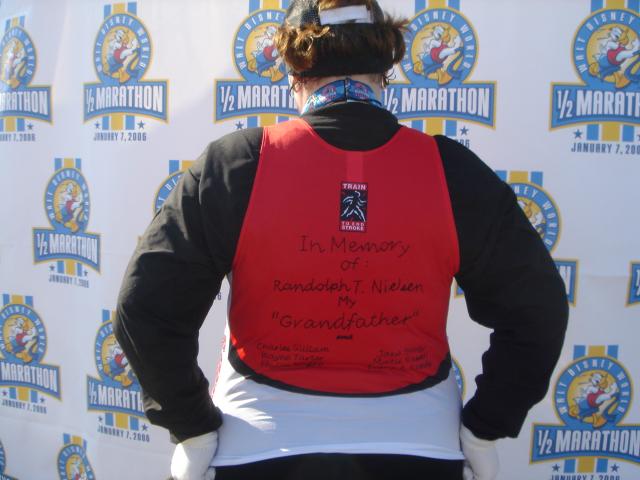 (This was hand embroidered by Mom.) We saw her friend, Melanie Smith cross the finish line and this gave us hope that Sarah was not far behind: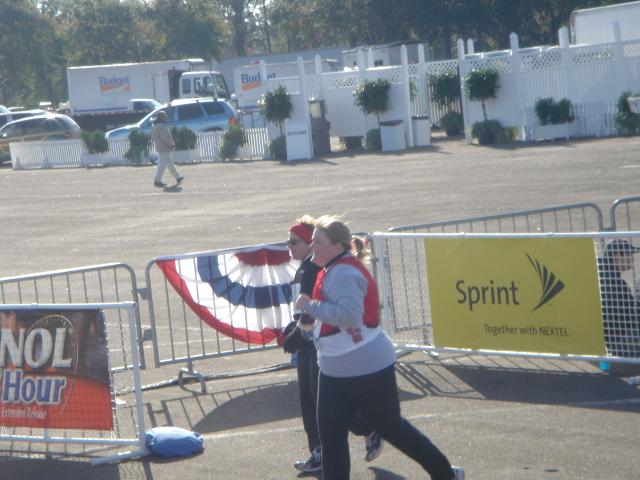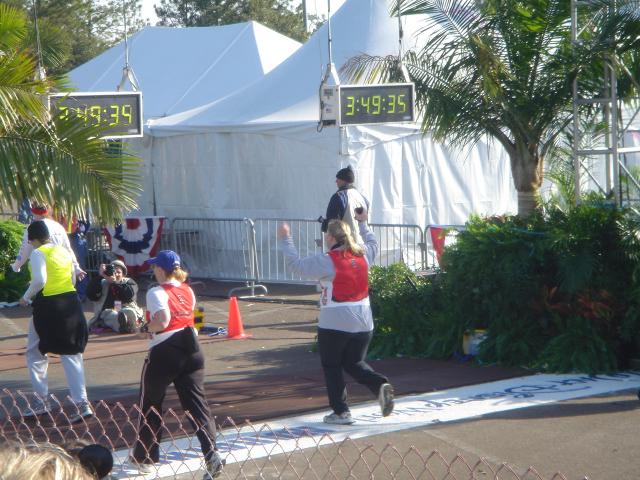 Another friend of hers, Henry who had a stroke and participated also crossed the finish line: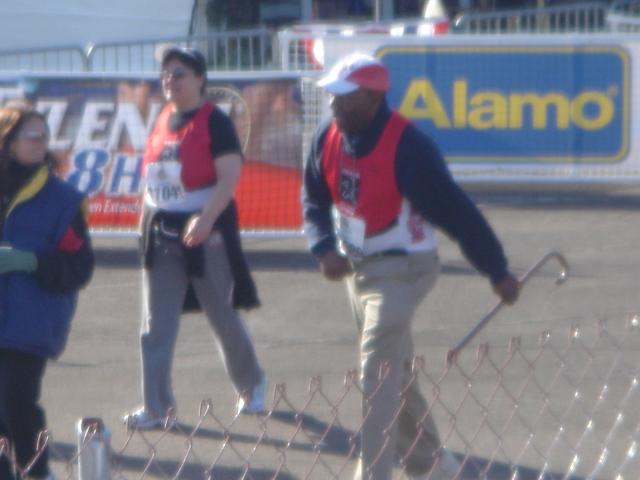 Again, we were both excited and nervous; Sarah had a big set back in her training when her arches fell. She had been seeing a podiatrist for the last several months. So of course we started wondering if she was still on course. If we had the text messaging phone, we would know where she was - duh! Sure enough in the distance we saw her coming. We went wild, screaming and yelling to cheer her on. But the look on her face told us that her mission was not over. I will apologize for the pictures, because there were tears in my eyes and for that reason she is almost out of the frame in a few: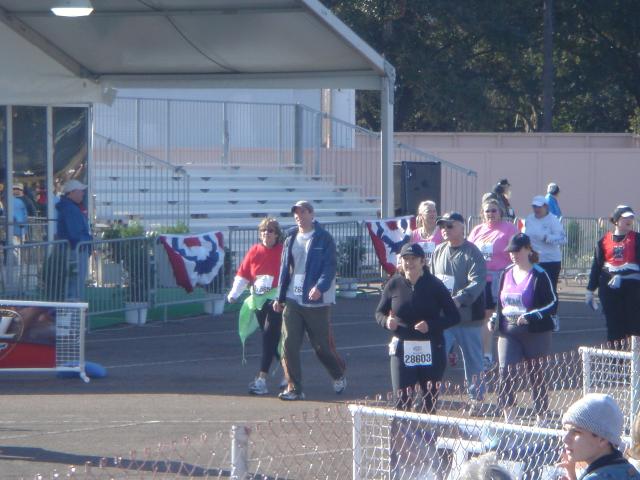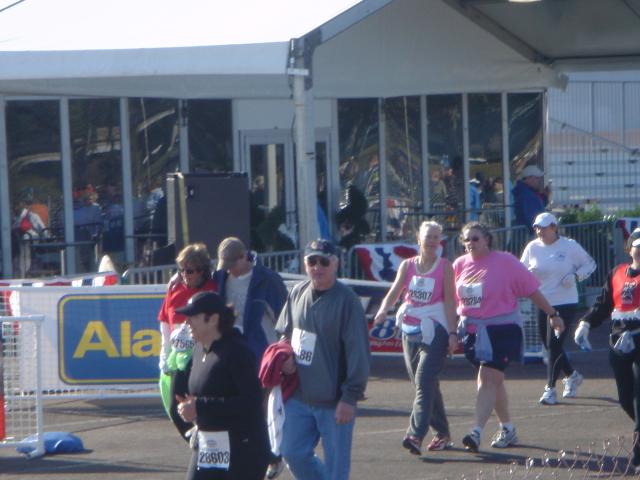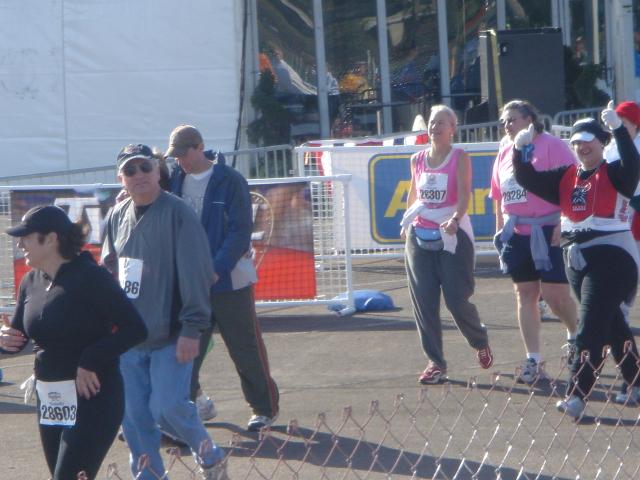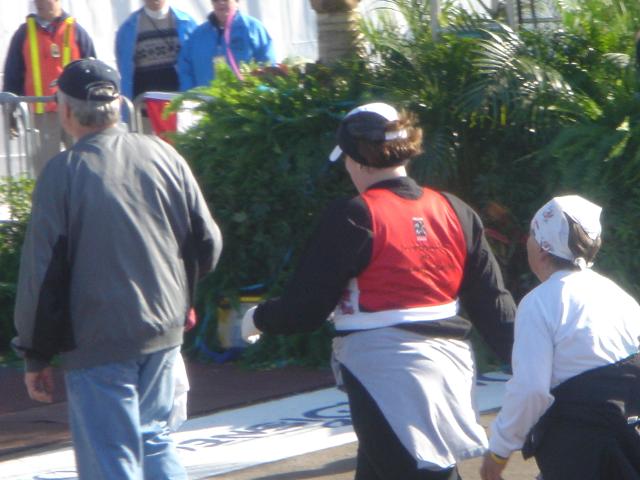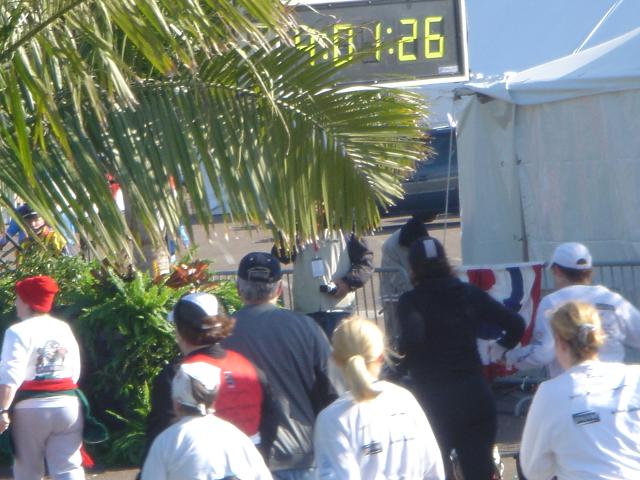 However, you can see from her face that she is very happy to finish. As she tells one of our friends about the day and the outcome she realized: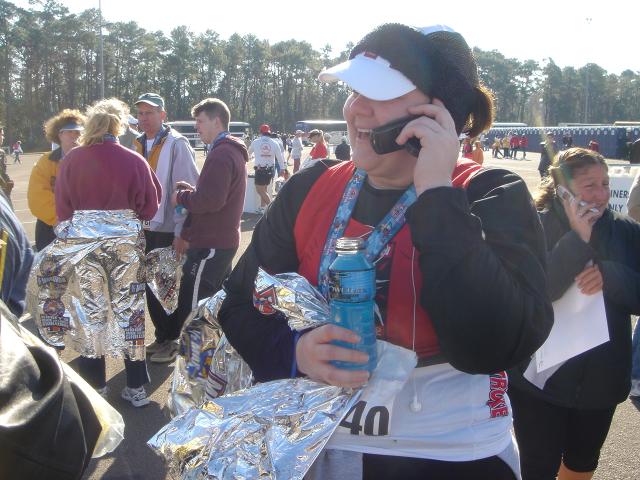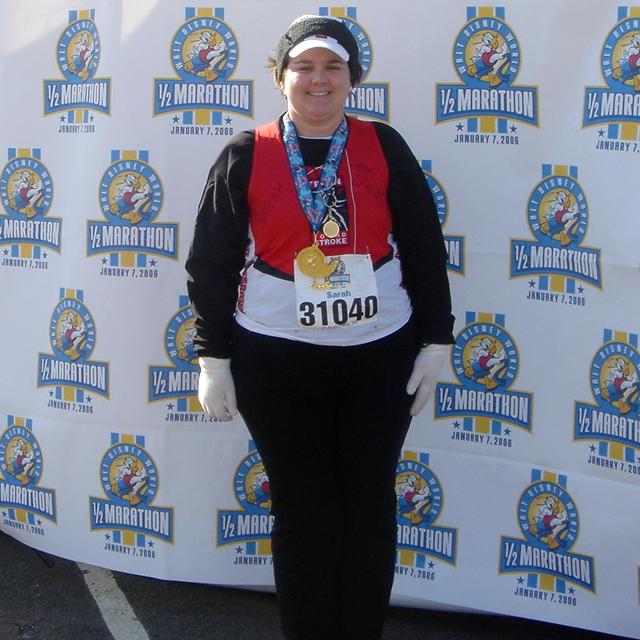 Jackie & I could not be more proud of her!! Way to go, Punks!!

After crossing the line, she was presented with her medal and a really cool or in this case, warm foil wrap: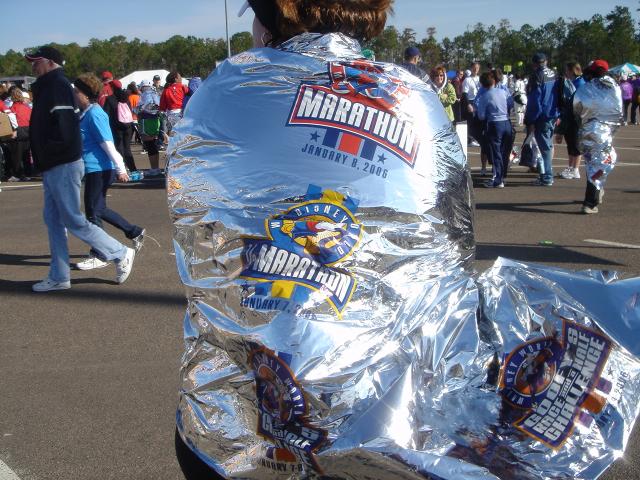 From there it was off to the Train to End Stroke tent to check in and complete the process: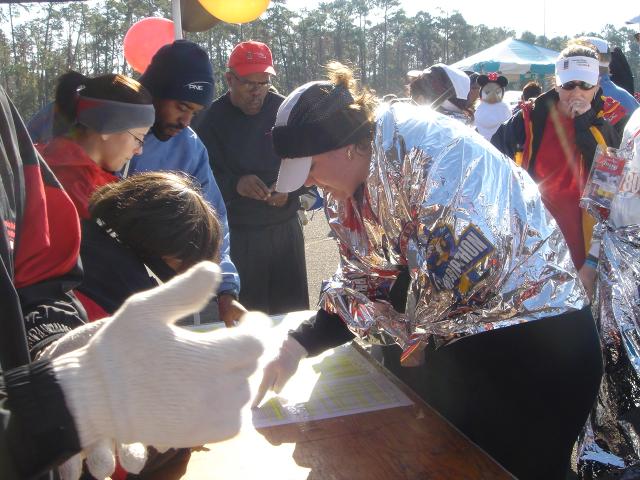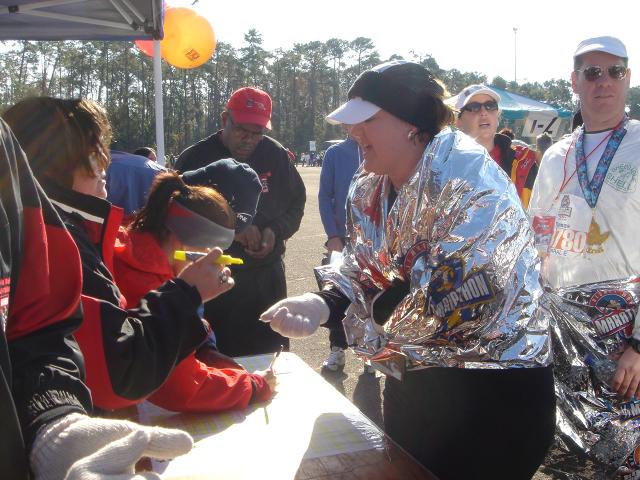 Even Mickey & Minnie were there to congratulate her on a job well done: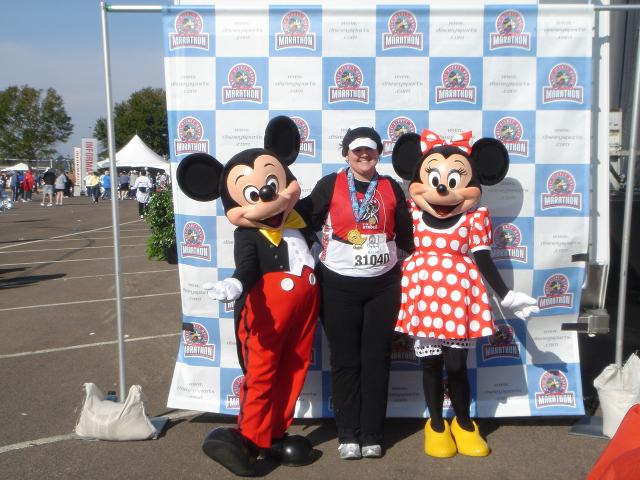 Of course it would not be a complete story without the CONGRATULATIONS from Mom & Dad: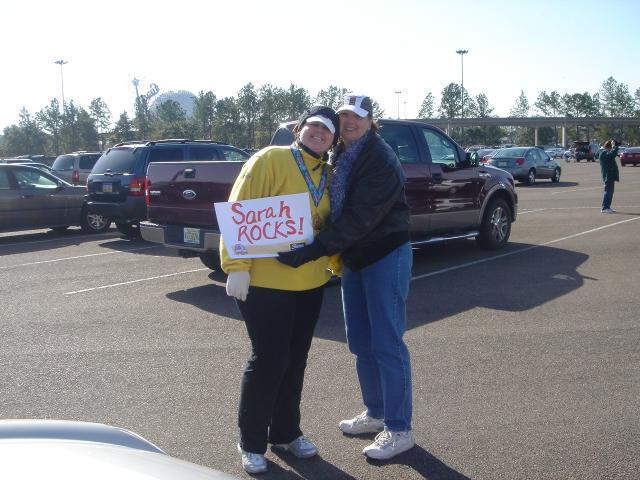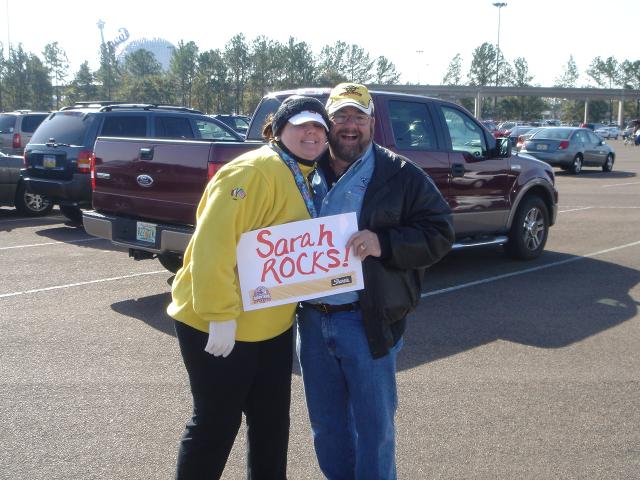 After the grueling morning it was off to our place so that she could sit in the hot tub to try and make the pain a little less gruesome. After allowing the water to take its effect, it was onto the couch for a few chances to see the inside of one's eyeballs: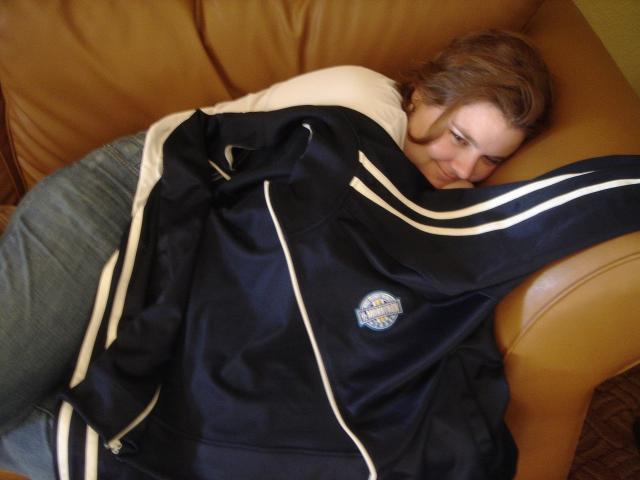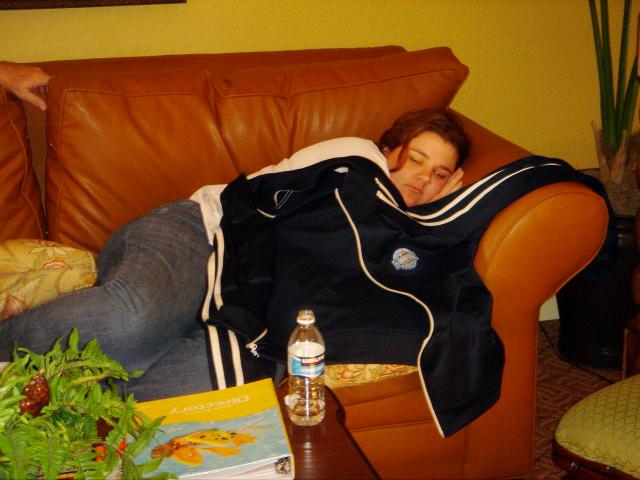 A small dinner followed and then it was off to her room for a long winter's nap. This had to be one of the best days this family has ever had.

The next morning found us off to Epcot this time to enjoy the sights and have some fun. Our pace was a bit slower, but that was not a problem. Dad was chosen to be King Arthur in a little skit. As you can see he really got into the part and we will have to call him "Your Majesty", for a little while at least: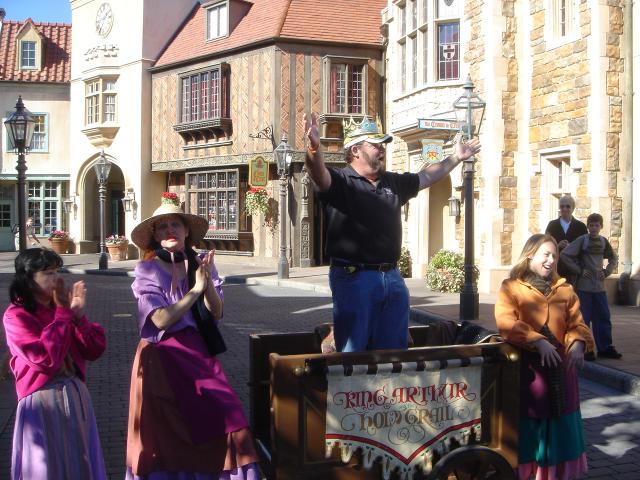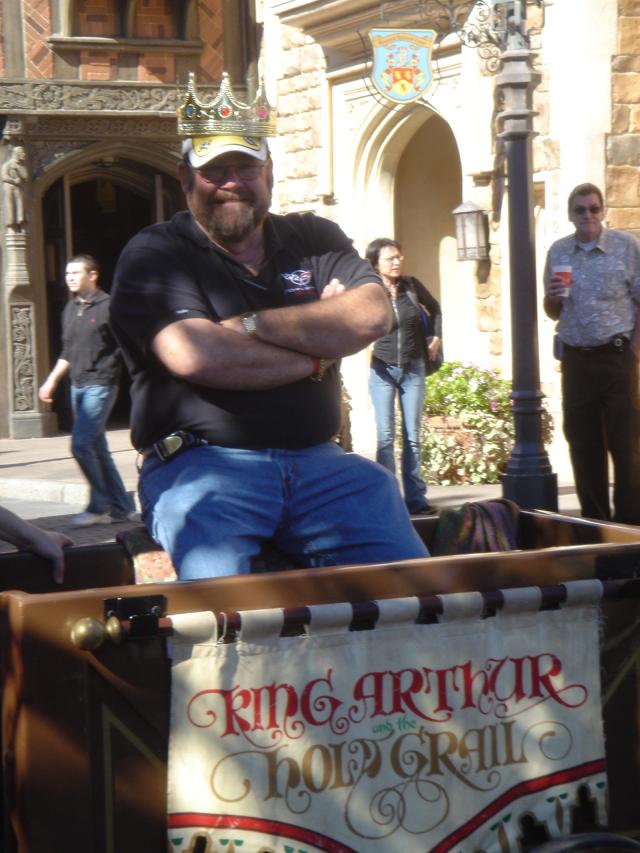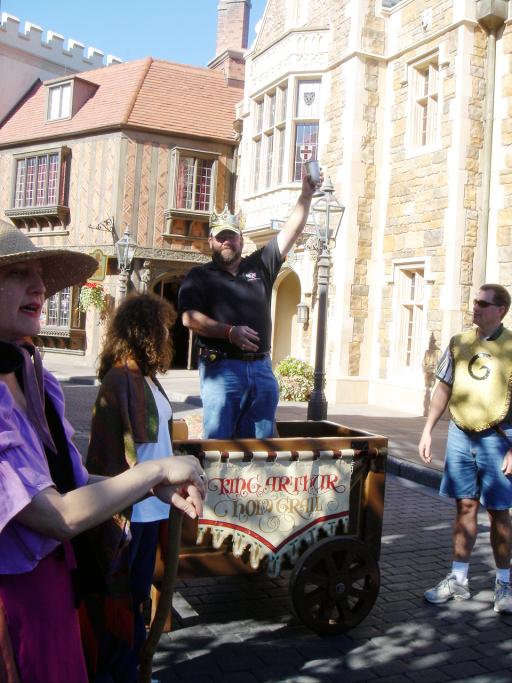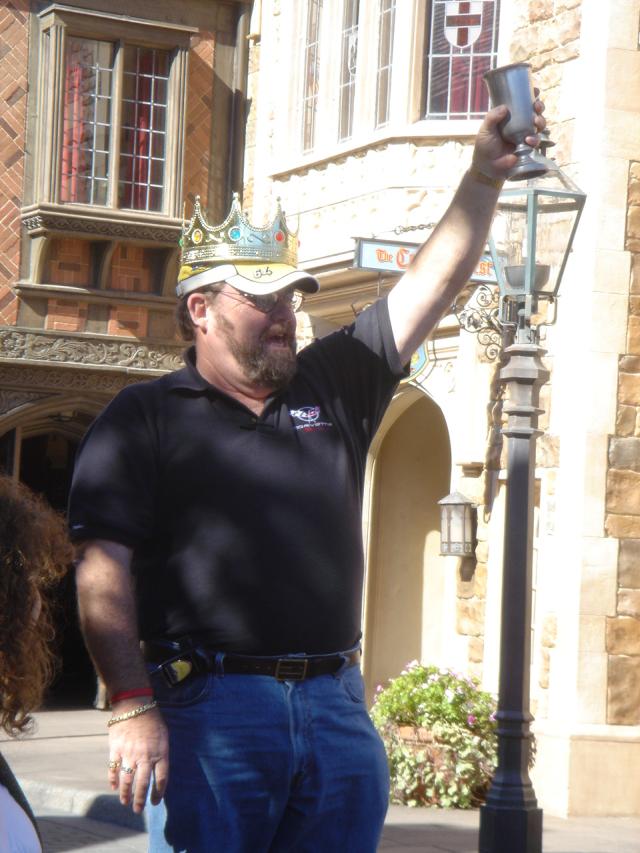 Later on that evening we all went to a party for the runners for the Train to End Stroke participants and as you can see a good time was had by all: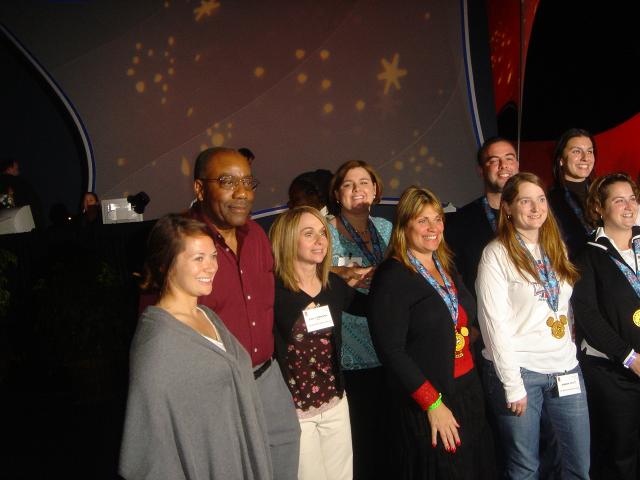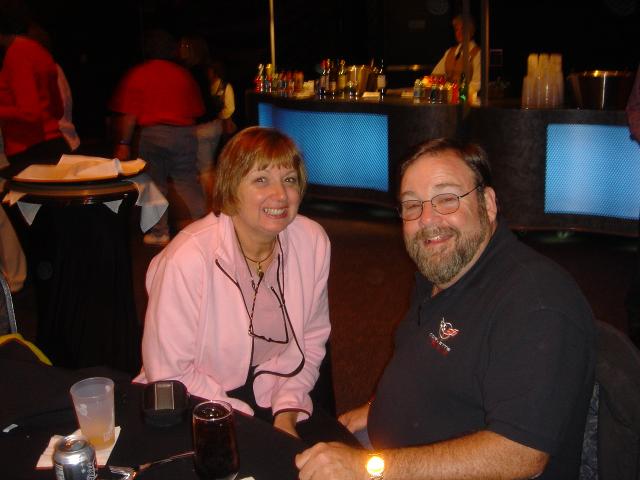 (Mom & Dad still Beaming!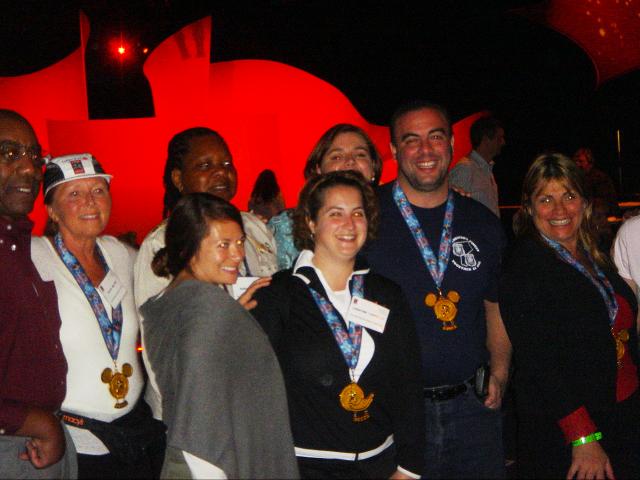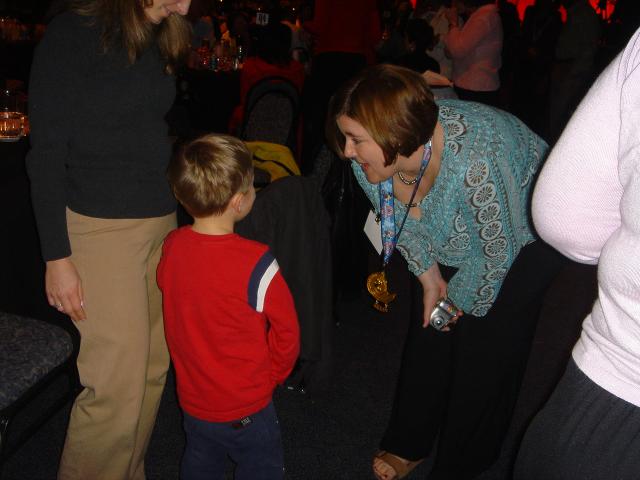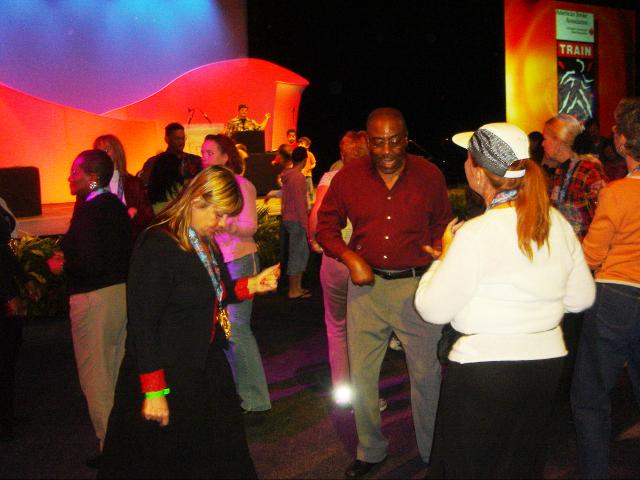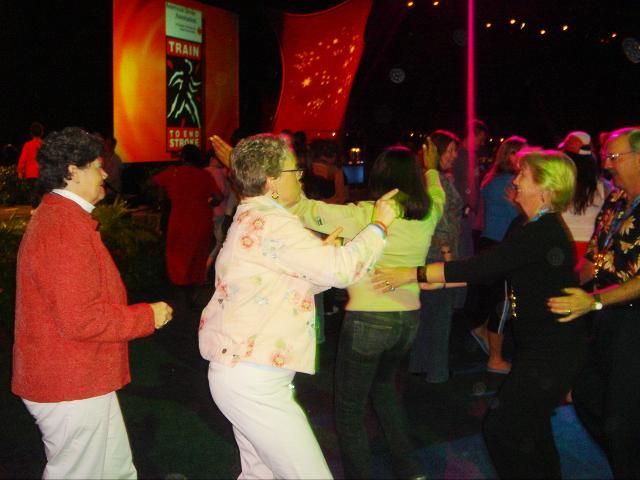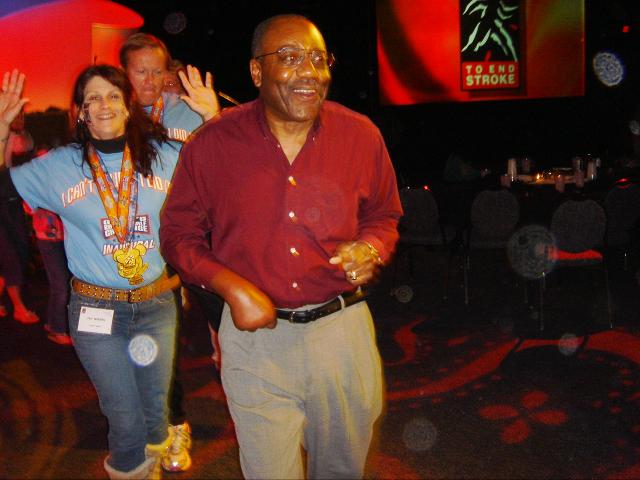 (This could be the world's longest Conga line)

Monday found us going to Sea World and once more we had a ball. I whish we could show more pictures, but alas the "King" seemed to have forgotten to fully charge the camera battery. So you will have to take our word that we had a great time and that it ended too soon: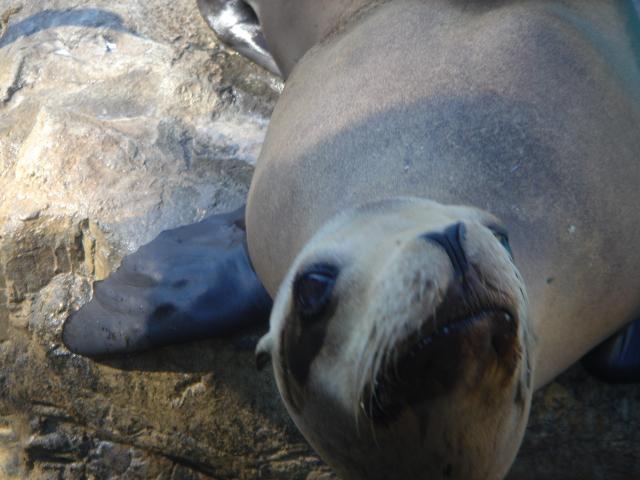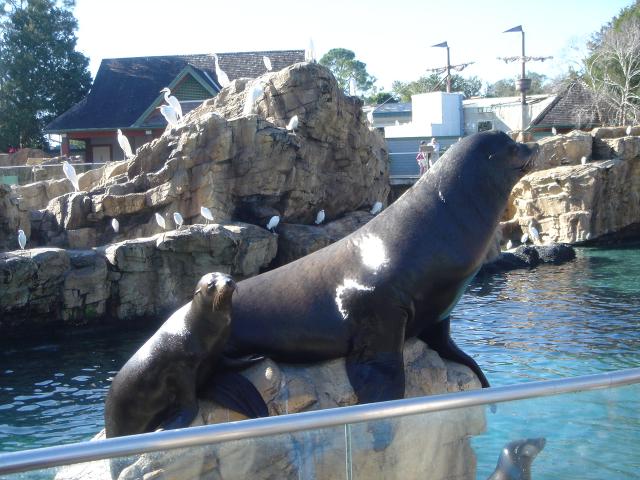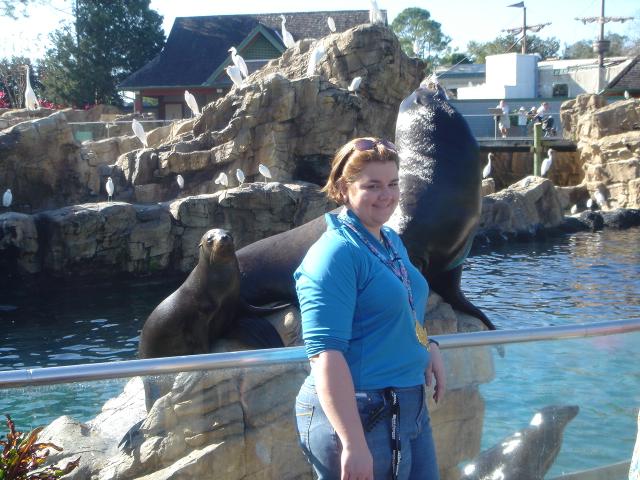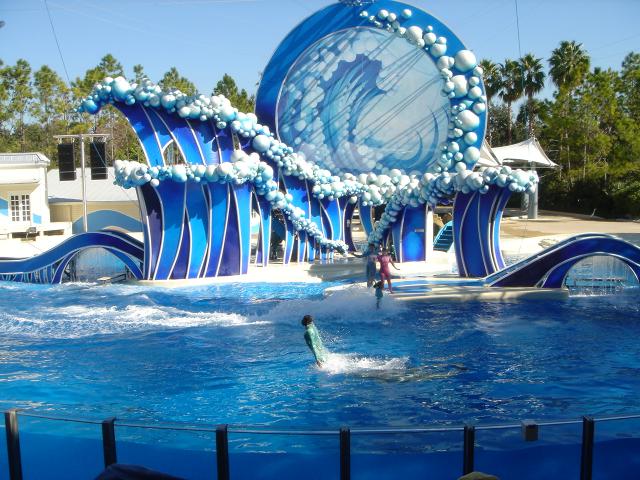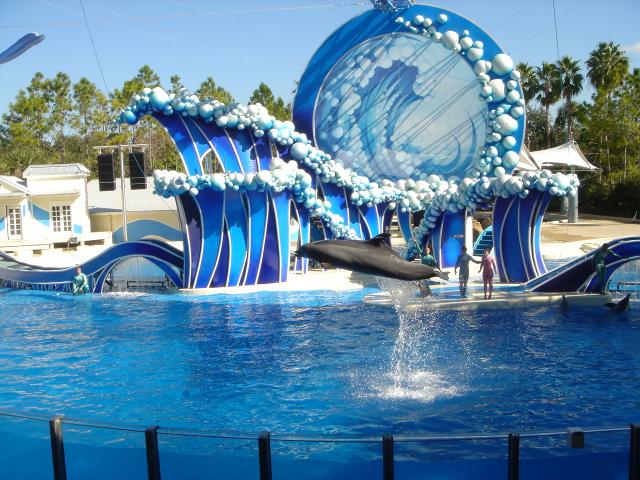 I have to admit this was a really hard goodbye for us to make as we left Sarah at the hotel waiting for the Disney Magical Bus to take her to the airport and off to home and work.

Again, I have to say that both Mom & Dad congratulate Sarah on a job well done. Also a great big THANK YOU goes out to all our friends and family who helped her with her donations, so that she could participate.
---
Back to our Main Page..