NCM Cruise - Brilliance of the Seas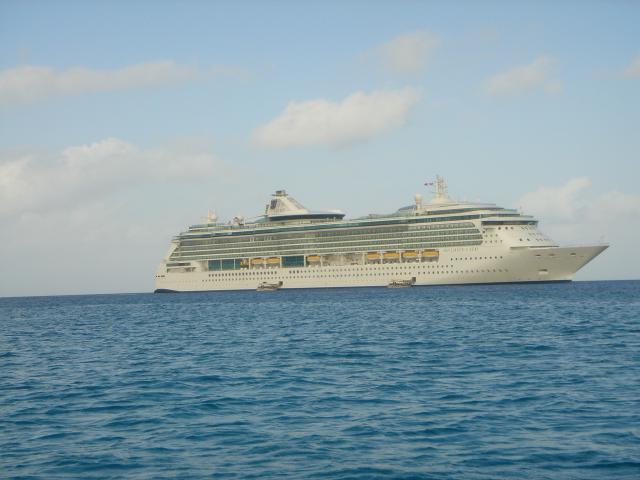 Since this was a ten day cruise and we had a wonderful time, we are just going to give you some of the highlights of our great trip. Our destination was the Panama Canal. This trip was sure to be fun. We had Gary and Deb Lathrop from CT, good friends with whom we have vacationed with for over ten years. Together we have been on two other NCM cruises, both on Princess. This was our first time on Royal Caribbean, and of course we were wondering how the two cruise lines would compare. We were also lucky enough to have two other couples from our area in Florida come -Bill and Linda McKenzie, with whom we have cruised with and vacationed with before; and Pete and Ann Chevillot, whom we have also traveled with in the past. So we were looking forward to a good time. The McKenzies and Chevillots hooked up on Thursday and spent the night in Miami.

The Lathrops had come to Tampa two days ahead so Friday had all of us up, nice and early. We headed out to Miami, looking like the Clampetts, I might add. Yes, we each had a ton of luggage. Thank goodness we have a pickup truck: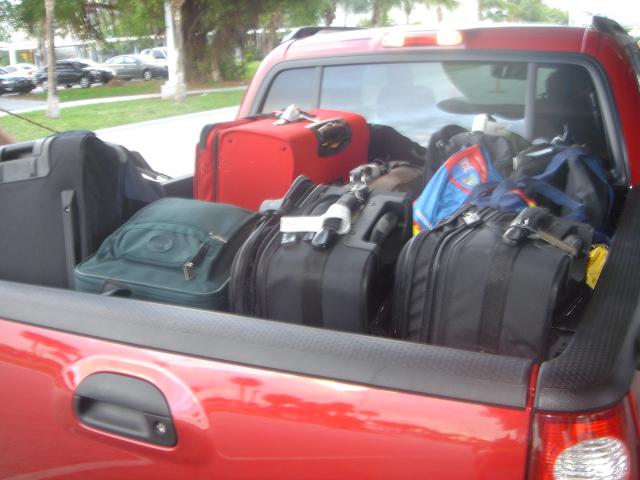 The ride over was very uneventful, traffic wasn't even bad. We planned on doing a drive by the port, but as we went past the terminal, we found out we could porter our luggage and then go to Bayside for lunch. Sure why not start our eating binge early! We ended up at Bubba Gump's. I am not sure I would recommend it. Service was fair and so was the food. Nothing I really want to write much about. Our salvation was the fact that the buffet would be open shortly after boarding. Like we need more food!

Arriving back at the port, parking was easy, although we did have a bit of a time finding the sky bridge. We were not alone in this endeavor. Finally after finding our way, or so we thought, there was this huge barricade in our way. Signage would be a good thing. Checking in and boarding was a cinch, since Royal Caribbean has it down to a science. I don't think it took longer than about five minutes and it was absolutely amazing how quickly we were on board. First we went to find our room. This is a smaller ship and our room was a bit smaller than what we are used to, but very nice. Already a piece of luggage had arrived, so it was time to start unpacking and get organized. Of course we were anxious to explore the ship, why I am not sure since it was to be our home for the next ten days.

We had signed up for early dinner in the main dining room. Since we were traveling with the NCM they had a special section set aside. When the Lathrop's signed up, we had decided to all sit together. Well as you know things happen, we arrive at the table to find our friends the McKenzie's and Chevillots at the table along with four other people whom we do not know and only two empty seats. We are then informed that the Lathrop's are at a different table. Well that was not going to work as we had purchased a wine package to share, the next table would have been nice, but their table was not even close to us, and besides we had really planned our vacation together. So I then asked the Captain of our area to reseat us, anywhere, but together, for tonight, she was not so nice a person, and bluntly told us there would be no way we will be sitting together. I had not placed the blame on anyone, none of us cared what happened, and all we wanted was a resolution to the problem. She insisted that there was absolutely no way for us to be together. I then asked to speak to her supervisor, who then escorted Jackie to the Maitre'd. Now Jackie had to wait in line for about thirty minutes before speaking to him and after the conversation it took all of about five minutes and the four of us had a wonderful table in a different room, with a beautiful window view. Unfortunately, it wasn't near any of the group, but the problem was solved just for tonight or so we thought. We had spoken to our travel agent and she did tell us that she had resolved the problem, but when we spoke to the Maitre'd the next morning, he said that it wasn't solved and that it was a BIG problem, so to make things easy the Lathrops and we decided to just stay where we were. We sure did miss the McKenzies and Chevillots as they are fun people, not to mention the rest of the NCM group.

Being that this was an NCM sponsored cruise, the museum has several events during the trip strictly for its members. The first of these was a cocktail party, so that we could all get a look at one another, and maybe recognize another Corvette owner as we travel about in the next ten days. Everyone had a name badge that had a picture of their car on it. This was a great idea. We are lucky as this is our third trip with the NCM and several of the couples we have met before were there. But it is always fun to meet new people: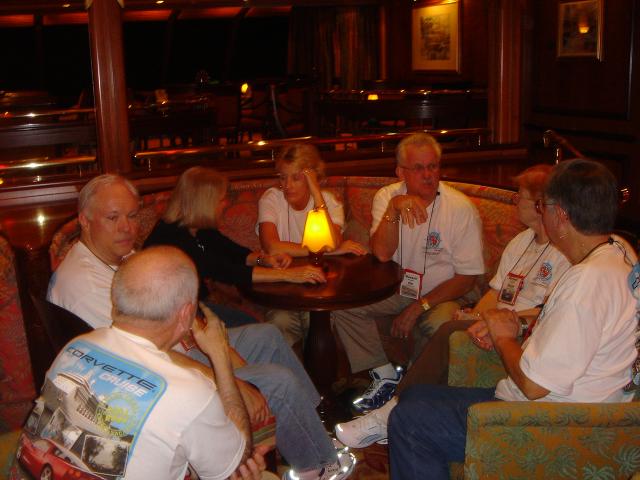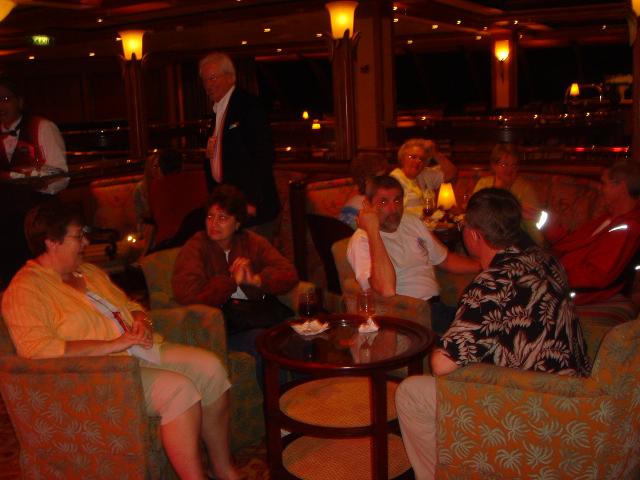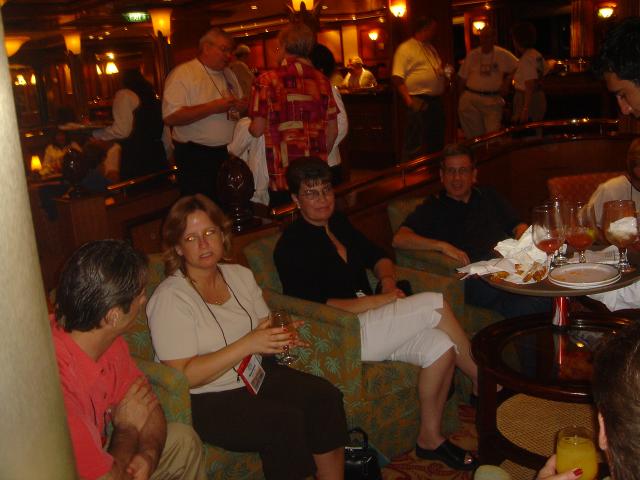 Welcome comments were given by Wendell Strode, Executive Director. Many of us chatted and then all went their separate ways. We ended up staying in the lounge and a band by the name of "The Susie Campbell Showband" started playing. Well, we ordered up some drinks and settled right on in. It turned out to be a great night. Susie can really belt out the tunes: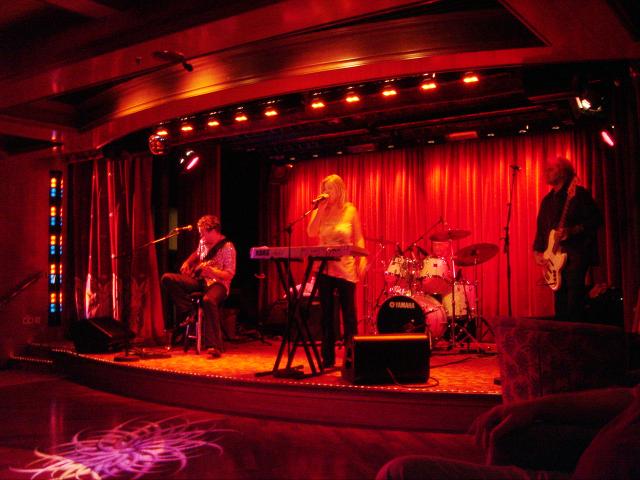 She got out and even had the audience get involved. Yes, Buzz made his singing debut..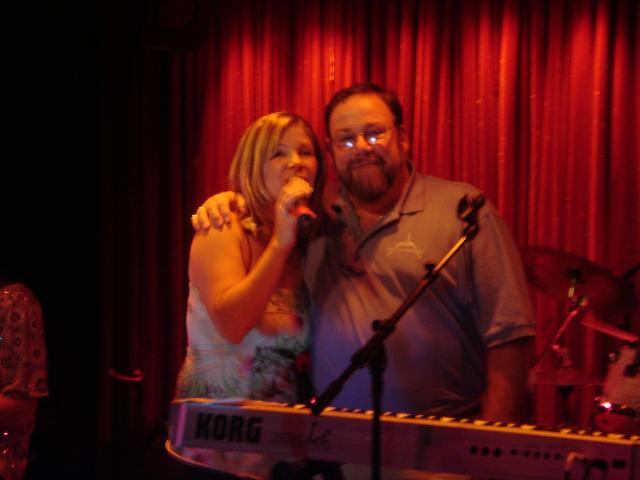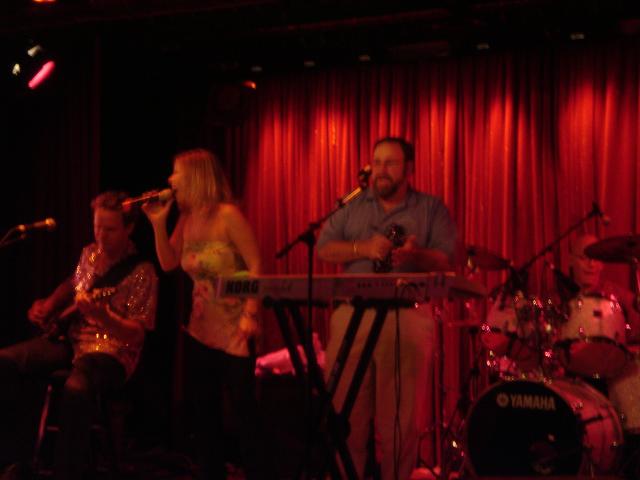 ..and a few even stayed in the room.

At night we found our first issue of the "Cruise Compass" which was left on our bed, this way before retiring we could plan our next day. One thing we decided to go to was the Digital Camera Demonstration. Well, this just turned out to be a sales pitch for a new camera. Kind of interesting to see what new technology they have, but we weren't in the market for a new camera, so on to lunch. We will not really mention the meals again. On the whole we found the food very disappointing, not just in taste but presentation wise also. This includes both the dining room and buffet. Of course there was always something to eat, but the quality just wasn't there.

Our next NCM event was remote control auto crossing. This is a fun game for all; it helps if you have used these "toys" before. This was held in the Starquest Disco. A timed event using a remote control car through a course made for lots of laughter, but another great way to meet new people: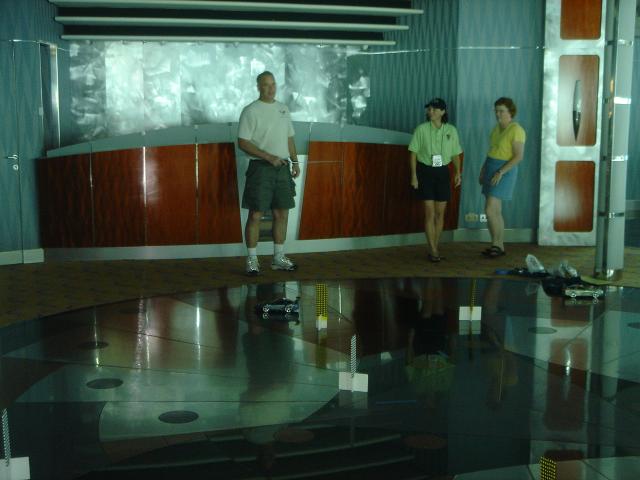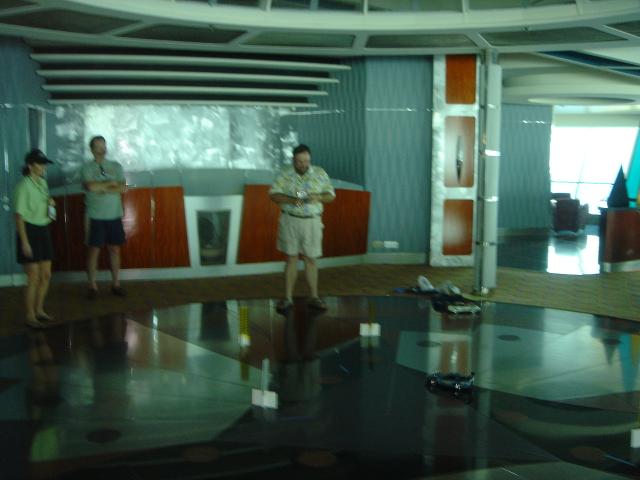 Buzz and Gary both did well and made it into the ten finalist group. Jackie and Deb, well we'll just say they crashed and burned. Even the pro driver had to outshine us all: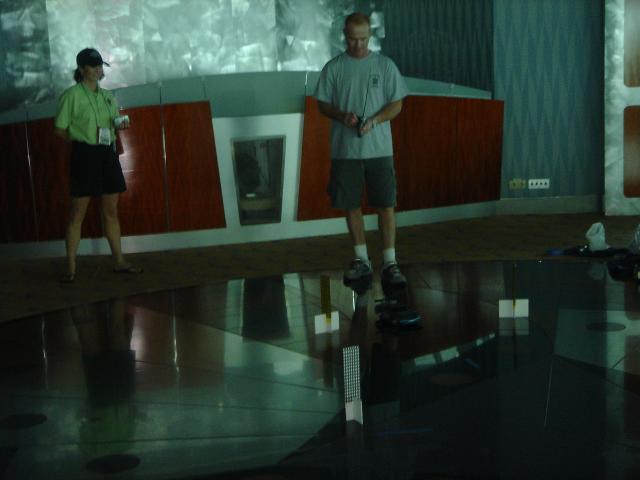 We did attend the lecture for our first port-of-call which was Aruba. This was very informative and we really enjoyed it. Our first formal night arrived and we all got gussied up and did the photo op thing: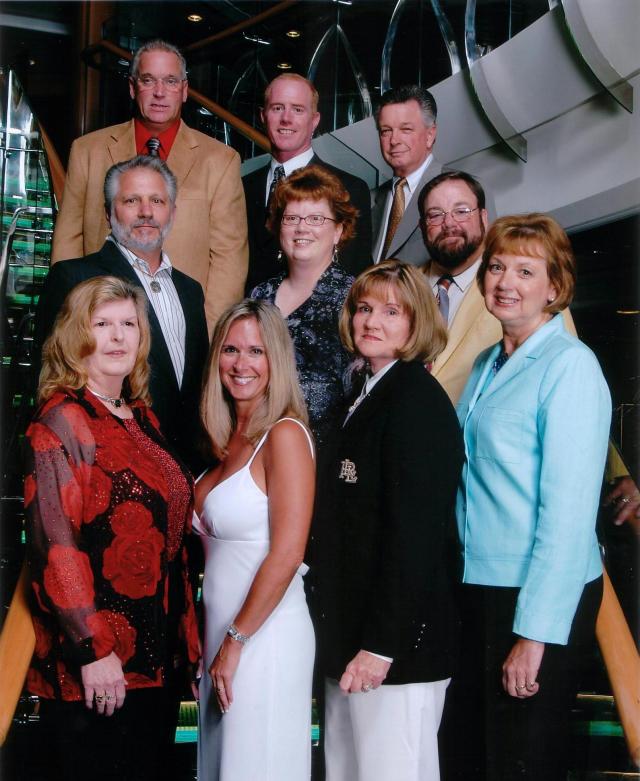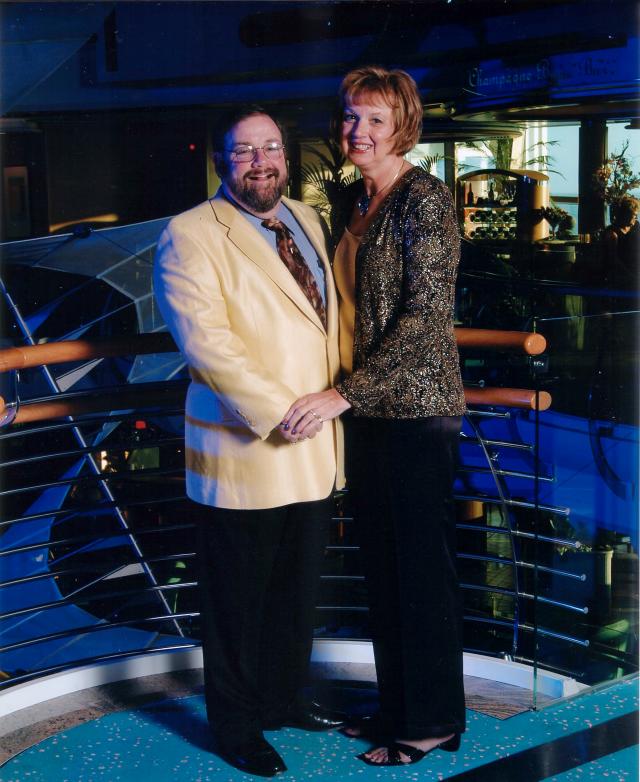 Of course the pictures are never perfect. After the dinner, we went to see Susie, and this was Billy's night to shine: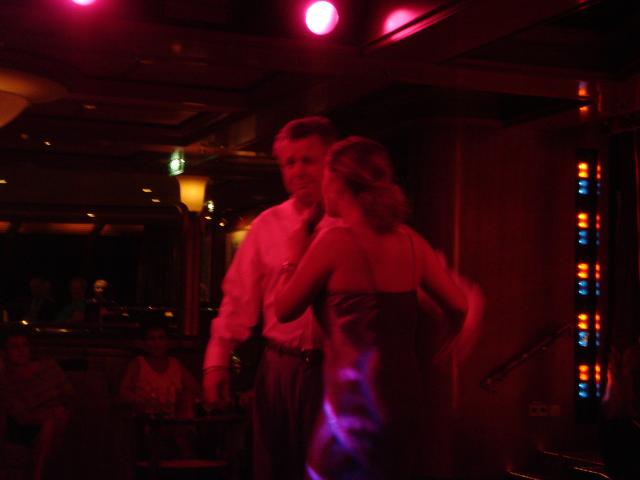 During one of our sea days, Johnny O'Connell, C6R driver, gave a seminar on his history in racing. This was a well-attended seminar, with lots of laughter and good stories: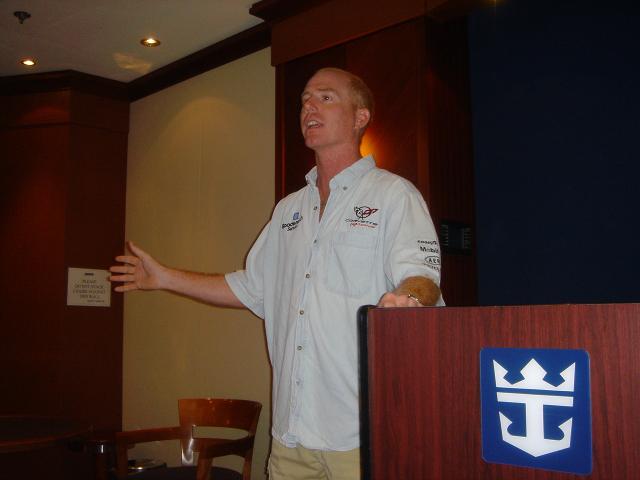 Our first port-of-call was Aruba, well we always go on excursions, and for this one we picked a 4 x 4 Jeep tour: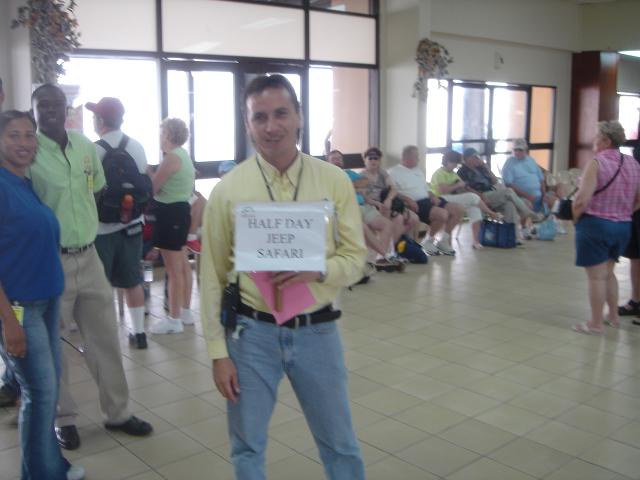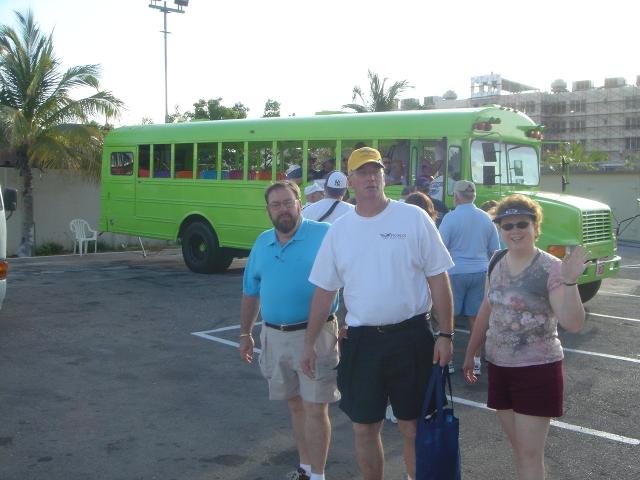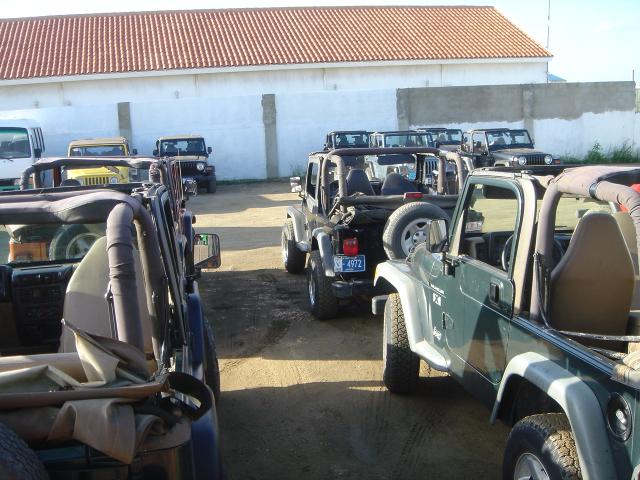 This took us to several of the well-known tourist attractions, including a coral limestone formation called the natural bridge, which had collapsed in the middle of the night in November: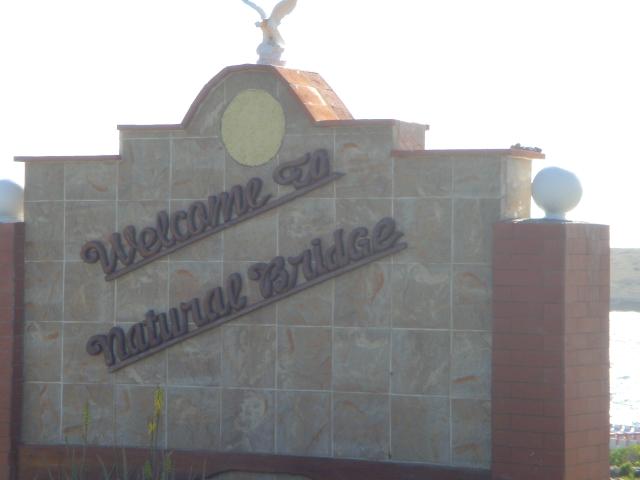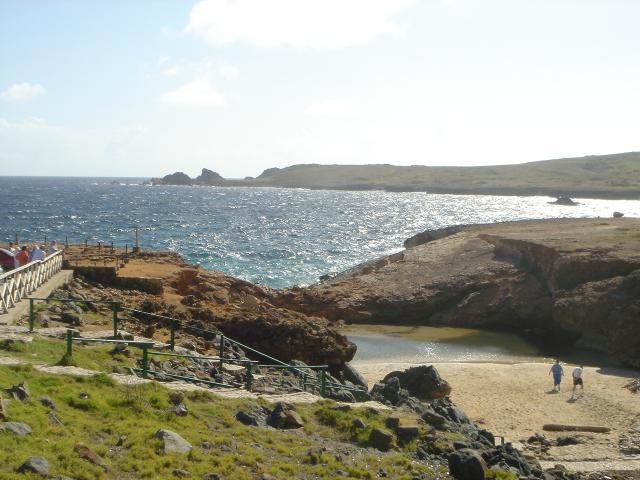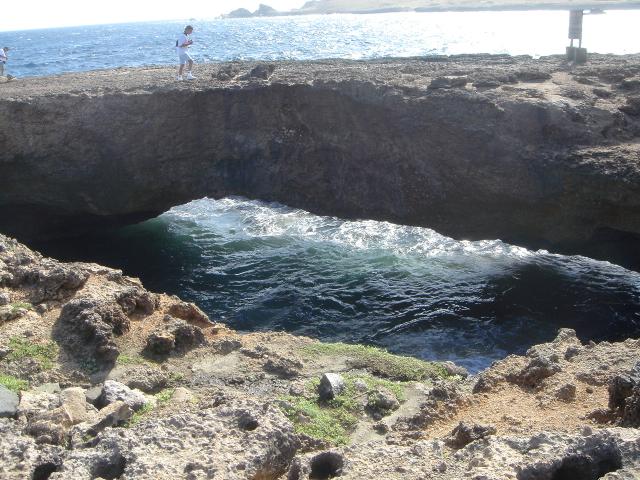 Now there are a few smaller ones to see. Of course, there was a small shop nearby and Deb & Jackie managed to take the time to find some island wear. The area is very beautiful. This was a fun excursion, in which you drive your own jeep, Gary & Deb, had also picked out this tour, so the four of us were in one vehicle. It did make for a lot of laughs. At the Bushirbana Gold Mill Ruin, we stopped for a photo op: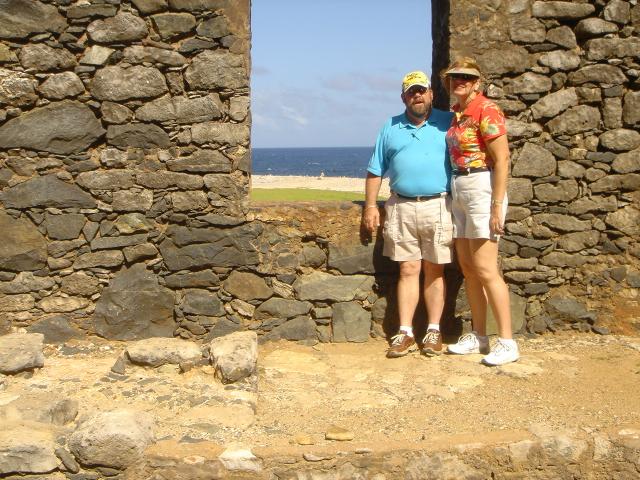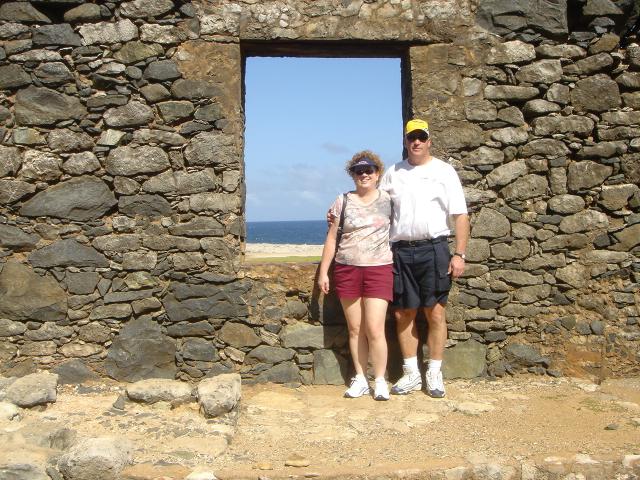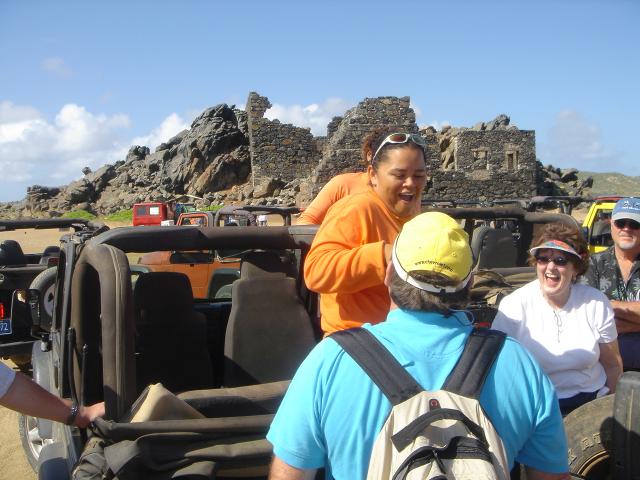 Buzz and Gary shared the driving while Deb and I held on for dear life: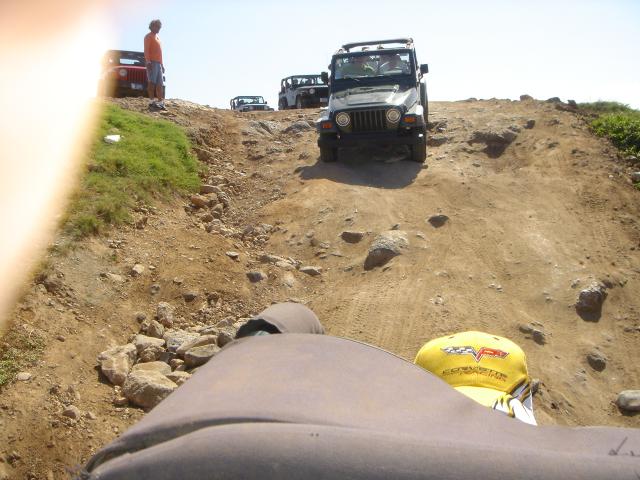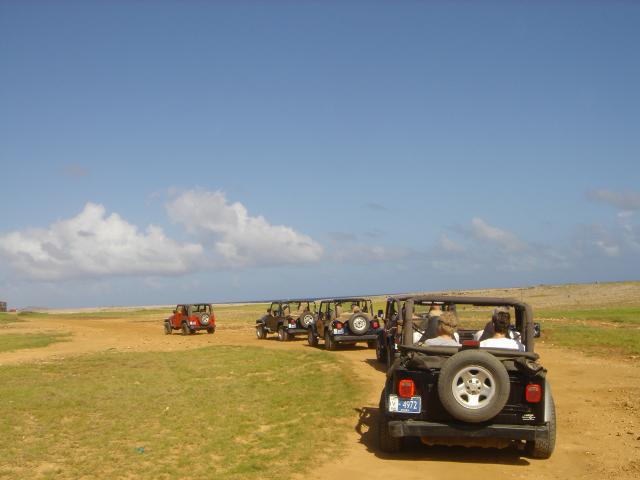 Sometimes the roads were good, and sometimes we wondered if there really was a road at all. At a small tourist stop..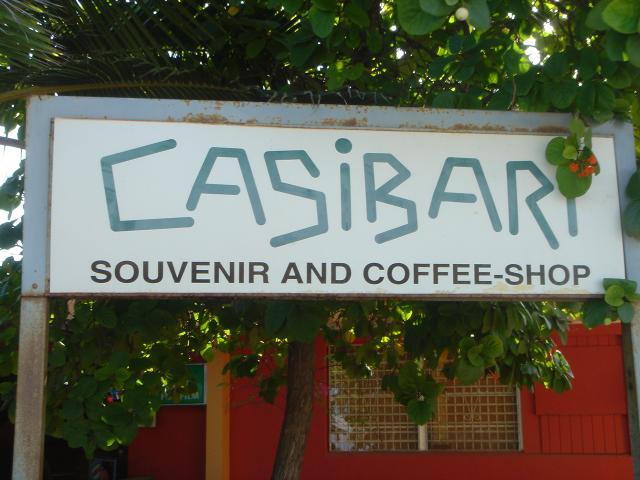 ..we went across the road for a bottle of soda and noticed a different style Coca-Cola straw holder: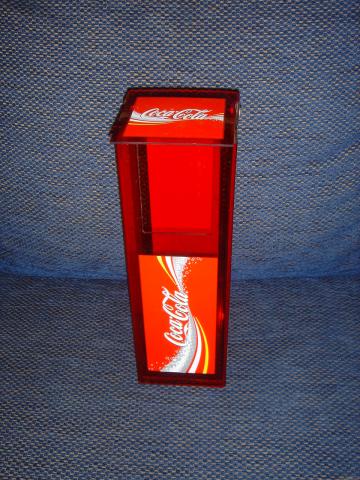 Well, if you haven't been to our home, we have a penchant for Coke stuff. Now it was negotiation time with the owner and Buzz is now the proud owner of the straw holder, (she kept the straws) from Aruba. One more item for our collection, will it ever stop growing?

We believe in having as much fun as possible, so since it was available to us, we took an evening sunset catamaran cruise: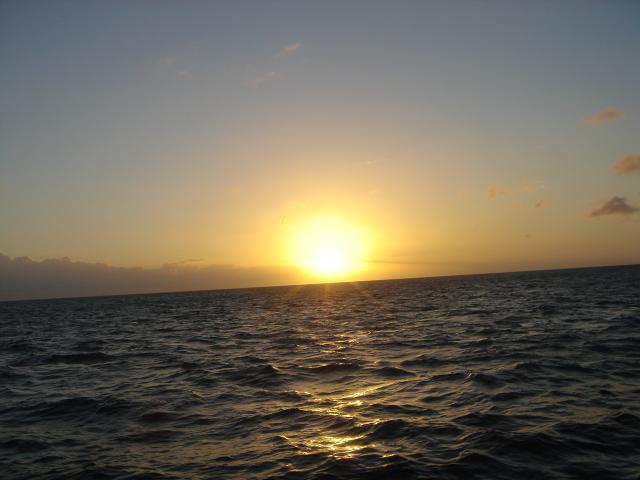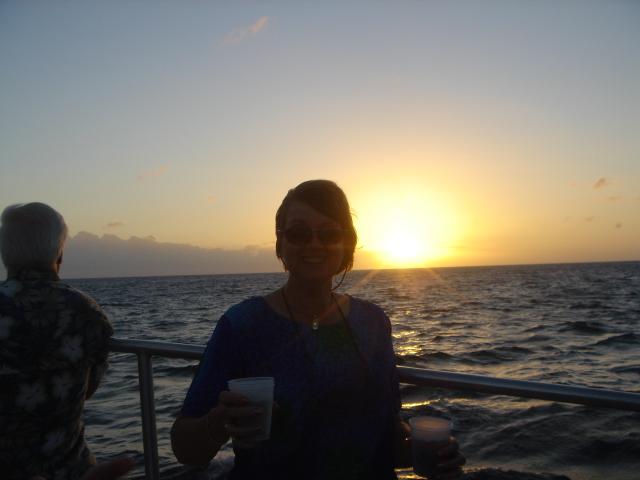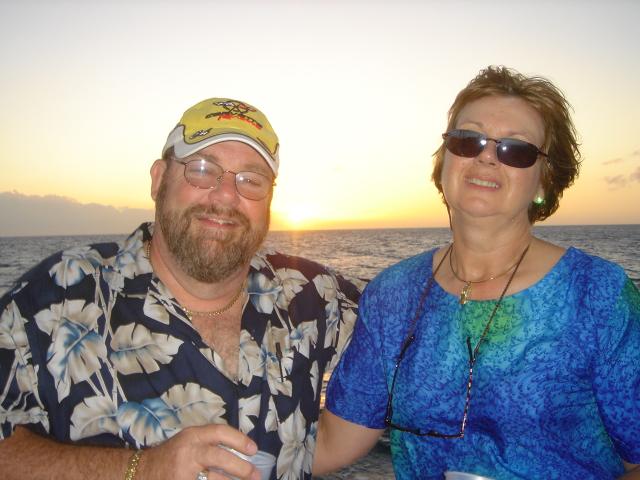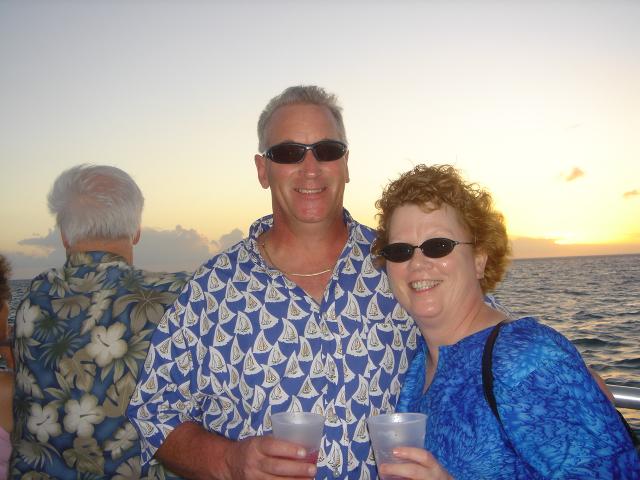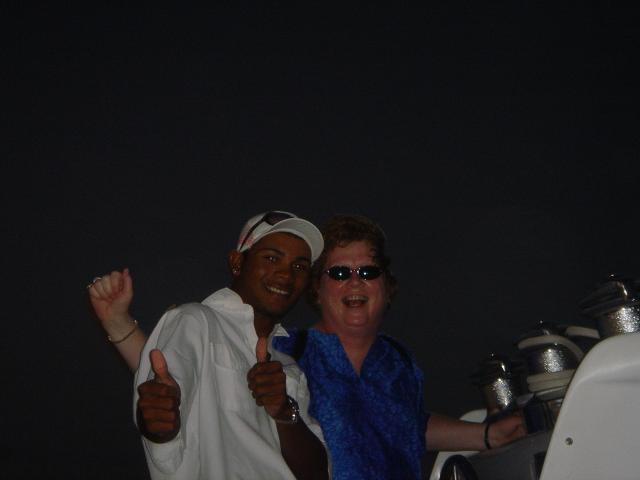 This vessel held about 80 people and served about ten kinds of different drinks at the open bar, loud island music, wonderful weather, and a fantastic sunset. Needless to say, much alcohol was imbibed and no one went home sober or unhappy. Yes, Aruba is "one happy island":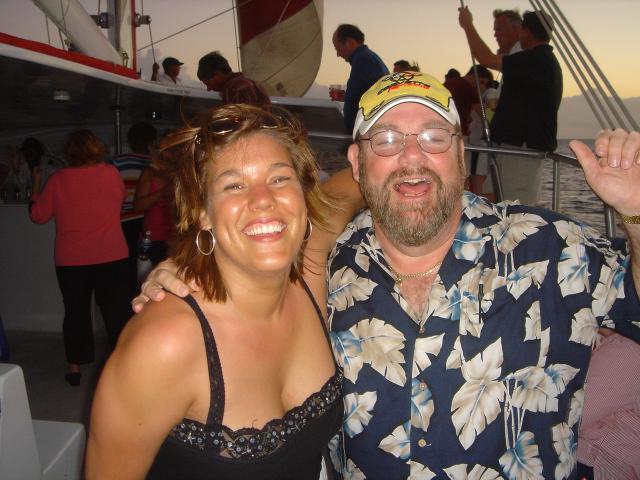 Some were even dancing on the makeshift tables, shall we say: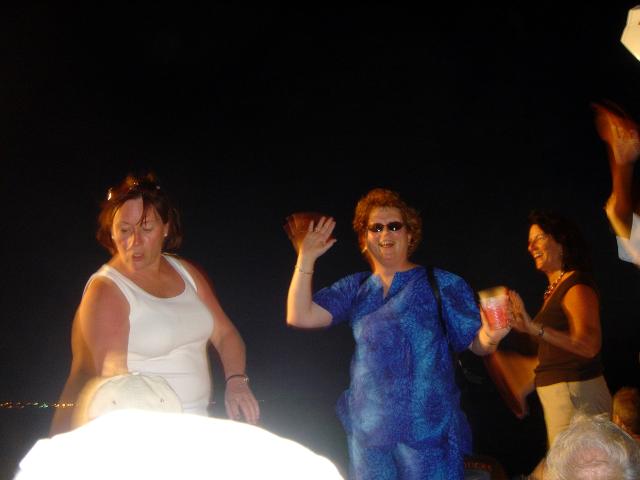 Did we mention a free bar with many types of drinks? What a wonderful way to end our day in Aruba. Of course it was not over, once arriving back at the ship, it was let's go listen and dance to Susie: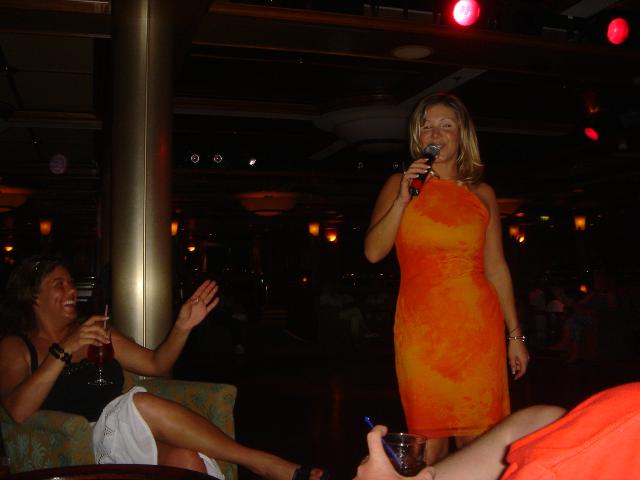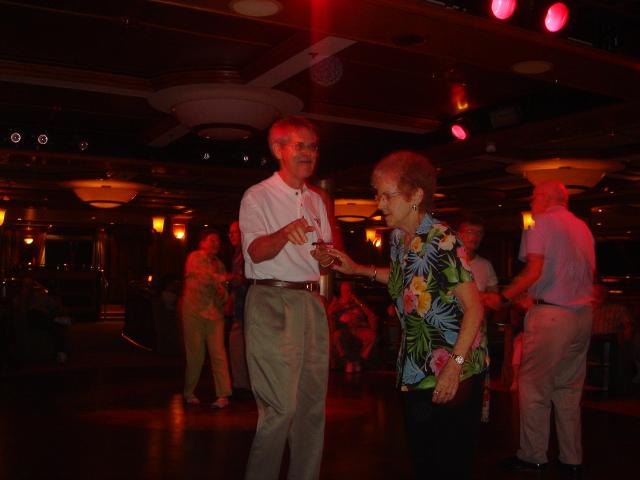 Al & Nancy

Chuck & Carolyn chair dancing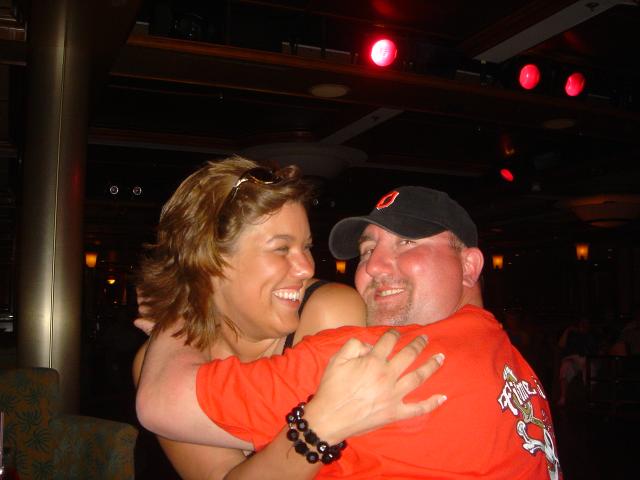 Shad & Molly
Will we need a vacation from our vacation? It was a good thing the next day was a sea day. We did take advantage of sleeping in a bit, but always found ways to keep ourselves busy. We didn't even spend any time lying in the sun. Of course in the evening we went back to catch another couple of sets with the Susie Campbell Band. It was hard deciding on the shows or the music. Sometimes we did both.

Our next port-of-call was the Panama Canal, our main destination. It was quite exciting to watch I don't know how many hundreds of people crowd the decks as we approached the canal. It was a very interesting experience: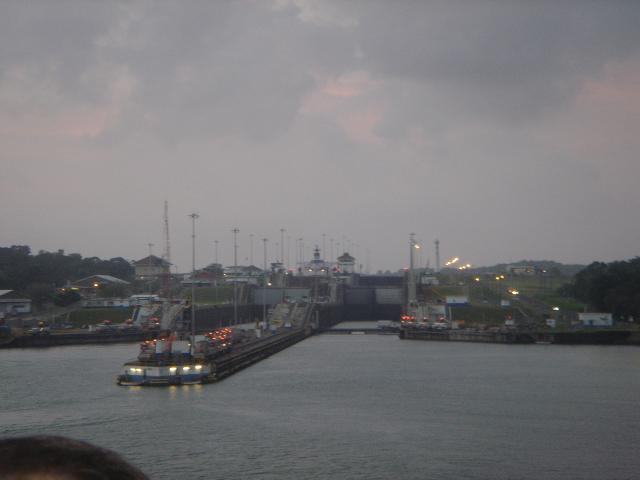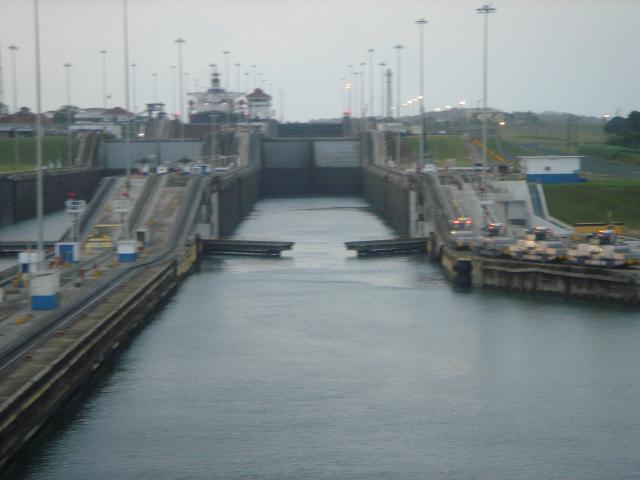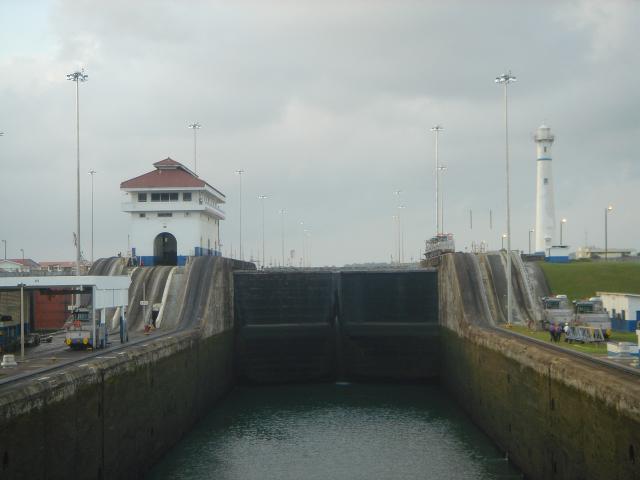 It is absolutely amazing that there is only twelve inches on each side of the ship as it makes it way through the locks. What an awesome site to see vessels going in both directions, at different water levels. Of course the sides of the locks are a bit discolored, giving evidence that all does not always go smoothly.

We had decided to disembark on Lake Gatun: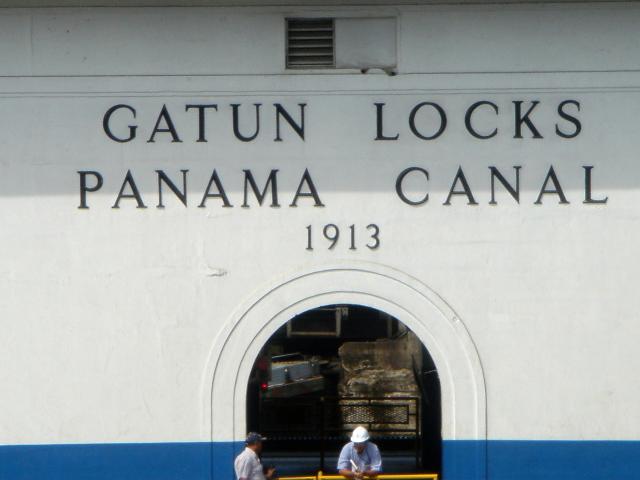 ..and do what is called the Grand tour of Panama; again Deb & Gary had opted for the same adventure. Our first stop was at the locks, it was mesmerizing to watch the water traffic from another perspective: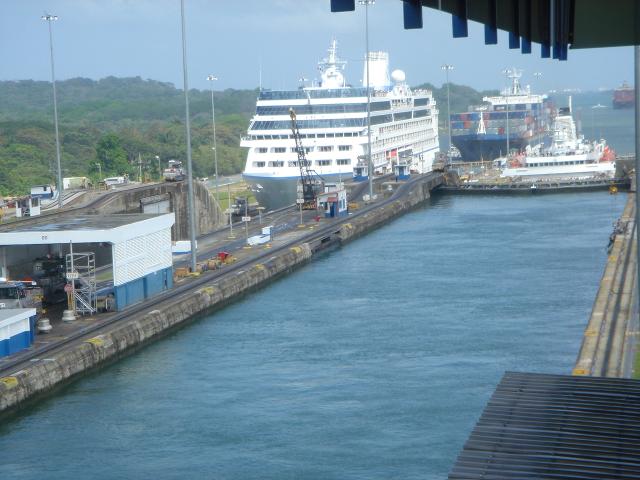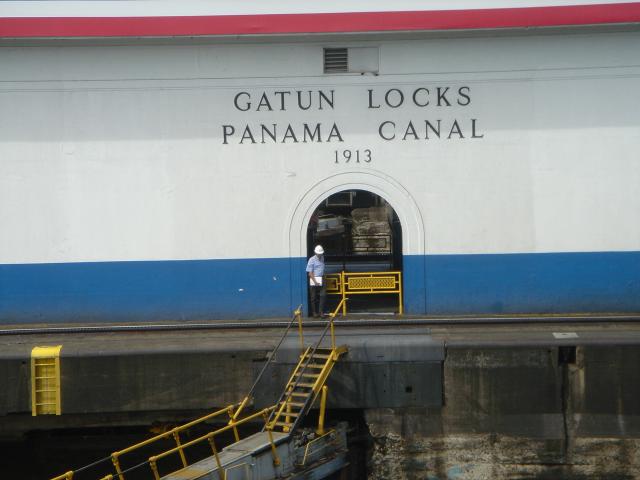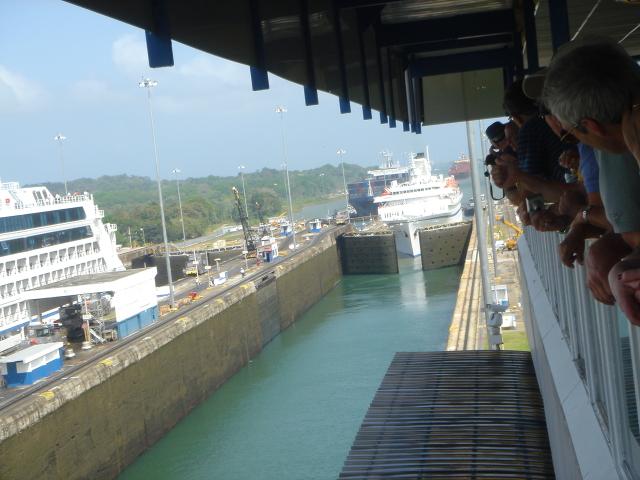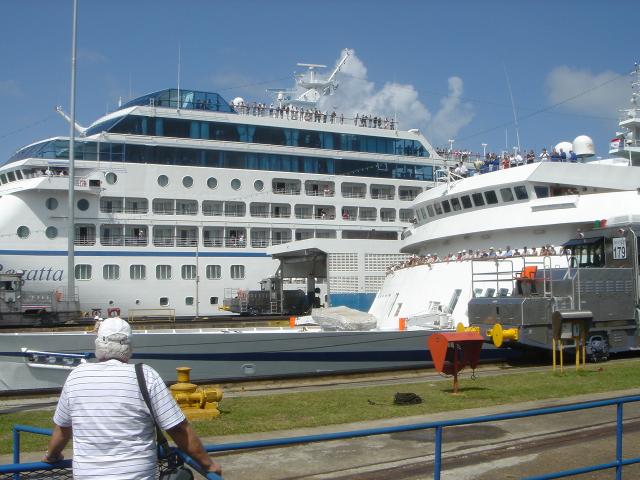 It all seems to run very smoothly. We were told the fee for our ship was approximately $270,000.00. That is not a typo. The citizens of Panama are voting this year as to whether they should put in another set of locks. An interesting point is that the United States had started doing this, but then stopped because funds were diverted to a war cause. The surrounding area is, shall we say, being restored. Many of the US military housing and buildings look like they have been unused for a long while and now the Panamanians are turning them into useful buildings. It's a shame that they weren't maintained, as many of the area looks a bit depressed, now remember we only saw what the tour bus driver showed us, as we traveled to our destination, which was a hotel, to get into a pontoon boat to take a leisurely cruise on Lake Gatun, while our tour guide pointed out different foliage and even a sloth: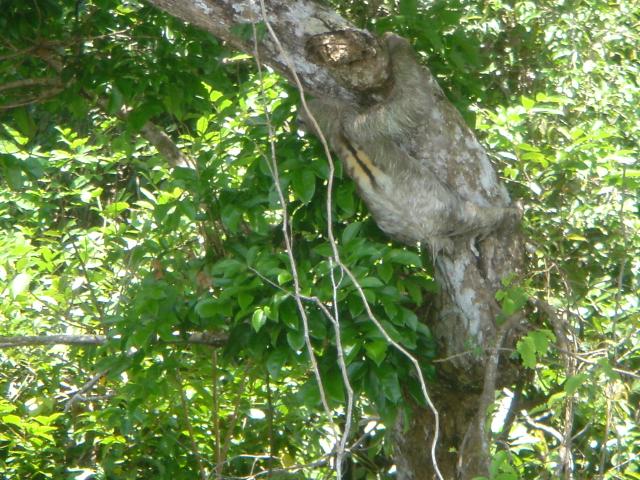 We then arrived at the Embera Indian village: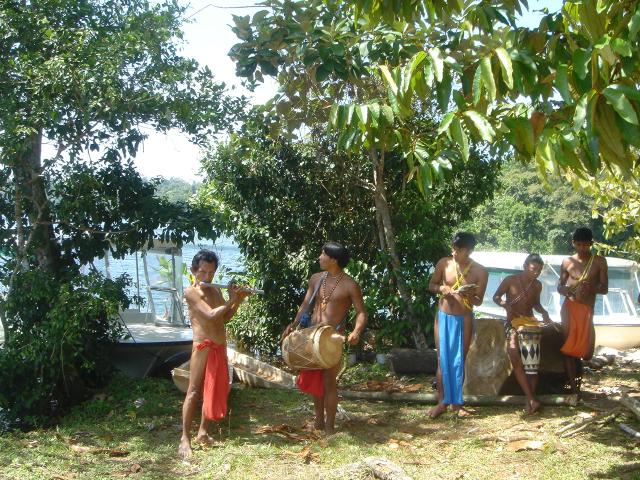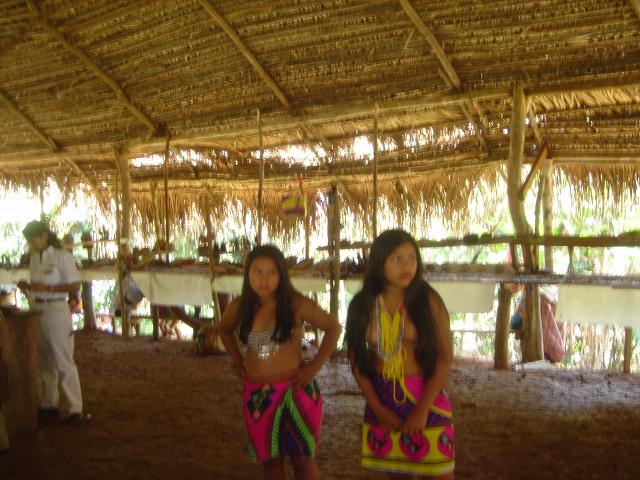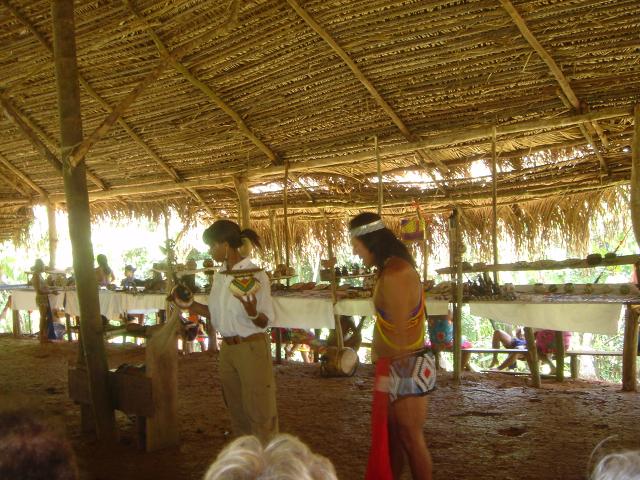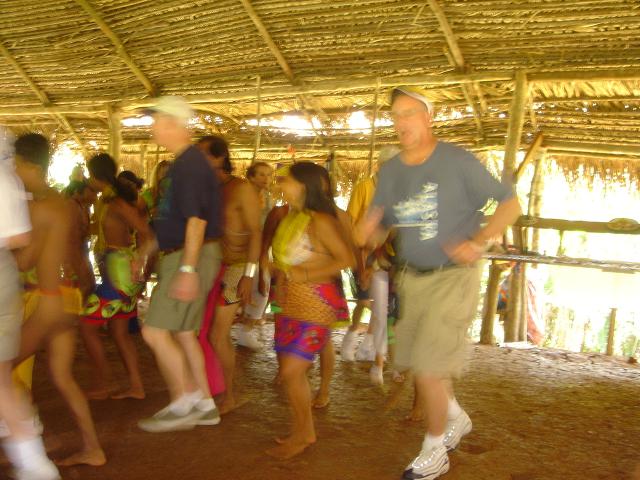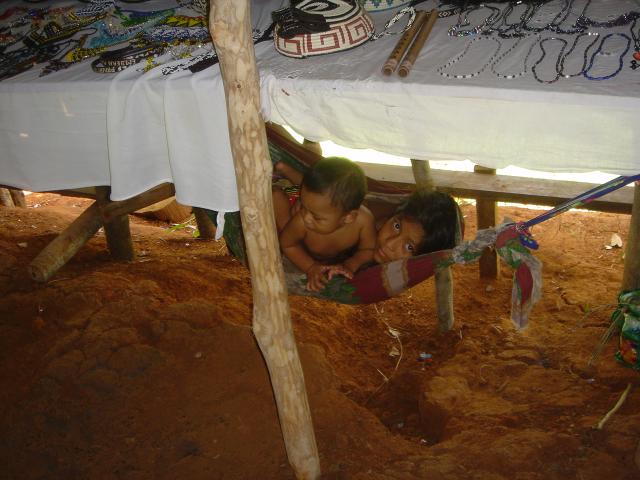 Here we watched several native dances and were able to see how this tribe now survives. After the show one was able to purchase baskets and wood carvings if one desired. It definitely seems like a hard life, with no comforts as we know them: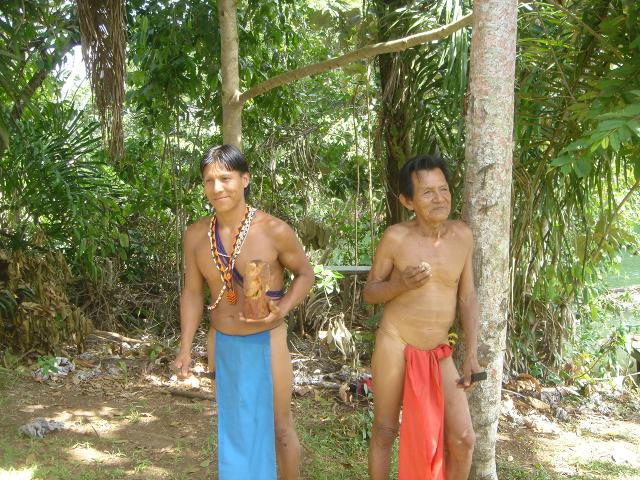 The show Survivor comes to mind. It certainly makes me thankful for all we have. Of course the evening was full of eating, drinking, and dancing. Maybe not a smart move as the next day was Puerto Limon, Costa Rica.

The morning seemed to come too quickly, but we were anxious to do our Costa Rica Off Road Adventure: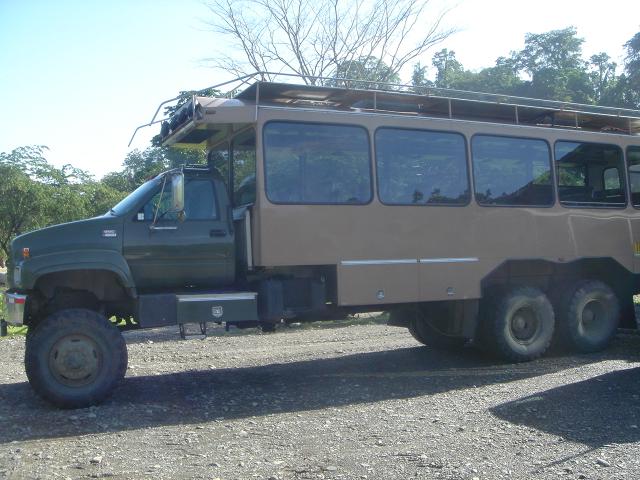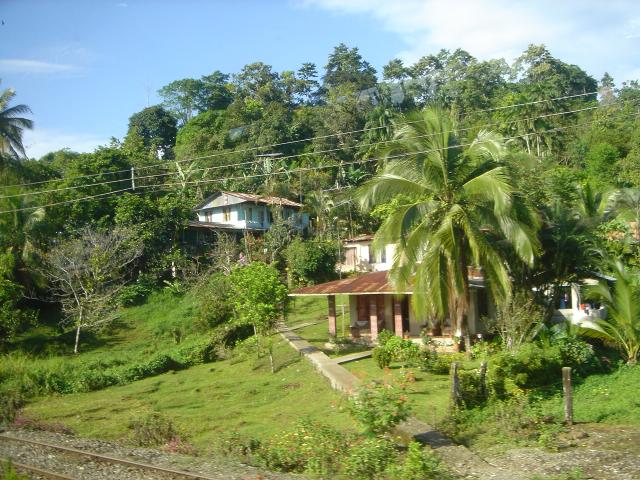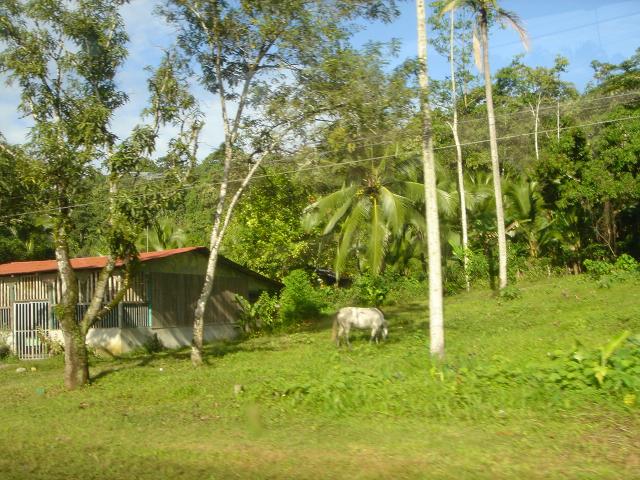 As we headed to our departure point we noticed this big brown military type bus. Guess that is us. Again, Gary and Deb had opted for the same tour. We had to enter our all terrain "Terra-X6" by steps into the rear of the bus. This was a custom made vehicle. It had sort of a school bus back with extra padded school bus seats, with the largest windows they could get for viewing - worked great. Not something I would want to spend eight or ten hours in, but the four to five hours were fine. The cab was definitely Army type, and the wheels on the thing quite large. This was very nicely run; the guide had a wireless speaker system in the bus so that all could hear, and we were in the back and never had a problem. We headed out of Puerto Limon limits to the mountains. This tour was very informative about the nature of the land. Once in the mountains, the bus stopped at a horse ranch, for necessary rooms, then we proceeded to another stop, sort of in the middle of a road, next to a river, where the guides then prepared a small spread of fresh fruit and beverages: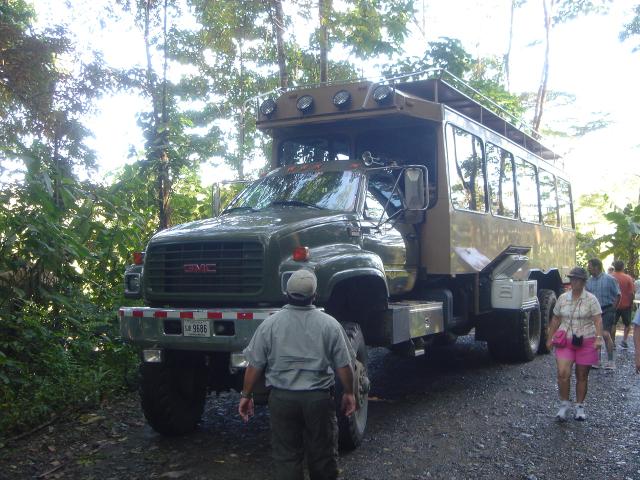 One was a local drink, which after trying we decided to pass on it, or otherwise we might pass out from it. Once snack time was over, we all walked down the road, our guide explained about the rainforest and spoke a lot about spiders, as we encountered several different kinds: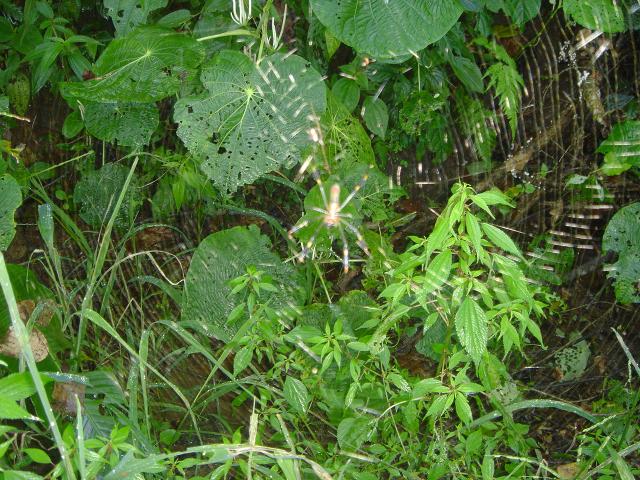 We also came upon several varieties of frogs, from tiny red ones, to a wonderful iridescent green and black one. They did not stay still enough for us to get a picture. Our walk was all down hill, a good thing, and then the bus came and picked us up. As we traveled to the banana plantation we saw many examples of the mountain life. Very few vehicles, most people walk. Next thing we knew we were crossing a river, and it wasn't by bridge. This vehicle just went right on in, the water was probably a good four or five feet deep: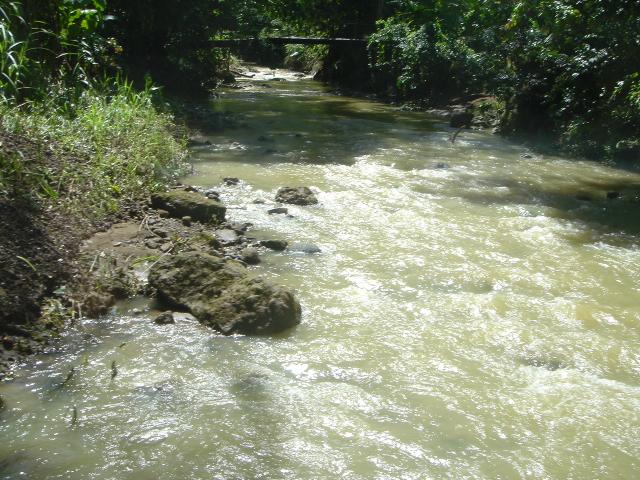 It made a very interesting sight. This was a wonderful tour, the guide and owner was very knowledgeable about the area and the rain forest: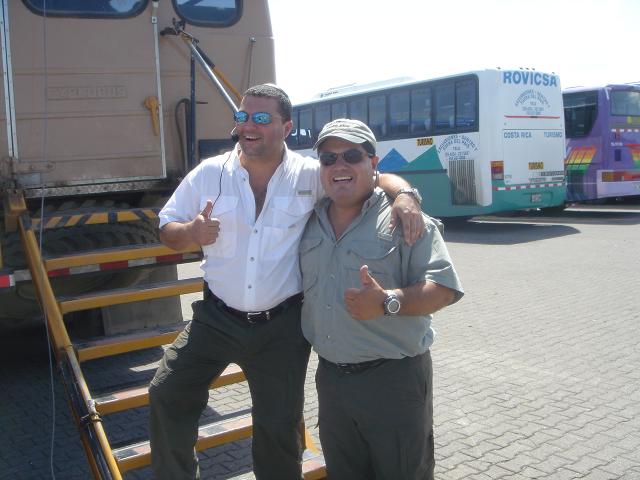 We had another sea day on Friday, and the NCM had a sponsored a scavenger hunt. We had to make teams of six. We teamed up with Tom and Diane Grott, new cruise acquaintances, Diane Dow, (Al didn't want to do it) and Al Jones,(a friend from two previous NCM cruises-Nancy was probably playing the slots - someday we might see them at the museum). Now it was off to find a bunch of varied items. Well we did it. We pulled off a win, only because of a towel, way to go team. We were each awarded: a cap, a medal and prizes of decks of cards and a bingo card (we never did use them).

Friday was also the day of the Autocross Finals. We headed back to the Starquest Disco for some real racing. Unfortunately for our men, they just didn't have the talent to make it a win. But both did good job trying.

Saturday, we landed in Georgetown, Grand Cayman. We had been here before, so we decided to do this Bubble Submarine excursion. This is a submarine built for two. What a neat experience. I am sure we will never do anything like it again: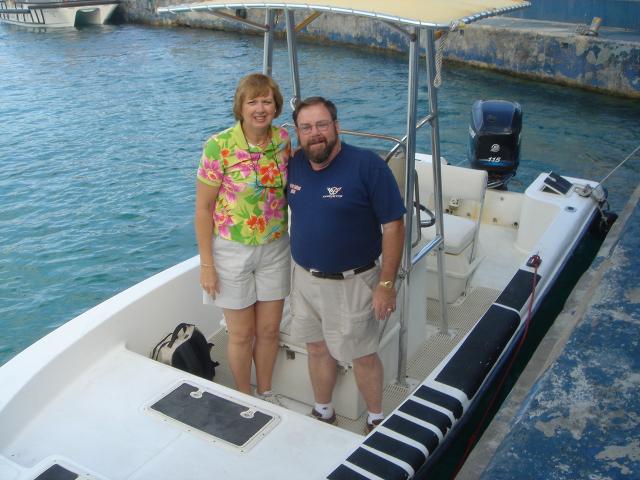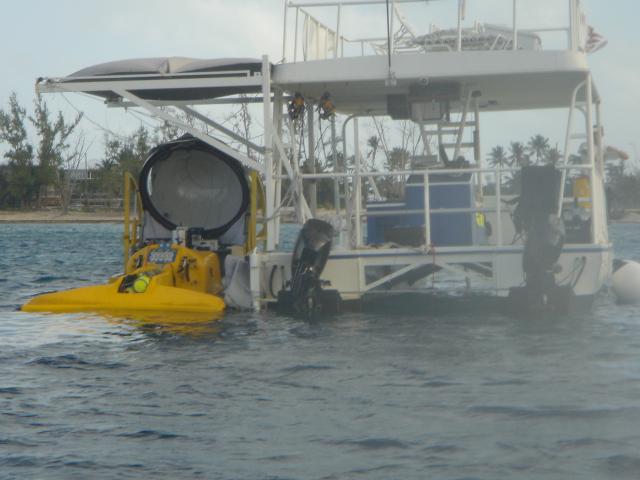 This was taken by Linda & Charlie Rose (next to dive); thanks!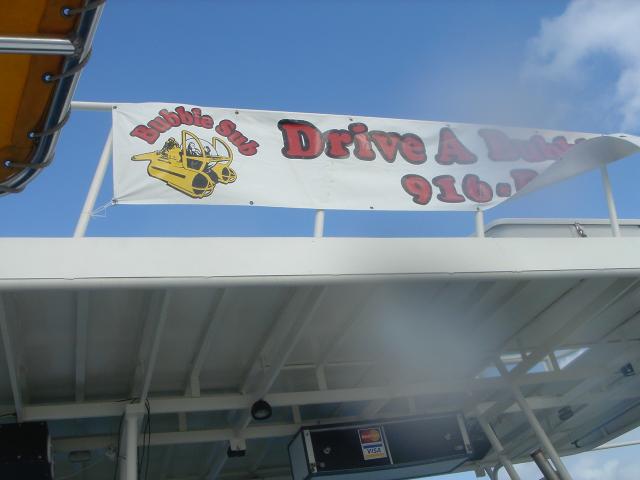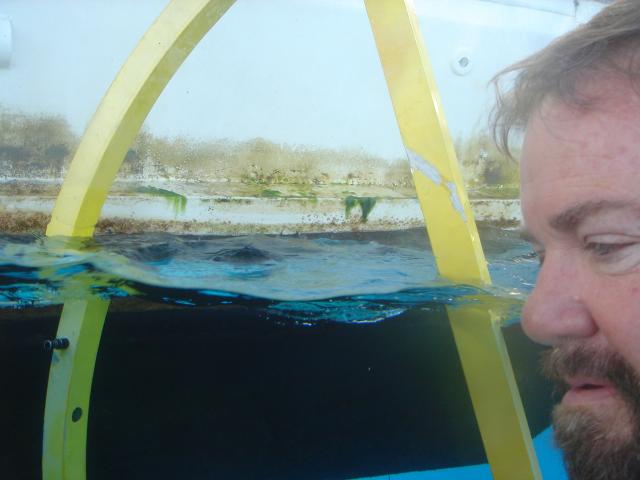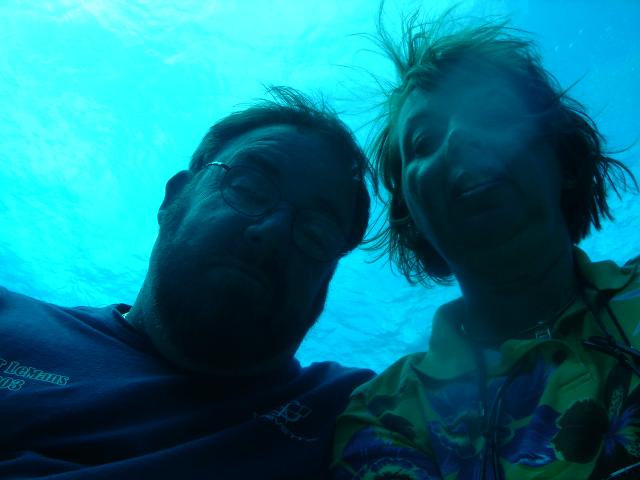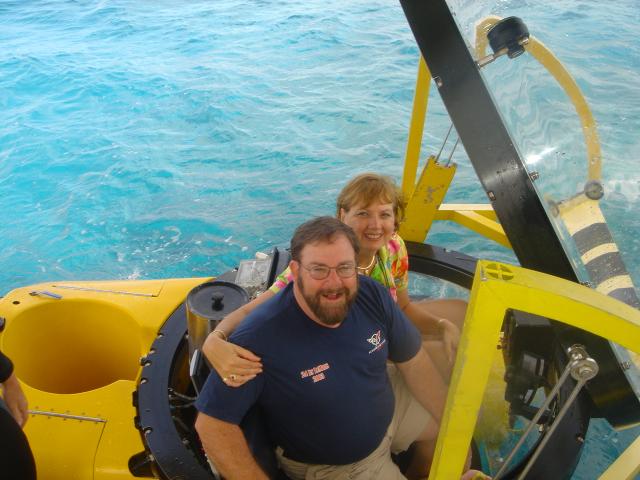 We went down about forty feet. There were schools of fish everywhere, and the reefs were beautiful: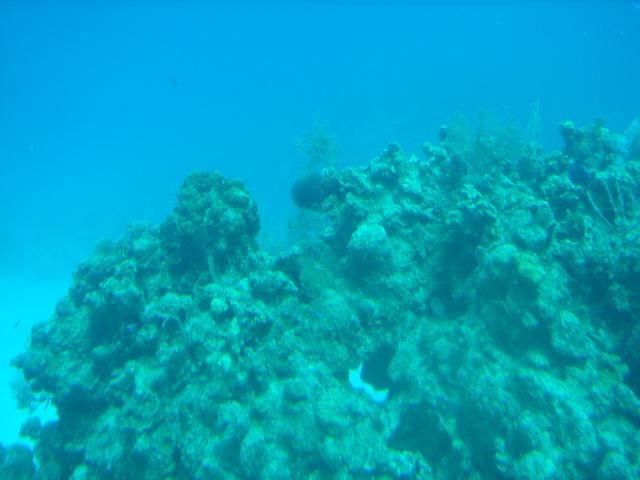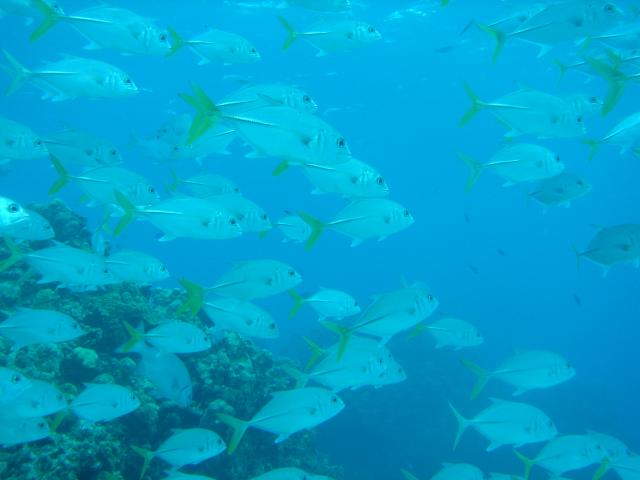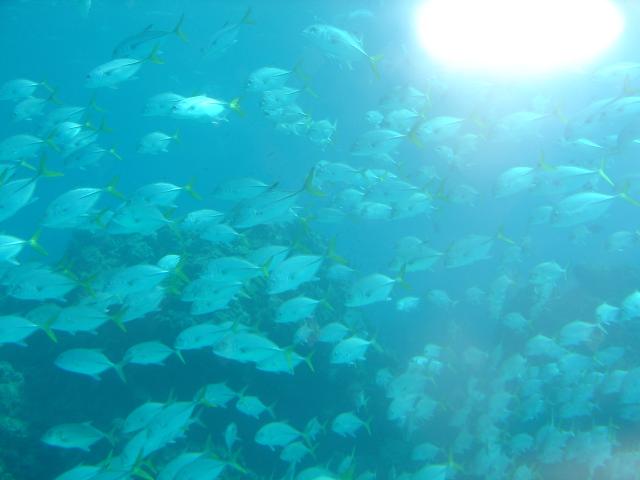 This was perfect for Jackie, as she is not a scuba diver person, so this gave her the feeling of being in your own aquarium.

The afternoon had us meeting up with Deb and Gary once more, they had gone to the beach, and boy did they look a little cooked. Now we were off for a cruise on a Pirate ship: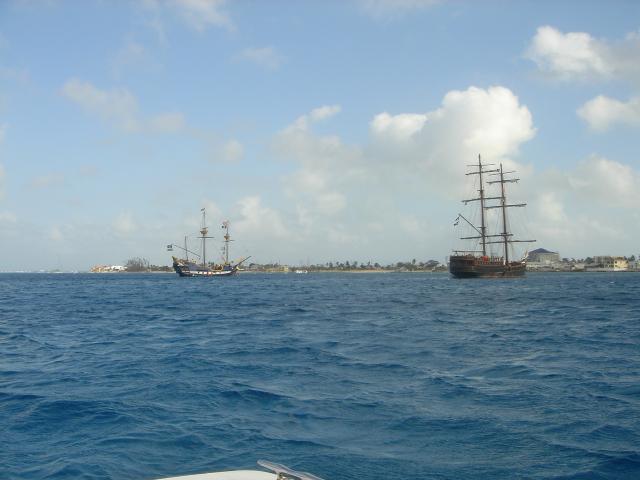 This was a bit hokey, but the sail was nice. Some lady and Gary, too, were tied to the mast and then doused with water: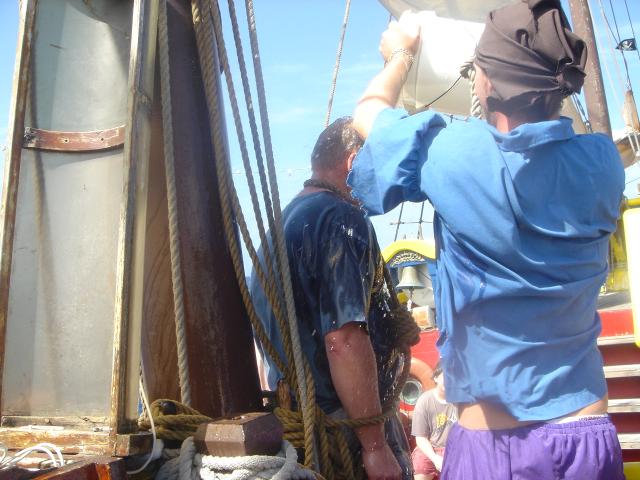 I wouldn't have appreciated it, but of course I didn't have my bathing suit on either. They were both super sports and played along with the pirates: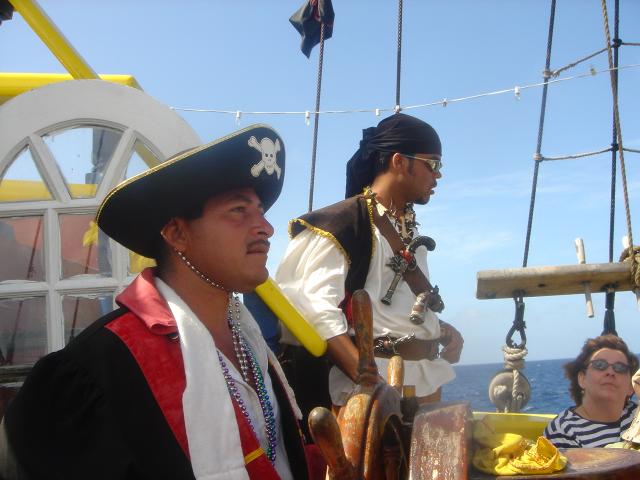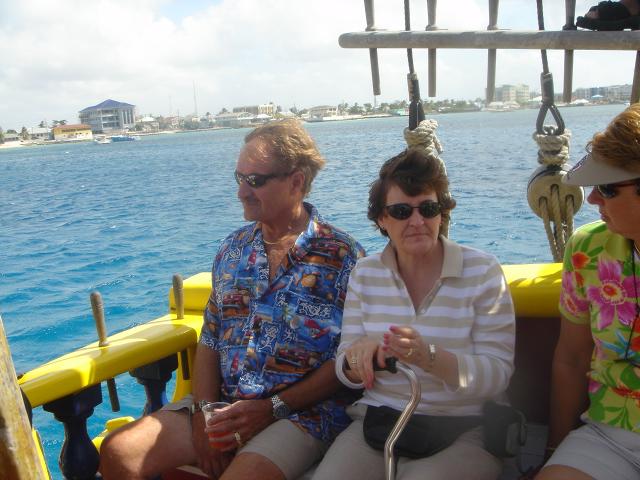 This vessel also served a rum punch, but not half as tasty as the ones in Aruba. Gary seemed to have a great time, he and several other passengers found themselves jumping overboard and going for a swim: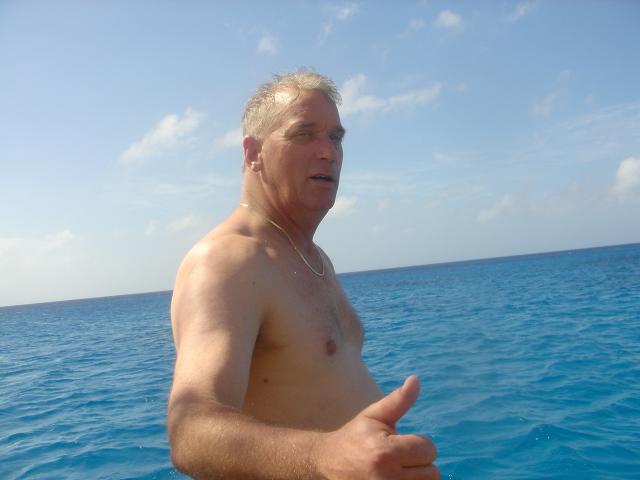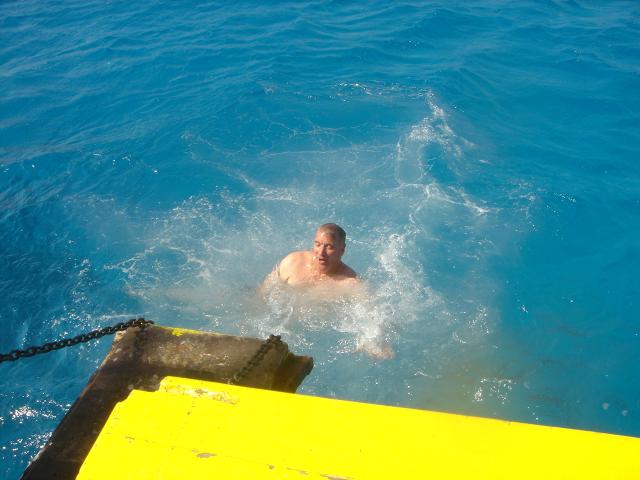 Saturday night we decided to catch another show, I must say most of the entertainment was good. Tonight was Marty Allen, well most of the reaction on hearing his name, was "Is he still alive" I guess we are all dating ourselves. He put on a great comedic act as he says "that is clean". After the show we had to get one more fix of the Susie Campbell Band, we were definitely groupies.

Sunday was a big NCM day; first we had Blind Auto Cross. This is an event where two people team up. One gets blind folded and the other gives verbal commands as the walk the course. This is a timed event which causes the audience lots of laughs and the blind folded participant some ouches. I am sorry to say, I can't remember who won. It wasn't us.

The NCM also sponsored another seminar by Johnny O'Connell; this one was how racing can relate to everyday driving. They gave him the big stage in the Pacifica Theatre and opened it up to the entire cruise ship: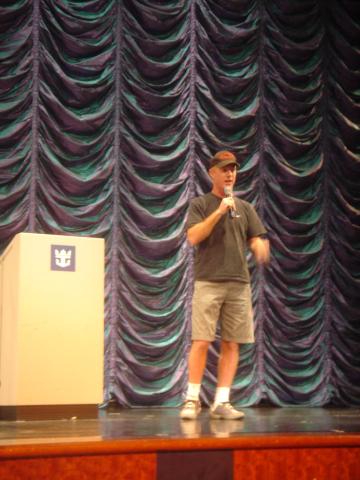 There certainly was a good attendance. And as with all Johnny's talks, they were not only educational but entertaining: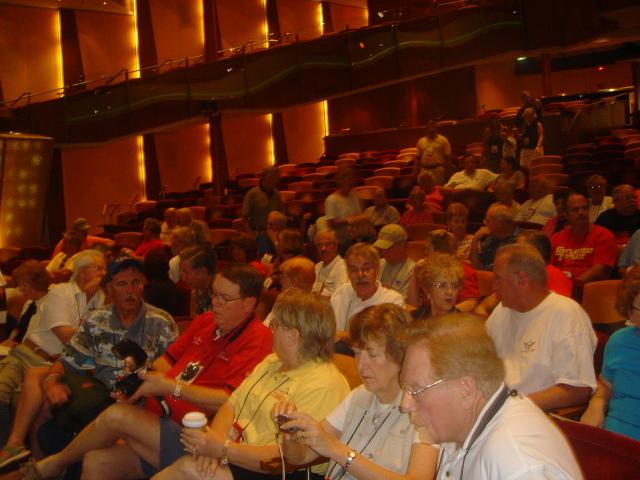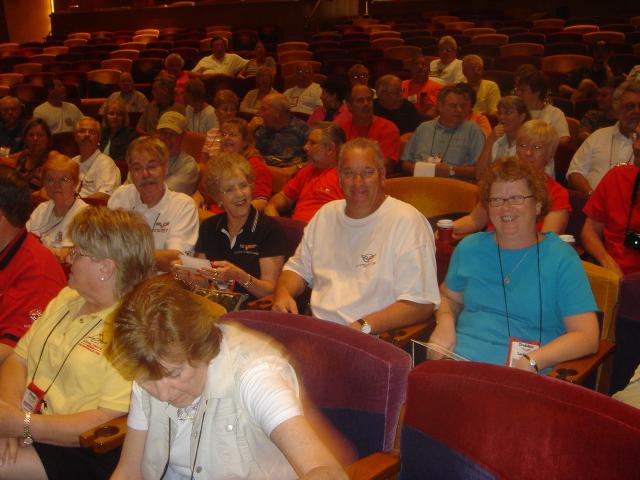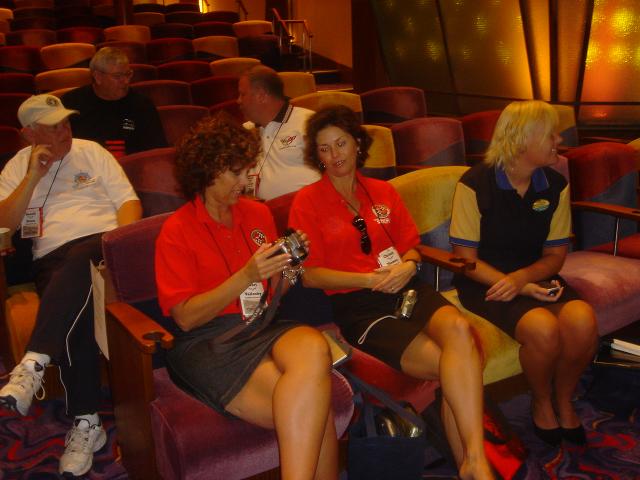 Sunday evening also brought a farewell cocktail party held in the Colony Club. Here we had drinks, closing remarks from Wendell Strode and Sheri our travel agent. The autocross race cars, which had been signed by Johnny, were auctioned off for the museum. Gus Puryear also announced that he and Al Jones were purchasing a large brick at the museum as a memory, and asked for others to purchase small bricks to go around it. Many of us joined the effort, just another way to help support our museum.

At 7:30 the Susie Campbell band which we persuaded to come on a half hour early, played for our group. They even managed to play a good rendition of Little Red Corvette: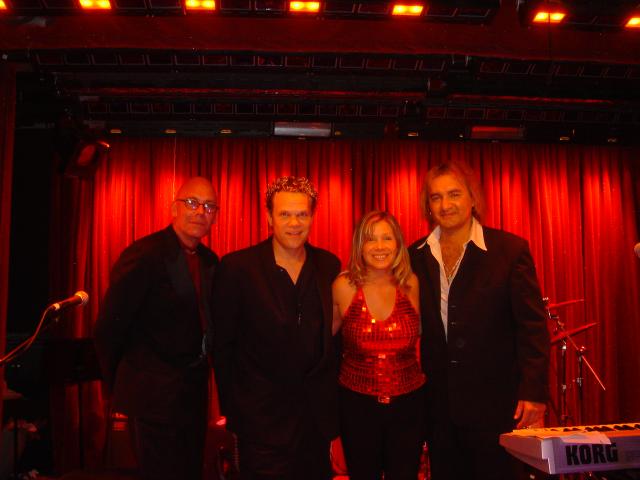 This was a wonderful way to say good bye to new acquaintances and old friends: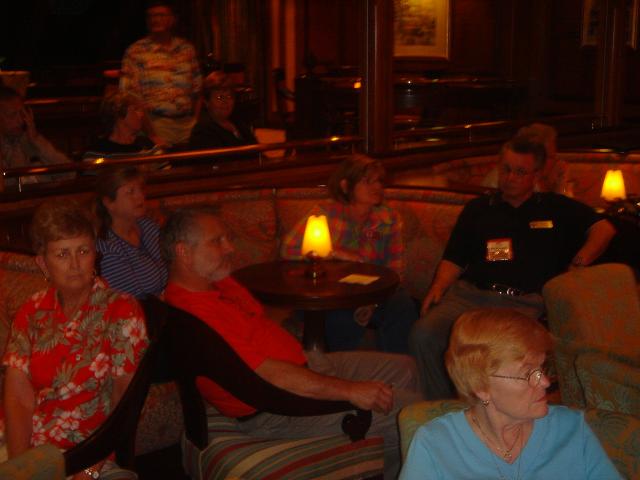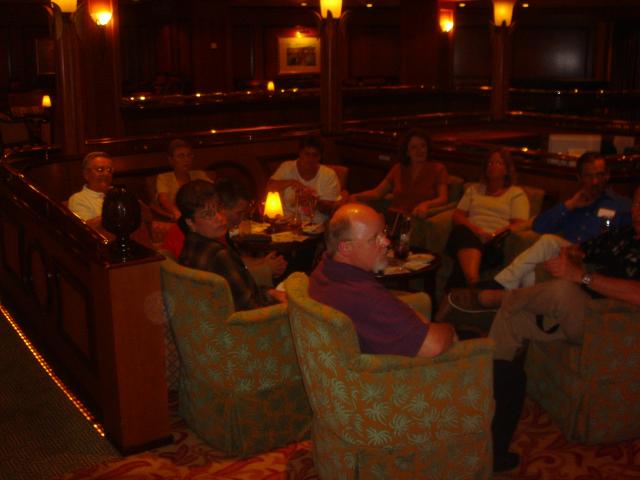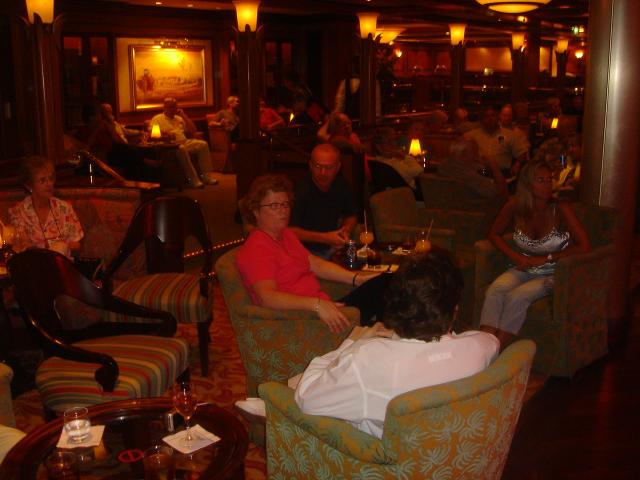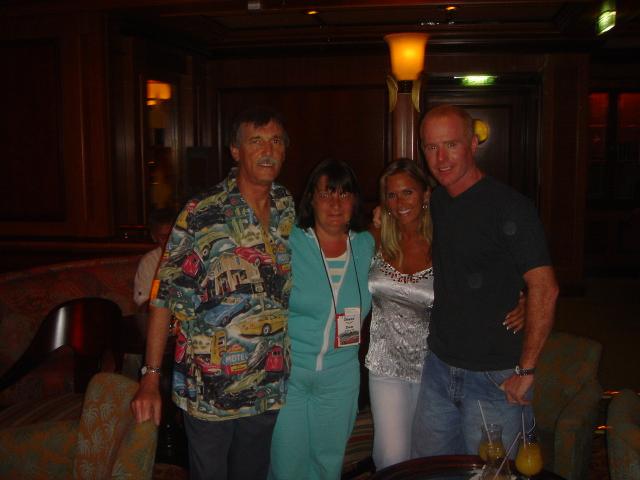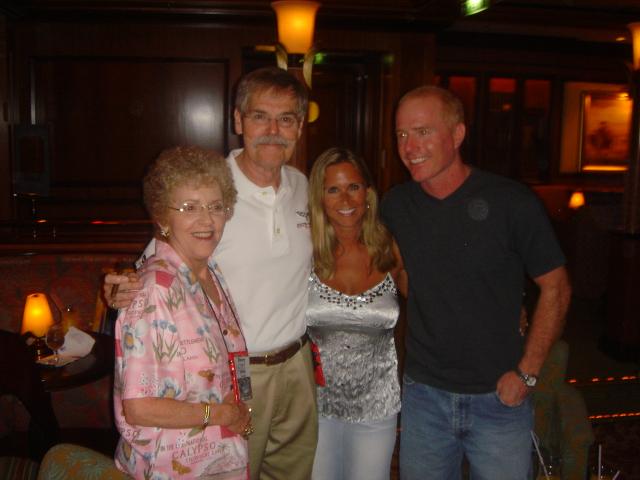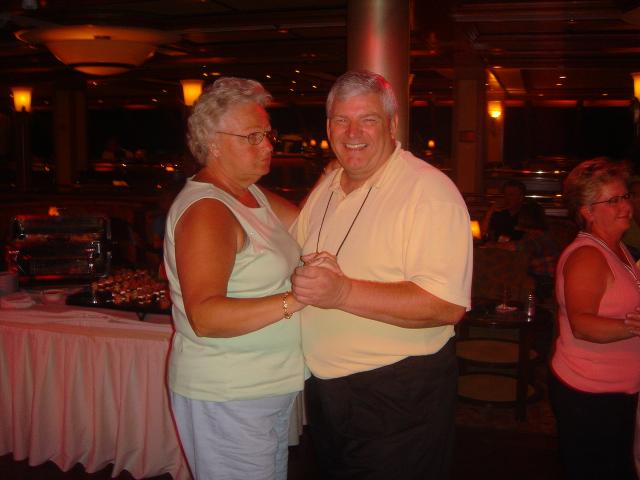 (is that Wendell & Jan or Fred & Ginger?)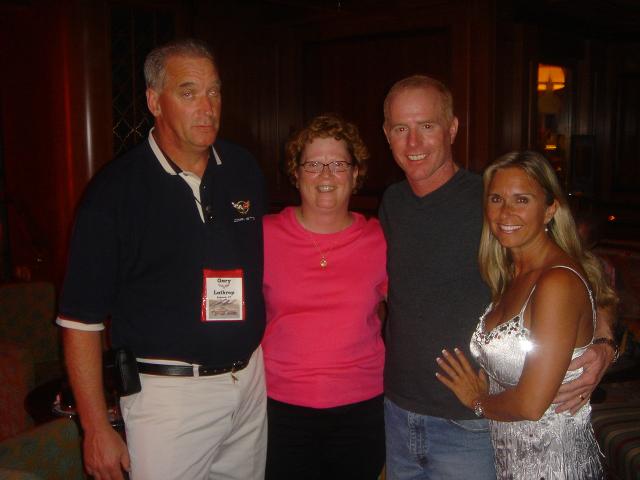 Monday, found us up early, as we had arranged to take Carolyn and Chuck VanSanten to the Fort Lauderdale airport. Their flight had been changed and they were in a time crunch. Gary and Deb were off to see friends and family. We just packed up the truck and headed for home, very happy to meet new friends, see old ones, and hoping to get rid of the few pounds we had gained.

These are a few pictures with no real story, except that we did have fun!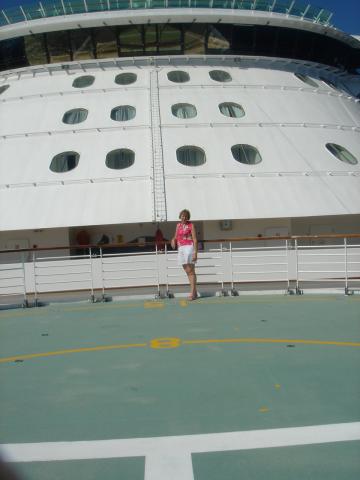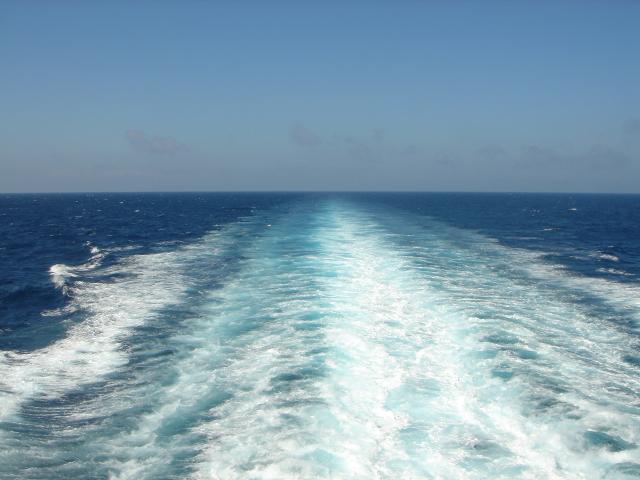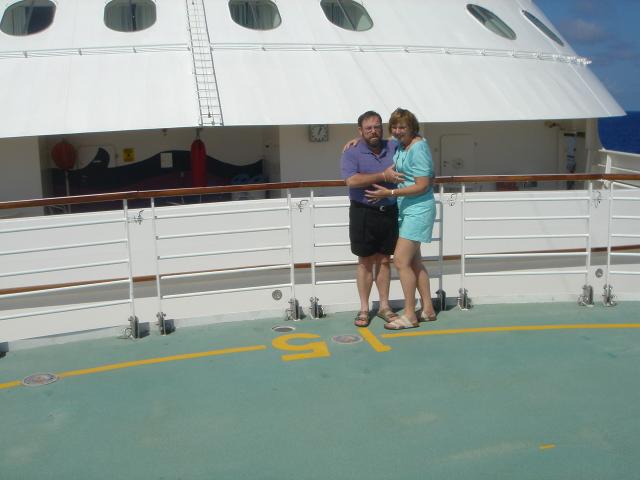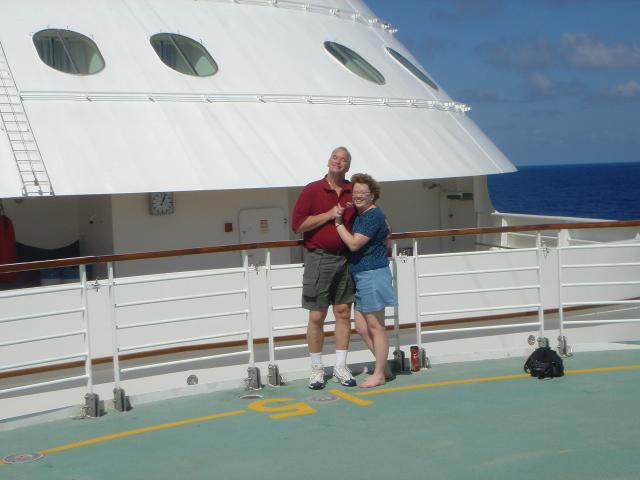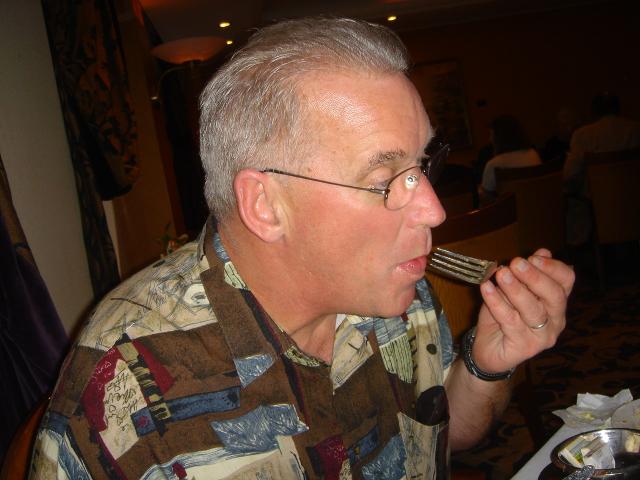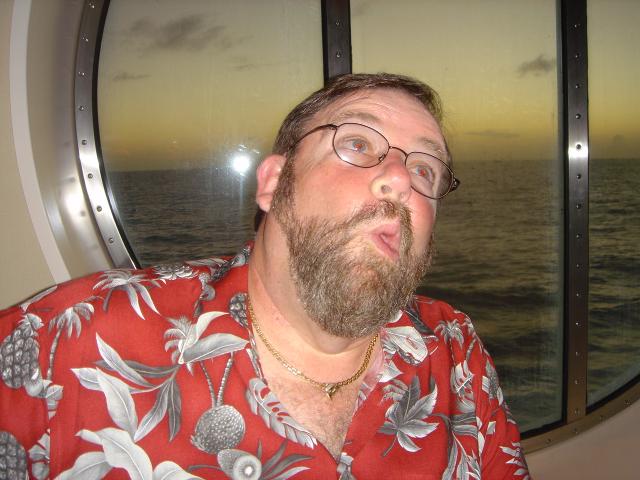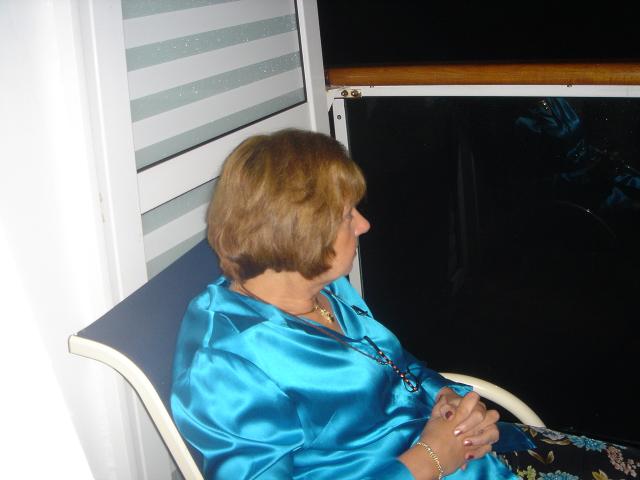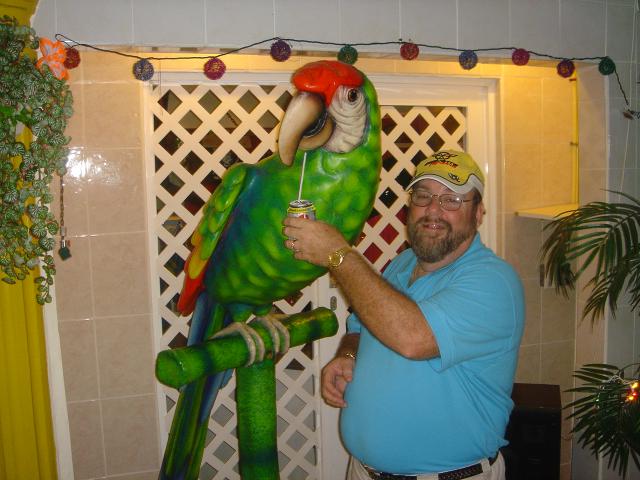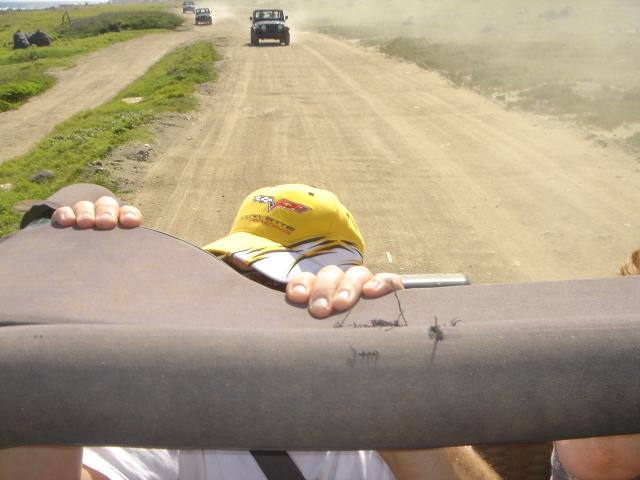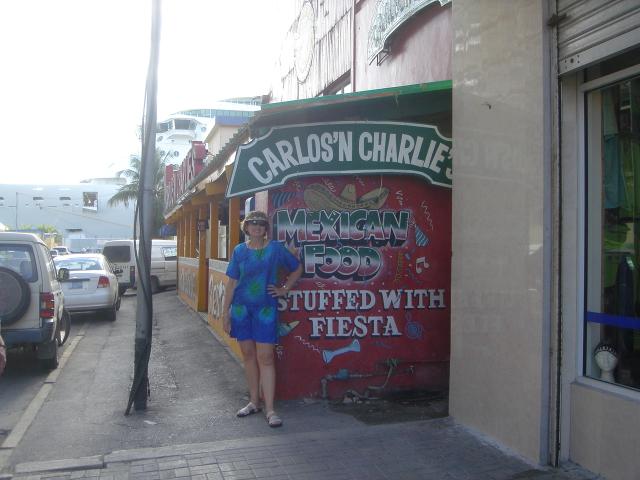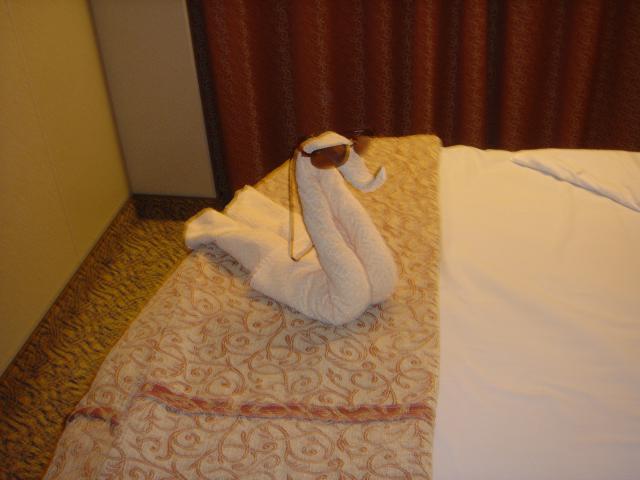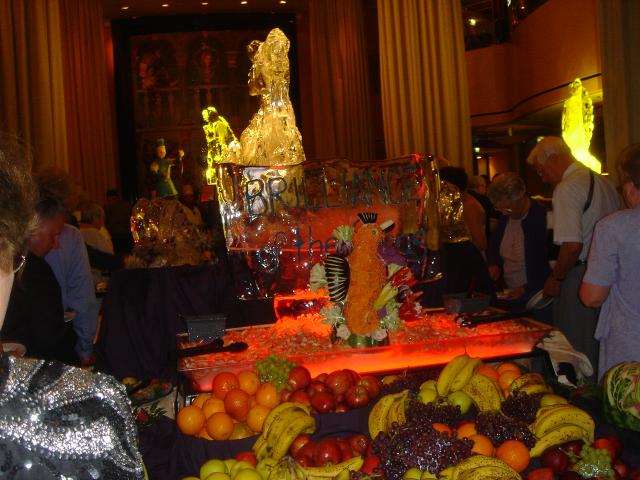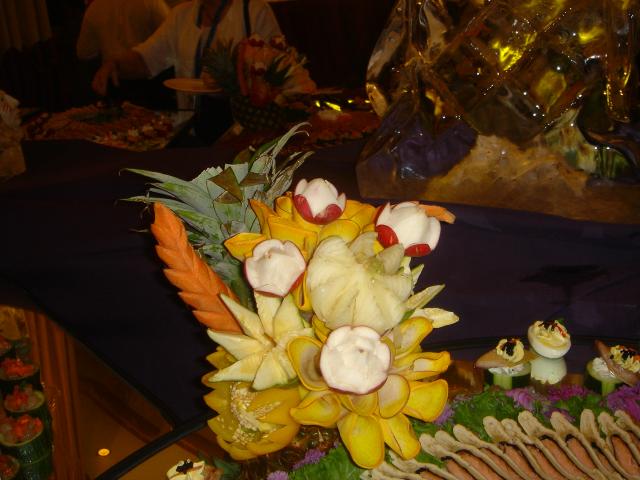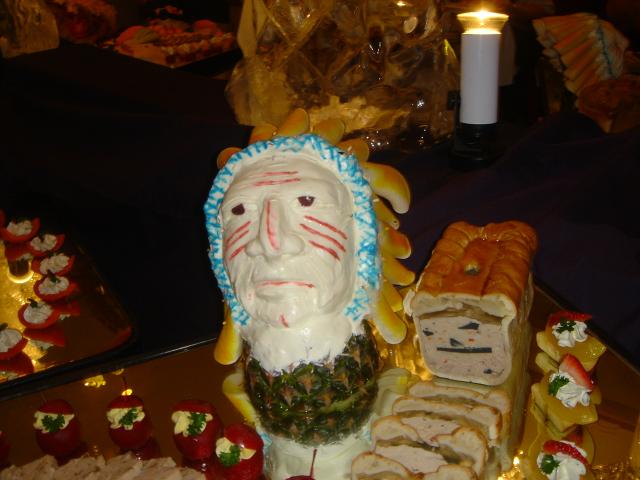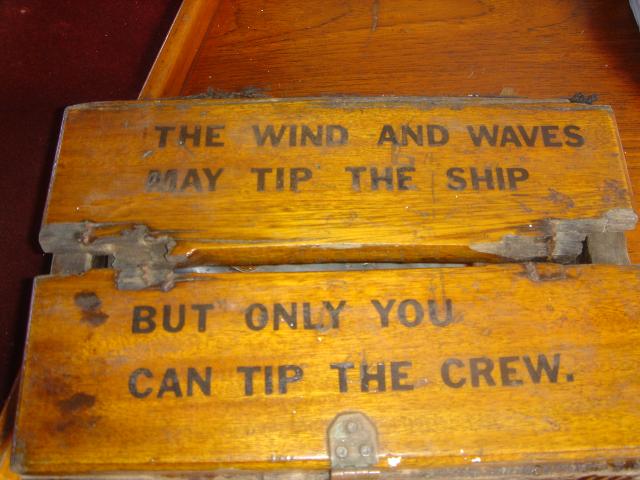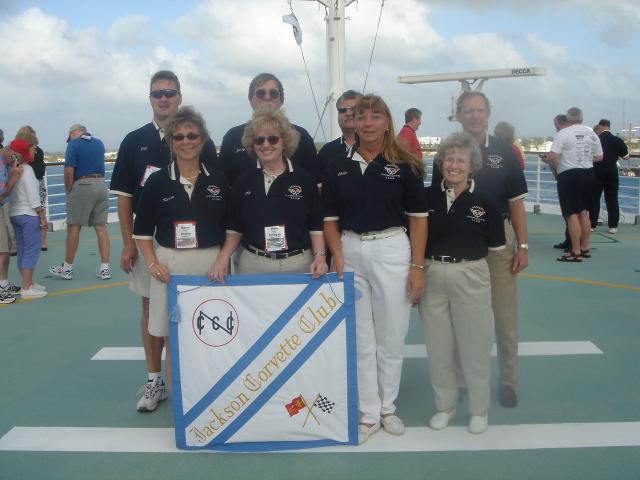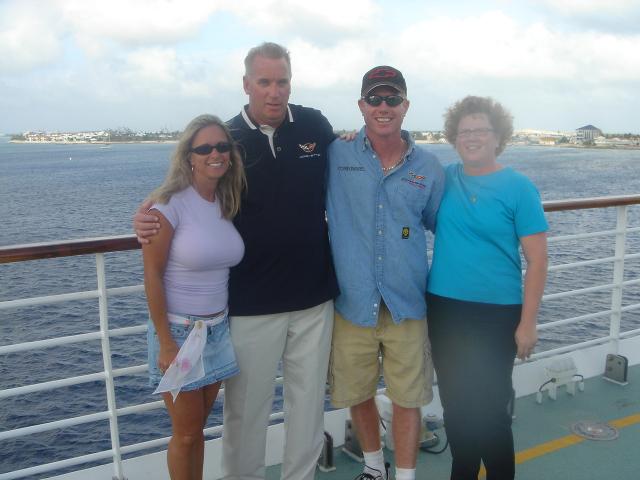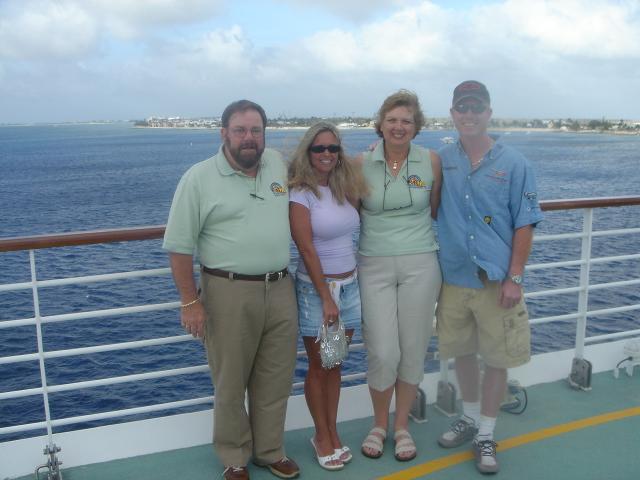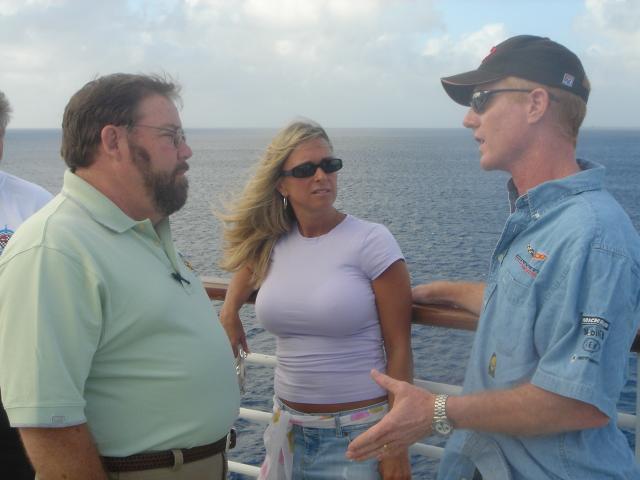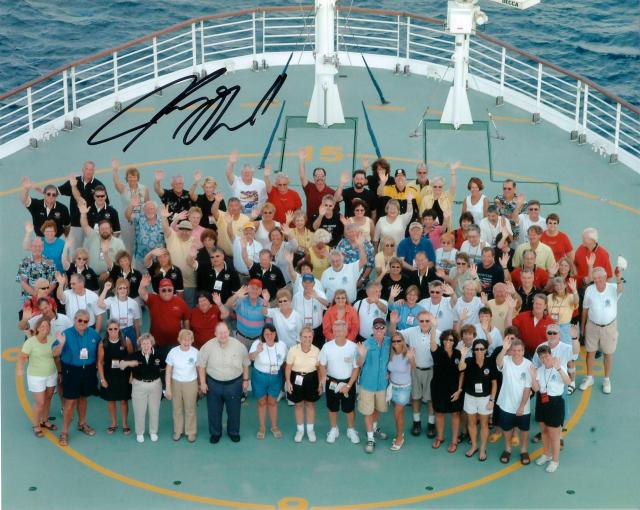 ---
Back to our Main Page..