Merchut's Magical Mystery Cruise 2005
The Cracker Barrel in Davenport, Fl was the starting point for this Mystery Cruise run by Ed and Sandra Merchut in conjunction with The Corvette Club of Orlando. Kick-off time was 1PM and everyone was ready to go. Well there was one little snag, one car's battery decided it was tired and didn't want to go anymore. AAA came to their rescue. They would join us later on at the end. Most everyone had arrived early and had their tummies all full and were now ready to go "who knows where".

Ed and Sandra had us in teams of two with our own radio channels. What a fantastic idea! We had Ted and Shelly Blakeman for our team mates. We were the first pair off, Ted in the lead and we following close behind. Both of us are use to having a small helping hand, AKA the "GPS". Well we didn't travel too far before their co-pilot decided it was having an off day - he just plain didn't want to work so we suddenly found ourselves in the lead. You can't really cheat with them; they just give you a little advance notice of upcoming turns.

So we were off and running, all feeling that Ed had done a great job in his choice of roads. The clues were right on target. The first part of the tour took us to Avon Park and then the second took us to The Tower Restaurant in Lake Placid for a short break and a chance to visit that much-needed necessary room. Another set of directions were then handed out and we were off to find dinner. Ed and Sandra decided to join our team, so they could sit back and relax. After going for a few miles we came upon one of those signs that said "water over road". We were on a road with a lot of moguls and soon we came upon a small area with some water and went right on through. Well, we went on a bit further and "water over the road" was an understatement. There was water as far as the eye could see. Buzz waded in up to his shins: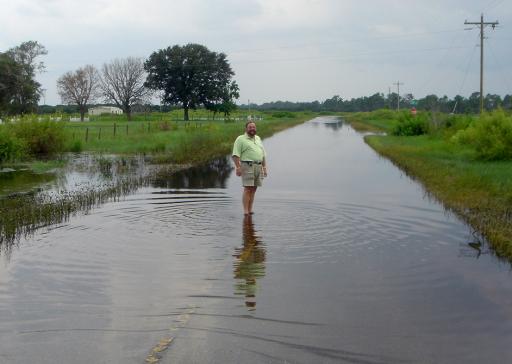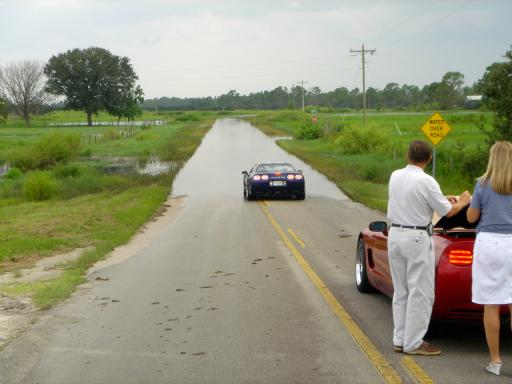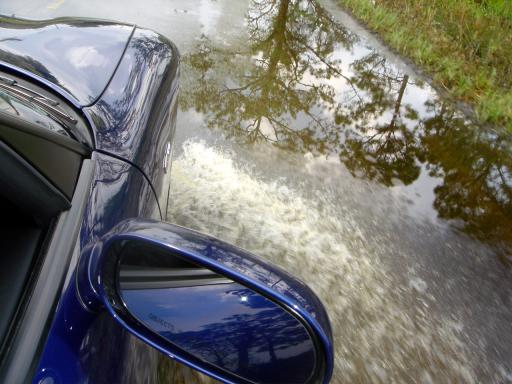 Hmm; what kind of things do you think swim in this mess? As you can see, small trucks made it: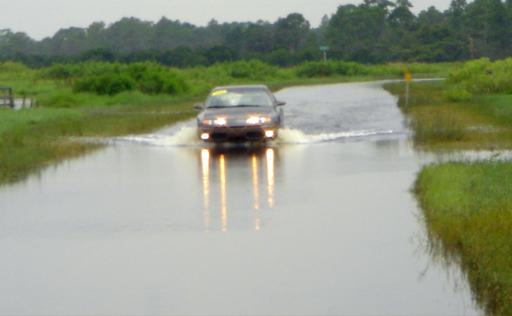 .. but do sixteen corvettes want to try? We don't think so! Well it was about-face and back to the highway: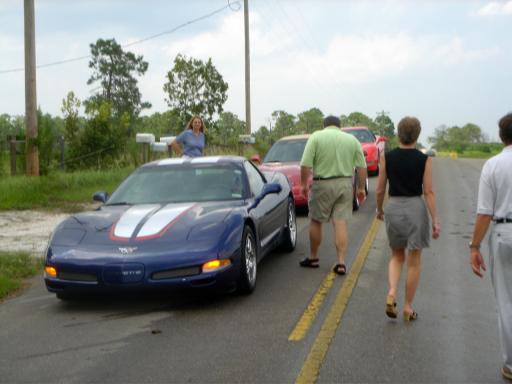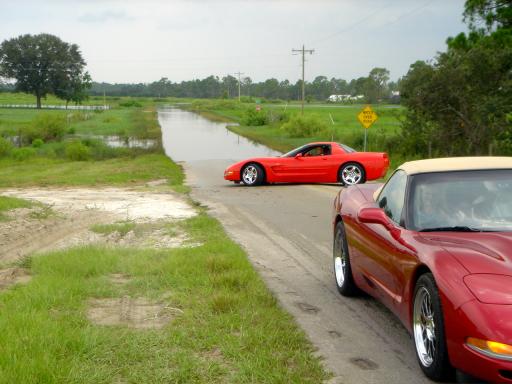 This was sad since the roads were really "Corvette" in nature. Mother Nature always wins. She even let us know she was about by dropping some rain upon our shiny cars. We're sure there will be a few looking for a way to remove the water spots. We continued on and found ourselves at a nice restaurant called Matzaluna Italian Kitchen; some took a little longer road tour than others to get there, but all arrived safely. Great place, good food, excellent company and everyone seemed satisfied: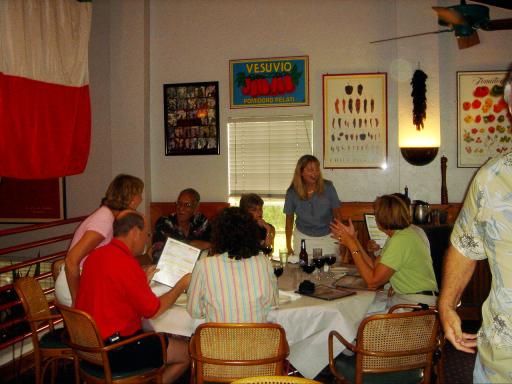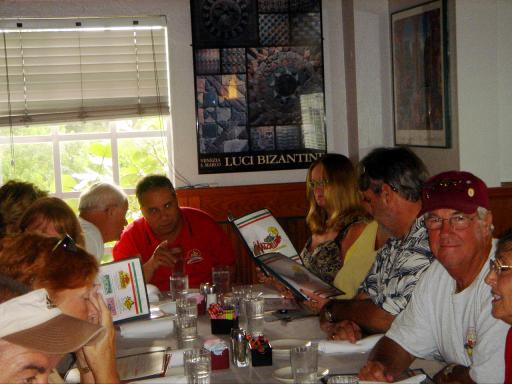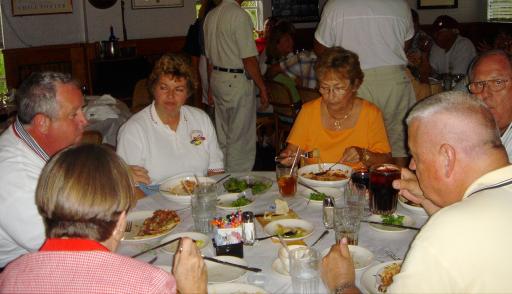 Now we would head out to our next two nights accommodations. We ended up on Captiva Island at 'Tween Waters Inn: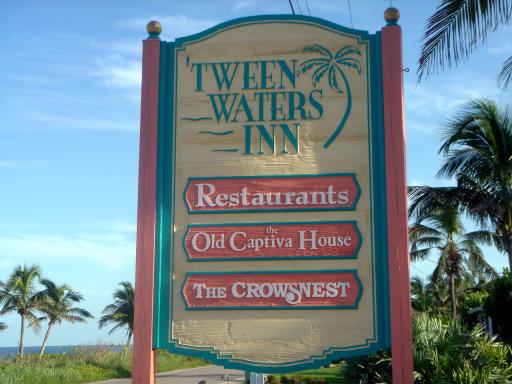 Check-in was a breeze and we had a very nice room overlooking the Gulf. Once again Ed and Sandra made a great choice. Mother Nature was back to cooperating and the sunset was beautiful, although it was hard to photograph through our screened balcony: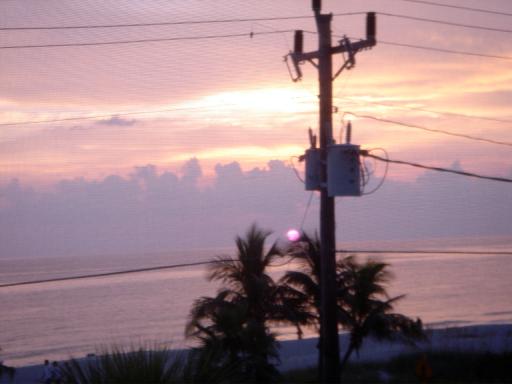 The group met at the Crow's Nest for a bit of alcoholic imbibing and dancing, whether it was just tapping to the beat in their chair or out on the dance floor: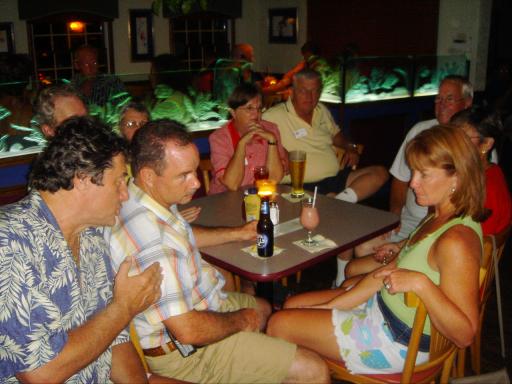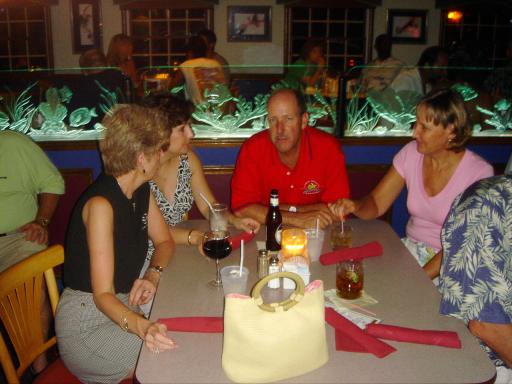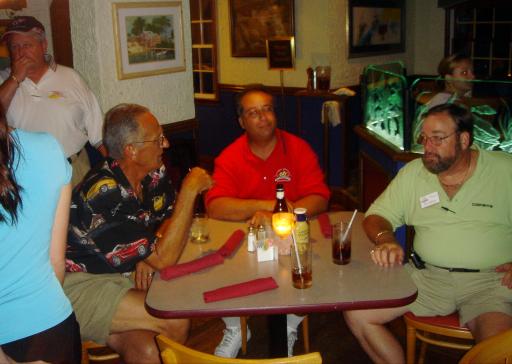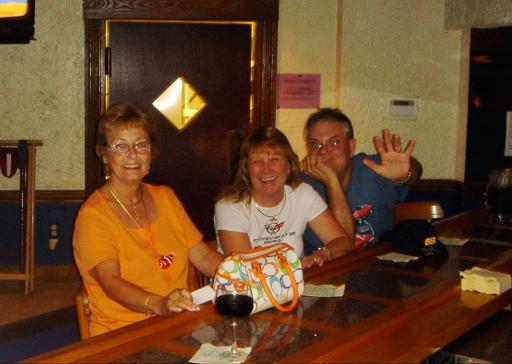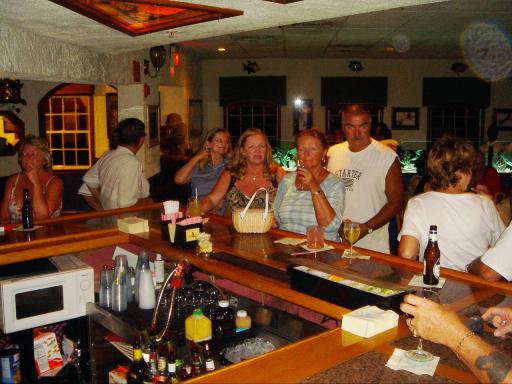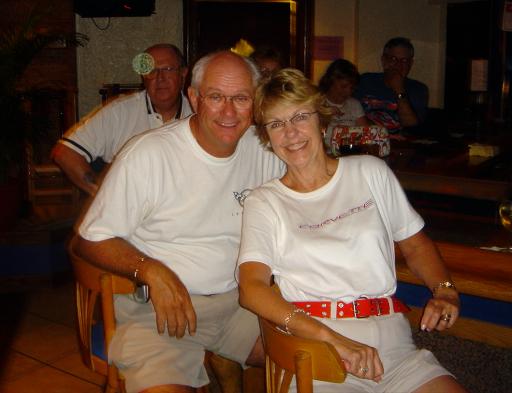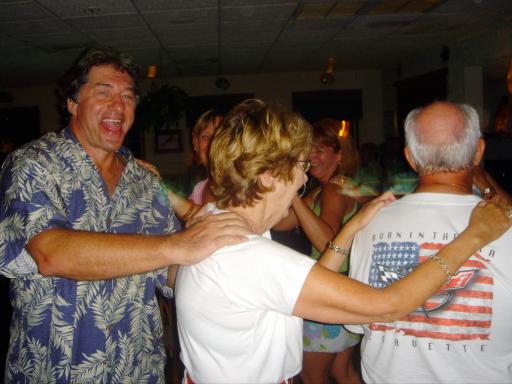 Gee, we even heard "Little Red Corvette"; do you think they knew that's what we drove? The band Barefoot Mary did a decent job: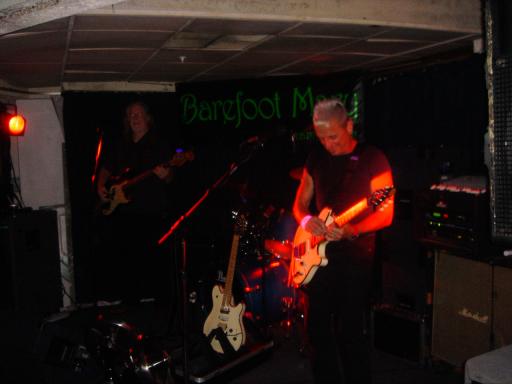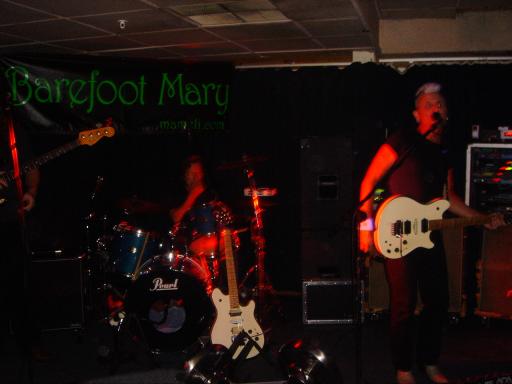 No, that is not a member of KISS!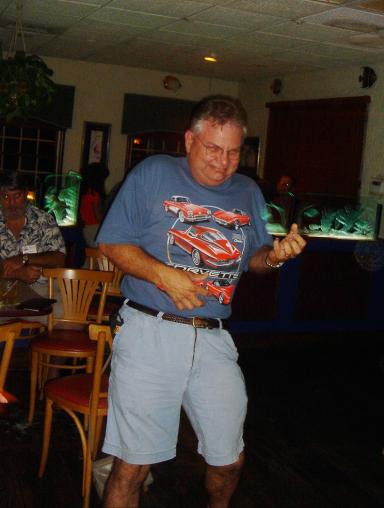 Now, two members of our club (no, I won't mention names) were doing strange things out on the dance floor: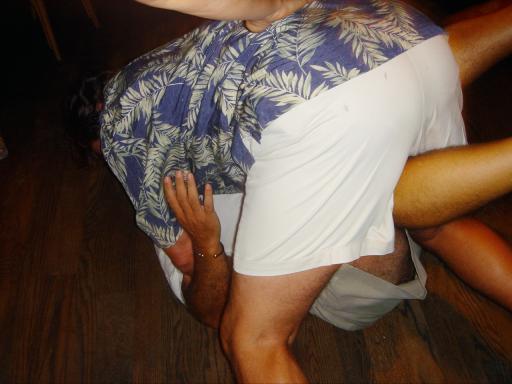 It gave everyone else a good laugh.

Breakfast found us at the resort's Old Captiva House and they sure do a good job of it. There were many tasty tidbits to be had. We really recommend the blueberry cheese Danish log. If you went away hungry it was your own fault.

Saturday, during the day, 'most everyone was on their own. Sandra had approached us about going in on a boat. It sounded good to us so, along with four other couples, we proceeded to rent a pontoon boat for a few hours (Another great idea by Sandra). The resort's van taxied us to Jensen's Marina where instructions under the Tiki hut took place..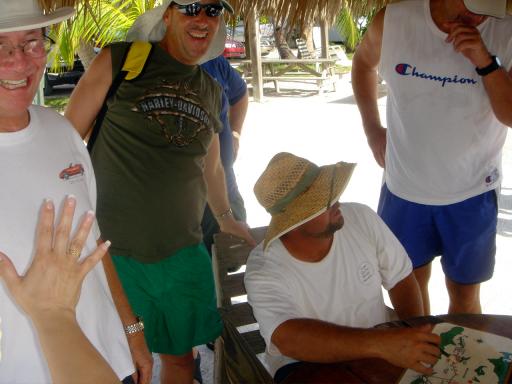 ..and then we were off with "Captain Ed" at the helm, while the ladies sang the theme to Gilligan's Island: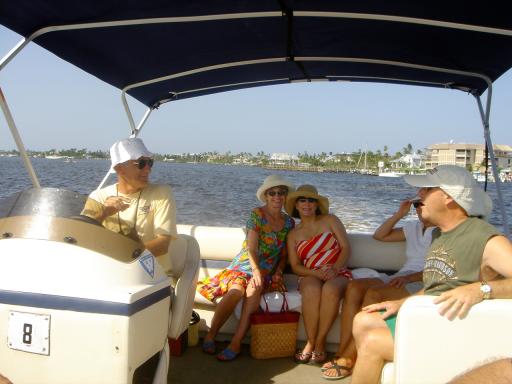 A wonderful day for a boat ride; the temperature had to be nearing a hundred, but there was a breeze. We headed to Cabbage Key: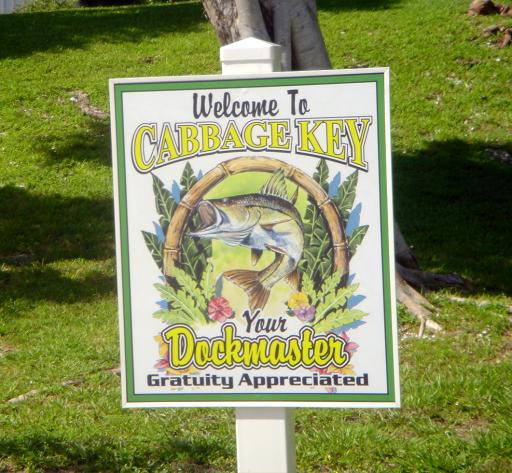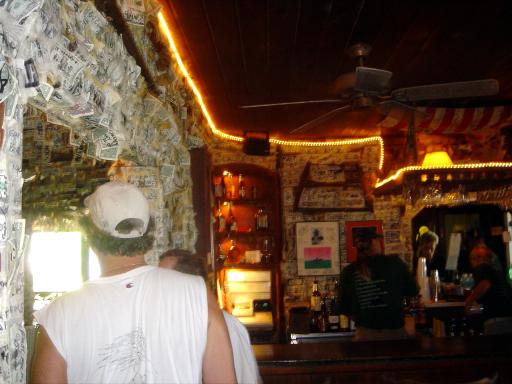 ..to get a small bite to eat and some refreshments. (Food was a definite plus on this weekend). Captain Ed then started to pilot us to Barnacle Phil's, but had to make a quick 360 as Shelly's hat: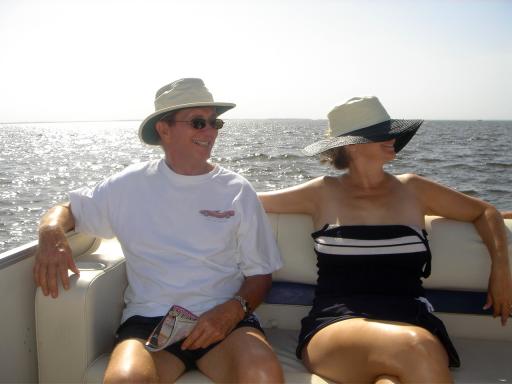 ..decided to fly off and then go for a swim, but husband Ted (the hero of the day) came to the rescue and snatched it up from the waters. It looks like Ted may have a real good weekend. Of course at Barnacle Phil's we ate once more; some had pie and some had lunch. Again all food was pretty tasty. After arriving back at the marina it was off to the beach for a couple of hours of preparing for yet another meal: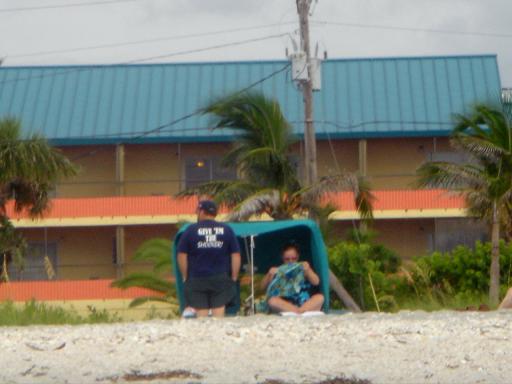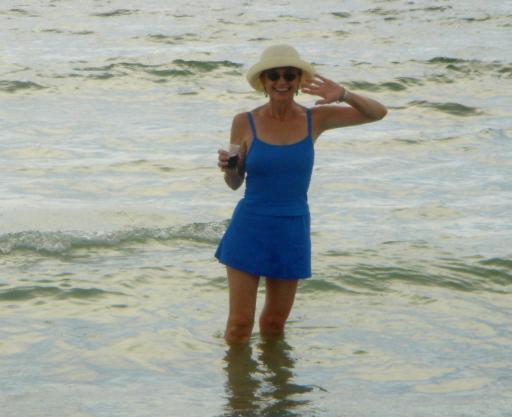 Quick showers were taken (we even heard that some took naps) and then, of course, its dinner time. Once again our host and hostess had it all planned. We were going to the Mucky Duck: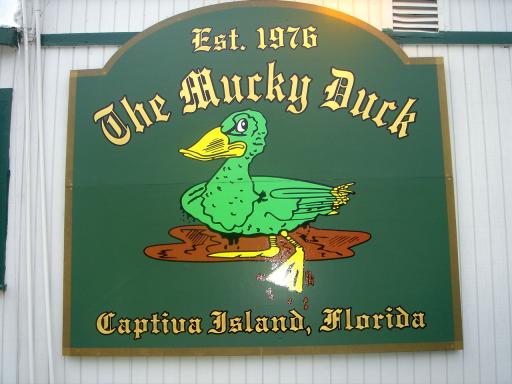 ..in groups of six taxied by the resort so we wouldn't clog up the parking lot. Parking spaces are in high demand. It worked out perfectly. Owner Victor was there to greet many of us and the wait for tables was minimal: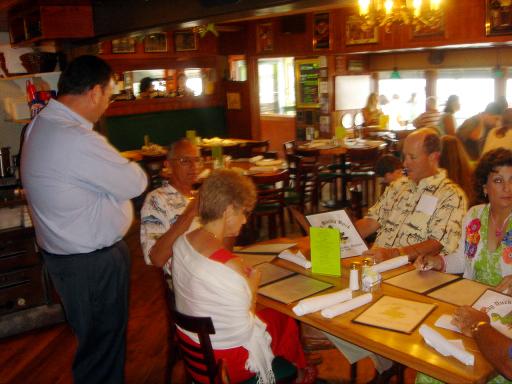 If you are ever there I highly recommend the duck. It was cooked to perfection and delicious: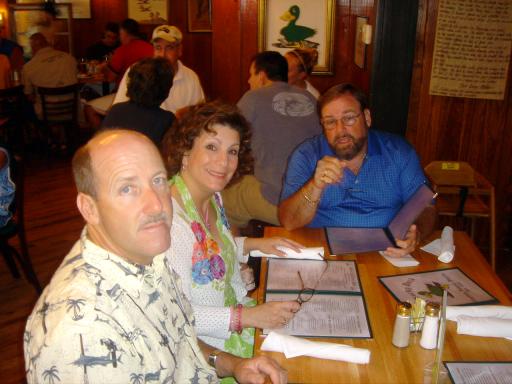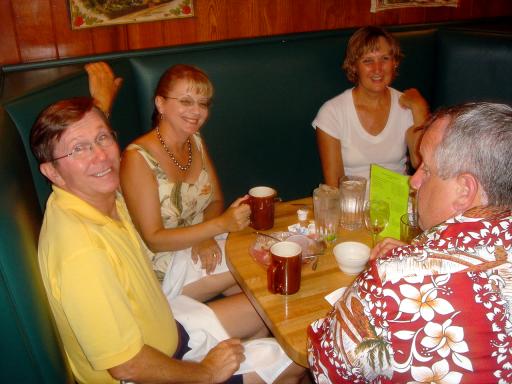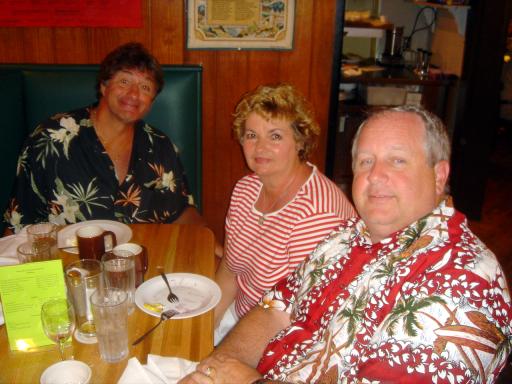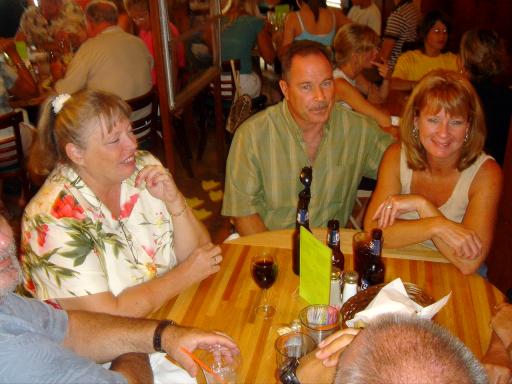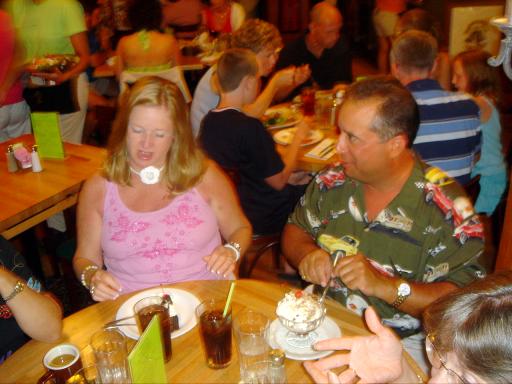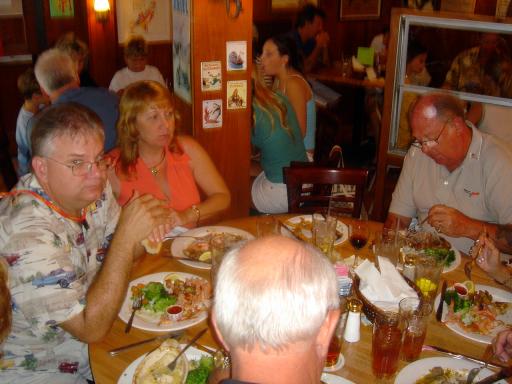 Afterward it was a group picture on the beach: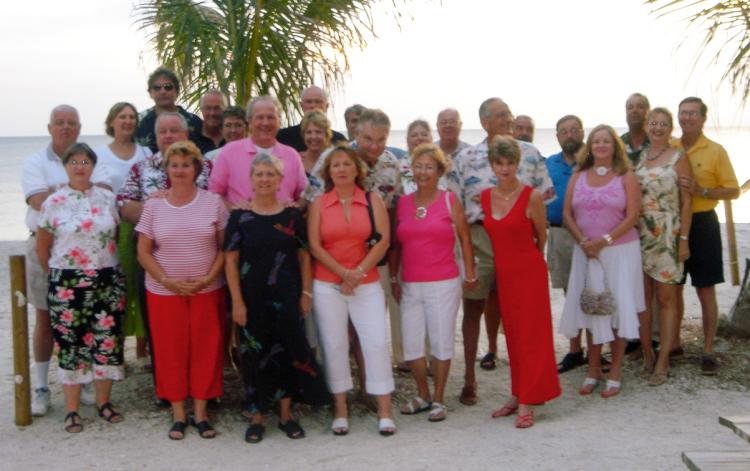 We all wanted a great sunset but the clouds interfered. Some of the group walked the beach back to the resort while others, us included, opted for the shuttle. Of course, many of us met once again at the Crow's Nest for a little more drinking and some more dancing.

Sunday check-out was at noon so the entire group had the morning to do whatever. As you can see, Ed was getting more relaxed as the festivities of the weekend were winding down: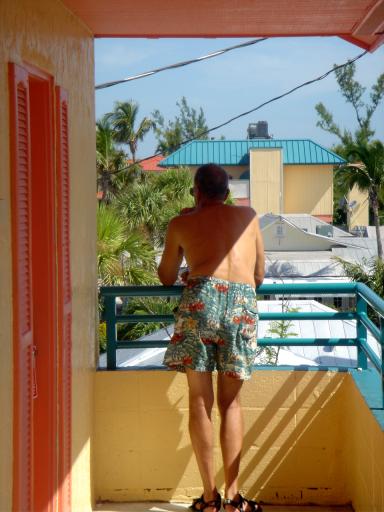 We met at noon for a quick driver's discussion and then it was off for the ride home. First was a stop down the island to do a bit of shopping. Ed once again had a wonderful route mapped out for us. Some people decided to take a more direct route, but we stuck to the planned one.

Webmaster note: And then, the fun ran out...

After we left Arcadia, Ed was in the lead. We were driving on CR661 when our Z06 blew the left rear tire. It went down rather quickly. After managing to pull off to the side of the road and let Ed know we had trouble, we investigated our problem. The tire was a mess: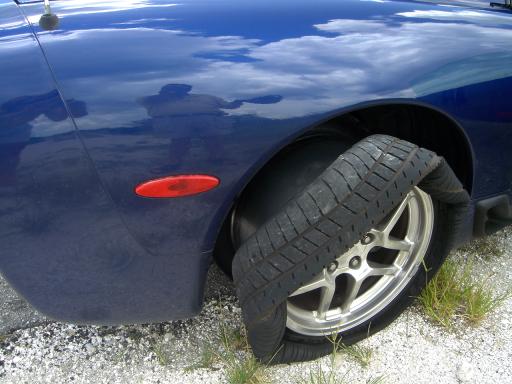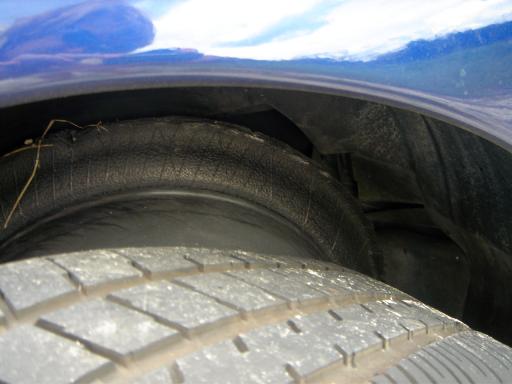 AAA was called and said we should have help in an hour to an hour and a half. Ed and Sandra offered to stay with us, but we just asked them to fortify us with extra bottles of water and we then sent them on their way. After all it was only 3:20 and help was one the way.

We sat with our flashers blinking and watched for our "help" to get there. At around 5:15 or so I decided to call AAA and ask what had happened to our aid; they said that we were in the line for the flatbed and should see someone arriving in about a half hour. About 6:00 a County Deputy arrived to see if we were "OK". I proceeded to tell him the story and he called his dispatcher, told her to call the wrecker company and let him know the status. He was told we were next in line and help should be here soon. At 7:15 I was getting a little concerned (did I mention that we had unbelievable thunder storms go by?) and once again called the auto club. They apologized for the delay and told us help was on the way. The delay was over four hours and counting. This was getting a little hairy since it was getting dark. Around 7:45 a County Sergeant from the Sheriff's Office stopped by as he had received a few calls from concerned citizens. After telling him the story, he once again called the dispatcher and received the replay that the flatbed was "on the way and should be here soon". He decided to stay and use his flashing lights to keep us safe.

Without going through all of the phone calls and responses, be advised it was around 9:00 before the truck arrived. The operator put down the bed, placed boards on the ground and proceeded to look at the car and from the expression on his face; I just knew he was not sure where to place the hooks. After much crawling around on the ground, all the time shining his rather large flashlight, he informed me that it would be better to "drive it on the bed myself". Onward and upward I went and, after strapping the vehicle down, we were "on the road again". It seemed like a long ride but we finally arrived home and placed our somewhat injured baby in the driveway. Jackie & I were off to Las Vegas and Utah for a little "R&R" so the fixing would have to wait for a week or so. This is where the car would wait for our return: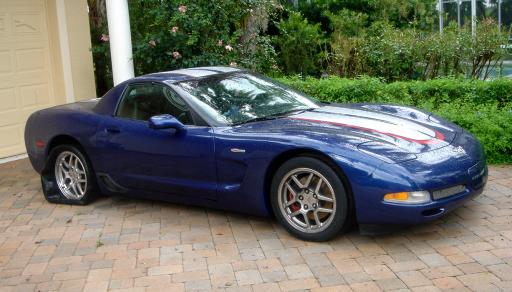 Upon our return from the West, I called the Chevy Helpline and they came and took the Z06 away for repairs. I found out that I did have some sort of coverage for the tire and would most likely not have to pay full price for the replacement: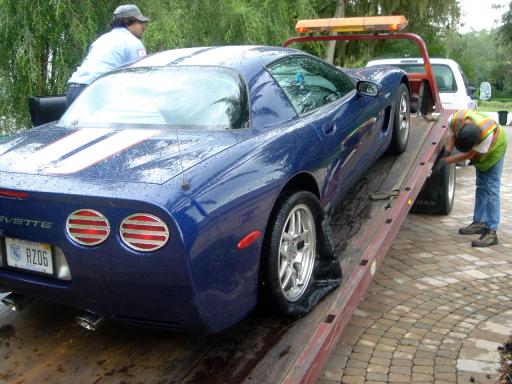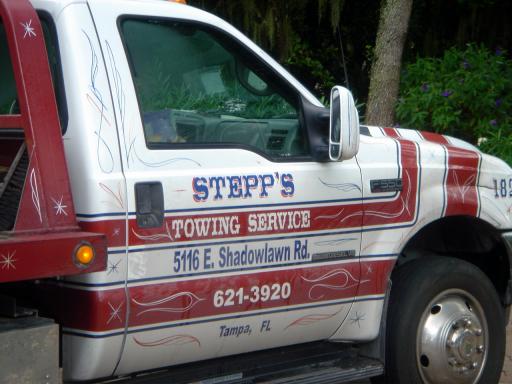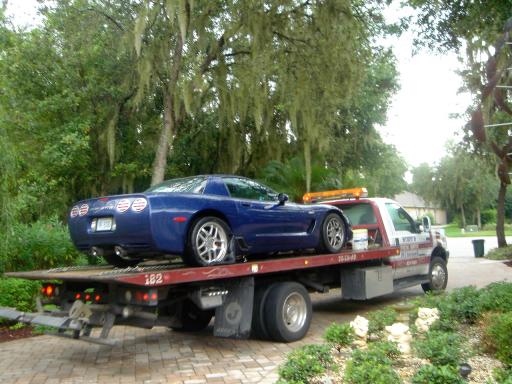 Hopefully we will see you soon.
---
Back to our Main Page..