Lime Rock Park - New England Grand Prix 2005
July 1 - 4 found Jackie and me back in Connecticut for the ALMS race at Lime Rock Park. The weather was absolutely beautiful. We had volunteered to help run the Corvette Corral. For those of you who are not racing savvy,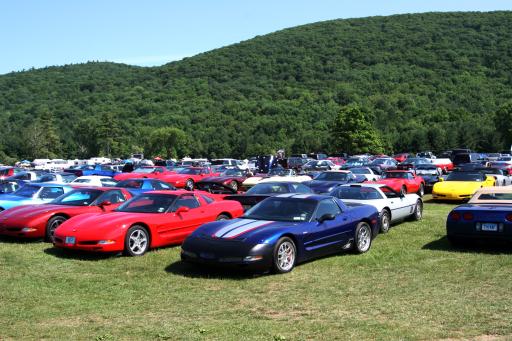 .. the Corvette Corral is a parking area that is reserved for Corvettes only. This year the Corral was presented by Chevrolet and co-hosted by the National Corvette Museum and the ZR-1 Net Registry. We arrived on Friday to check out the lay of the land. We found a good size tent, 40 x 60, Dan (the electric man) hooking up two TV's, and parking for about 200 cars. We met our contact, Larry Hayes, and the two of us made numerous trips for supplies: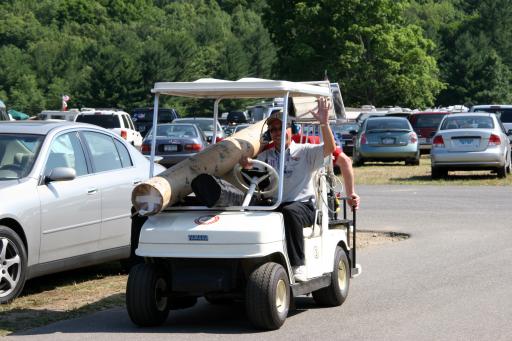 We then began to hang banners. This will be our home-away-from-home for the next three days. The roar of motors in the background just helped us to get in the mood, as the different series hit the track for practice: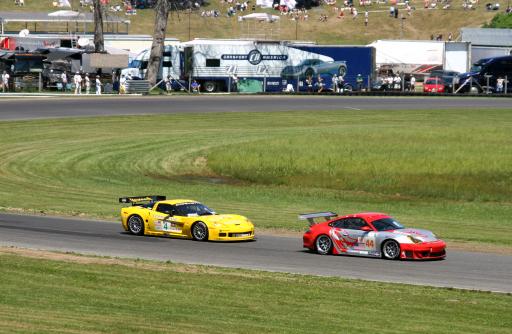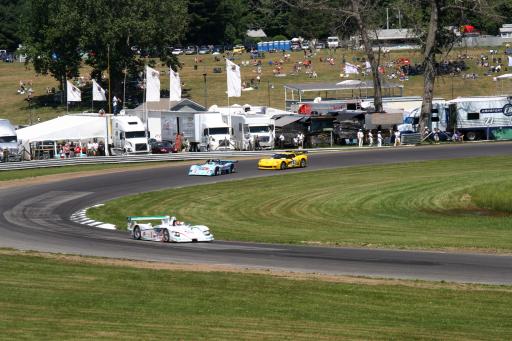 We decided to have a "Congratulations" banner made up (Thanks to Bill Wentzel):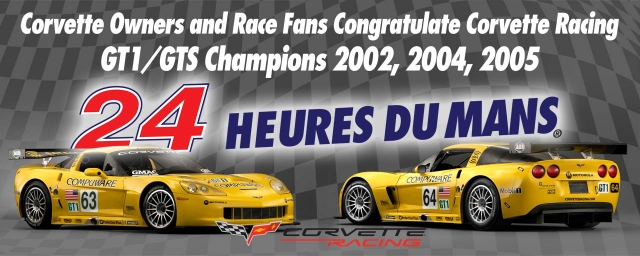 .. and proceeded to try and have all the members of the Pratt Miller team sign it. The banner will travel throughout the rest of this season, be signed by all who were at LeMans and finally donated to the National Corvette Museum to be hung somewhere. As you can see, it is well along to being signed already: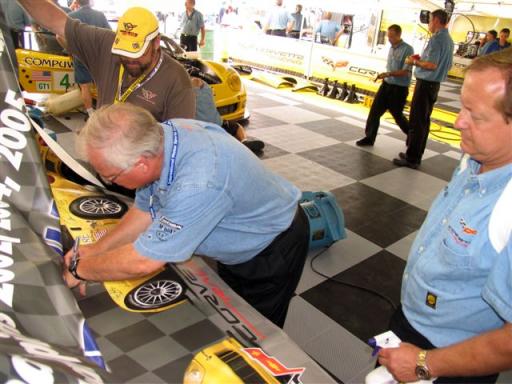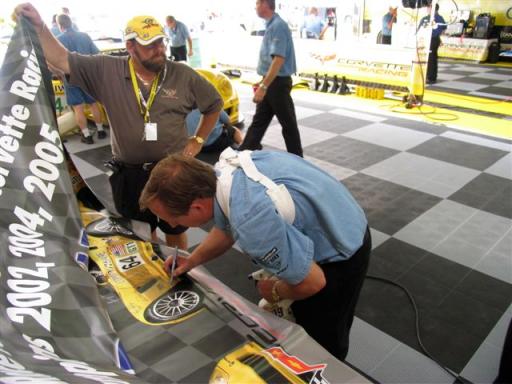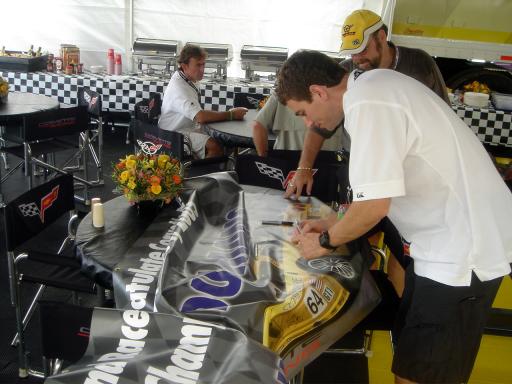 On Saturday we arrived bright and early; our daughter Sarah and her girlfriend Michele accompanied us. We were glad to see that our volunteers from Corvettes Limited of CT and the ZR-1 Net Registry were right there with us: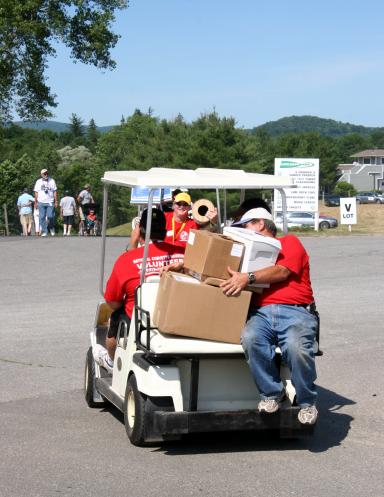 Many of the volunteers are also members of the NCM and this was a way for them to help contribute to the Museum efforts. We knew we would have a busy day. Tables had to have tablecloths, registration needed to be set up, cars needed to be parked and "special" cars needed to be placed: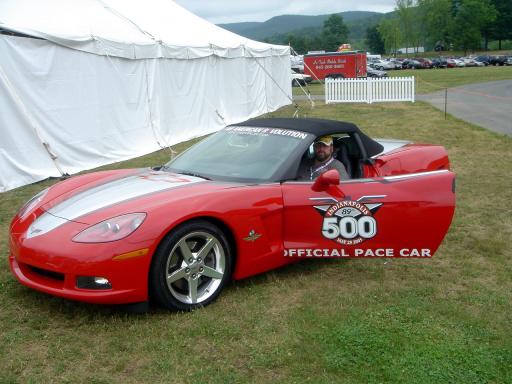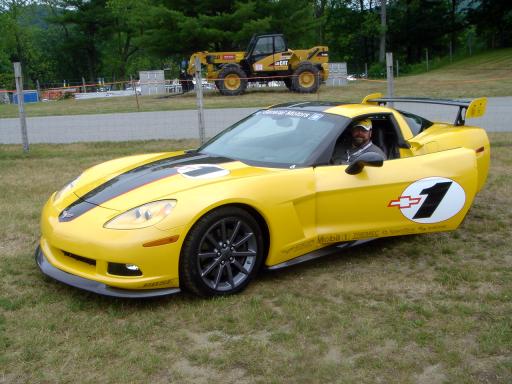 Roc from The National Corvette Museum arrived with his wife and proceeded to set up the store. We all were ready for the action and it started with the first arrival and kept on going for the next three days.

Since ALMS racing practice started at 9:30am: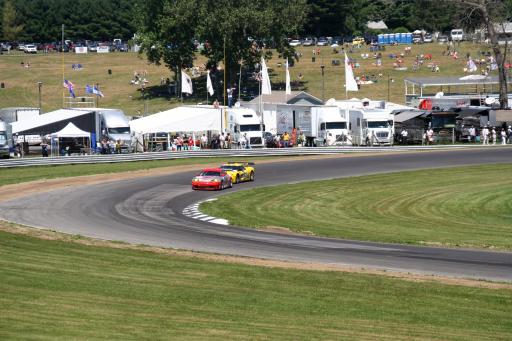 .. we had many early birds. Larry Hayes from IMSA, which is also the governing body for the races, continues to do a great job organizing these corrals. The caterer arrived on time and filled those coolers up with ice along with soda and water. This is all included in the price of a Corvette Corral ticket. Racing enthusiasts were eager to get things going, as we had a full day planned. We had Steve Wesoloski, Road Racing Group Manager, GM Racing and Harlan Charles, Corvette Product Manager, Chevrolet Product Development: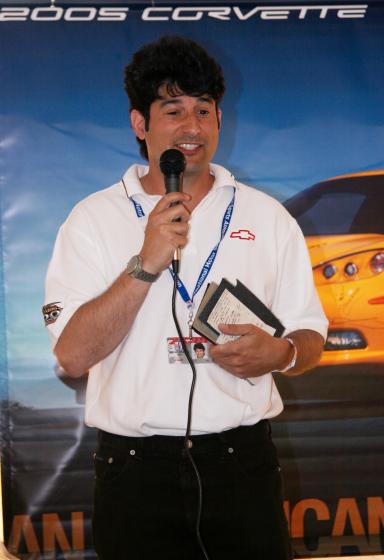 Both do up-close-and-personal seminars.

Mr. Wesoloski spoke about racing in Le Mans and Mr. Charles spoke on the C6 and ZO6. We were also lucky enough to also have Karen Rafferty in attendance most of the weekend. Ms. Rafferty is in charge of Marketing.

I had asked Lou Gigliotti in Sebring if he would be willing to bring his car up to the corral after his Speed Race: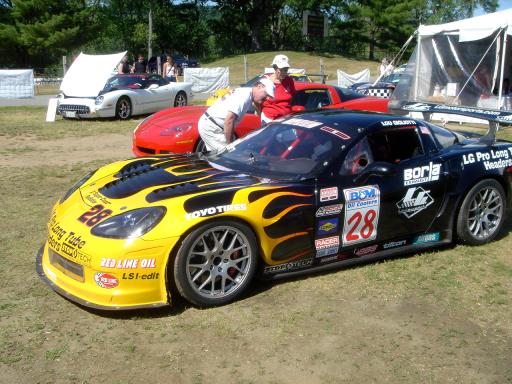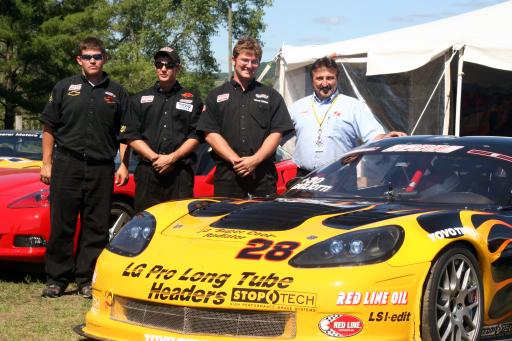 He said he would if all went well. He qualified the Corvette in first place but was unfortunate enough to spin in some oil left by one of the Volvos. After getting pushed 'way back, he fought hard to finish in 7th place. Well, true to his word, and a surprise to everyone else, Lou and his crew came with their Z06 and were there for all to ask questions. We even pressed him into service for an impromptu talk. He gave us a brief 101 on his rules and what it's like racing a one man team: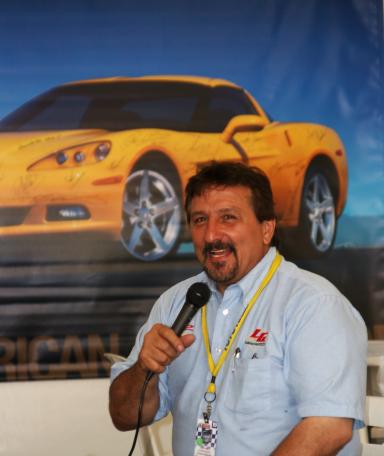 The Corvette Corral Celebrity Choice Car Show was held late in the day as the Celebrities were out on the track qualifying their cars in the 1 - 2 positions once more. But once they finished working, they came up to the corral and picked the car of their choice: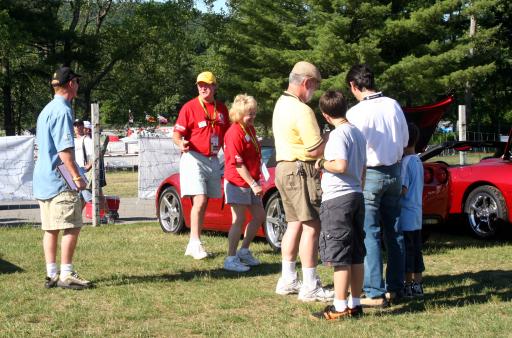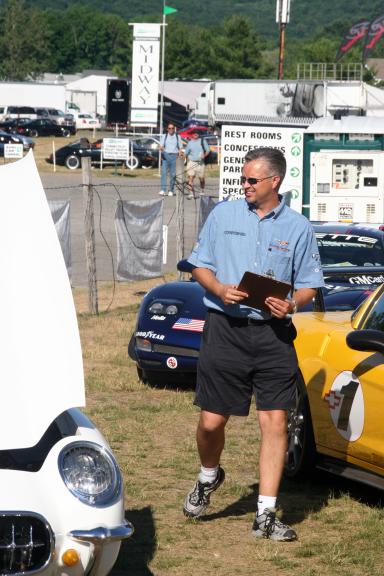 Of course, while walking around looking at the cars our participants were able to chat with them and ask for autographs and maybe even get a posed picture or two. We hope all of you realize that, after qualifying, the team members have to go through a de-briefing and really don't have a lot of free time. For that reason, we salute them for taking time to visit with us: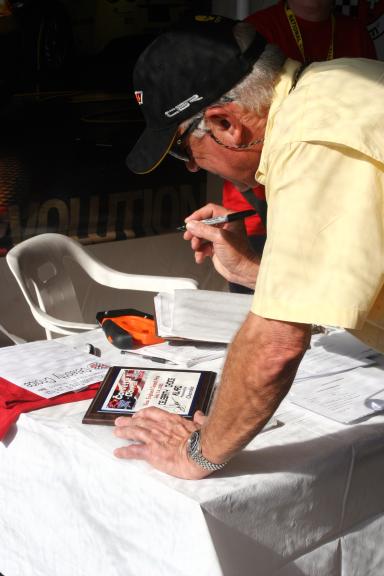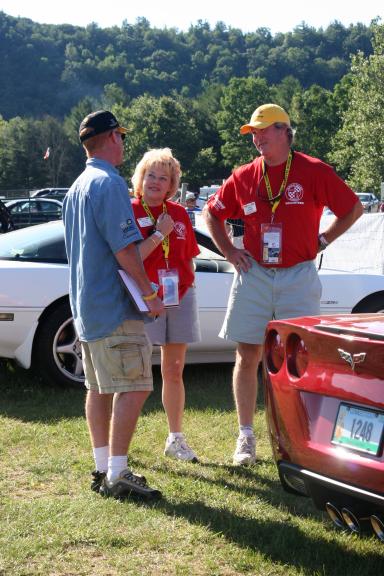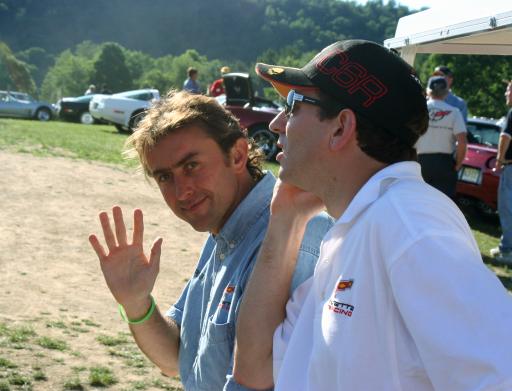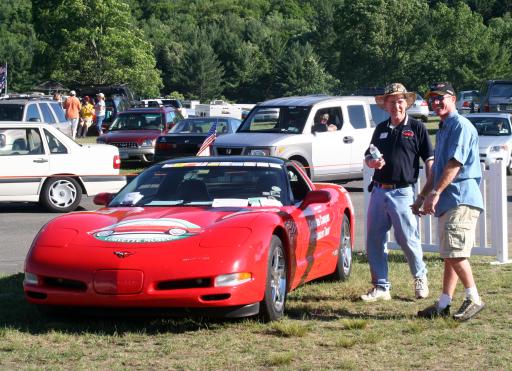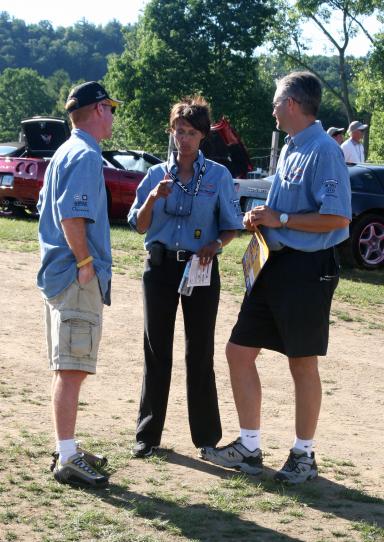 Let's go to Rock/Paper/Scissors for the winner..

Sunday is an off day for the racing teams. Connecticut has a blue law (or the town does) that won't allow racing on Sundays. So the Lime Rock Park does a Corvette Car Show along with a picnic lunch for those who had made previous arrangements. This made things a bit confusing as tickets weren't clearly marked to let us at the corral know what each person was entitled to. We feel that will be rectified in the future. I know that my team of volunteers tried their best to accommodate all, and keep all happy. After all, we were all there for a good time. So if any of you out there who happened to have gotten caught up in the ticket confusion were upset, our deepest apologies. We tried our best and I think my team did succeed in keeping 'most everyone happy.

Our program started with opening comments from me on behalf of the NCM, Larry Hayes on behalf of IMSA, and Dave Bright, founder of the ZR-1 Net Registry: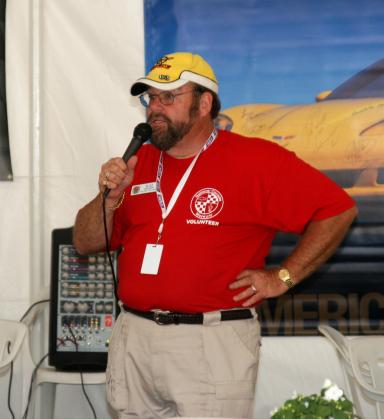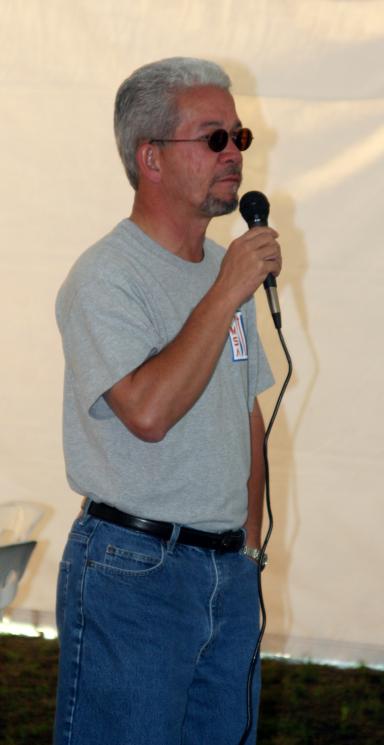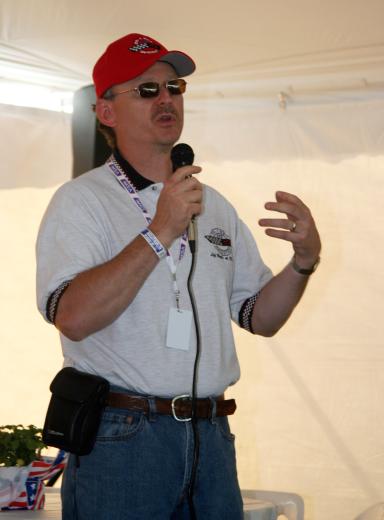 Another seminar was given by Harlan Charles and then, to everyone's amazement, the #4 C6R was rolled into our tent..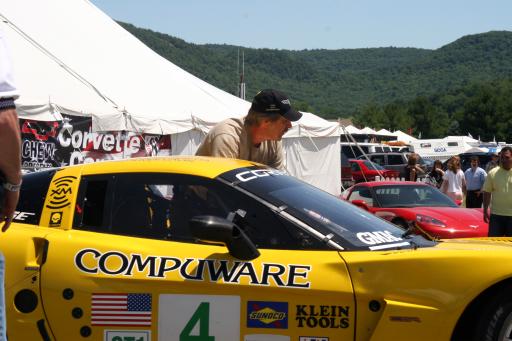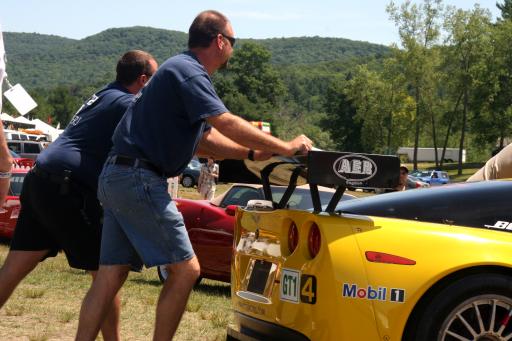 .. to be left in our care until after lunch. How can we ever say Thank You to the Pratt Miller team for this! I mean that this was not only the Number 1 qualifier for the race, but the winning car from LeMans. What an amazing opportunity to get a chance to take up-close-and-personal pictures: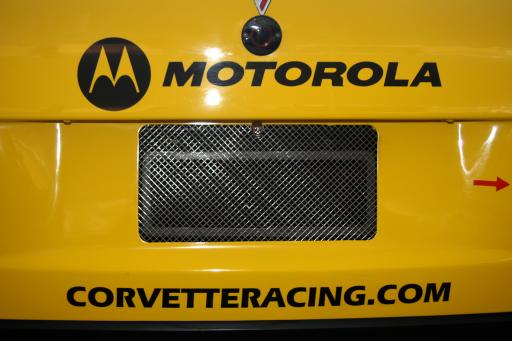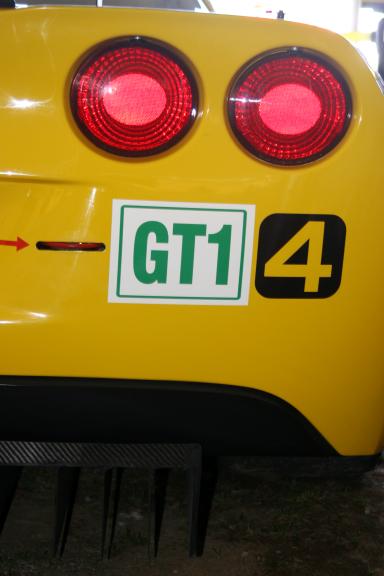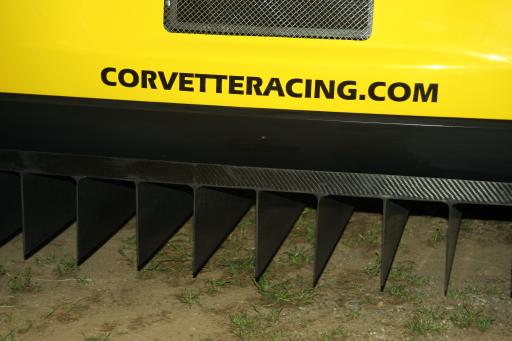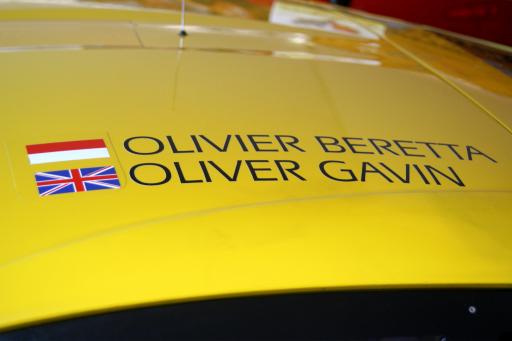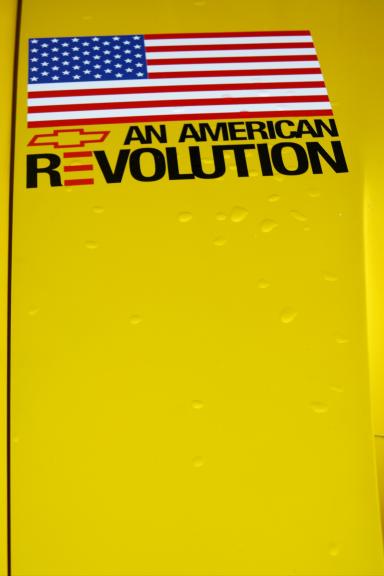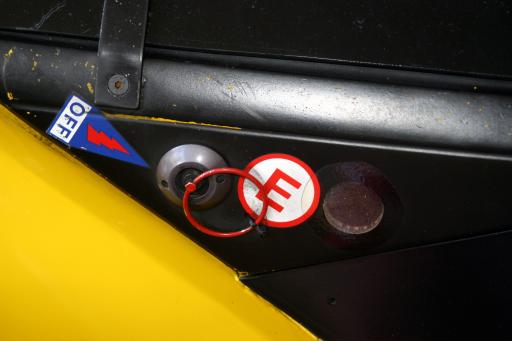 I have to thank all of you who were there for abiding by the rules and staying behind the ropes. This not only made my volunteers' lives easier, but maybe someplace else down along the line the C6R will again be brought out to a corral. I would be remiss not to mention the members of the C6R Crew who took time out from their day off to do this. Thanks again, to you.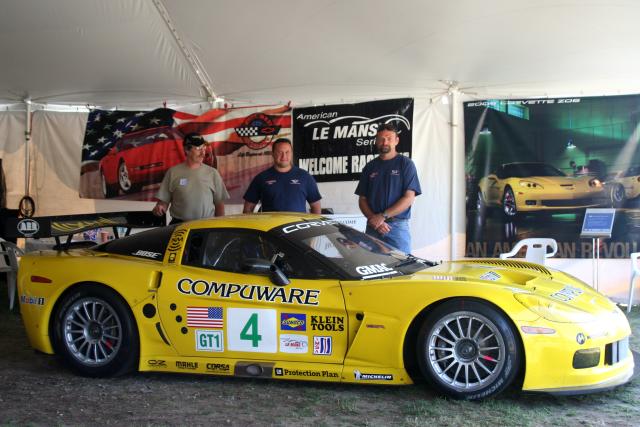 A great luncheon picnic was available for pre-purchase, (meaning when you bought your track ticket) from Lime Rock. The food was great and the company even greater. We think all had a good time. Again there was a bit of confusion with ticketing, but again we hope that will be cleared up for next year.

After lunch the cars that were still in the corral, caravanned down to the grid to take part in the car show: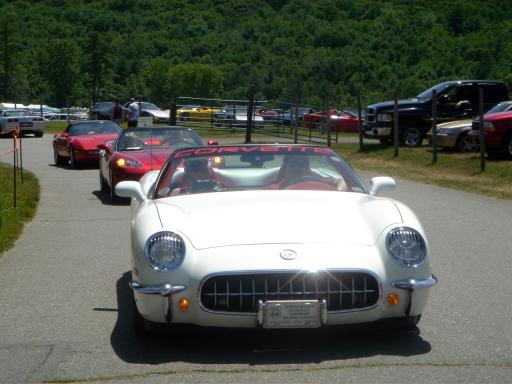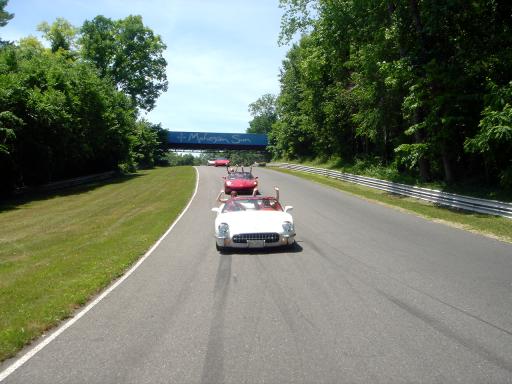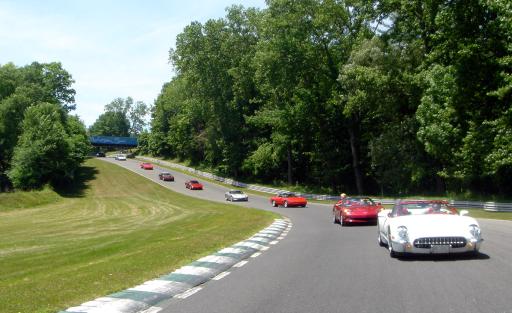 There looked to be about 200 cars on the grid: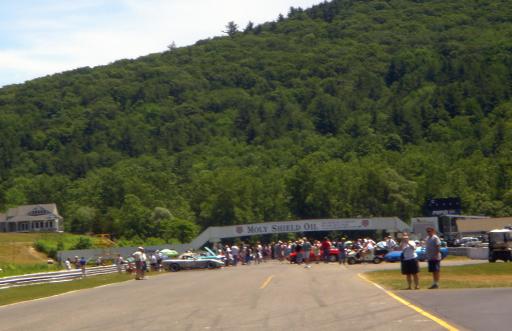 It was a pretty awesome site to see two lines of just Corvettes all the way down the straightaway: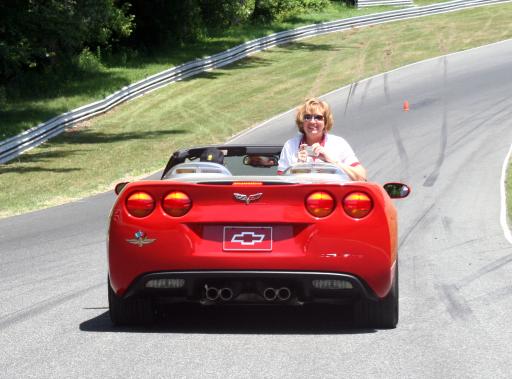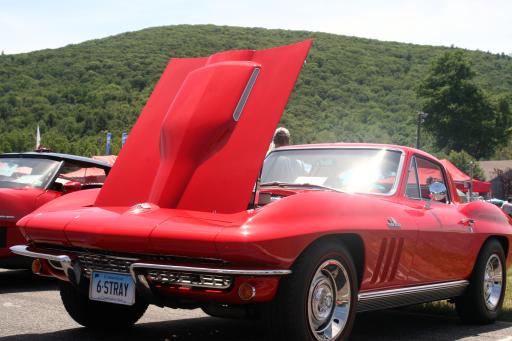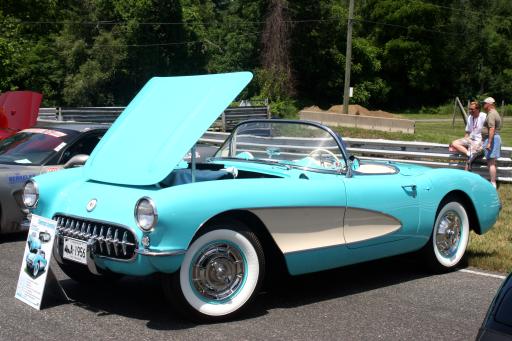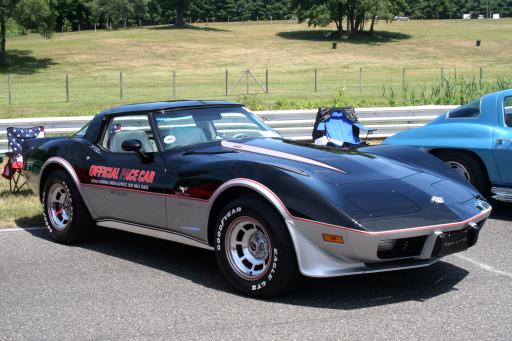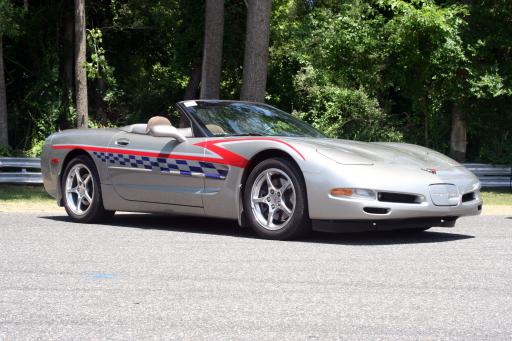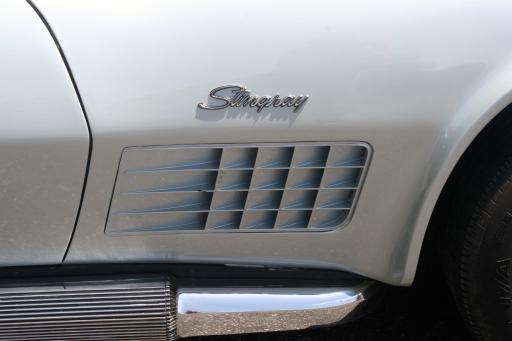 We were lucky enough to be able to have five years of Corvette Pace cars gathered together: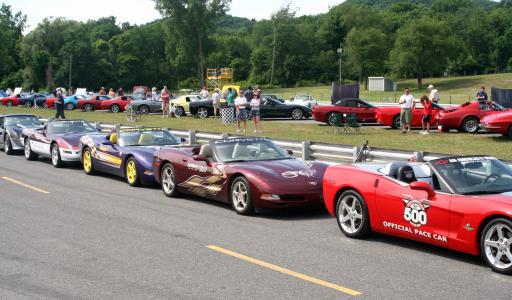 After trophies were awarded, all participants were lined up and able to do two laps of the track, another awesome site and ride: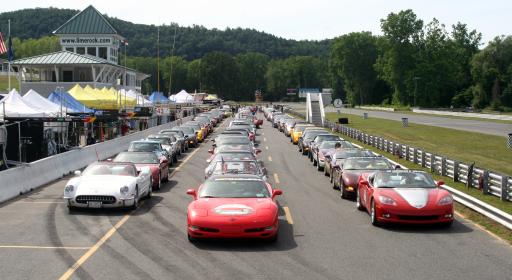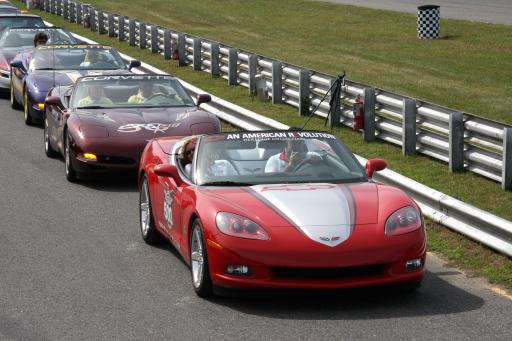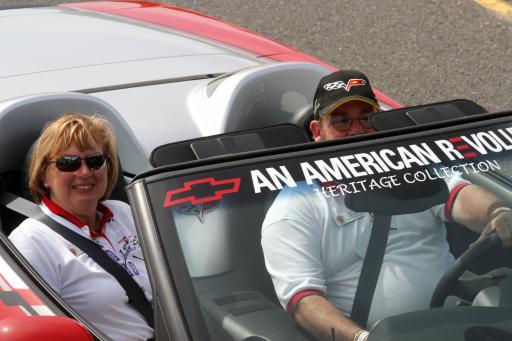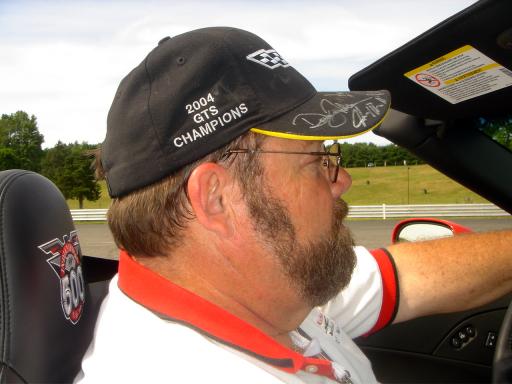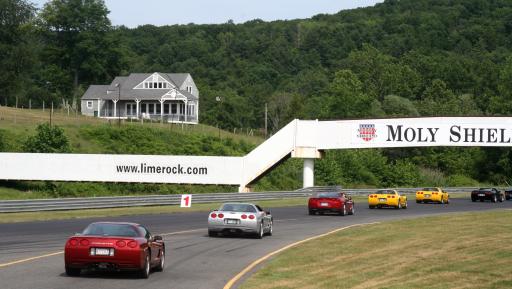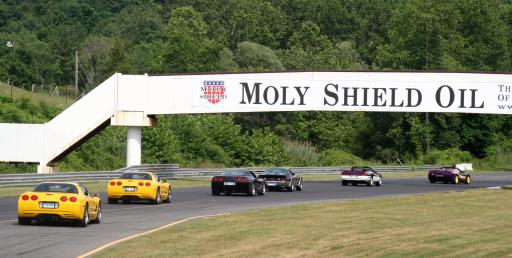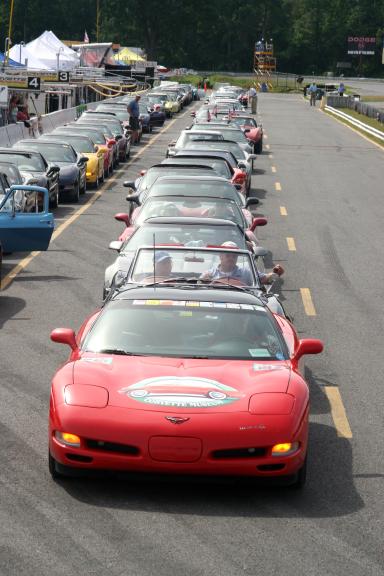 Unfortunately we did have a few participants who had to hot-dog. They know who they are, as well as the people around them. Let's hope they didn't ruin it for the rest of us in the future. We are looking forward to having an even larger event next year. If you were at last year's show, the attendance has risen at least by 150% this year and who knows how many for 2006.

I believe the car show was a great success with some of the proceeds going to American Cancer Society and would like to commend Ben Labaree on his constant devotion and hard work that he puts in on Corvette Conquers Cancer Tour: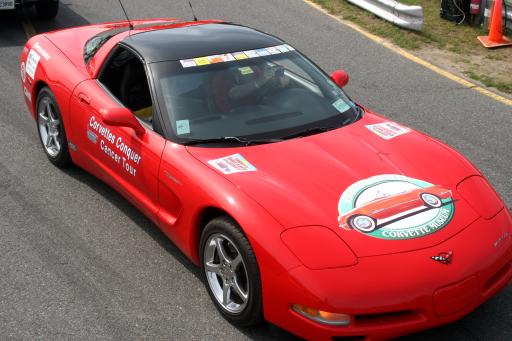 Monday: The day we all were awaiting! The corral was not scheduled to open until 9am and when we arrived there at a little before 8:00, there were already many die-hard fans lined up outside the gates. Fortunately we all have to play by the rules. Speaking of rules, I seem to attract police like a magnet as you can see: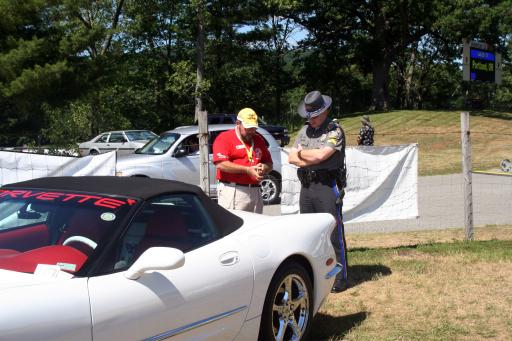 "See, Sergeant it wasn't me but car #11 (who, unfortunately, wasn't here..)! Ok, I'll trade you a gold bracelet for one of your stainless steel ones..":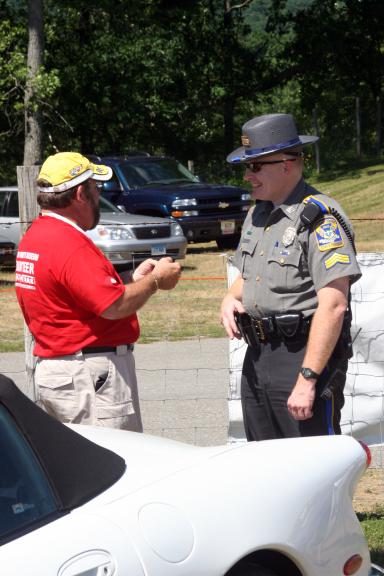 Again, "thank you" to all of you who understood that we tried very hard to have an level playing field. Yes, today was the day that only fifty cars were to get Parade Laps so there were sign up sheets, waivers to be signed and just plain instructions to get. We tried to make it as painless as possible but, unfortunately, not all got to go and we thank all of you who didn't make the cut for doing so with class.

Gary Claudio, Group Marketing Manager for GM Racing, showed up at the corral and was "persuaded" to give a little talk about LeMans. It is always great to hear Gary speak: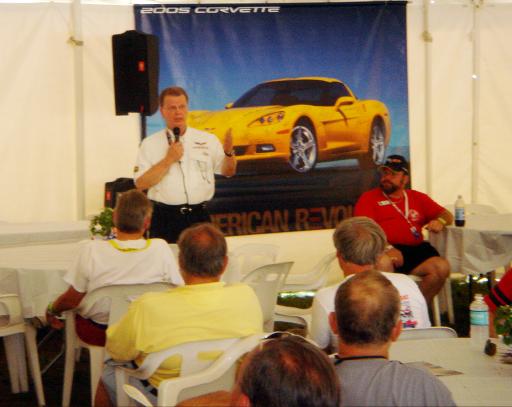 The Celebrity Choice Show Awards were presented as well as several raffle winners being announced. We had victory circle winners, pace car rides, and a special hot pit trip. We also were lucky enough to have had some donated items to be auctioned off for the NCM, a signed LeMans poster: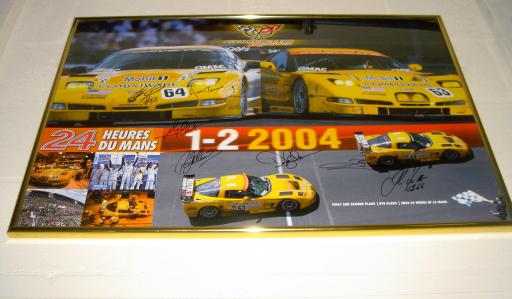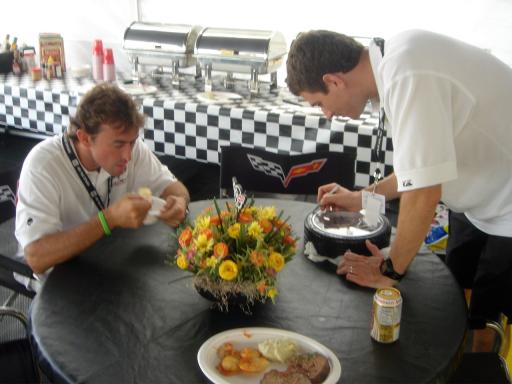 .. and a small congratulations banner. Thank you to the highest bidders; your generosity toward the National Corvette Museum is greatly appreciated.

Of course the festivities began at 1:00pm. The 2005 Indy Pace car left the corral to bring the Corvettes to the track for the parade laps before the race: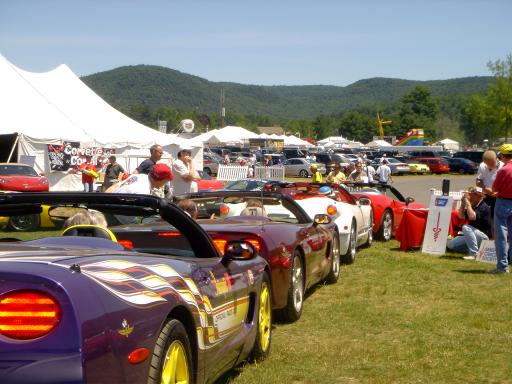 It was quite a sight to see as we drove around in front of the crowd awaiting the start of the race. After three laps we returned to the corral and went down to the grid to see the cars before the race. As usual Gary and Robin Pratt stand proudly behind one of their "babies":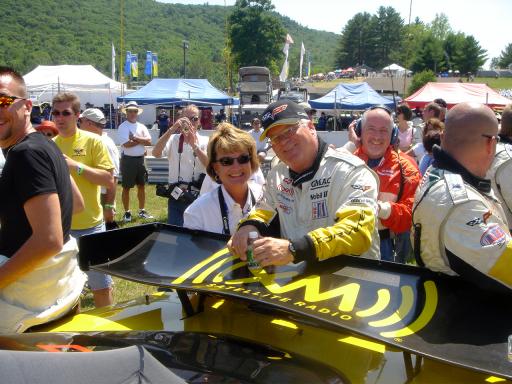 Of course there are always little conversations going on, or could this be a few last minute instructions?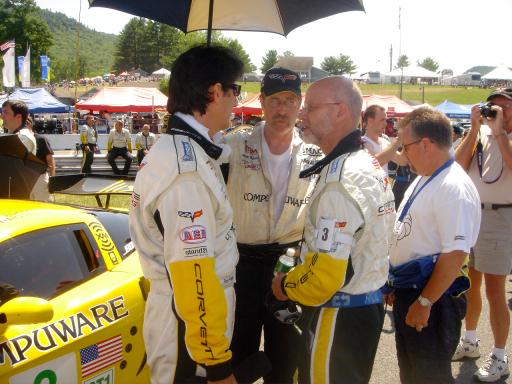 Our daughter Sarah was chosen to hold the flag at the grid ceremonies and was (as you can see) very happy: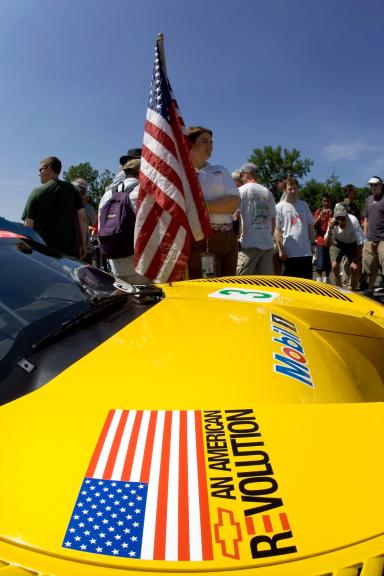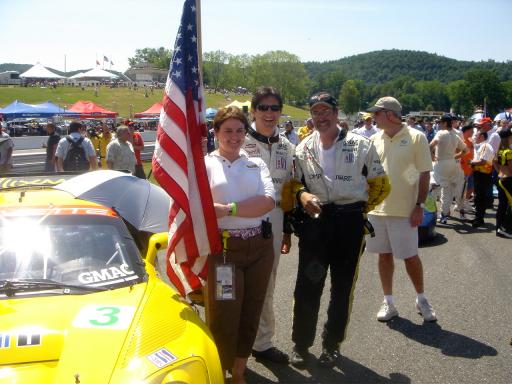 The green flag was dropped at 3:00pm and the New England Grand Prix was under way with a roar! Back at the tent some of the volunteers decided to catch the race on TV: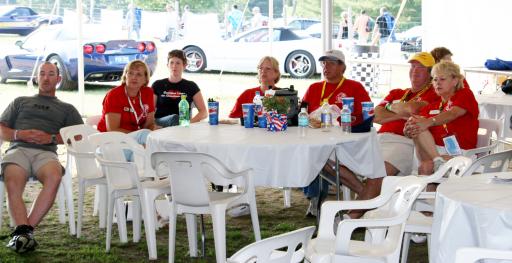 .. and then there was Nancy, who had put her hours in working the NCM store, taking ten: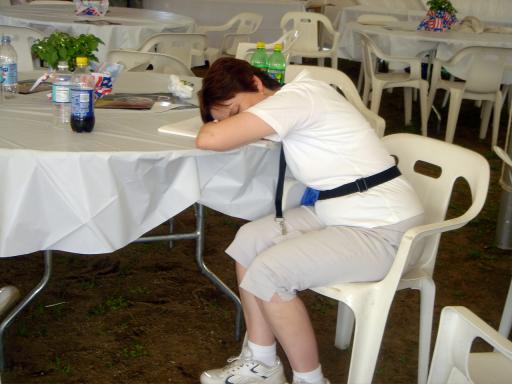 As we wander about the grounds we even spotted Mrs. Fellows watching from above: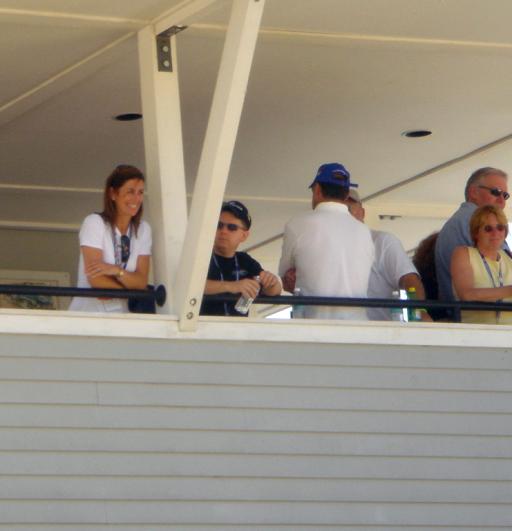 .. and then during the race: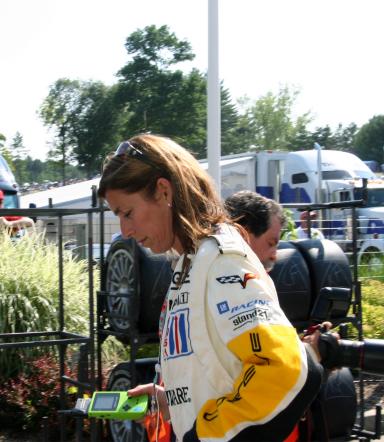 .. is that a game boy she's carrying? The Corvettes were running in first and second when Ron Fellows went off the track and did some damage to the #3 car and had to bring it into the pits for some repairs. I was lucky enough to be in the pits along with the lucky winner of the hot pit tour when all the action was going on: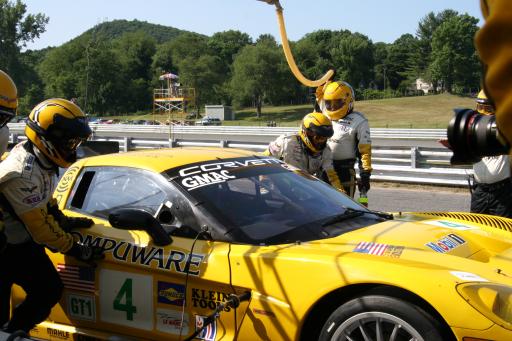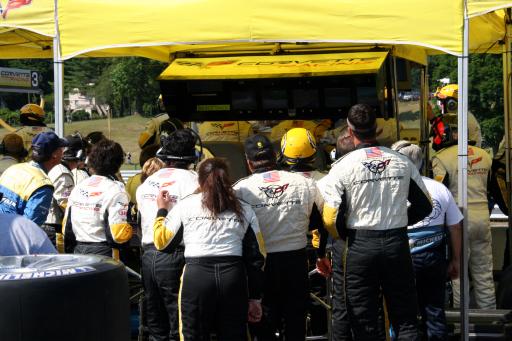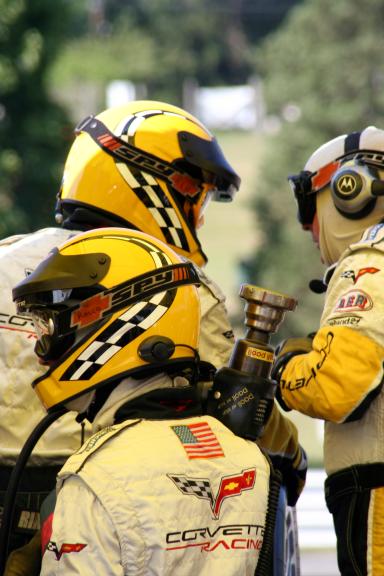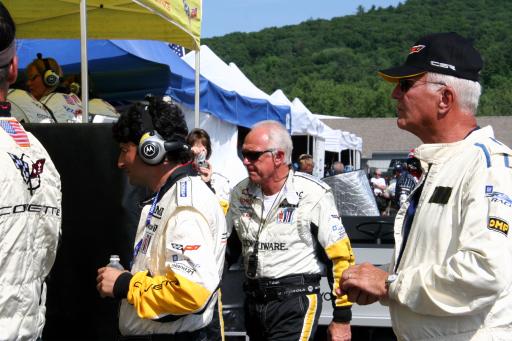 After the repairs, Johnny O'Connell took over the driving tasks and went out in, I believe, fifth place: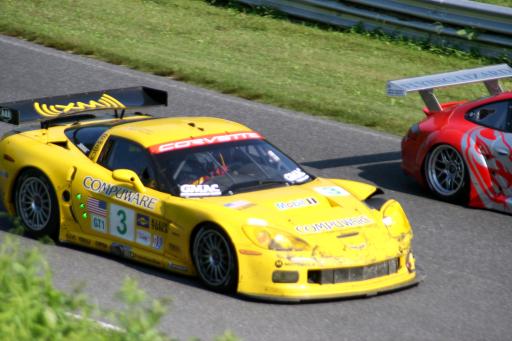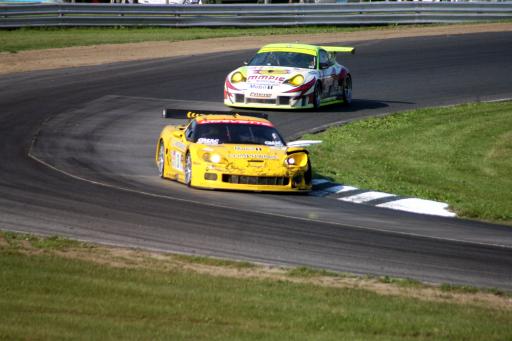 Well, I have to tell you he drove the wheels off the C6R and finished in second place! Another Corvette one-two win: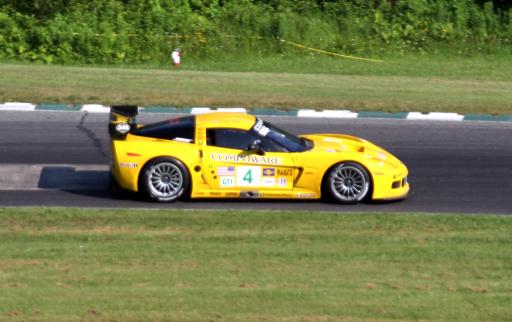 Way to go guys!

I still had the race suit from Corvette (Thanks, Doug, for letting me have it) so I just followed the drivers into the Winners Circle: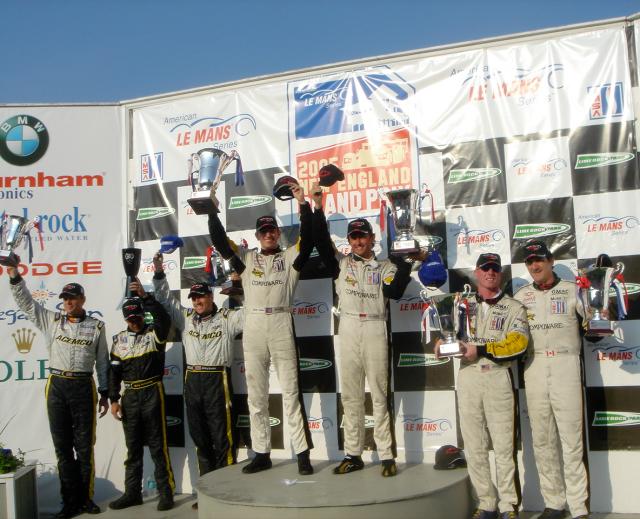 .. and managed to not only cheer on the team, but stay relatively dry from the spraying liquids: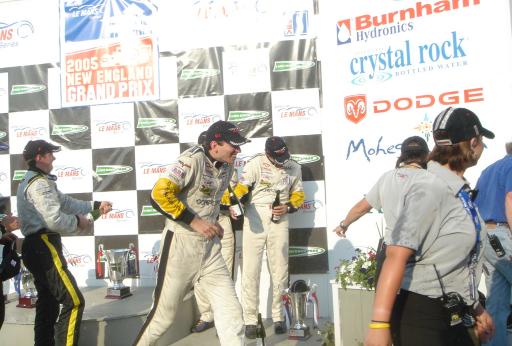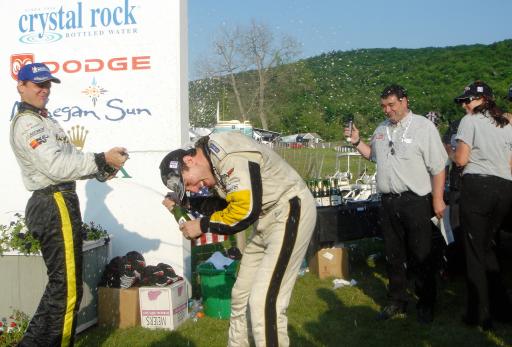 I was surprised to see and feel that the bottles were full of sparkling cider and not champagne. I guess this is yet another Connecticut "Blue Law". Perhaps they could find a way to get into the 21st century.

After the end of the official festivities:
.. it was time for us to return the cars to Reliable Trucking for shipment to the next race, pack up all the banners, return the golf carts: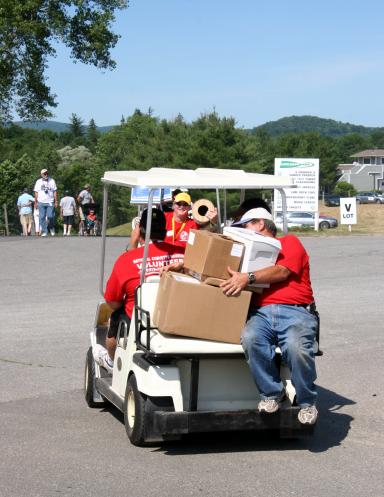 .. and then either wait in traffic or stay and talk. We had thought it would be fun to have a picnic dinner in the tent with old and new friends. As luck would have it, the tent was taken down at 6:00pm and we had to spread out a blanket and really have an old fashioned picnic: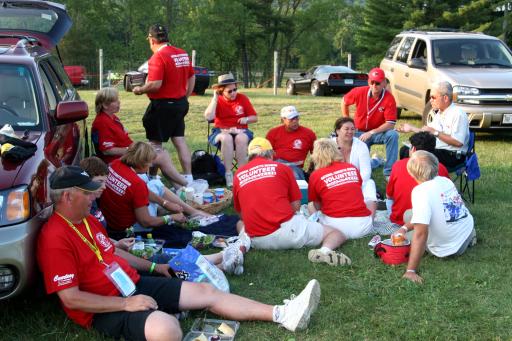 It was fun to talk with many of the volunteers and swap stories about our favorite topic: Corvettes and friends. Even the suit was ready to go home: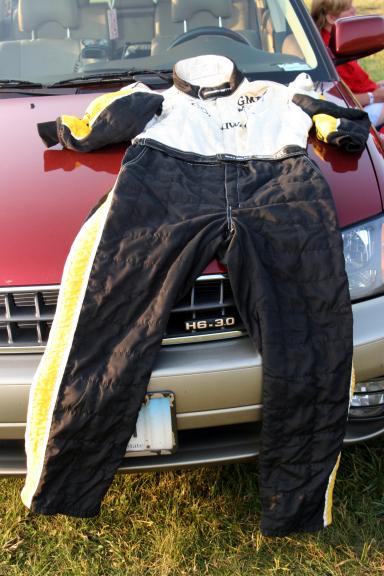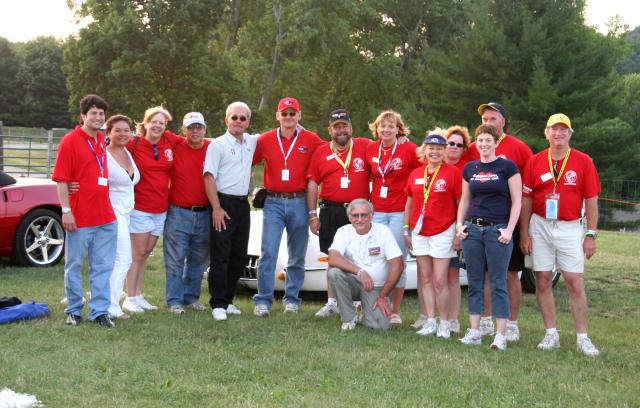 Again THANK YOU ALL for the help and the fun we were able to have and we hope to see you at another Corvette Corral in the near future.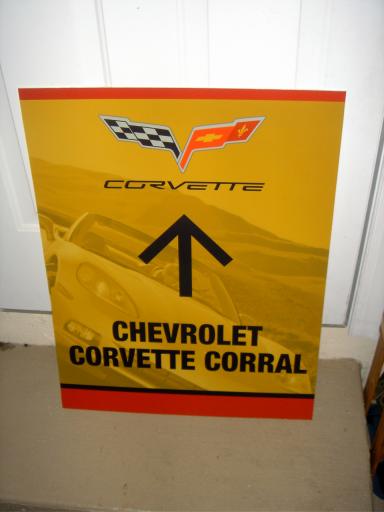 ---
Back to our Main Page ..