Eureka Springs Corvette Show 2007
Jackie & I decided to go to the Eureka Springs Corvette show and suggested that our good friends Gary & Debbie to meet us there. They're from Connecticut and would drive a different way from us. Since we were both going to drive a long distance, we decided to meet in Branson, MO and spend a few days there before going to the show.

We left from Florida and drove to Dothan, Alabama on the first night. We do not necessarily like driving on interstate roads, so we set our Garmin to "shortest distance" and off we went. To pass the time on long trips we get audio books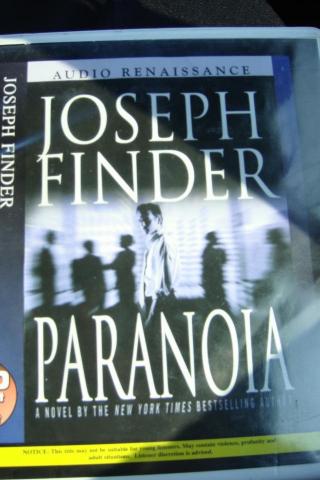 ..from Cracker Barrel. Along Route 19 we stopped for breakfast at Bar-B-Q Bills: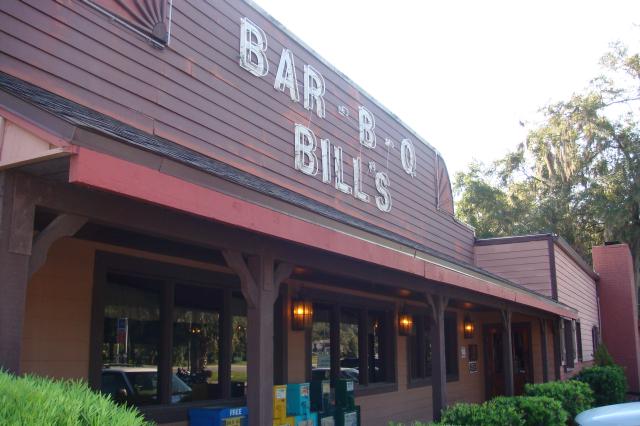 It was a really great hometown establishment. We left on September 28th which happens to be Buzz's birthday, so here he is opening his card from Jackie: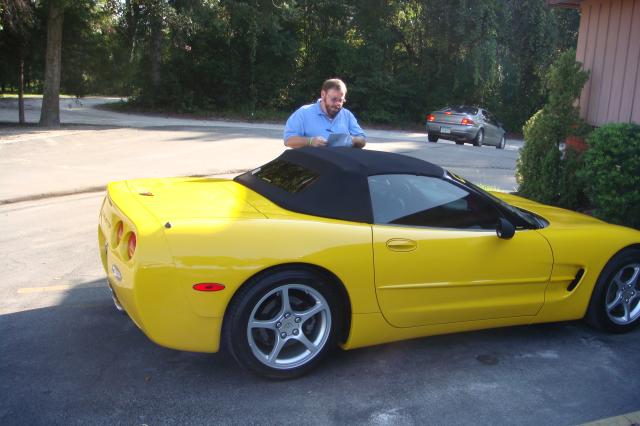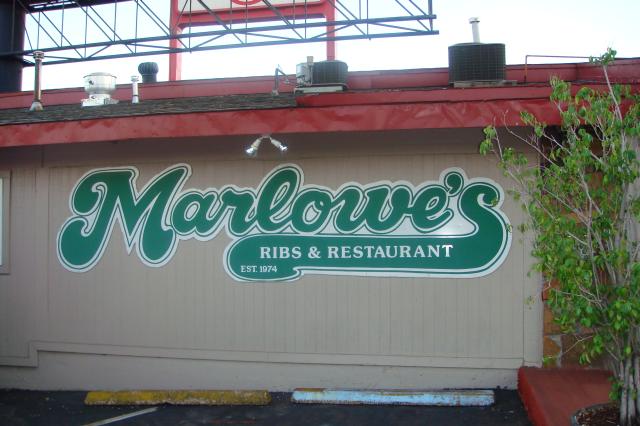 We had stopped there on our way out to Vettes on the Rockies and wanted to get some more of their great food. Along the way, we passed through Tupelo, Mississippi and found the Tupelo Automotive Museum: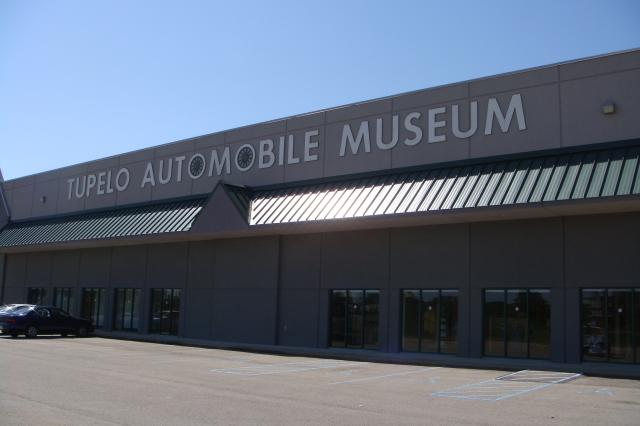 Of course we had to stop. Well, what a super collection. The thing that impressed me was a small speaker in front of each display that told you about the exhibit: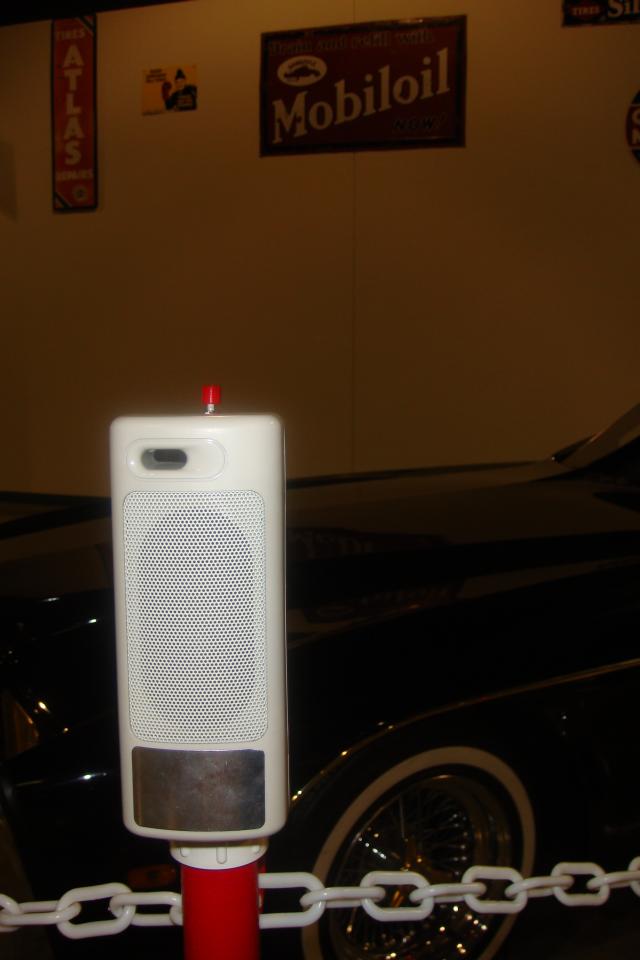 Under each of these were signs that told the type, year and cost of the car: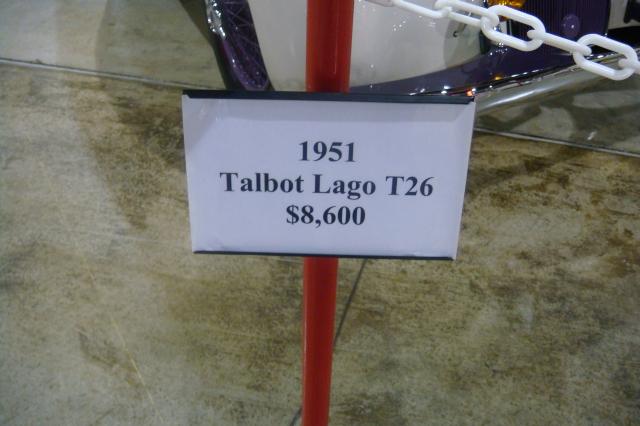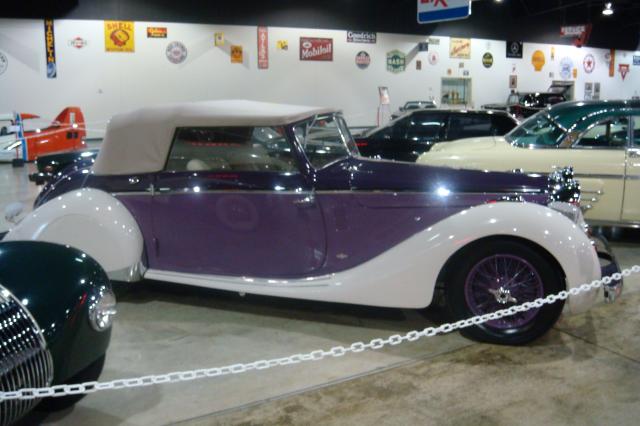 This made our whole visit very enjoyable. Here are random pictures of some of the cars: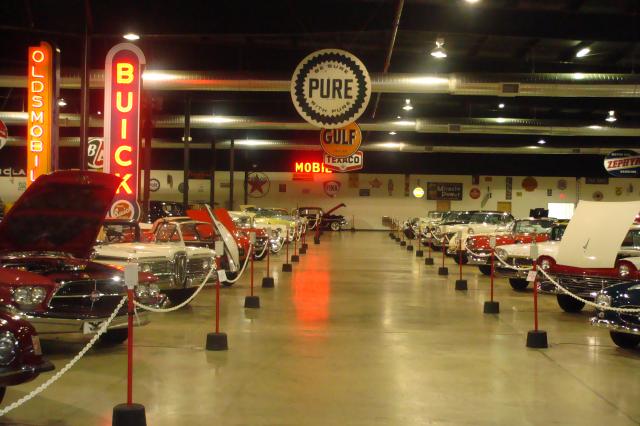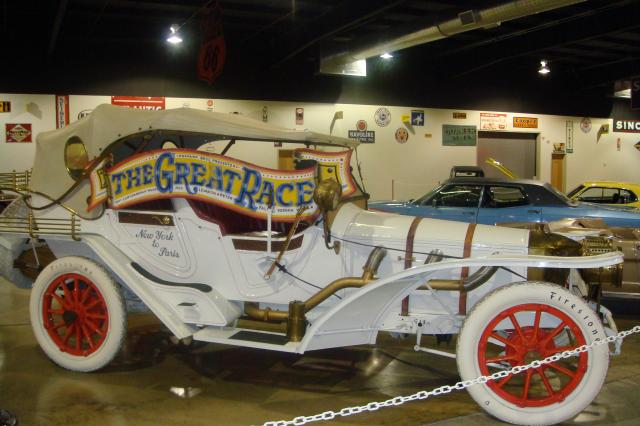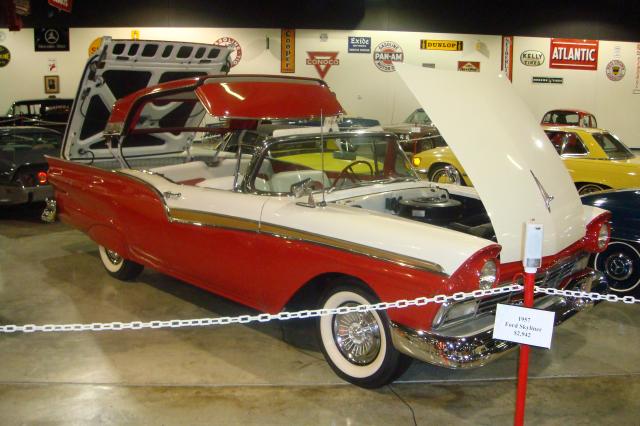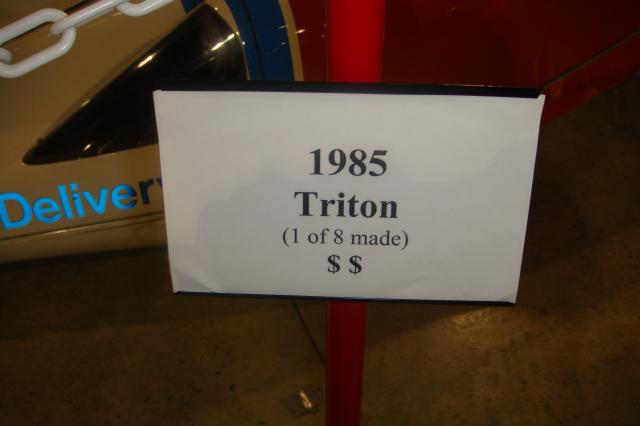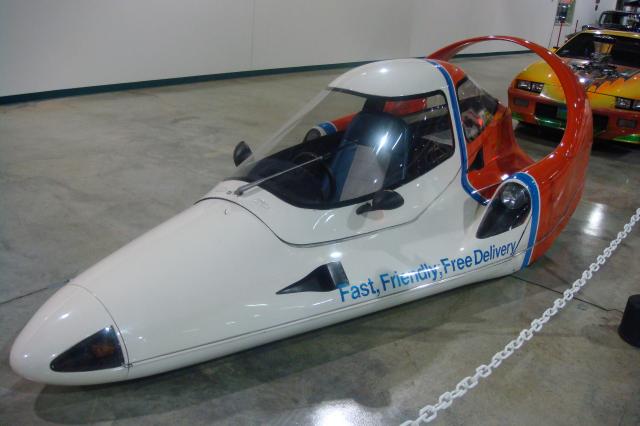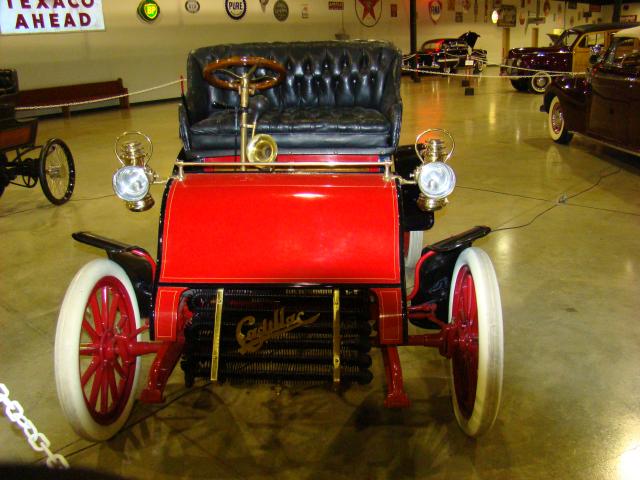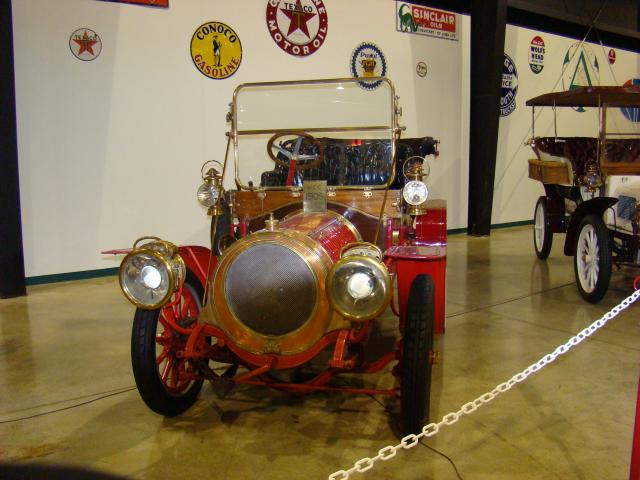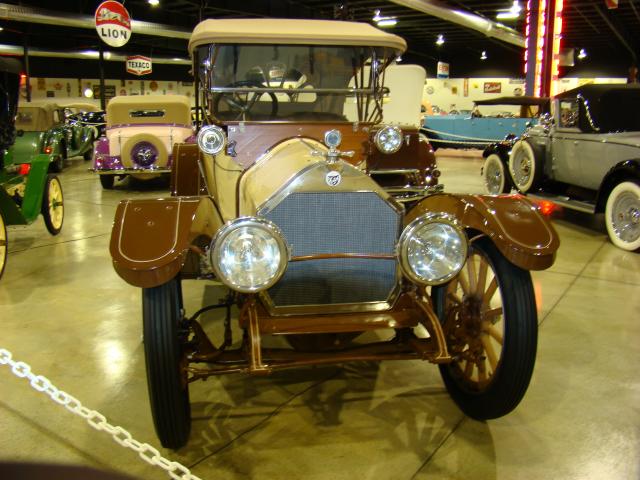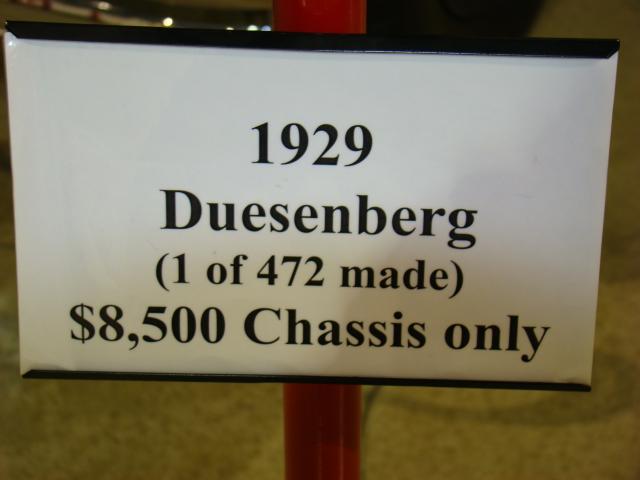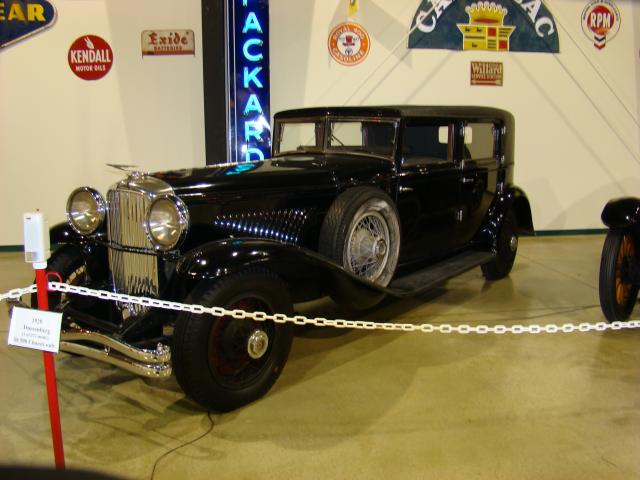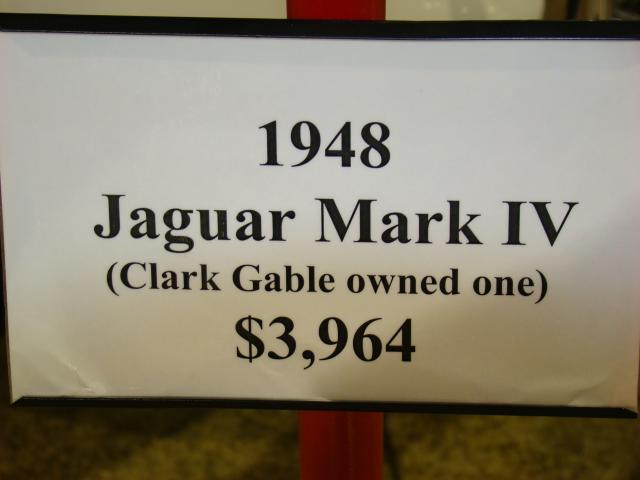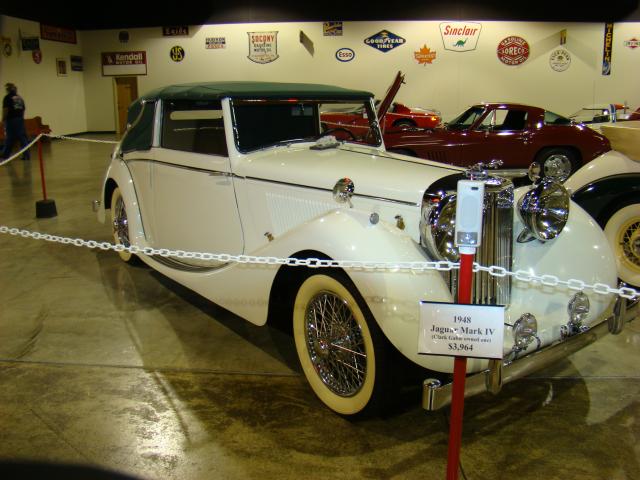 This was Liberace's car if you could not tell from the candelabra on the trunk: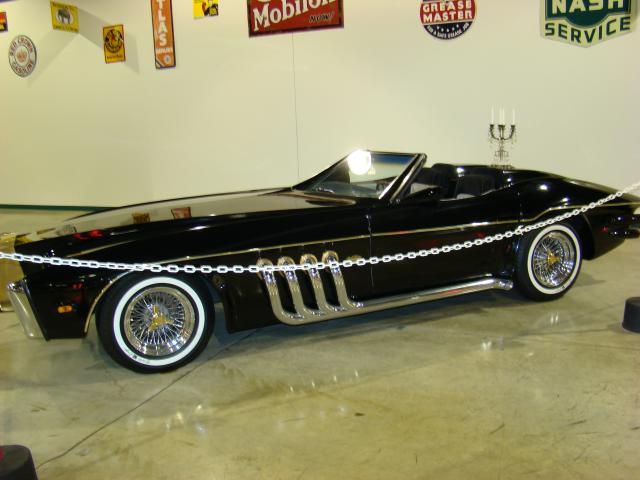 The Director came out to meet us: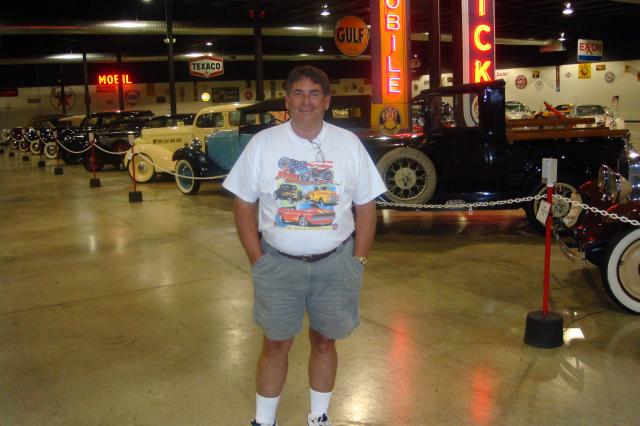 .. and we spent a good deal of time conversing about the museum and the fact that he also personally has a few Corvettes. We spent more time than we wanted, but it was well worth it. It was back on the road again to Memphis.

We arrived, checked into our room and off we went to dinner. We were seated and the smells of Bar-B-Que sauce filled our nostrils. We ordered dinner and saw Missy, the owner and renewed our friendship. Here are a few pictures of the establishment: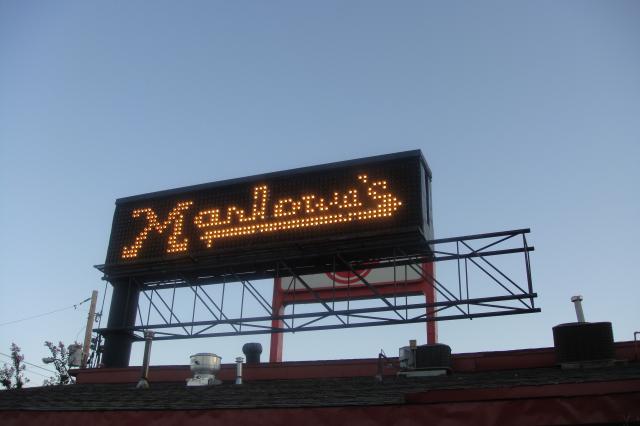 There was even another Vette in the parking lot: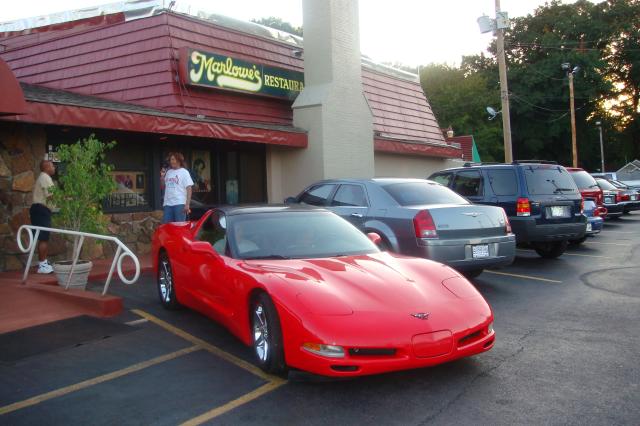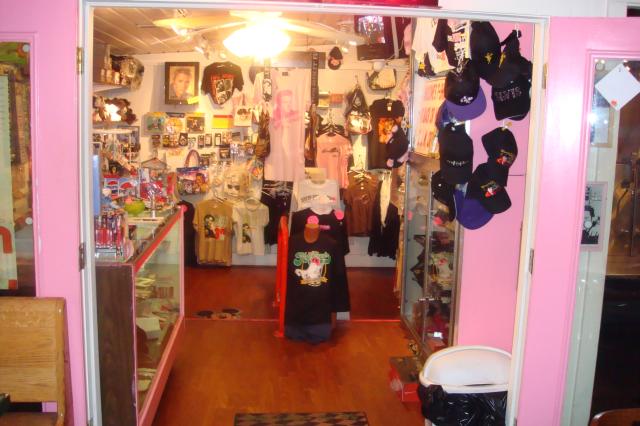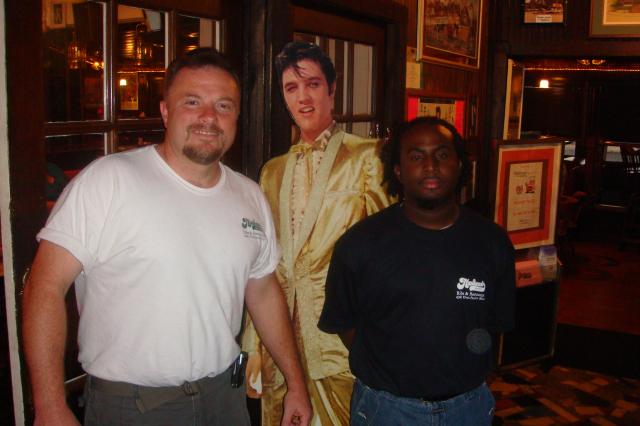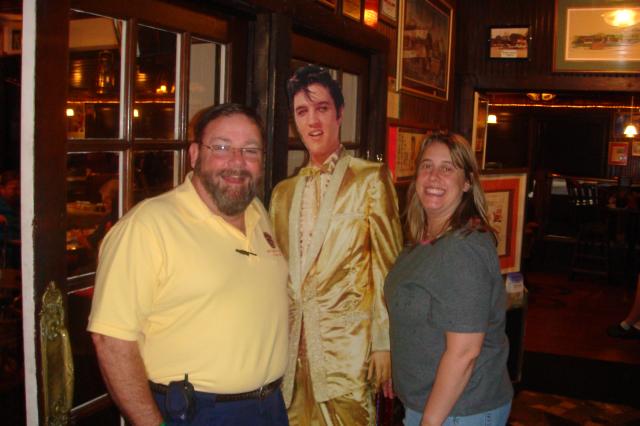 After eating more than we should have, it was off to catch a few "ZZZZs" and head for Branson in the morning. I suppose we could have taken the "Pink Limousine" but Corvettes are more fun!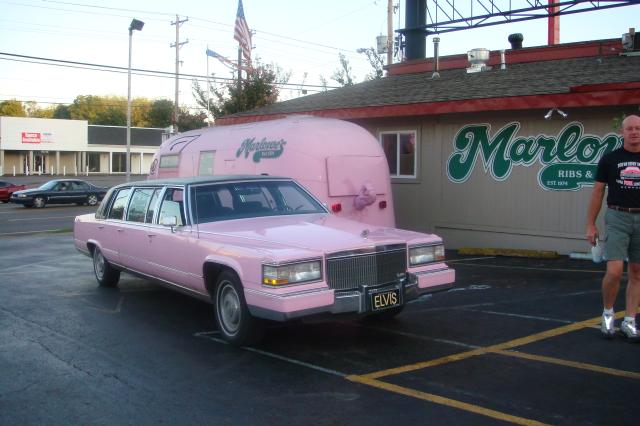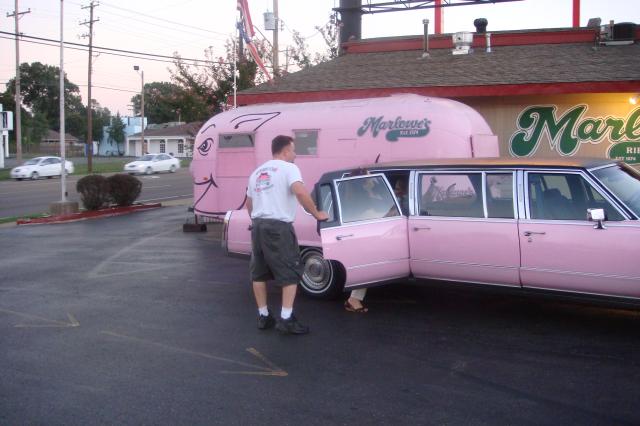 Along the way, we arrived in Old Hardy Town a quaint shopping area: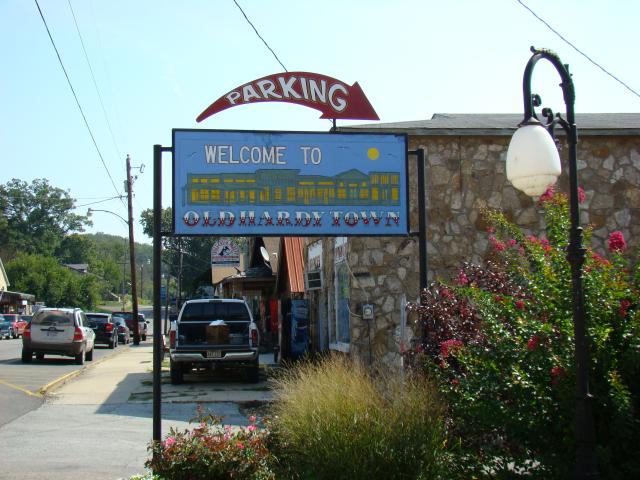 They even have their own rest rooms for shoppers: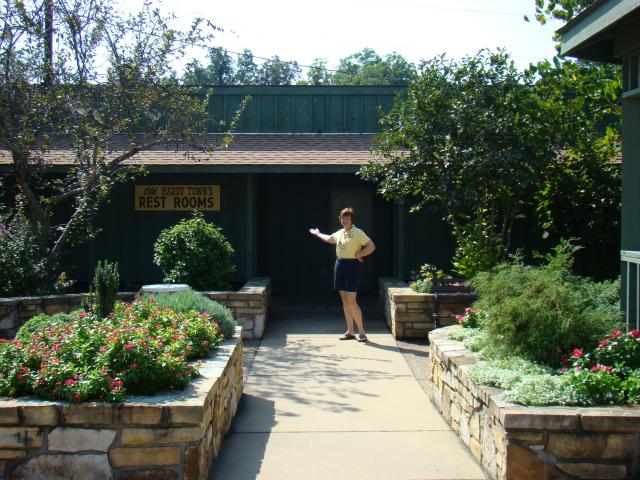 As you can see, Jackie could hardly wait to get shopping: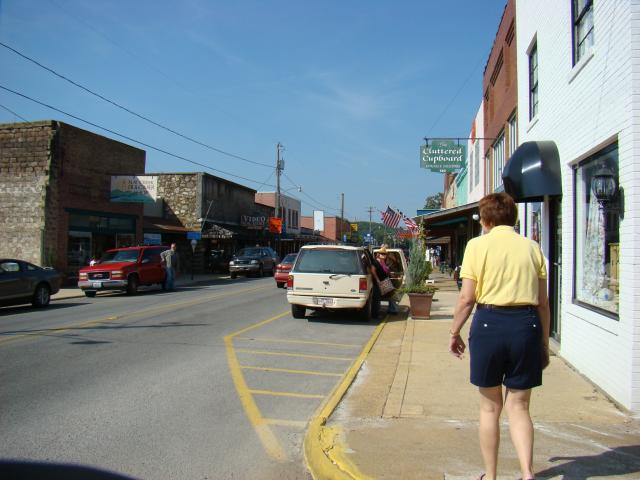 We went into the Old Time Candy Shop and bought some really delicious fudge: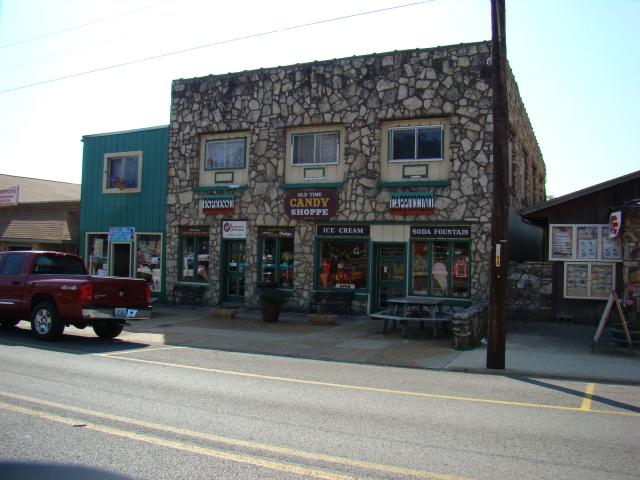 We should have tried it before we left, that way we could have bought much more!

Upon arrival in Branson, we met up with Gary & Debbie and "cooled it" for the evening by staying in the timeshare and planning our next few days events: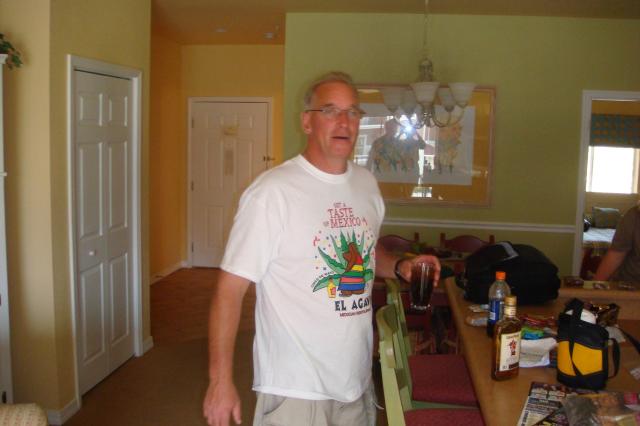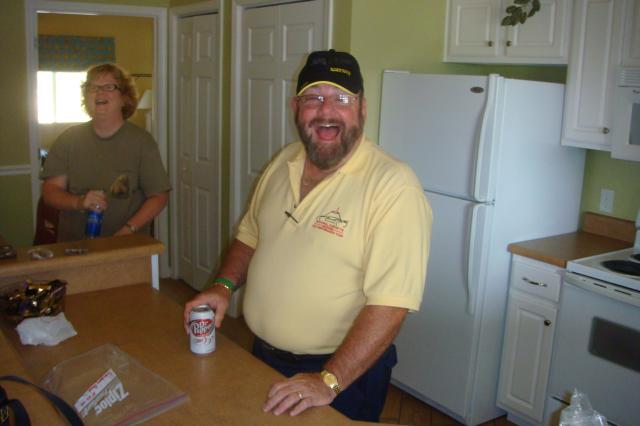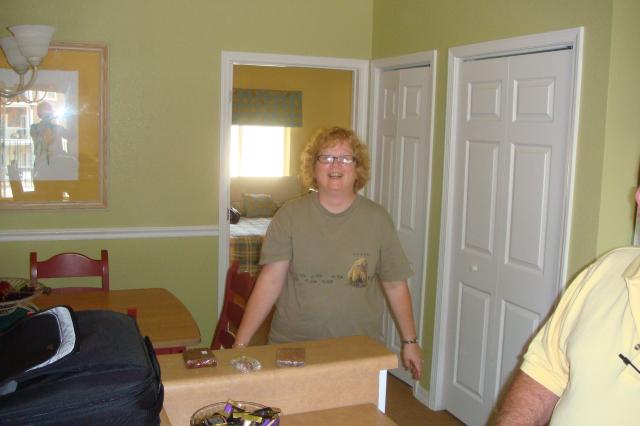 The next day was our turn to ride the Ducks. Clyde, our Captain: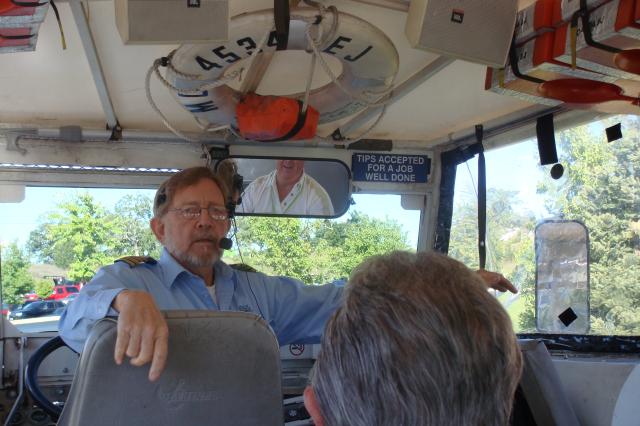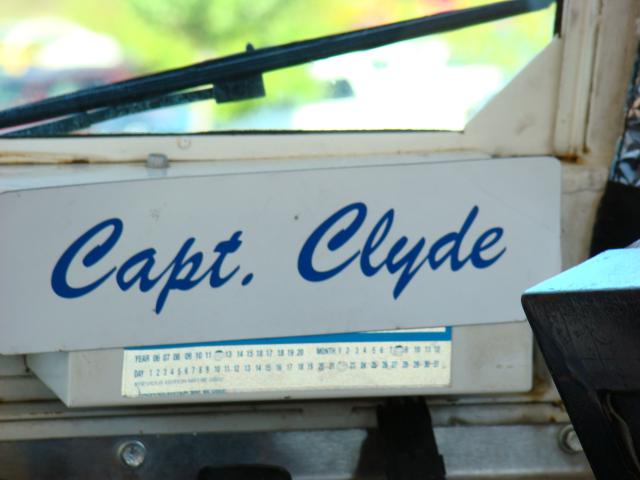 .. led us on a combination road and water tour of Branson. We were picked up at our activities center, went on a mountain tour of old military vehicles: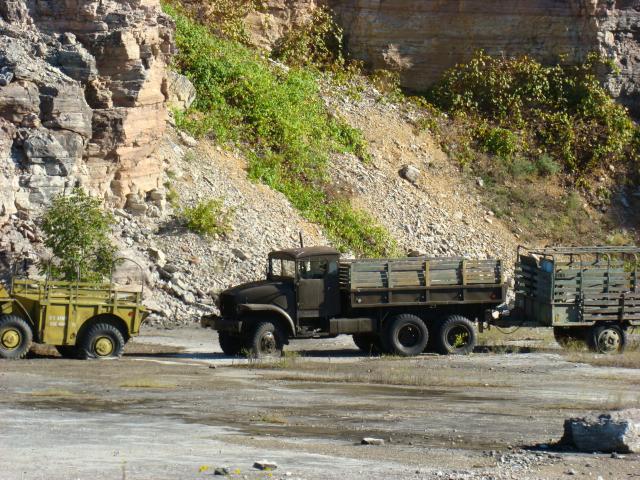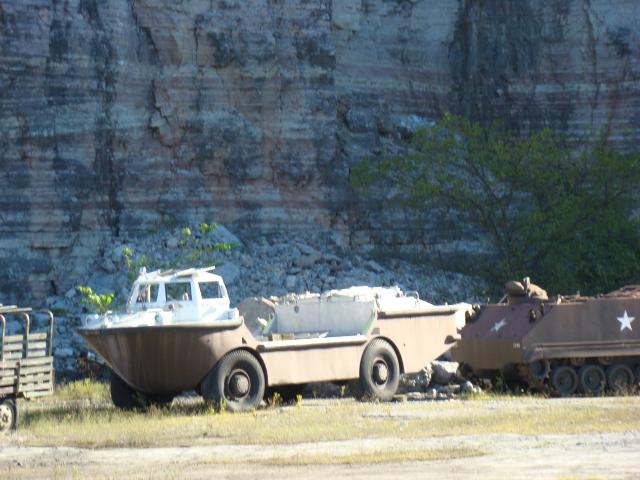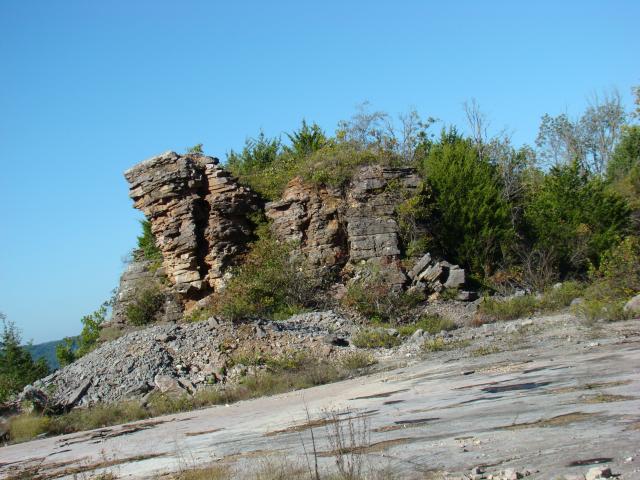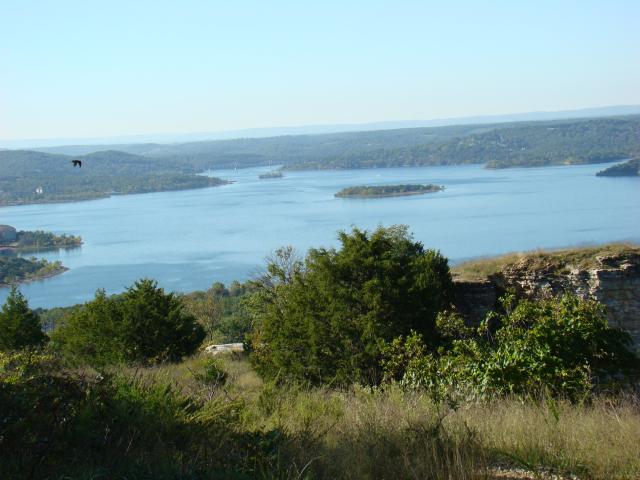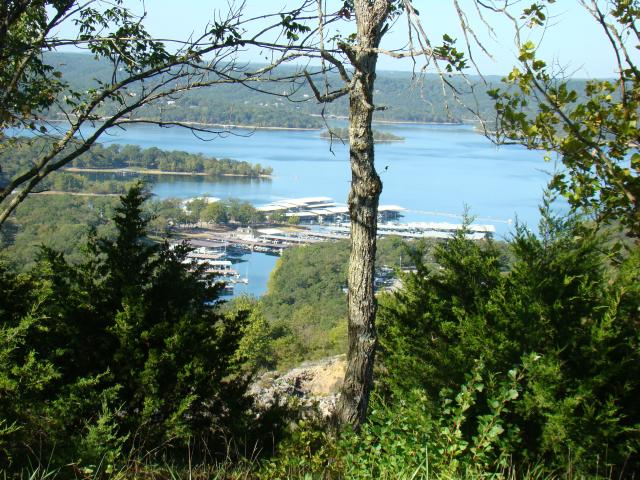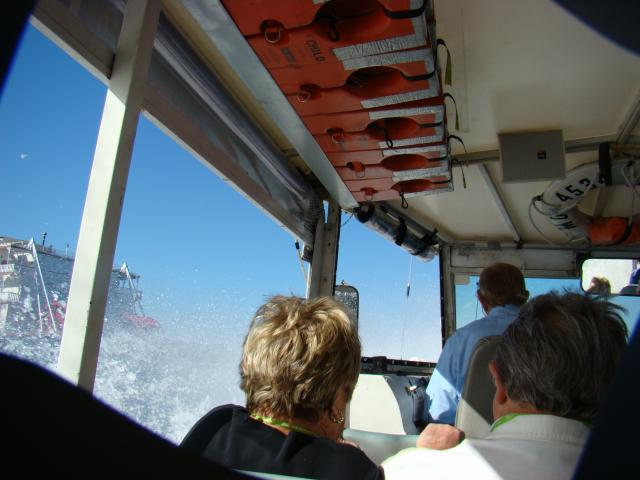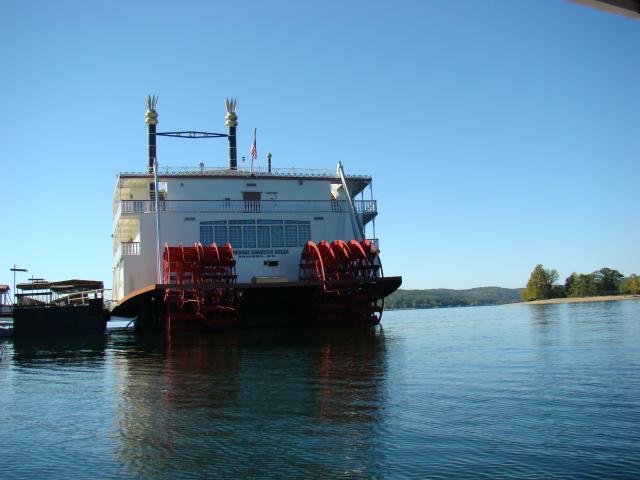 .. and Buzz even got to drive the Duck around the lake for a few minutes: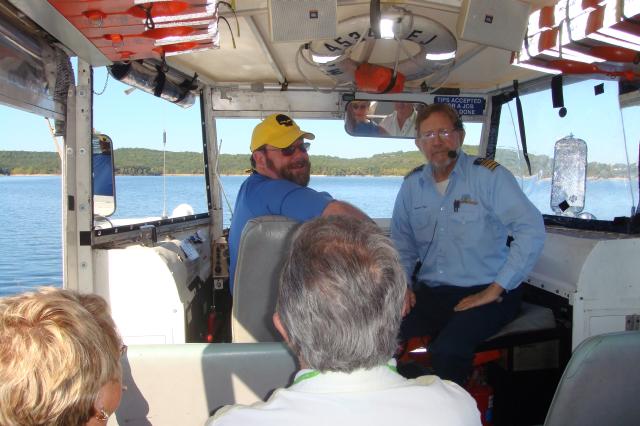 As you can see, both Gary and Buzz had their "Quackers" at the ready!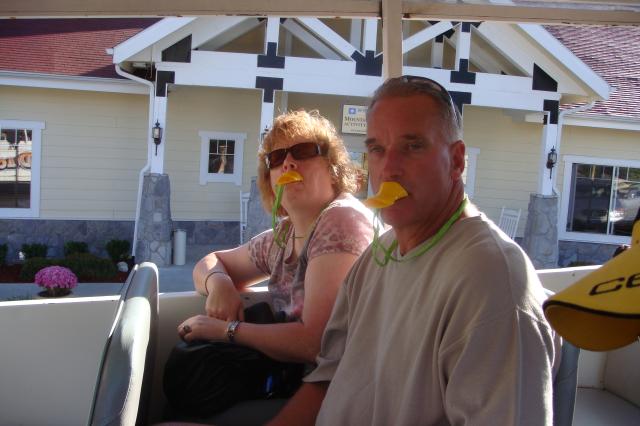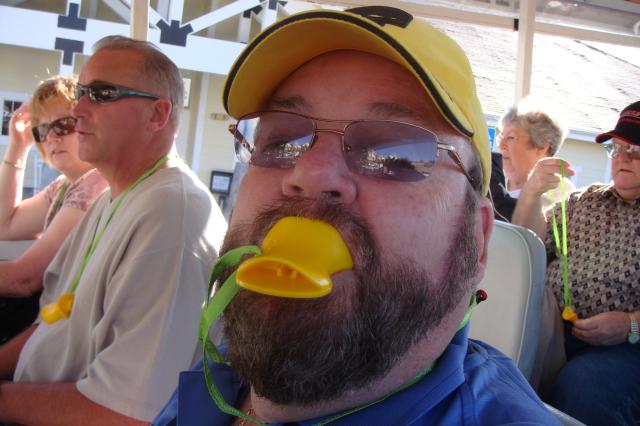 Gary stood by the Duck for a portrait of the mighty traveler: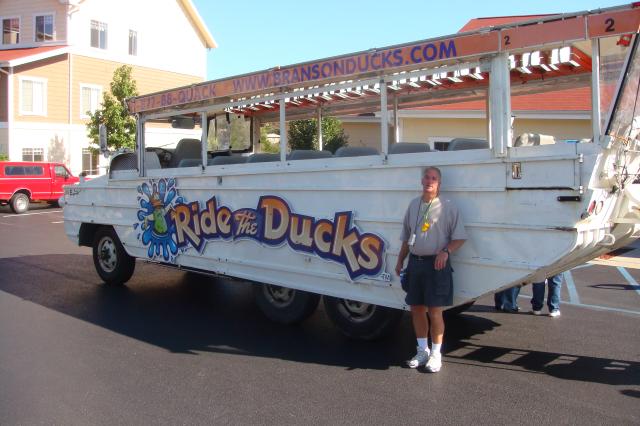 We returned to our room for a little rest and relaxation. Gary took this to heart: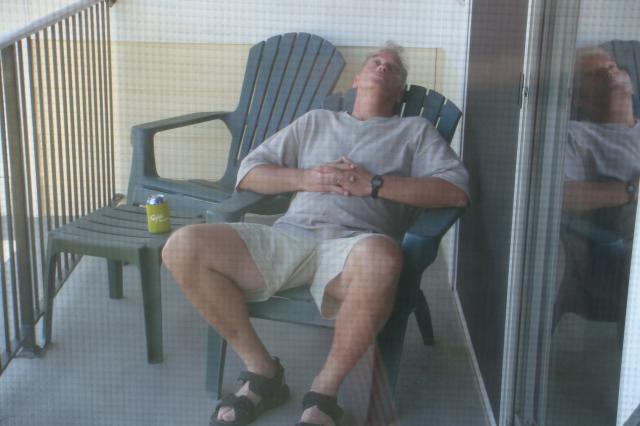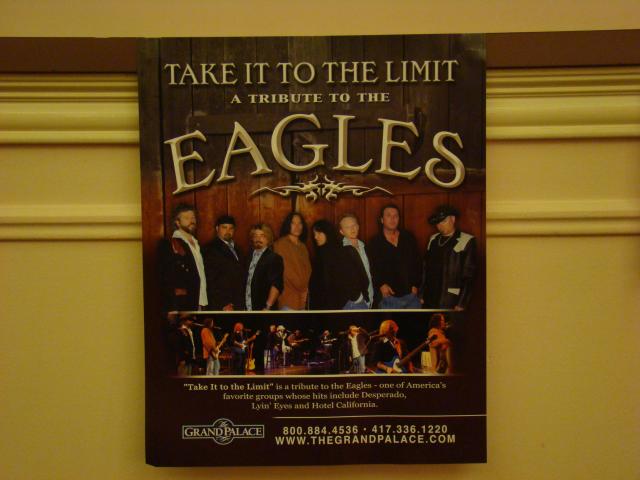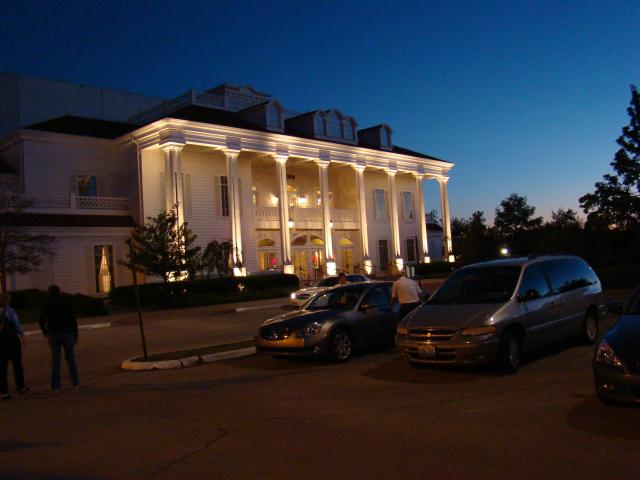 As you can see, I remembered to bring flowers for Jackie: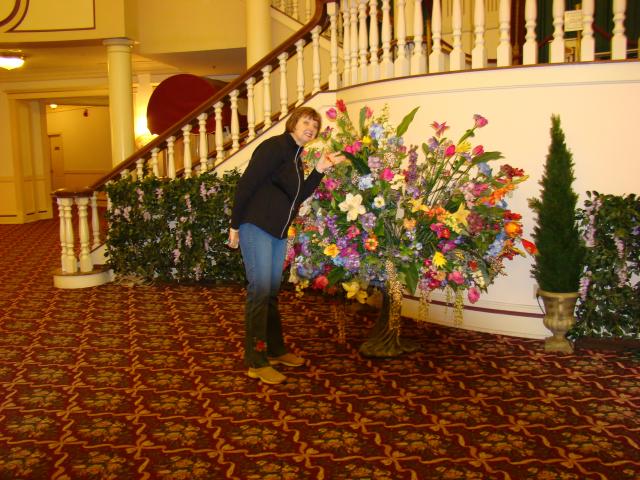 Gary and Debbie made their grand entrance: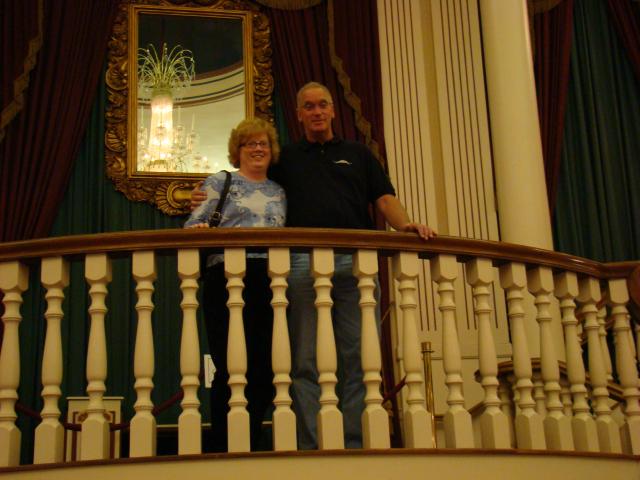 The band consisted of Eric Rankin on lead vocals: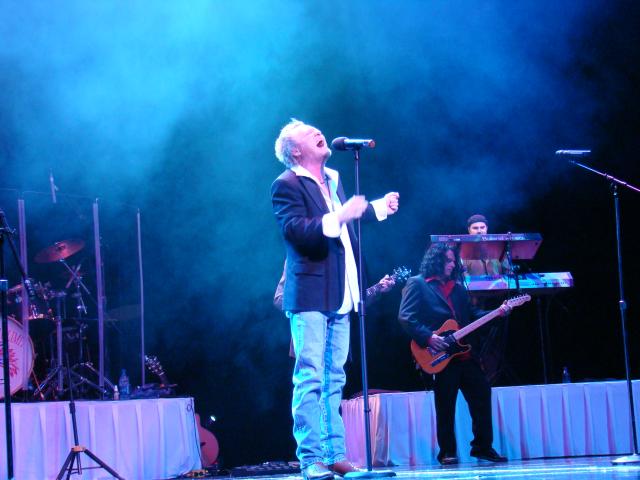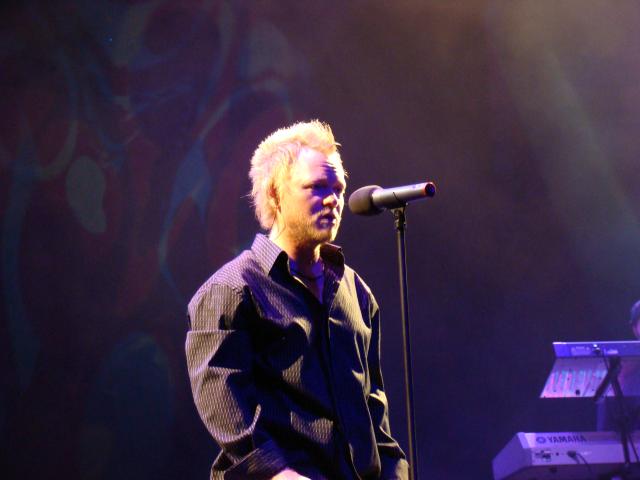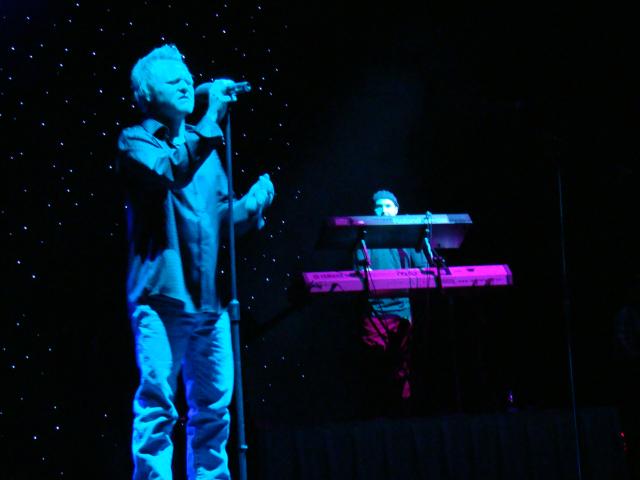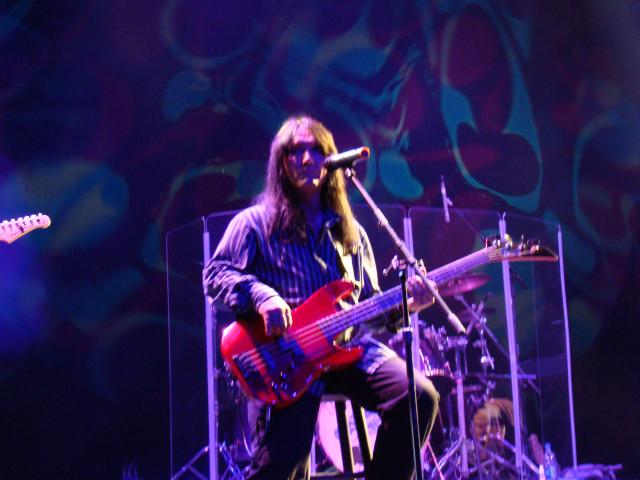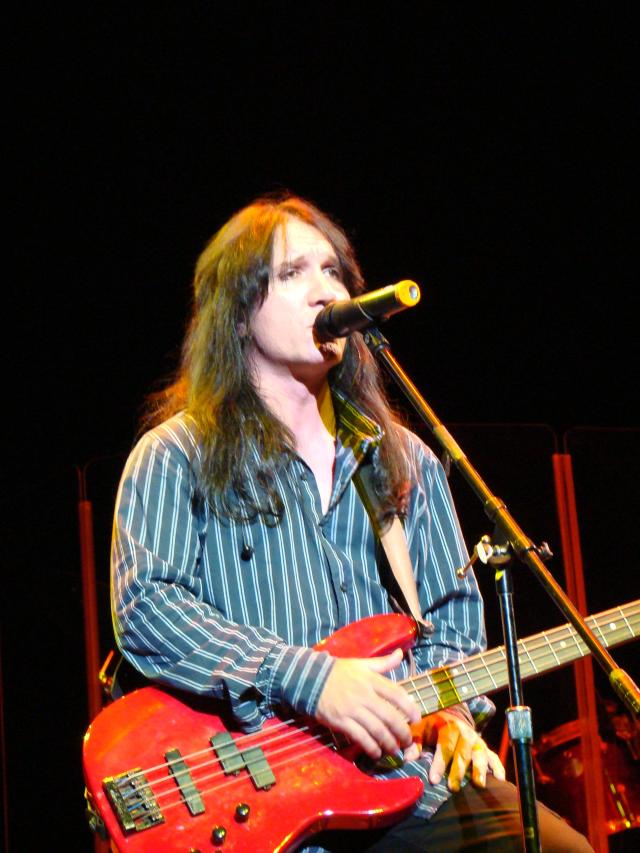 Greg Morton on guitar and vocals: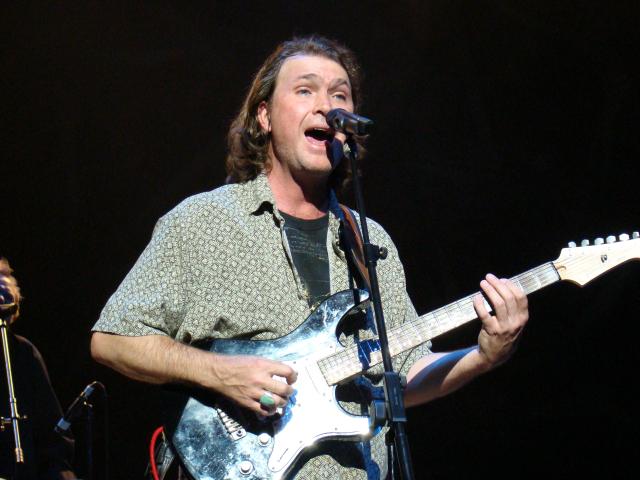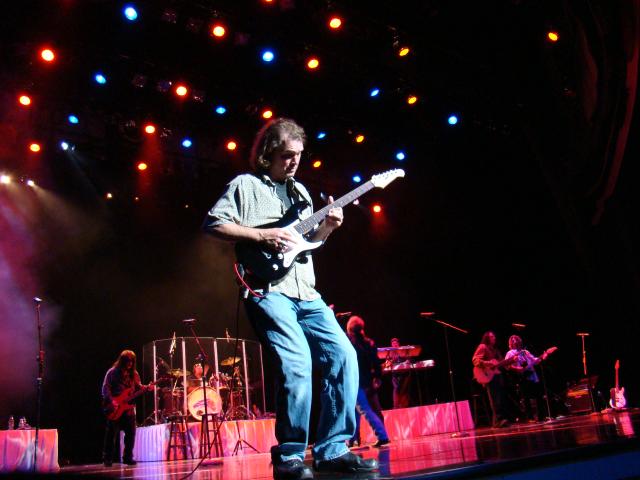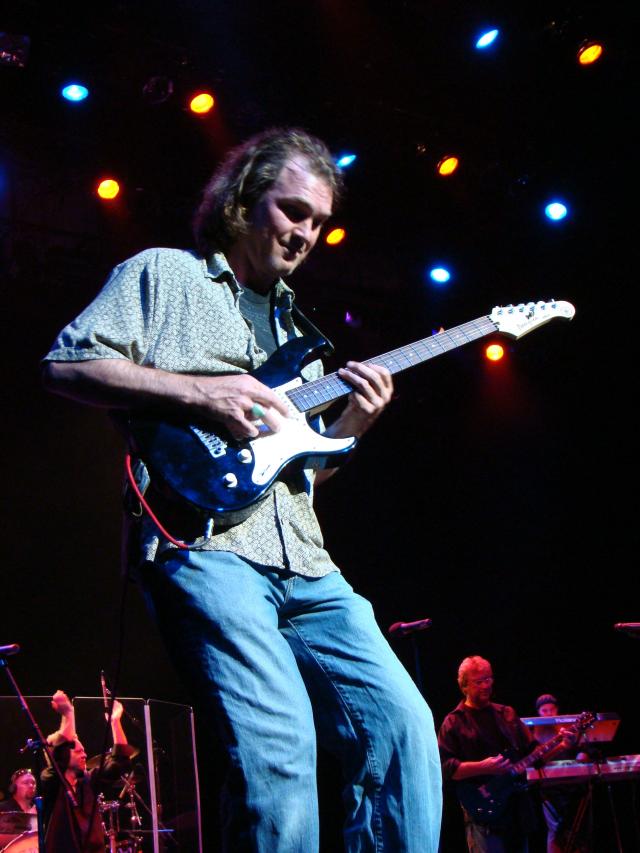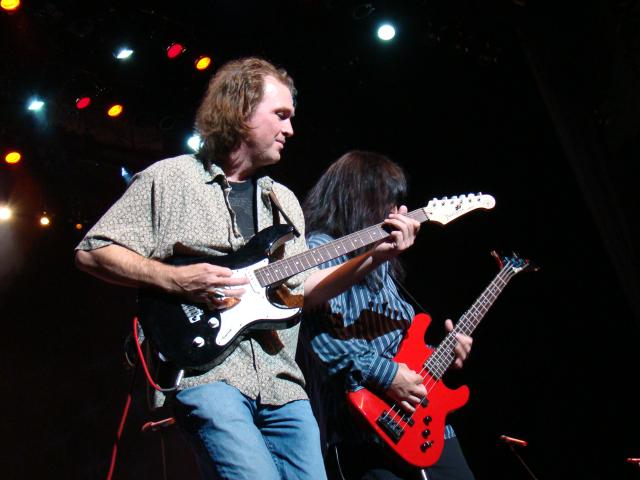 Tim Coday on vocals and keyboard, Larry Holiday on vocals and guitar, Lance Conque on keyboard and vocals, Chris Wainscott on guitar and vocals and finally Daniel T. Orr a/k/a TAZ on drums. They opened with a flair: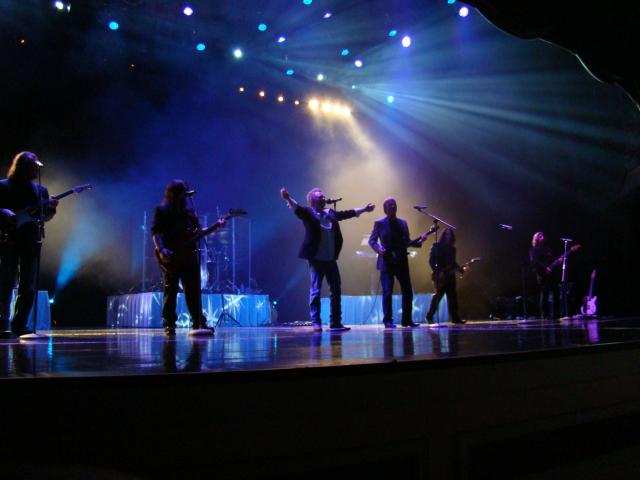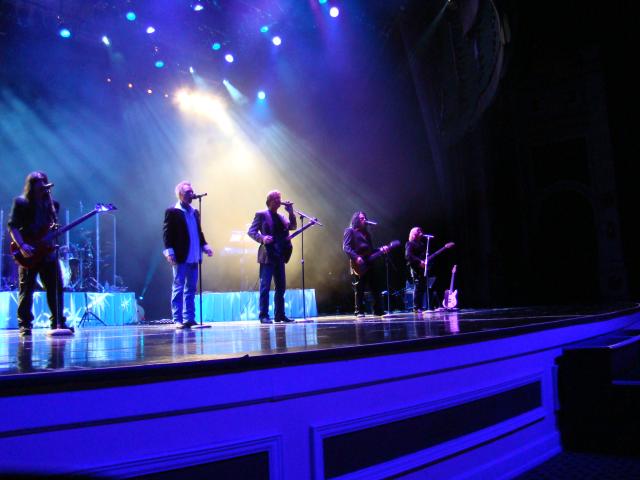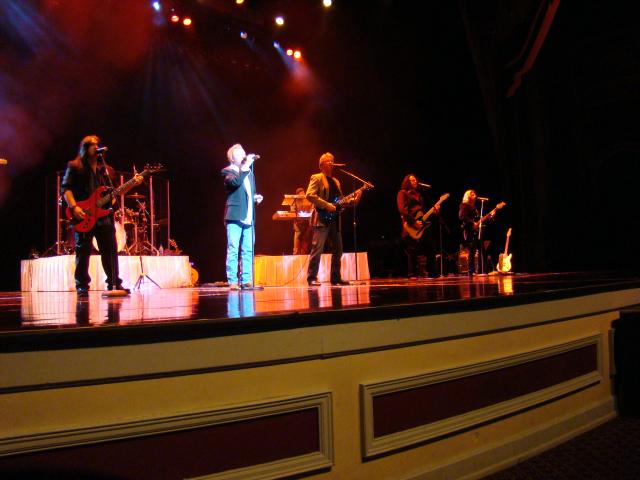 Then they rocked the house!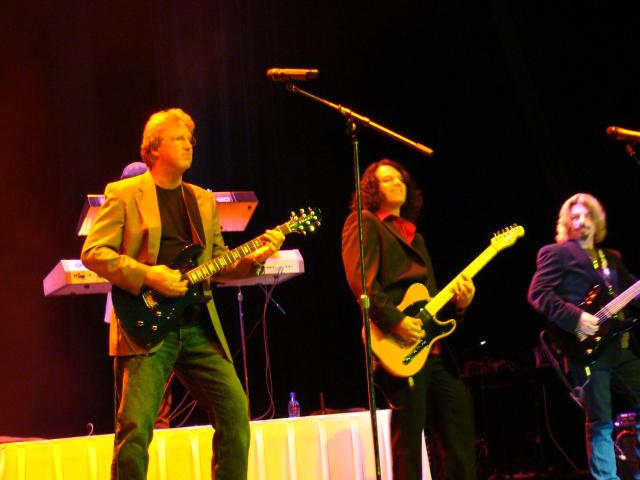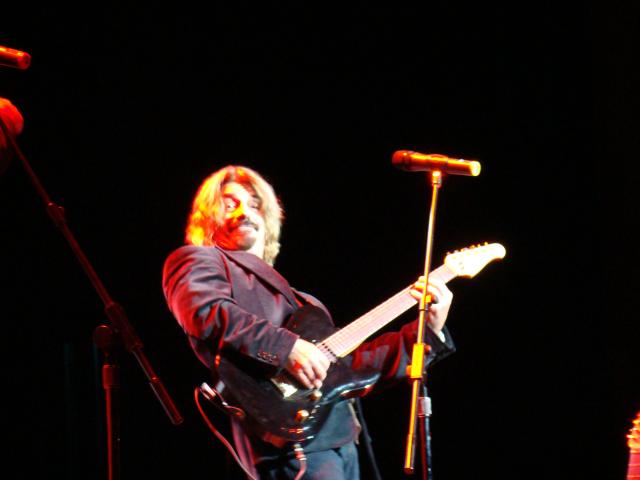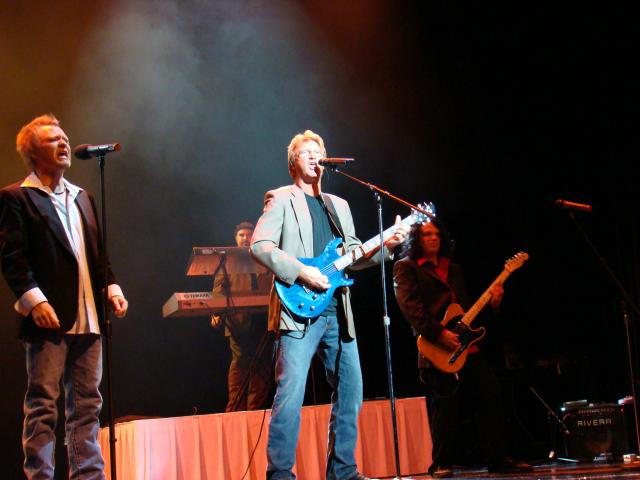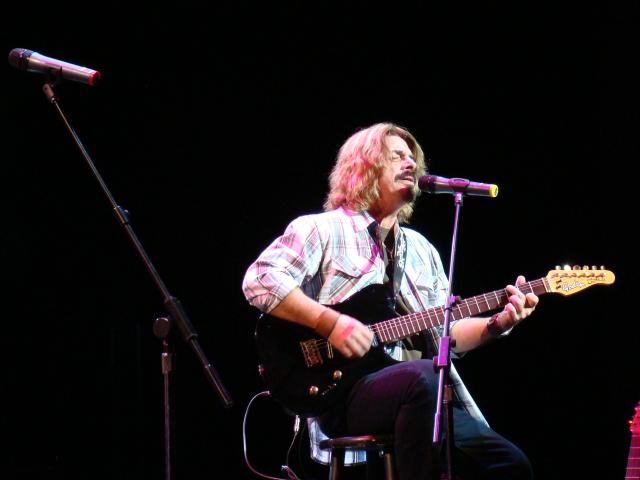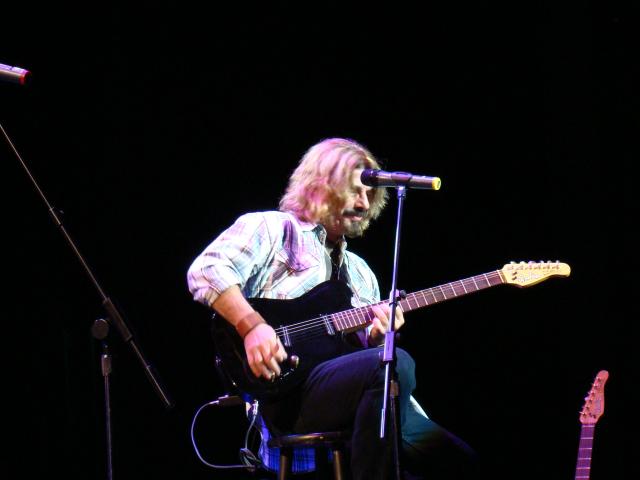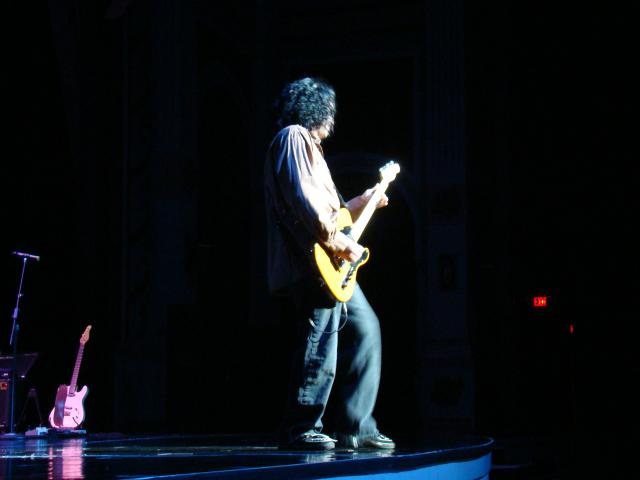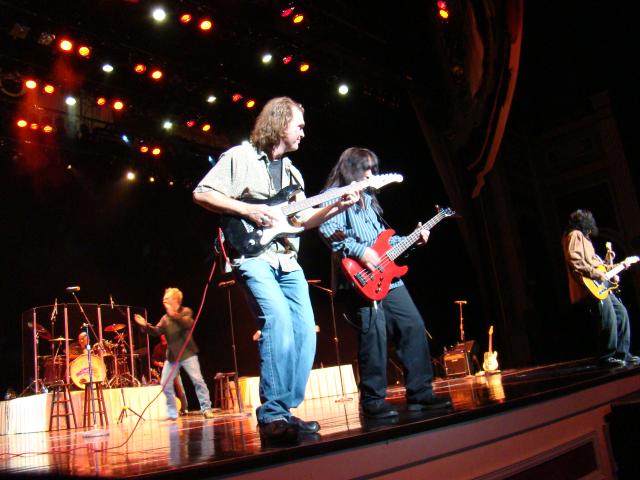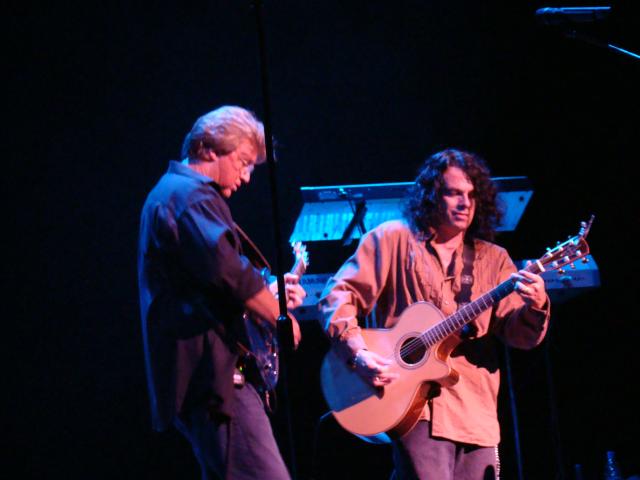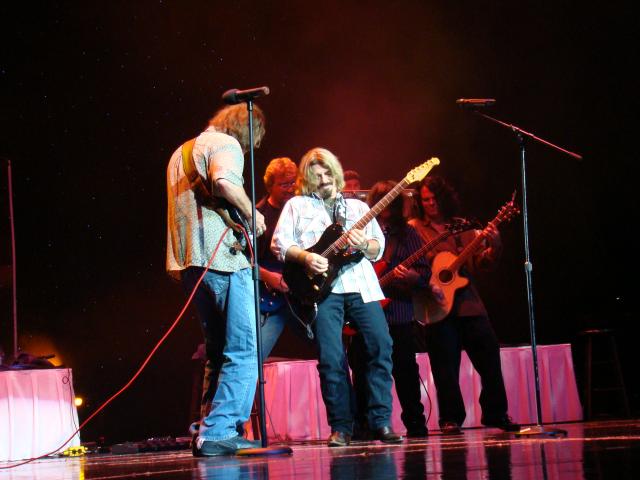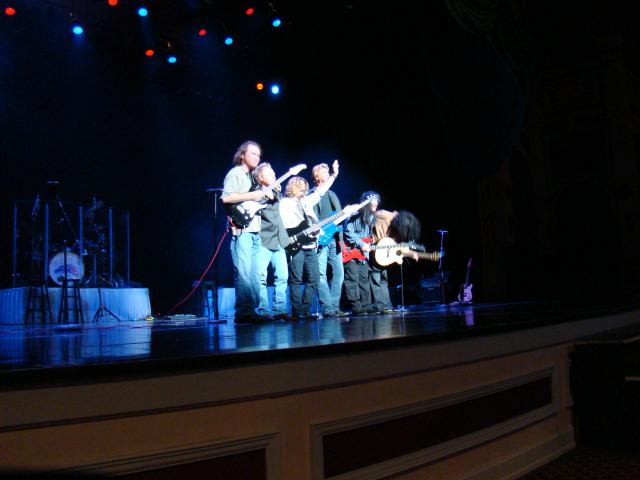 These guys were really good and all of us had a rocking good time. After the show the band came out and mingled with the audience: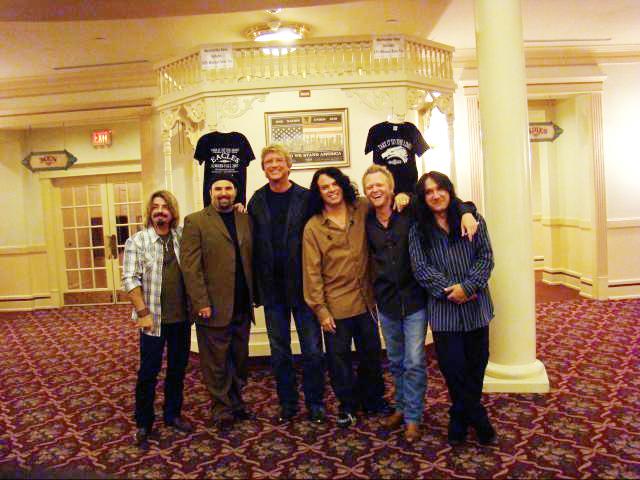 It was back to get our daily rest and off in the morning on Terry's Transport: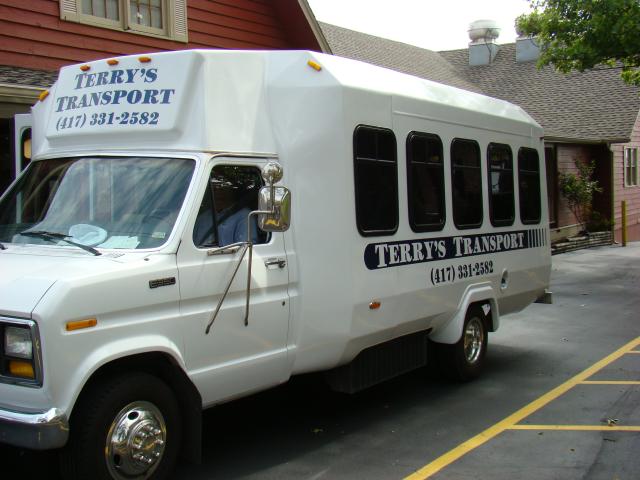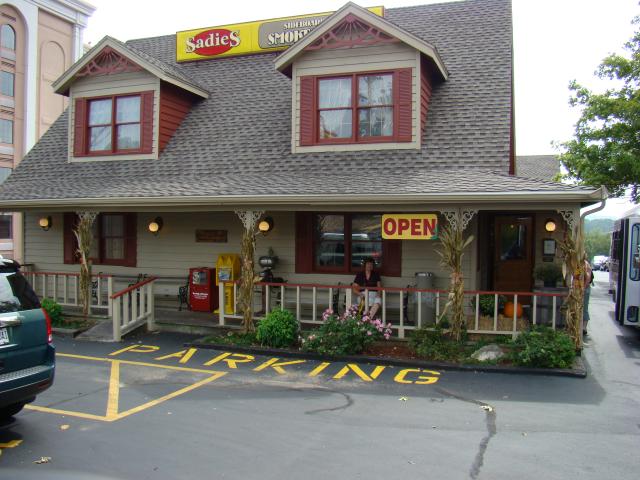 .. for lunch. Quaint building but not great food. Then we traveled on to see SIX: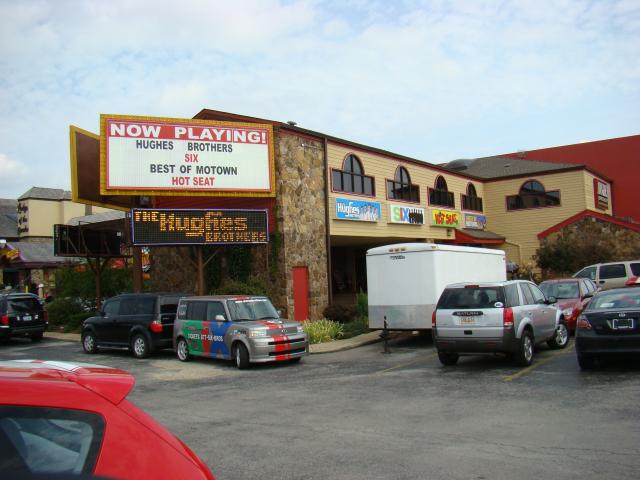 .. and their great little cars!: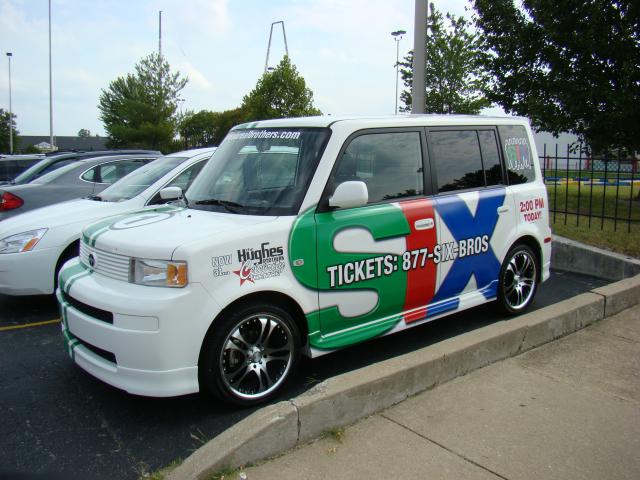 The show consisted of six brothers who sang all types of music: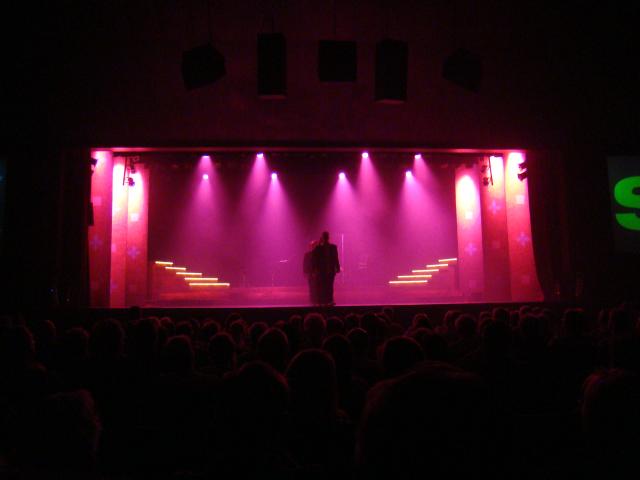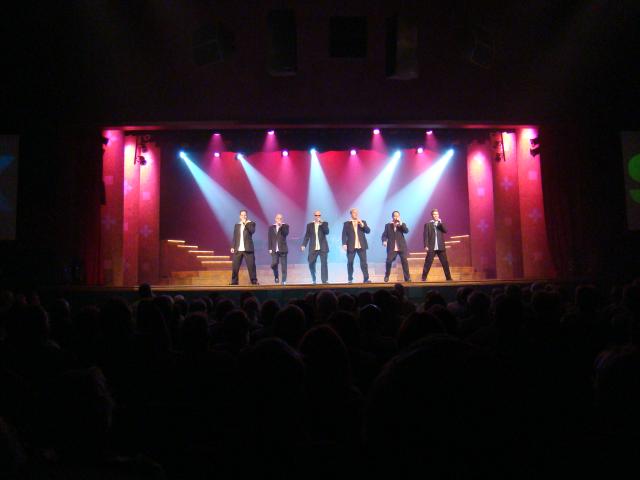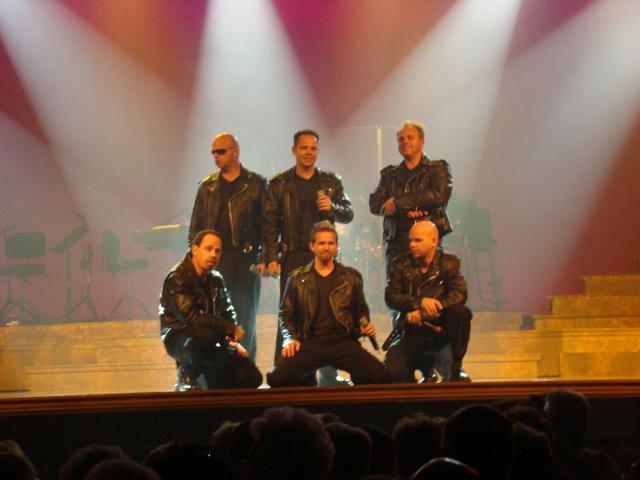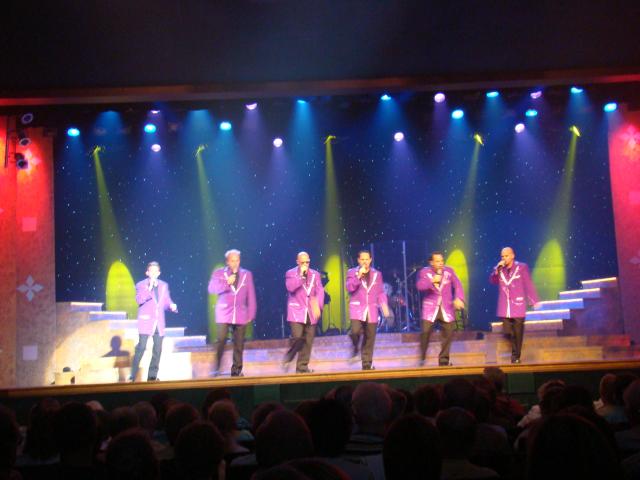 Later that evening it was off to see LEGENDS: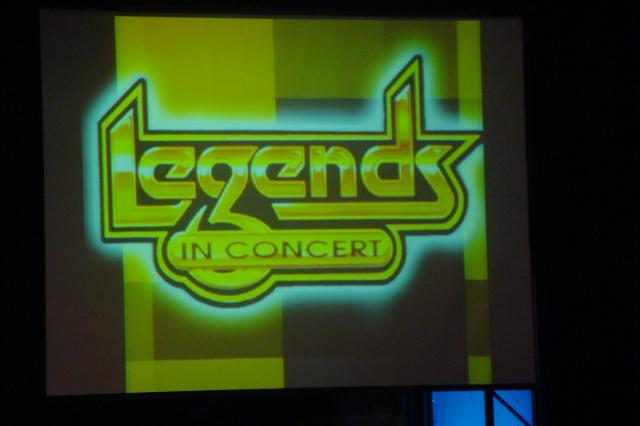 .. a show with many "stars." There was Bobby Darin: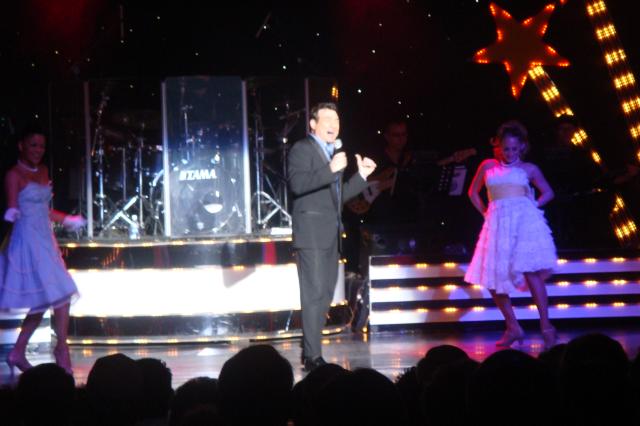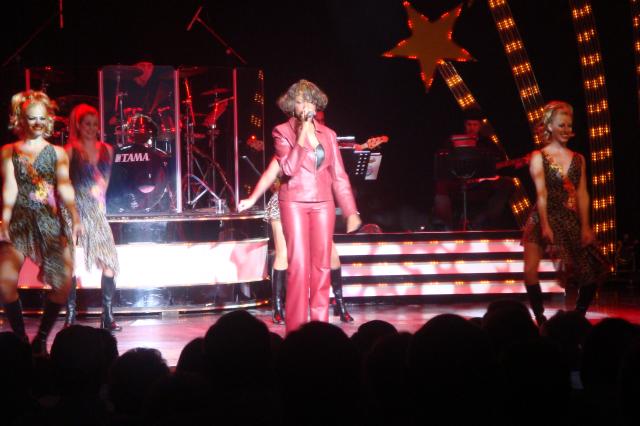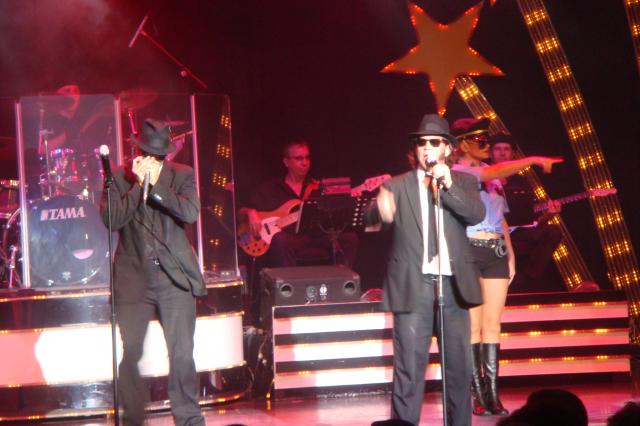 Johnny Cash "the man in black":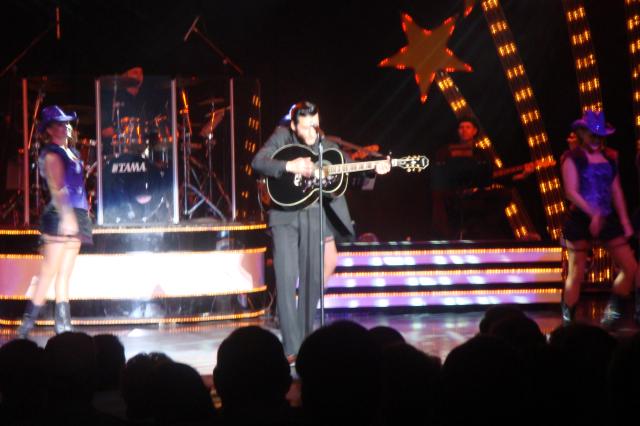 ..and, of course, "The King":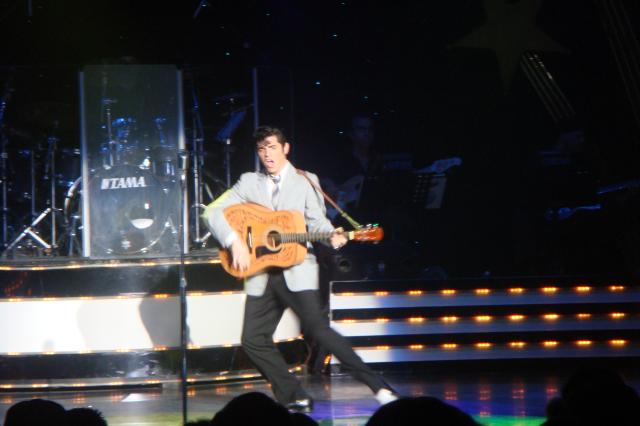 They were fun to see and hear.

We decided that we had to clean the vehicles before we headed out to Eureka Springs. After all, it was to be a Corvette Show. Gary really got into the whole process and was waxing away: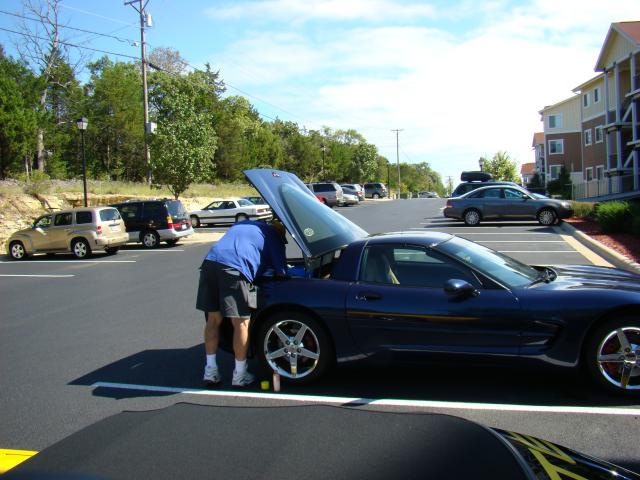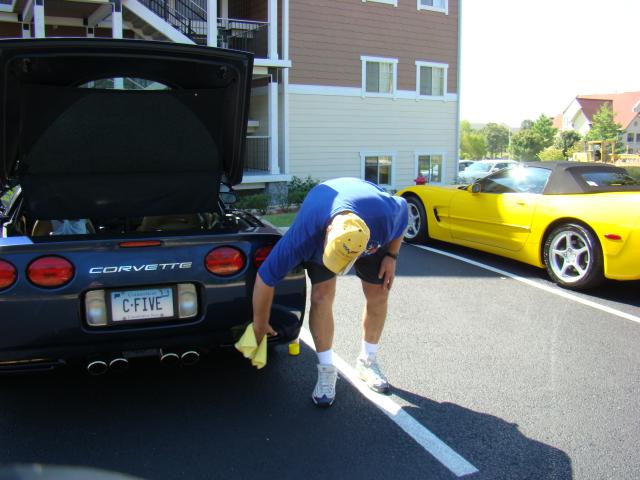 I was wondering why such a thorough job and then found out that ZAINO Z-2 did not do a very good job of shining up the pavement!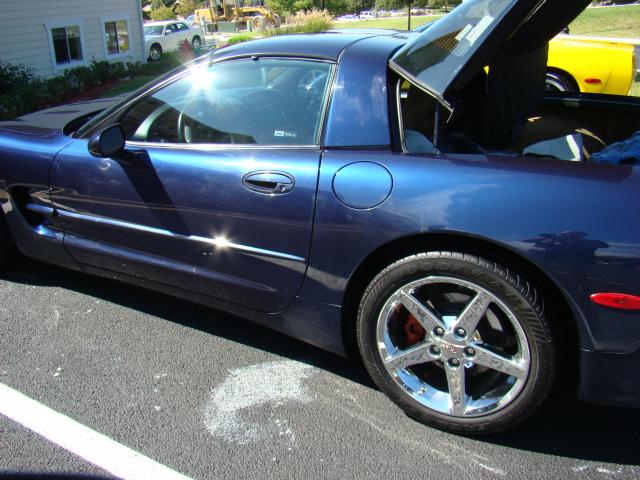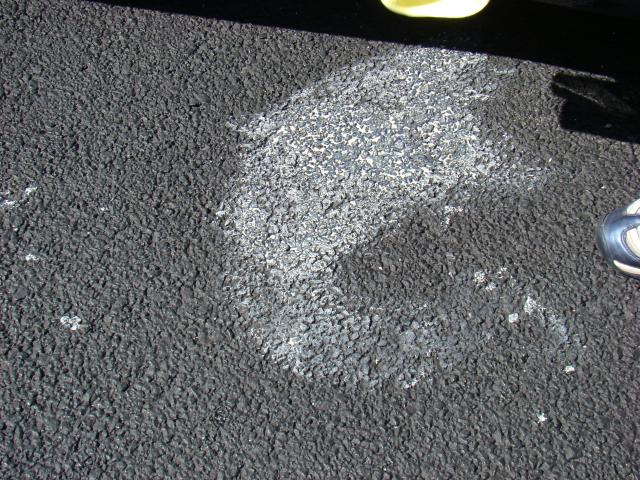 Could Gary have had an accident? Even Buzz did a pretty good job of preparing the C5 for the events to come:

.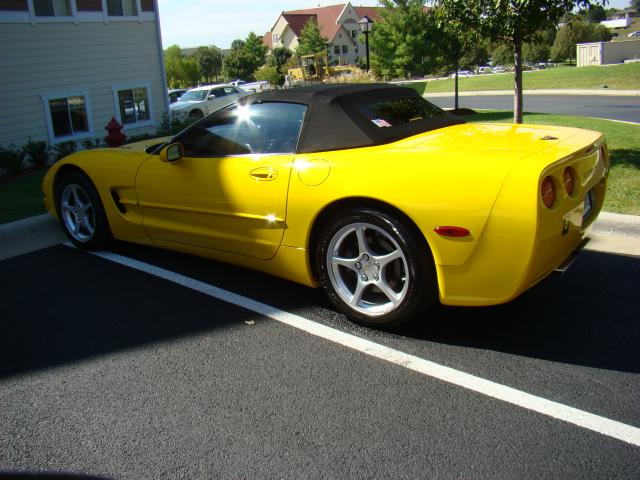 Later that afternoon it was off to the New Shanghai Theater for the show: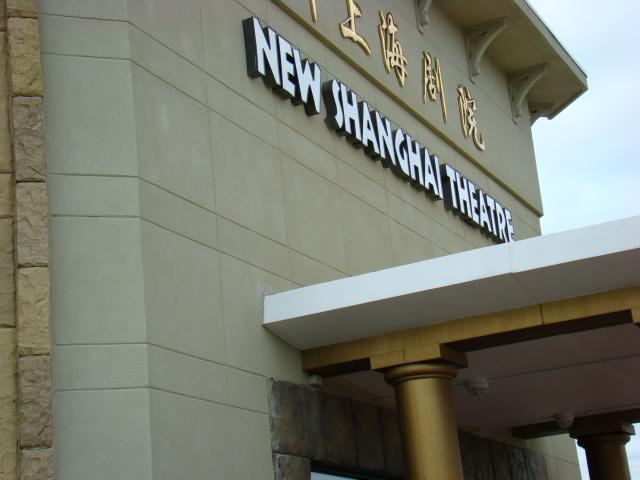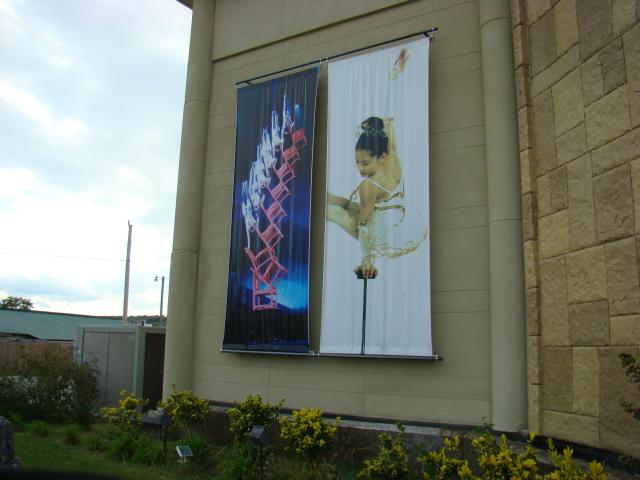 There were no cameras allowed in the show, but the cast did come out at the end to greet us. We were amazed how young they seemed: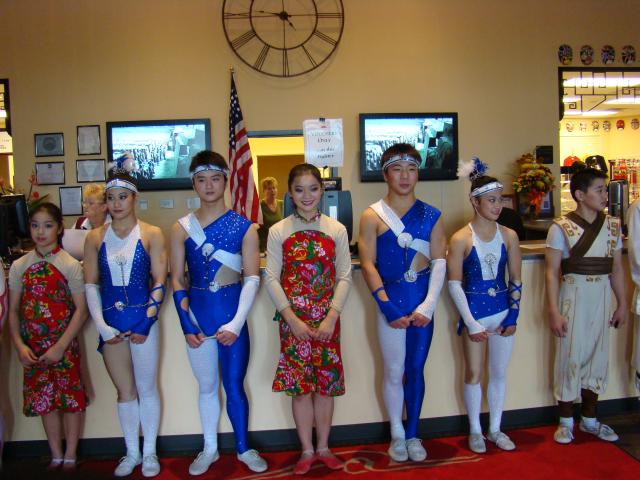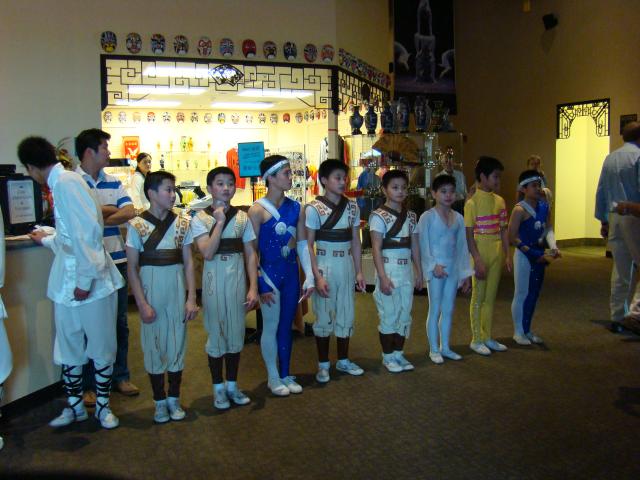 After that we went to Rocky's: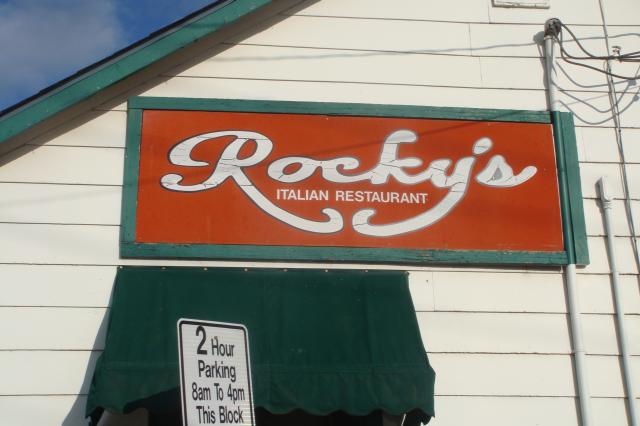 .. for Italian food. This place we would like to recommend to all.

Finally we were off to Eureka Springs and the show. Of course we had to stop and have a little breakfast at Ma's Place: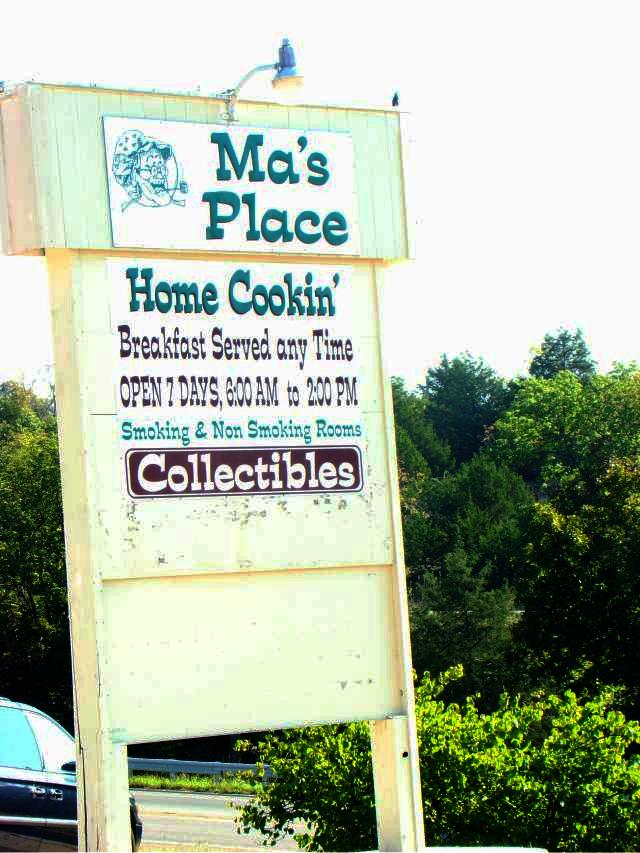 Then it was on to the city and the quaint shops: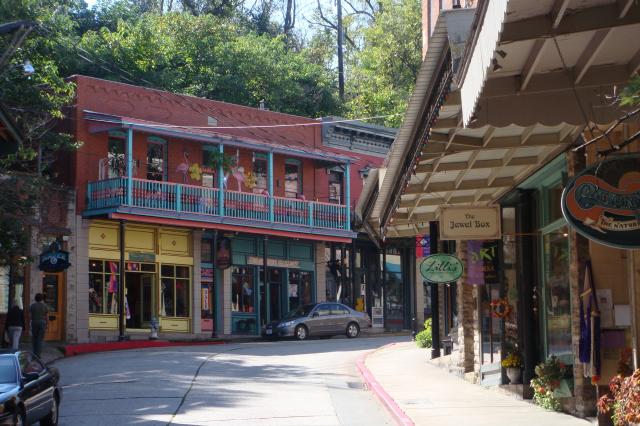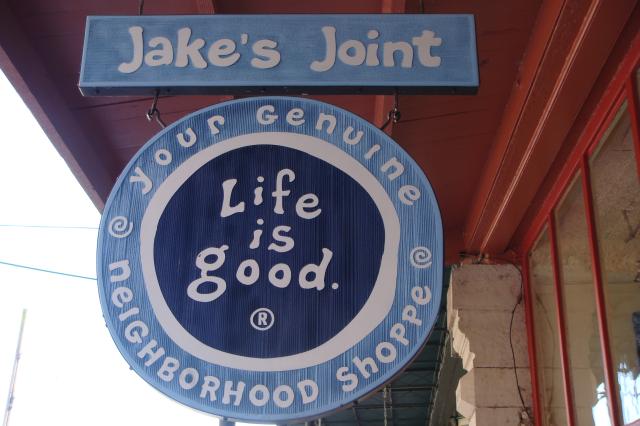 .. and perhaps this will look good on our knee wall: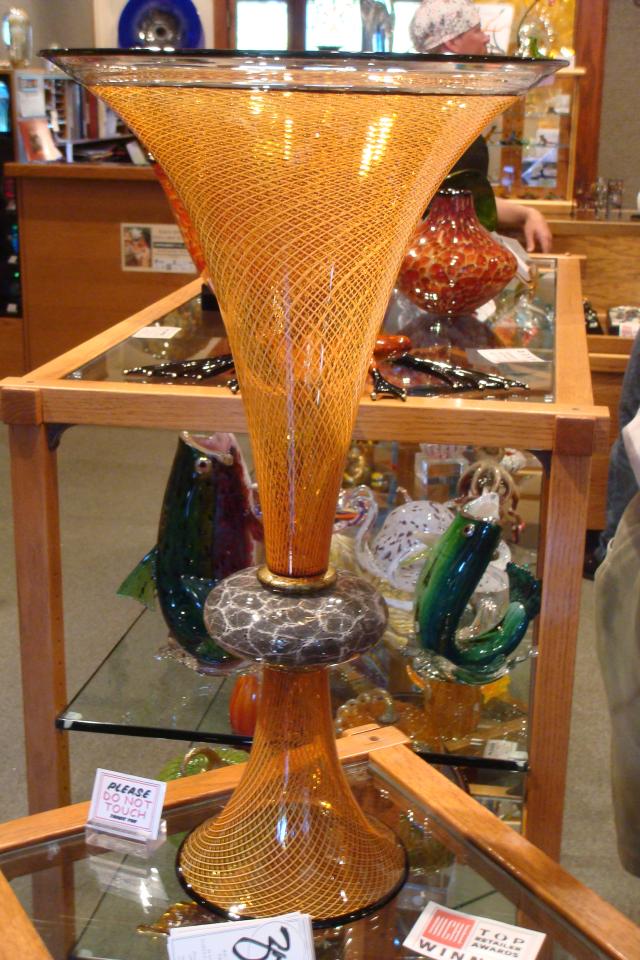 From there it was a short drive to our hotel, The Best Western Inn of the Ozarks: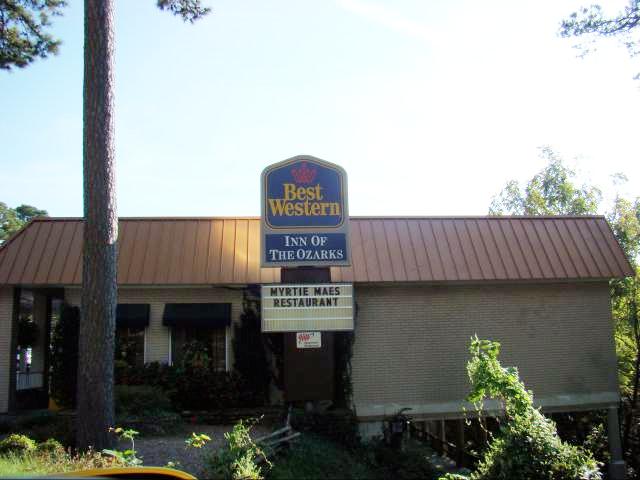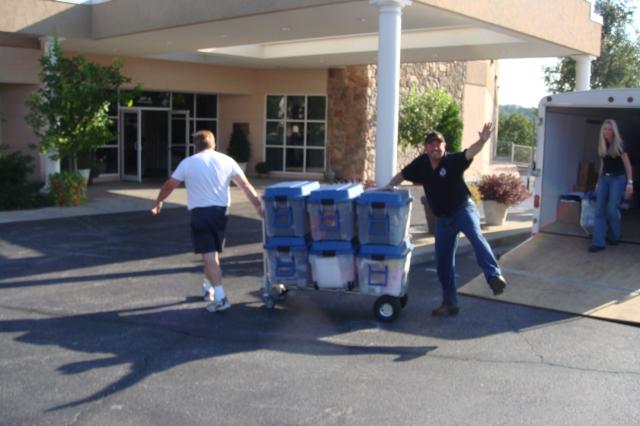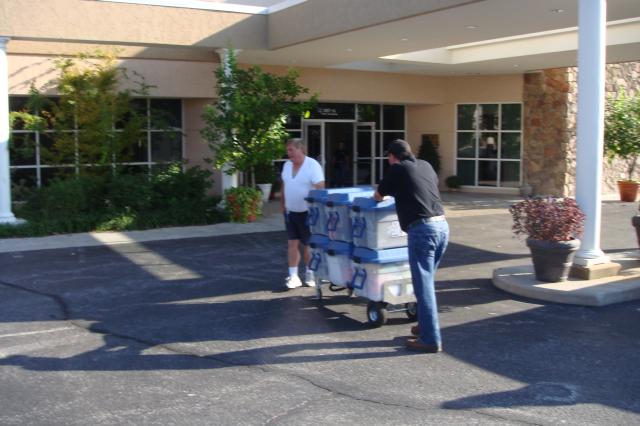 .. hard at work unloading the trailer and setting up so we joined in and gave them a hand. The Lathrop's and Jackie helped with the store and I was glad to talk about the NCM. After that we tried to get dinner at the hotel, but we arrived five minutes before they closed and were not able to get in. So we walked across the street to Bubba's for Barbeque: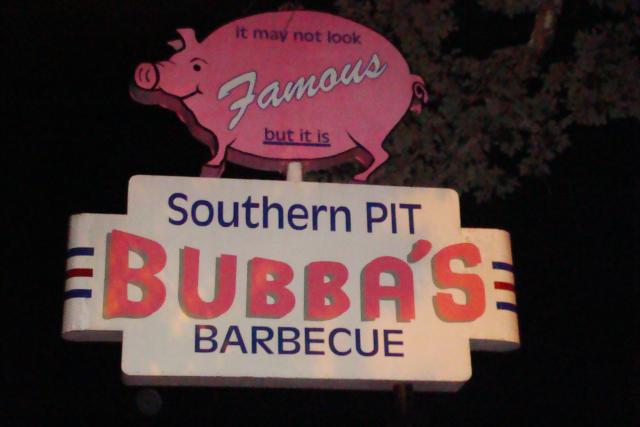 They were ready to close and out of a few things, but what they had was very good.

The next day we met at the starting point: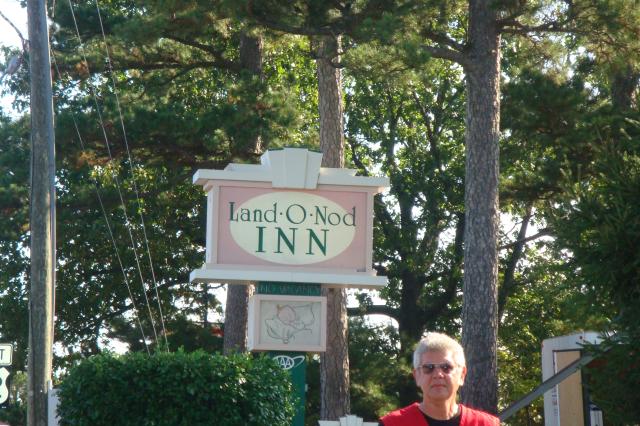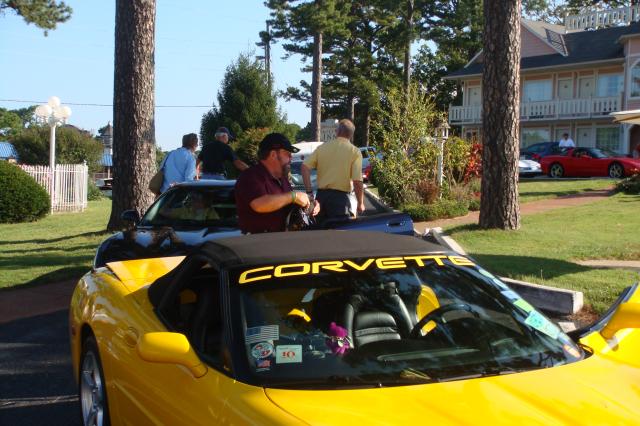 .. and left on a fuel economy run. All had a great time driving around the countryside, coasting down hills and generally trying to save gas: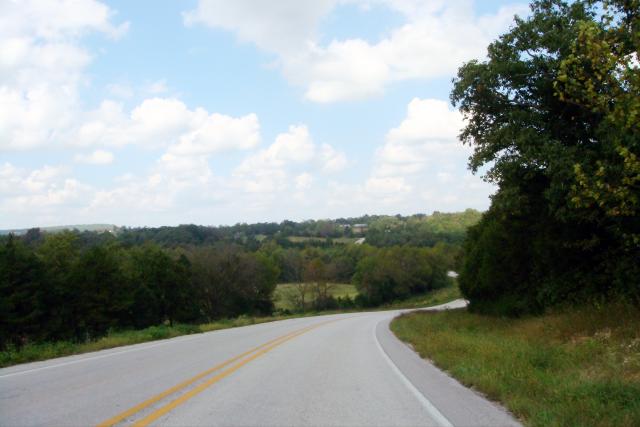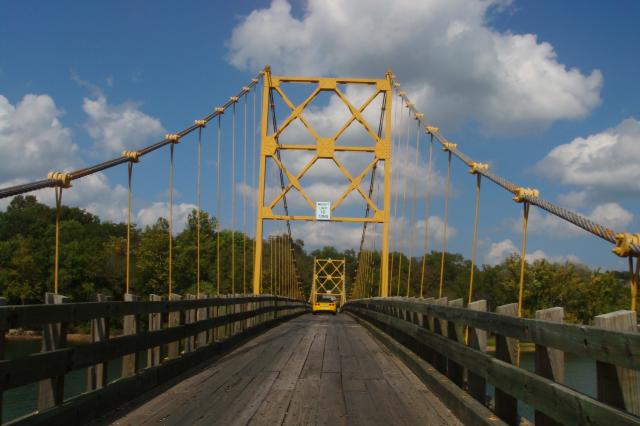 Gary & Debbie stayed in close pursuit: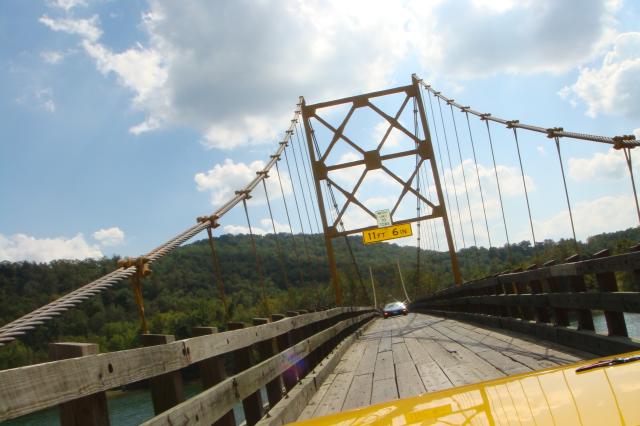 Needless to say we did not win, but had a ball. The next item on the agenda was the Elk Viewing Tour, so we were off again. The roads were very twisty and more fun at increased speeds: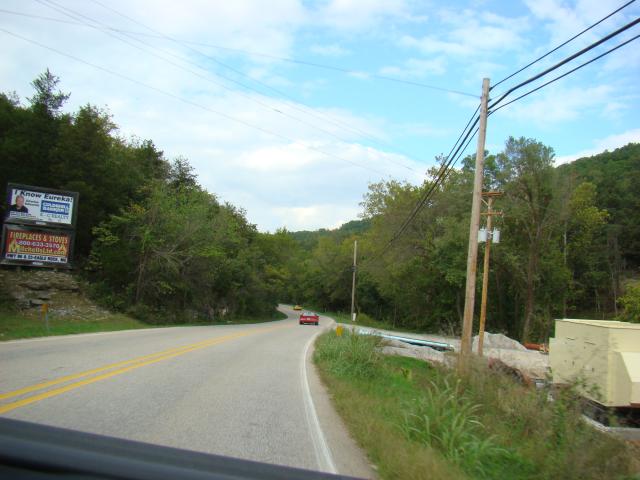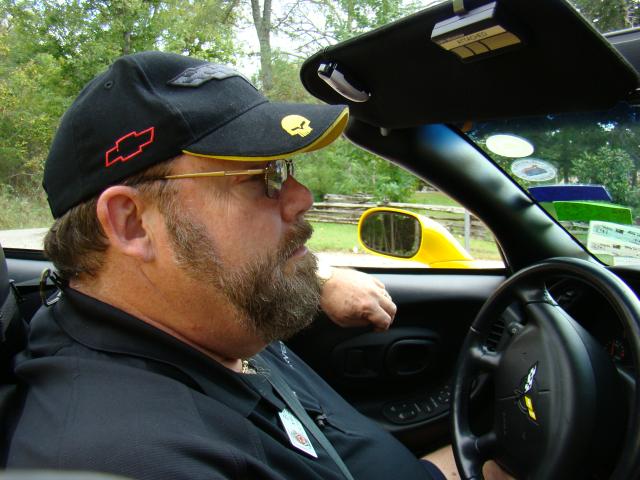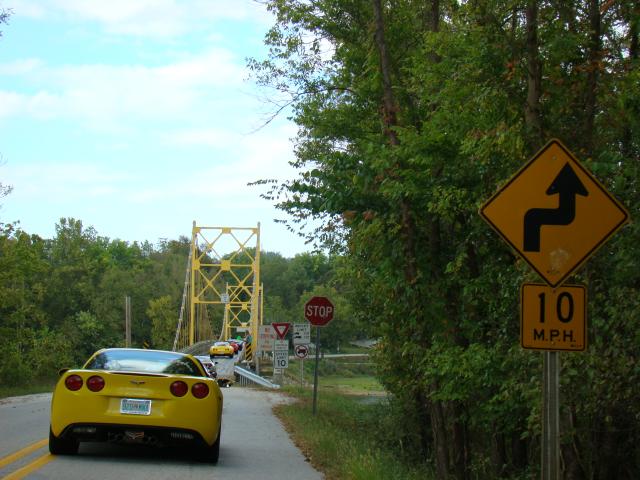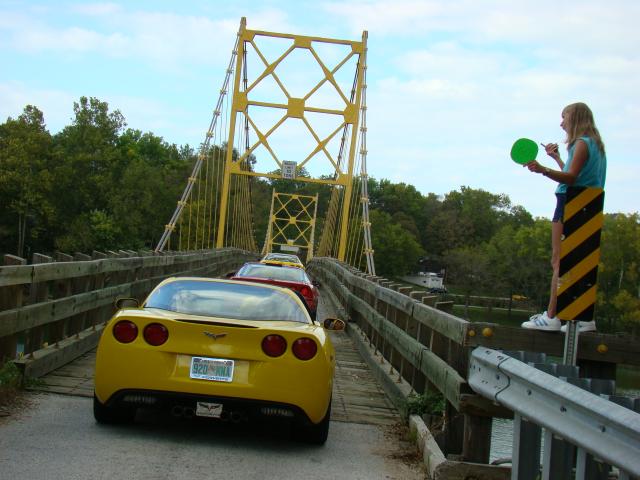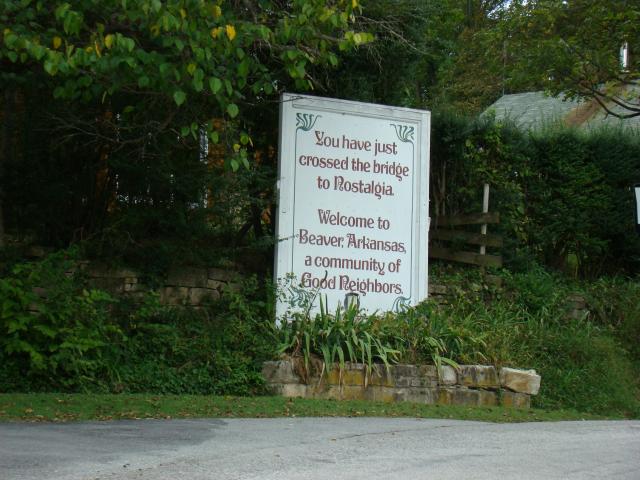 We arrived at the Elk Center, but it closed at 4:30 and we got there a few minutes late: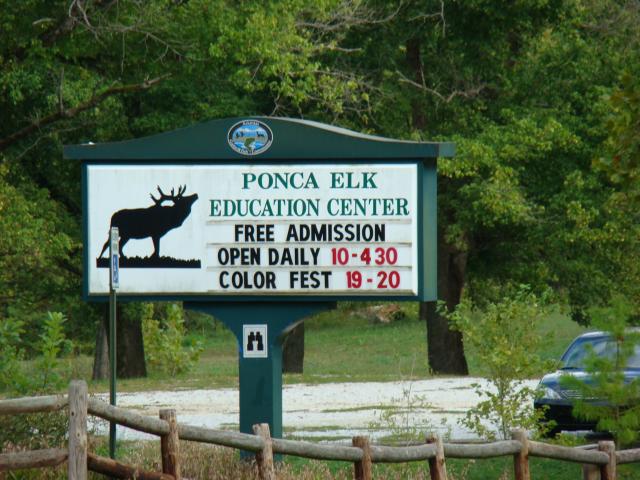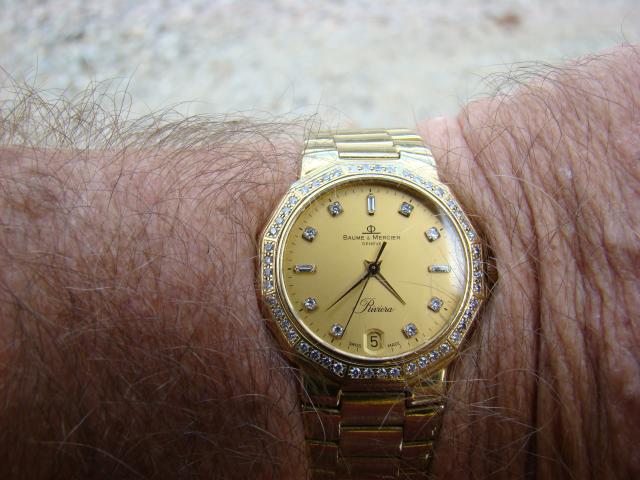 At least Gary had time to check out the local Post Office: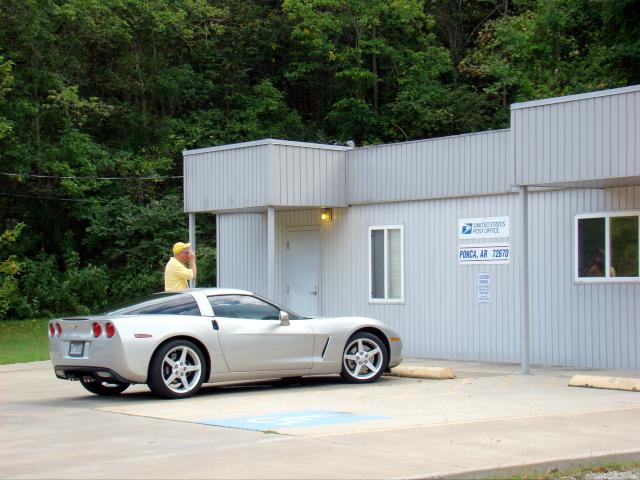 This guy seemed to know all: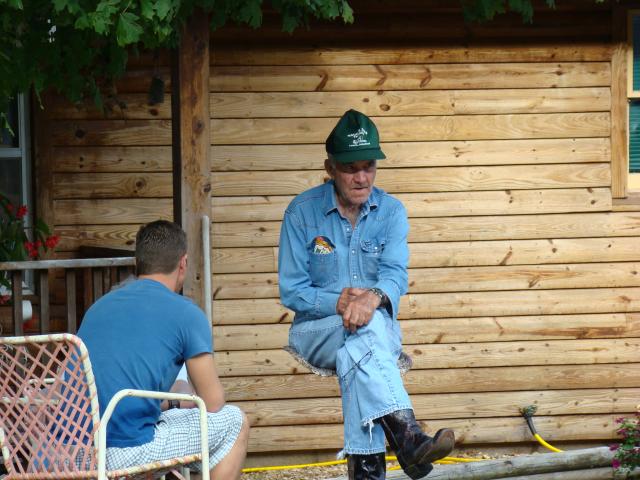 On our way in Jackie thought she saw some Elk, so we looked harder on the way out. Sure enough they were there and we even saw a buck: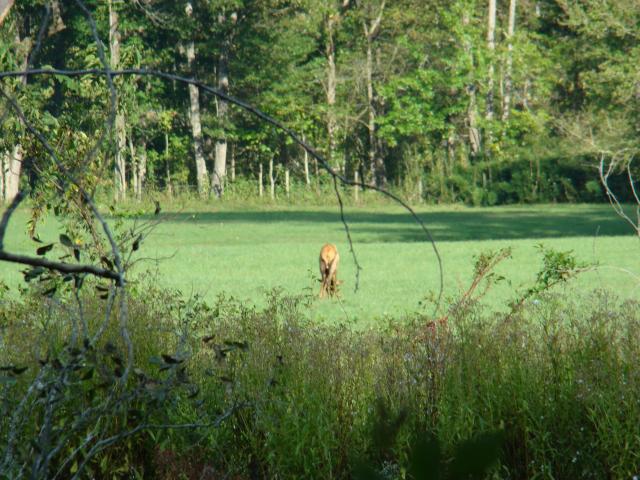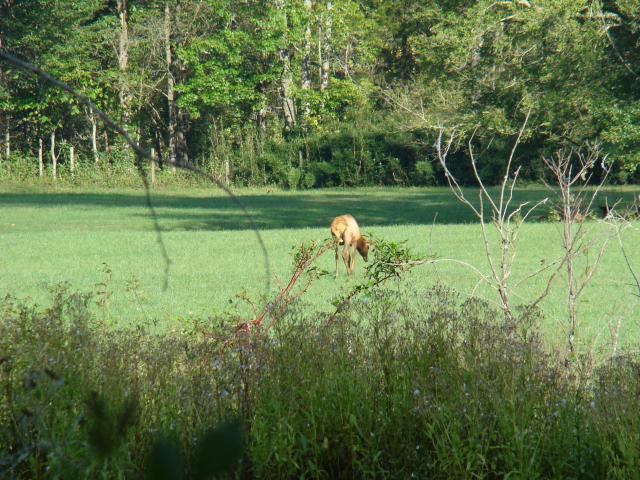 I know you have to look closely, but he does have a rack and the other equipment.

The next day was the car show and we arrived to get in line and admire the vehicles: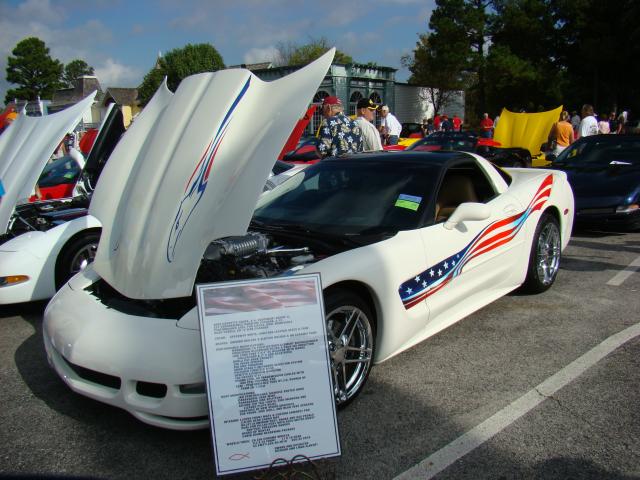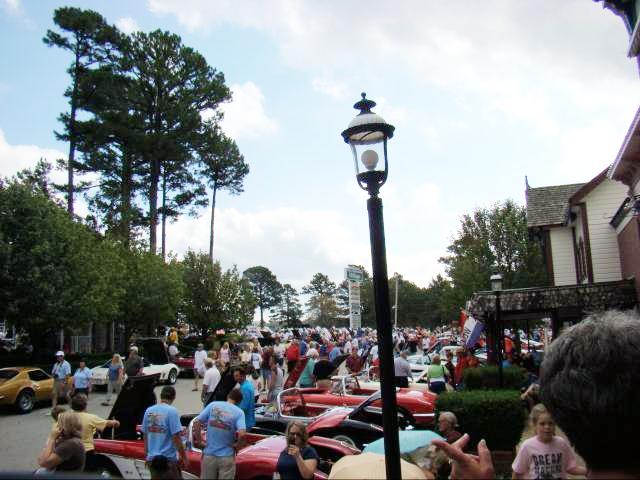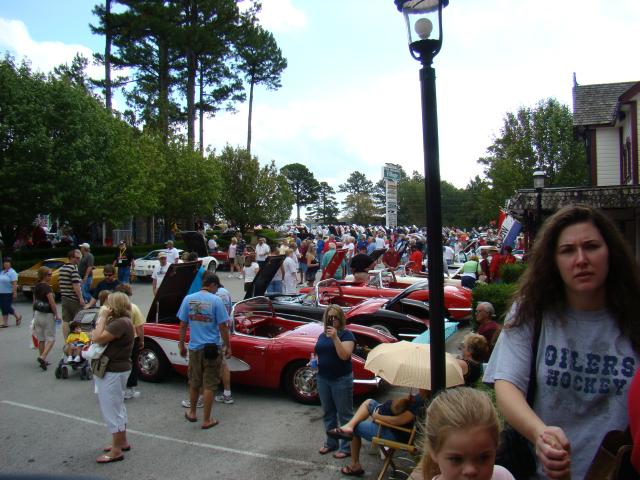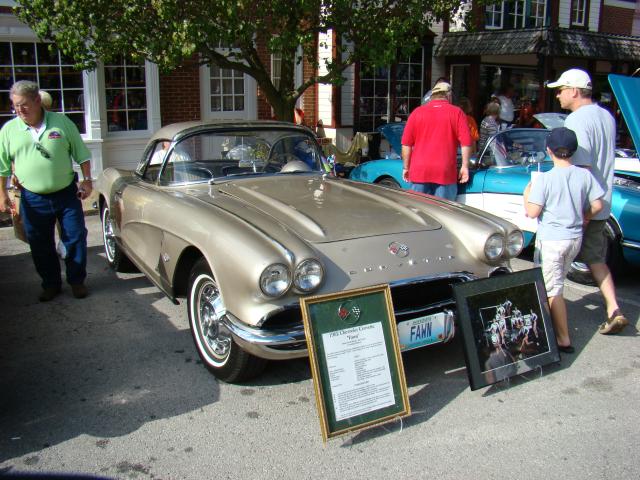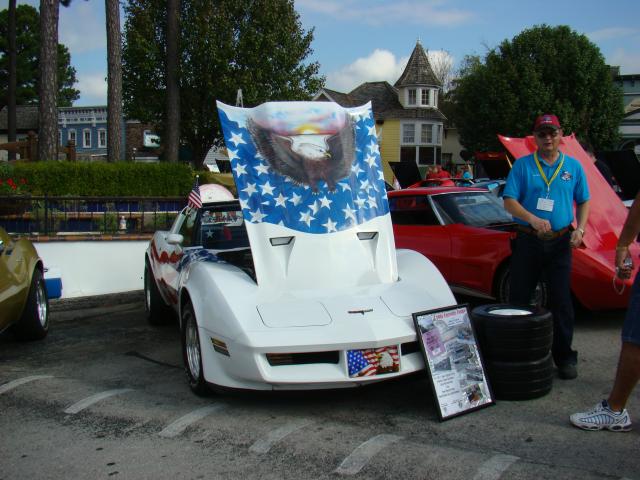 The NCM booth was rocking!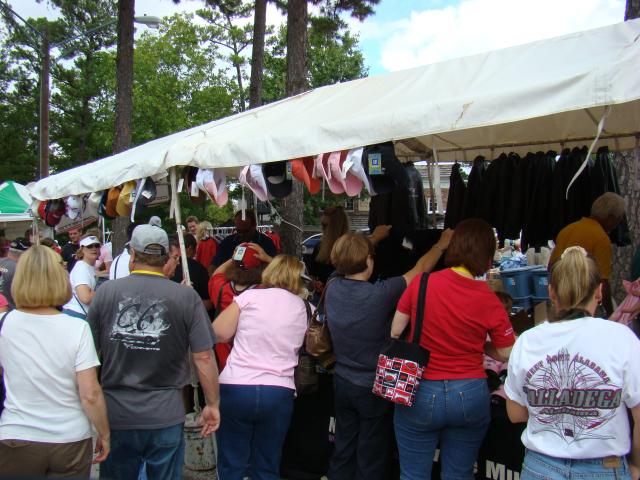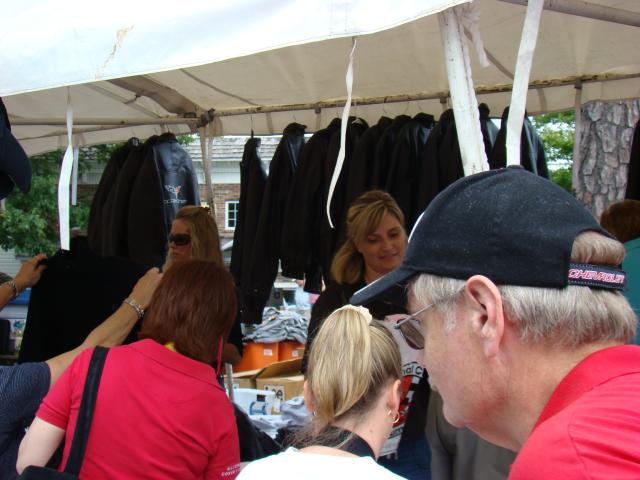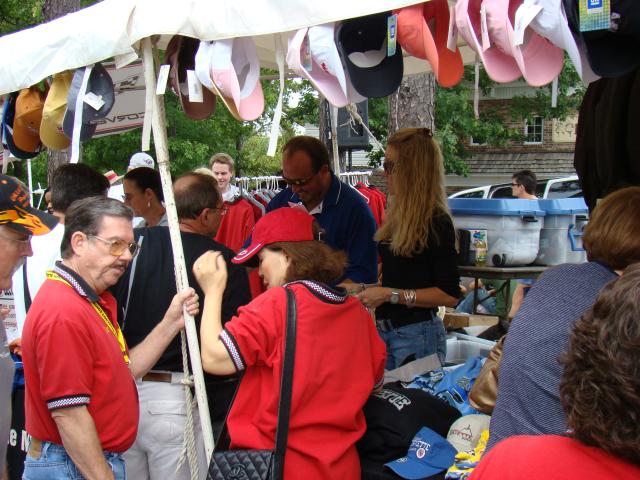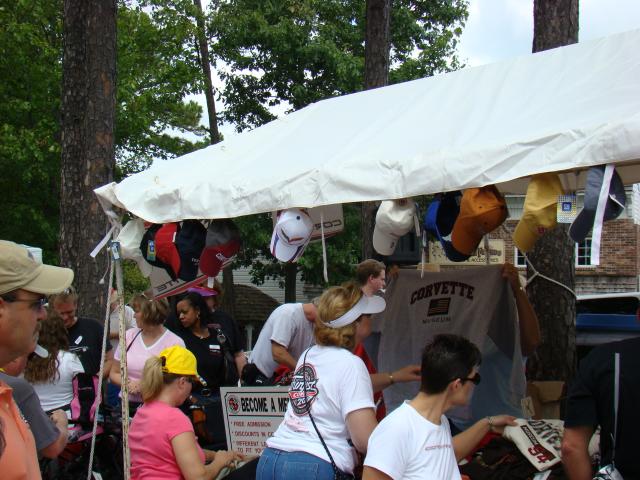 The lines were also long at the Ice Cream Parlor: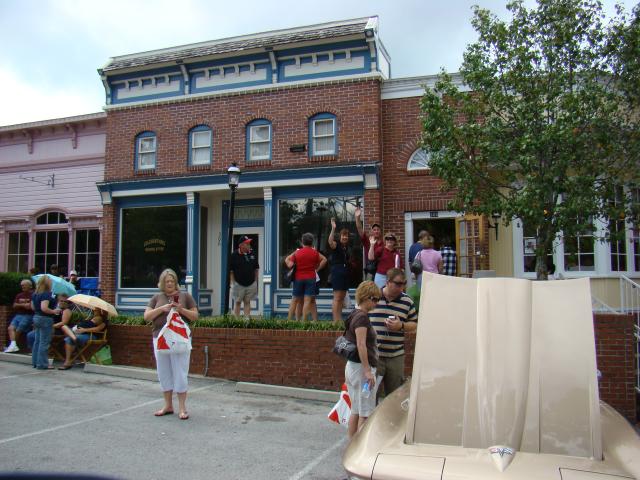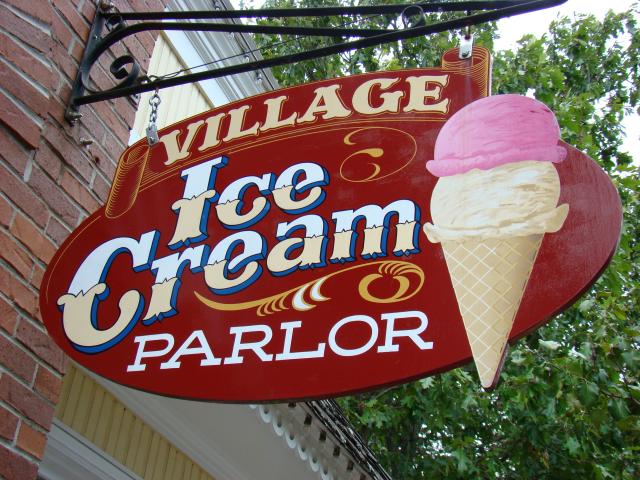 Perhaps one reason was the fact that this one girl had to take care of all the customers: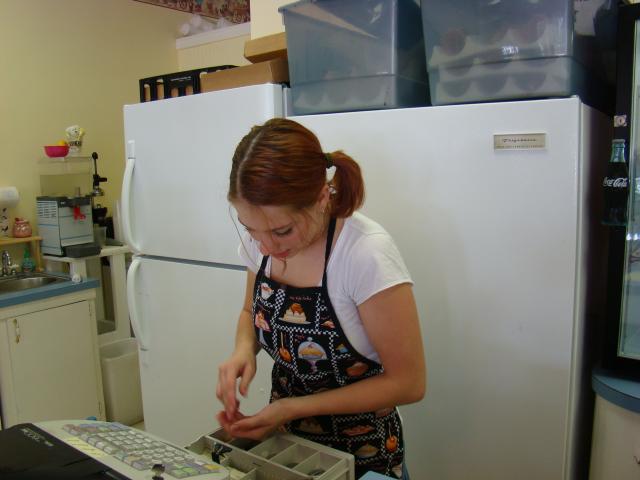 There was a chance to participate in Karaoke, so Bobbie Jo Lee grabbed the mike and went to work: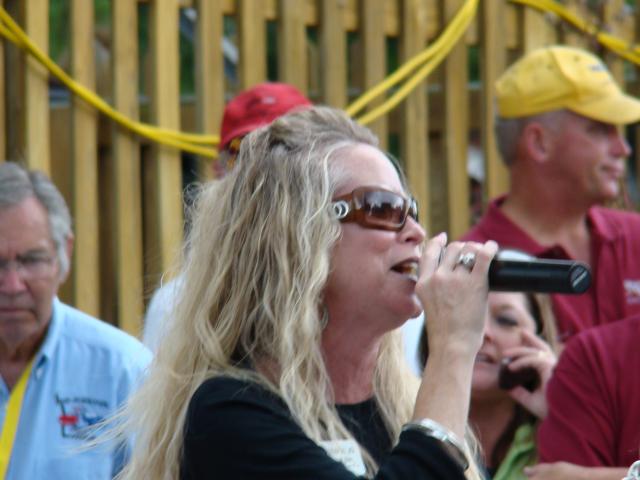 Along came this other singer and caused quite a stir: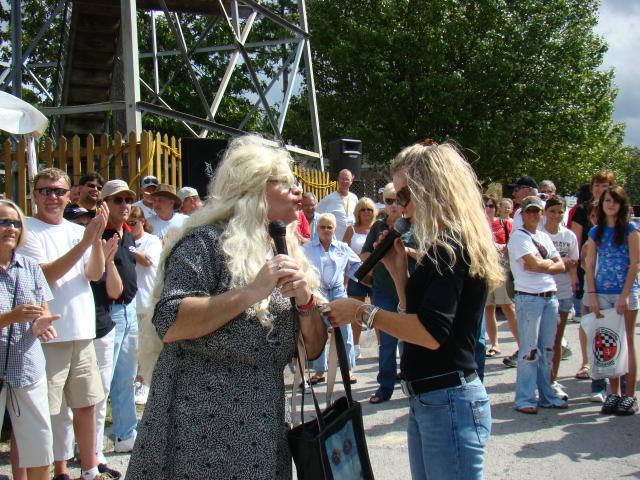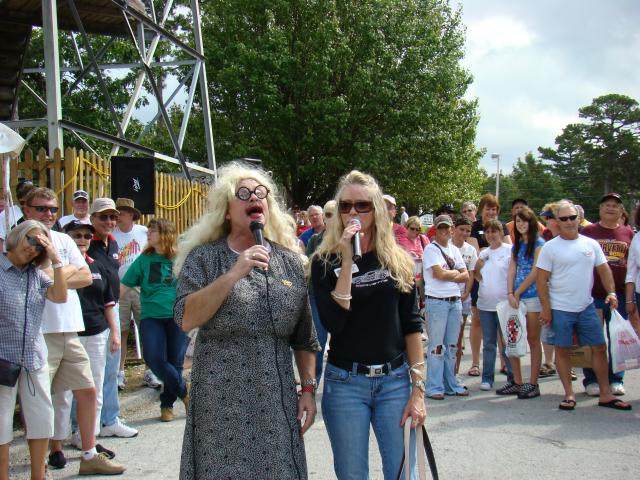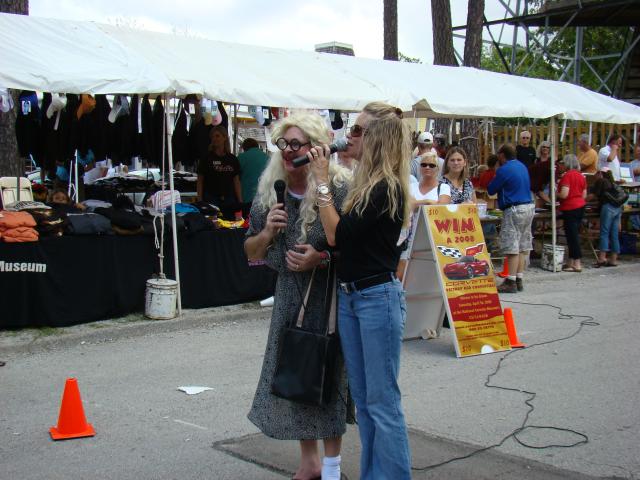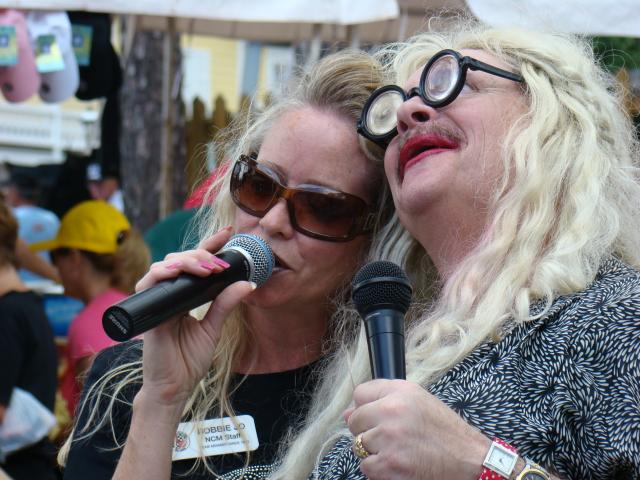 After a song or two, Buzz noticed that John Downs from Texas seemed to be having a good time: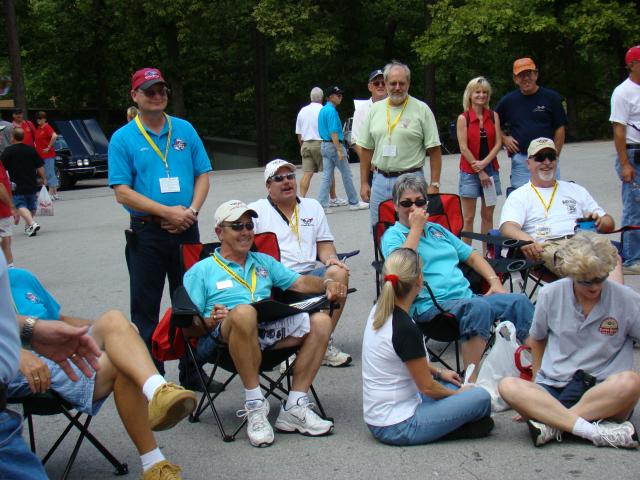 .. and he thought John would like to join in the fun: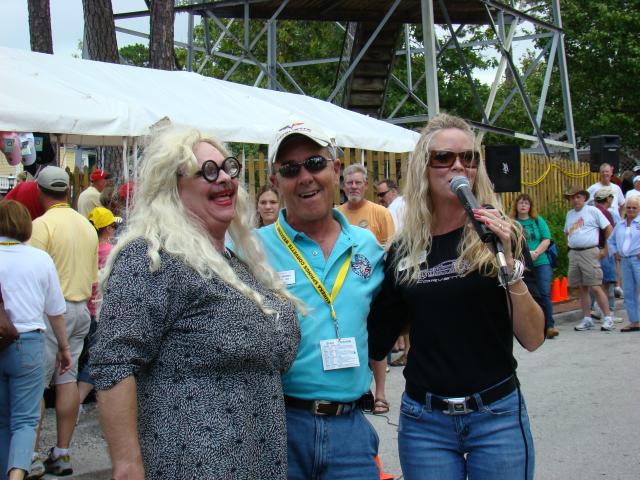 After him, a girl came up and even had the same glasses: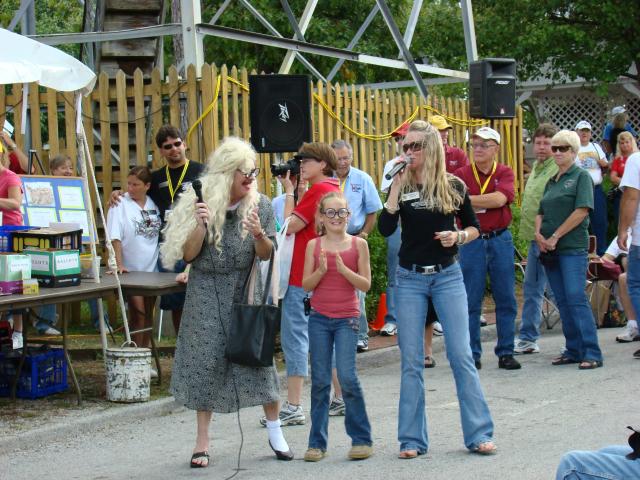 She was such a good sport, Buzz bought her a pink hat for her trouble: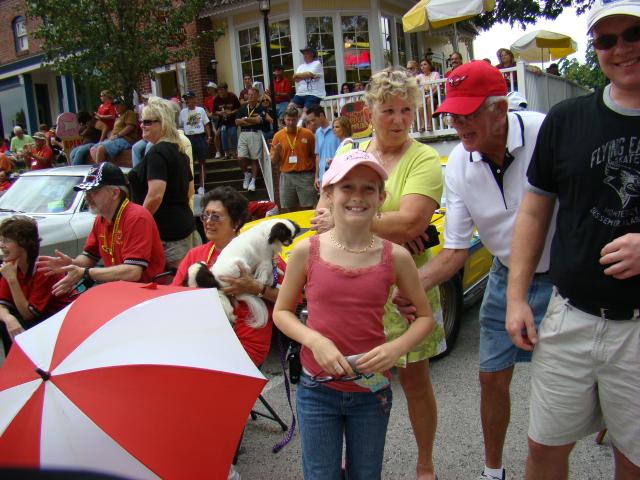 All Madison Morrell could do is look with amazement: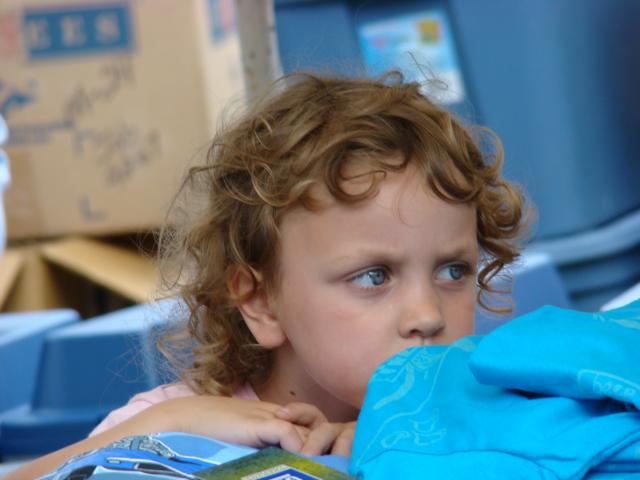 .. and Darrel Lee just adjusted the microphones: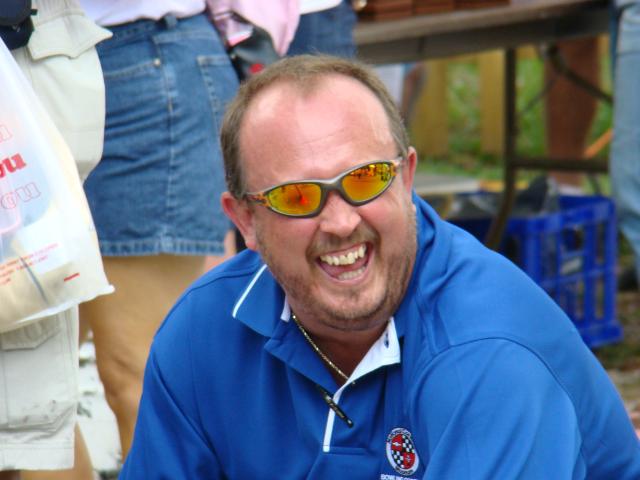 The awards were presented next and Gary & Debbie received the first prize for solving the riddle: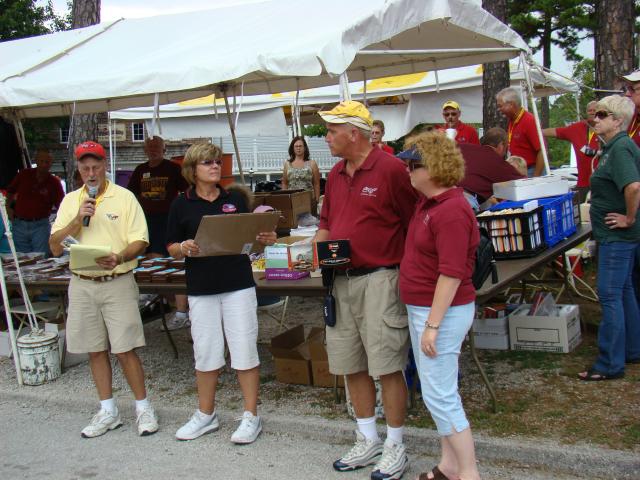 .. a gas gift certificate "Hey guys! Wait just a minute for the camera!":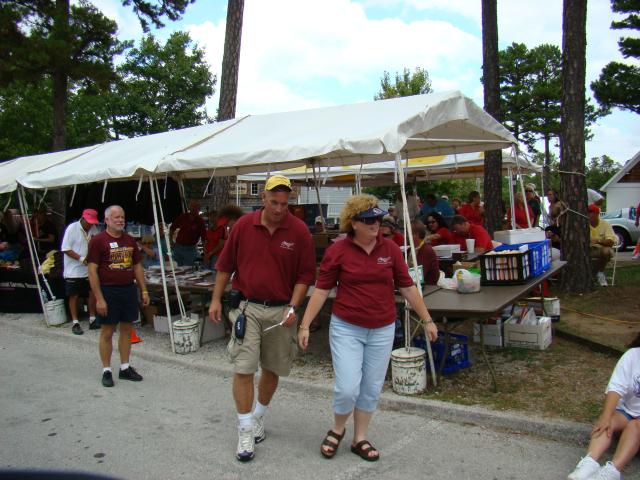 .. and the award for the longest distance traveled: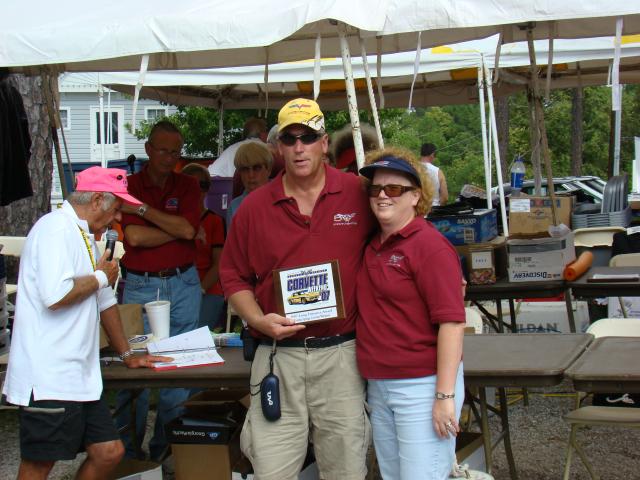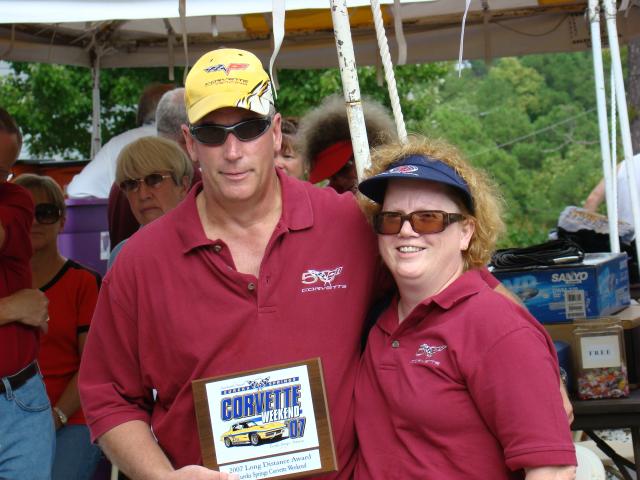 We then went to the High School to join in the poker run. It was off on more back roads and fun in our Vettes. We ended up at a rescue farm for big cats: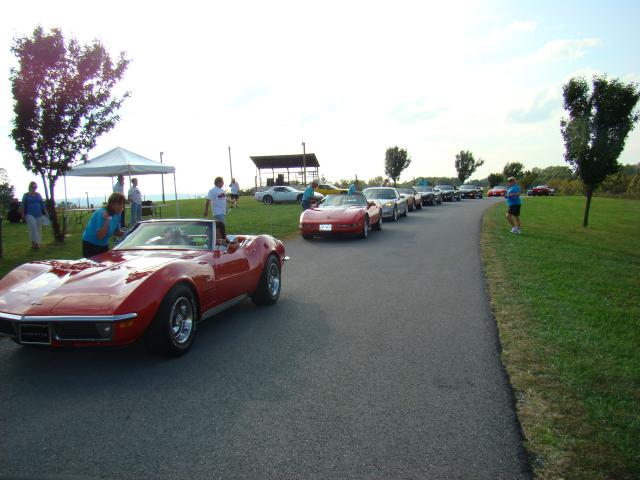 .. and saw this new little one: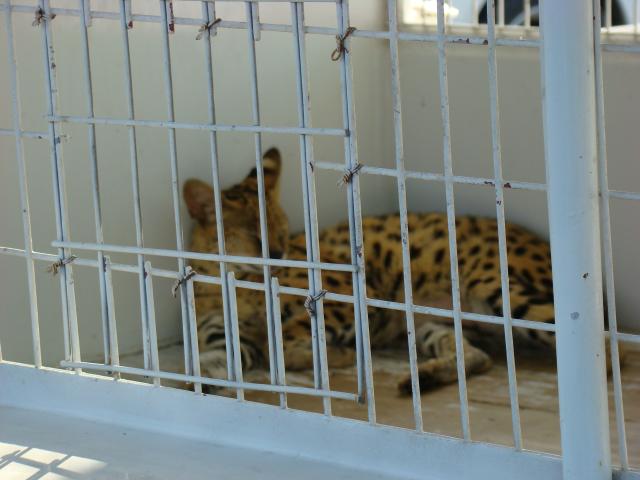 Debbie and Jackie discussed the good times we had: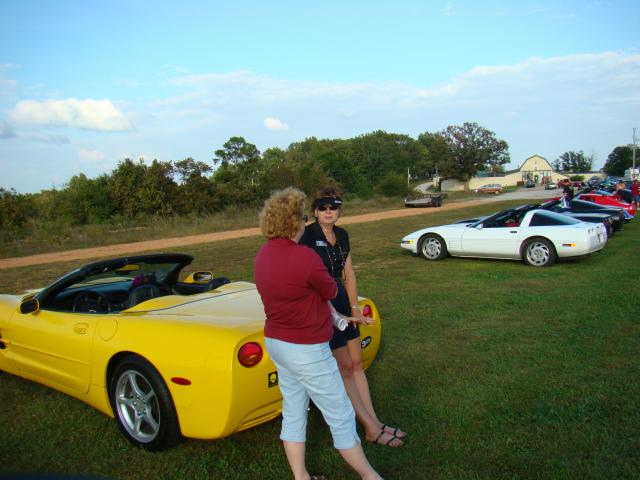 It was off to Bubba's for dinner and up early next morning to head for home. It was another adventure with great cars, super weather and good friends. Save the Wave!
---
Back to our Main Page..