Gatlinburg, Pigeon Forge and Sevierville, Tennessee
We left Feb.13th to drive first to Athens, Ga and take 441 through the Smokey Mts to Sevierville. Weather was wonderful on Saturday, we actually took a ten-mile detour when we stopped for gas, and saw a sign that said "car show". We followed the signs and just kept going and going; well, after about ten miles we decided that maybe we should abort as we still had another six hours of driving to go. Found some more of nice Florida roads.

Arrived in Athens and stayed at the Hampton Inn, a very nice property I might add. Starting off Sunday morning we took our time, the weather was cold around 38 and rainy but this didn't dampen our spirits. We stuck to our original plan and jumped back on Route 441 (this road Jackie found from looking at maps) and turned out to be an interesting way to go. We could not have asked for a nicer road, especially with our being in a 'Vette. It winds up and down gentle hills. The road for the most part had been recently paved so was in excellent condition. As we got closer and closer to the foothills of the Smokey Mts the temperature kept flirting with the freezing mark and we began to wonder if the mountain road would be open. We knew what we would have to do if it was closed, so we weren't too worried. But it was open and the only warning was to be wary of ice on the roads. The drive was great up the winding roads. The bare trees gave you a real feel for the topography as you could really see the ground. In areas there was great amounts of green rhododendrons; we could only imagine how beautiful they would look in bloom. The brooks were full and the sound of running water could be heard. As we gained altitude the roads did get a little slick, and then we noticed patches of white stuff. HMMMM this grew to be interesting. As we rose we noticed that the white stuff was growing with our assent. Doesn't Jackie look cold?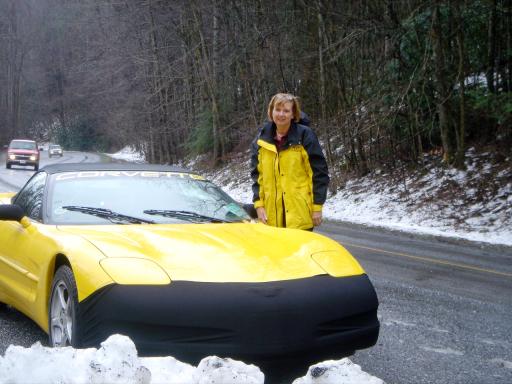 Just a little more pushing and we will be on our way: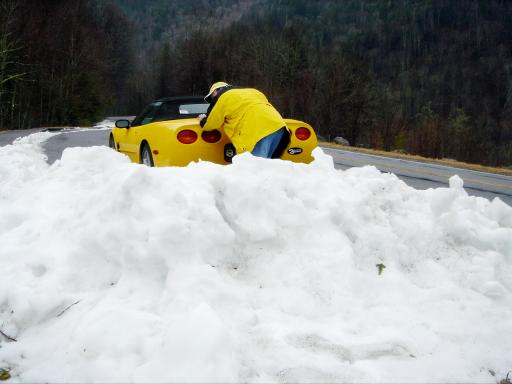 Hey! I remember this stuff: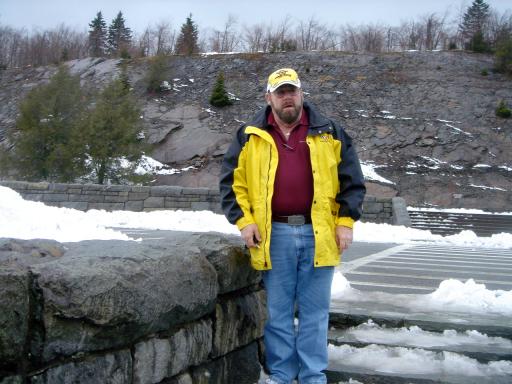 We arrived in Sevierville around 3PM and checked in at the Fairfield at Governor's Crossing. We immediately went to the concierge desk to find out what they had to suggest. Well we jumped in with both feet and decided to go for the Black Bear Jamboree, at 5PM. This meant we just put our bags in our room and basically had little time to freshen up before heading out. This was a great show, one that is appropriate for the whole family: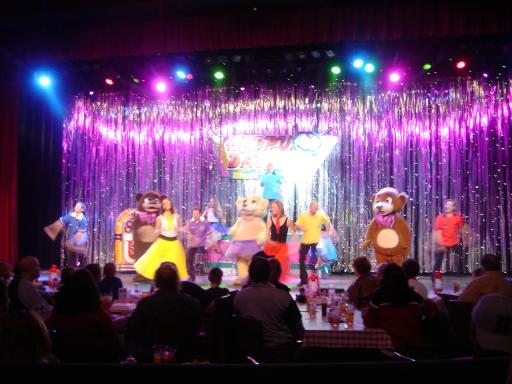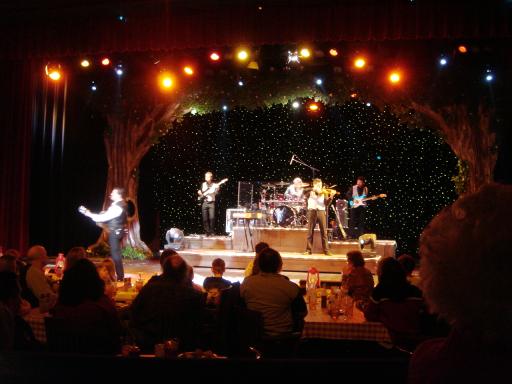 Even the food was good.

Monday

Monday morning the weather was again cool and it was raining so we decided to go to the Boyd's Bear Barn. Well this is an enormous barn full of Boyd's bears. The lower floor has a restaurant and the two upper floors are all retail. There is a nursery for those who would like to adopt a bear, or if you want, you can assemble your own. Of course we walked out with several bags: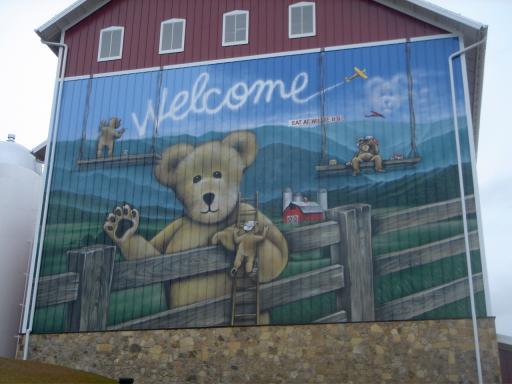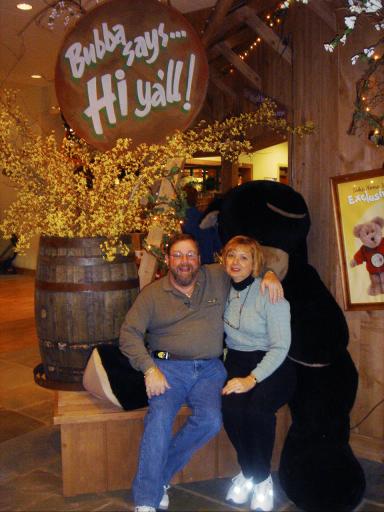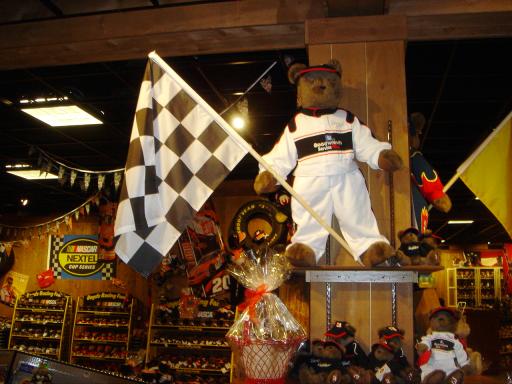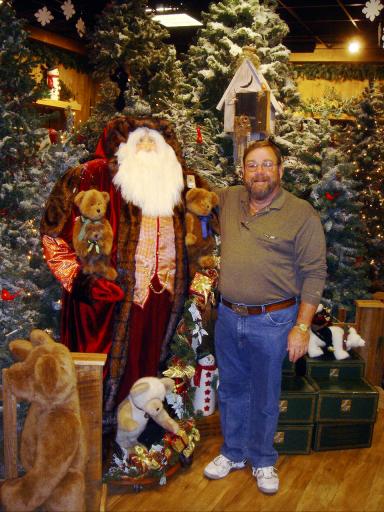 We then took a road into the national park, and ended up at Noah "Bud" Ogle's former home: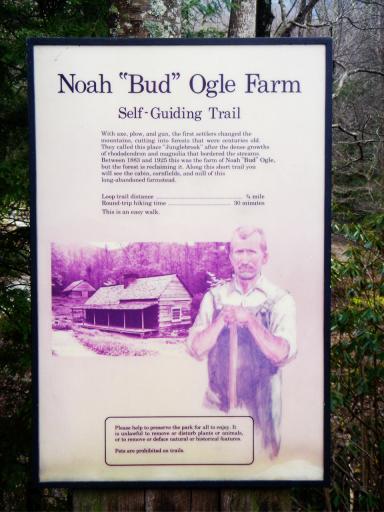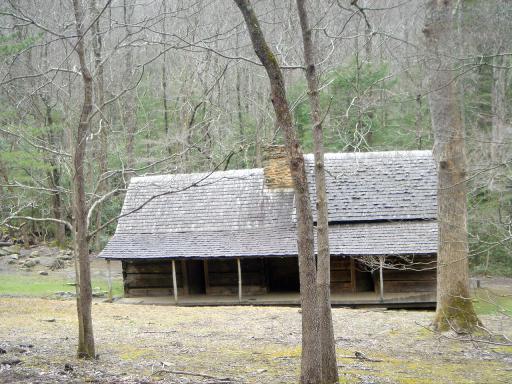 The weather had started to turn nice so we decided to take a nature trail. It was a great walk: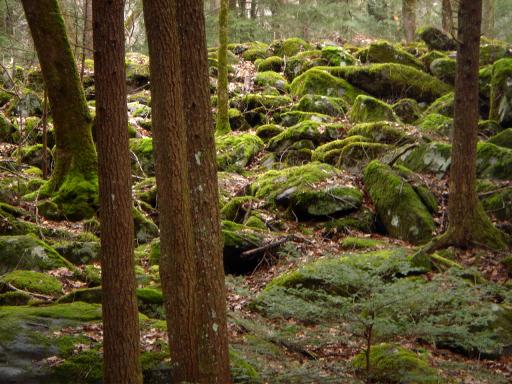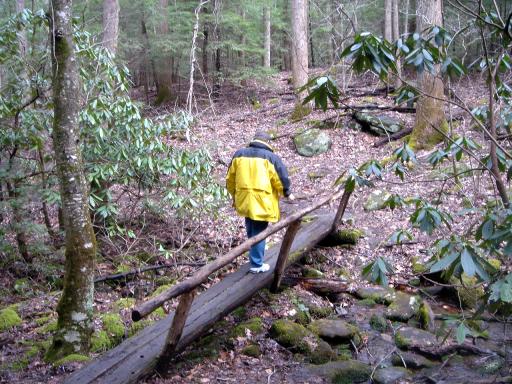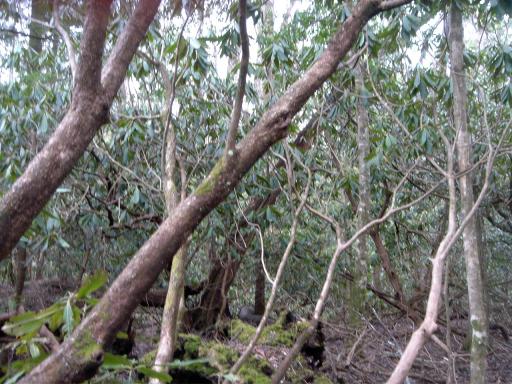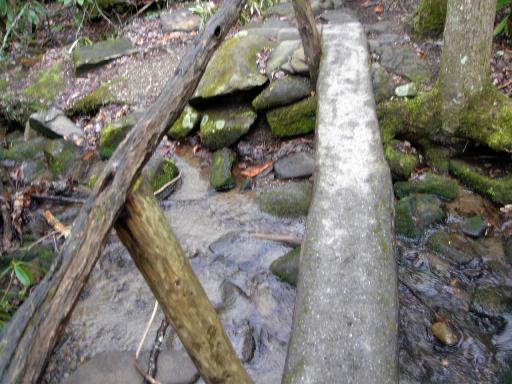 This grist mill was part of his estate: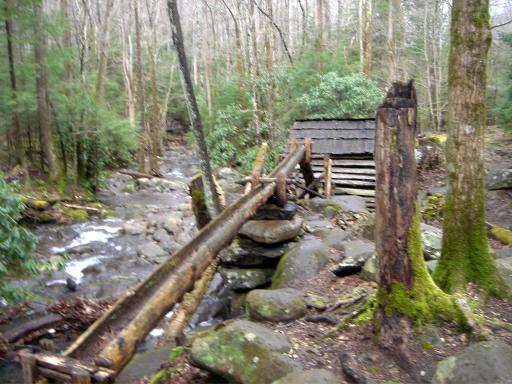 The afternoon brought us to Gatlinburg. As we were heading into town we saw Cooter's Garage from The Dukes of Hazzard and just had to stop in: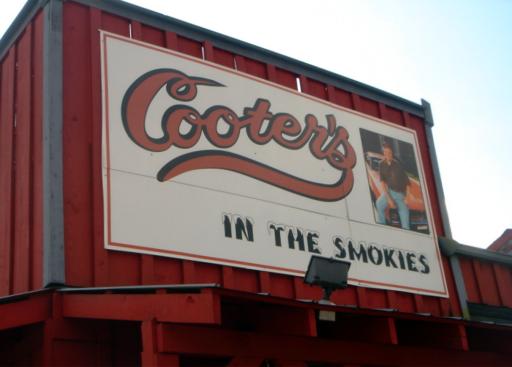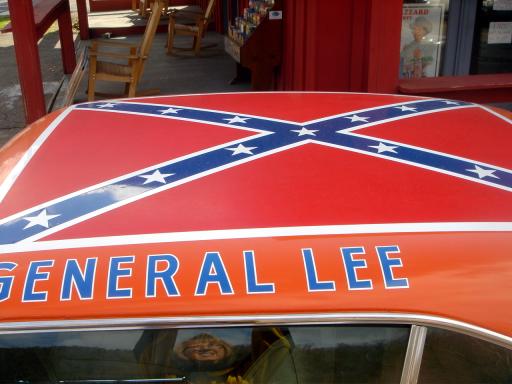 We walked in and were surprised to see Sonny Shroyer aka "Enos" in the flesh sitting behind a table and signing autographs, so we had to get one and take a few pictures: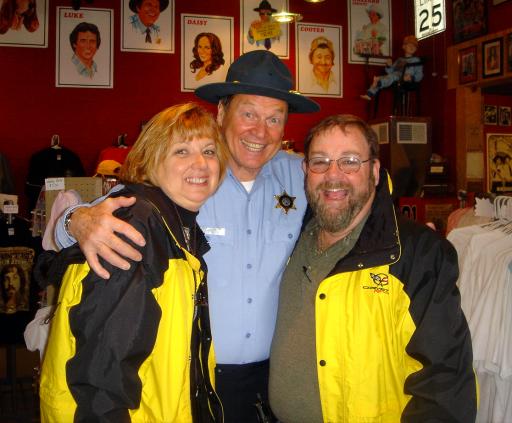 Ben Jones aka "Cooter" was in Texas; however, we had the pleasure of talking to his lovely wife. As we continued down the main street of town we saw a couple we knew crossing the street. Here we are in TN, and we see people we know from KY. After parking we again saw them. Bob and Lavone Hellmann were here spending their honeymoon in the mountains since they had just gotten married on Saturday. Of course we wished them well: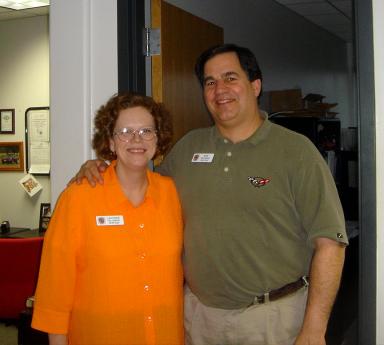 We then proceeded with our sightseeing, or should I say having some fun. First stop was Ripley's Haunted Adventure and this I would rate as a poor attraction. It was not very frightening.

Next was Ripley's Movie Adventure which was much better than the haunted attraction. We really enjoyed this one. It consisted of two, seven minute 3-D movies, and was a fun attraction. In our opinion this was worth the ticket fee.

Afterward we just walked the streets. There are many many shops and we found our way into a few.

For dinner we decided to take in the show at the Dixie Stampede, a Dolly Parton production. This was another show that we would highly recommend. It is not something you do everyday. Don't get dressed up, as you get no utensils for your food. It is all finger-lickin'-good. We did enjoy the meal. The show was well done and got the audience involved.

Tuesday

This was supposed to be the nicest day of the week so we chose this day to do "The Tail of The Dragon". Buzz's friends, Ed Merchut and Mike Nostro, had told Buzz about this run. Well he just had to find a way to get here and give the road a try. We were staying in Sevierville so jumped on 441 to 321, to the Foothills Parkway and then took a left onto 115 which turned into 28, where we entered the tail of the dragon; it was a perfect day. We stopped for water and an ice cream at a small store called Friendly Fields General Store. The shopkeeper was from St Petersburg and has now relocated here: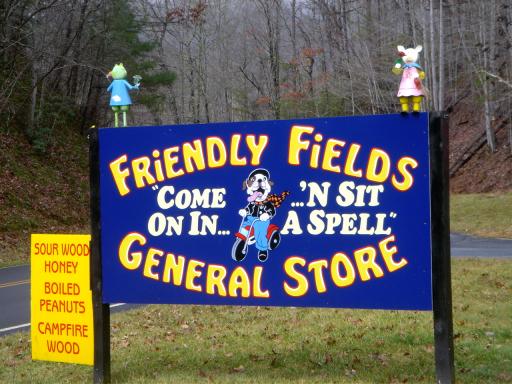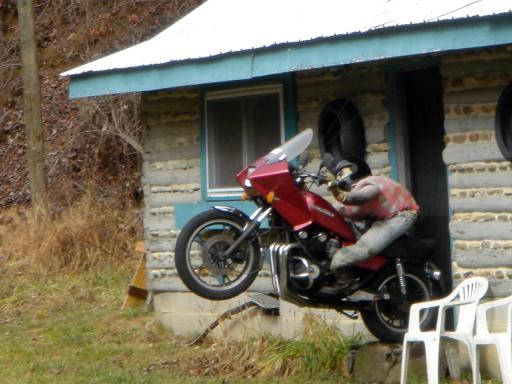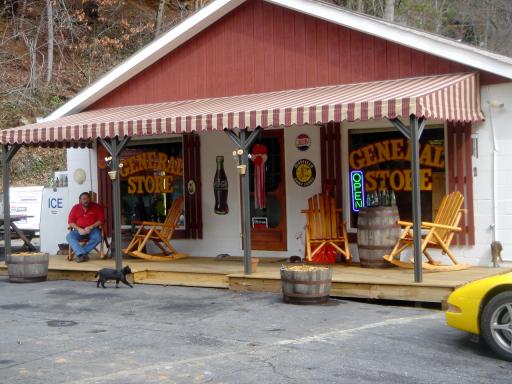 He told us about a department store in Robbinsville. After ending up at Fontana Dam we continued along 28 until we came to Rte 143, we decided to take that to Robbinsville. As we found our way to the center of town we located Snyder's Department Store: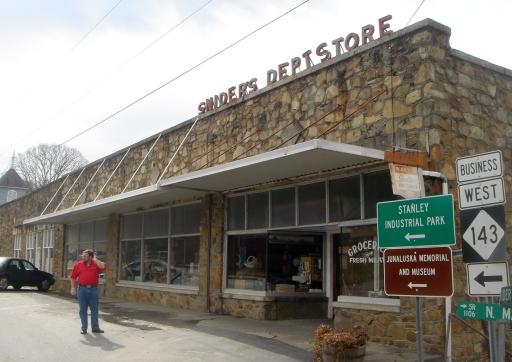 This place was amazing. It certainly threw you back in time. This store had everything you could possible need. From sewing needs, fabric, needles, pattern, to plumbing pipes, to shoes, socks, hat, brooms, some groceries, and you name it, sinks, toilets, etc.: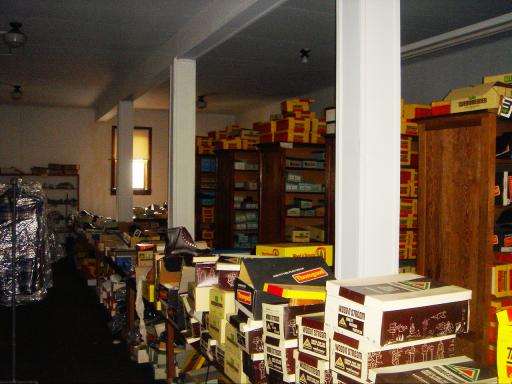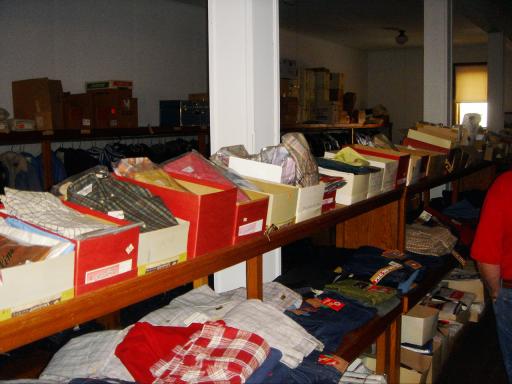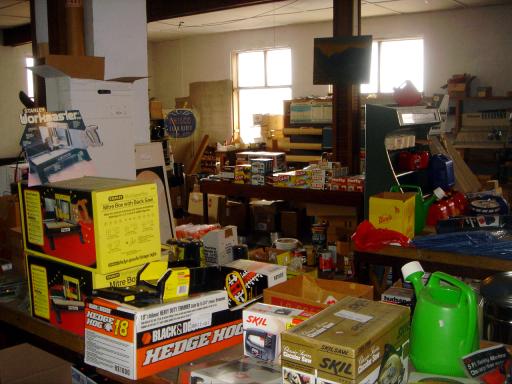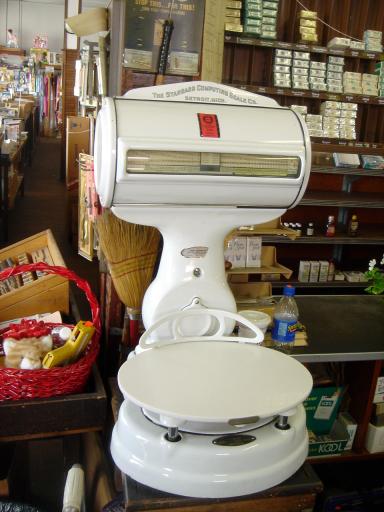 The owner, Ms. Snider was there to greet us:
A pleasant lady she is. She told us to make ourselves at home and just look around. Once we finished the upstairs she told us where the light switch was and to go downstairs: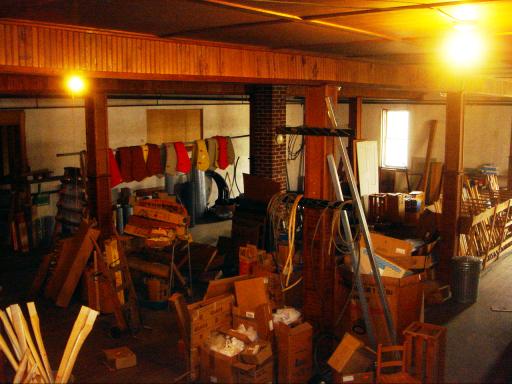 Ms. Snider told us that the store was niney years old and she had been there for eight-three years and she is still going strong. A woman with a strong will.

We ate a light lunch across the street from the department store at Lynn's. It was a fine place to eat. As we were leaving town we stopped at biker place called Mountain Motors to pick up tail of the dragon souvenirs: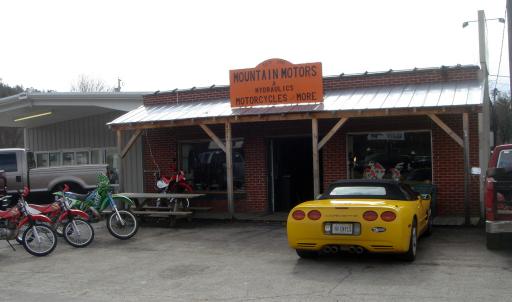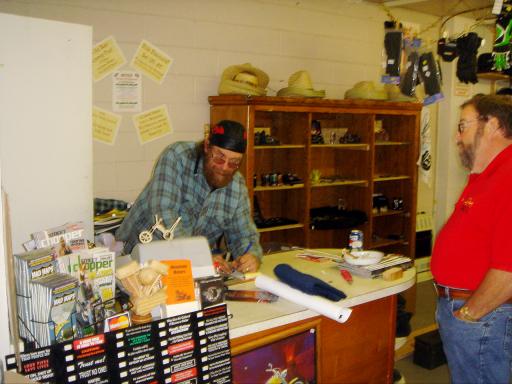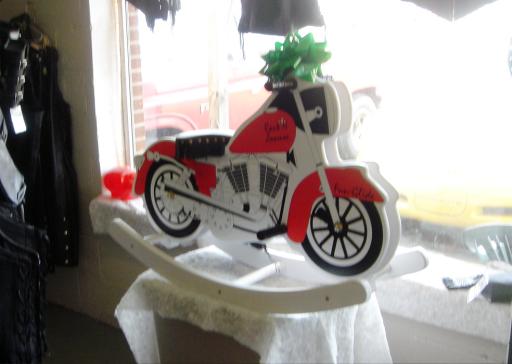 We then left to make our way back to Sevierville. We were both looking forward to doing the tail in the opposite direction. We took 129 north out of Robbinsville until we met up with 115 and we were on the tail: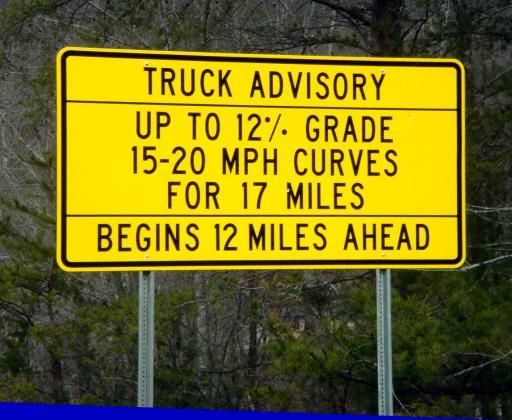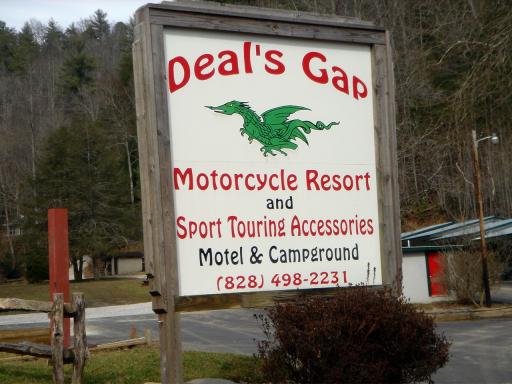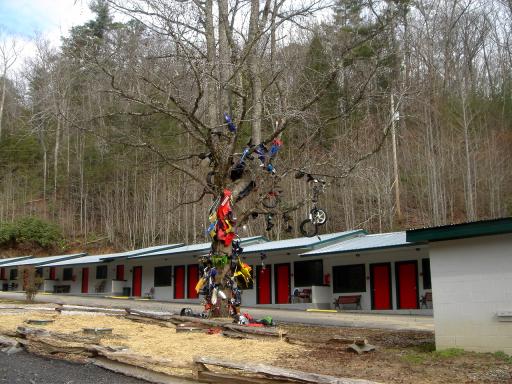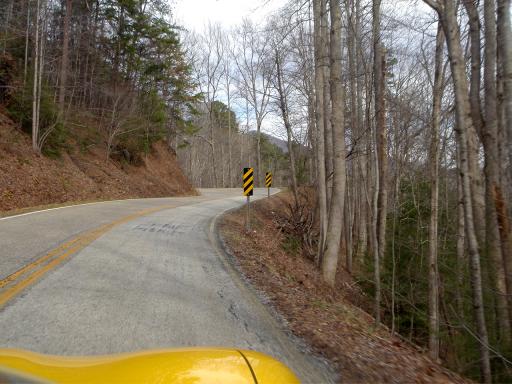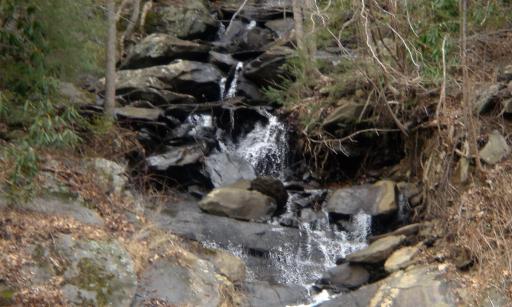 This road has turns of every kind; the road is well paved and banked nicely. After talking with others that have made the run, we were once again glad that we were doing this off-season. There were only a few other vehicles that we passed along the way.

Upon entering town, we decided to go to the Apple Barn for dinner. Our good friends, Bill and Linda McKenzie, had told us this is a must stop for us. Dinners are inexpensive and the food is what I would call Tennessee comfort food. The place is quite a complex, with a winery, Christmas store, candy store, and ice cream store and also a small area where you can just purchase apple desserts. A very nice place to visit, once or twice or more if you so desire. Unfortunately for us the main areas close at 5:30 so we just had dinner and planned to go back again to take in all that we missed.

Wednesday

We decided to do breakfast out at one of the many pancake houses. Well, for my vote, Cracker Barrel has it way over the Great American Flapjack place. The weather was a bit overcast and with chances of rain. We decided to go to Cade's Cove. This is a historical village within the Smokey Mtn. National Park. The ride there was very nice. Well-paved winding roads, much of the time with a fast running brook along side the road. When we came to meadows, there were herds of deer and we even passed a couple of wild turkeys: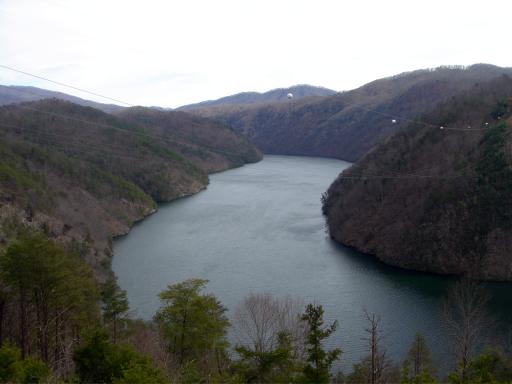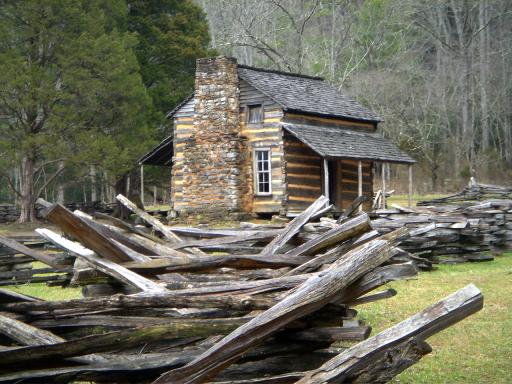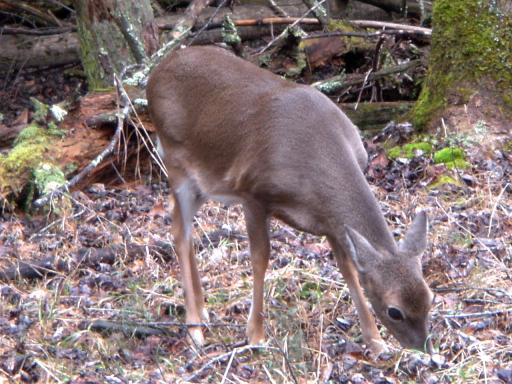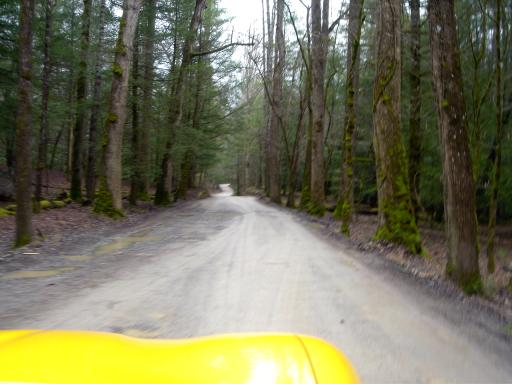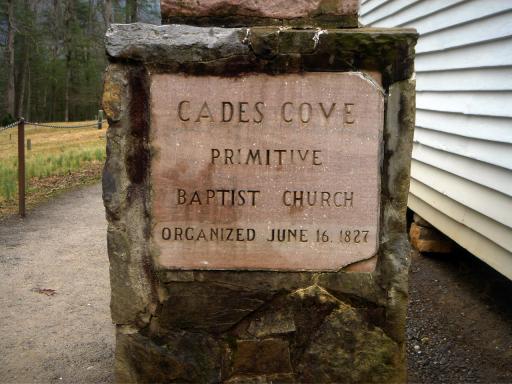 The buildings were in good renovation. About half way through there is a tourist center with some knowledgeable staff: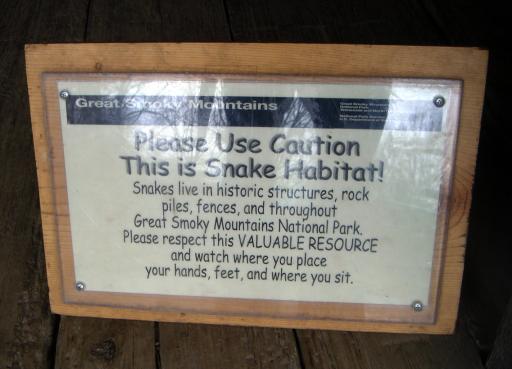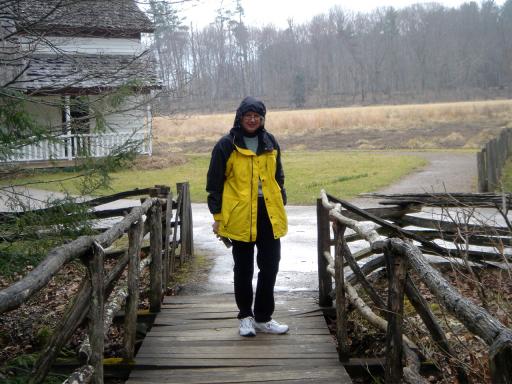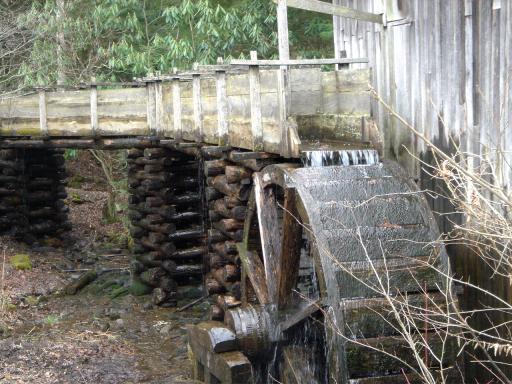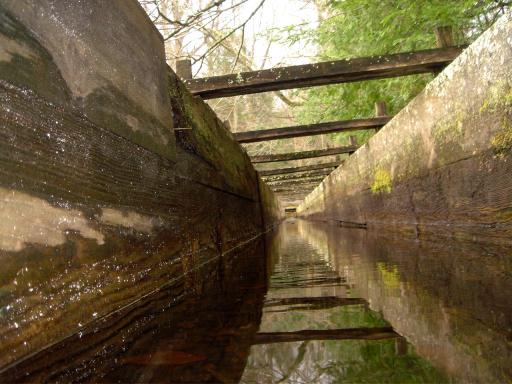 It was hard to believe that a community of about 670 people had four churches at one time.

On the way back to Sevierville we stopped at a place called Mamaw's for lunch. This was a very low key local type place. The food was home-cooked, good and reasonably priced. What more could you ask for.

After returning from the Cove, we did some touristy things like oh well maybe shopping. There are many places to check out. We did find a few purchases to take along with us. After trekking through shop after shop we decided it was time for a snack, off to the Apple Barn. First we checked out all the shops that were closed the day before, picked up some wine for the McKenzie's and then had a deep fried apple pie and ice cream. Mmmm, good! Now that we had more energy we could shop some more.

Buzz mentioned that he was in the mood for Italian. Out came all the brochures to see if any Italian restaurants were mentioned. We finally found one that sounded interesting so it was off to find the Gondolier. It turned out to be a great choice. Not only was the food absolutely delicious, but the value for your dollar was exceptional. The service was great. We came away very full and extremely satisfied patrons.

Thursday

First on the agenda was getting our yellow bird a bath. We had cleaned her once, but now the weather was cold, at least for us (it was in the 40's) so it was off to an automated car wash. After waiting thirty minutes in line, the employee tells us that they can't put our car on the line. She is too low; they will have to hand wash her for a rather hefty extra charge, of course. Well we went for it as a clean car is very important to us. So after being there for about an hour and a half we drove out with a nice clean shiny inside and out car.

Onto the touristy stuff once more, Ripley's Believe It Or Not was first on our list. This was definitely a fun place to visit. It contains lots of interesting tidbits from all over the world.

Next was the Ripley's Aquarium. This was a very interesting aquarium, nicely done. An interesting feature was the tunnel under the tanks, with a people walker next to the windows. Super idea: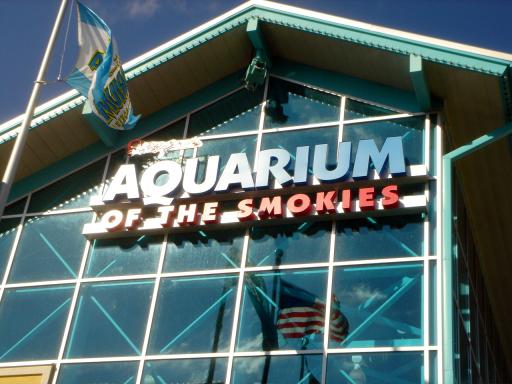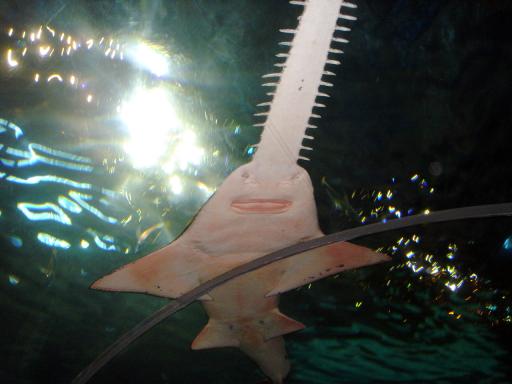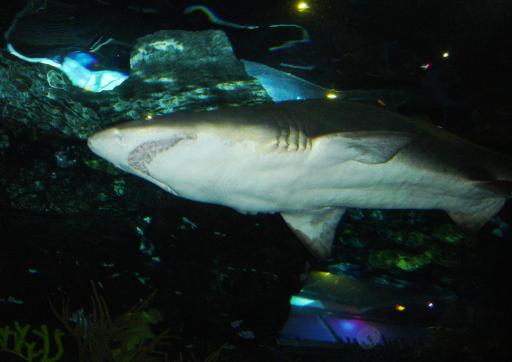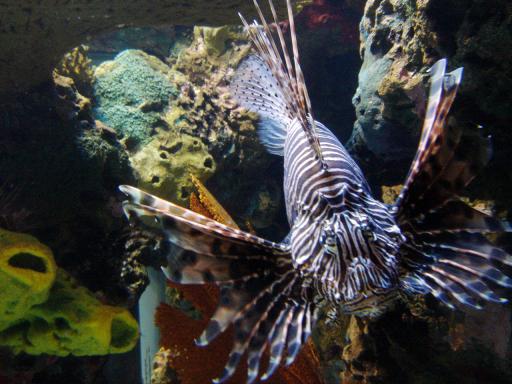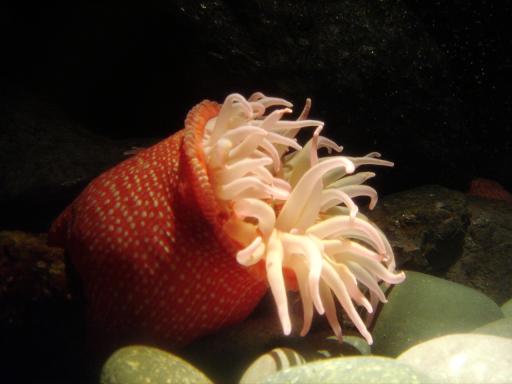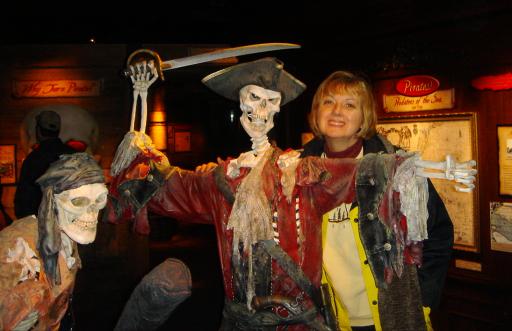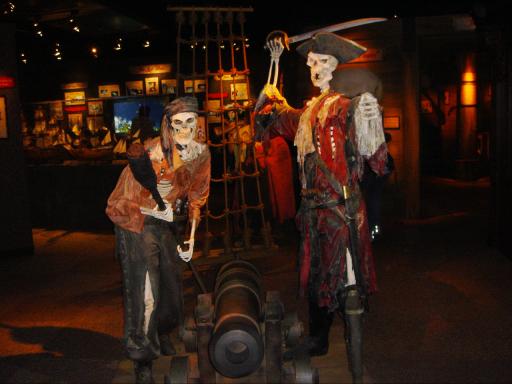 We enjoyed walking up and down the main street of town.

Dinner was at the Rocky River Grill & Brewery, which had really great food.

After dinner we went to a show at the resort by illusionist Terry Evanswood. It was fun. Sleight-of-hand is always amazing. We thoroughly enjoyed the show: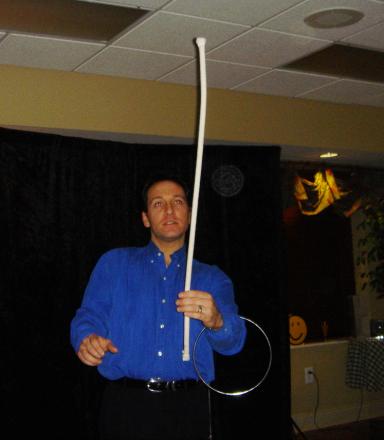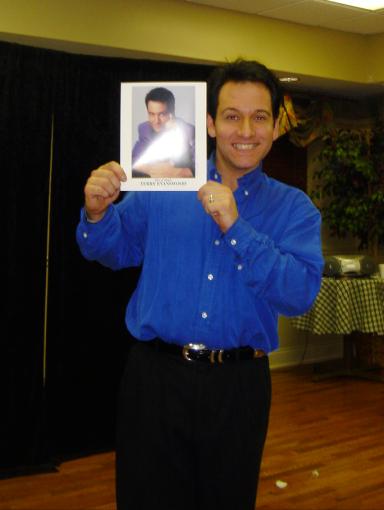 Today is the day that Sarah handed in her resignation to pursue a new career in the Big Apple on Madison Avenue, so we spent a lot of time on the phone to her. Way to go, Punks!!!!!!

Friday & Saturday

We spent these days doing the things all good visitors do and resting a bit. Although we did find a really neat muscle-car museum in our travels around town: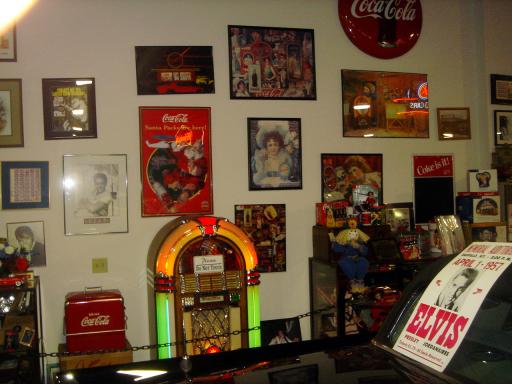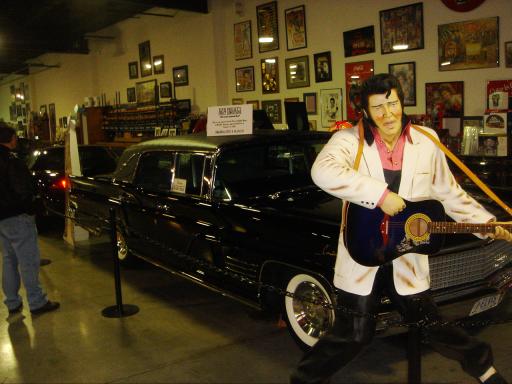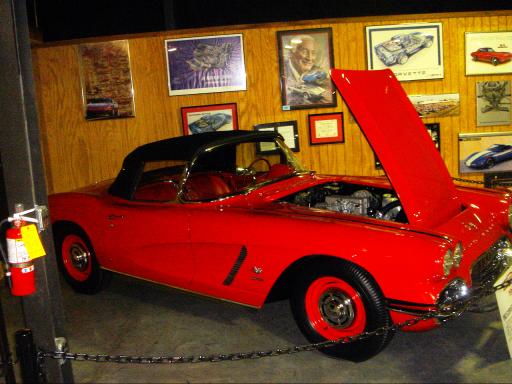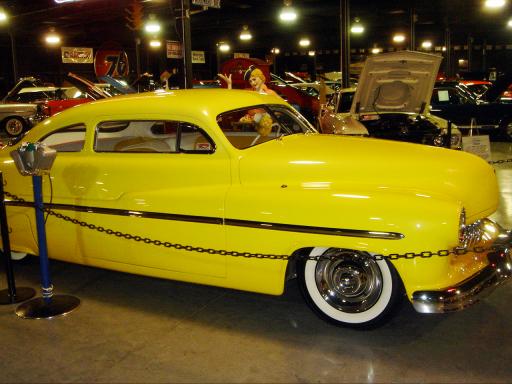 We also stopped to eat at the NASCAR Café and that was an unexpected treat: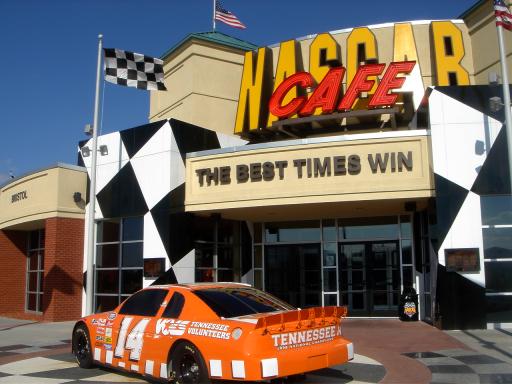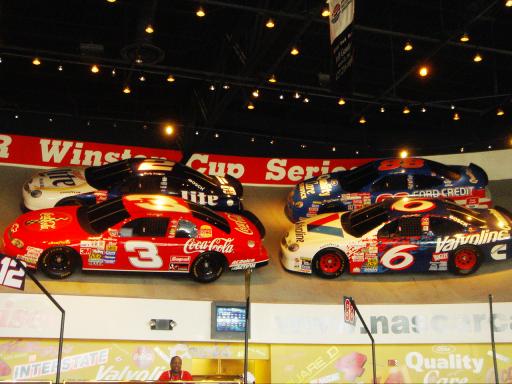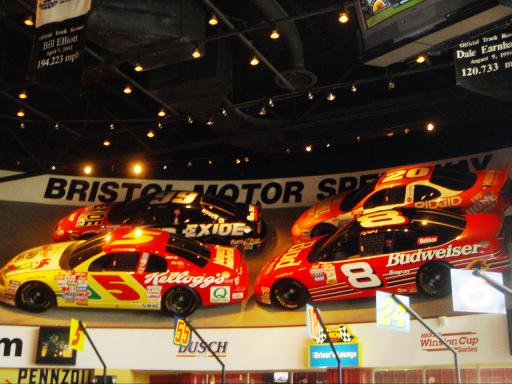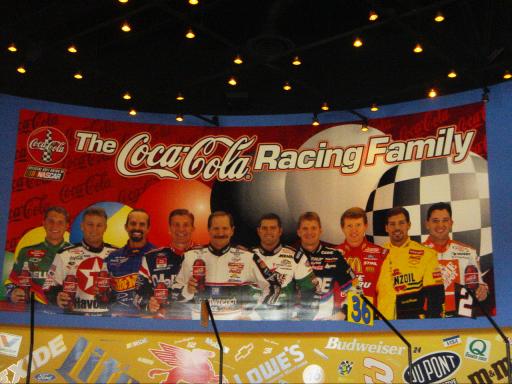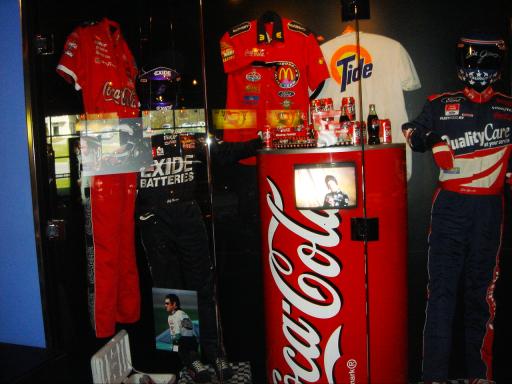 Sunday

Today found us getting up and driving to Bowling Green, KY for a board meeting of the National Corvette Foundation. We arrived in time for a dinner at Holiday Inn University Plaza and a good night's rest.

Monday

I went over to the NCM early for our meeting and was very surprised to see Will Cooksey show up in a brand new C6 Z06: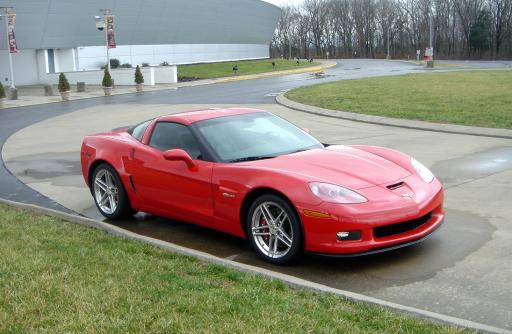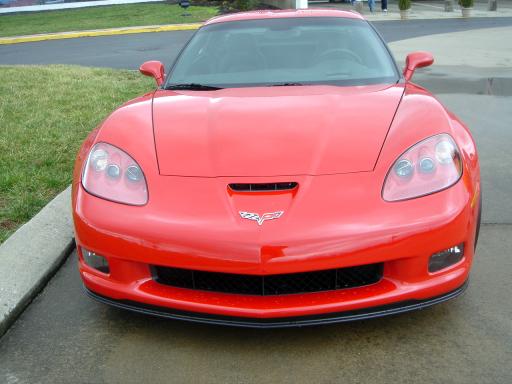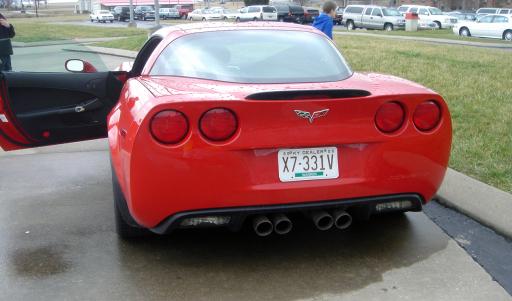 When Jackie arrived to pick me up she asked if I had opened the door on her 2000 C5 and when I answered no, she informed me that there was a big leak on the driver's side. I decided to try and get it fixed and was pleasantly surprised it have it taken care of: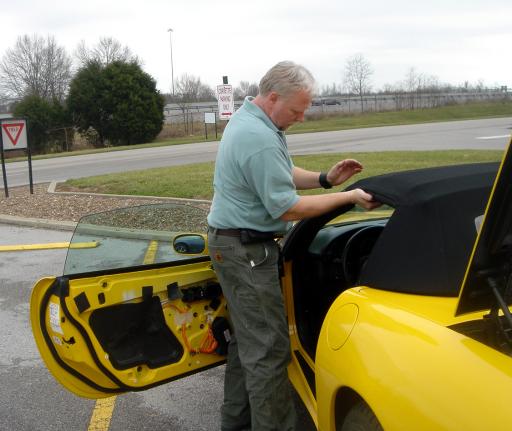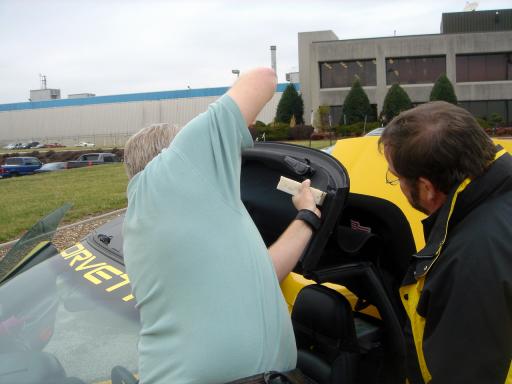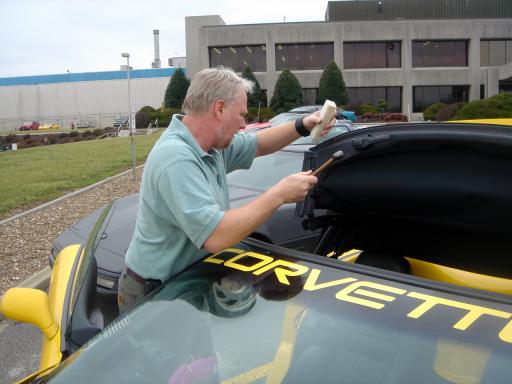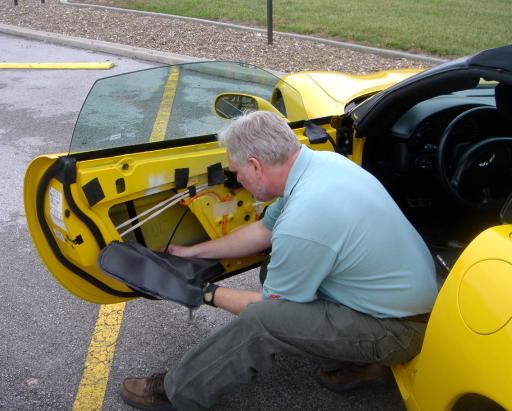 All in all this was a very good mini-vacation & business meeting.

---

Want to see the rest of our site? Click HERE..