Caribbean Cruise - February 2008
Once more we headed off to cruise the Western Caribbean with our daughter, Sarah and close friends and Corvette owners from Connecticut, Gary and Debbie Lathrop. We have been on many trips with the Lathrop's and have had only great times together.

Sarah, Gary and Debbie arrived on Friday and we left early Saturday morning for Ft. Lauderdale and Princess Cruises. Since we decided to take one car, we looked like the Clampetts moving to Beverly Hills: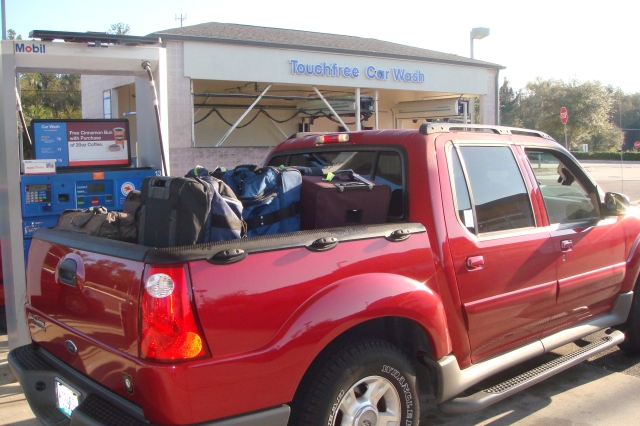 We traveled on somewhat back roads and as we went along Jackie wanted to see Lake Okeechobee. Since it was time for a rest stop, we pulled off at a place to see the lake. After a hike up a small hill, we looked in amazement at not much: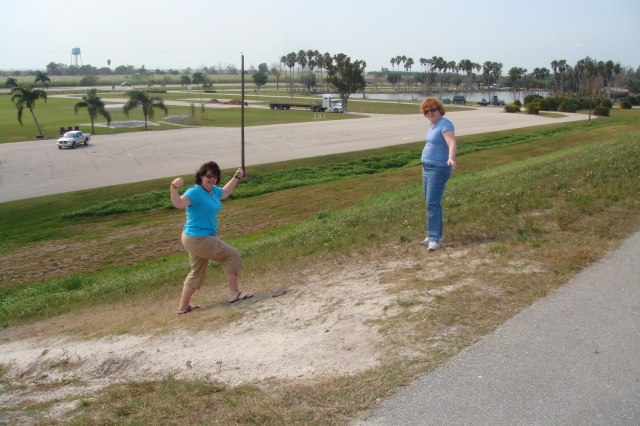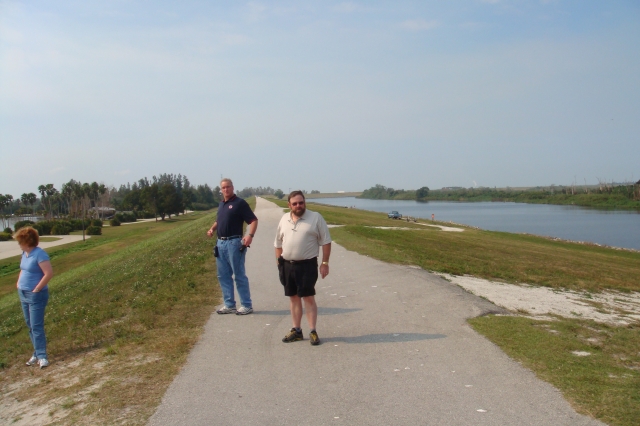 Oh well, it was a good thing to get out and walk. From there it was a pretty uneventful trip to the ship.

Once onboard we found our rooms, did the obligatory emergency drill and headed up to the Neptune's Reef & Pool Deck for the Ja'Maican Me Crazy Sailaway Party. As you can see, we did enjoy ourselves. Even Buzz got a little loose: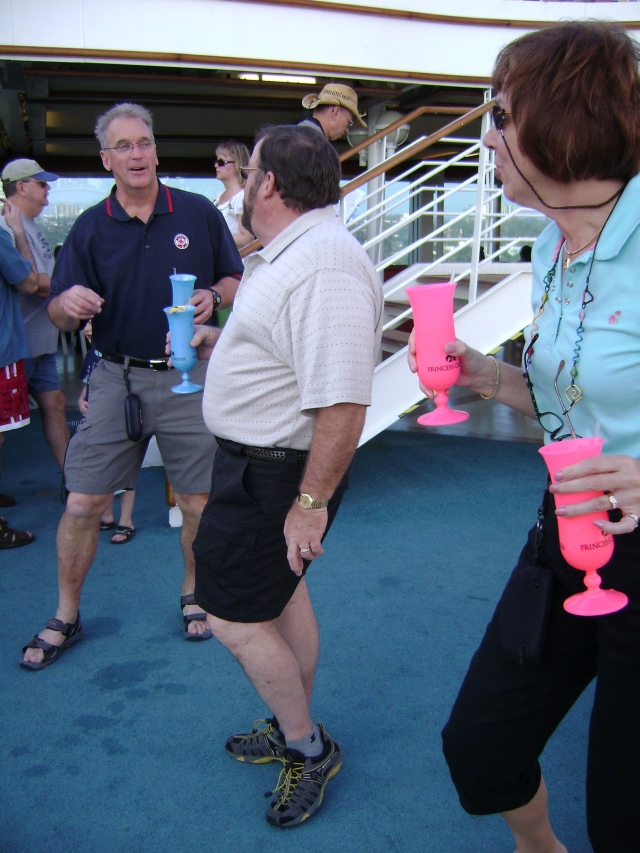 The next day was spent at sea and we all just relaxed and had fun. Gary had to find a place to watch the Super Bowl, since in his mind "The Pats had to just show up and win!" Well, the Giants had a mind of their own and they proved that everyone can have the game of their life at any time. Oh well, Gary, there's always next year.

Monday was our day in Jamaica and also happened to be Sarah's birthday. She has always wanted to ride horses in the surf, so Jackie took her on a chance to remove one of her "Bucket List" items. She was very, very happy when she returned!: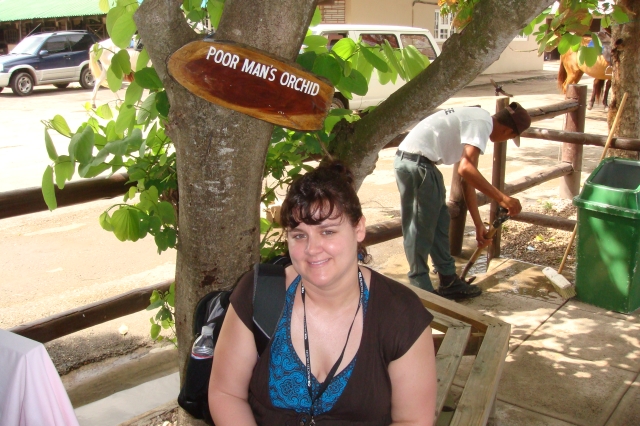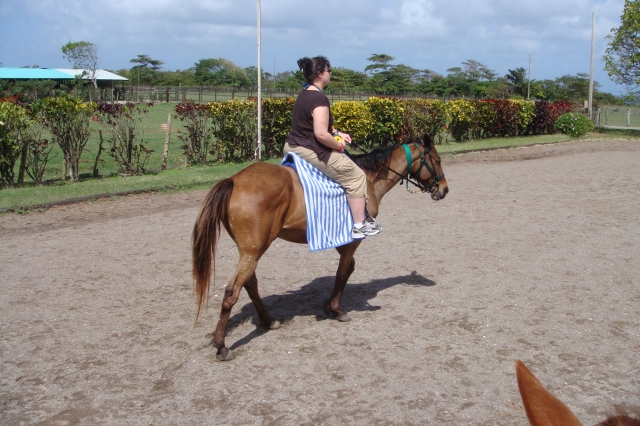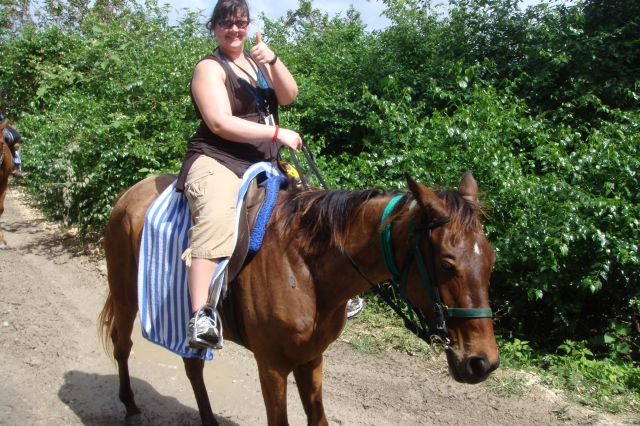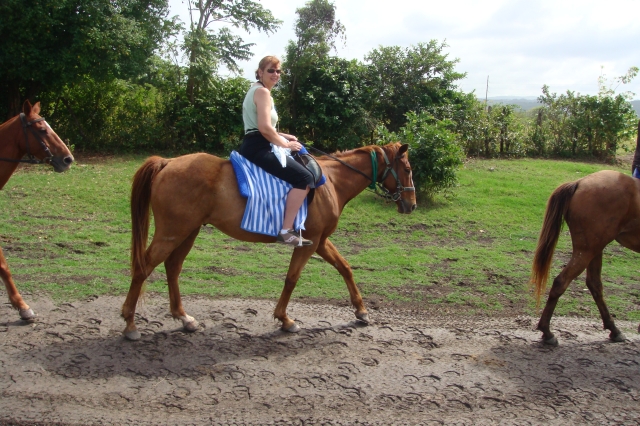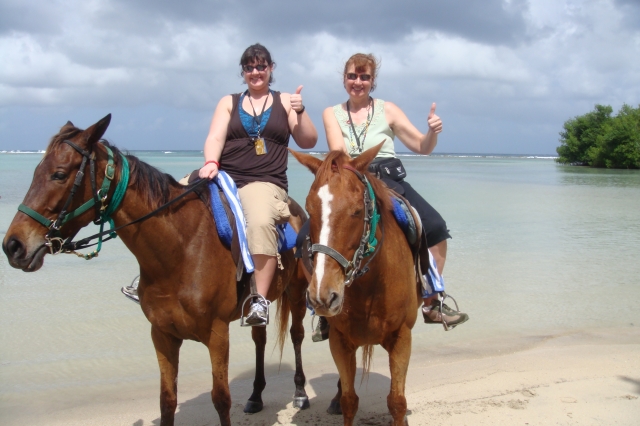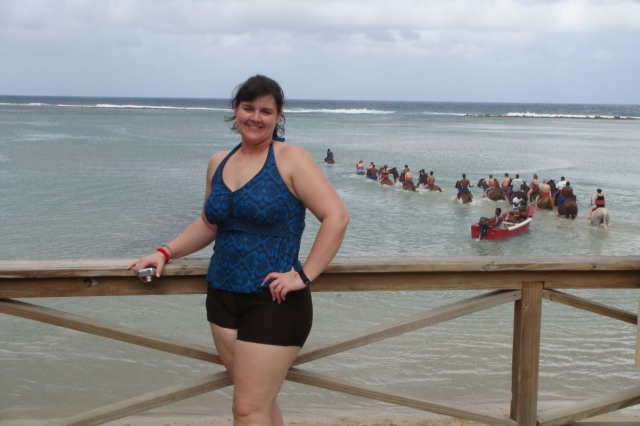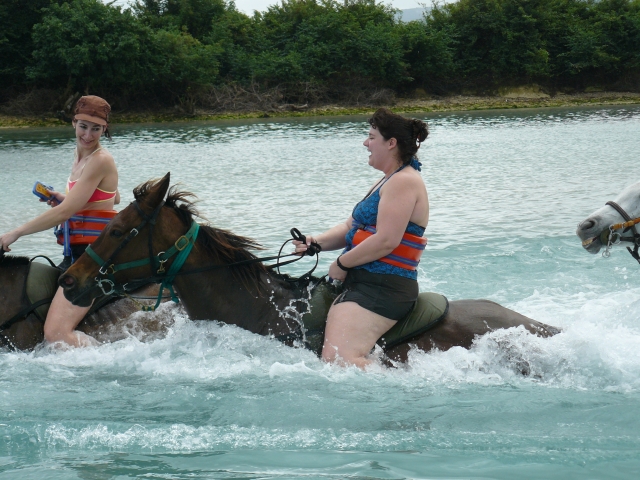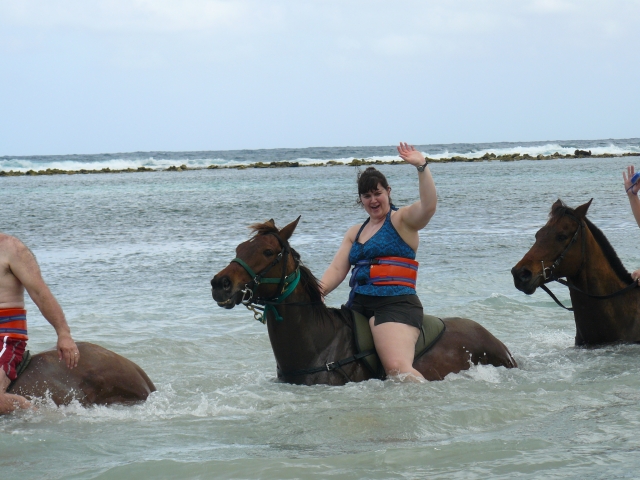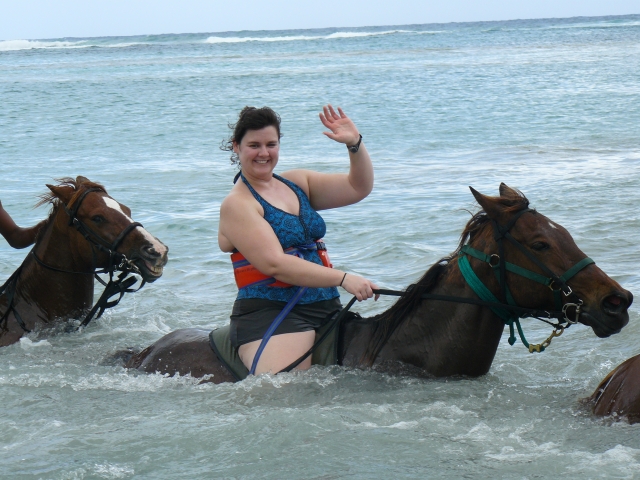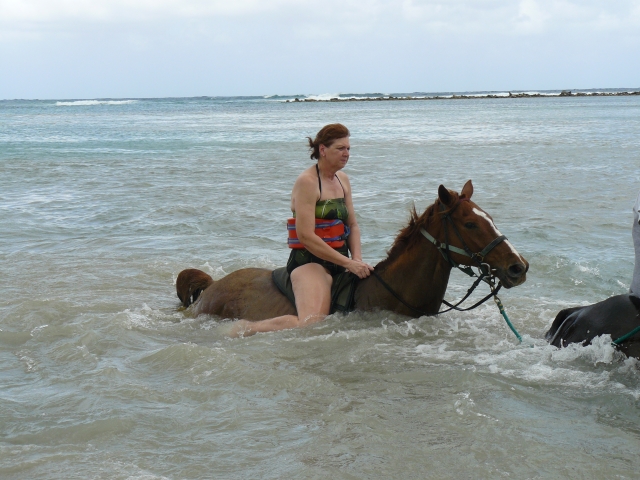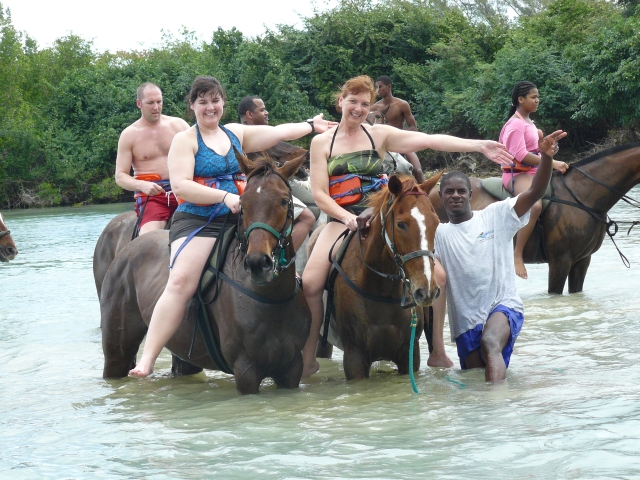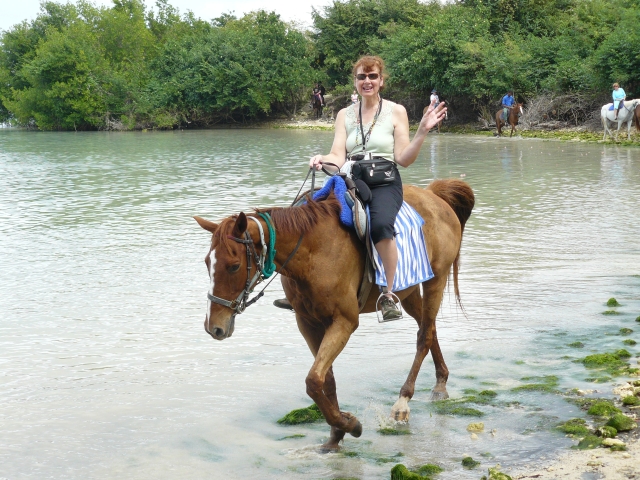 While they were on horseback, Gary, Debbie & I were going on a 4X4 trip to Dunn's River Falls. It was fun for us and we did not have sore butts! We saw some really good real estate deals: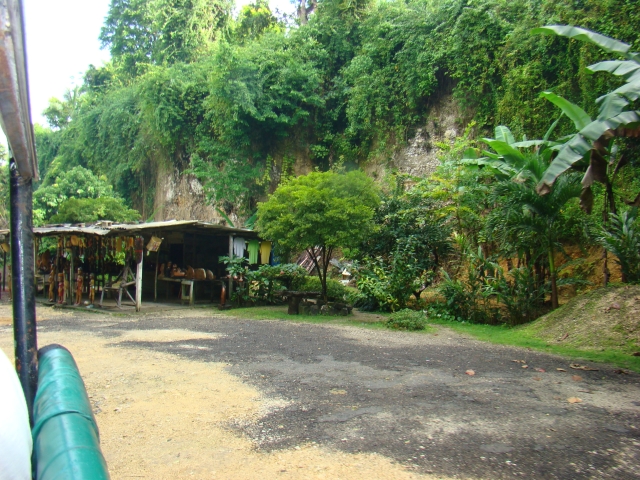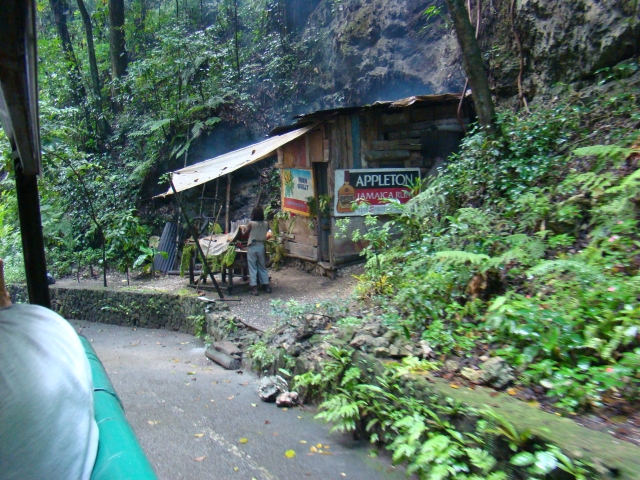 Stopped at a local establishment. Got to look at the fish pond. Notice the green color and realize that the Men's room was uphill from there: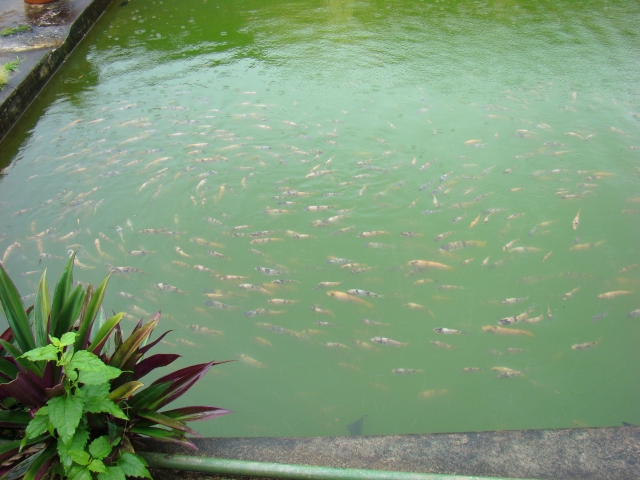 The views were very good: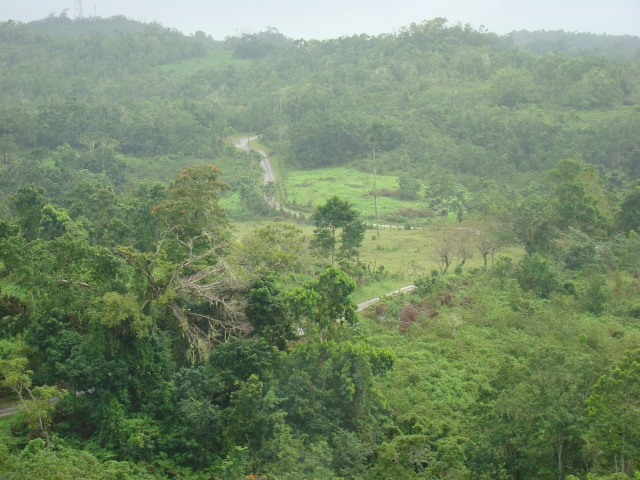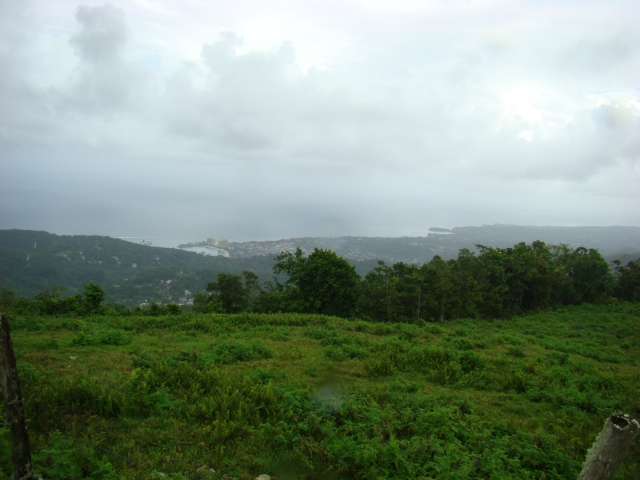 Would you like an ice cream?: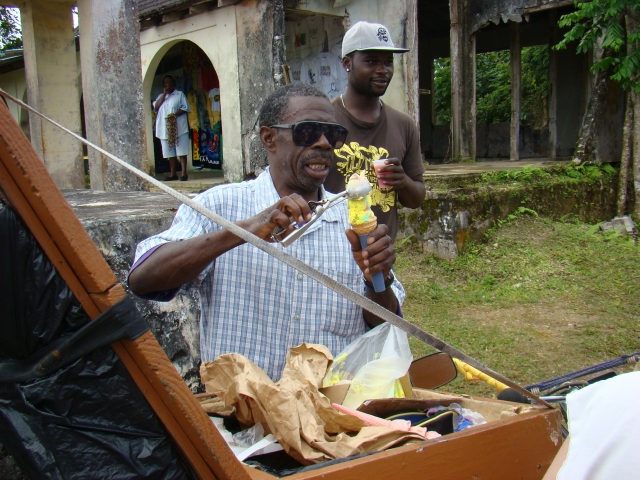 As you can see, the truck was a whole lot cleaner as we left..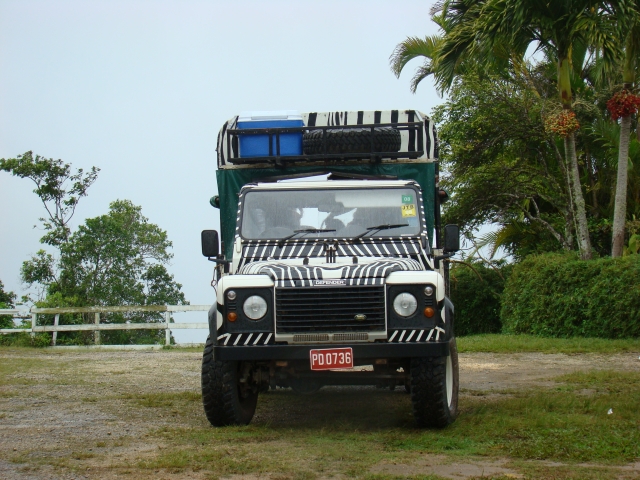 ..than it was as we arrived at the falls: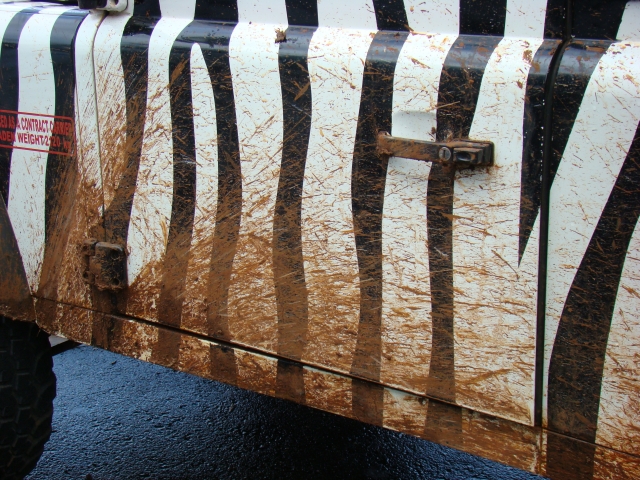 Looks like Gary and Debbie were having fun: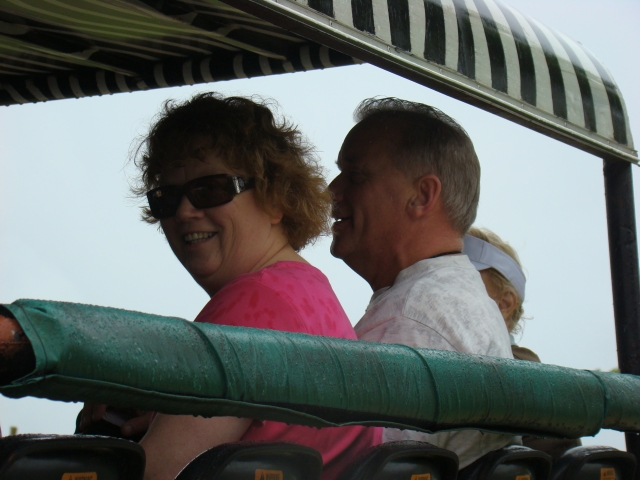 After our trips it was back to the ship to prepare for the Birthday Dinner. We decided that it would be much more fun to go to the steak place, rather than go to the dining room for formal night. As you can see, Sarah was very happy: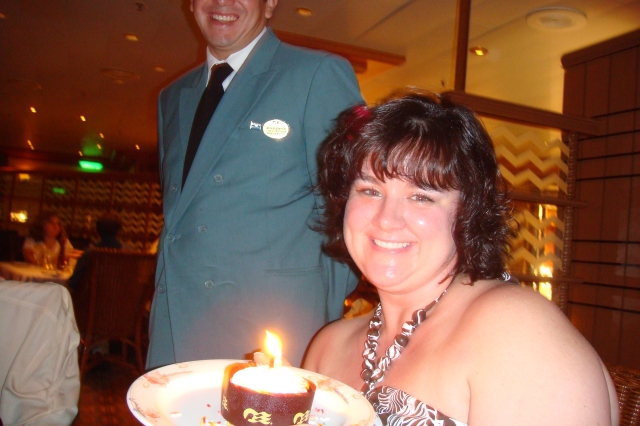 After dinner it was off to the bar for Karaoke, which of course Sarah decided to sing: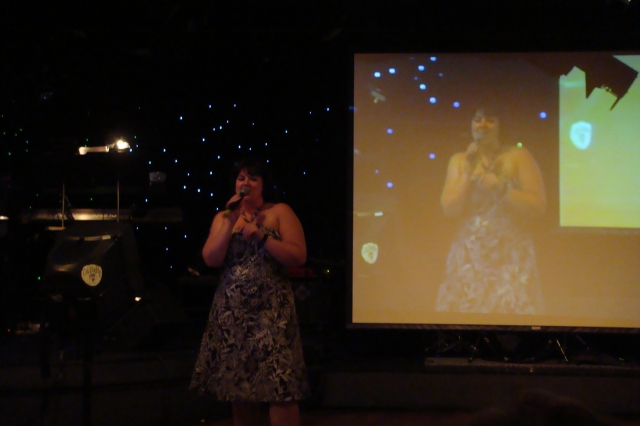 What an end to a very eventful day. Hope you had a good one, Sarah. We love you!

The next day we anchored off Grand Cayman and "the crew" decided to visit a turtle farm, "swim with the sting rays" and "go to hell". We were supposed to go on a fast boat ride, but that was cancelled. We loaded up on a bus and headed off on our adventure. First it was off on a tour of the local sights and a stop at the turtle farm to see how the small ones become big ones: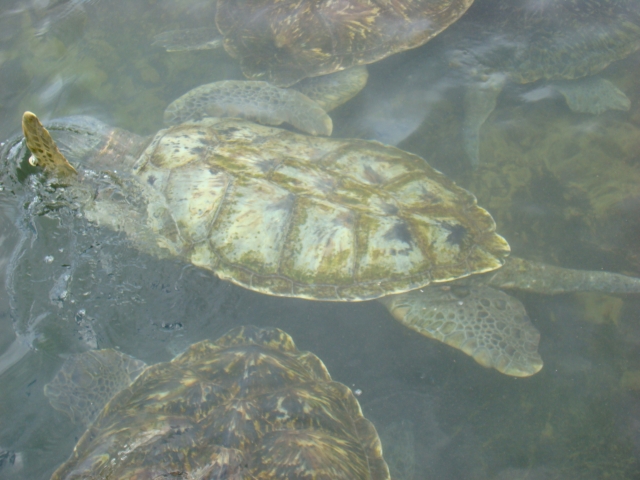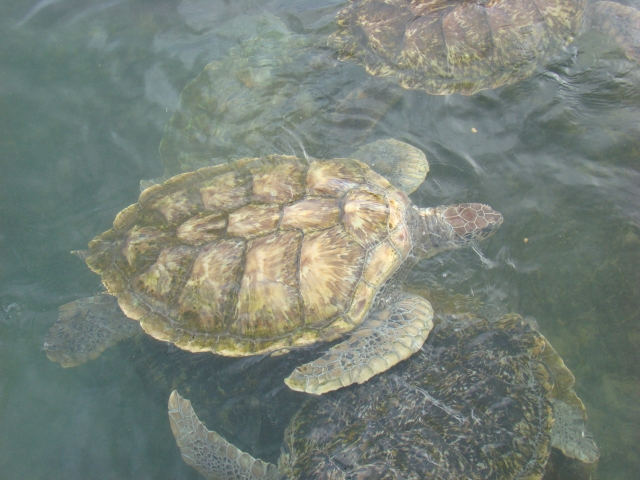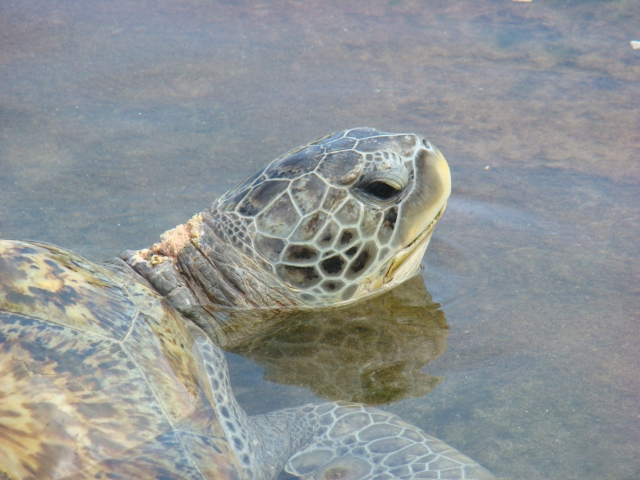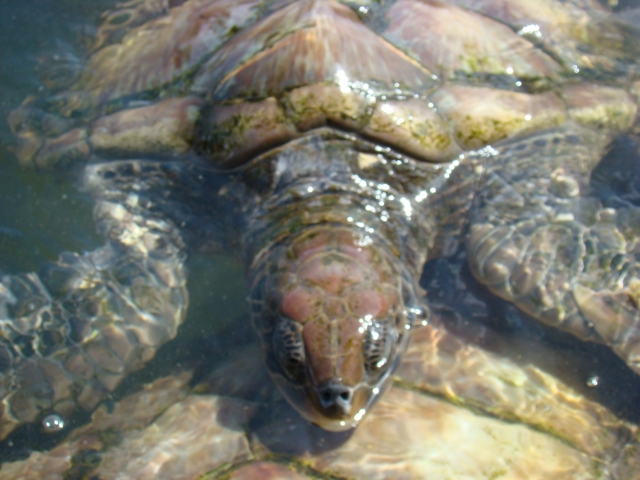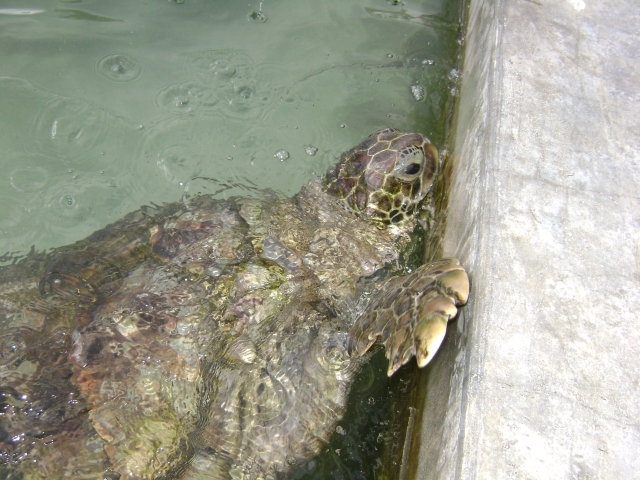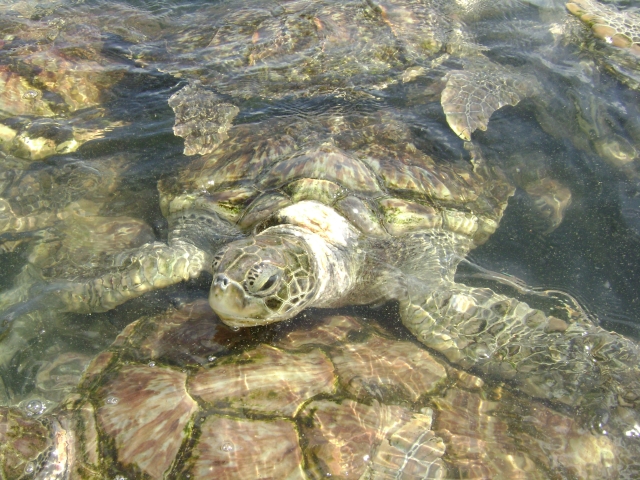 We all got to get "up close and personal" with the turtles: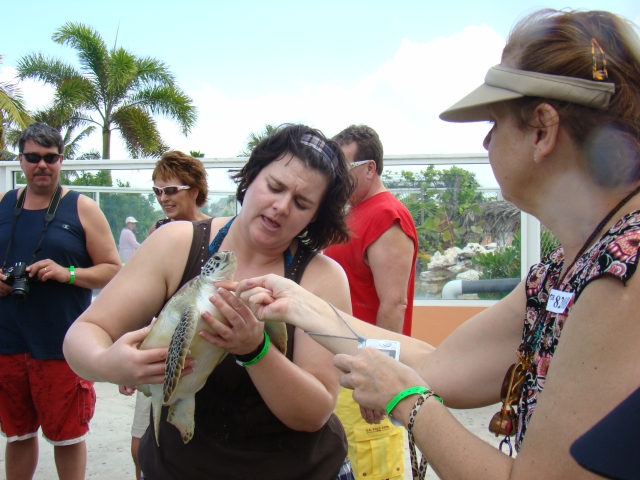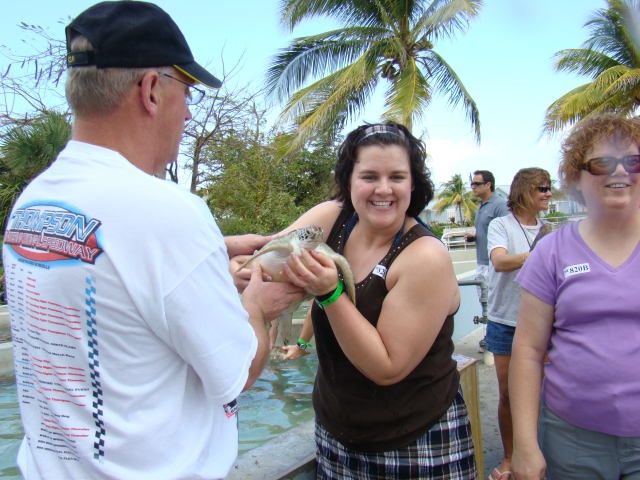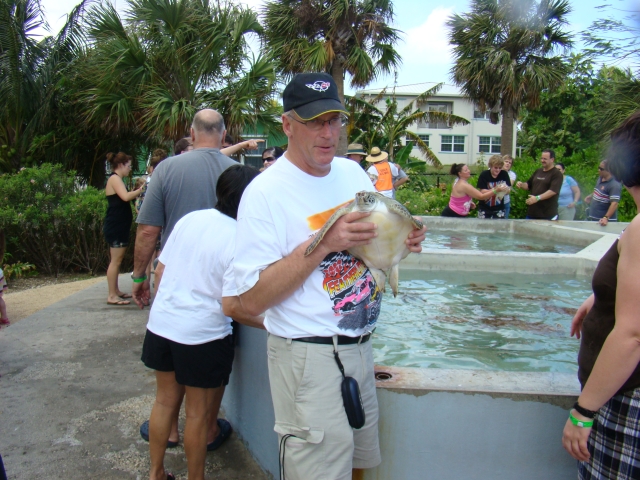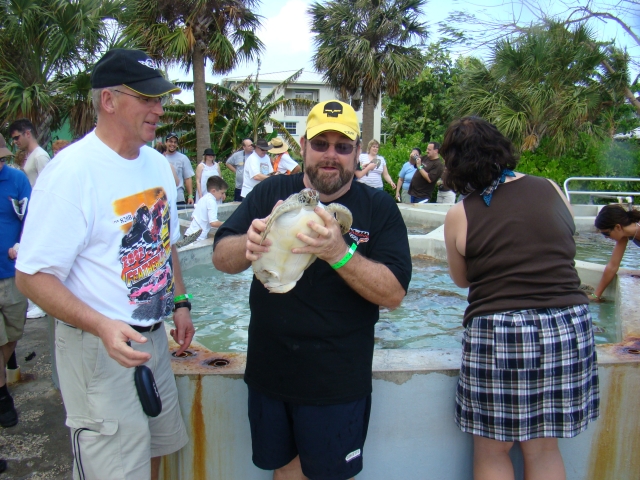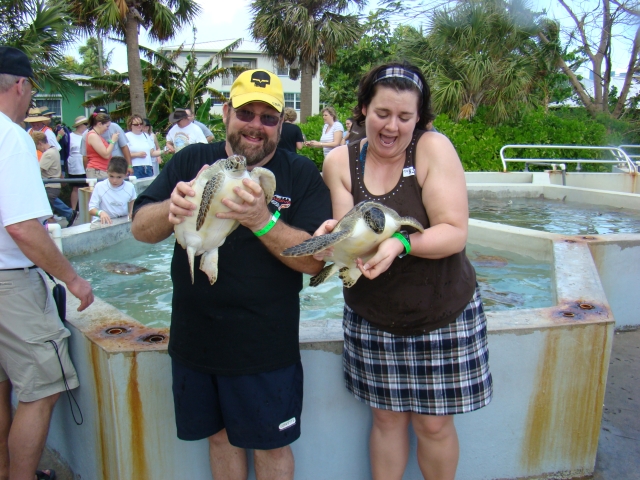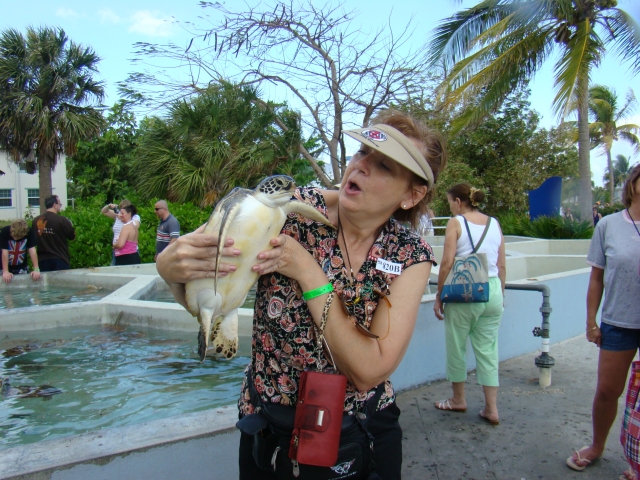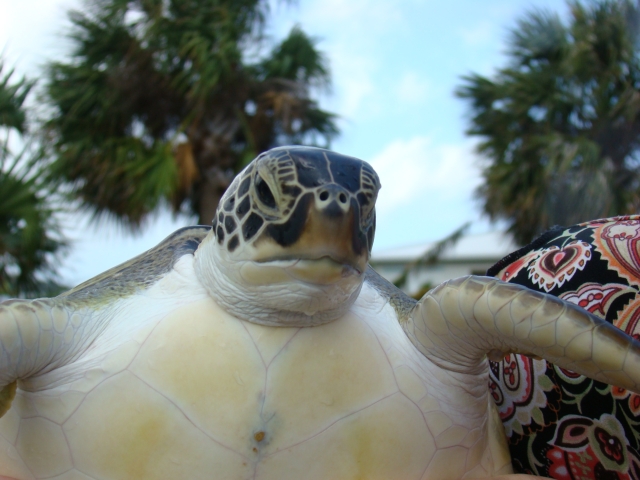 From there it was off to "HELL". This location was so named for its very desolate lava-type landscape: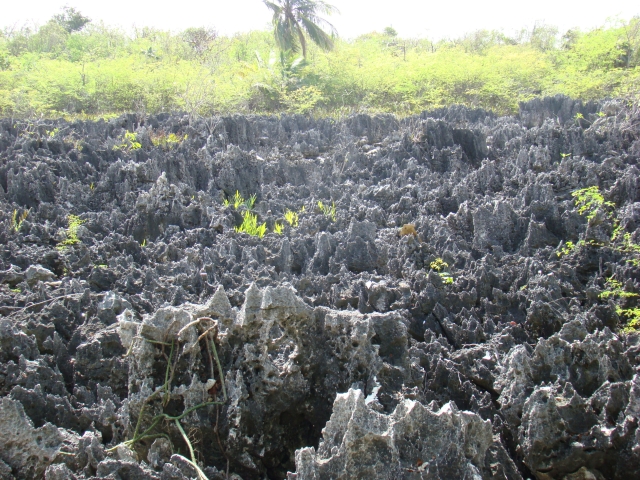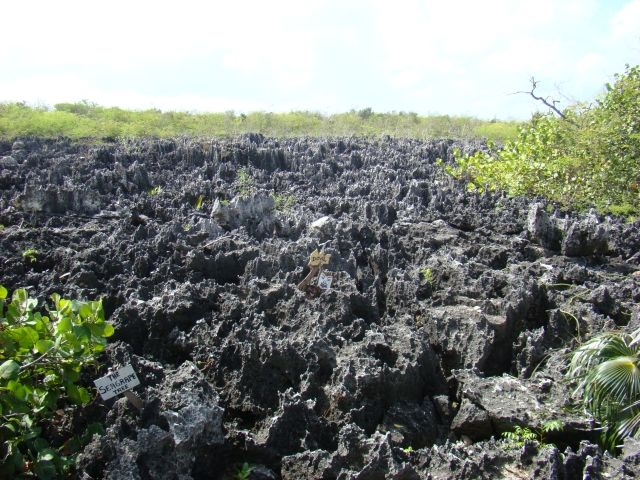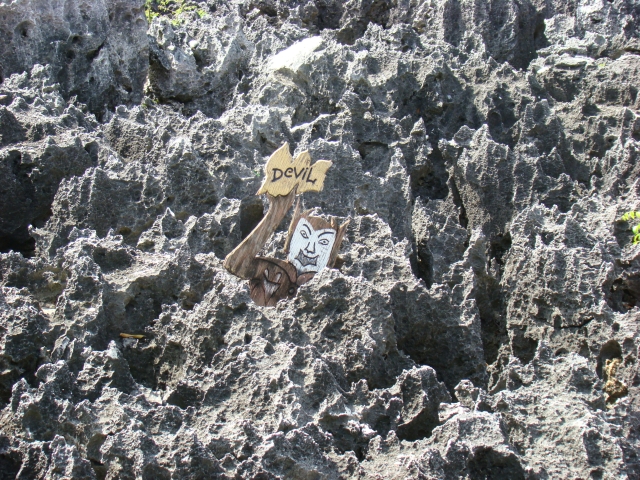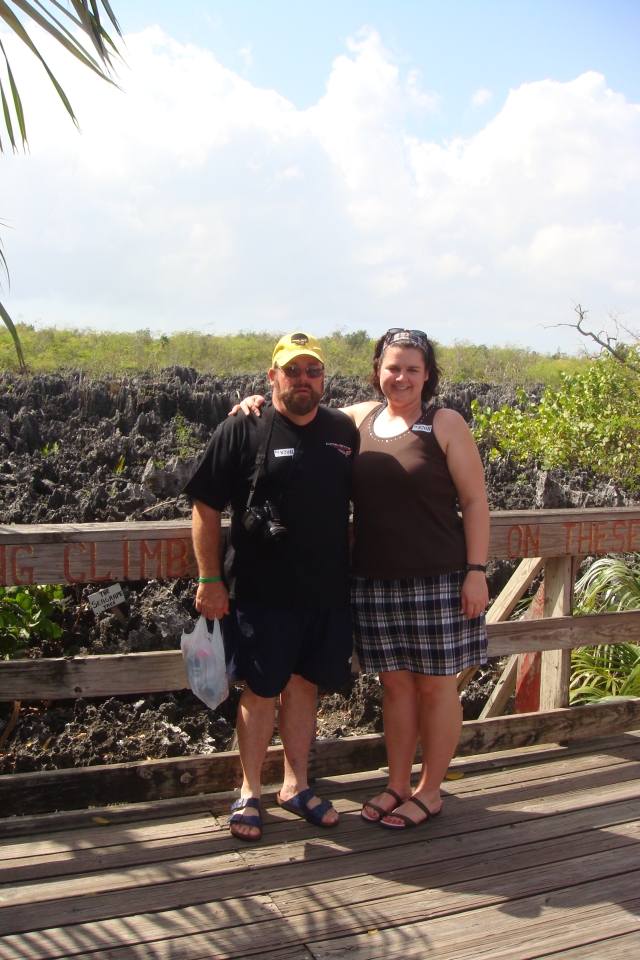 Of course the locals found a way to make money from it and put a gift shop & place to mail your friends a postcard from hell: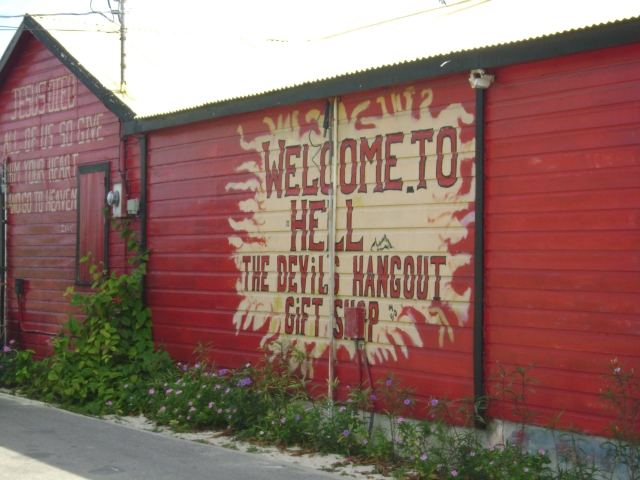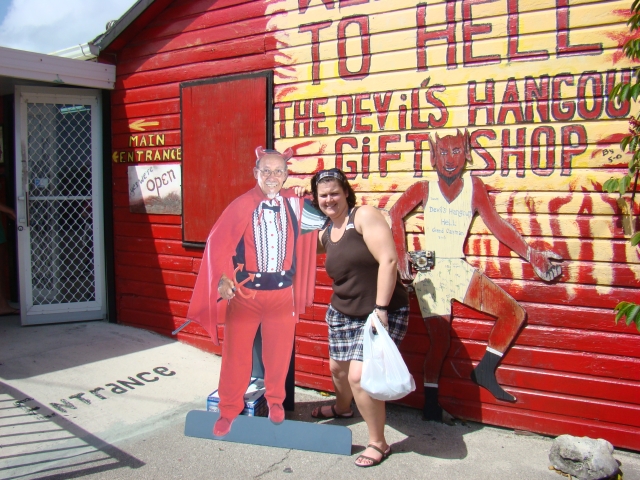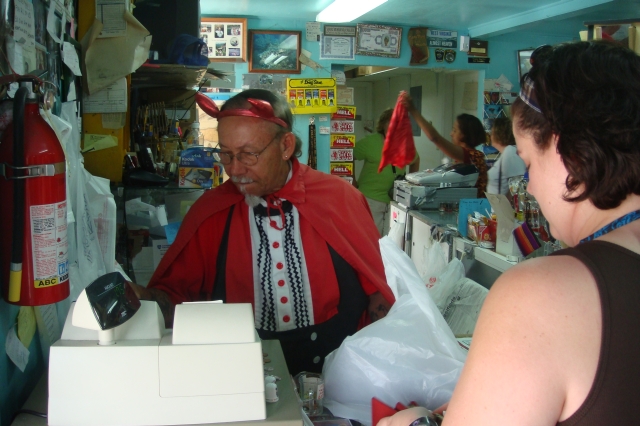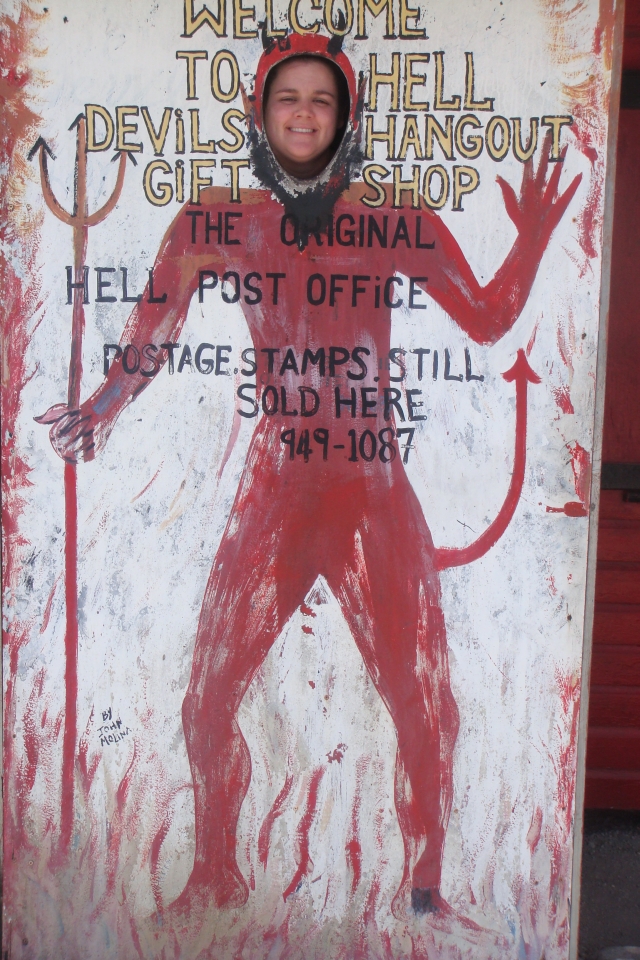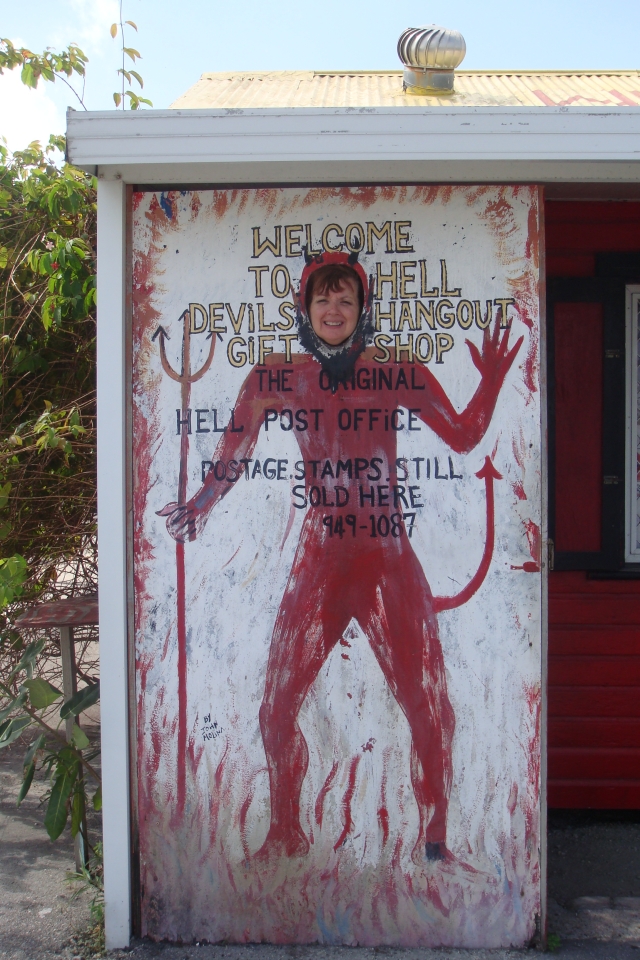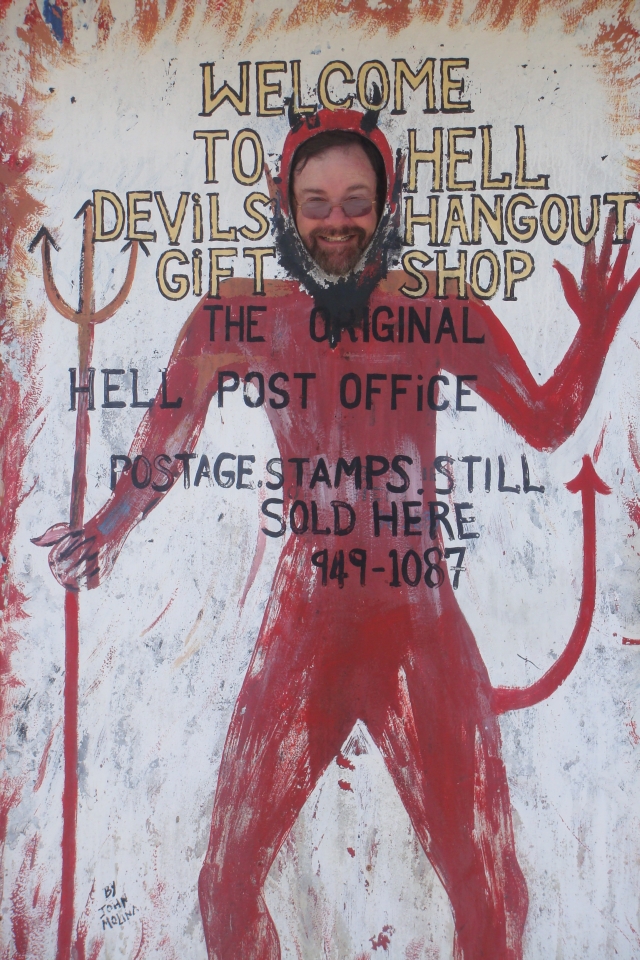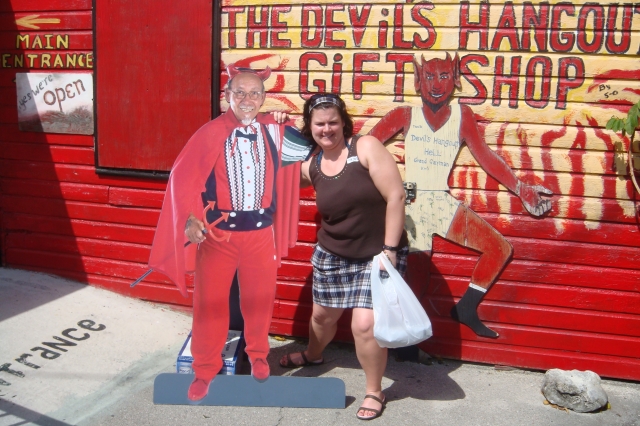 After that it was off to a rum cake factory to sample the products. The cakes were good, but I have to say that the rum by itself was better: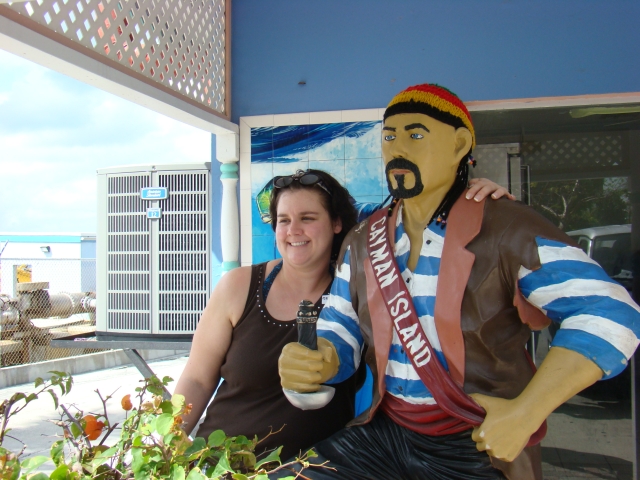 It was back on the bus for a short, but fast ride (since we spent a bit too long at the rum place) to the boat, which takes you out to a reef to swim with the stingrays. This was a really fantastic experience after the initial surprise as one brushed up against your leg: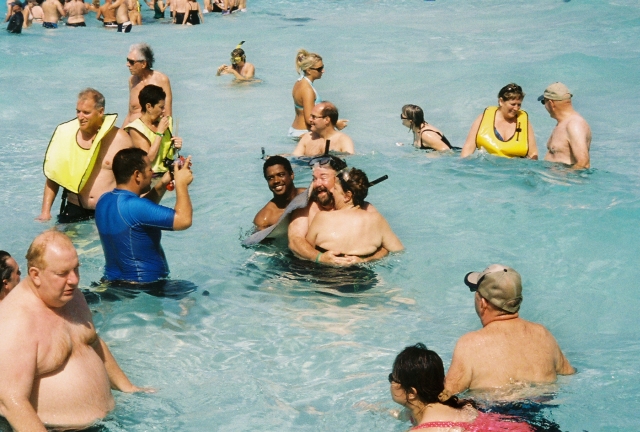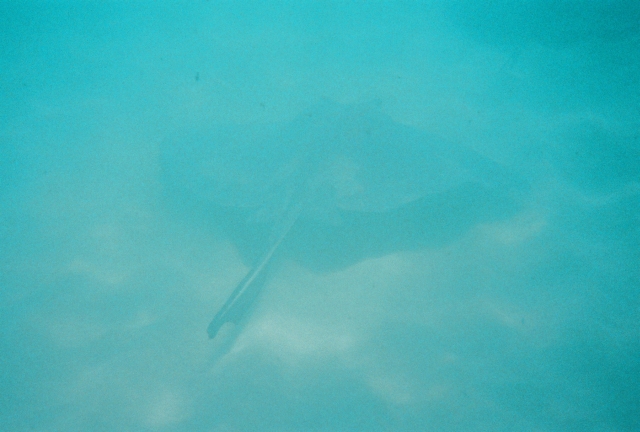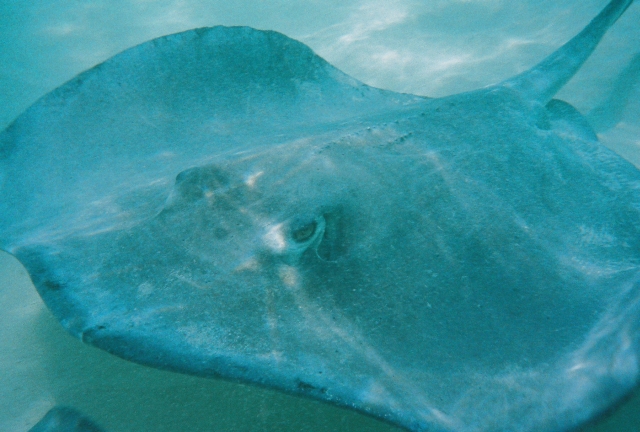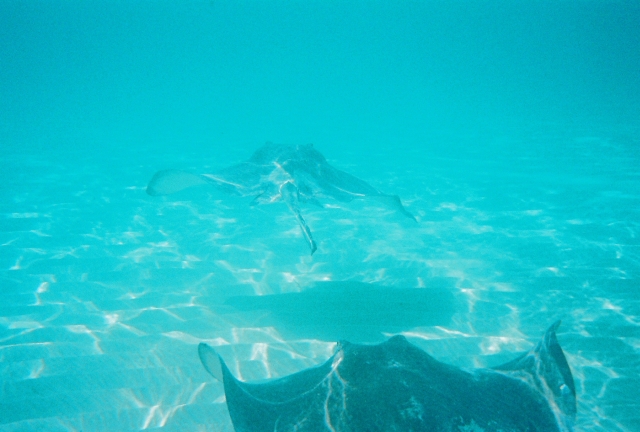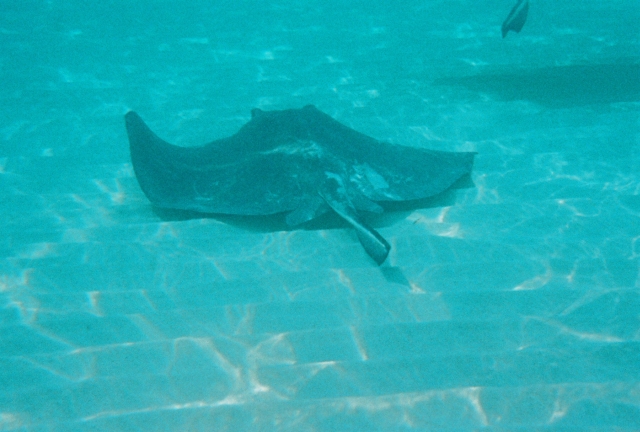 We even got to get up close and personal with one, and even got to "kiss" it. Notice even Gary got into the act: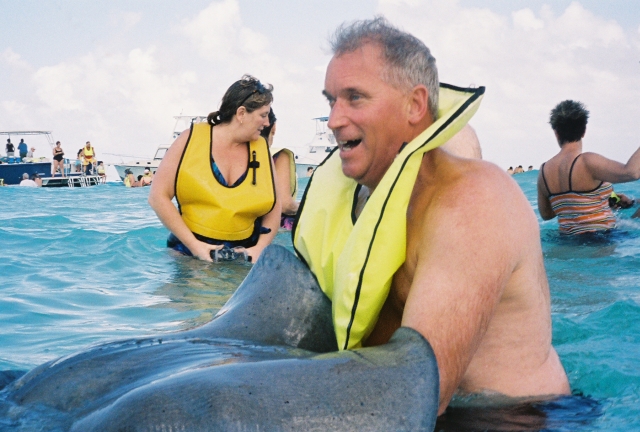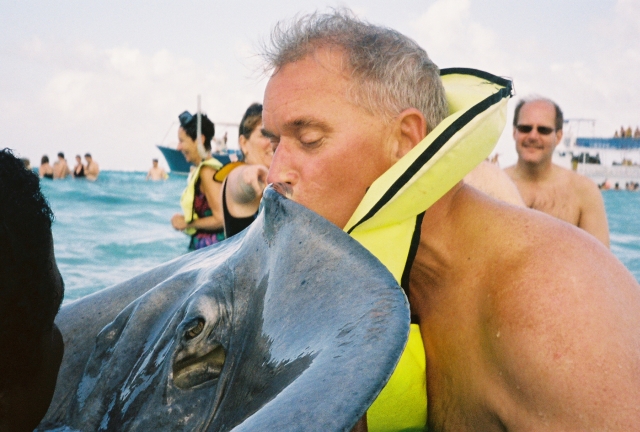 Then Sarah does her thing: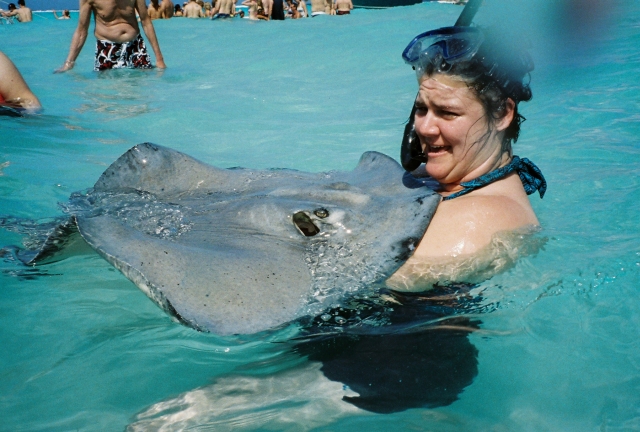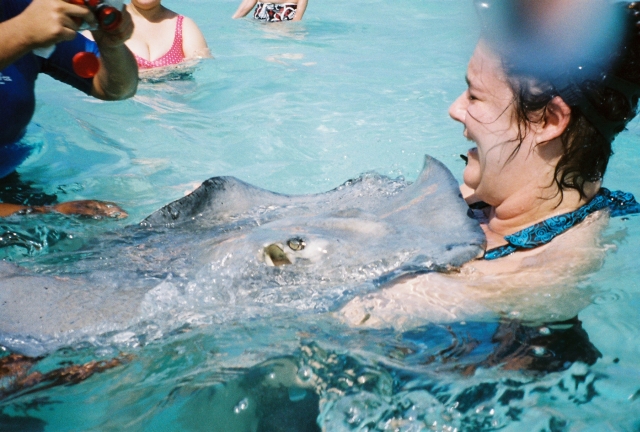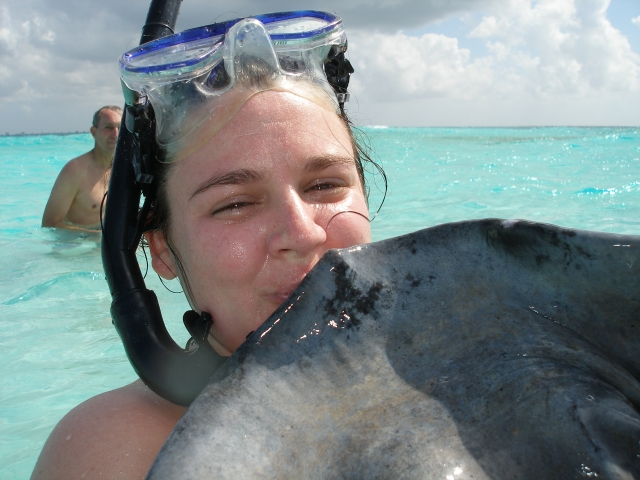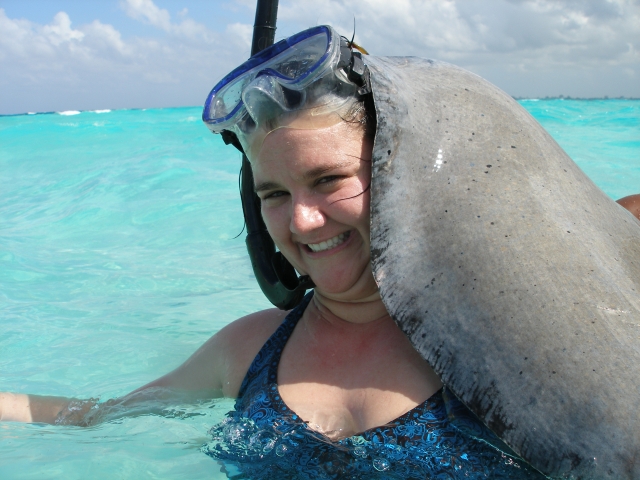 After that it was Jackie's turn: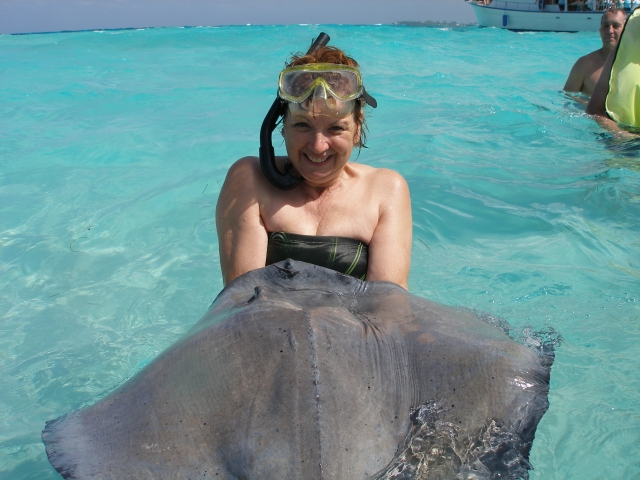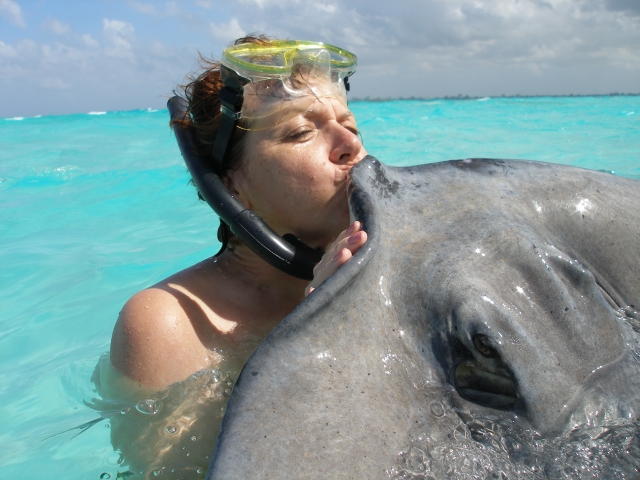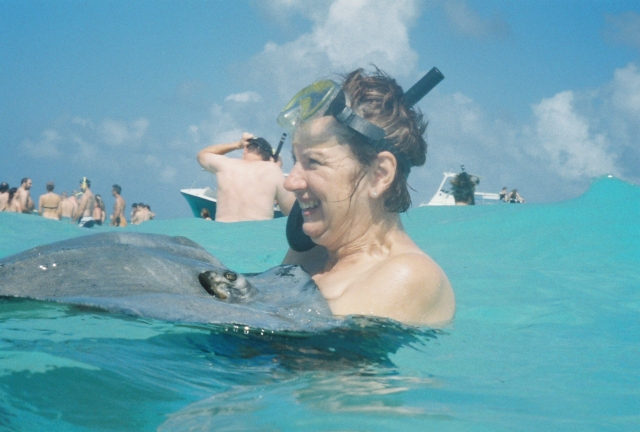 Here go Buzz and Jackie together: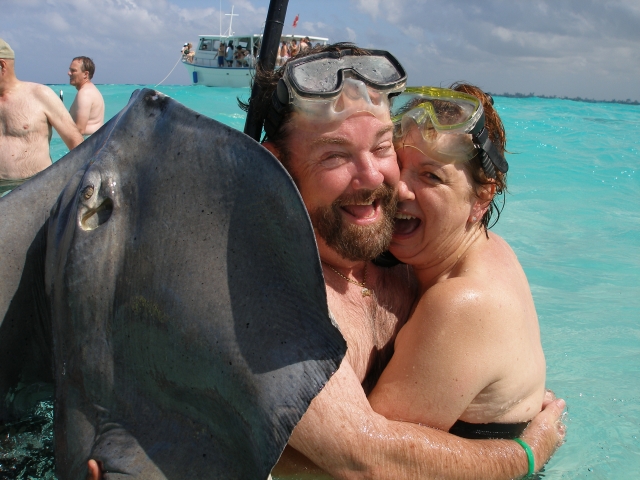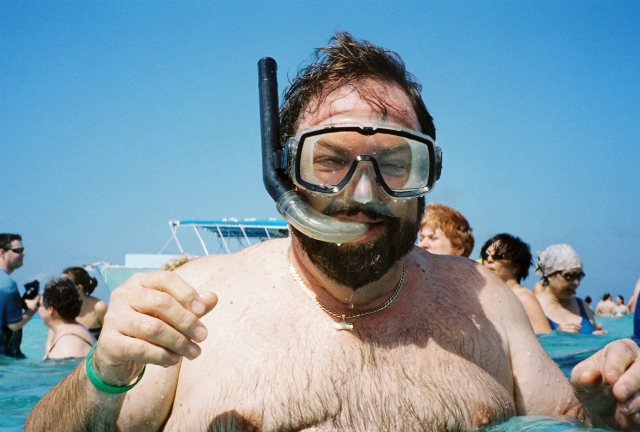 It was then back on the boat: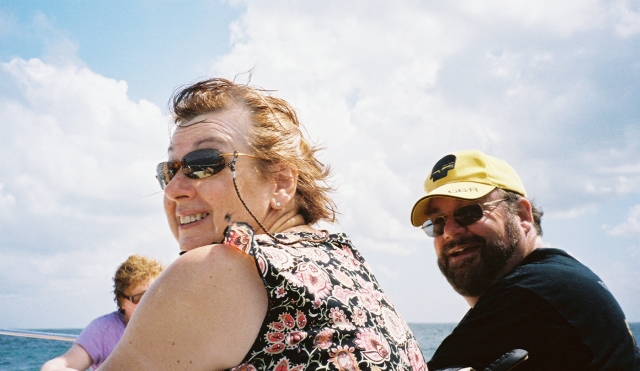 back on the bus, back on the tender, and finally back on the ship. After having dinner and a few drinks, it was the end to another day in paradise.

The next morning found us anchored off Cozumel, Mexico. We had opted for a trip to the Tulum Ruins and Xel-Ha Park. A very large ferry picked us up at the ship and motored on to Playa del Carmen on the mainland: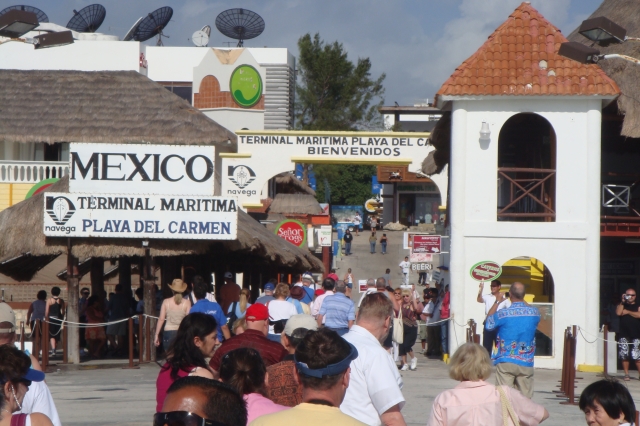 We were greeted by our guide and, after a brisk walk to the motor coach, traveled to the ruins. This city was behind a mound of earth and hard for everyone to find. I can just imagine how hard it must have been to find it in the jungle. This is the outside of the wall: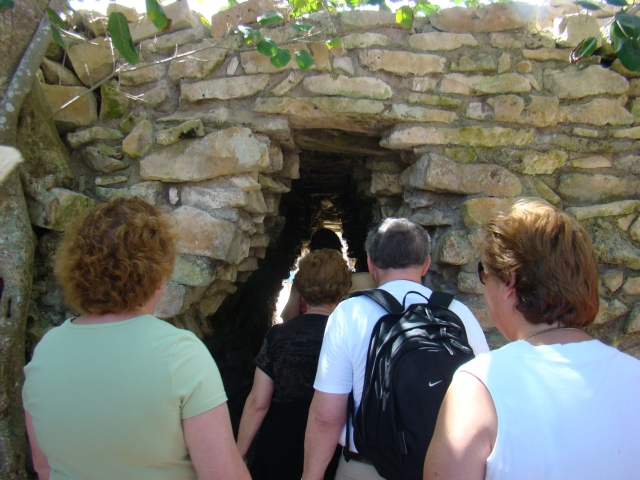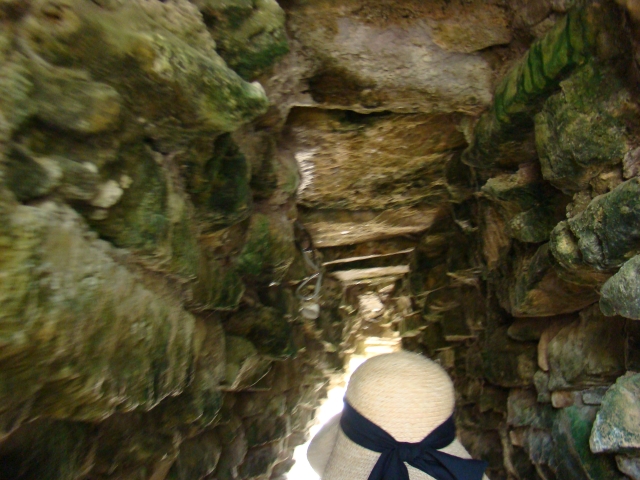 .. and this was on the inside: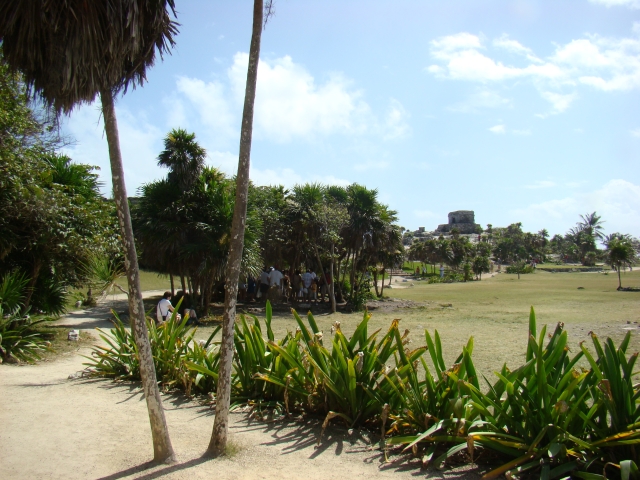 This is the view looking from the inside out: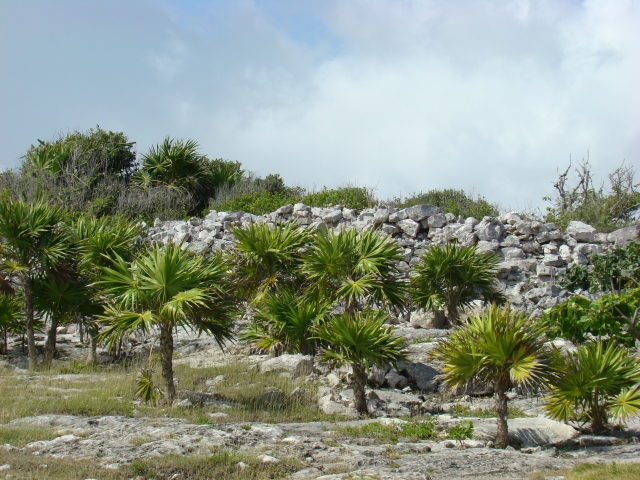 Here are a few pictures of the city: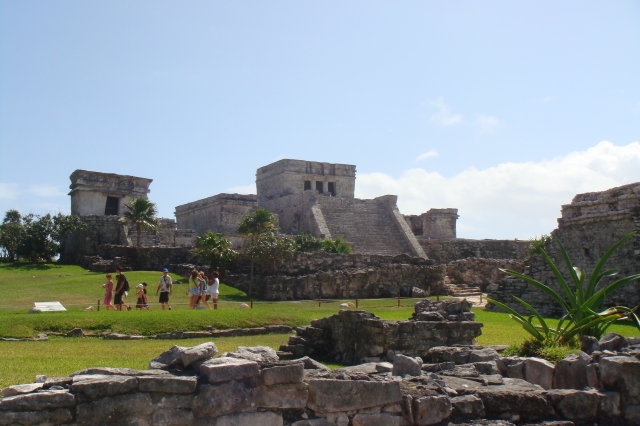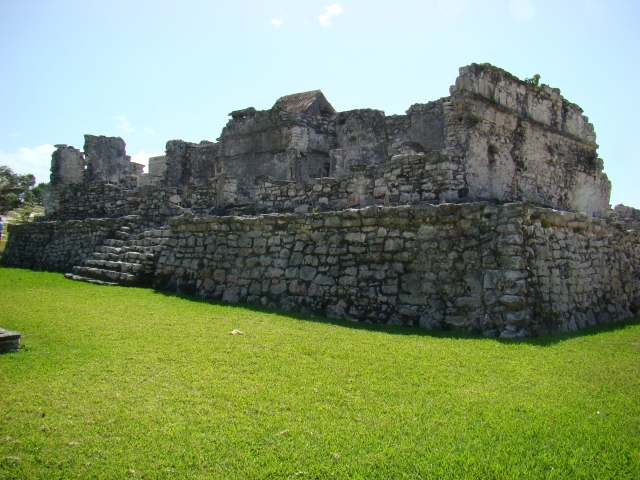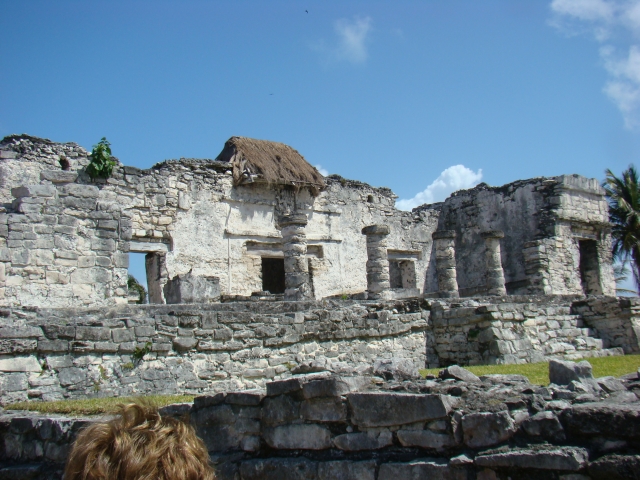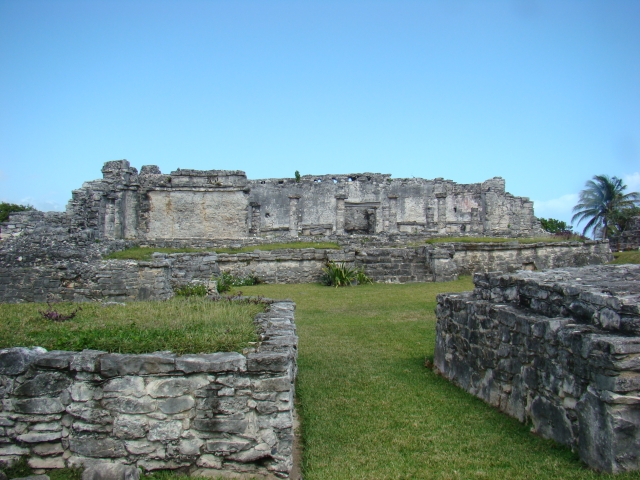 This is a grave for a dignitary: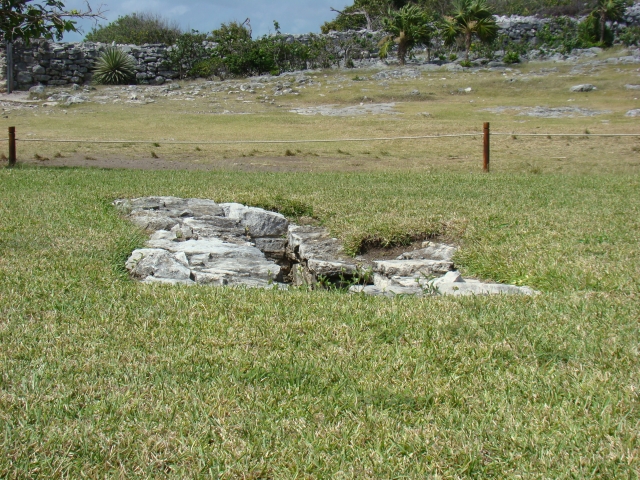 After a very informative talk, we were allowed to wander around at our leisure to explore. All were surprised to see the second largest barrier reef in the world behind the city: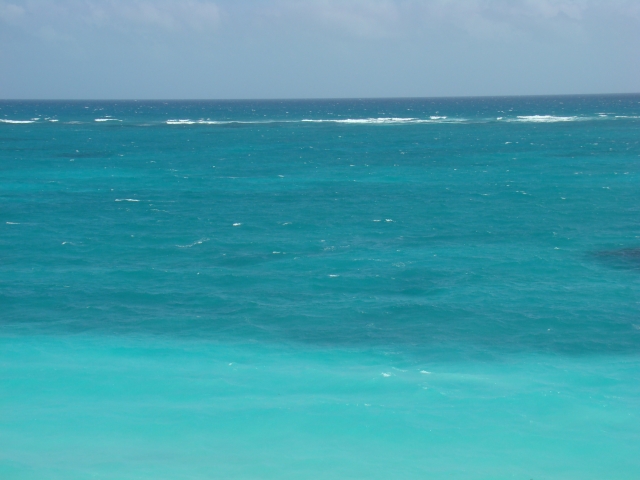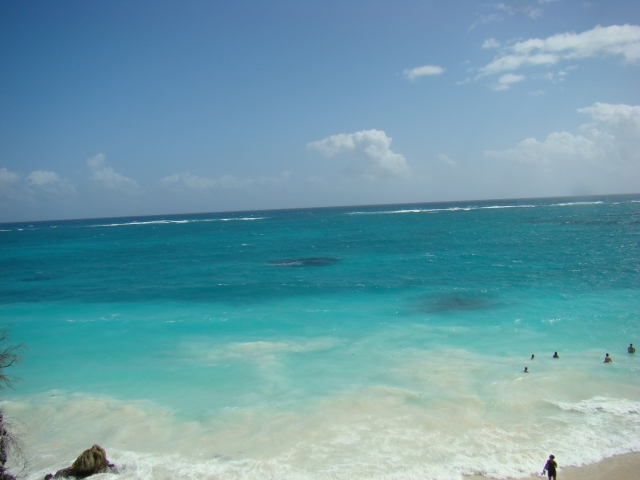 Gary and Debbie look relaxed: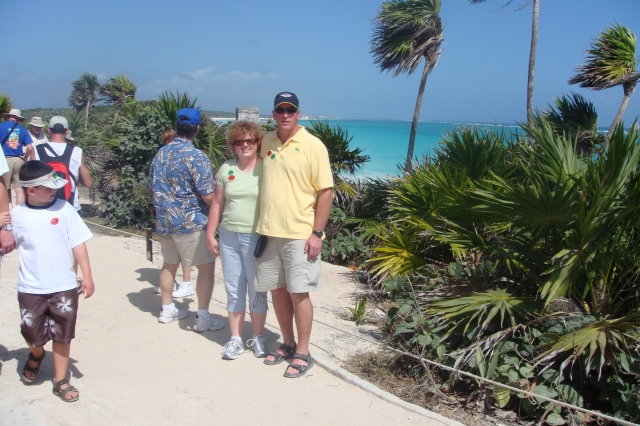 Mom and Sarah used the sea as a backdrop: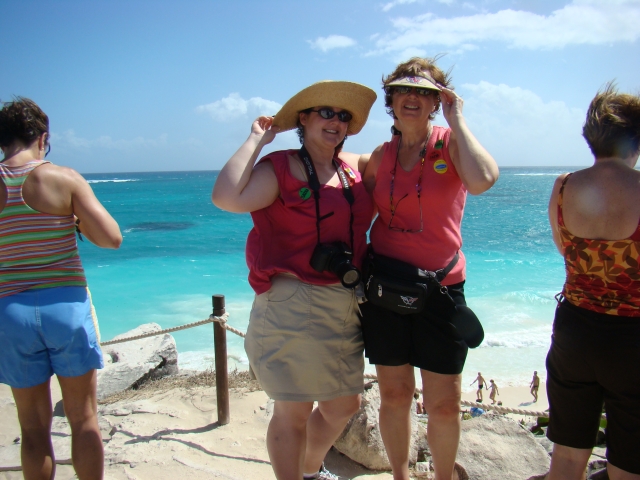 Thanks to Sarah, Mom and Dad even got a chance to pose: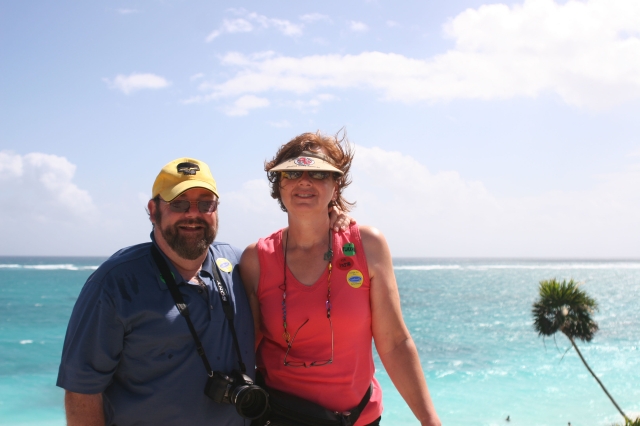 Sarah takes a last look at the city before we leave: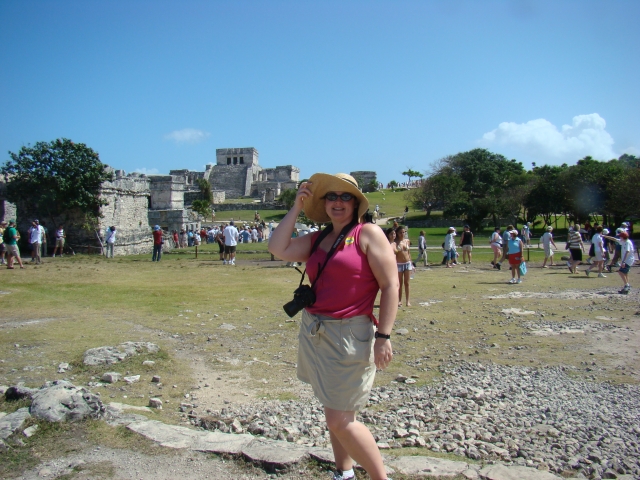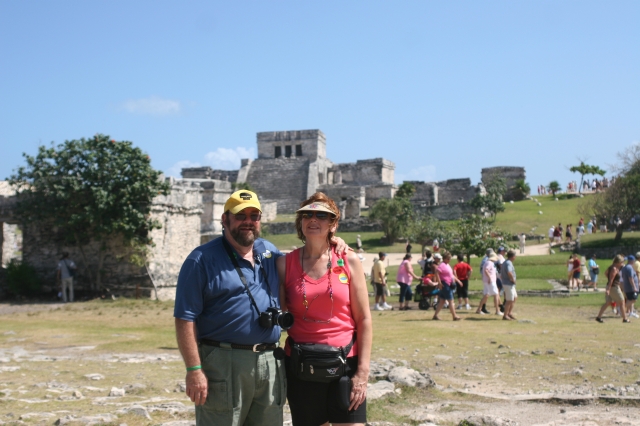 From Tulum it was back on the bus to Xel-Ha Park. We arrived and our guide led us to the place where you could rent snorkel equipment and change. Not being too sure we wanted to swim, we looked around and saw some people in the water with dolphins. Now that looked like fun! We found an employee with the dolphin logo on his shirt and followed him to a section of the park. After some talking with another employee, we signed up for an hour with the beautiful animals. This would be number three on Sarah's list. We changed, got our life vests and viewed a safety film. Our time was at a premium, so they let us be in the first group. What a thrill! Here we are first getting in the water: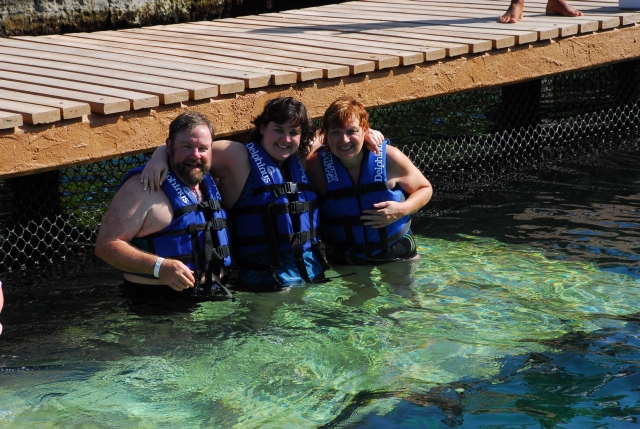 ..along with Gary and Debbie: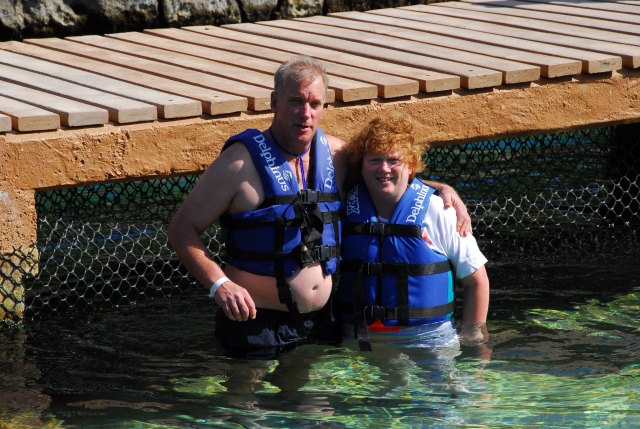 We got our first introduction to the dolphins: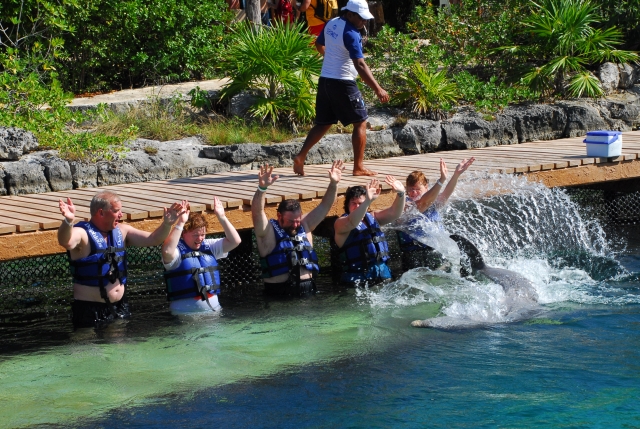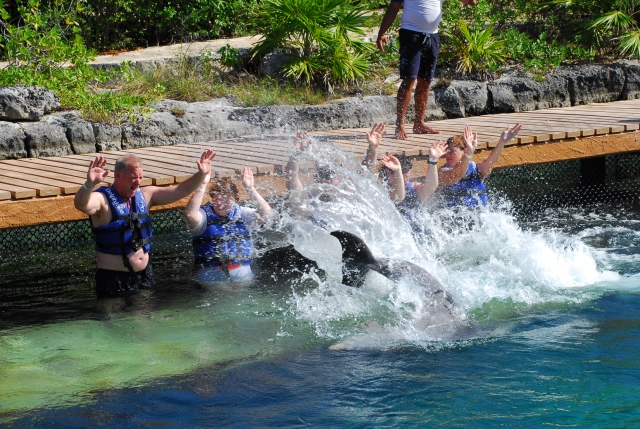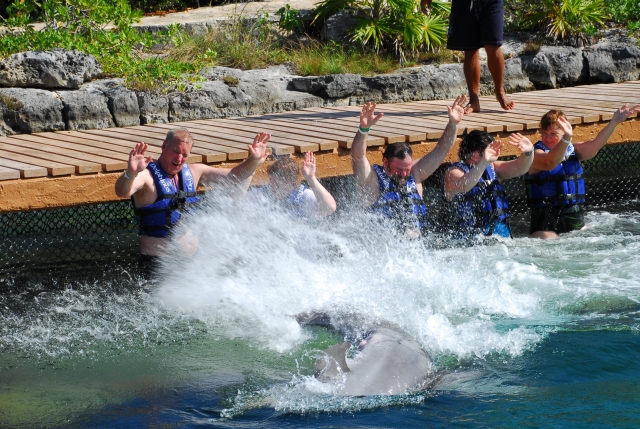 They, in turn, gave us a little something: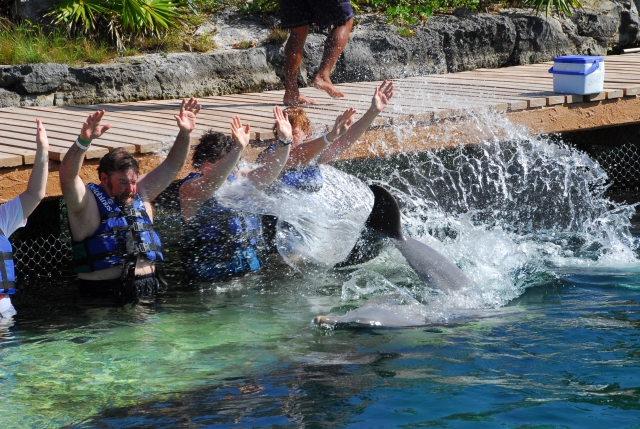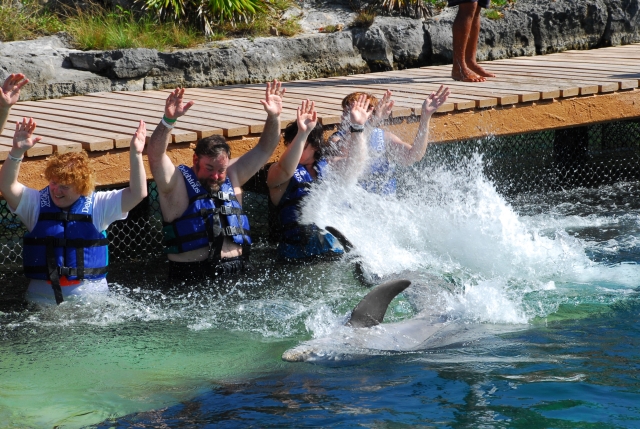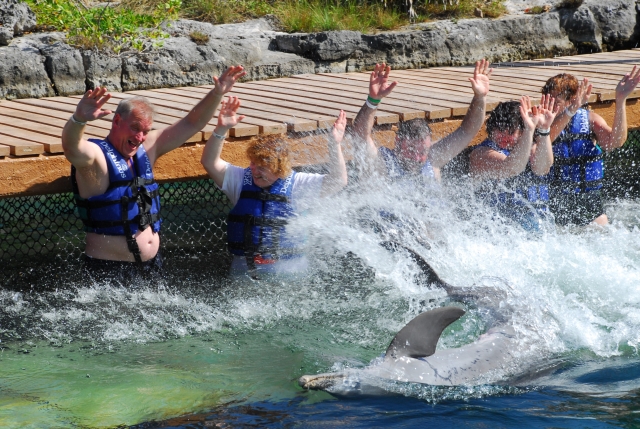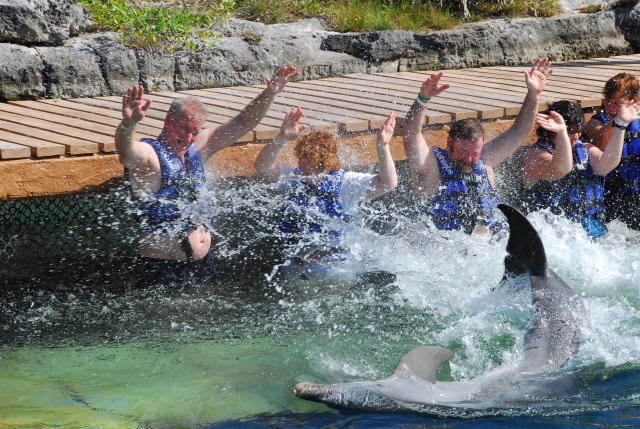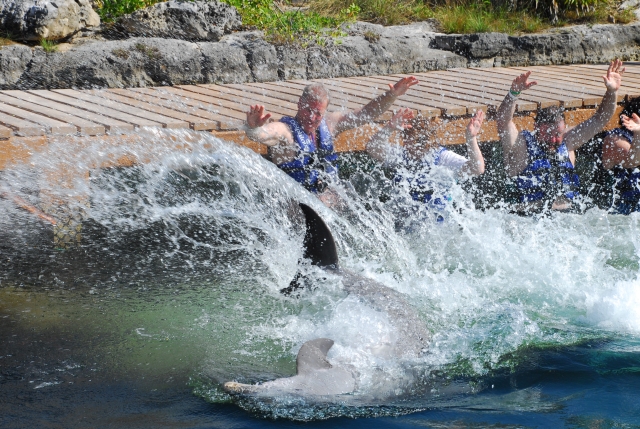 Here we each get to touch and feel the beautiful creatures: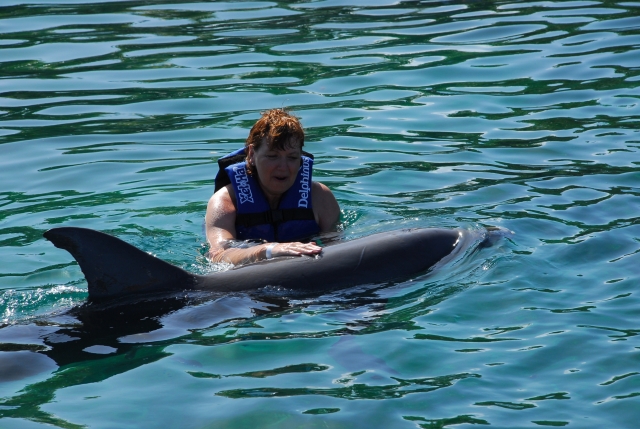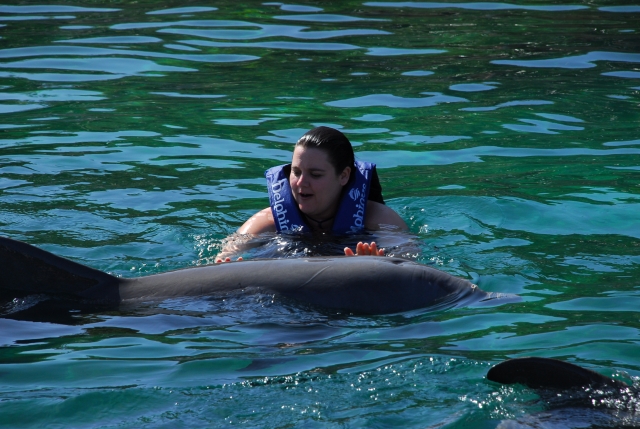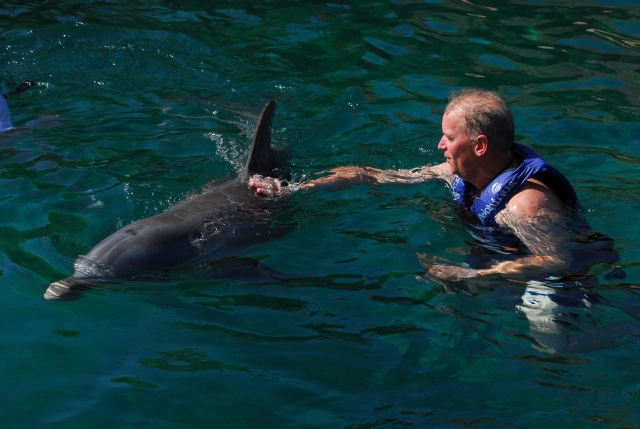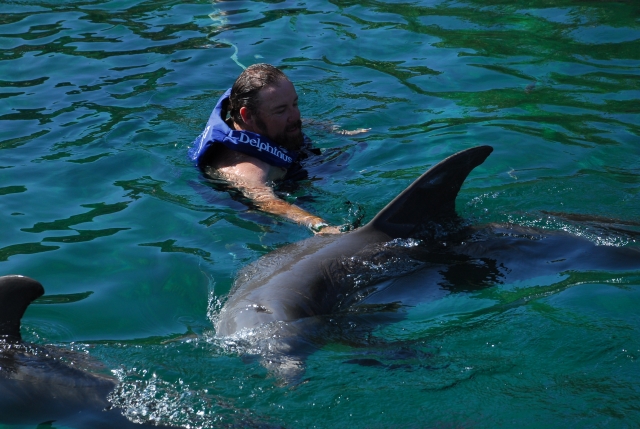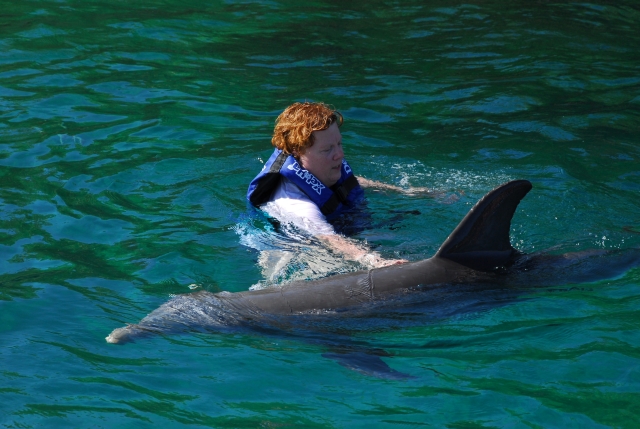 The more we played, the more friendly they became: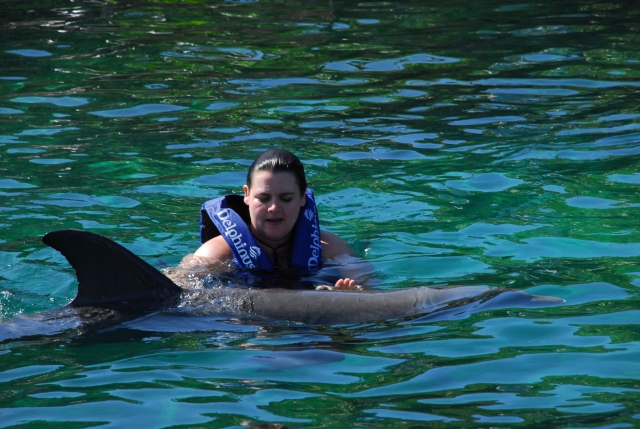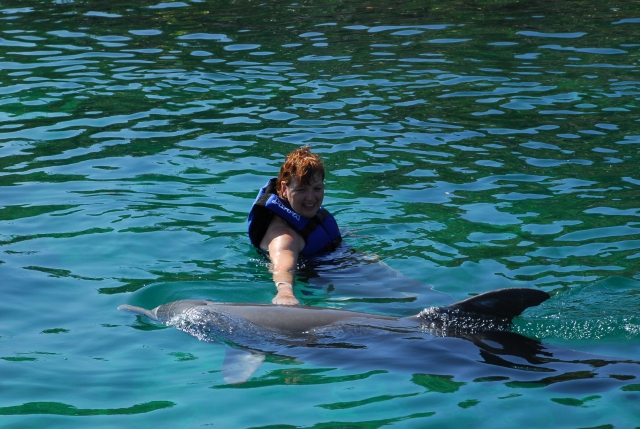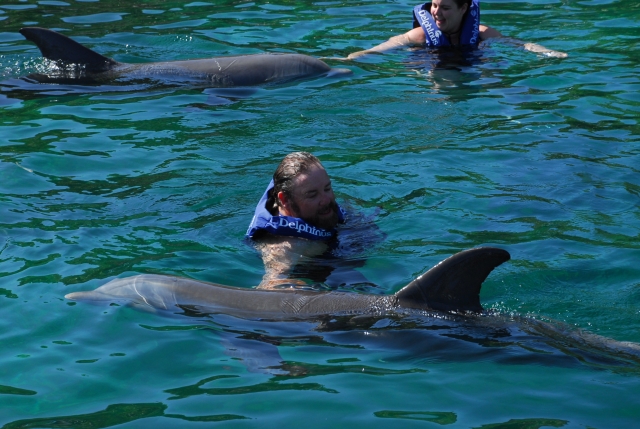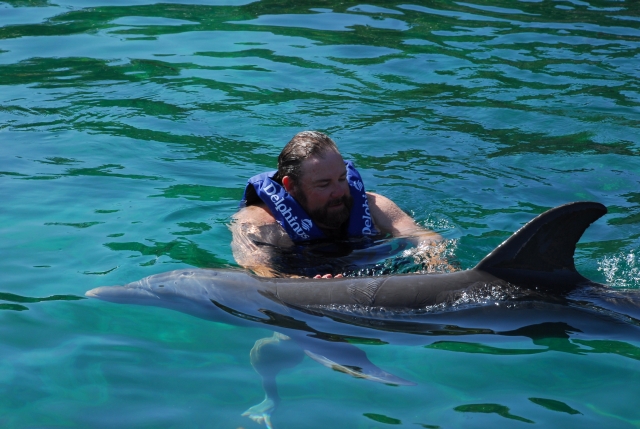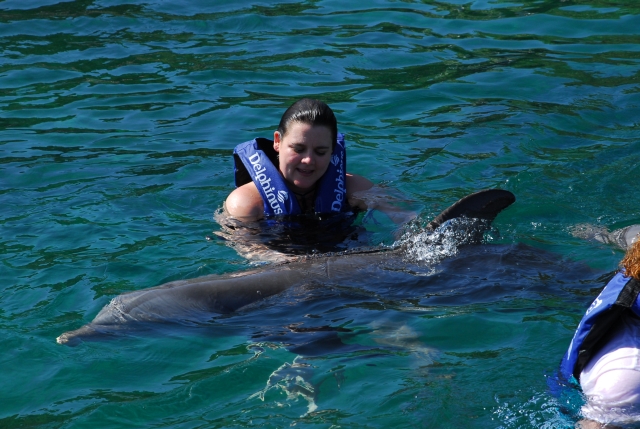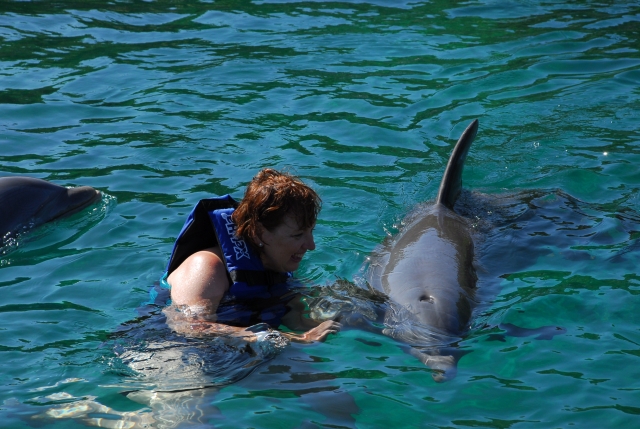 After that we floated face down in the water and two dolphins placed their snouts on our feet -- and off we went, arched our backs and what a thrill!!!!! First Sarah: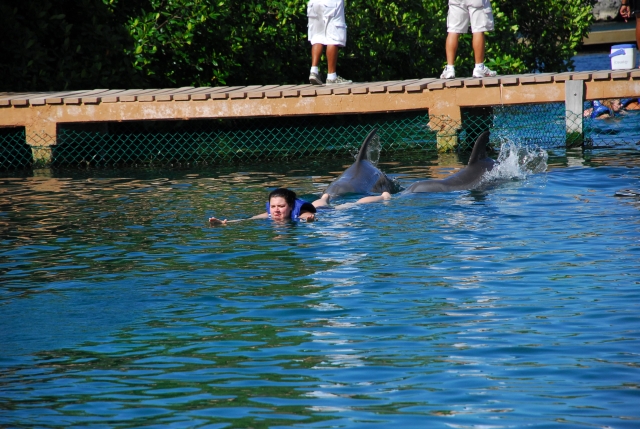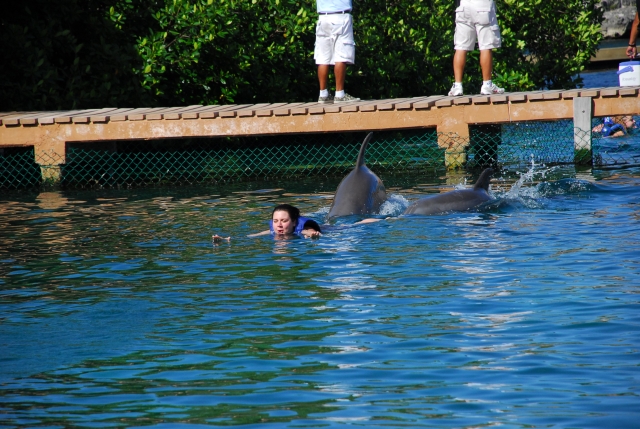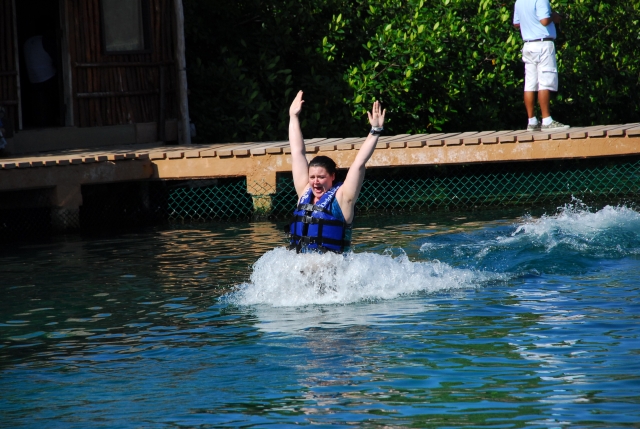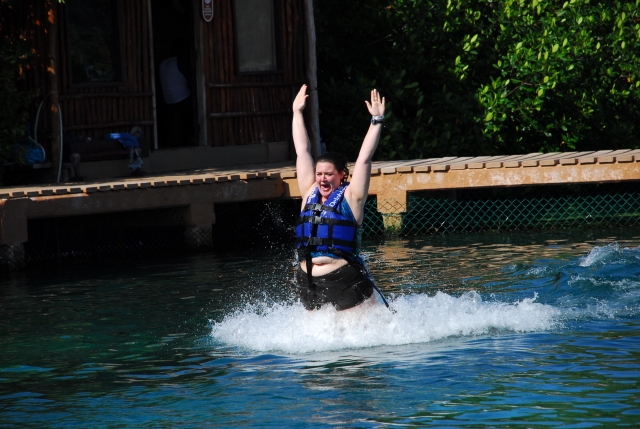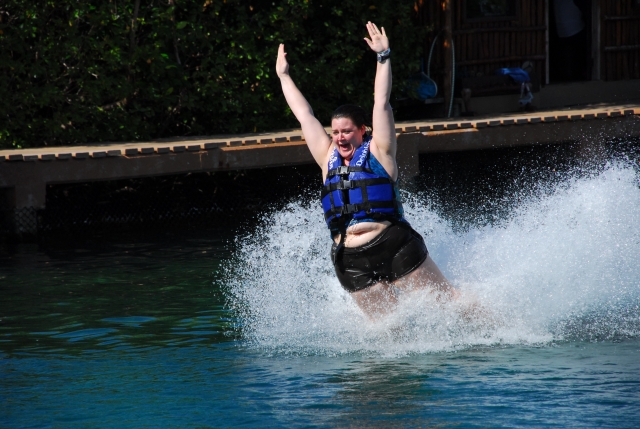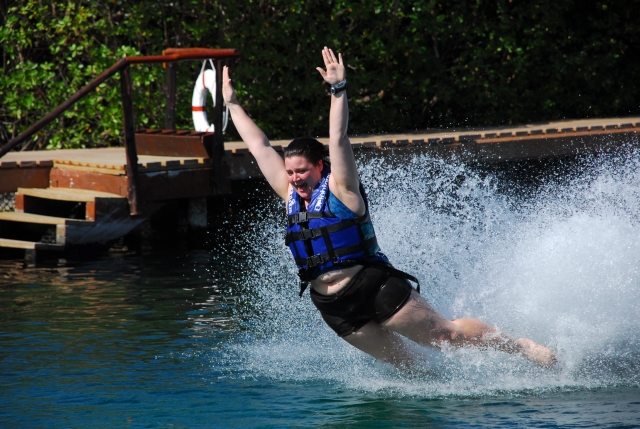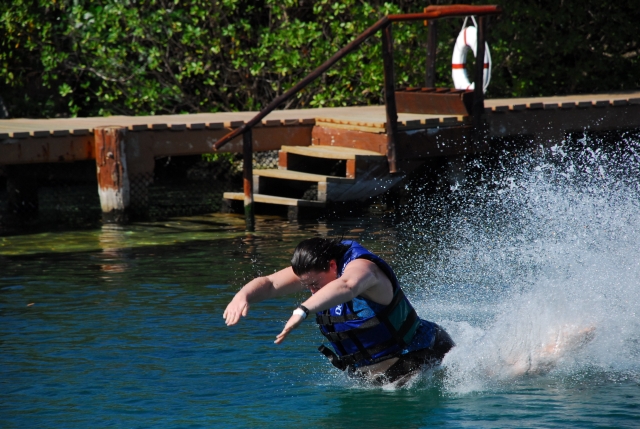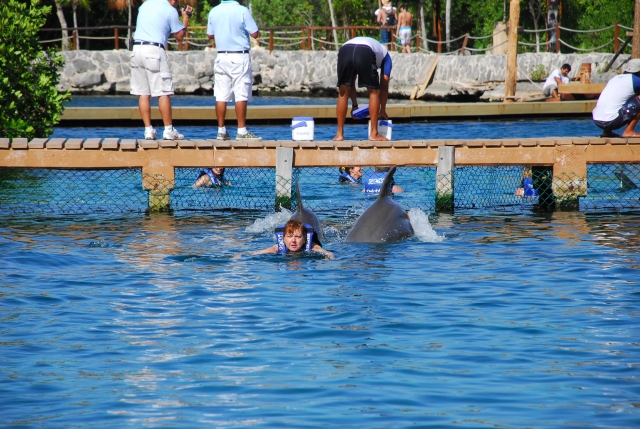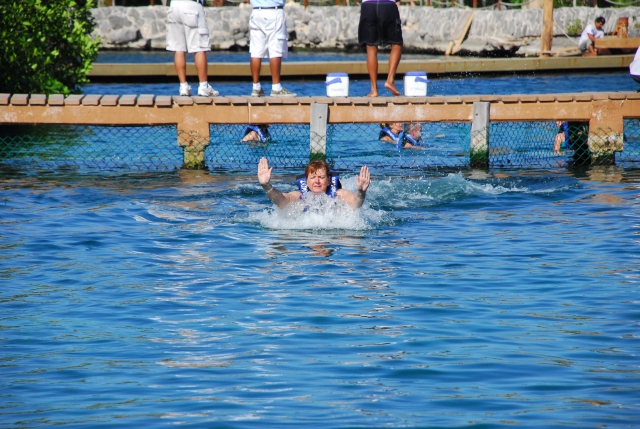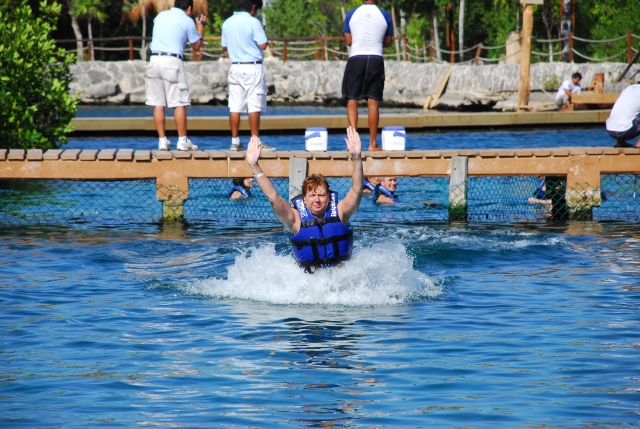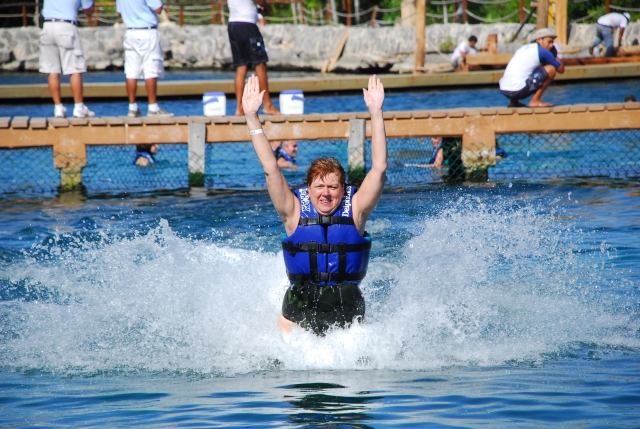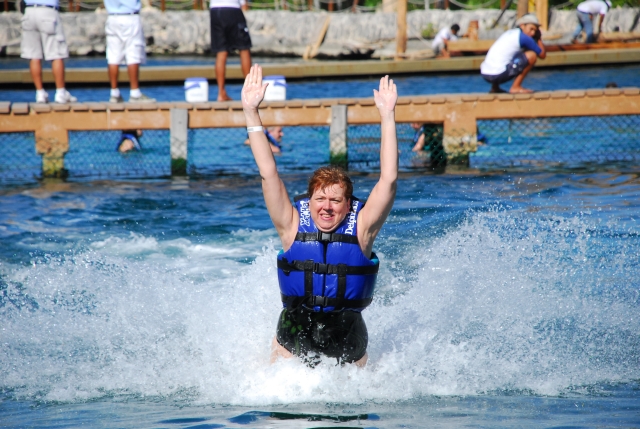 Debbie gave it the "old college try," but wound up with water up her nose: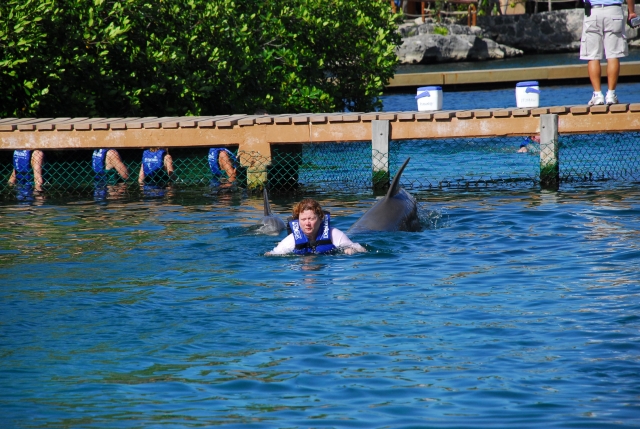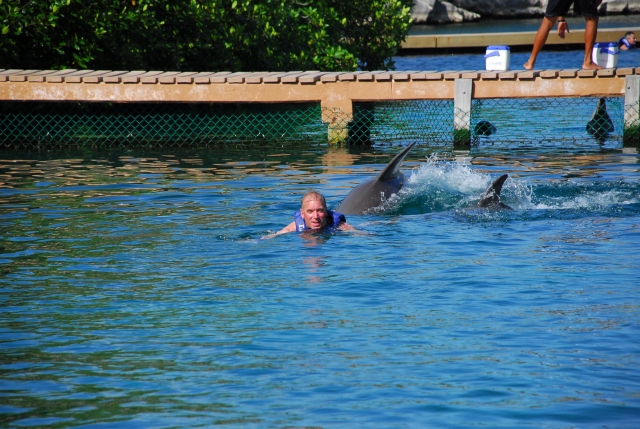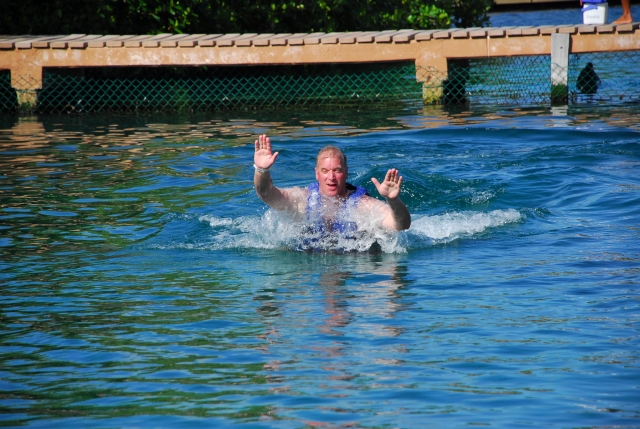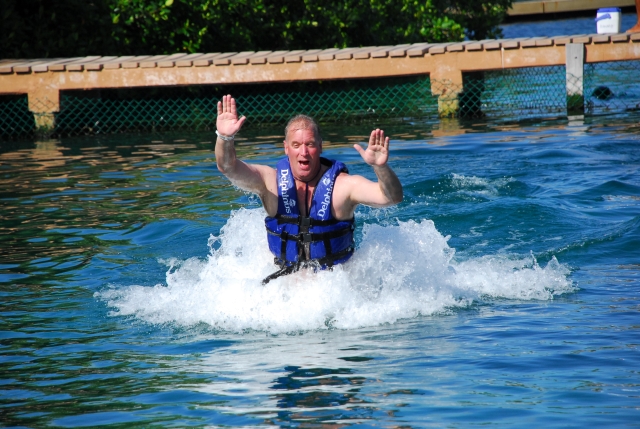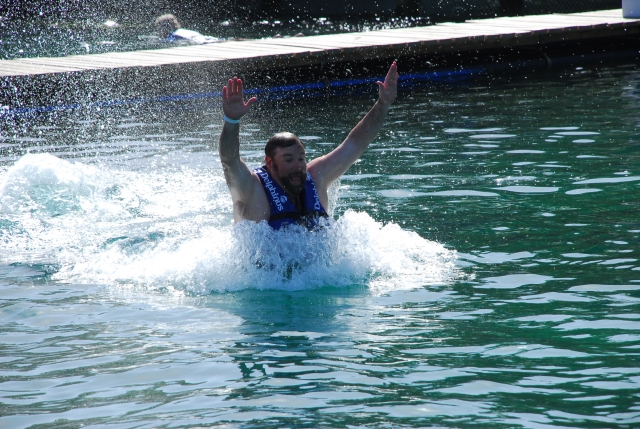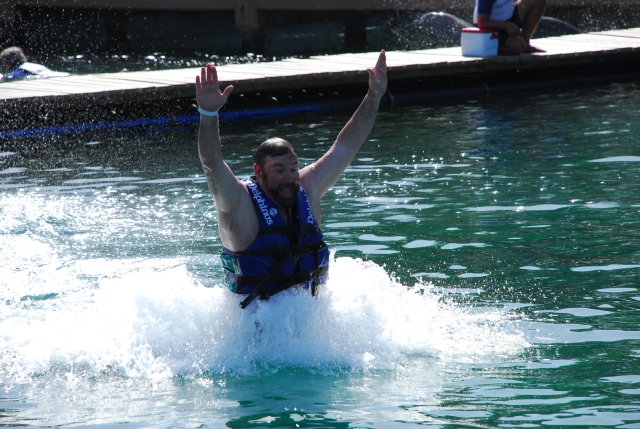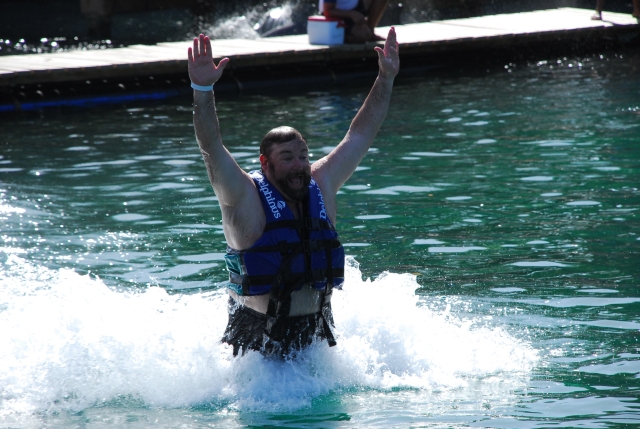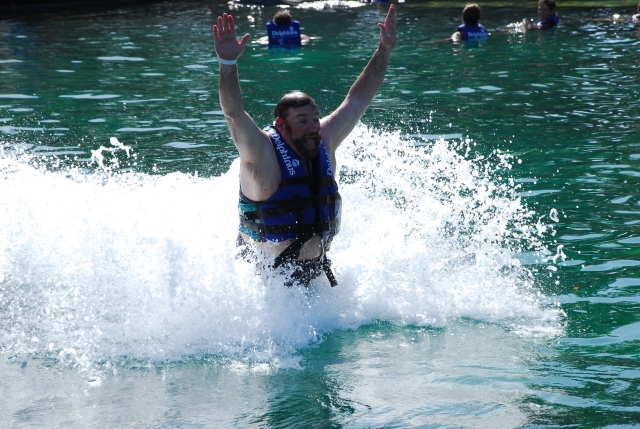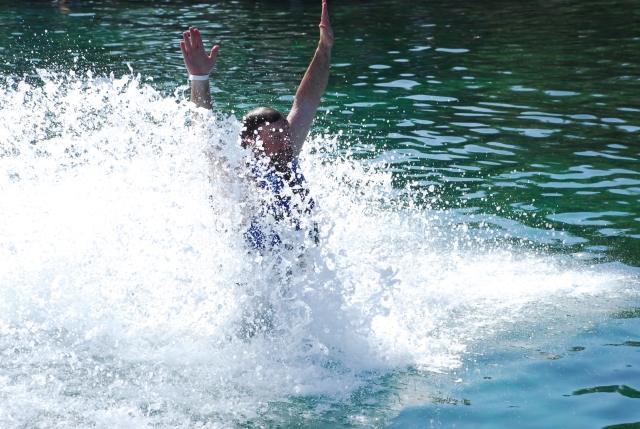 Our instructor gave us a chance to see their bodies: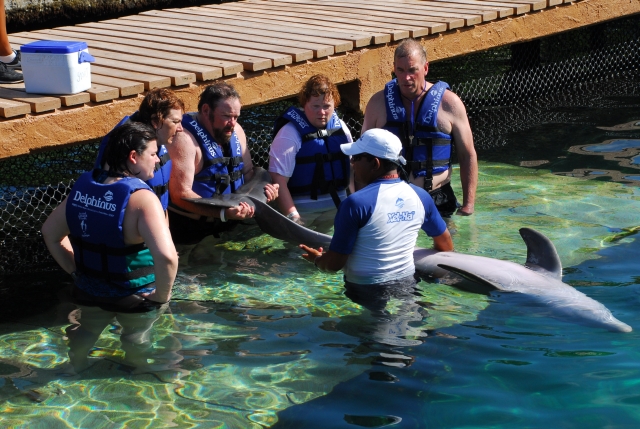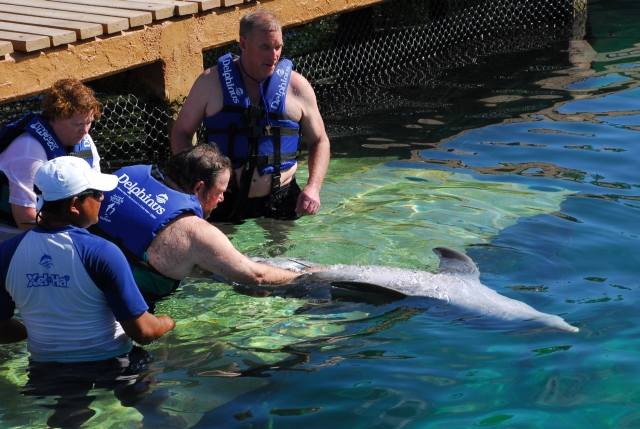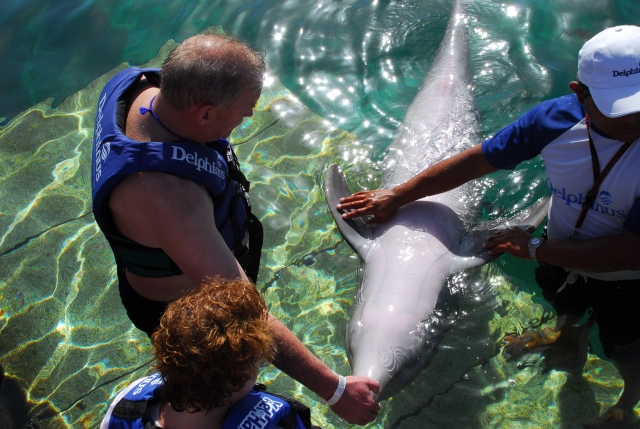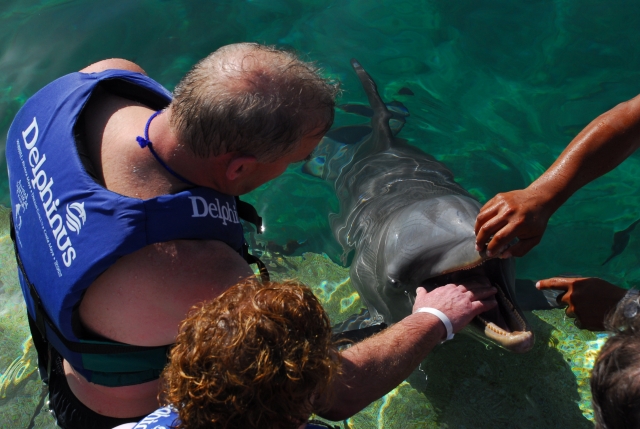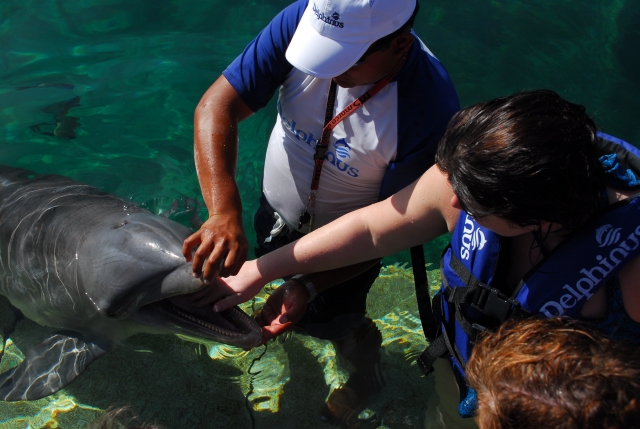 Each of us received a kiss from the animals. After that we got to interact with them and see just how fast and smart they are: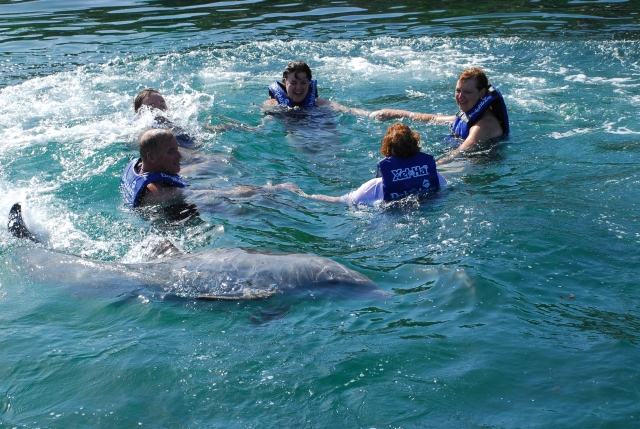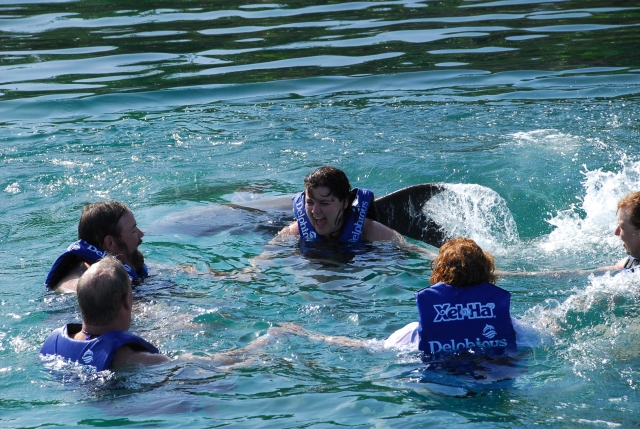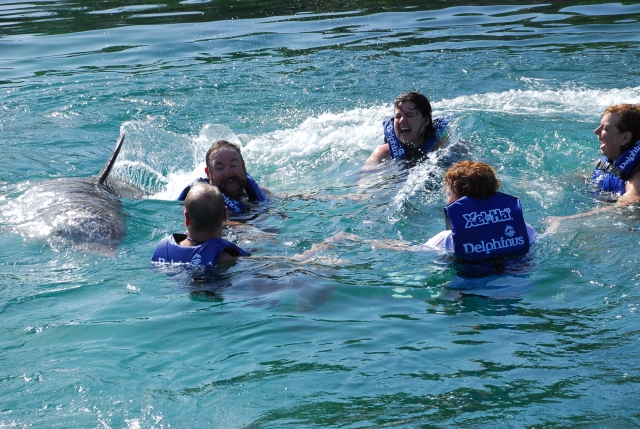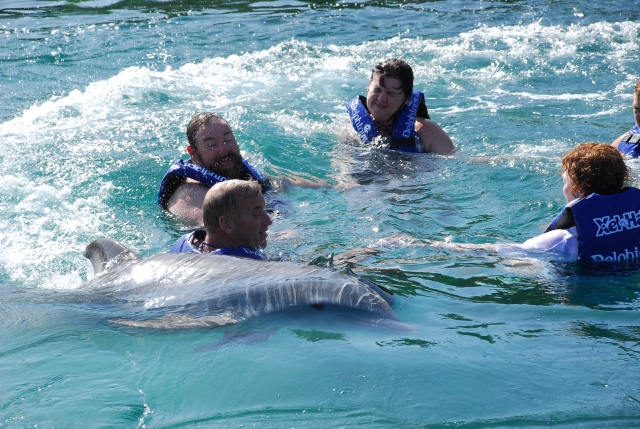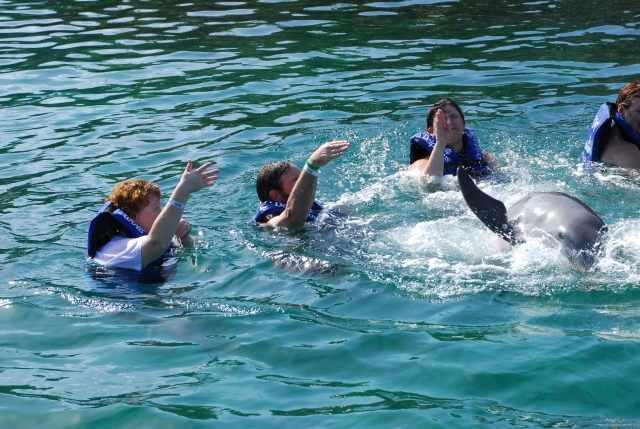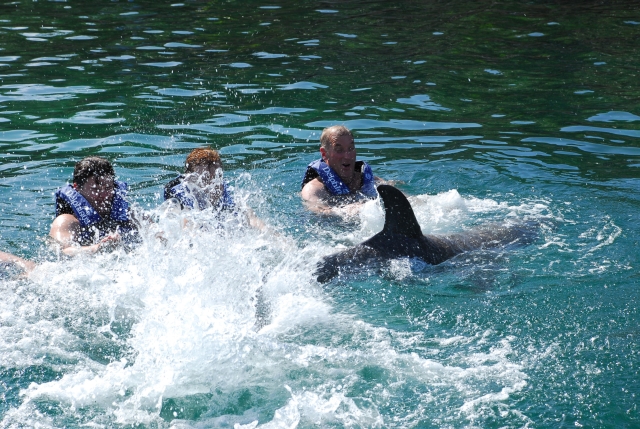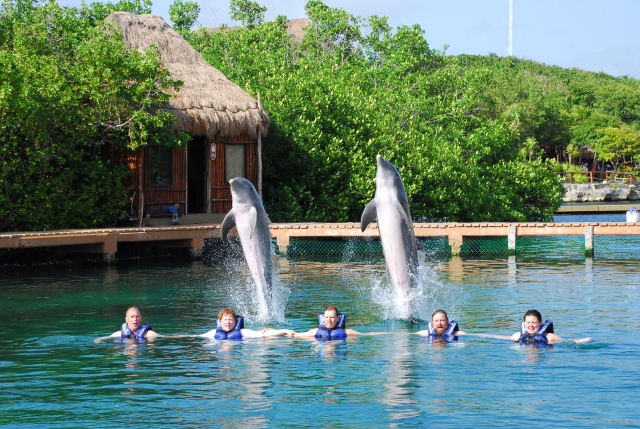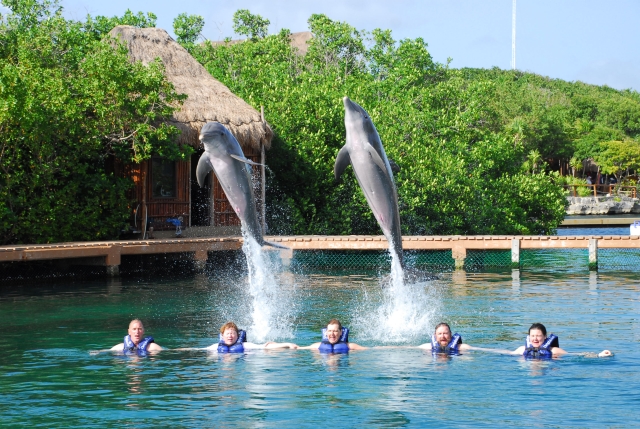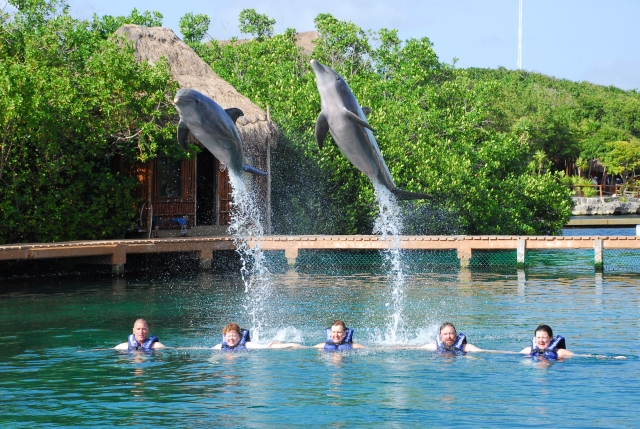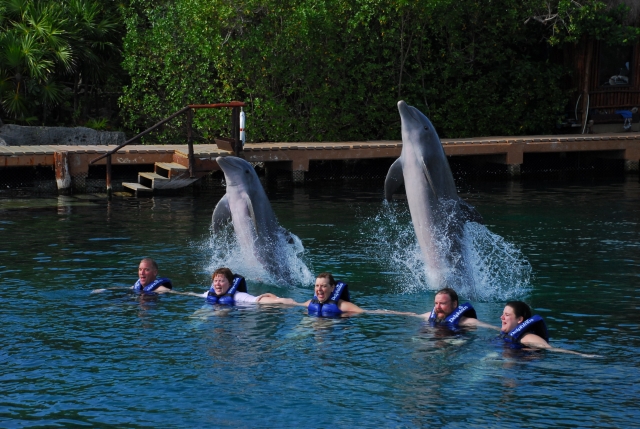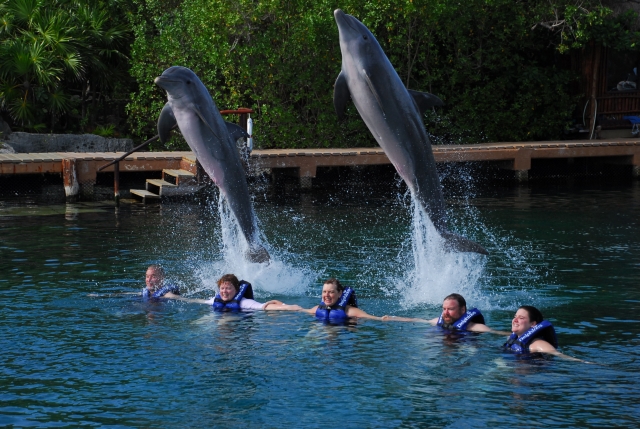 We all got to love the dolphins and some even got to kiss and dance with them. After all that work they deserved a treat. First Sarah: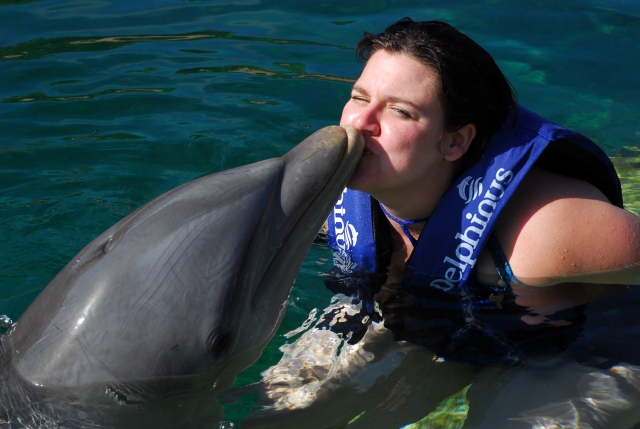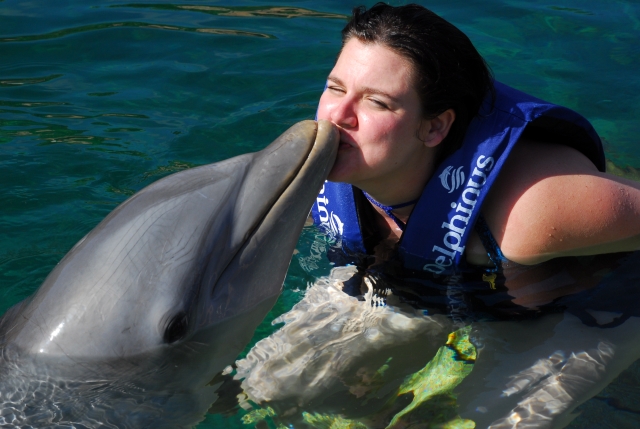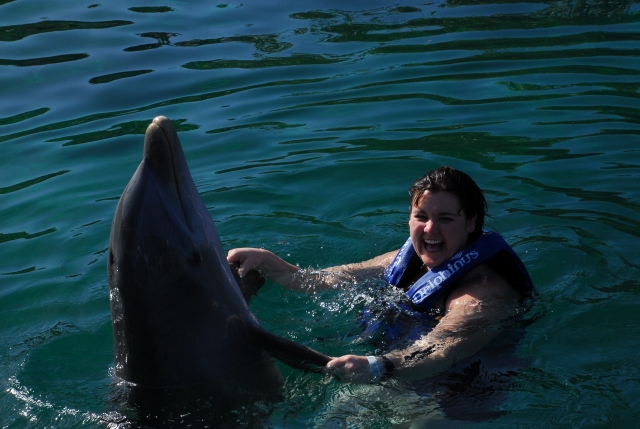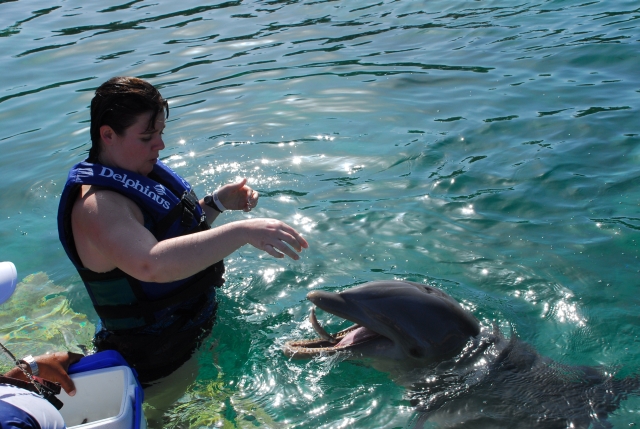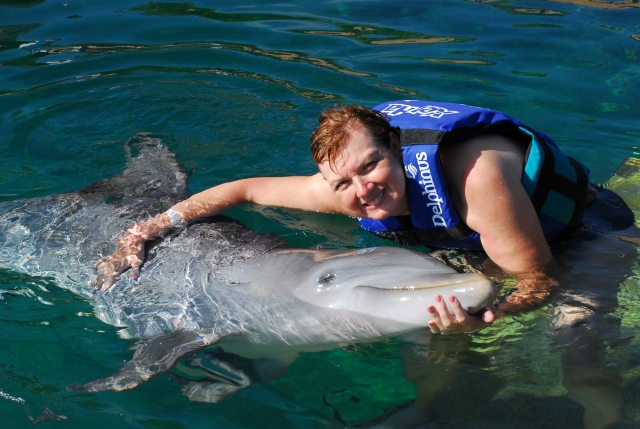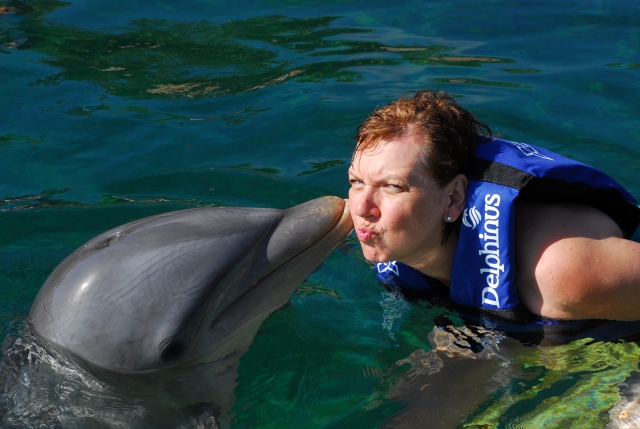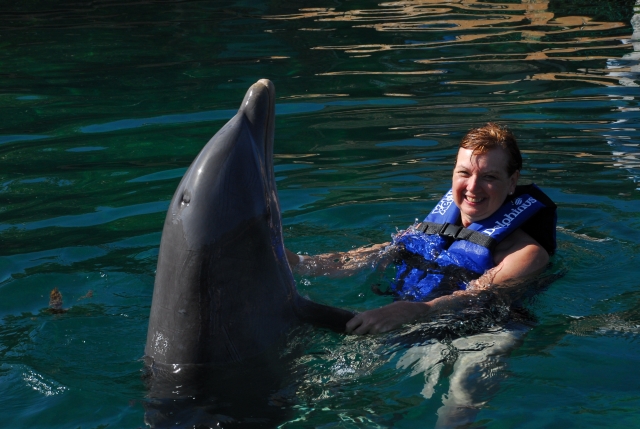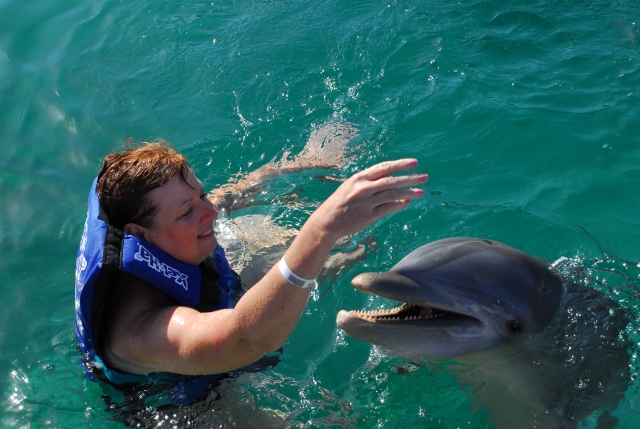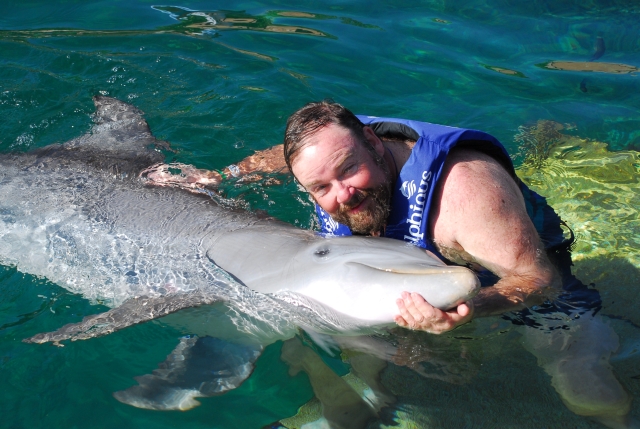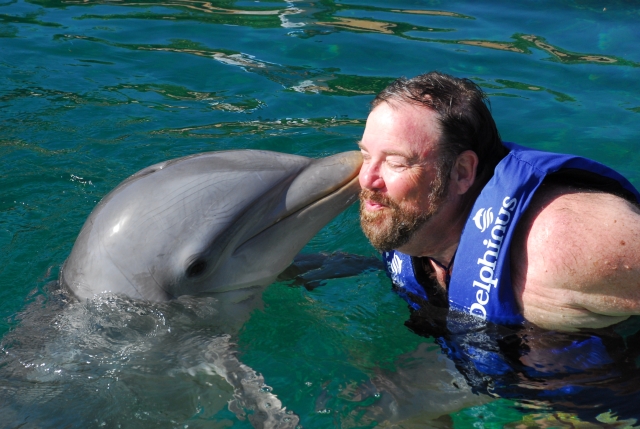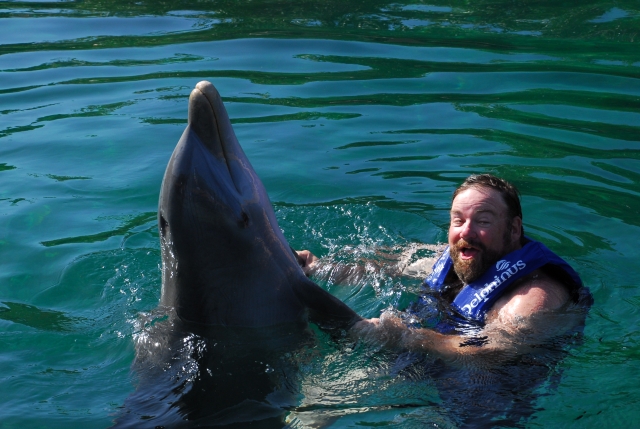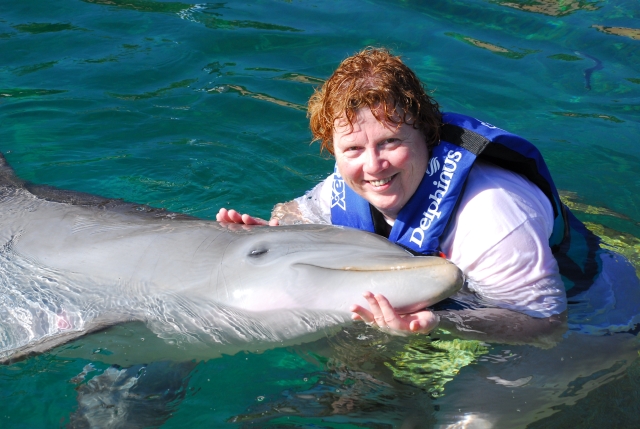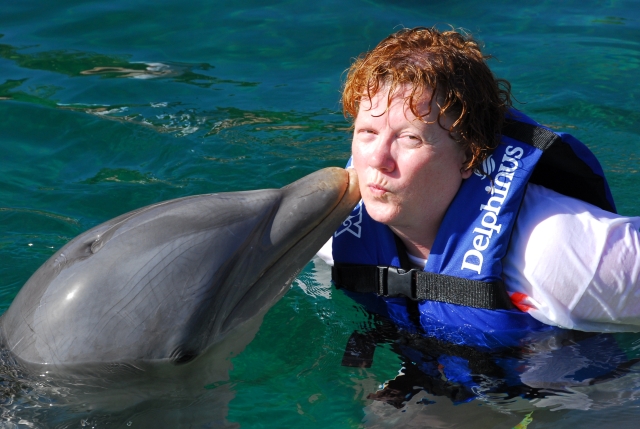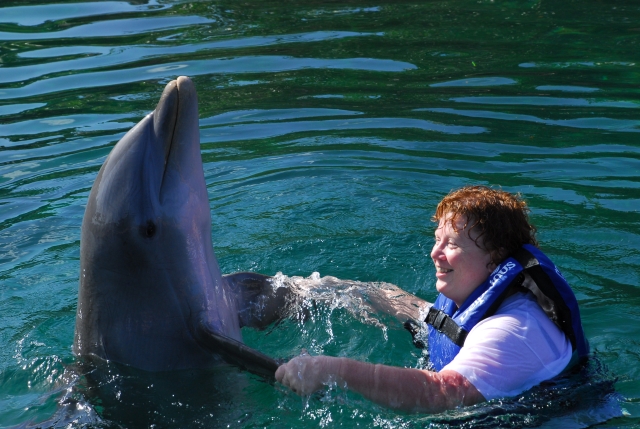 .. last but not least Gary!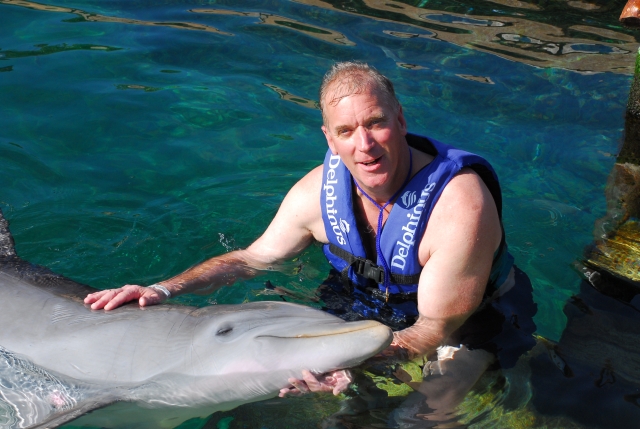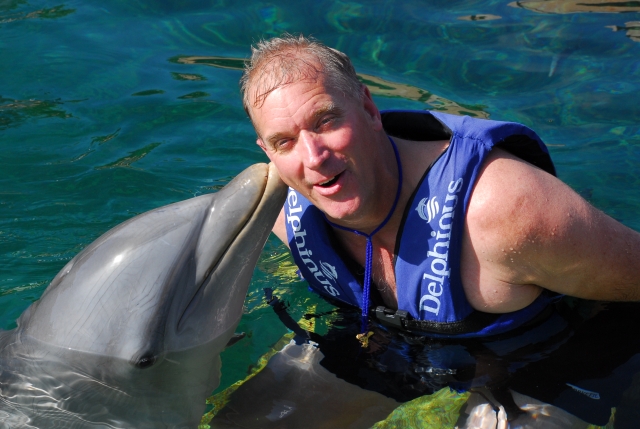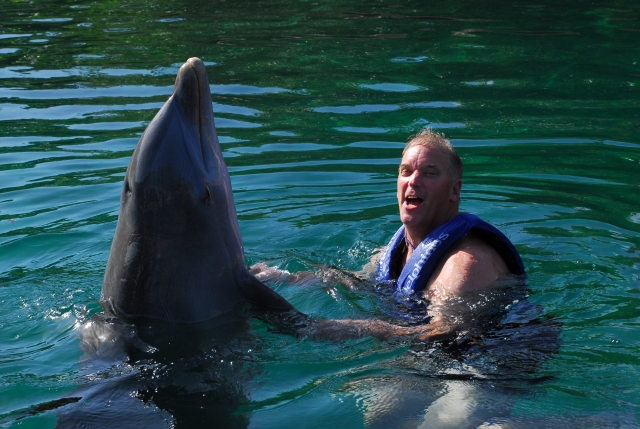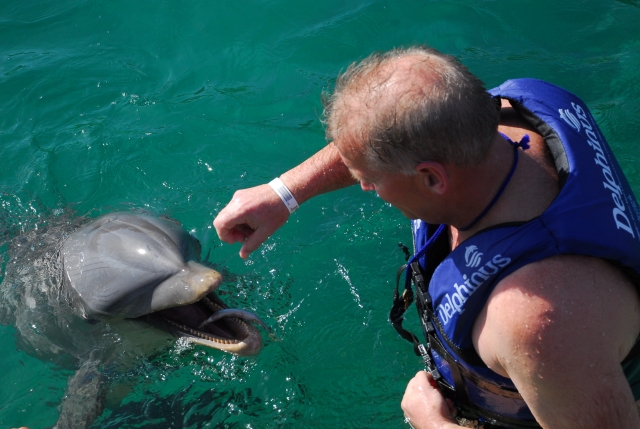 One last chance to give a little treat: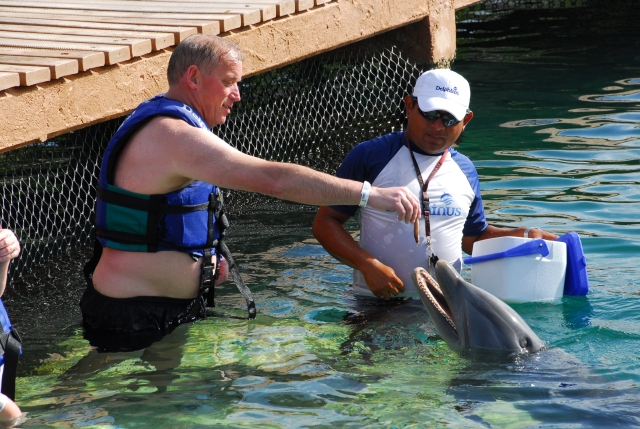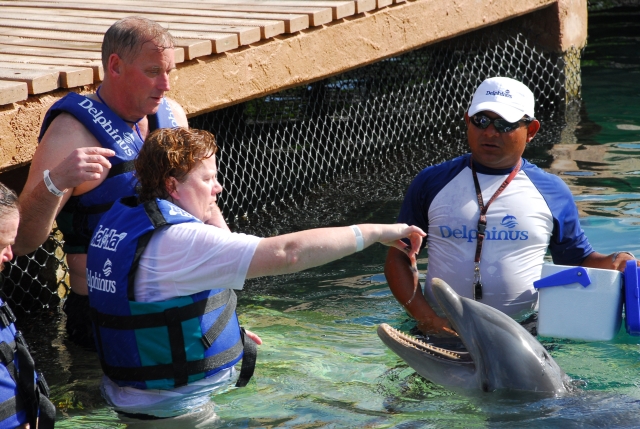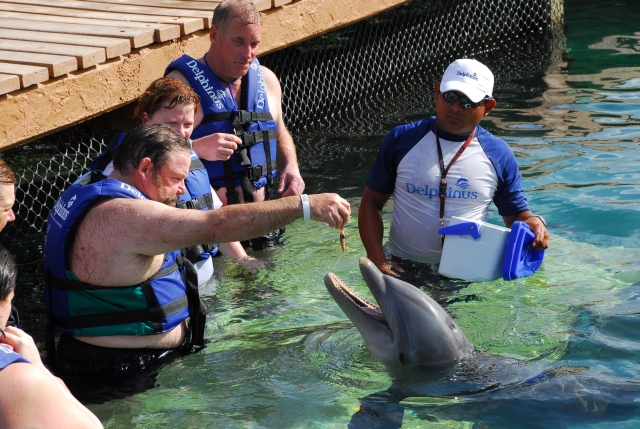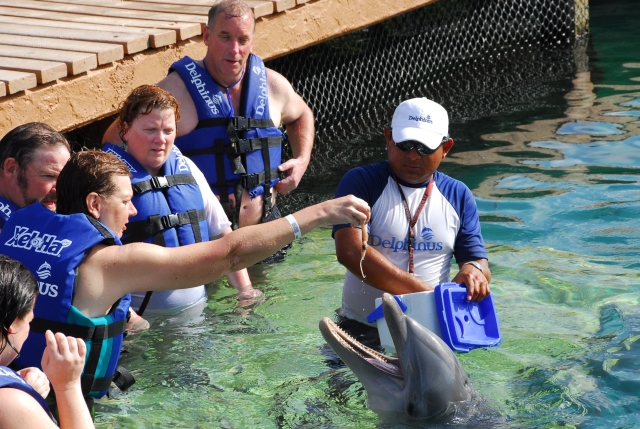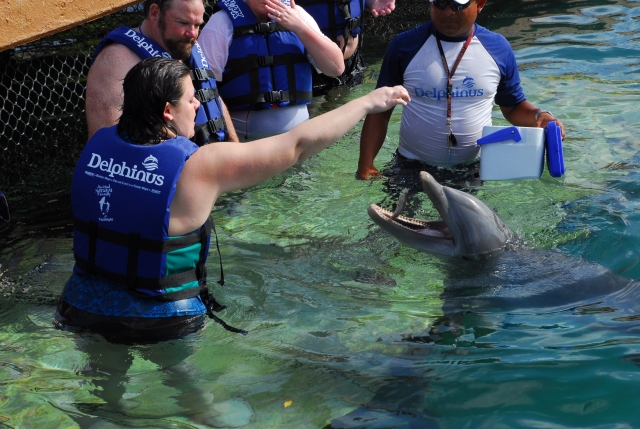 It was with heavy hearts that we bid farewell to our new friends: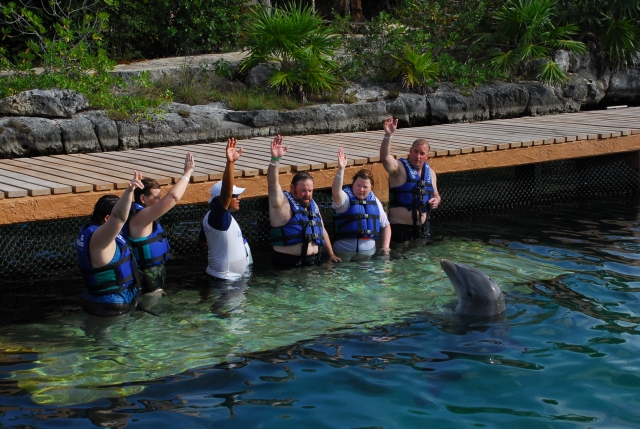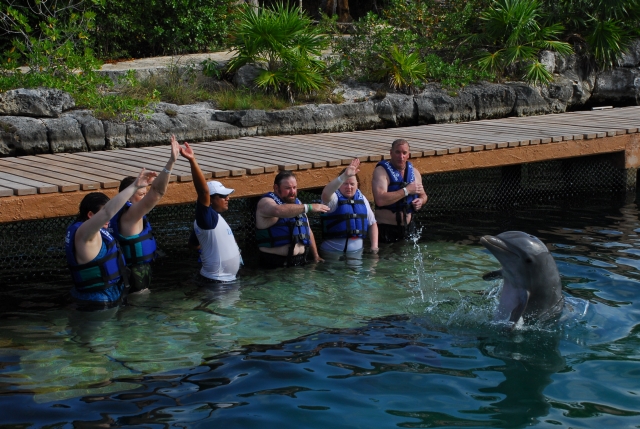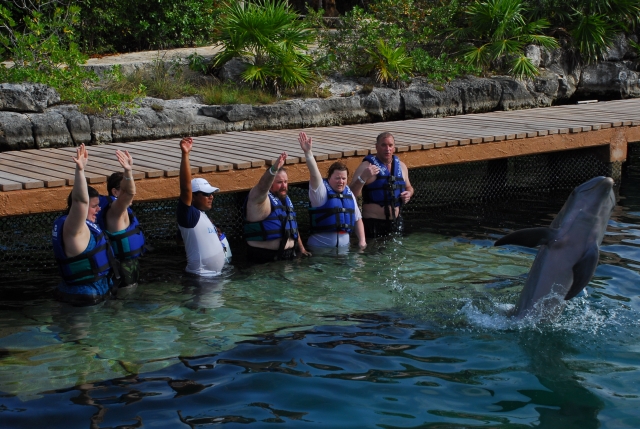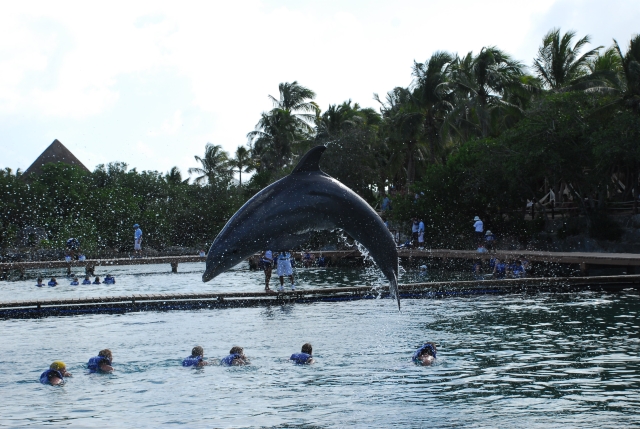 Cruise with family and friends - many dollars

A chance to swim with the dolphins - more dollars

Seeing your wife having joy at your expense - free
Not tightening your bathing suit: PRICELESS!!!


The last day found us anchored off Princess Cays. I wonder whose island this is? We went ashore and snorkeled for a little while: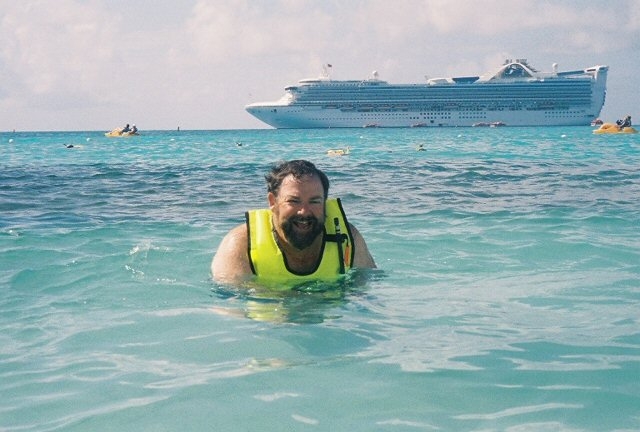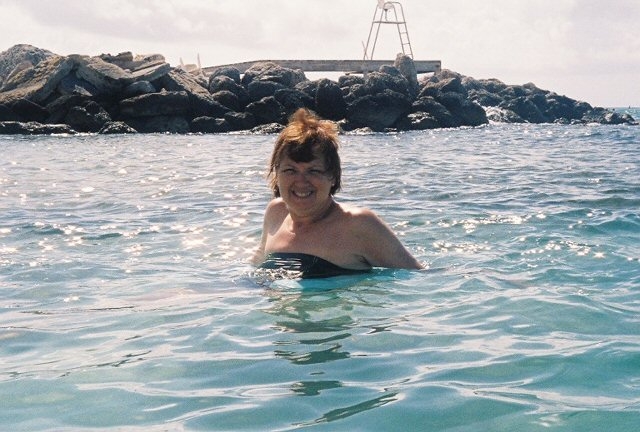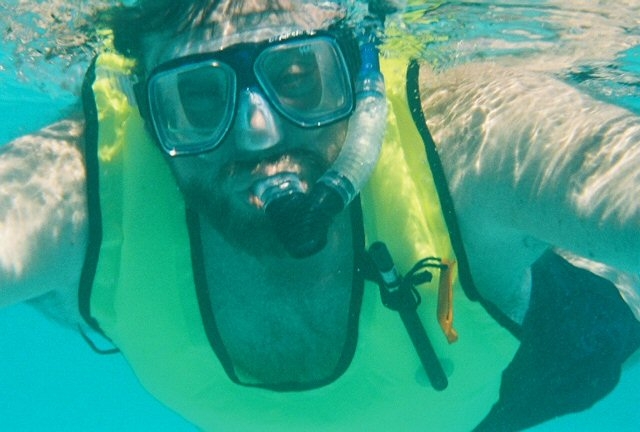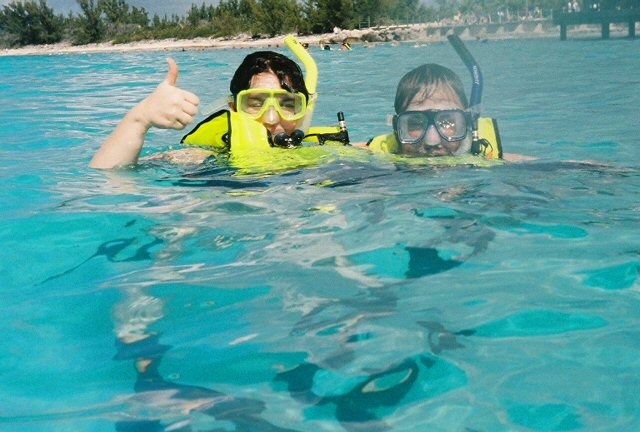 ..saw many beautiful fish:


..and of course had a few drinks and something to eat. After that is was off to the ship to pack since our bags had to be out in front of the room before dinner. It was also a chance to finish the rum in our rooms. We then went to dinner and bid goodbye to our voyage.

The next day found us in Ft. Lauderdale bright and early. We found our luggage, cleared customs, Buzz went for the car and we proceeded to pack it for the trip home. Jackie said that we must be getting better at packing the truck, since it did not look as crowded as when we arrived. Should have listened!

We got home and unpacked only to realize that one of our bags was still in Ft. Lauderdale. I called the cruise line and they said that they had our bag and would ship it to us. Sounded great, until there was a mention of needing a credit card for the fee. Well, the fee was more that the gas to drive back, so my plans for Sunday were changed a bit. I brought Sarah and Gary to the airport and dropped Debbie off to take a limo to her Mom and Dad's place, went home, changed cars and headed off to get our bag. I am happy to say it was a success and the Z06 used much less gas than expected and was a whole lot more fun: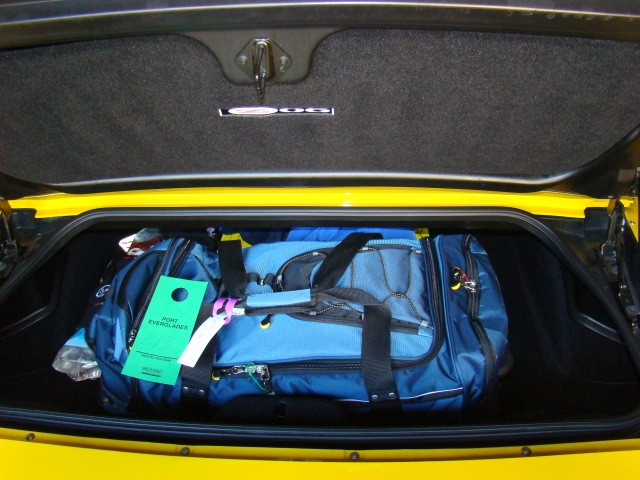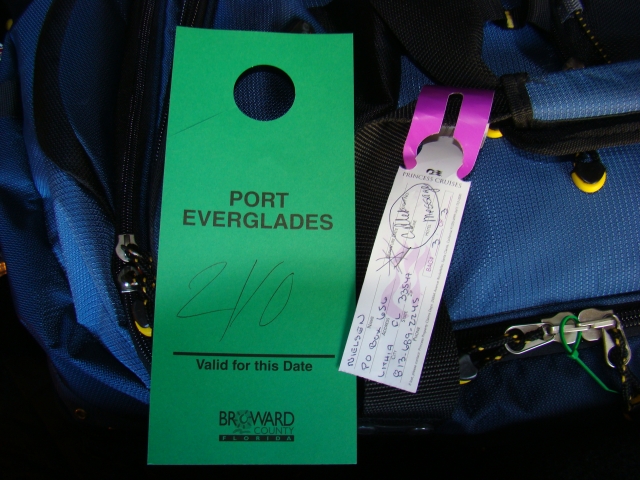 I also want to thank the Police Officer for letting me go a little faster than he would have liked.

All in all it was a great time for us and we hope for the others. I would like to think that Sarah had a good birthday and we wish her many more.
---
Back to our Main Page..