Corvettes Limited of Connecticut visit to the NCM 2006

Our trip from Florida started out with our first stop at our good friends Chaz and Gael Cone, in GA. As per usual we had a wonderful stay, this time we brought along a meal for Mother's Day, so Gael got to have at least one night off. On Monday we left for Bowling Green, KY the home of the National Corvette Museum. We were to meet members from Corvettes Limited of Connecticut; this was the first corvette club that we ever joined. We continue to be members even though we have relocated to Florida; we love hearing about what our old northern friends are up to. Sometimes we even try to make a meeting now and then. CLOC had purchased a large brick to be placed in the walk and the unveiling was to be this evening: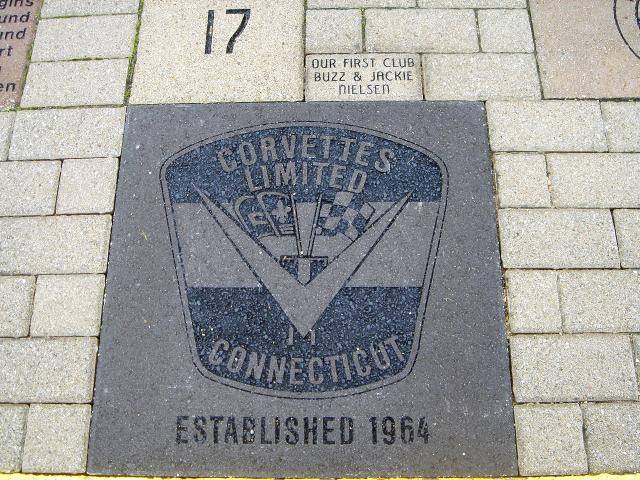 They had five cars start in CT and make the trip to Bowling Green. We of course, started in FL and met up with them in Kentucky. They all arrived intact and excited for a fun event: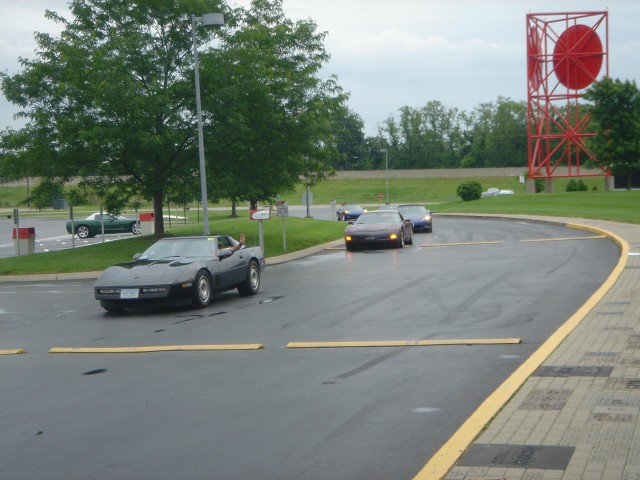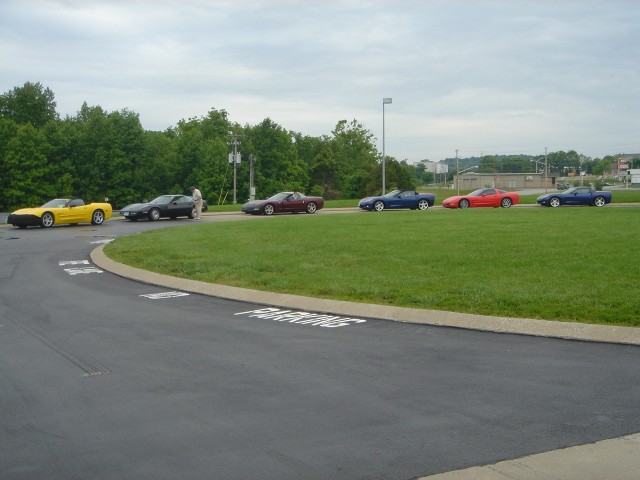 Karen and Rich Claing (or we should say, Karen) did the planning for this trip. From what we heard from their fellow travelers, they did a wonderful job. Karen had a goody bag and CLOC polo shirt commemorating the trip. We all dressed properly for the evening.

Monday evening the twelve participants arrived at the NCM for the unveiling. The weather was cooperating and just a bit overcast. Buzz, as Chairman of the National Corvette Museum Foundation, was given the privilege of doing the unveiling: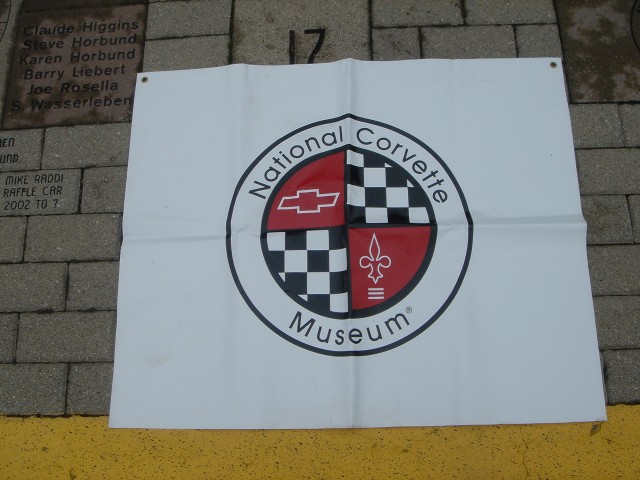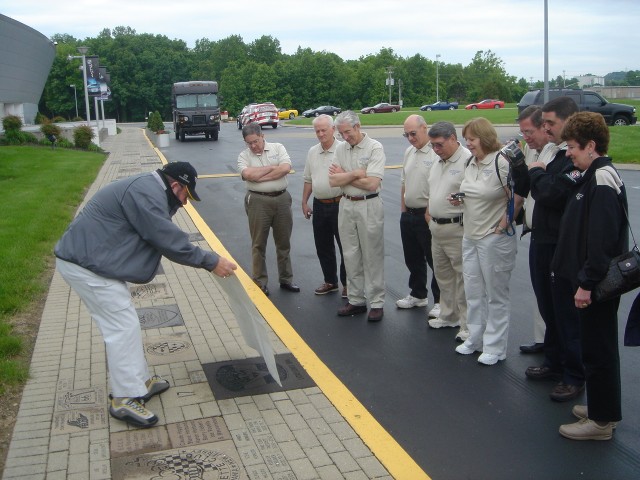 It definitely meant a great deal to him to do this. Then we went inside to find a greeting: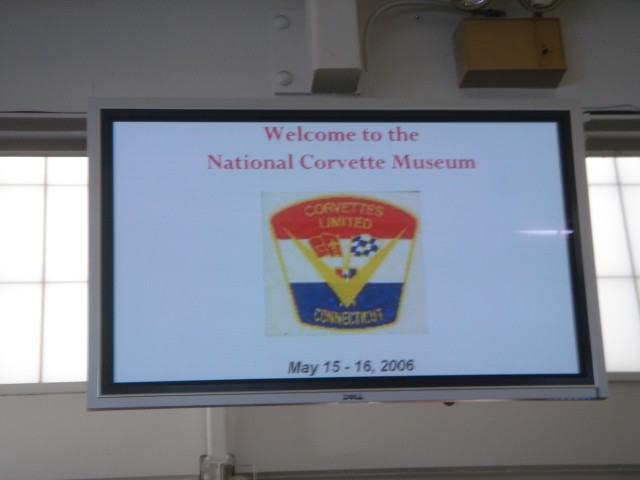 ..and then we were off on a private tour, given by Dan Sherman; what a fantastic job he did. He was very informative, personable, and unflappable: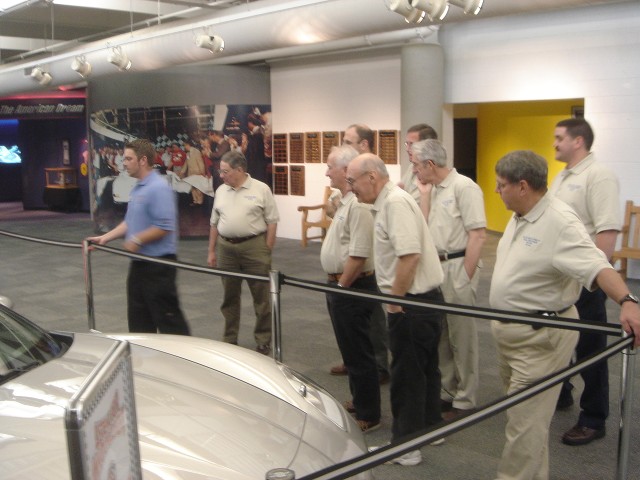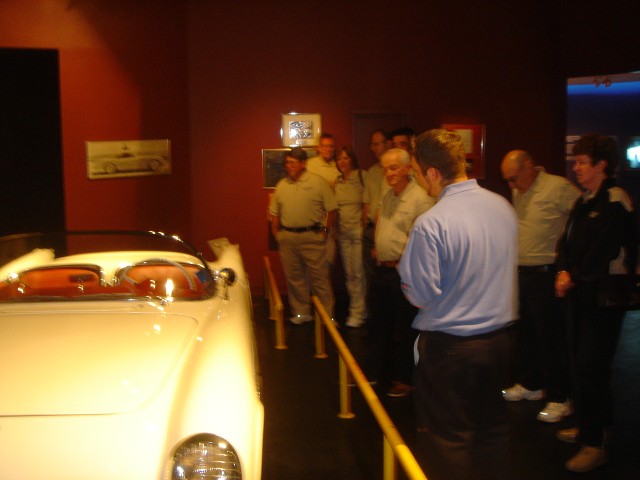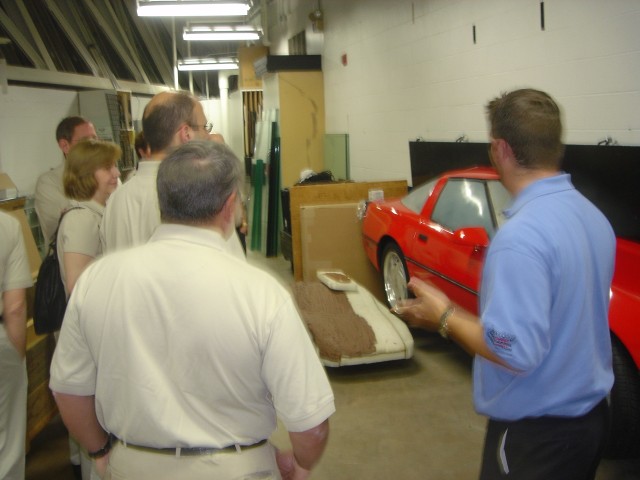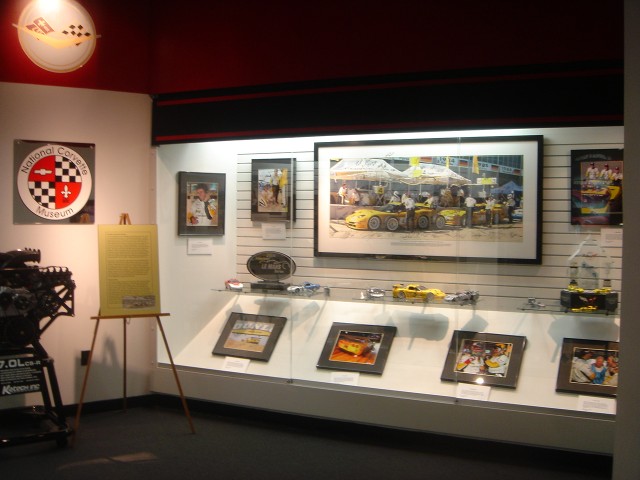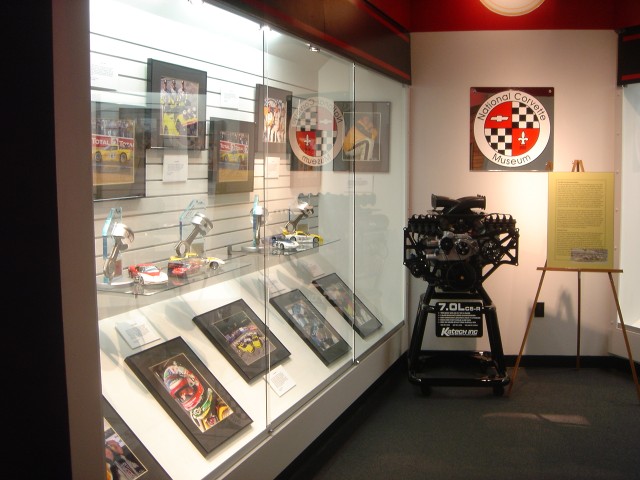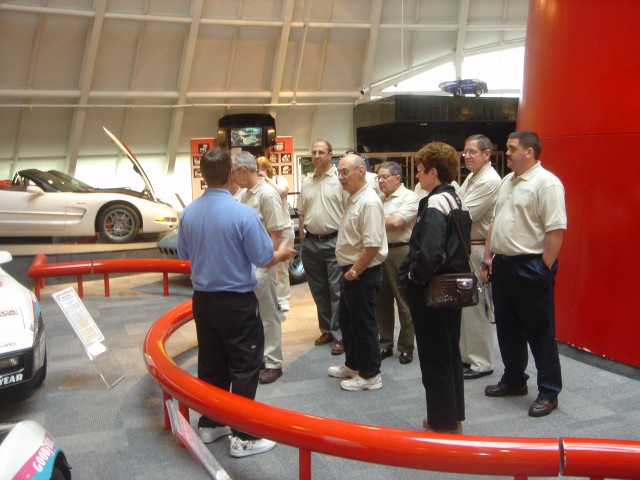 We even got to see Wil Cooksey's ride: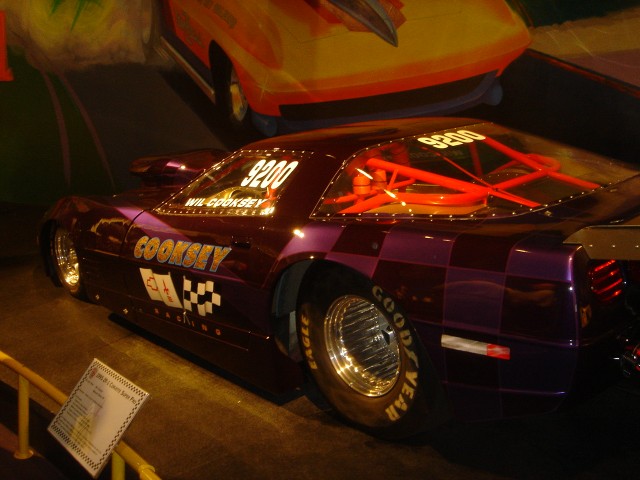 We certainly enjoyed the tour. Then we were ushered into the Corvette Theatre to see some of the NCM's newest videos. We were running a bit late for dinner in the conference room, but the feeling was, "Who cares; we can eat any time". Once more our hats are off to Daryl Lee and his team on their wonderful video productions.

The conference room was set up and ready for our small gathering: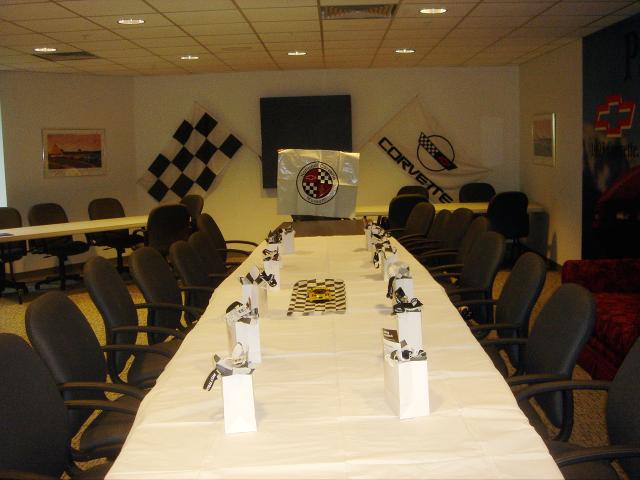 Jackie and I had decided to help to make this special, so we had small goodie bags on the table: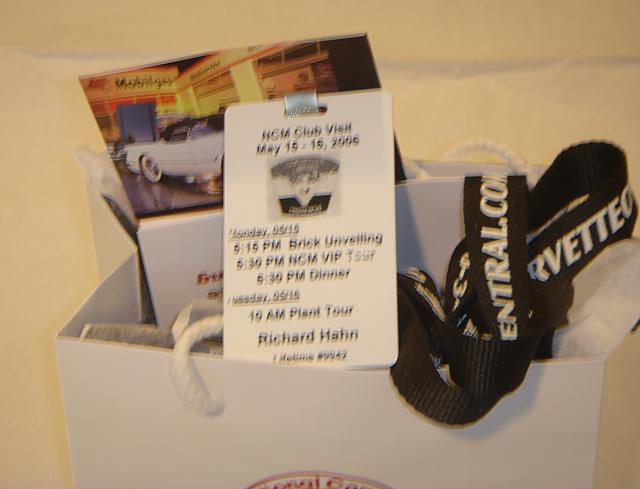 Inside, everyone found a name badge,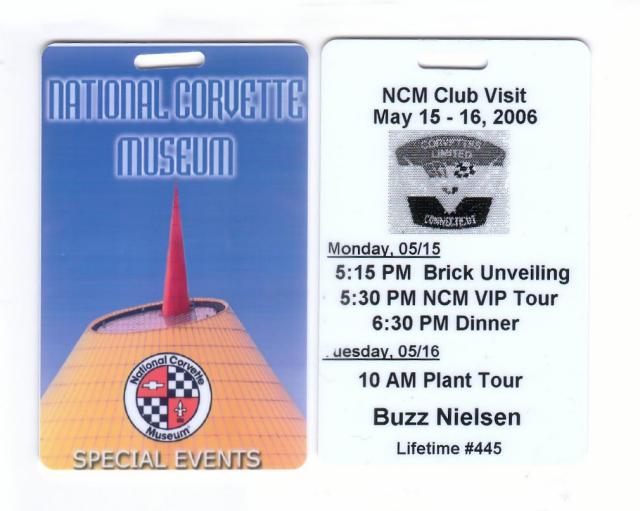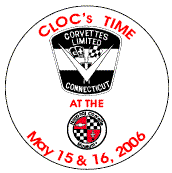 Our good friend and fellow corvette enthusiast Ed Duprey of Great Lake Trophies and Engraving did a wonderful job for us on the pins and dash plaques. Of course we also included some pamphlets from the NCM on memberships and one on brick purchases. Hopefully now that CLOC has a big brick, others will follow with small ones around it. The NCM supplied us with a signed model for the centerpiece. The food was catered by Cambridge and even though we were late arrivals, everyone thought it delicious. The center piece, a signed C6R, caught the eye of some; we were given permission to auction it off: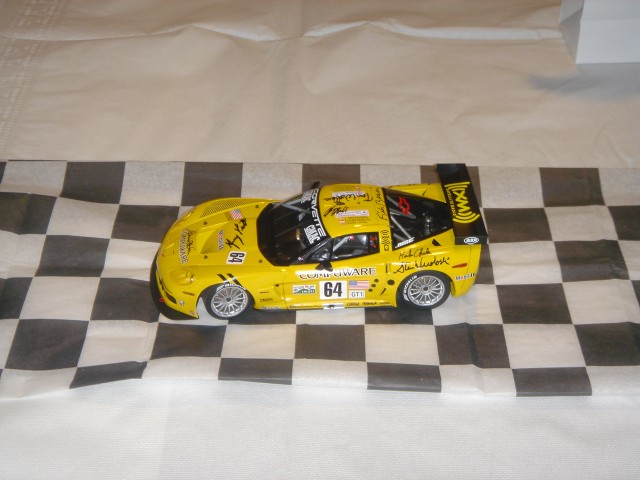 The winner was Ron Borgio and thank you, Ron, for your generous donation to the NCM. The evening adjourned about 8PM but only to go back to the hotel and meet in our room for some more Corvette talk. What a great evening!

Tuesday morning we were scheduled for a tour at the Plant. All were on time and ready to go; actually, I think all were early and raring to go. We caravanned to the plant and, of course, had to stop for some picture ops: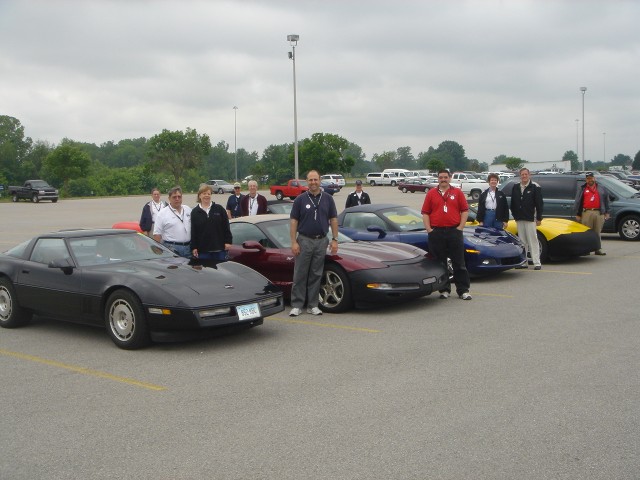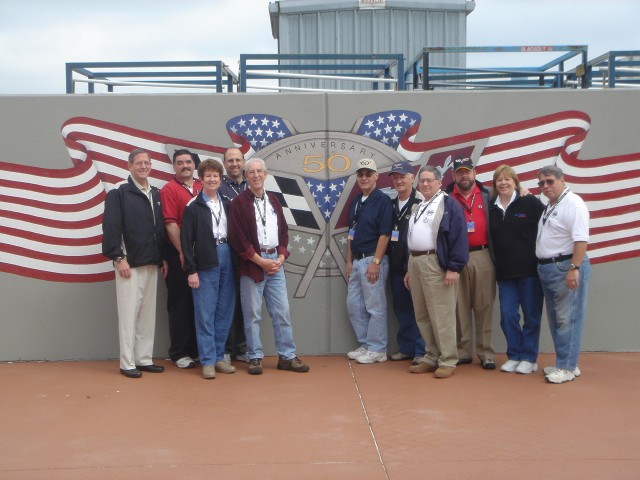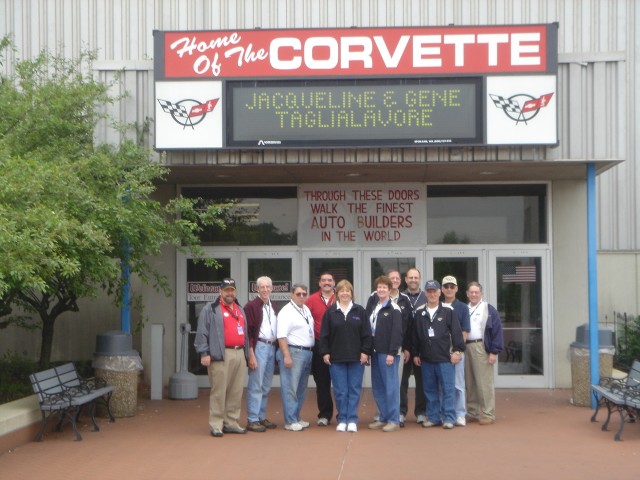 The union's store was open and a few purchases were made before viewing the safety movie. Then we were off with Josh on our tour. Everyone was enjoying themselves and we were about ¾ of the way through when Kevin approached us and said he was supposed to give us the tour. His tour is a bit different from Josh's so he offered to start from the beginning and we could do it again. We did lose one couple but everyone else stayed. Believe me, it was a much more informative tour. At the end Karen was lucky enough to be able to start a C6. Rich, we aren't sure she will ever be the same! The ride home for them could have been interesting. By the expression on Karen's face she liked the car. We stopped and chatted with Kevin a bit before leaving; the others had already left. We ran into a former employee and he was nice enough to take a few pictures of us with our cars: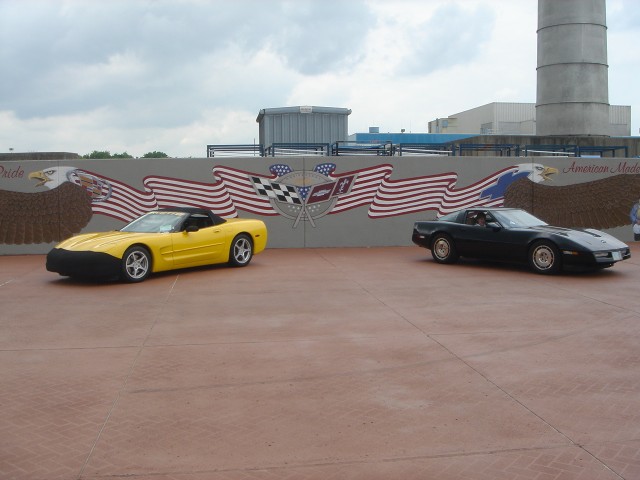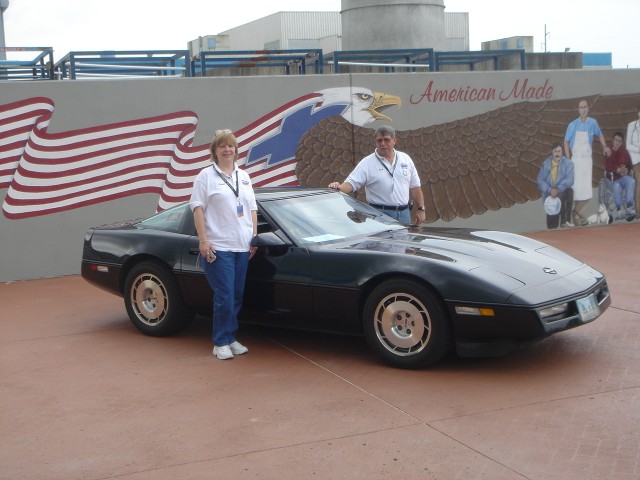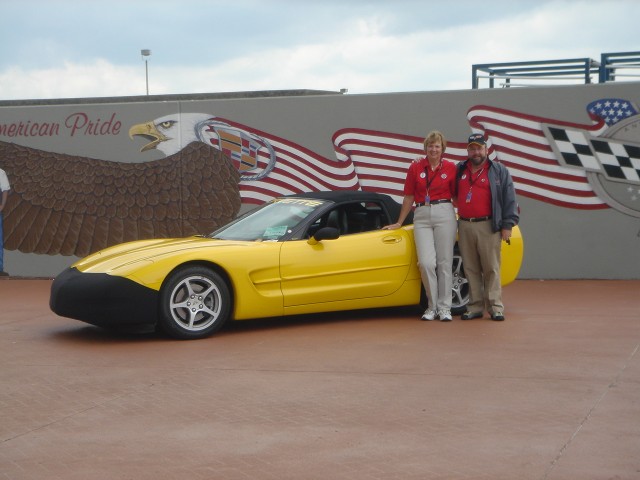 Then it was off to the NCM to do some more shopping; one must always remember that you can't buy this stuff at your local corner store. Yes, even we came home with another bag -- and we were there only two weeks ago! I do believe that I saw others go out with more than one bag, too. That evening we all met at Rafferty's for dinner and more corvette talk, which of course we never tire of. Having our friends, Karen & Rich, along with other club members meet here was very special for us. We had a great time with all. Richard & Ginny Hahn, whom we hadn't seen for years, Jim Schaller, whom we had met before but got to know better, Skip who had helped us out at Lime Rock last year and said he will see us again. Steve Estes and Ron Borgio were new friends. They decided to go through the Tail of the Dragon on their way back to Connecticut and we heard that they had a very enjoyable time.

It was great to see these old and new Corvette friends and have a chance to participate it all the fun with fellow Corvette fanatics. Jackie & I are proud to be a part of Corvettes Limited of Connecticut and thank all the other members for agreeing to purchase this brick and support the National Corvette Museum. I also feel very special that they waited until I was Chairman to have it placed. I urge every member of the club to not only purchase bricks to go alongside, but come to Bowling Green to be a part of the NCM family, up close and personal.
---
Back to our Main Page..