Sarah does her "Old Dad" good
Before I tell the story, I have to THANK my daughter for being her. There is not a more loving child than her and she really makes me very proud. So "Thanks, Punks!"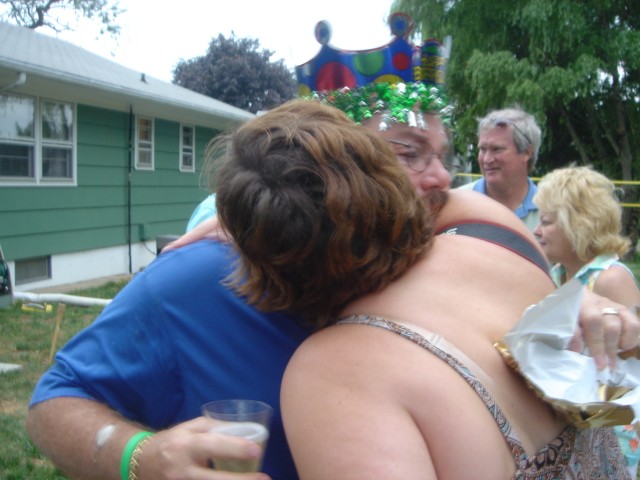 Jackie & I decided to visit our daughter, Sarah, for a few days before we went to Corvettes at Carlisle and on to the NCM for Labor Day. We flew up from Florida and planned on driving back since we had left a Corvette with Sarah for the summer. I was told that Sarah would be having a company picnic on Saturday afternoon & my main job was to pick up Mucke's hot dogs for the event. I knew that I would also help set up things earlier in the day and go for the dogs in the early afternoon. Jackie was doing her usual task of cooking and preparing some of the items for the party. Jackie & I had discussed the fact that we would not know many of the guests, except for Gary & Debbie Lathrop, Sarah & Dan, and a neighbor, Russ & Judy. It would be fun anyway.

Dan & Sarah arrived and we started to set up the back yard for the festivities. One thing led to another and it was getting later and later in the day. Finally I told the others that I would have to leave for Cobalt Market for the franks. Knowing the guests are to arrive around 4:30, of course Jackie told me to be back by 4:15 PM, I knew that there was plenty of time to "get' her done" with time to spare. Knowing that, I decided to stop on the way to see David Gutt, since he lives close to the market. As luck would have it, he was home and we reminisced about old times, saw his new garage and left for Sarah's with a little time to spare. What the heck I didn't really know these people and they didn't have to eat as soon as they arrived. As long as I got there before 4:30, who cared?

Off I traveled on the highway at a somewhat quick rate of speed and enjoyed the drive. I pulled up to the house and saw a whole lot of cars I didn't know. I parked and went toward the front door to put the cargo in the fridge, found it locked and chained and decided to open the garage door and get in that way. The door rolled up and I sprung in and tried to open the inside door and found that locked! Feeling a little testy, I went around the side of the garage toward the back yard, WHAT A SURPRISE!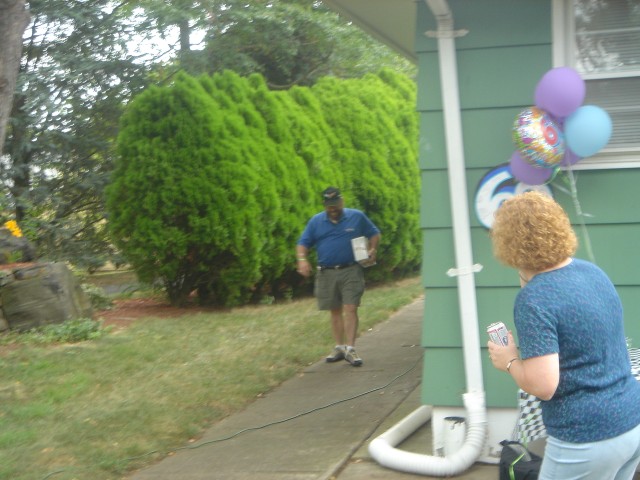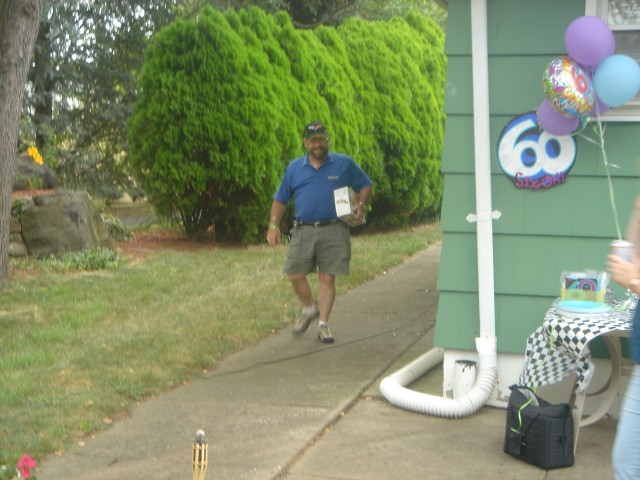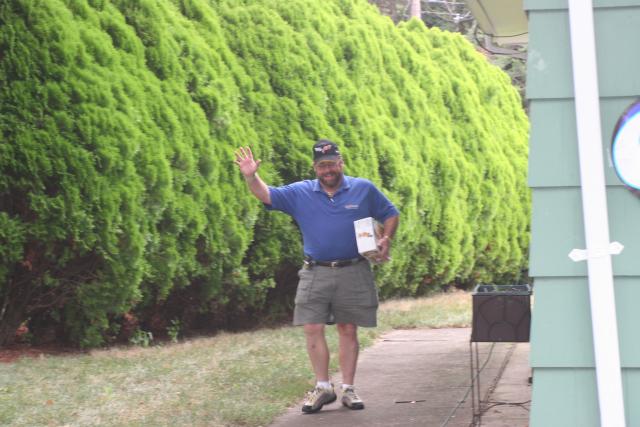 There were no colleagues of Sarah in the yard; it was full of many of my oldest and dearest friends, yelling "SURPRISE!"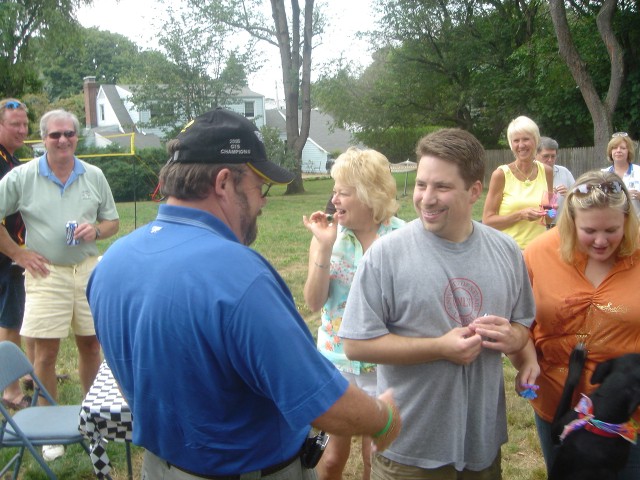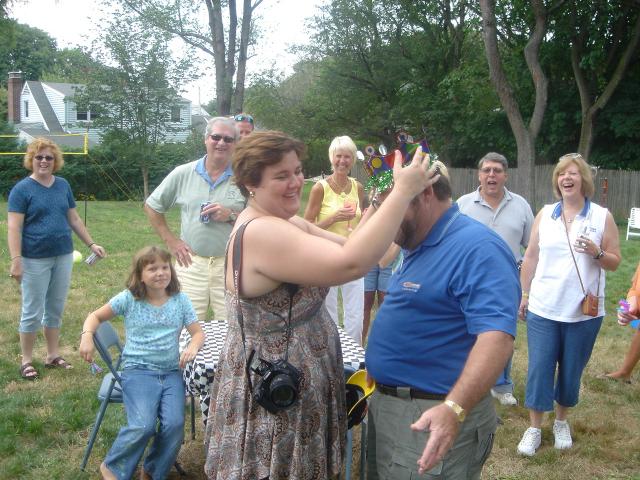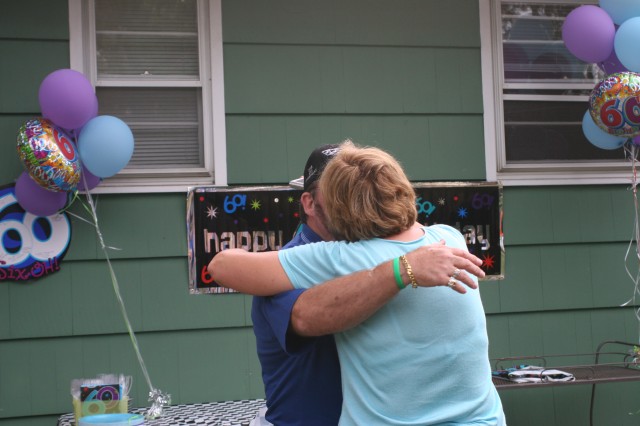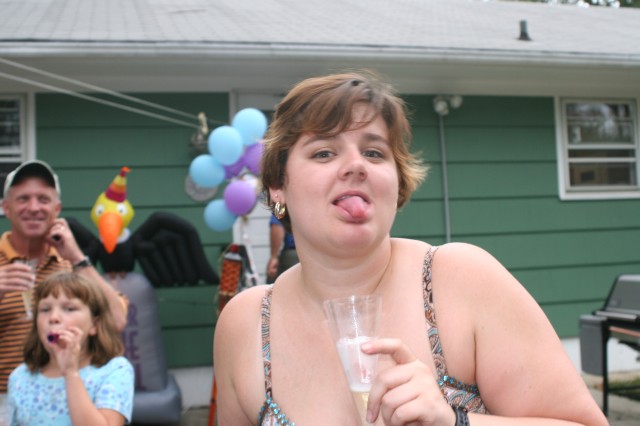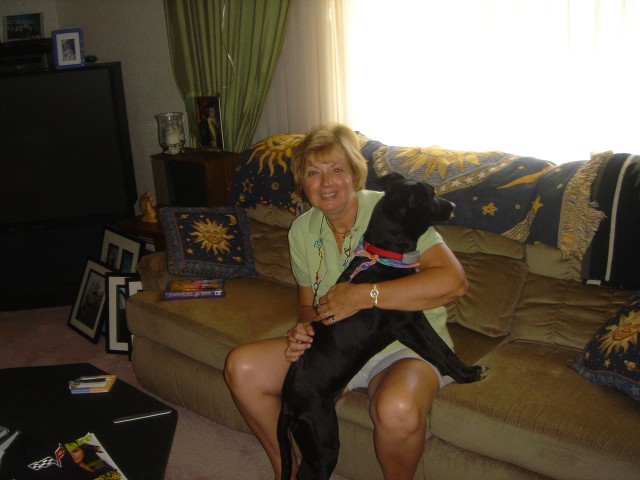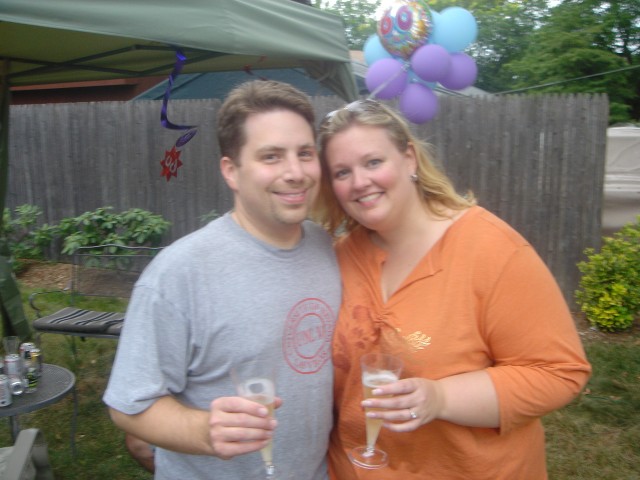 ..had planned a surprise birthday party. My actual birthday is not for a month, but Jackie & I will be on a cruise with other NCM members and Sarah will not be with us, so they thought I would not suspect a thing. They were correct. It was a complete shock to me.

After my heart found a beat it liked, I started to check out the guests and mingle. One of the first to catch my eye was Lois, my older sister if I had one, and one of my oldest acquaintances. She was a sight for sore eyes, since I was going to try and see her early next week: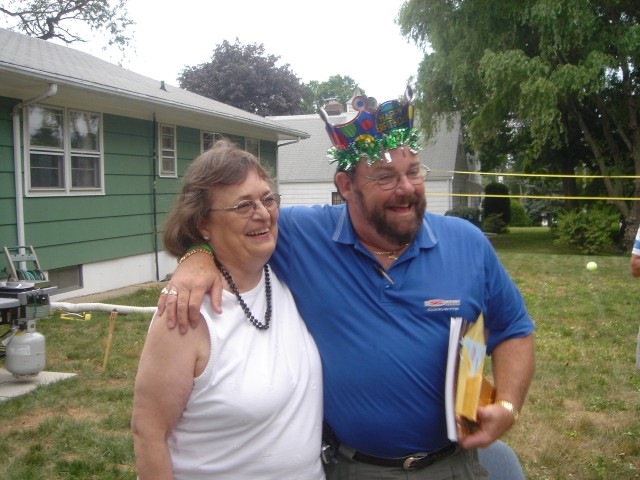 She brought along Andy, her son, Joyce, her daughter, Bill, Joyce's husband, and Jamie, their little girl. If anyone knows all about me, it's Lois. Next I saw Laura Jensen, my distant cousin and some of her family: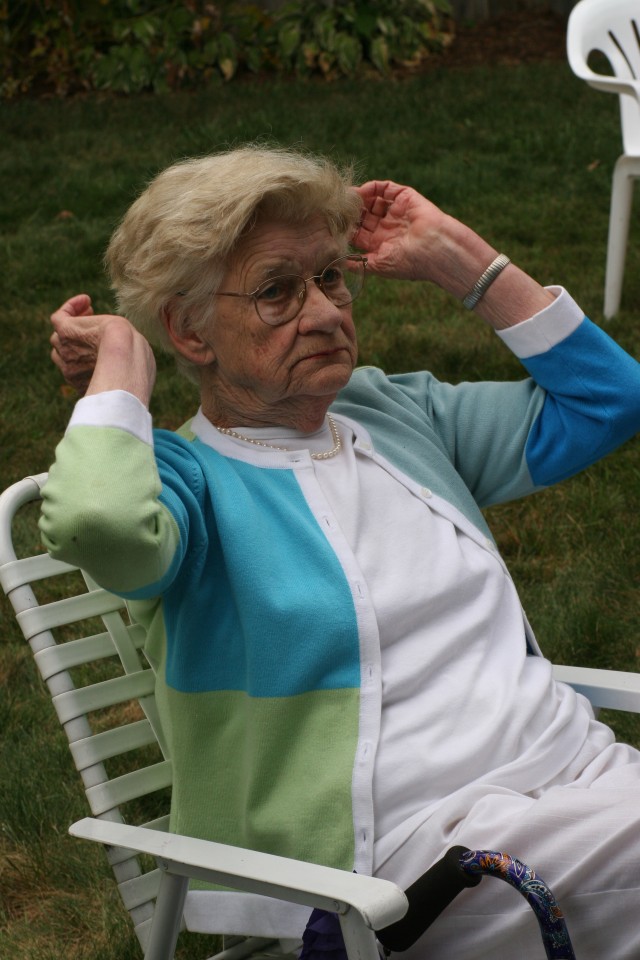 Laura has been like a grandmother to our Sarah and a good friend. She had her daughter, Jill and her husband, Mike, along with their lovely daughter, Kate: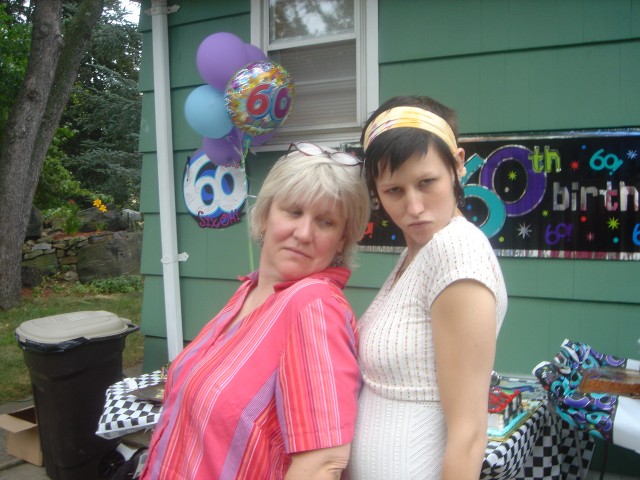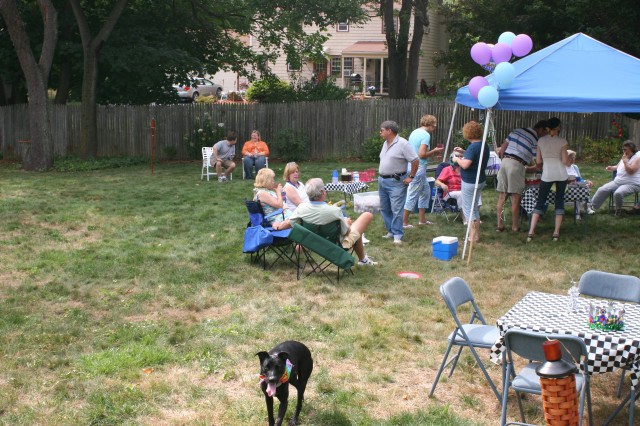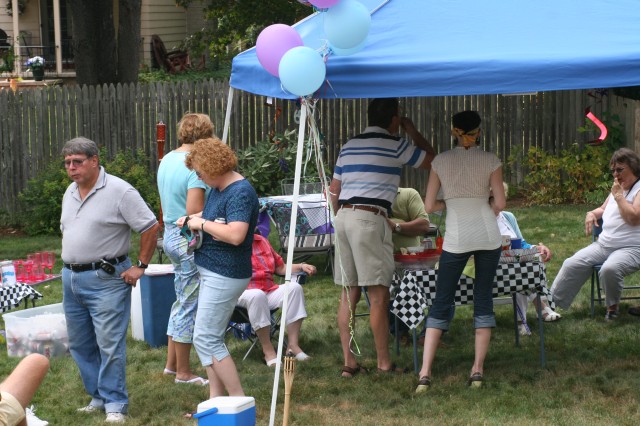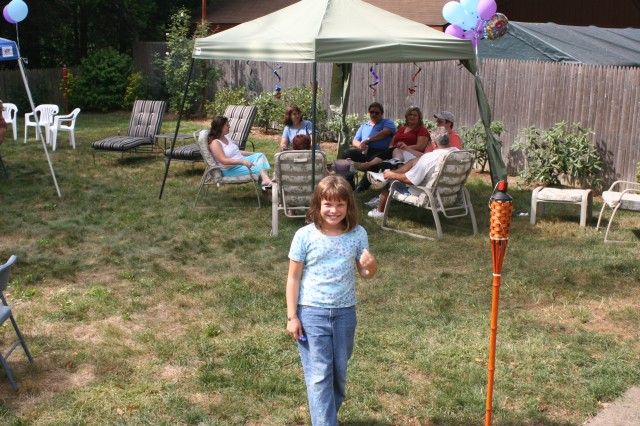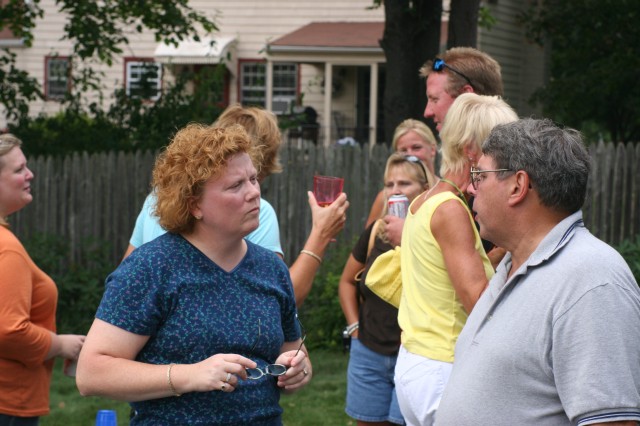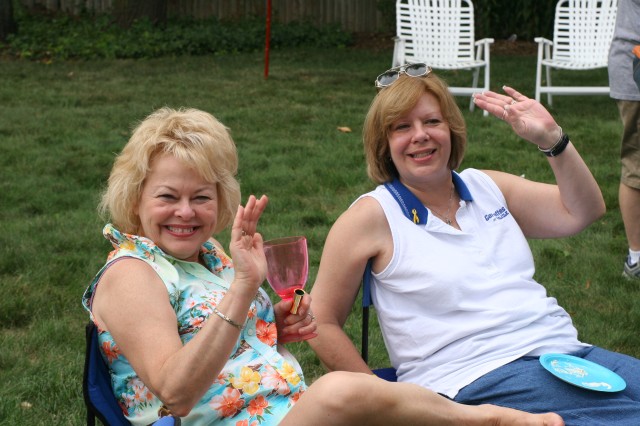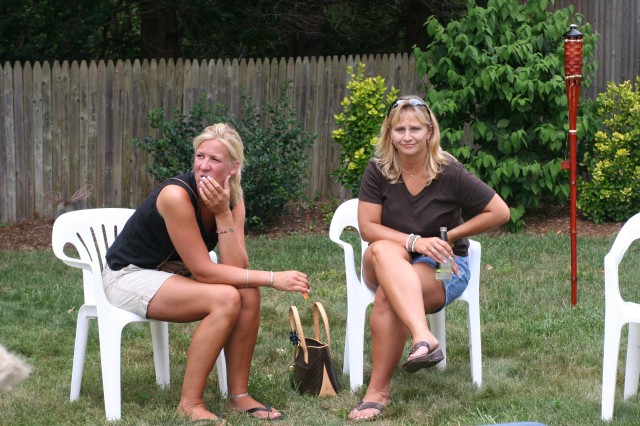 There were many friends, Gary and Debbie, Rich and Karen, John and Pat,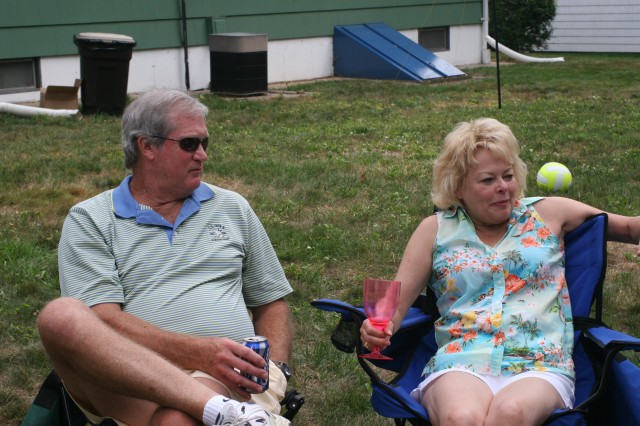 Russ and Judy, Bobby, his son Austin,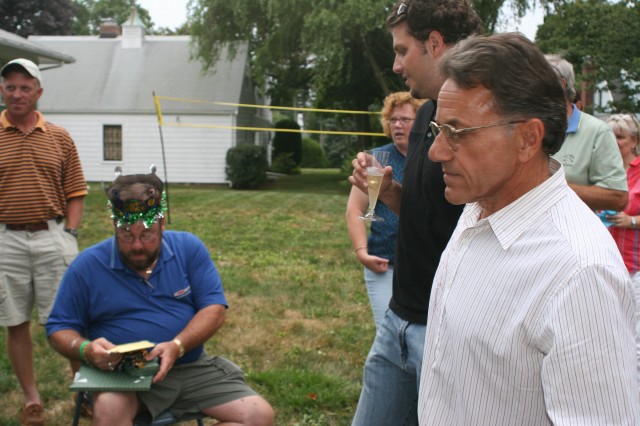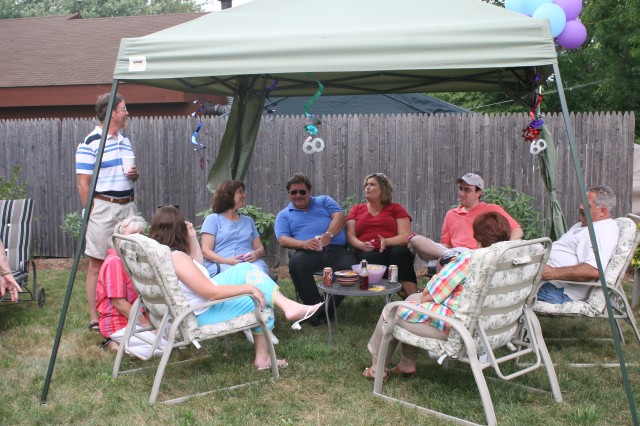 ..along with their daughters, Jill and Jessica along with her husband Rich, Gladys, her son Steven along with his wife Gail, and Gladys's daughter Kamey in attendance. This is the Long Island crew and some of the East Hampton gang: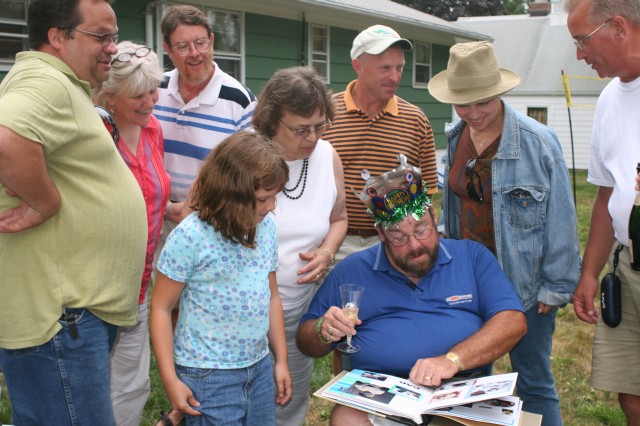 I could try and explain how long and how I met all of them, but after all this is a short story. Many of them signed a huge card for me: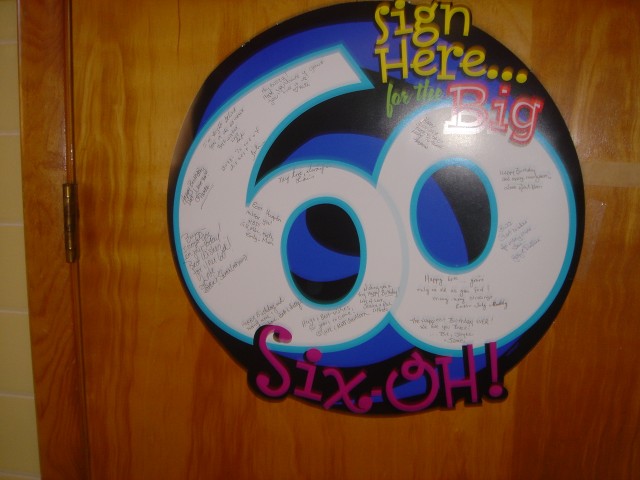 Of course there would be cake for all to enjoy after the huge feast of the hot dogs: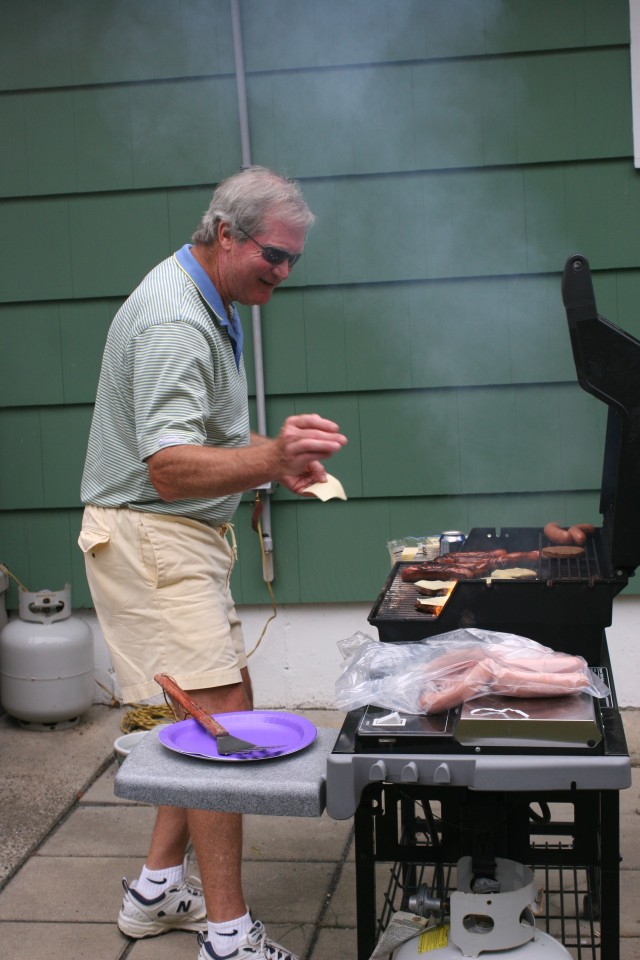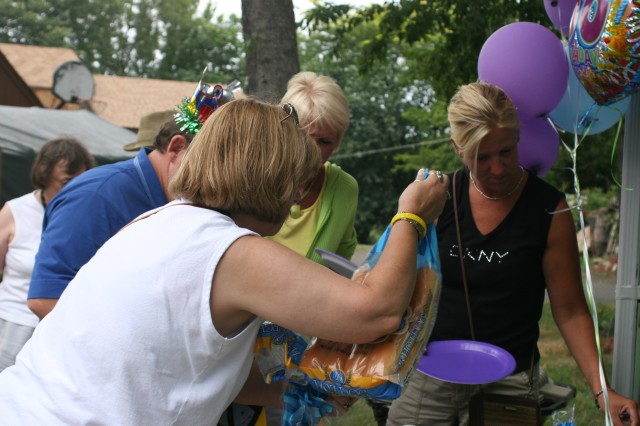 ..along with all the trimmings: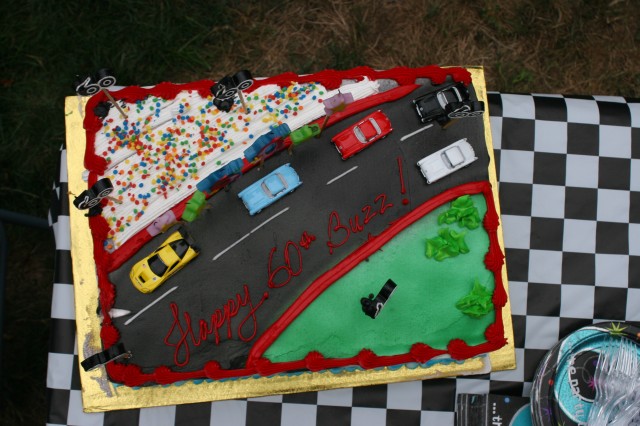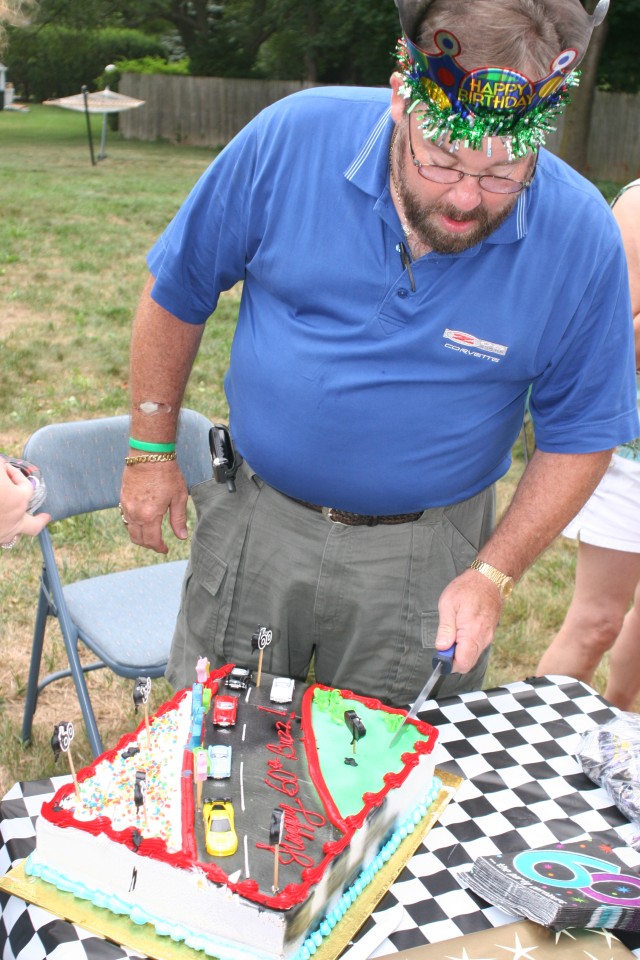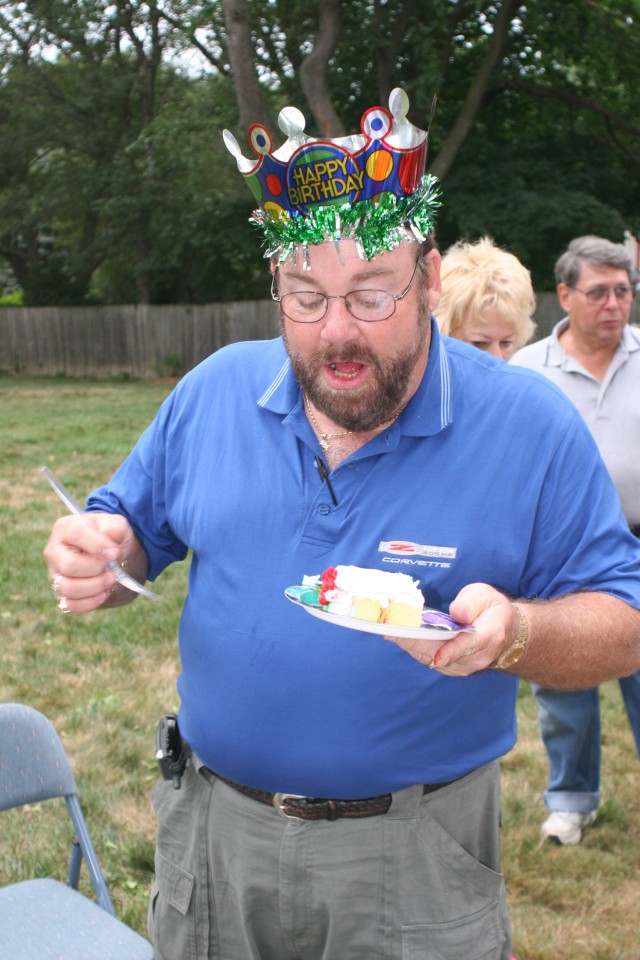 After that, there was a toast to the "Birthday Boy: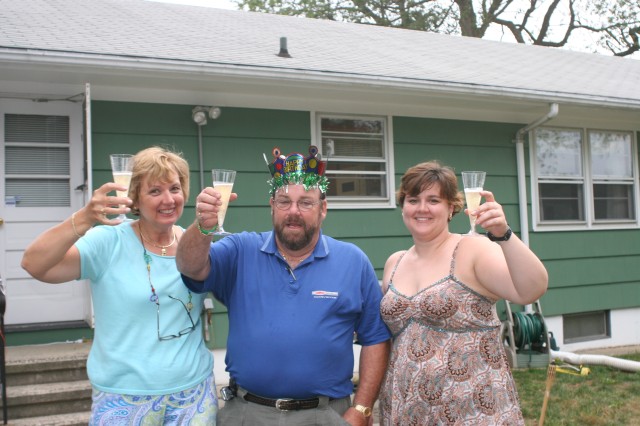 After the toast, it was time for me to open my cards and a few presents. Sarah had told everyone that their presence would be presents enough for the "Birthday Boy." I could not have agreed more. However, Gary and Debbie had decided to get me something anyway. They had a beautiful collage made up with all my Corvettes and many important events that we have done together over the years: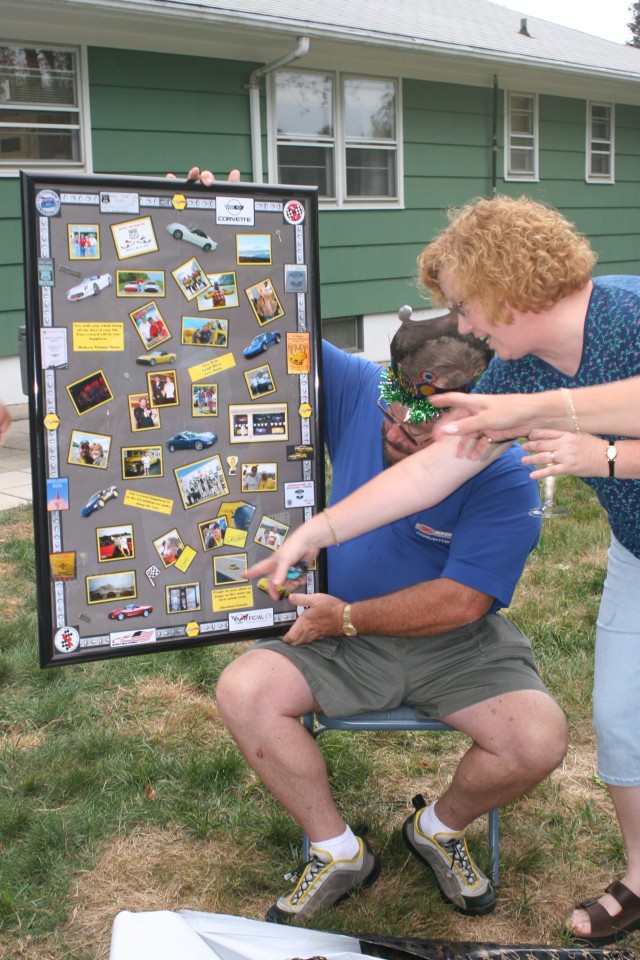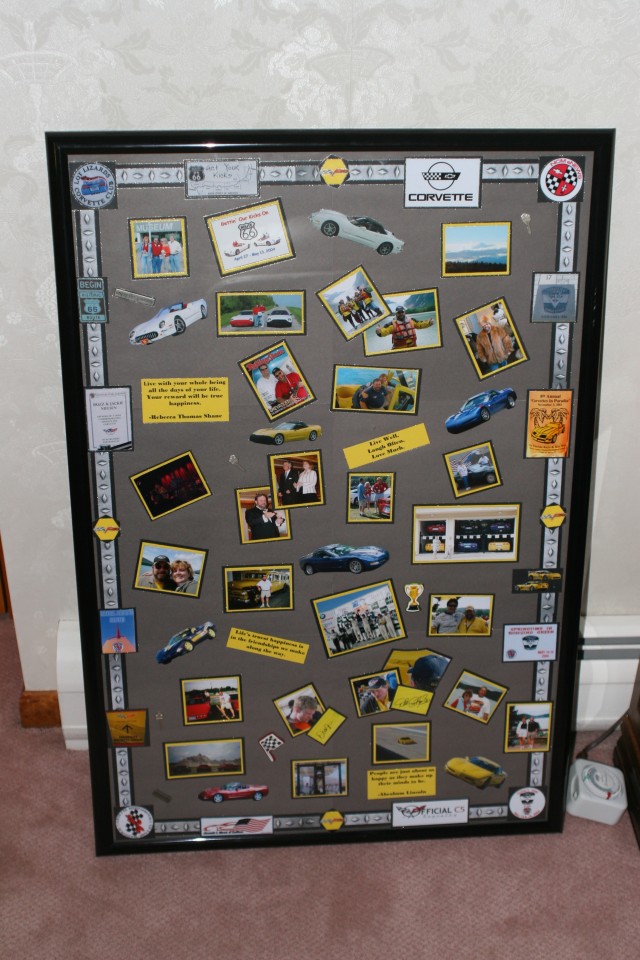 This was made by Gary's niece and she did one great job. Thanks guys you are the greatest. Sarah presented me with a scrapbook of many events in my life, along with messages from friends some of whom were in attendance and some who were not: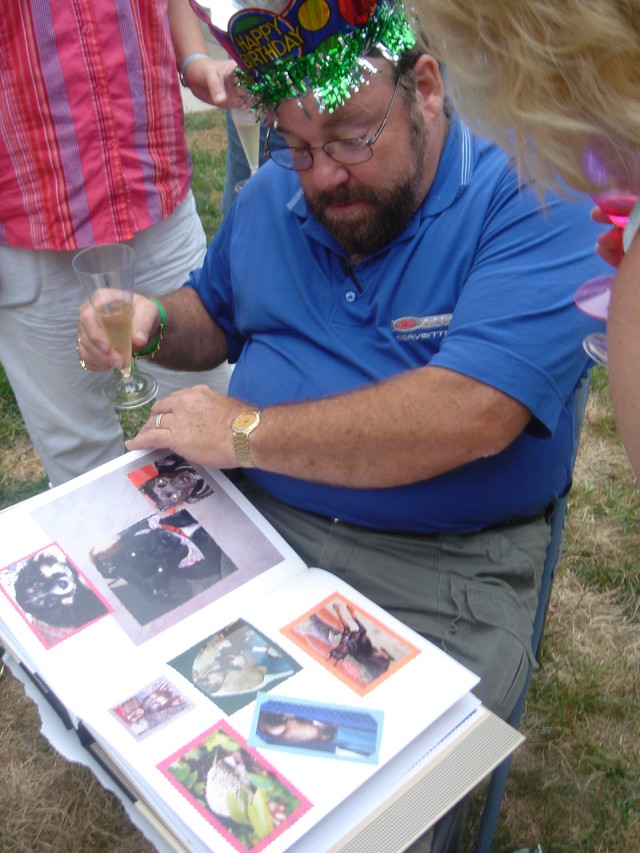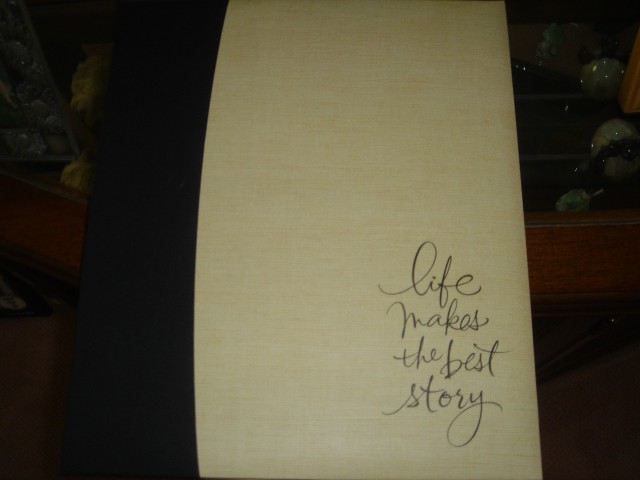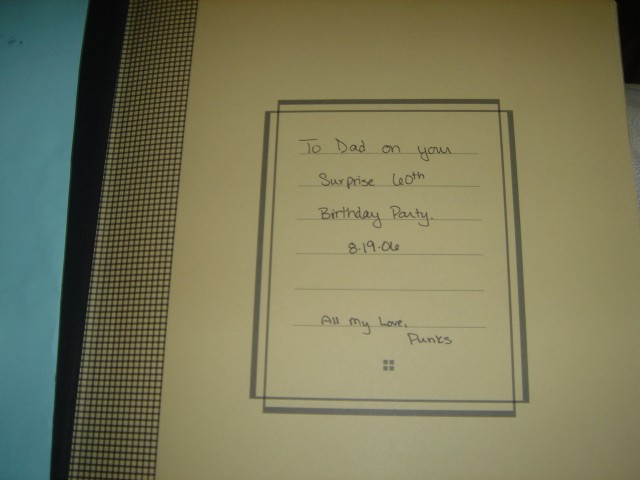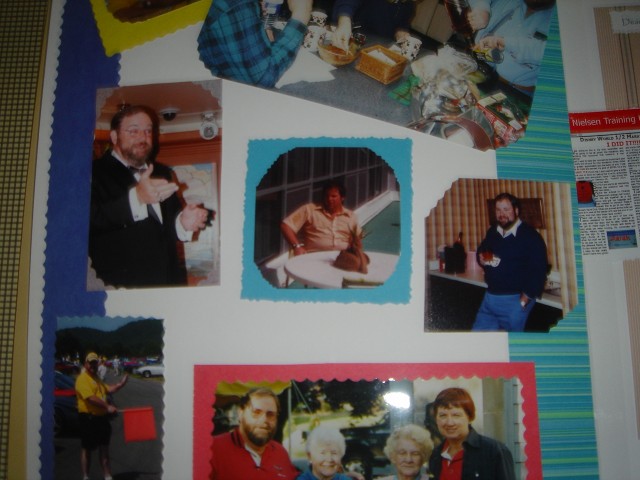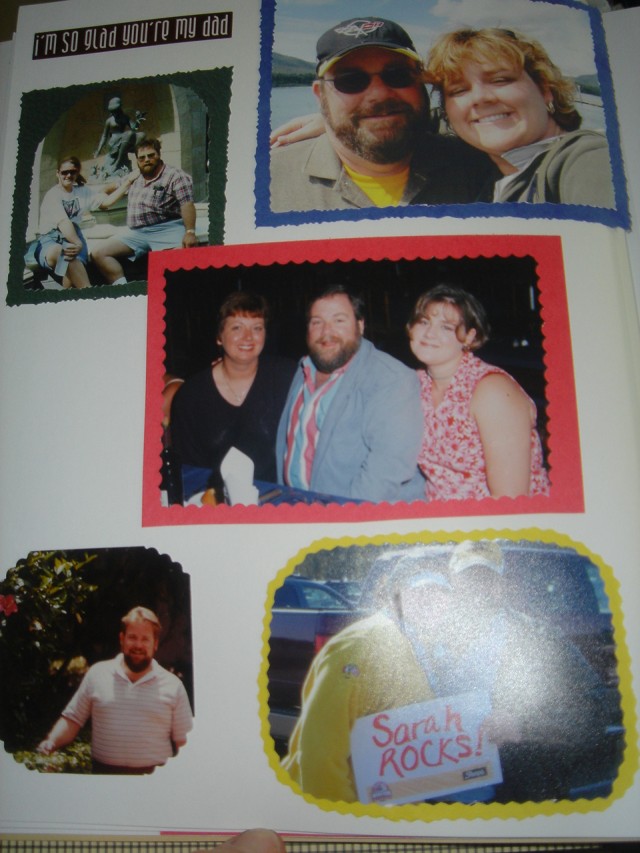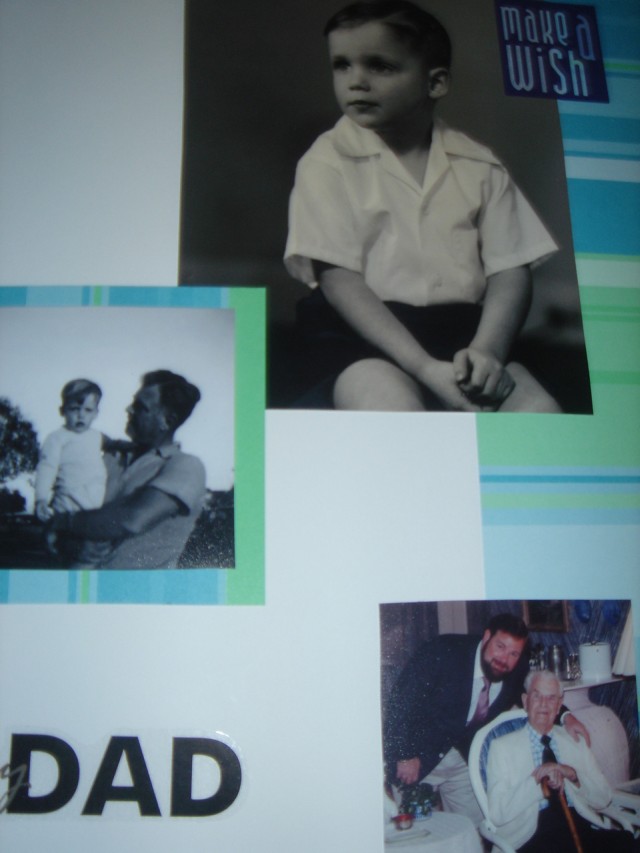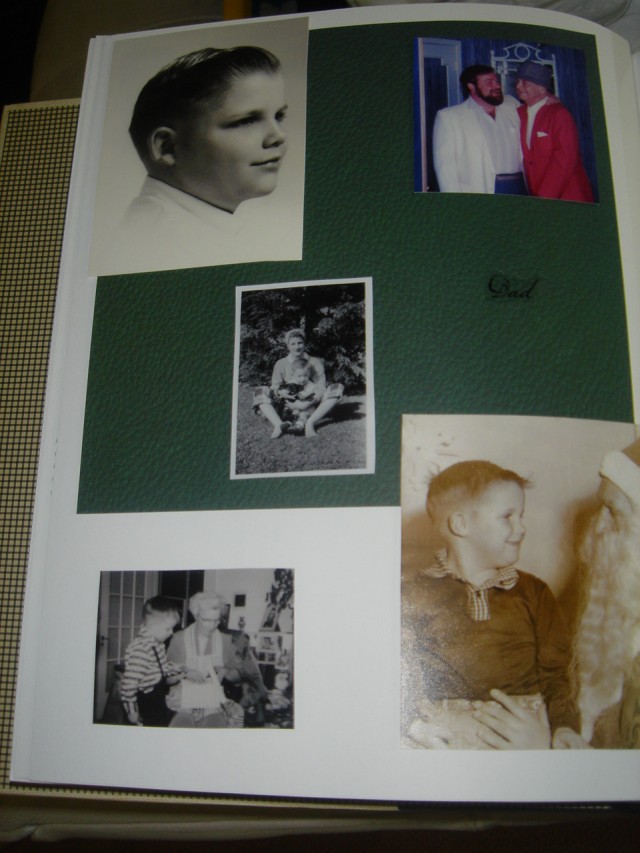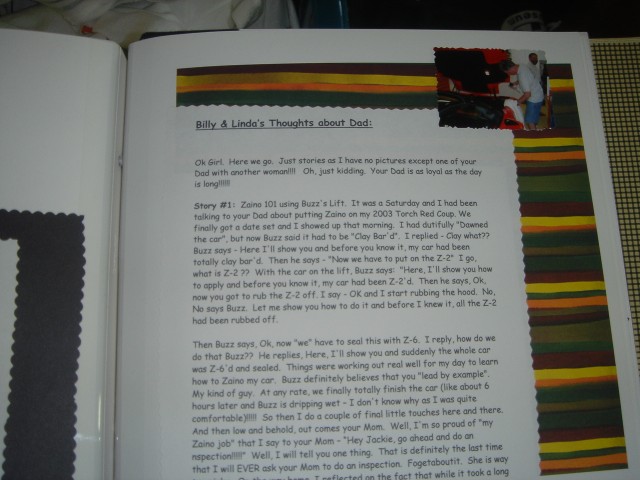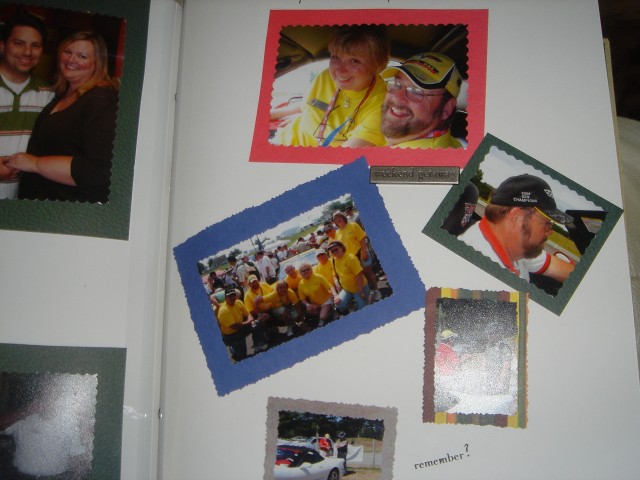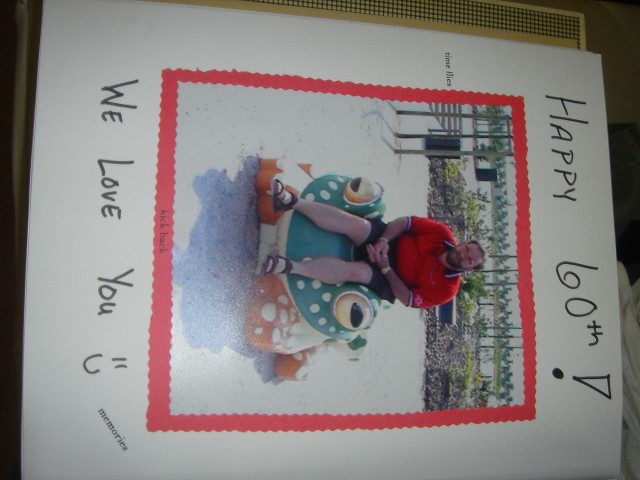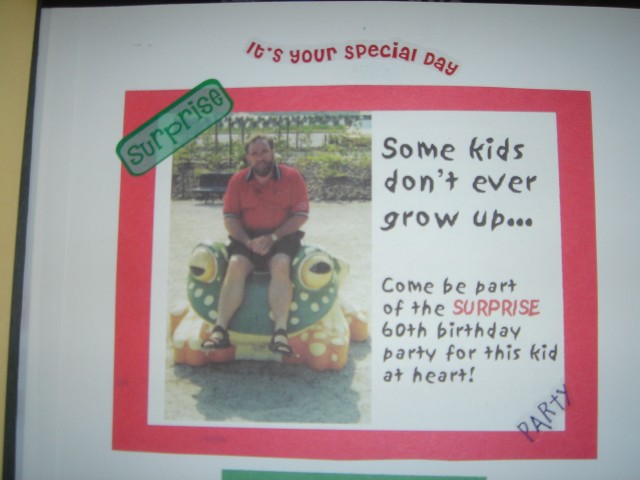 As the night rolled on, there was much champagne consumed by the entire hangers-on and the party really got good:
I think Russ is asking for Gary to fill his glass, again: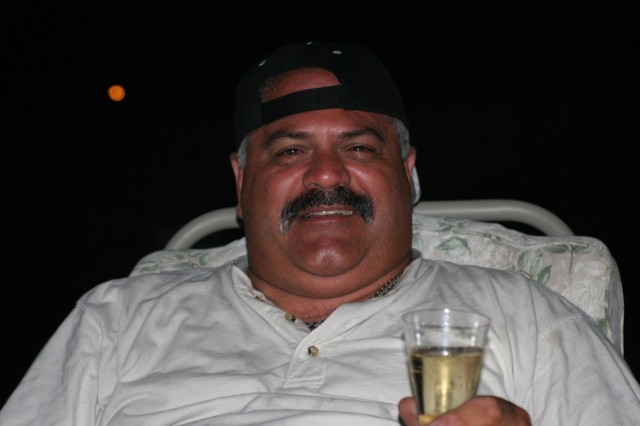 These pictures seem to tell a better story than I can: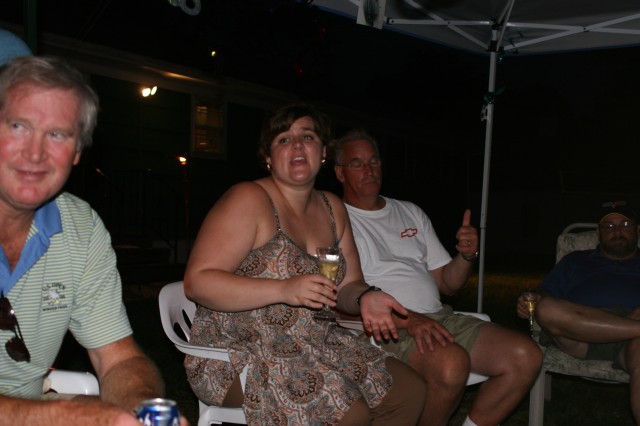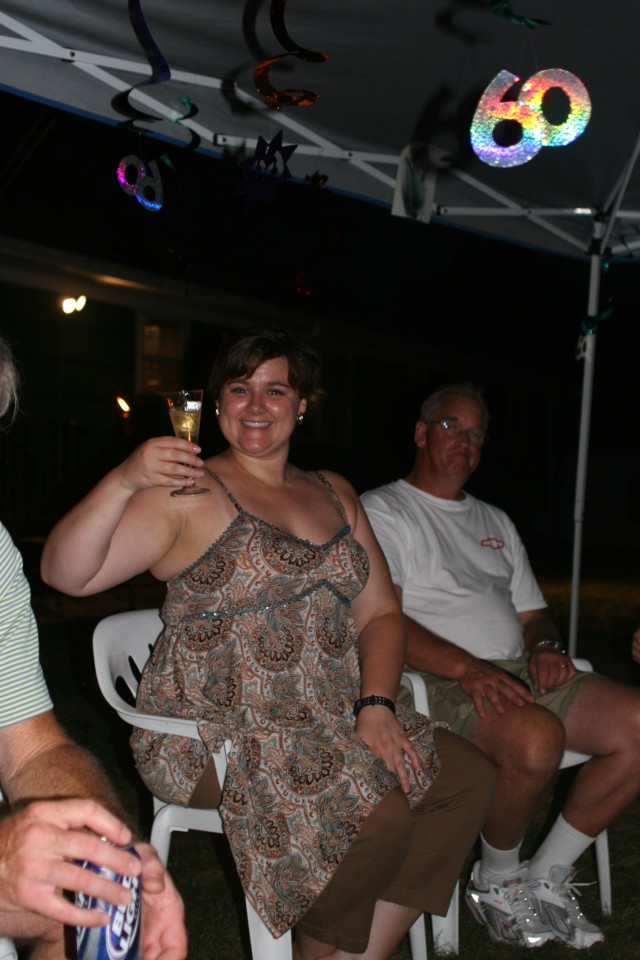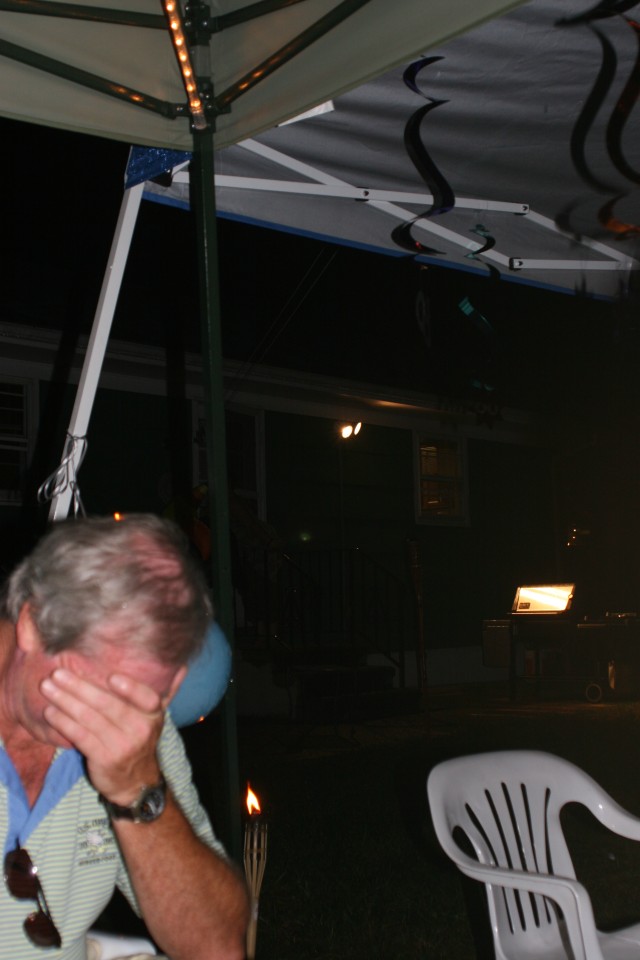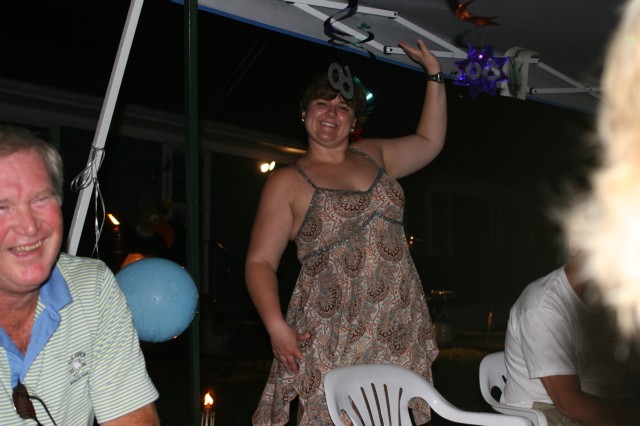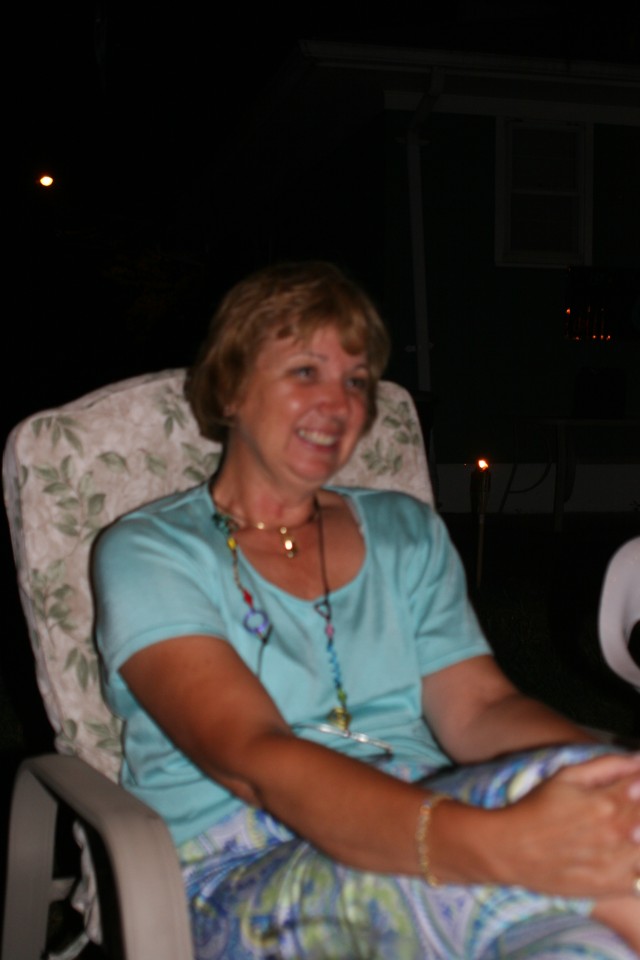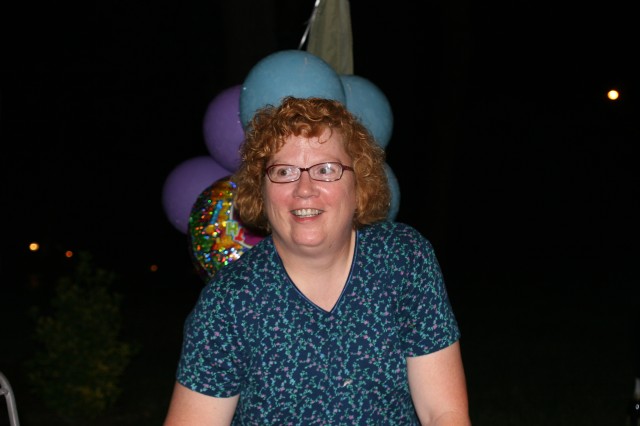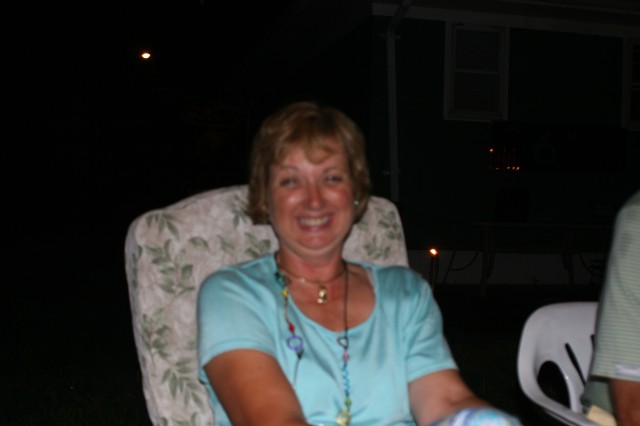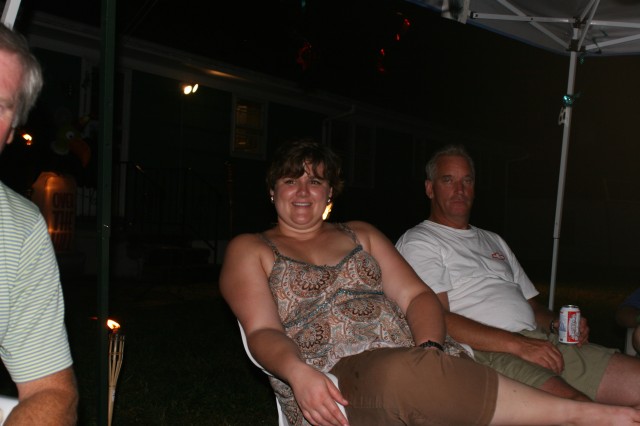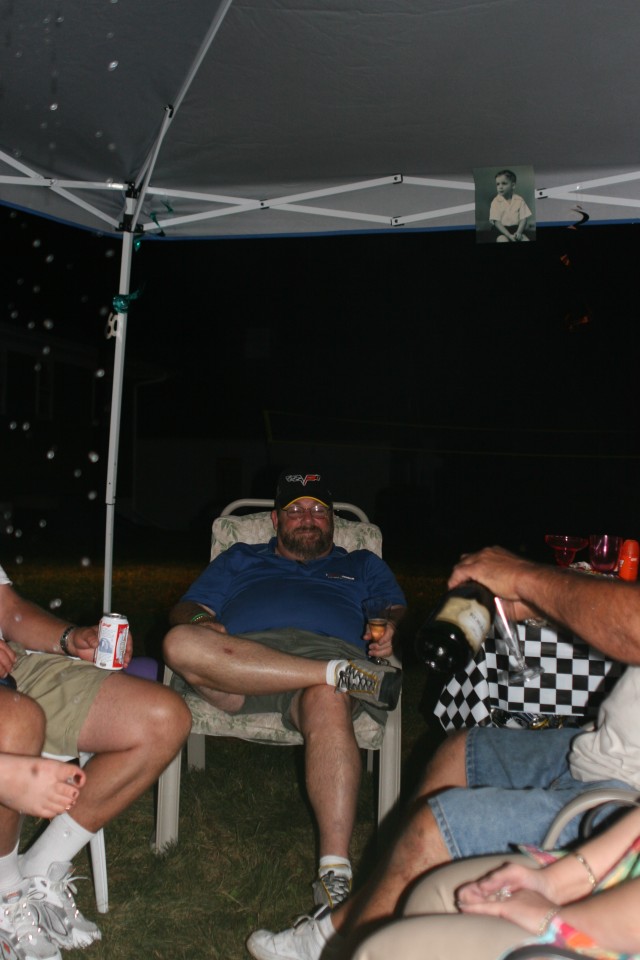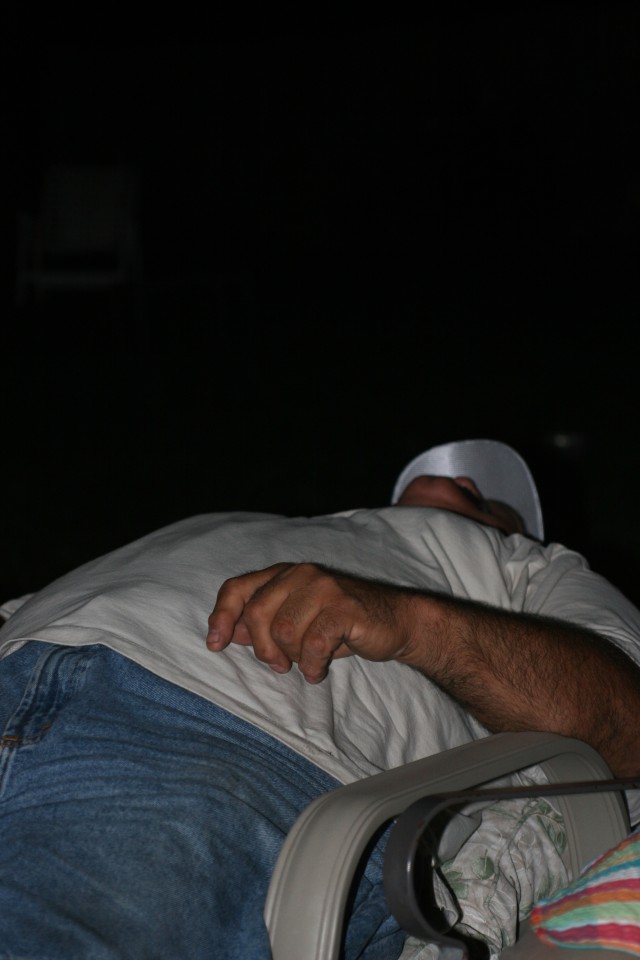 Even our "Grand Puppy" looks strange by the glow of darkness: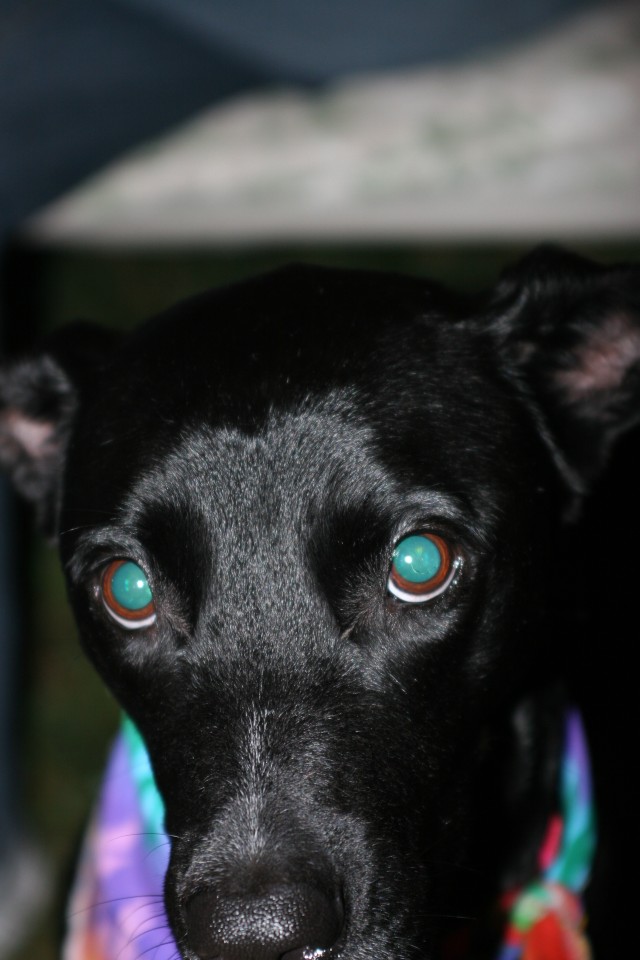 Again let me thank all of you who came and celebrated the day with us. Both Jackie & I salute you!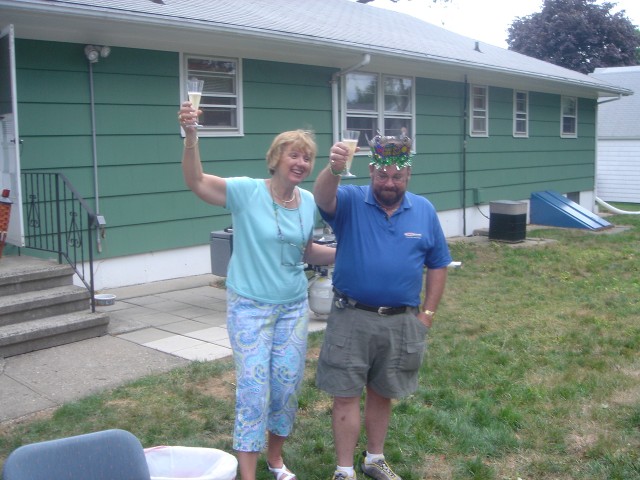 After the party was over, Gary, Debbie, Sarah, Jackie and I went to bed. The next morning found us a little out of it and very hungry. Jackie mentioned that she did not have much in the line of breakfast food in the house. It was suggested that someone go out for donuts. Well, if donuts were OK, how about cake? That sounded good and what the heck might as well try the same menu as the night before. Here we are enjoying the breakfast of champions: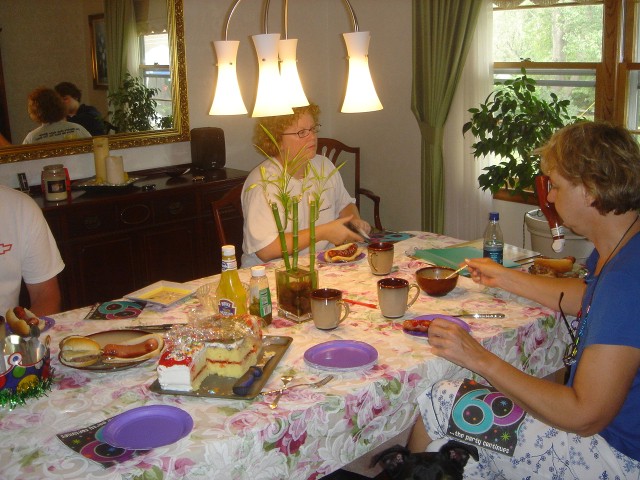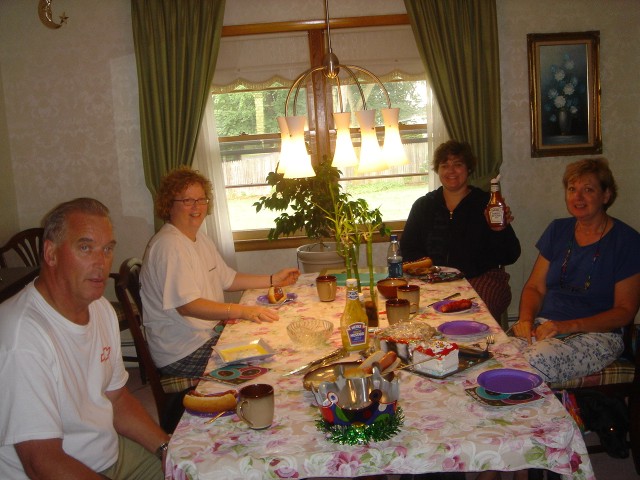 Gary and Debbie left for home and we decided to go to East Hampton for the Princess of the Lake Pageant and Boat Parade: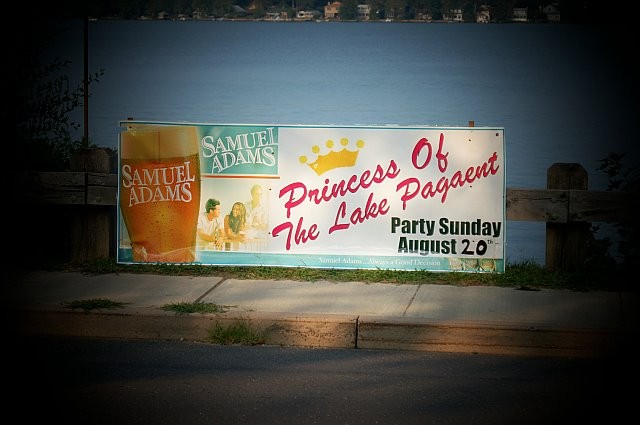 Gladys had told us about it and said we should stop by. We did and had a really great day and early evening. It was fun to see many old friends and neighbors and check out the boats. We watched the boat parade from one of the pontoon boats: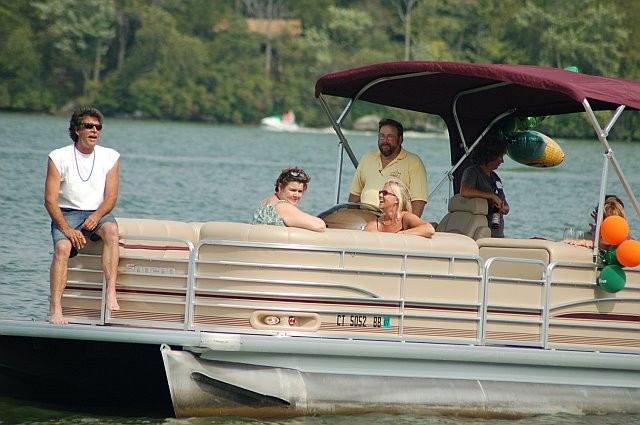 ..and I have to say there were many good looking boats or should I say floats: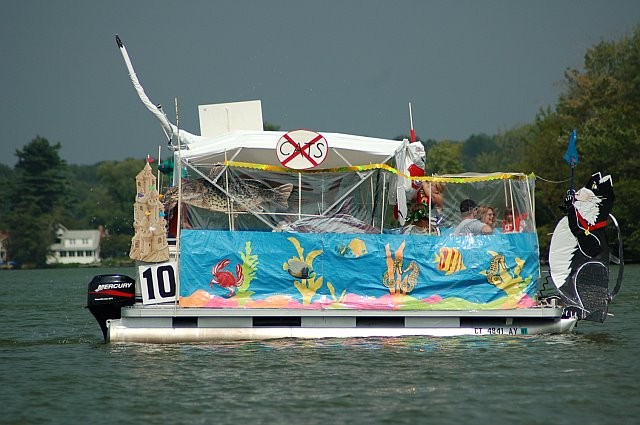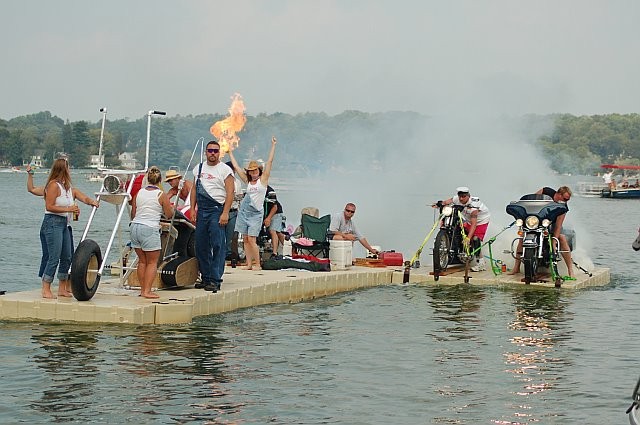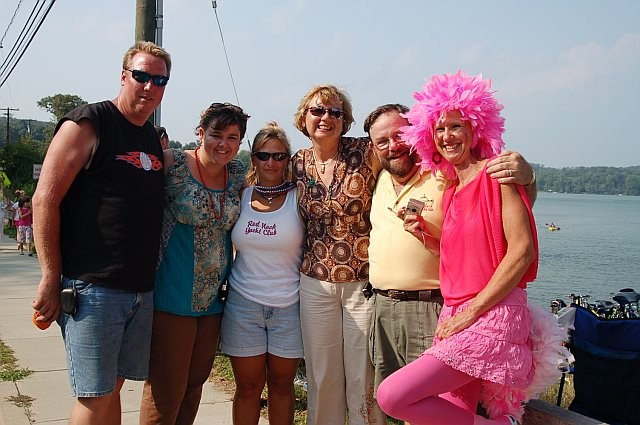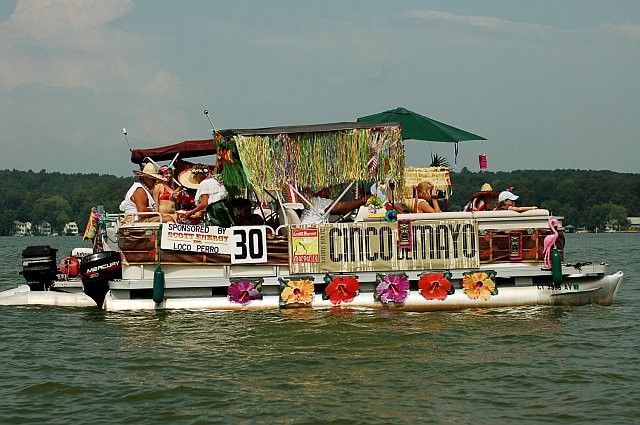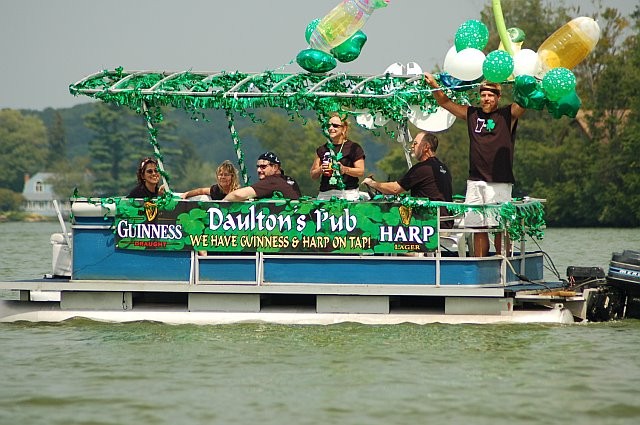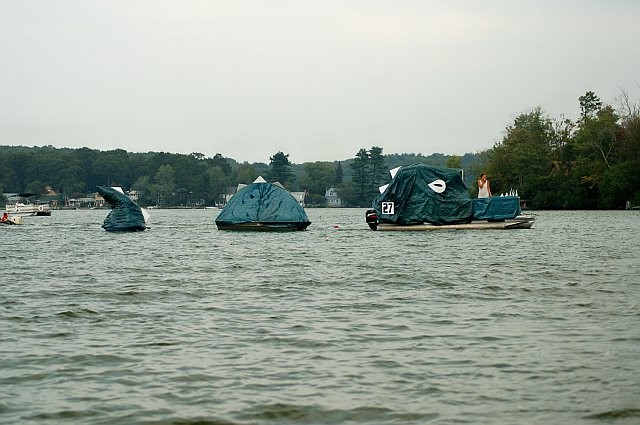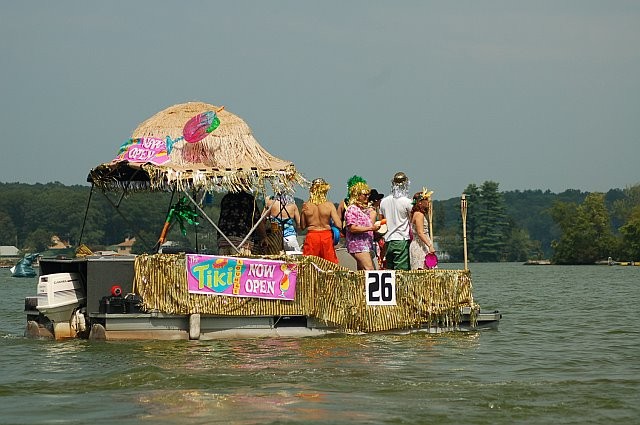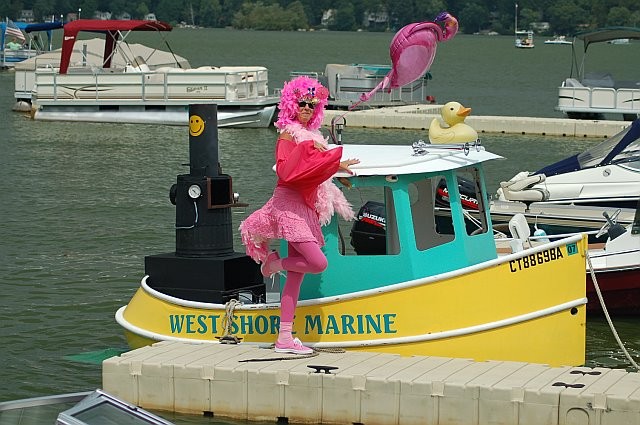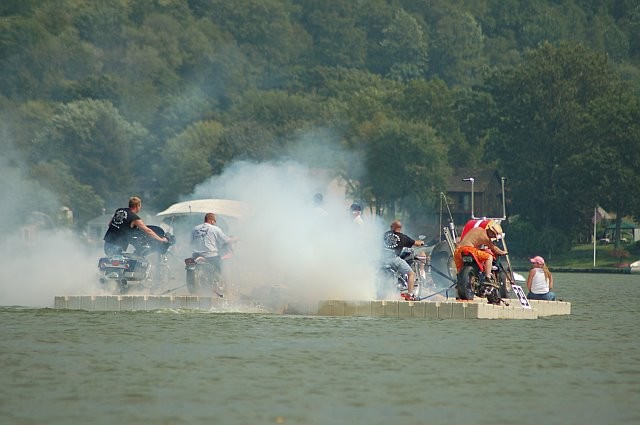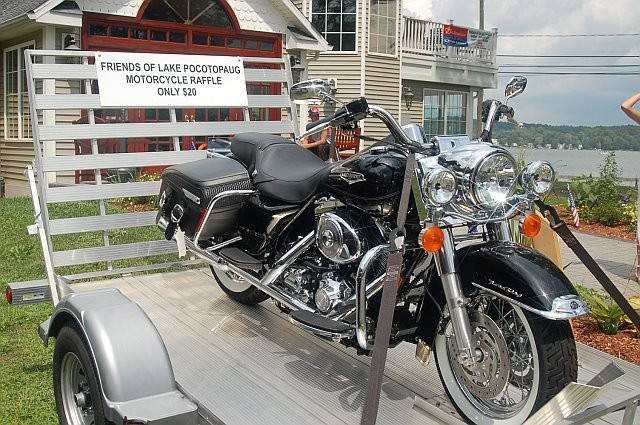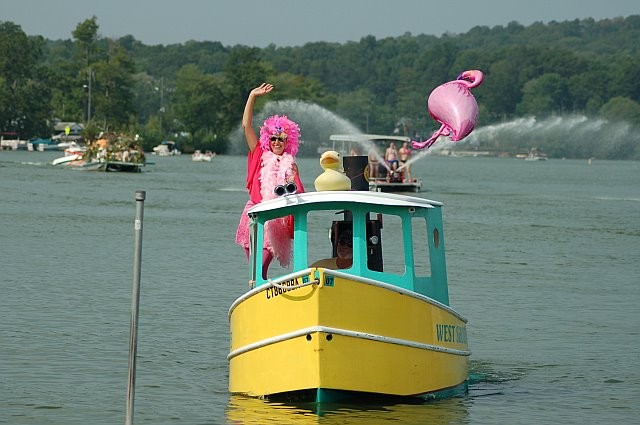 There was a reviewing stand at Gov. Bill O'Neil's house, along with East Hampton native Red McKinney doing his play-by-play of the participants as they passed by. Red even mentioned that Jackie and I were back in town and wished me a happy birthday. I guess it pays to have grown up with him.

After the parade, it was off to Angelico's restaurant for a few drinks, a little something to eat, the awarding of prizes, many raffles,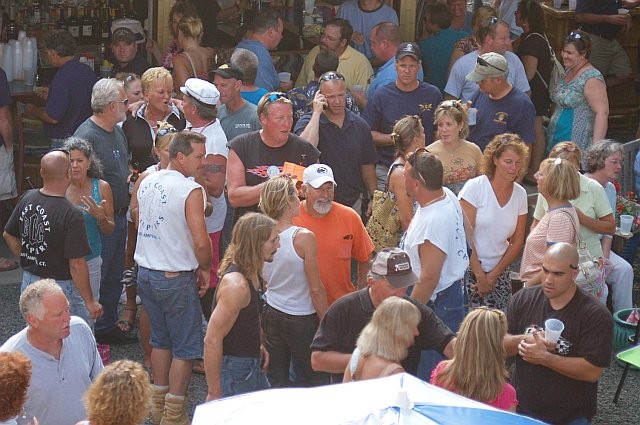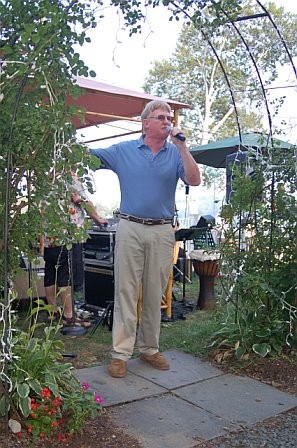 ..and the evening ended with a drawing for a brand new Harley Davidson and a trailer: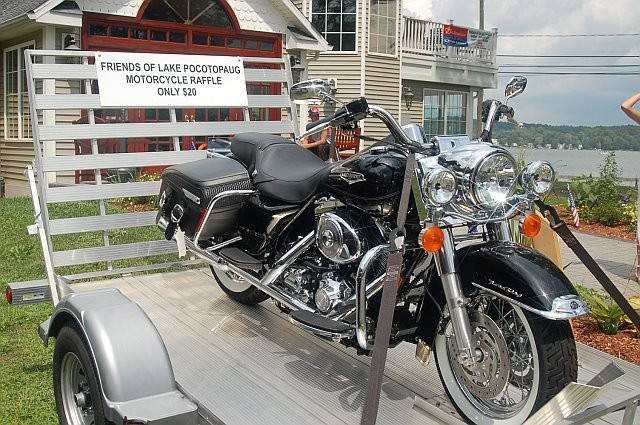 All the proceeds went directly into the Friends of the Lake fund to help clean up Lake Pocotopaug for future generations to enjoy. This group of citizens consists of fourteen members and is doing a great job!

All in all it has been a busy weekend. Jackie and I are looking forward to doing more Corvette functions and the trip home.
---
Back to our Main Page..