Announcing Four Freshmen Group #25!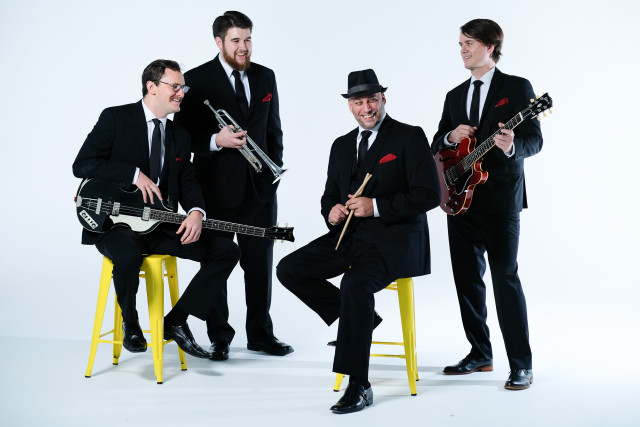 The Four Freshmen Group #25
L to R: Tommy Boynton, Jon Gaines, Bob Ferreira and Stein Malvey

TO OUR FANS: After 15 years with The Four Freshmen, Curtis Calderon has decided to leave "the road" and devote more time to his growing young family. He'll still be found playing locally in San Antonio where he can remain close with family and avoid those airport lines! Curtis remains a friend of The Four Freshmen and will continue to be involved with the Freshmen in a behind-the-scenes capacity. Curtis is pleased with the selection of Jon who joins a long legacy of extraordinary talent. Bob, Stein, & Tommy all look forward to the musical influence Jon will bring to the great legacy that is The Four Freshmen.

We thank Curtis for all his tireless musical contributions over the years. He's an awesome guy, and we wish him the very best!

Jon Gaines is joining the Four Freshmen on third voice, trumpet and flugelhorn. Jon, 25, is a graduate of the New England Conservatory; click HERE for Jon's biography. With Jon on board, the Four Freshmen continue their staggering 69 year legacy, bringing outstanding music to the world! We look forward to seeing you all on tour!

Follow and connect with the guys :
Get your 2017 Four Freshmen Fan Calendar!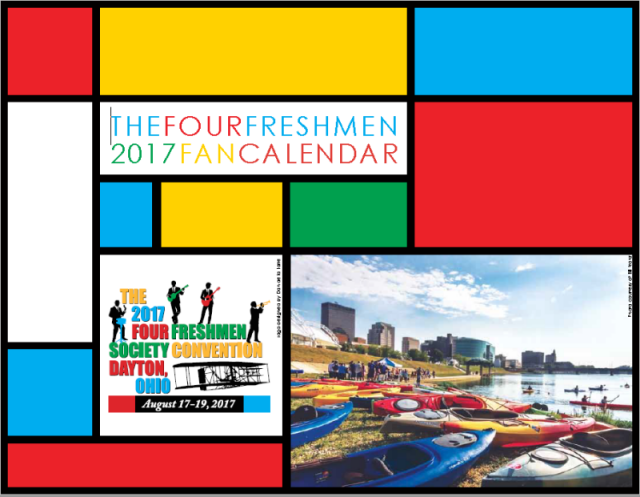 Click the calendar above to see more sample pages and to order yours.

Just in time for Christmas! Get several for your friends and family!

The 2017 calendar is full of great information and photos about our favorite group -- and includes a page about our upcoming 30th Four Freshmen Society Convention and Reunion next August 17-19 in Dayton OH.

The 32-page calendar is 81/2 x 11 and has dozens of photos and historical tidbits about the Freshmen.

To order yours for only $5.00, click HERE!

Get yours today!
---
You can still get the "Four Freshmen and Friends" CD!
Entitled "Four Freshmen and Friends" the CD was recorded live at the Newport Jazz Festival on February 12, 2015. The "Friends" part refers to performances by Jazz greats Butch Miles (drums), Ron Escheté (guitar), Chuck Redd (vibes), Katie Thiroux (Bass) and Ken Peplowski (clarinet and tenor sax). And eight of the offerings are new arrangements by Curtis Calderon.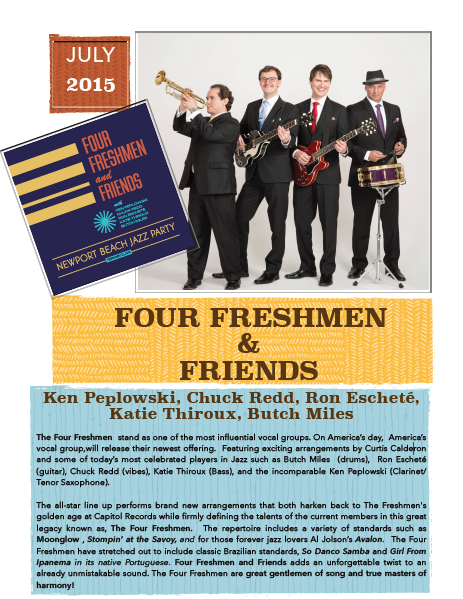 (click the image to see it larger)
To see the song list and to order your copy right now from the Four Freshmen Society Music Mart; click HERE!
---
A Message from our President
We've been ongoing - THE FOUR FRESHMEN SOCIETY - since 1992 after the original fan club, The Four Freshmen Appreciation Society, was organized in 1987.

Our membership is about 1,500 members both including single and couple active registrations. You should know that the FF Society, an enthusiastic, support organization, is like no other. There are member contributions from a variety of expertise areas. Although all major bookings are coordinated by International Ventures Incorporated, Society members often are responsible (in concert with IVI) to stage the Freshmen world-wide. The annual Freshmen conventions, reunion and new member recognition, are always popular and well-attended events, featuring FF Alumni and the current group (Tommy, Stein, Jon & Bob). I appreciate you stopping at our site to learn how important and exemplary the Four Freshmen are, and they have been so since 1948.

Members of the FFS meet annually for the Four Freshmen Society Reunion and Convention. We get to hear the Freshmen perform and interact with FF alumni. There's even a "Wannabees" session each day where we sing FF arrangements accompanied by FFS members on various instruments; it's great fun! Why not join us?

Our 2017 FFS convention is in Dayton, OH; to learn more about it (and register starting February 1st) just


| | |
| --- | --- |
| The Freshmen themselves have a website which you can visit; just | |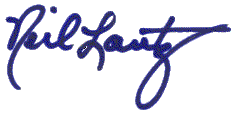 Neil Lantz
President, The Four Freshmen Society
| | |
| --- | --- |
| PS: Interested in joining the Four Freshmen Society? | |
---
Since January 7, 1996, you are visitor #