Our 1953 Commemorative Edition Corvette Story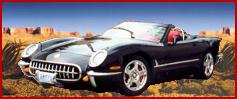 #39
Steve Zbranek, Austin, TX
---
---
April 22, 2003

On April 22nd (one day after my 50th birthday) my wife and I flew from Austin, TX and took a Museum Delivery of my Almost done birthday present. It is a black convertible with torch red interior:

After the plant tour we left for Detroit and gave our car to Steve [Pasteiner] and friends the next day. He says the final present will be done in June.

---

Ok; well, "July".

On July 10th my wife and I flew to Detroit to take delivery of #39, my Black and Red 50th birthday present (03CE). Upon arrival at AAT the team had about an hour of finish up work prior to our departure. Watching Steve and the guys install the plaques, adjust everything one more time and spend the final 20 minutes on detailing the car was a treat.

We said our goodbyes and then backed the car out into the rain and headed for Austin.

We spent the first night in Dayton where I quickly washed the car and parked under the brightest light (as close to the office) as I could find. Since we ordered the car specifically for the conversion and took a museum delivery, we stopped by the museum on the way home to show our old friends:

It turned out to be quite a treat for the visitors that day as well. The second day we made it to Little Rock and arrived in Austin at 4pm on Saturday.

Everyone should drive their car home from Detroit as we did to get comfortable with the amount of attention that the car will bring. People followed us to gas stations, restaurants and even a department store once. We could not believe how many cars carry cameras. We were photographed no less than 50 times on the 2 1/2 day trip. What amounts to highway stalking became the norm. It was really a blast and we had a lot of practice answering " What is it?" I think as a group we should adopt standard answers to the most common questions.( Like, "What did you pay for that thing") Upon arrival at home I learned that if you leave the car parked in your driveway strangers will park their cars in the street and walk right up to get a closer look.

This was an amazing trip in an amazing car. Those of you who have your cars already know the feeling. Those of you who are still waiting should know that it's worth the wait. And, to those who are still contemplating the CE process; I would send a car with low mileage because you will be driving this car for a long time.

Here, just for fun, is my original 2003 Torch interior "morphing" to my AAT red/black interior:

More to come...

Watch this space!
---
Site designed and hosted by