My 1953 Commemorative Edition Corvette Story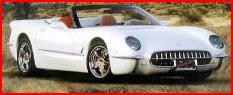 #142
Bob Young - Adel, Iowa
---
---
I have two '57, two '02, one '55 and a '59 Thunderbirds. The two 57's are CTCI national winning show cars, and one of them got invited to the Hilton Head Concours in '05 (featuring the T-Bird for the 50th Anniversary of the Bird) Parked near to me was a CE. We visited, I contacted the Steves', visited AAT's facility last summer, observed the top quality work, loved the product and started looking for a donor. Steve Jr. helped me find a 25K mile '00 with the equipment I wanted just fifteen miles from their facility, so I bought it in Sept. '06 and they have handled everything else. Both Steve Sr. and Jr. are absolutely the most friendly, helpful and professional people I've had occasion to deal with. It has truly been a positive experience working with them.

Here are a few pictures of my CE nearing completion!
I'm looking forward to traveling with the car to various Corvette activities and meeting other owners of the CEs.

April 28, 2007

Here are some pictures of the finished product at the Tenth C5/C6 Birthday Bash in Bowling Green:

..and back home again!
---
Site designed and hosted by