Our 1953 Commemorative Edition Corvette Story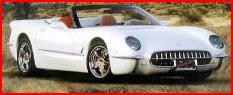 #20
Bob & Carol Thurber, Glenelg, MD
---
---
February 27, 2003

My wife Carol and I purchased CE #20 from Sport Chevrolet this past Tuesday. It was a real spur of the moment thing. We had a 2000 Corvette which was our first and we loved the car. We decided that we wanted a 50th anniversary car so we ordered the anniversary edition from Sport Chevrolet last fall and were waiting until now for delivery. We went down to pick it up on Tuesday and walked into the showroom and there was CE #20 sitting on the floor in a bubble.

Carol looked right past the car we had ordered and said, "I want that one!" After a few minutes conversation with our salesman, Chad Fisher, it was ours and we were driving off in it. We had not heard of the CE before we saw it but immediately fell in love with the car. It is absolutely great. About all we could do was drive it home before the snow hit but we are looking forward to many great experiences in this car. Gerry Ryan the sales manager at Sport and the one who had this car built turned us on to the 50th web site. I look forward to posting pictures and information about our experiences with this car.

May 8, 2003

Here are some pictures of my car, CE#20, next to Larry Collierís immaculate 1953 Vette. These were taken by Larry at the World of Wheels show in Washington DC this past February. Sport Chevrolet, who owned CE#20 at the time, put together this display.

I met Larry at a Corvette show held at Sport Chevrolet a few weeks ago when our cars were together again. I have to thank Larry for the pictures and also for my having CE#20. Larry brought the existence of the Commemorative Edition cars to the attention of the sales manager at Sport, Gerry Ryan. Gerry had the car built and I bought the car when I saw it sitting on the showroom floor. Before I saw the car I did not know of there was such a thing. I hope the site visitors find these interesting. They give a good perspective of the original and the CE from a number of angles:

Watch this space!
---
Site designed and hosted by