Our 1953-2003 Commemorative Edition Corvette Story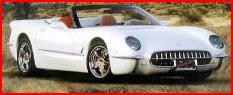 #146
Pat & Sandy Swift - Omaha, NE
---
---
Our first corvette was a 1964, Saddle Tan Roadster: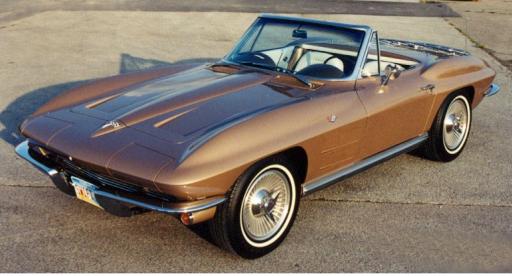 Pat and my brother Al Jankowski searched for five years till they found this beauty in 1999. Pat had always had Chevelle's that he built and played with. (Al has a beautiful '79 coupe):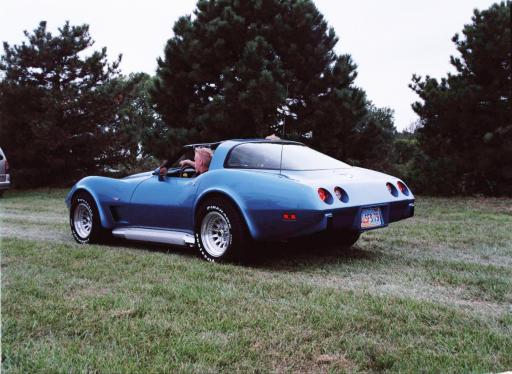 We decided that now that the kids were grown, and it was usually just the two of us, a Corvette would be a good idea. After he found the '64, we joined a few Corvette Clubs. These people do a lot of road trips in their Vettes. We drove our '64 all over and around Omaha but didn't want to take a long trip in it. It only had 55,000 miles on it and we really didn't want to travel across the country and add all those miles to it. We didn't have a trailer and knew it would be no fun to trailer it so we knew we needed another one that we could road trip in.

Only now, Pat had to sell his '65 Chevelle convertible because three toys were out of the question: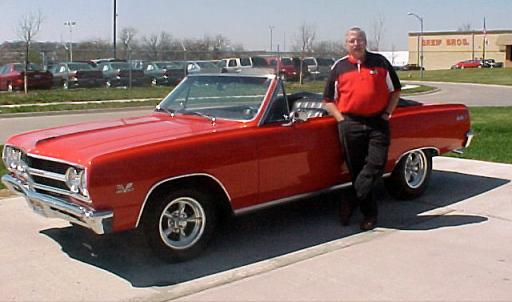 So, Pat sold the Chevelle & once again, Pat & Al were on the search and they found a 1989 black coupe: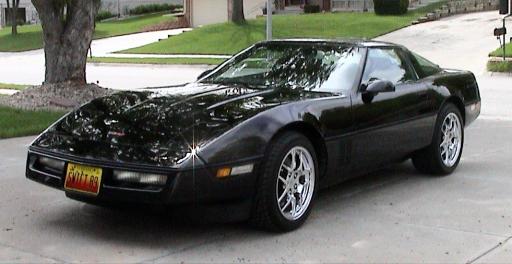 It was a great car and we didn't have it long when we ran into a fellow that wanted it more than we did. So we sold it to him and the search was on again.

We had signed up to go to Nashville for the 50th Anniversary bash and now we had no car to drive. Neither one of us wanted to drive the '64 to Nashville. Al sells cars for H & H Chevrolet in Omaha and he said, "What is it you really want?" We just smiled and said, "It's an Electron Blue, 6-speed Roadster." He searched for us and found one in St. Louis: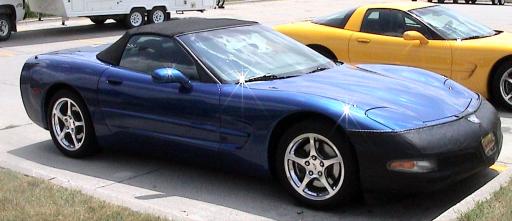 Now we had to decide if we wanted to try to find an older C5 or buy this new one. So, we decided we weren't getting any younger and we might as well do it.

We belong to the Cornhusker Corvette Club (CCC) in Omaha, NE. We're the largest club sanctioned through the NCCC (National Council of Corvette Clubs) in the nation. There are larger clubs, but their members aren't all sanctioned through the NCCC as ours are. We do as much traveling with our CCC friends as we can. Work does get in the way of that and we can't do as much as we want to.

Out of all the vettes we've seen, none of them made my heart beat faster than those Commemorative Editions.

I first saw the CE in Nashville at the 50th Anniversary Gathering in 2003. (Pat had seen one in Bloomington the year before and had told me about it and had even visited with Steven when he was there). We drove to Nashville in our brand new Electron Blue Roadster with Kathy and Chuck Larsen in their 2001 Yellow Coupe. We each had movie cameras and were filming each other's cars on the way down there. We had a lot of laughs and it was a great drive. We met up with all the rest of our CCC buds when we got there. There were caravans of corvettes everywhere. It was AWESOME!

We had about sixty CCC members attending the event. We all entered our cars in the NCCC car show at the Titan Stadium. Our club won a prize from NCCC for the largest number of club members going to this event. One of the prizes was a group picture: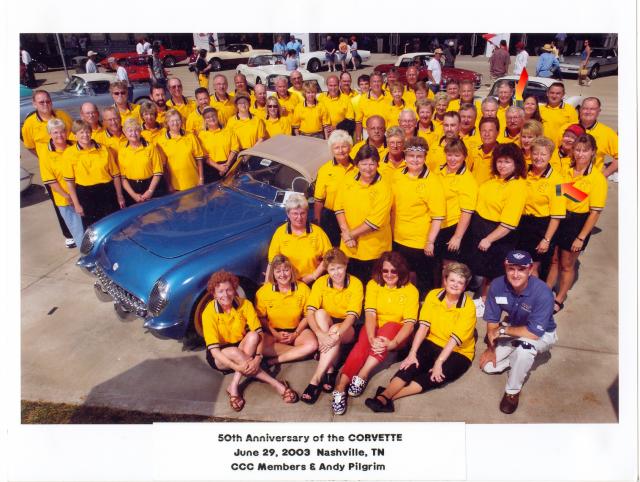 (That's us with the arrows!)
We also had the most cars from one club in the NCCC car show. It was a great time; Vettes were EVERYWHERE. Out of all the magnificent cars that we saw down there, and there were many… it was the CE that used up most of my film.

The next time we saw one; it was in Eureka Springs, Arkansas. There was a HUGE car show with over 600 cars. A white CE had just been picked up by George & Mary Haile, CE#47 and they were on their way home to Texas and stopped for the show. It drew huge crowds all day long and took "Best in Show".

We didn't see one again until we went to Vettes on the Rockies (VOTR) last year in 2005. When we registered in the hotel there was an Electron Blue Z06 CE with ghost stripes . . .it literally, took our breath away. I knew then that we had to do this.

We had plans to go to Detroit later in the summer for the Woodward Avenue Dream Cruise. I talked to Steven Pasteiner for a long time in Breckenridge and found out they built these things just a few miles from the hotel we going to stay at in Troy Michigan when we went for the Woodward Avenue Dream Cruise. Rochester Hills was the next town to the north of Troy. Coincidence - - or fate - - - Later in the day I found out Pat had stopped and spent some time talking with Steven too - - -

Gene & Kathy Gau were with us and they were just as smitten with the CEs as we were. Gene is the President of our club, CCC. About twenty-six of us from Omaha were there in Breckenridge. When we got home from Colorado, Gene was on a mission to find a C5 to convert. He found a really nice silver 1999, so when we drove up for the WWADC, we took three cars instead of two. They left their '99 and it became CE#119.

Once we got home, I was on a mission too. I was trying to convince Pat to sell the '64 so we could retro our 2003. After all I reasoned, our 2003 is going down in value each year and doing the retro would solidify its value. We love our '64 and Pat was especially attached to it (so was Al), but the CE lure was tugging on him too.

It took a while to convince him, but we recently sold it and he bought a 1994 white coupe with 15,000 miles on it: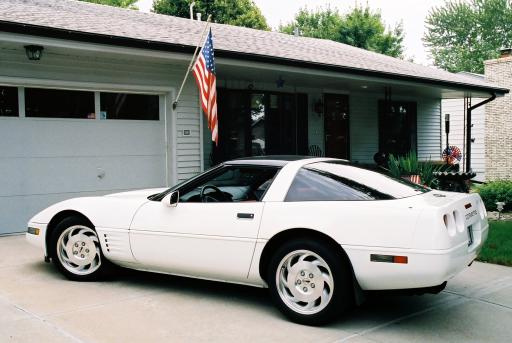 Pat wants to autocross and drag race in this one, and it will be great for road trips. And now we are ready to retro our 2003. It was transported to Rochester Hills on June 25th, by RL Trucking out of St. Louis: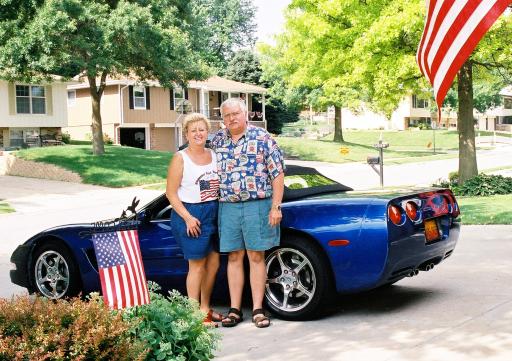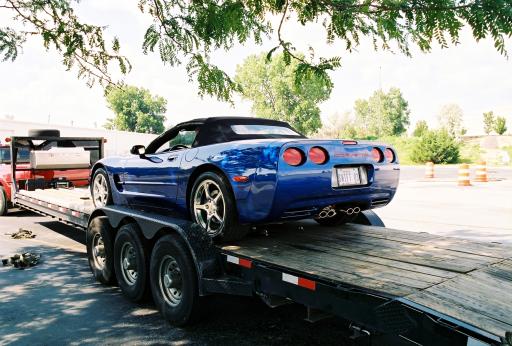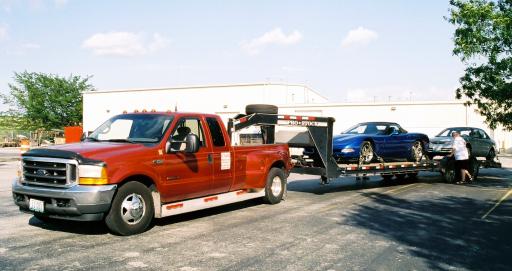 We'll be going to Breckenridge while our CE is being made in Michigan. It will be our first road trip in our "new" C4.

Maybe it will be ready about the time of the 2006 Woodward Avenue Dream Cruise?!?!? If it is, the Gau's will go up with us again. It's going to be a loooooooooooooooong eight weeks!

August 2006

Well we went to Breckenridge again. Didn't get to drive our "new" C4 because Sandy's herniated disk started to act up soooo we toughed it out in her little SUV. BUT, we did see Steve and Steven and they had progress pictures and told us our CE will be ready during the WWADC! Wow, They said it was tight, but by saying it, that would make it so. Pretty darn cool. It was great to see them again. VOTR was GREAT! We had a wonderful time and met many other CE owners. Vettes were everywhere and it was awesome. Once again, we had about sixteen cars from our club that came. LGCC puts on a wonderful weekend. It's now August 3 and we'll trek up to Michigan with the Gau's and leave on the 17th after work. Only two weeks left ! ! ! ! ! ! ! ! !

Here are the "work-in-progress" pictures Steven gave us in Breckenridge: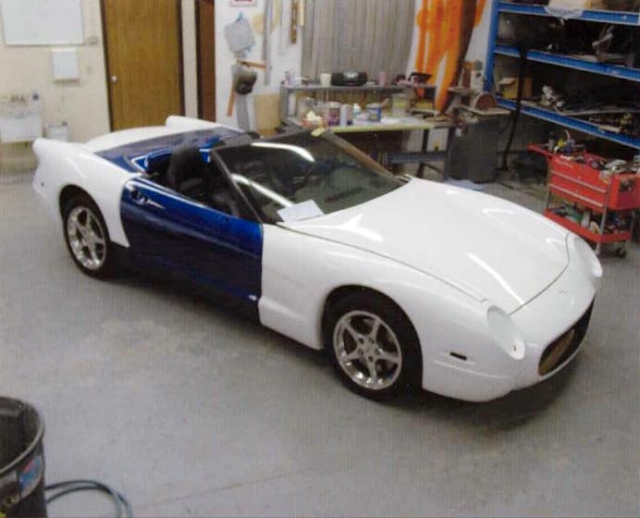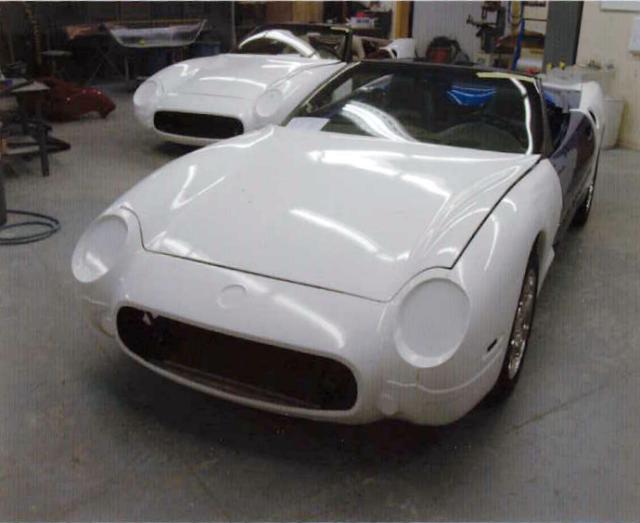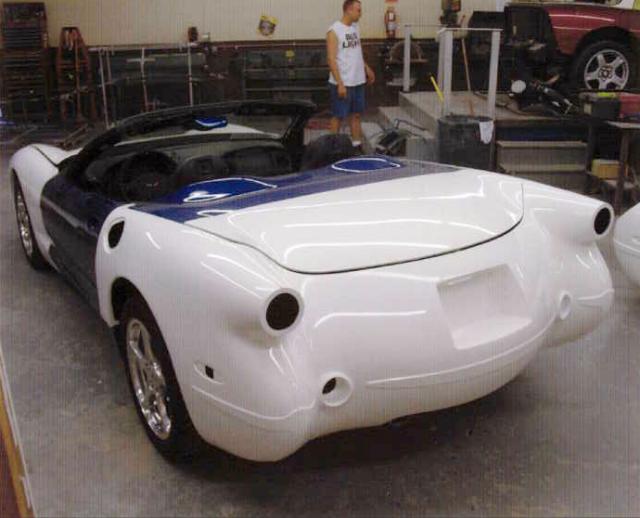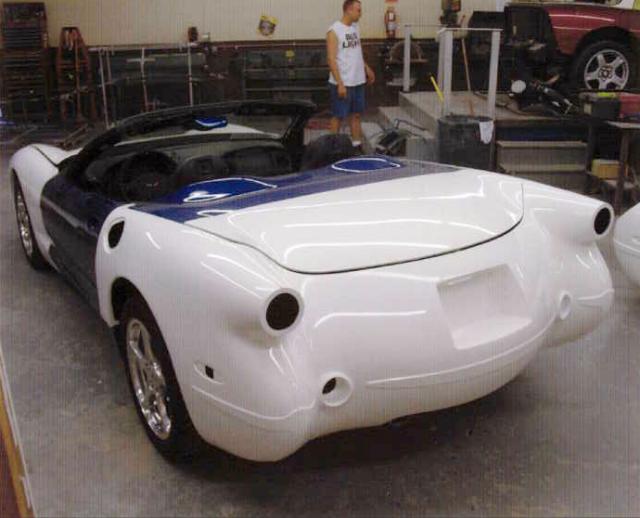 August 10, 2006

And here are more sent by AAT today: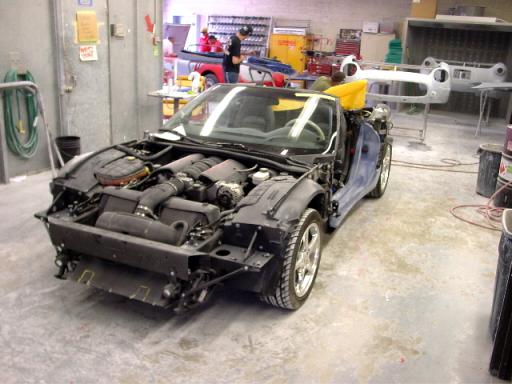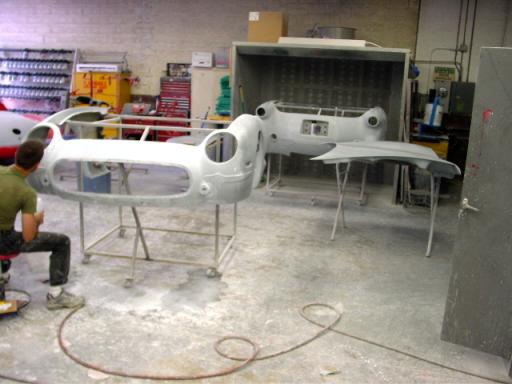 August 16, 2006

It will be complete on Monday, August 21, 2006. We are going up for the Woodward Cruise on Saturday and will hang around until Monday and trailer it home.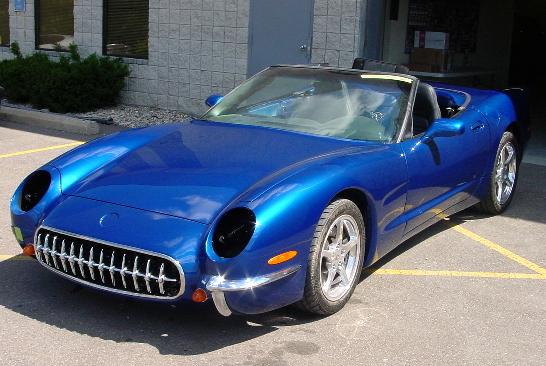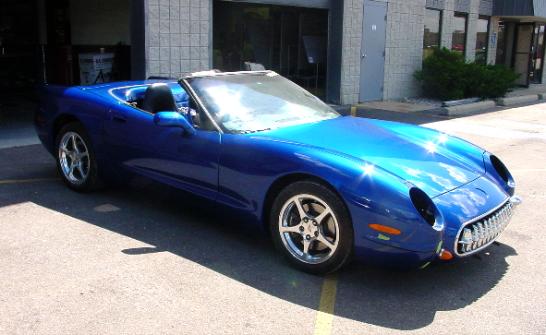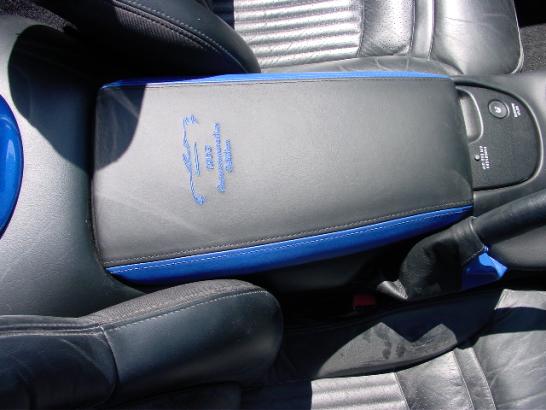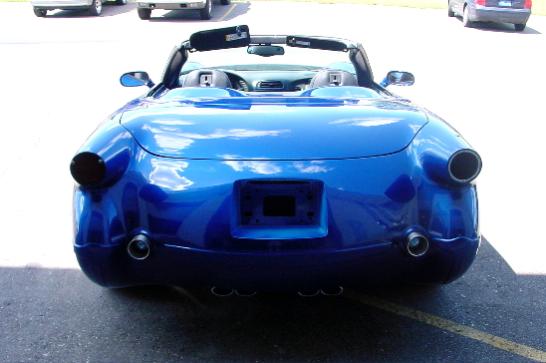 August 17 - 21, 2006

We arrived in Michigan on Thursday, the 17th. Visited AAT Auto and the Boys. Everything was done except for the seats and they would be done on Monday. It truly stopped our hearts. Steven drove it over to Woodward and parked it for the Cruise in front of their store, AUTO ZONE. Rain, rain, rain. Lots of cruisers but we know the really rare stuff never left their trailers because of the rain. Monday morn, the new seat covers were installed & Gau's loaded it in their trailer and we were on our way home to Omaha: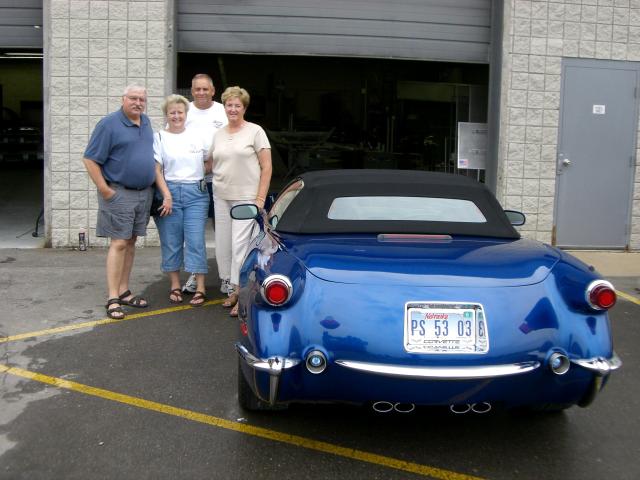 Left-to-right: Pat, Sandy and friends Gene and Kathy Gau (CE #119)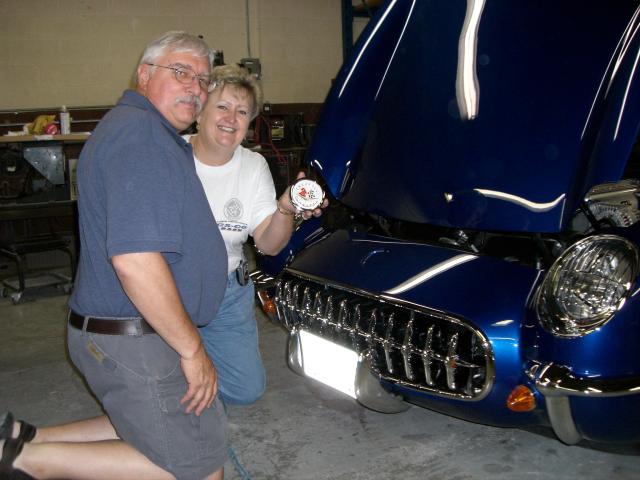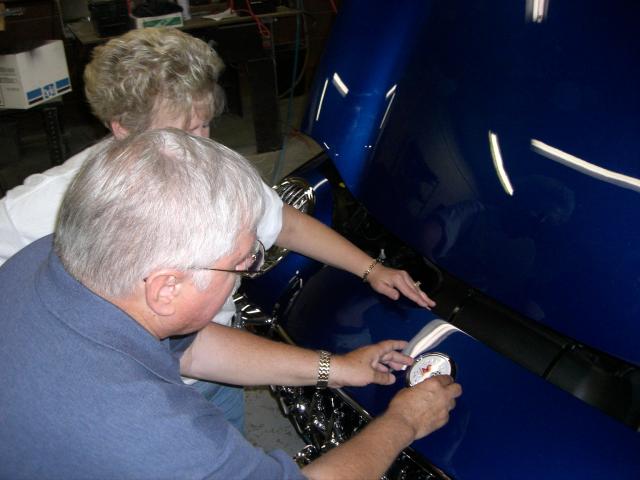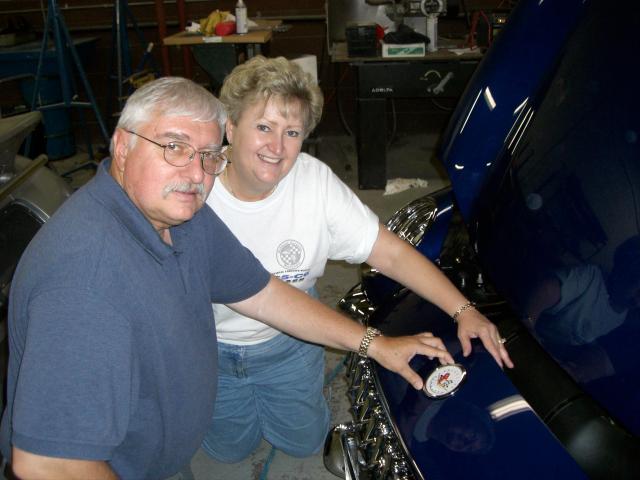 Pat and Sandy installing the Corvette logo (GM doesn't let AAT do that!)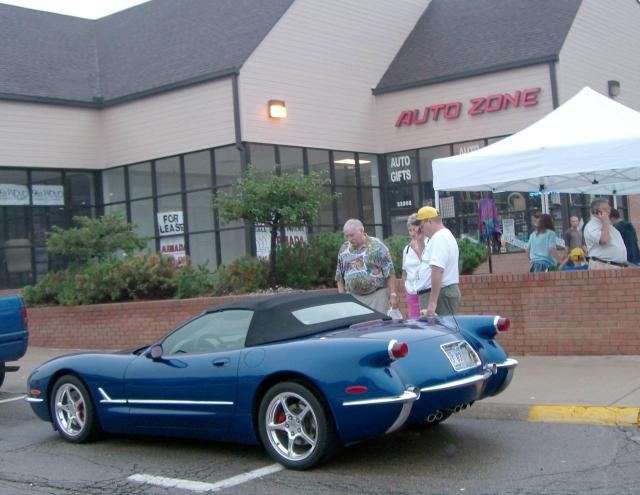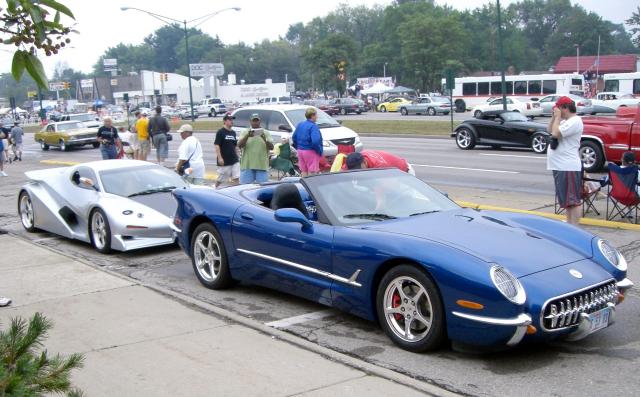 Our brand new CE parked in front of AAT's one-of-a-kind Helldorado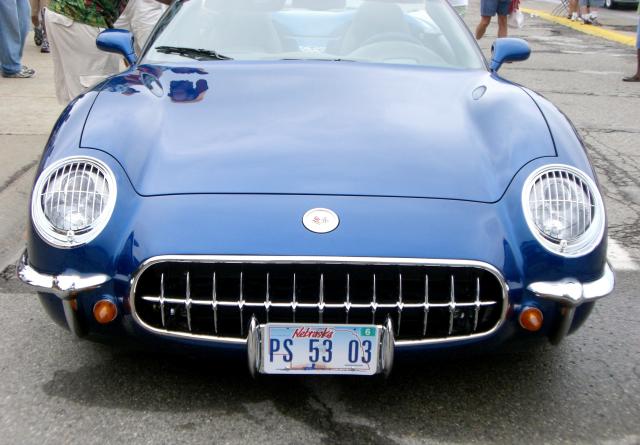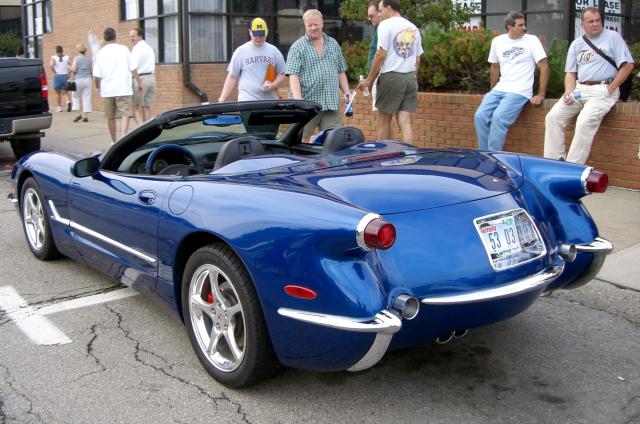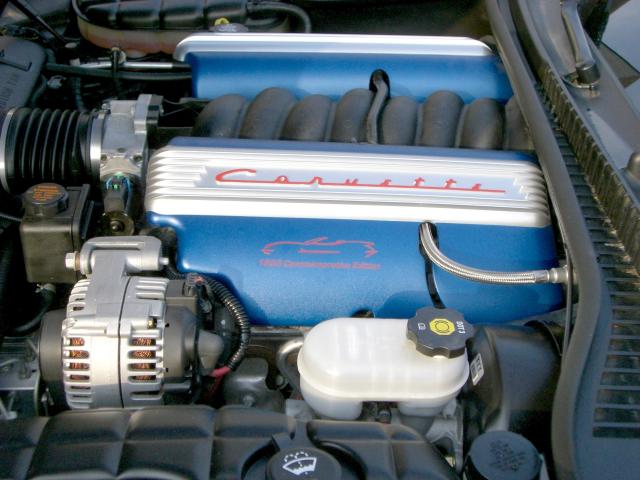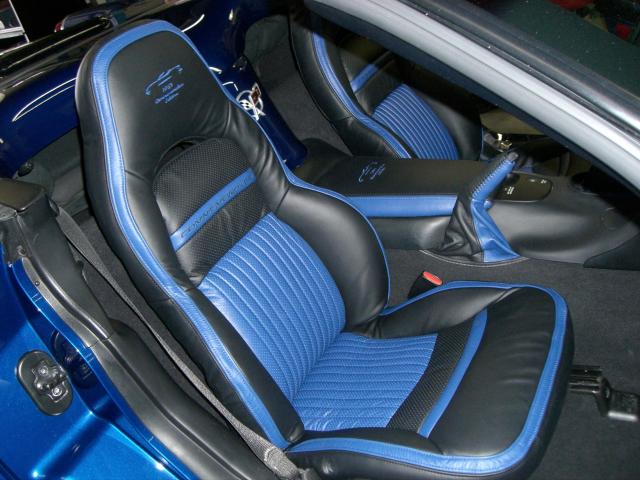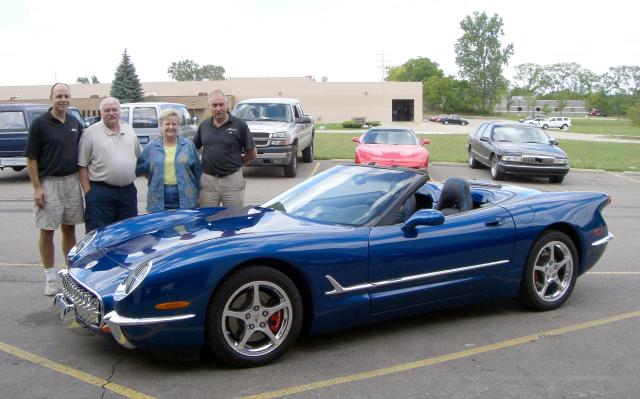 Steve Jr., Pat, Sandy, Steve Sr.
August 27, 2006

We entered the CE in its first Car Show in Millard, Nebraska; we entered the CE because a good friend, Bill Howdle, was chairing it and called and asked us to. We didn't buy the car for car shows; we bought the car because of its functionality and beauty. It will be a driver. What a great, fun, all-around & road-trip car! 30 mpg, comfort and beauty, we love C-5s. And this car is more than we ever hoped for: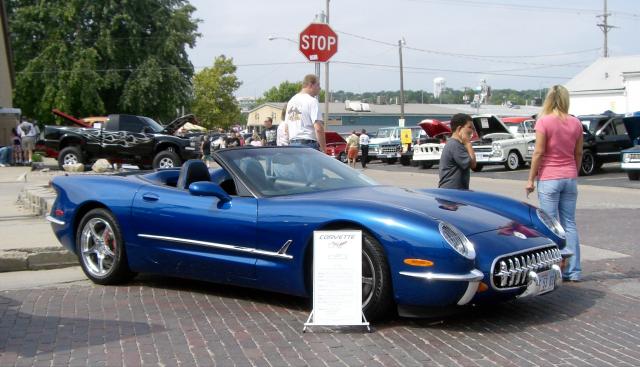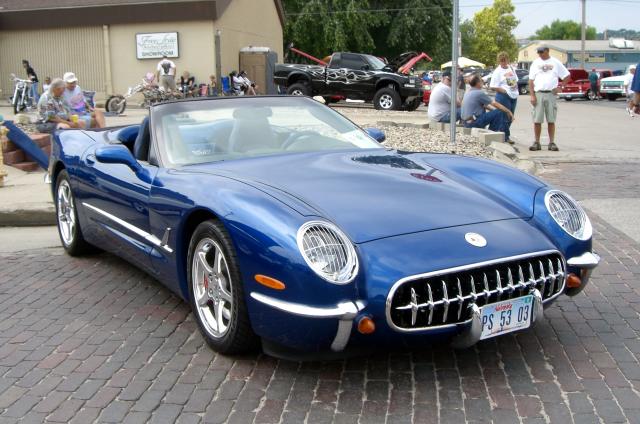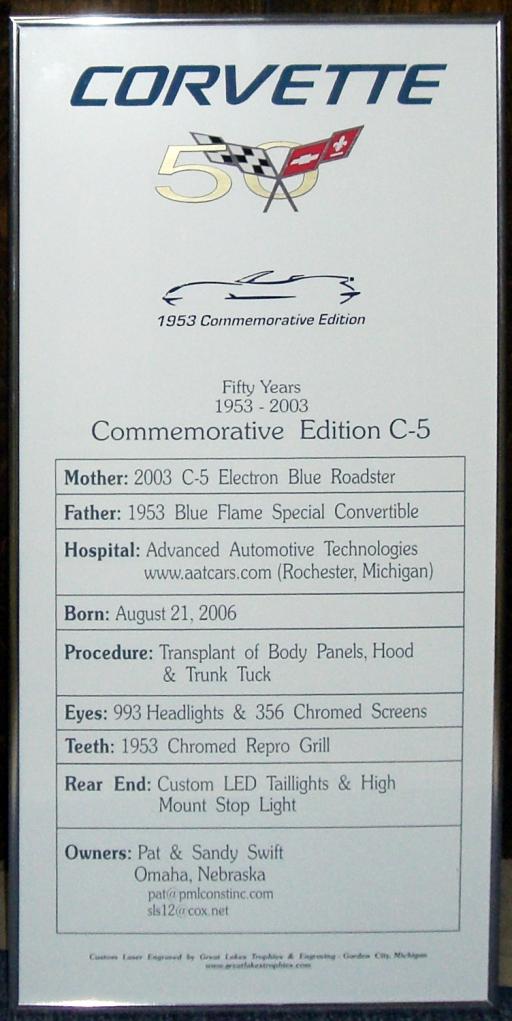 This is the display plaque made for us by Great Lakes Trophies and Engraving
.. and it won its first Trophy on Sunday August 27, 2006!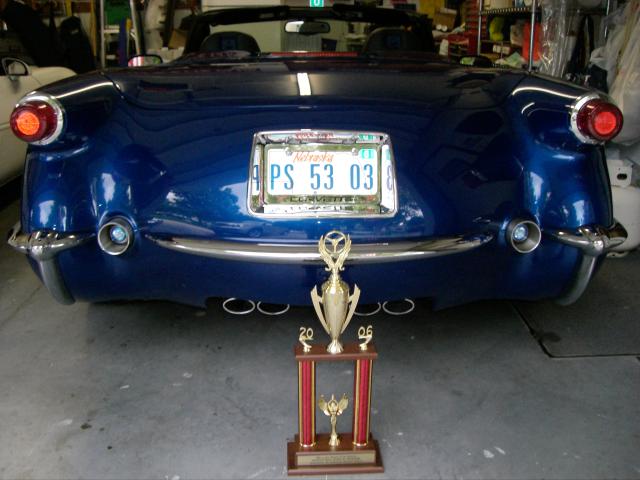 Steve and Steven Pasteiner were wonderful to work with. They went all out for us to have the car completed by the Woodward Ave Cruise date. They knew that it was the only weekend the Gau's could accompany us up there & trailer it home for us. (This also will be the only time it is in a trailer).

The Pasteiners run a first-class operation and we are grateful to them and their staff. They were a pleasure to work with and we're proud to know them. We would recommend them to anyone interested in converting their C-5 to something extroidinary, or whatever else they could do for you. Thanks to Steve, Steven, Rachel and all the gang who worked so hard to do this for us at Advanced Automotive Technologies.

Update!

Here are a some photos from VettesOnTheRockies 2007: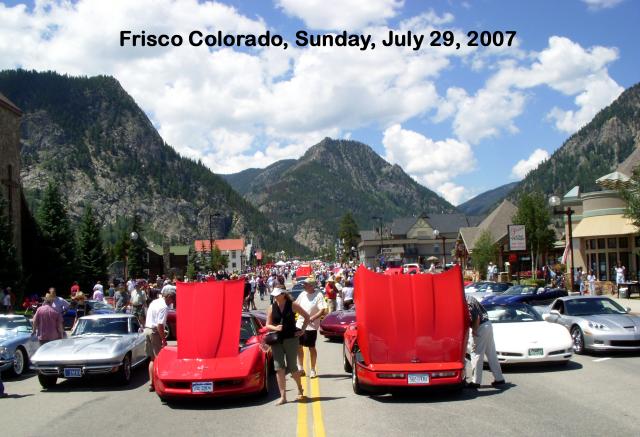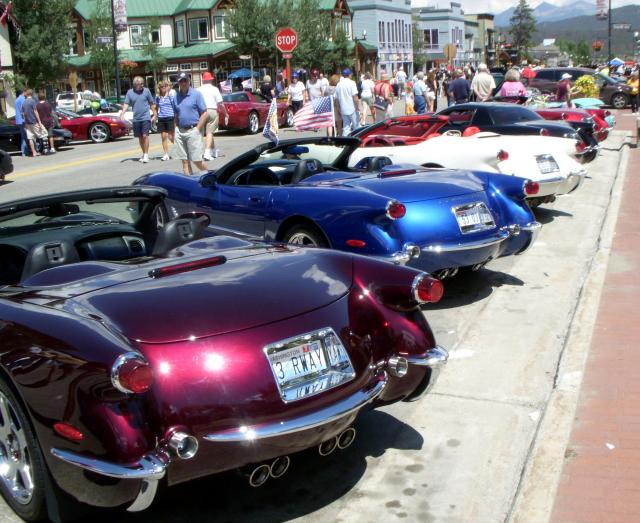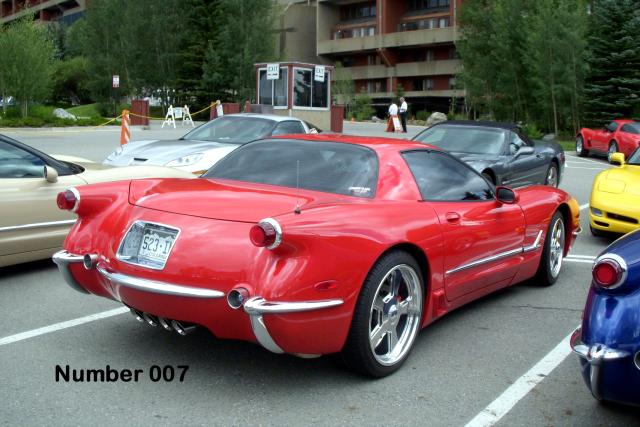 Tom & Sandy Robben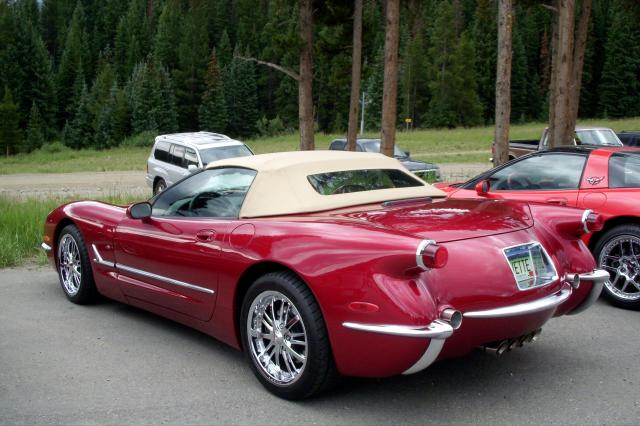 Dino & Lynn Salvatori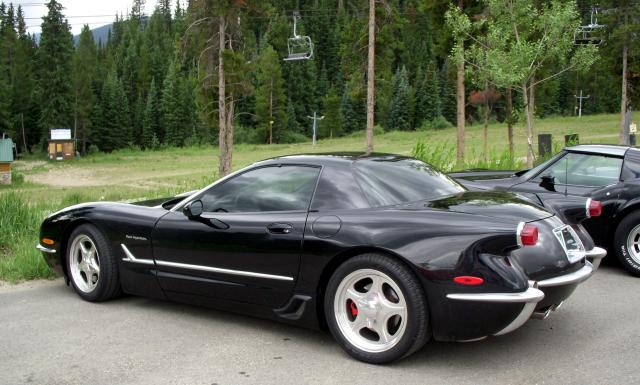 Clyde & Paulette Gagnon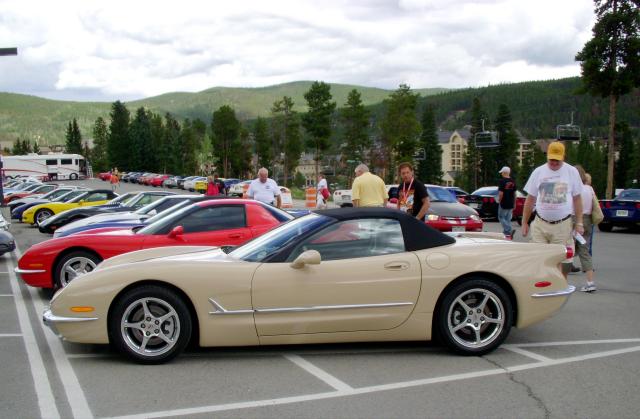 Bob Young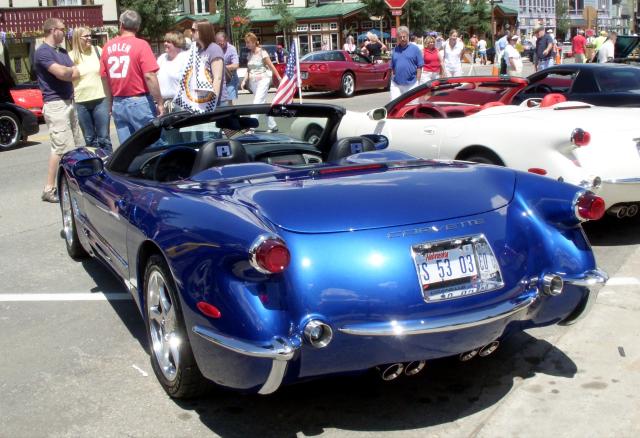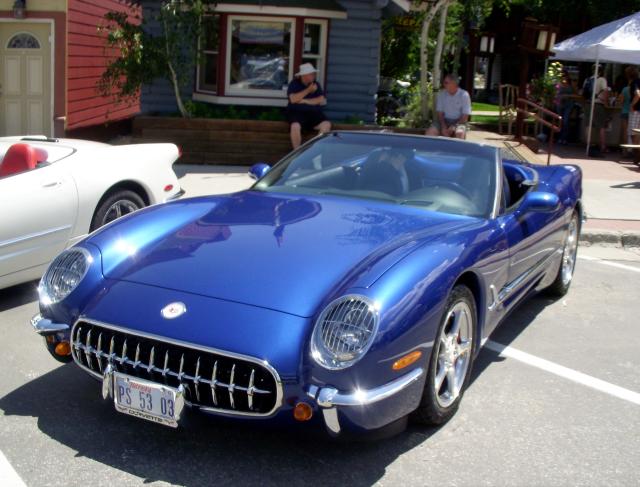 Ours!
..and we won first place in our class: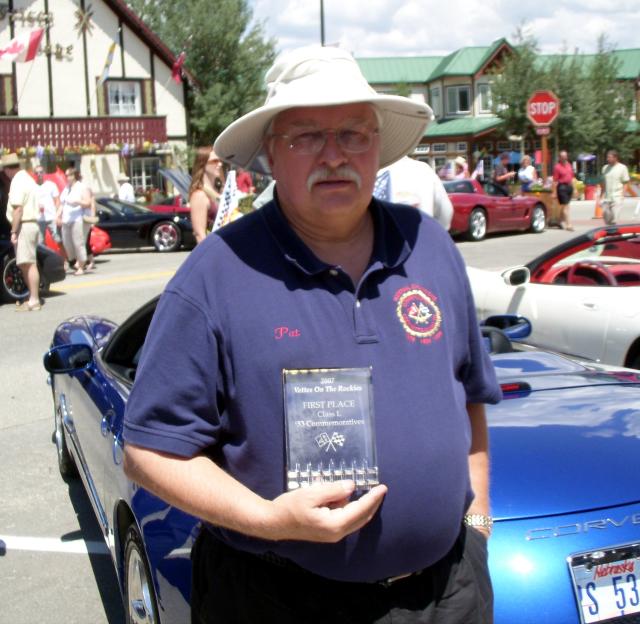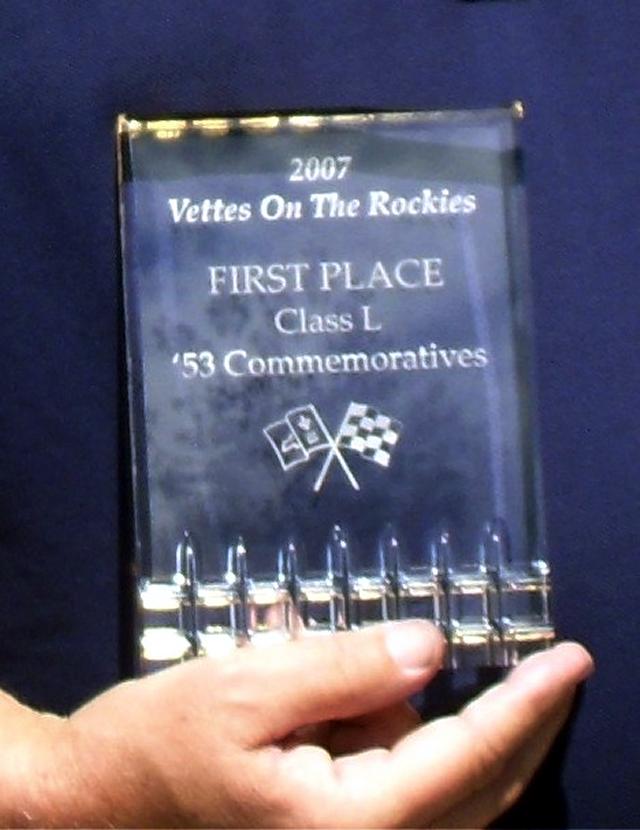 Watch this space!
---
Site designed and hosted by