Our 1953 Commemorative Edition Corvette Story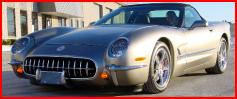 #96
Susan Robson - Chesterfield, MO
---
---
First Sighting

My name is Susan Robson. My fiancÚ', Chet, and I were at the MidAmerica Funfest in August of 2004. That is where I first saw the Commemorative Edition Corvette. It was awesome. I couldn't believe that it was not a concept car. My whole being was captivated by the CE - I couldn't take my eyes off of it. No kidding - I just couldn't get enough. I finally walked away thinking how "rich" you must have to be to own a "53 CE". ( I had no idea of the cost - there was no one there to talk to about the car).

The Question

Chet and I drove home to St. Louis in my 2001 Vette, and I kept thinking about that image I couldn't get out of my head. Several days passed before I started searching on the internet for the car I had seen (I didn't even know what it was called). Finally, I found it and started thinking about possibilities. Since I already owned a 2001 Pewter convertible, I could use that as a donor car, or I could buy a new '05 Vette (which wouldn't have worked since the CE is built only from a C5 donor). It wasn't even a question any longer for me. I just had to have the "53 CE". It was the best of both worlds, the '53 look with the new drive train and all the bells and whistles I love about the newer Vettes - HUD, lumbar seats, and phenomenal power & control. WOW!

The Production

I made several calls to Steve and Steve (father & son). They were two of the nicest and most accommodating guys you could find. I had already seen the product, so their expertise and personal attention made me very comfortable to do business with them. I sent off that first check and arranged for the pick up of my car. The entire process was very smooth and easy, thanks to Steve2, as my car progressed through production. Phone calls and pictures definitely helped me make it through Nov., Dec., and January.

The Delivery

My #96, nicknamed "Silk", was delivered on January 15, 2005. Wow! I was just totally overwhelmed with excitement and happiness. The pewter color that I had chosen was just the most classic and beautiful creation.

Now the Fun

After driving it for a year and taking it to many car shows and displays, I have never known a car to receive so much attention and admiration. Even driving "Silk" down the highway is such an experience -- one that most people never even dream of. It causes extreme "head turning", spectator drivers speeding up and slowing down, checking out the front, checking out the rear, and finally, thumbs up and awesome "OK" signals. In January of 2006, Silk was on display with our club, The Original Corvette Club of St. Louis, at the St. Louis 2006 Auto Show. My '53 CE attracted so much attention it was unbelievable. The Car Dealers and visitors called it "best in the entire show". My "53 CE, Silk" has filled my life with so much fun and excitement that I definitely feel enriched!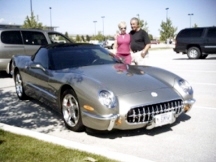 Silk, Susan and Chet
Susan's is the very first 53CE finished in C5 Pewter. Awesome (webmaster's note)!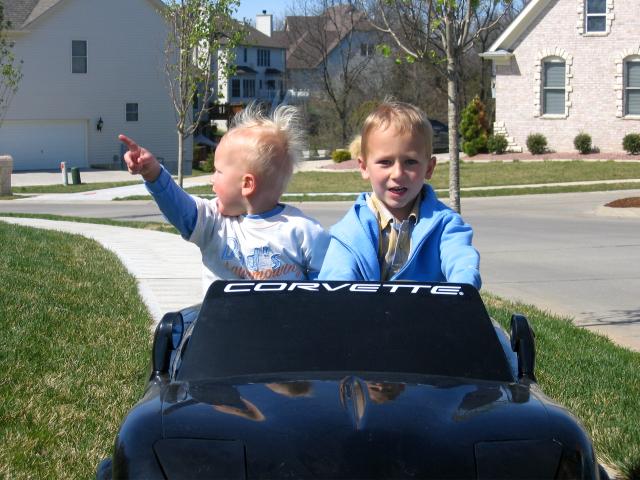 Susan's grandsons Philip and Adam in their first Corvette
Watch this space!

---

Site designed and hosted by