Our 1953 Commemorative Edition Corvette Story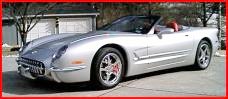 #16
Ed & Kathy McPeak, Radford, Virginia
---
---
Note from Chaz: Ed could be one the luckiest guys on the planet. He is the proud owner of (presently) an absolutely unique automobile. His 53CE is the only one to be produced to-date in Silver!

---

I have had a love for Corvette's since I saw my first one in a showroom of the Chevrolet dealership in Radford, Va. in 1953 when I was 13 years old.

I purchased my first Vette in 1963. It was a 1958 Silver Blue Vette with a 283 cubic inch engine and two four barrel carburetors. Sure wish I had it back today.

Then again in 1969 I purchased a new Cortez Silver Convertible with a 350/350 and a four speed.

In 1976 I purchased a 1965 Coupe with a 327/300, four speed. I still have this coupe which is red with black interior. It gets very little on road miles as it is now used for shows and a few Cruise-ins.

I first saw a picture of the new C.E. in a car magazine and sent the editor an Email to get the address of the company that built it. He sent me the information and I contacted AAT and Steven sent me a brochure on the C.E. along with the cost to build one. I spent several months and many hours on the Internet looking for a used convertible to have converted. In my search I checked the Corvette Trader on the Internet and found that Fairway Motors in Hazleton Pa. had a new C.E. for sale.

I contacted the owner of the dealership Jim Corazza and Sales Consultant Carl Kotch and was able to work out a deal on the Silver # 16. They delivered the car the following day to me in Radford, VA.

I must say that my new Silver C.E. is one of the most beautiful cars I have ever owned. Kathy and I look forward to taking some trips and enjoying this new ride.

Watch this space!
---
Site designed and hosted by