Our 1953 Commemorative Edition Corvette Story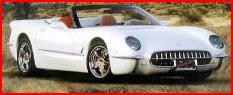 #15
Steve & Donna Lyon, Lafayette, LA
---
---
A Corvette for Donna..

My wife and I got our first view of the car one Sunday morning on a TV spot about the car. We both loved it and thought "this is going to be the Fiftieth Anniversary Corvette". Later when we saw the first pictures of the GM 50th Corvette we thought, "no that's not right". At that point I kept my eye out for the car we had seen on TV that Sunday morning. I found it in a magazine while on a trip we were taking to California. The article explained all the reasons GM had not picked up the AAT car for the 50th Anniversary. At that point I though the AAT car was only to be a custom one of a kind or would not be produced for sale to the public. Later I got it right.

Now I've been told many times that I am a very fortunate man. The day I met my wife Donna, thirty years ago, I truly was fortunate. She is the most supportive person I know. When I began to think about indulging in my love of cars she was right there with me, loving it. Our first outing was to buy a 1970 Plymouth Cuda RT at an auto auction in Texas. Somehow we came home with a 1963 Corvette Coupe. From there I have continued to pursue cars that interested me. Donna to my surprise loved the cars shows and events. She even wanted her own car to compete with. We bought her a 1957 Corvette at the Bloomington Auction. After some work and cleaning her car was winning at local shows. We decided to tear the 57' down and do a NCRS restoration on the car to compete for the "Duntov Award". While we pursued that goal we made a trip to the Corvette's at Carlisle, PA show to parts shop for our project. I had in mind buying her another corvette to play with while the year long rebuild project took place. We walked the car corral and attended the auction looking for a good candidate. I had not let her in on my plan to buy "her" a car. She thought we were looking for another car for the collection. I just said "if I find a good deal I'll ship it home." As we walked the grounds we came across the AAT 1953 Commemorative Edition Corvette. Donna loved it. That was the car she liked out of the thousands that were. When I quizzed her about liking the car, she gave me a hard look and said "Oh! Don't tease that car is Fine" I knew right then to stop shopping. What I wanted could not be had at Carlisle.

As soon as I returned home I sent out an inquiry on the NCRS discussion board about the AAT car. The question stirred up a lot of discussion. I was shocked. But my question was answered and I had the telephone number and web site to AAT. After my first phone call to Steven Pasteiner I went out car shopping. Our local Chevrolet dealer "Service Chevrolet" had the right car sitting on the lot. White exterior, black top, automatic transmission and priced to sell. I had the car on the truck to AAT before I finished working out the details with Steven. To my surprise I was able to purchase the car, ship it, title it in Donna's name and keep it a secret from everyone. Imagine her surprise when her very own "OH Don't Tease me 1953 Commemorative Edition Corvette" comes rolling in. My only problem is deciding if she gets the car for her birthday December 2nd or for Christmas. I guess we'll have to wait and see if I can stand to hold out after the car arrives.

So now only I (and you) know about her surprise. If we are both good and keep the secret I will post the pictures of the big day. Till then SSSSHHHHHHHHHHHHHH!!!!!!!!!!!!!!!!!!!!

Here are the first pix of Donna's CE under construction:

Must have been a rainy day in Rochster Hills; there's the Heldorado on the left:


November 15, 2002

Here is an update. We have a car in shipment and all systems are go. The tricky part will be receiving the little devil without Donna catching me. The driver says he will be here Saturday morning. He also says he needs to head out to Houston ASAP, so got to unload as soon as possible. Donna and I on the other hand have both just returned from a week apart. She was in Arkansas working on her Genealogy hobby and I was in Colorado Elk hunting. So a little together time is in order for the next few days because Friday was our first full day back together. Since genealogy is her hobby I can't claim a sick aunt called and run out to meet the driver. To complicate matters, Saturday is the date of the yearly rally of all regional corvette clubs at one of our local State Parks. What a day to roll out the Car!!!!!!! Very tempting!! Her birthday is the in two weeks, also a good day. The good news is if I get caught I'm positive I'll be forgiven.

Here are the last pix I received from Steve:

Saturday, November 16, 2002

Early Saturday morning I received the car. Everything went as planned and I was undetected. The car was loaded into my car trailer and stored until the big day.

December 2nd will be here soon!

Sunday, December 1, 2002

Can't wait for Monday; today's the day:

Here's what Donna had to say:
To My Wonderful Husband

Steve,

You never fail to amaze me with your love and generosity. One would think that after 29 years together you would reach the limit, but somehow you always manage to top the last surprise. What an absolutely wonderful and generous partner you are. Only you, my very own "Sneaky Pete", could buy a car, ship it off, have it customized, get it back, title it in my name without me knowing it, hide it from me for 3 weeks and never let one word of it slip. You are the Man!. Thank you with all of my heart for another great birthday. Having you in my life is by far the best gift I've ever received. (Cars are only an added bonus!) Thank you for sharing your love of cars with me and making me a part of your world.

All my love,

Donna

PS Thank you AAT for doing such a tremendous job on my car. I never dreamed I'd have one to call my very own! This is one time that the reality is by far better than the dream.
March 15-16,2003
The weekend of March 15/16 was Donna's first regional car show with the Commemorative. As you can see by the pictures we think we had a suitable display and a beautiful car. The car was the favorite of the show. Everyone loved the look and the car. A thousand questions were asked and answered. The two day event ended with a happy lady driving home her trophy car.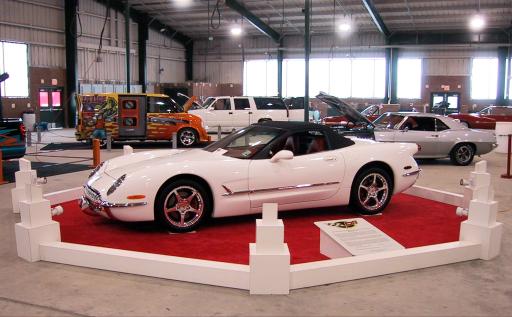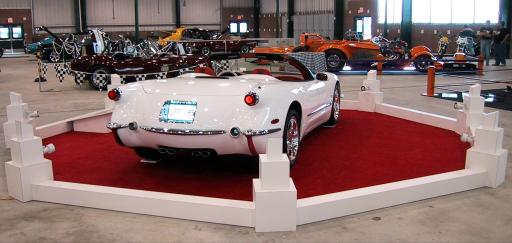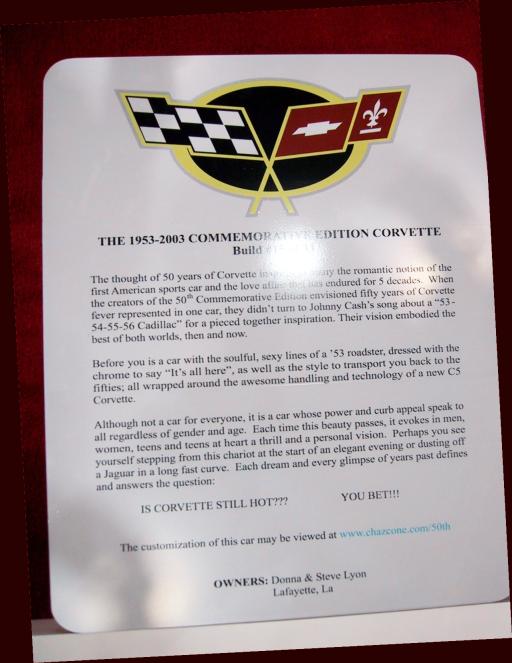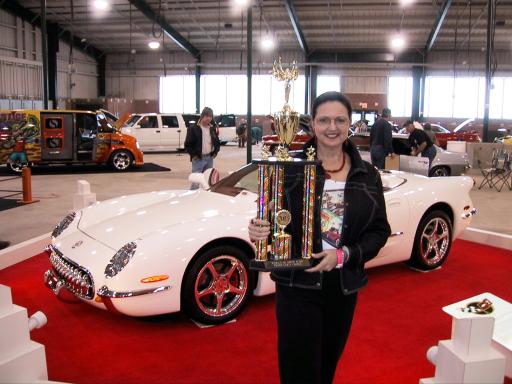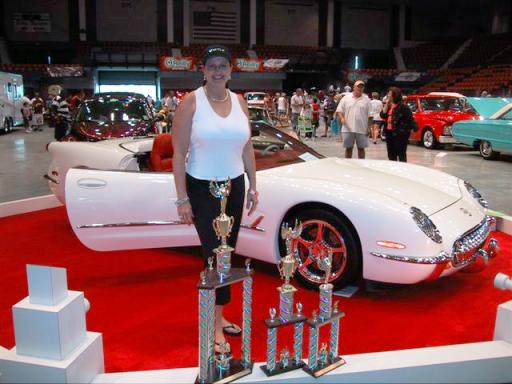 Watch this space!
---
Site designed and hosted by