My 1953 Commemorative Edition Corvette Story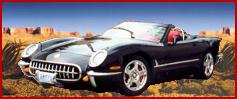 #49
Tom Kampas, Redondo Beach, California
---
---
Hello, my name is Tom and I am a corvette driver like all the nice people here on this site. When I saw the beautiful lines on these AMAZING wild looking '53s I broke out in a cold sweat just like everybody else! I couldn't think straight.

"I JUST HAD TO HAVE ONE!"

I couldn't help myself. I was looking everywhere to find the right donor car. It was eBay every night and the Corvette Trader, Hemmings Motor News and on and on. Then the MIRACLE happened. THERE IT WAS! A 2000 black convertible with Torch Red interior with 13,609 miles on it that just was repossesed from a guy in Palm Springs Calif. He was 'way behind in his car payments and let's just say "the repo man did his job well".

When I saw the car at the Mercedes dealership I said "that THING doesn't belong here -- its a repo!" Then I wrote him the check. I tried to explain to the salesman what I was going to do with the car. He replied "Your gonna do what to that THING"??

I just smiled and drove away! The next thing I can remember is I just had to get it picked up on the transport truck and sent to Steve to do his transformation from Corvette to WILD "53" on steroids.

Steve told me I should have my 53CE black roadster with red interior car around the first week of October. He sent me pics and it looks almost finished.

I'm keeping the Torch Red interior totally stock with the black dash. I am adding the Borla exhaust.

I will post some nice pictures by the ocean when the car comes in.

---

IT'S HERE!

If you're wondering about those wheels, they're made by Colorado Custom Wheels in (not surprisingly) Colorado. This is their ALCATRAZ wheel. Fronts are 17x9, rears 18x9.5 and they work with the run flat tires and use the stock tire pressure sensors.

Here's the car at the 2004 Beverly Hills Car Show. Someone likes it!

---

Note: Tom apparently liked his 53CE#49 so much -- that he ordered another one. This one will be Black with Oak interior, black top and will be #72. Check out that story HERE.

Watch this space!
---
Site designed by www.t-rexsoftware.net