Our 1953 Commemorative Edition Corvette Story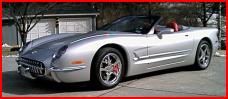 #58
Stu Brokowsky - Pleasanton, CA
---
---
It was a rainy Sunday morning in California, (yes, it occasionally rains here) so I was going to do some paperwork while watching a tennis match on ESPN. Just before the match went on I saw a 1953CE on the screen at an outdoor car show; I knew that was my future car.

I have had a home office since 1989 and I was the carpool dad. I have been driving station wagons, minivans, and an SUV since. My youngest is off to college this fall and it was time for me to have a sports car again. I had a Delorean for many years and I thought a silver CE would look great

Chaz Cone (#11) took a couple of pictures of my car while attending the Detroit Auto Show:

I should be getting the car within the next week and all of my kids friends have even volunteered to help wash the car as needed. Car #58 is a one of a kind color combination at this point in time (red with black interior instead of the customary CE red with white).

On January 18th, Steve sent these pictures of my car in process:

Here are a couple of shots of my 1:24 model built by Don Theune of ScaleVisions:

Watch this space!
---
Site designed and hosted by