Our 1953 Commemorative Edition Corvette Story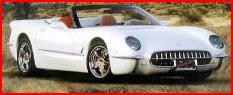 #25
Lewis & Sandra Becoats - Flint, Michigan
---
---
I first saw the car in downtown Memphis, TN July 9, 2002. When we put 350 'Vettes on Beale Street, Larry & Serena Bjurlin were on their way home to Phoenix, AZ after picking up their 1953CE #3 from AAT. I was impressed with that car! Larry was impressed with our organization as well. I'm the president of the United Council of Corvette Clubs; we were having our national convention there in Memphis.

Larry mentioned us to Steve Pasteiner so when I went to see the factory I finished telling him about our great organization and I knew I had to have one! We had just purchased a new 2003 on July 17, 2003 -- but I went on eBay and purchased a mule from Florida and dropped it off at AAT on January 6, 2003. I also made a few trips to watch it being built. In April I picked it up and have enjoyed it everyday. I'm retired and go to many car shows and have never lost.

Visit our website: www.unitedcouncil.com

Watch this space!
---
Site designed and hosted by